Instant Pot coconut rice is such a tasty side dish, we find ourselves planning whole meals around it! The combination of buttery, nutty and sweet flavors in coconut jasmine rice make it a tropical treat. Learn how to make coconut rice and even simple lunches or dinners will feel like something special!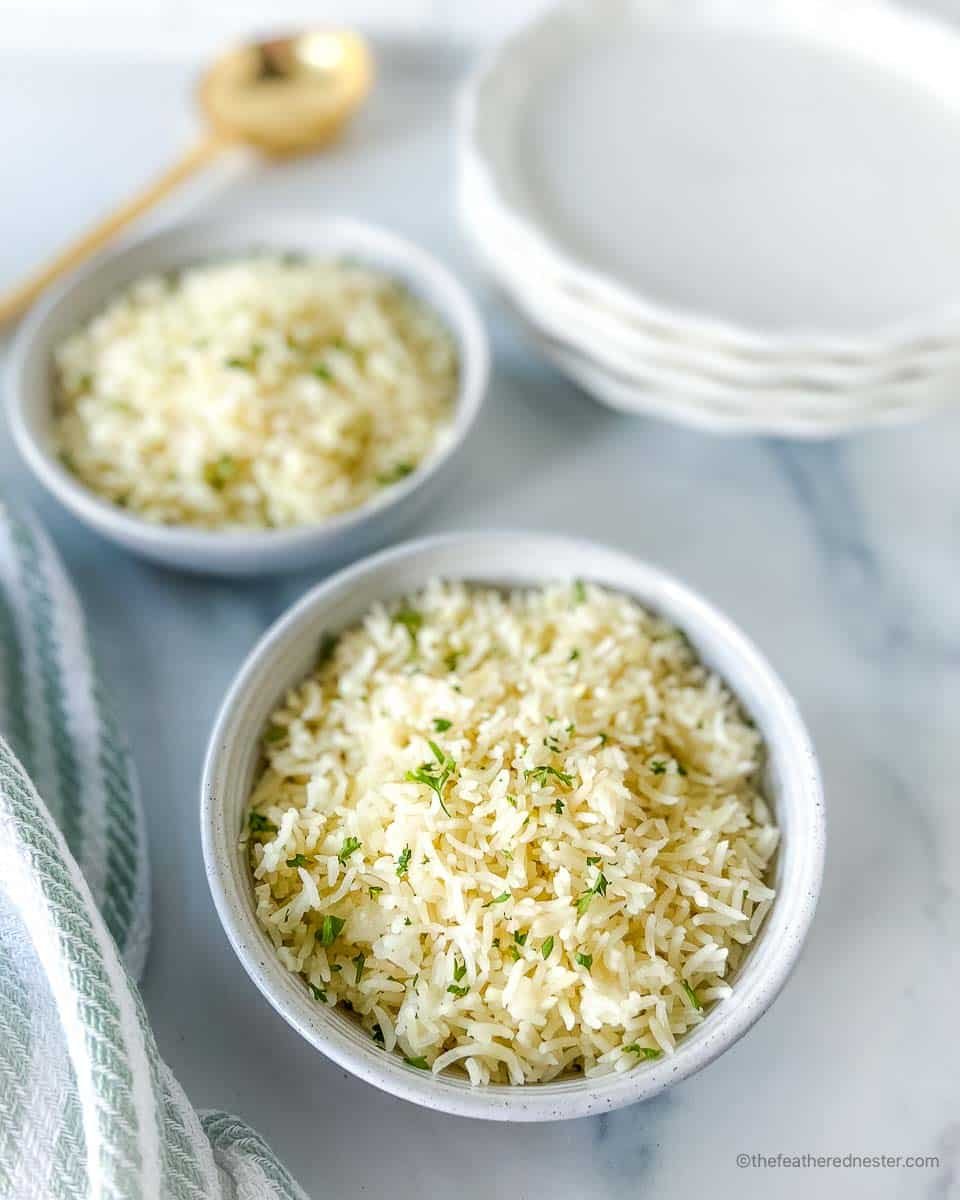 If a sweet Instant Pot side dish isn't what you're looking for, our pressure cooker recipe for regular jasmine rice will be perfect for you!
Reasons to Make Instant Pot Coconut Rice
Versatile Instant Pot side dish that pairs beautifully with nearly any entree, from chicken cutlets and buttermilk pork chops to vegetarian meals like Blackstone vegetables!
So quick and simple, it's practically fool-proof!
Freezes beautifully, making it a great choice for easy meal prep.
New to Pressure Cooking?
Take a moment to check out our helpful tips, top recommended accessories, and favorite Instant Pot recipes for beginners!
Ingredient Notes and Substitutions
Brown or White Jasmine – Jasmine gives you a light, fluffy texture and wonderful flavor! But any medium or long-grain variety is fine to use. If using brown rice, keep in mind that the cooking time is longer.
Chicken Broth – We use salt free broth for Instant Pot coconut rice. If using a broth with salt, leave out any salt called for in our recipe.

Vegetable or mushroom broth can be used to make a vegetarian Instant Pot side dish!
Unsweetened Coconut Milk – We recommend canned, unsweetened coconut milk. This won't be in the refrigerated section with the drinking milk at the store!
Tips for Perfect Coconut Jasmine Rice
Rinse the grains.
To avoid a gluey consistency in your side dish, it's important to remove as much starch from the grains as possible. Place the jasmine rice into a fine mesh strainer and rinse it with water until the water runs clear.
Don't skip sauteing.
It only takes a few minutes, but toasting grains in butter or oil imparts a rich flavor to the dish. More importantly, it improves the texture, by preventing the grains from sticking to the pot.
More importantly, it improves the texture, by preventing the grains from sticking to the pot.
Cooking at a higher altitude?
Add a few minutes to the overall cooking time. Why? Air at higher altitudes is dryer and has less atmospheric pressure overall. The decreased boiling point means all recipes take a bit longer to cook.
How to Boost the Flavor of Instant Pot Coconut Rice
You can highlight the tropical flavor by serving it with a bit of shredded or toasted coconut flakes. It will make the texture and flavor miles better!
Alternatively, combat the sweetness by including chopped onions or sliced shallots with the grains. A bit of sharp, oniony flavor adds a really nice dimension that keeps coconut milk rice from being too cloyingly sweet.
Finally, a pinch of nutmeg or cardamom will make your side dish all the more tropical!
Troubleshooting and FAQ
Why does my IP rice come out mushy?
There are a couple of common culprits. The most common mistake is adding too much liquid. For coconut Jasmine rice, use 2 cups of water for every 1 cup of grains. Additionally, over cooking will also leave you with mushy Instant Pot rice.
How do you fix undercooked coconut rice?
Adding a bit more hot liquid can help. You don't want to add cold water, as waiting for it to come to temperature will make the already-cooked grains become mushy. So add some warmed coconut milk, fluff all the rice with a fork, and cook for another few minutes.

You can also microwave with a bit more coconut milk to fix individual servings.
Will coconut milk burn or curdle in the Instant Pot?
It shouldn't. Taking care to properly deglaze the pot should prevent the milk from burning, and using the proper, full-fat, canned milk will prevent it from curdling.
Storing and Reheating
Instant Pot coconut rice is ideal for meal prep! Store in individual containers so they can be reheated in portions for meals throughout the week.
Oh, and reheating may not even be necessary! Cold coconut rice is perfect for making Blackstone fried rice and other fried rice recipes.
Refrigerate leftovers for 4 days and reheat in the microwave or right on the stovetop. Add a bit of water to help the grains plump back up.
It can also be frozen for up to 3 months and thawed in the fridge the night before you'd like to use it.
To Make Instant Pot Coconut Rice, Renae Recommends
Instant Pot Coconut Rice
Instant Pot Coconut Rice brightens any plate with its creamy, fluffy texture and aroma. Use our recipe for the best coconut jasmine rice!
Equipment
fine mesh strainer
Ingredients
2 cups Jasmine rice **see Notes for using brown rice
2 tablespoons butter or olive oil
1 ¼ cup salt-free chicken broth or stock
8 ounces unsweetened coconut milk (canned variety) **see Notes
½ teaspoon salt omit if using regular broth or stock
Instructions
Rinse rice in a mesh strainer until the water runs clear, then drain well and set aside.

Set pressure cooker to sauté and add butter or oil to the pot. Once the pot is ready, sauté rice for 3 minutes. Press cancel to end sauté.

Add broth, coconut milk, and salt to the pot, stirring to mix and deglaze the pot. Place lid on the pressure cooker, then turn or press the venting knob to seal. Set pot manually to cook for 4 minutes at high pressure.

When the pressure cooking cycle is complete, allow a natural pressure release (leaving the pot undisturbed) for 10 minutes. Then do a quick release of any remaining pressure by turning or pressing the pressure knob (refer to your pot's instructions).

Fluff the rice with a fork before serving.
Notes
Coconut milk– Use canned, unsweetened coconut milk, typically found in the baking aisle of your grocery store. Do not use coconut milk meant for drinking.
Store leftovers in the fridge for up to four days in an airtight container. Reheat in the microwave or on the stovetop (add 2 tablespoons water) before serving.
If you want to meal prep, cook a big batch and portion it out into individual containers.
Nutrition
Serving: 1serving | Calories: 197kcal | Carbohydrates: 17g | Protein: 3g | Fat: 14g | Saturated Fat: 11g | Polyunsaturated Fat: 0.3g | Monounsaturated Fat: 1g | Trans Fat: 0.2g | Cholesterol: 11mg | Sodium: 182mg | Potassium: 134mg | Fiber: 1g | Sugar: 2g | Vitamin A: 118IU | Vitamin C: 1mg | Calcium: 15mg | Iron: 1mg
PIN THIS POST!