These quick and easy Bisquick buttermilk biscuits are tender and flavorful, just like the best biscuits should be. Even better, this Bisquick biscuit recipe uses just 5 ingredients and makes the best rolled biscuits you've ever had.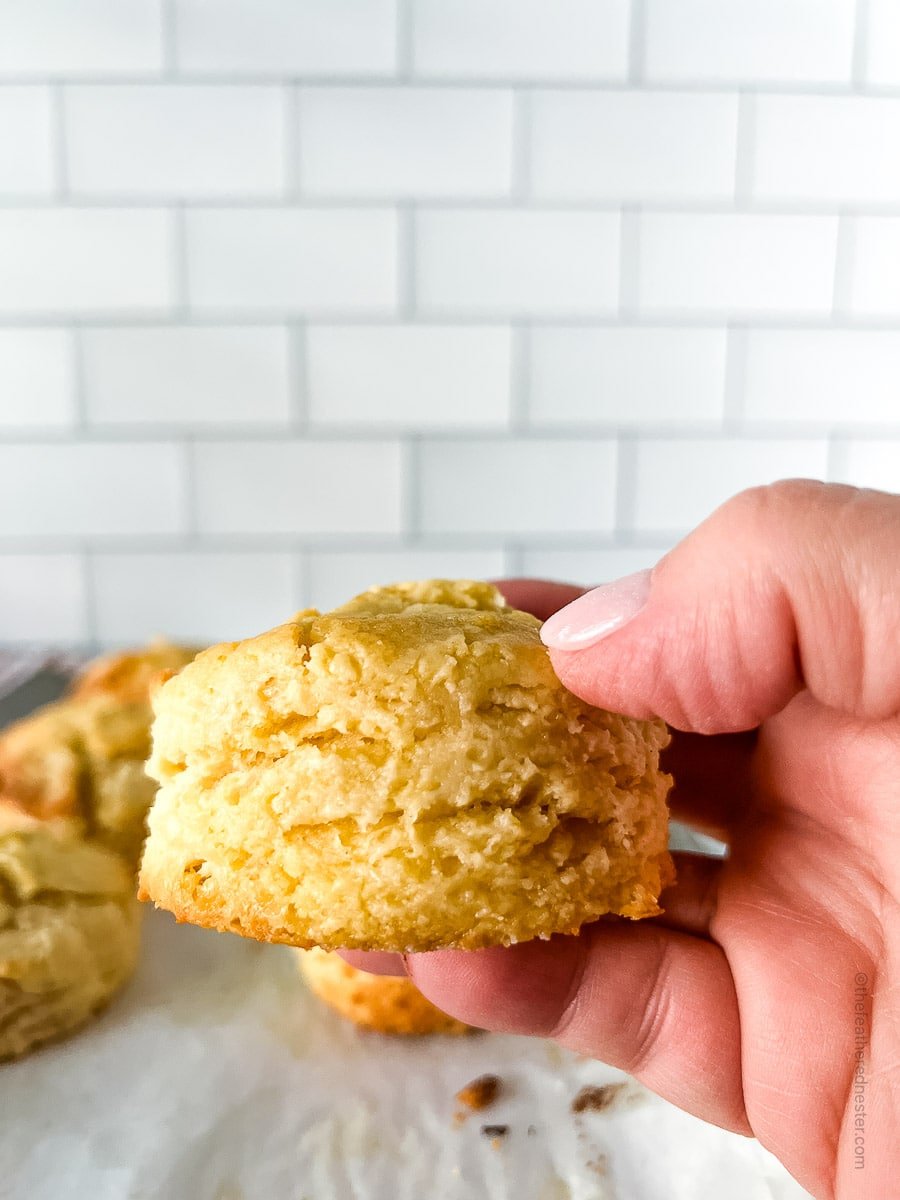 Making biscuits from scratch can be a daunting task. It seems like it should be easy, but there are so many things that can go wrong!
That's why I only share tried and true, fail-proof, easy biscuit recipes with you. And you'll love how easy these Bisquick rolled biscuits are to make.
They're sweet, buttery, and have just the right amount of flakiness. Just mix, cut, and bake. They're perfect for any time of day!
Bisquick Buttermilk Biscuits
I have a recipe for Bisquick drop biscuits, but honestly, when you're using Bisquick, making rolled biscuits is easy too, and they turn our fluffy and delicious.
Sweet, buttery, and with the perfect amount of flakiness, these Bisquick buttermilk biscuits will be a family favorite.
The buttermilk in the recipe makes these biscuits extra moist and tender. They melt in your mouth!
I love how versatile this Bisquick biscuit recipe is. You can add any herbs or spices if you like to change things up. Or, if you're feeling extra indulgent, you can add some chocolate chips for a sweet dessert biscuit!.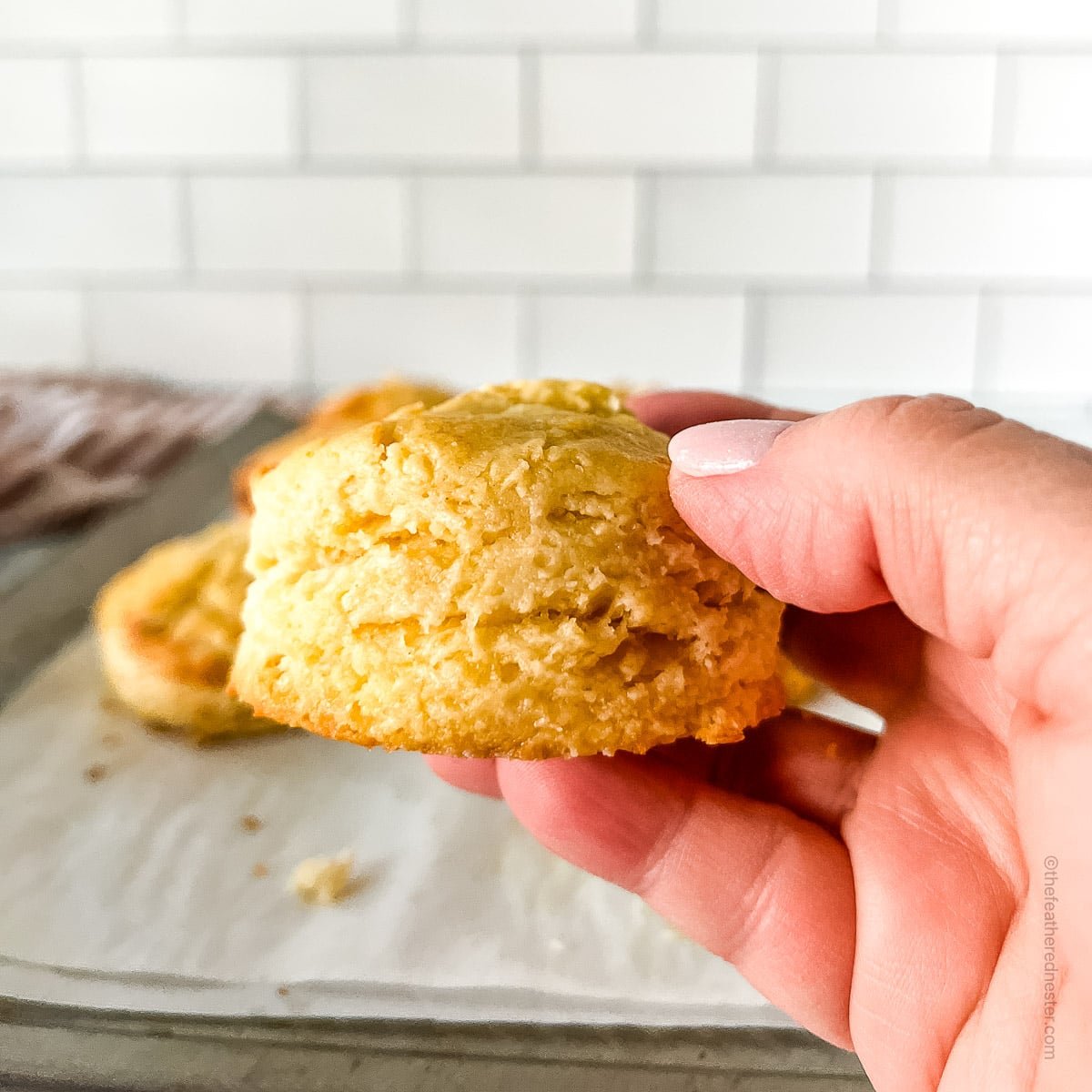 Looking for other Bisquick recipes?
Use the baking mix to help you create delicious treats like Bisquick blueberry muffins and funnel cake, or appetizers like Bisquick Sausage Balls.
Ingredient Notes
Original Bisquick™ mix
If you'd like, you can use a homemade Bisquick mix. Gluten free Bisquick biscuits are also possible! Just use the substitution instructions shown on the gluten free Bisquick package.
Bisquick Biscuit Recipe Tips
Grate the butter.
The smaller the pieces of butter are, the easier they will be to incorporate with the baking mix.
Mix the dry ingredients before adding the wet.
Put all the dry ingredients in a medium bowl. Stir until everything is combined.
Then, create a well in the center of the mixture to pour the wet ingredients into.

Use cold ingredients for the flakiest buttermilk biscuits.
For best results, use cold butter and buttermilk. The cold ingredients help create a flaky, tender biscuit.
Avoid over mixing the ingredients.
To avoid dry and tough Bisquick biscuits, it's very important that you mix the ingredient until they are just barely incorporated. It's perfectly okay if there are some visible spots of baking mix.
How to Make Bisquick Buttermilk Biscuits
Add the dough and pat it into a 1/2-inch thick rectangle. Then, fold the dough in thirds (like you are folding a letter).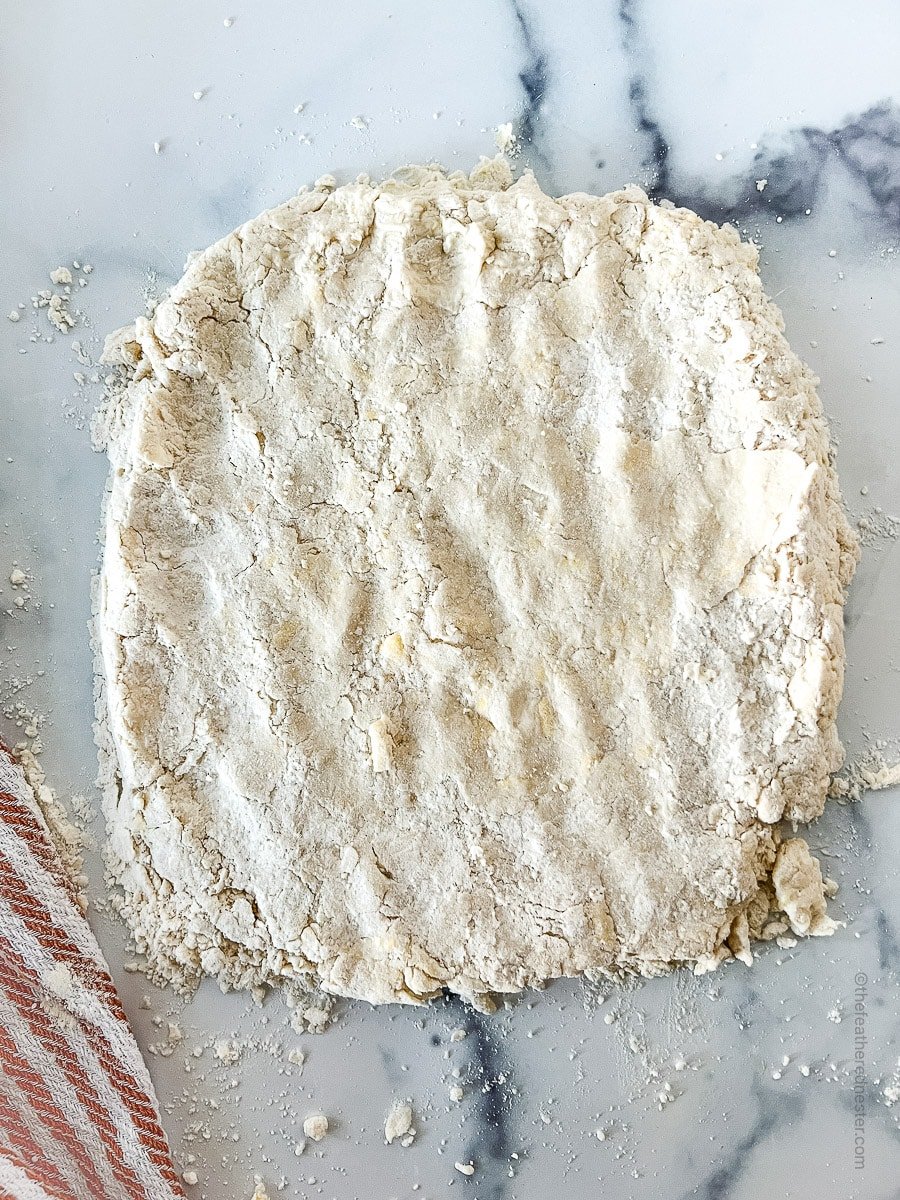 Cut the biscuits.
Use a 2-inch biscuit cutter to cut out the buttermilk biscuits. Be sure to push the cutter straight down, and then lift it up, do not twist.
Leave space between each biscuit.
Place the biscuits 2 inches apart on a parchment lined baking sheet. This allows enough space for the Bisquick buttermilk biscuits to rise but not bake together.

Brush the tops with butter to create a golden brown color.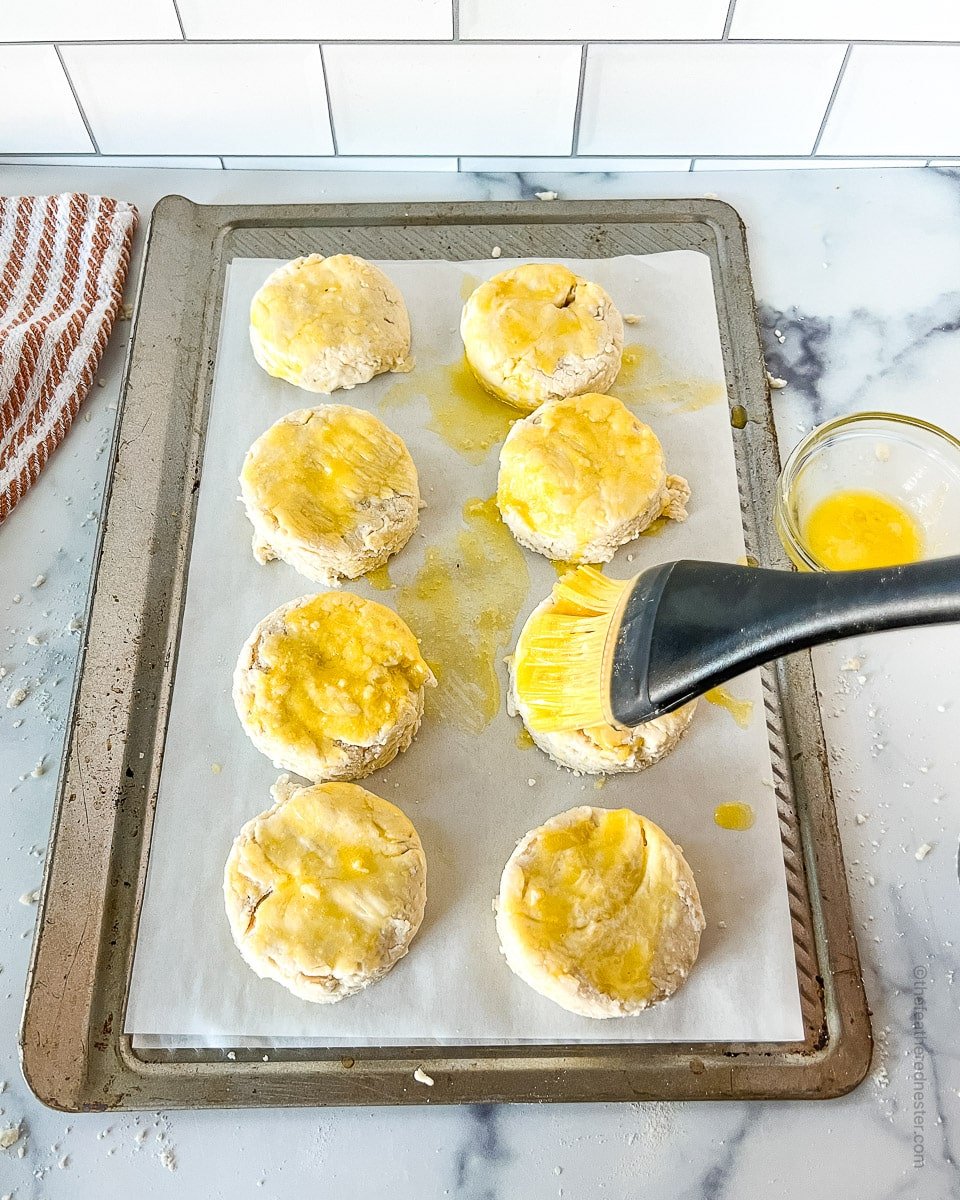 Bisquick Biscuit Recipe FAQ
Why are my Bisquick biscuits so dry?
If your biscuits are dry, it is likely because you overmixed the dough or used too much baking mix. When mixing the dough, mix until the ingredients are just combined.

Overmixing leads to biscuits being tough. Measure the flour correctly using a spoon and level method or a food scale.
What does buttermilk do for biscuits?
Buttermilk gives biscuits a tangy flavor and also makes them more tender. They will also rise a bit more because of the acidity in buttermilk.
Why do my buttermilk biscuits fall apart?
Make sure you are using cold butter. If the butter is too soft, it won't create flakes in the dough and will make the biscuits tough.

Also, make sure you are using a biscuit cutter. Do not twist the cutter when cutting out the biscuits. This will seal the edges and prevent the biscuits from rising.
Recipe Variations
Make them cheesy, add 1/2 cup of shredded cheddar cheese to the dough.
For a sweeter biscuit, add 1/4 cup of sugar to the dry ingredients.
To have a savory biscuit, add 1/4 teaspoon of garlic powder to the dry ingredients.
Herb biscuits, add 1 tablespoon of chopped fresh herbs to the dough.
To make mini biscuits, use a 1-inch biscuit cutter and bake for 2 minutes less.
Serving Suggestions
Buttermilk biscuits are perfect served with eggs, or smeared with honey, jam, or jelly. But they're also delicious paired with recipes like: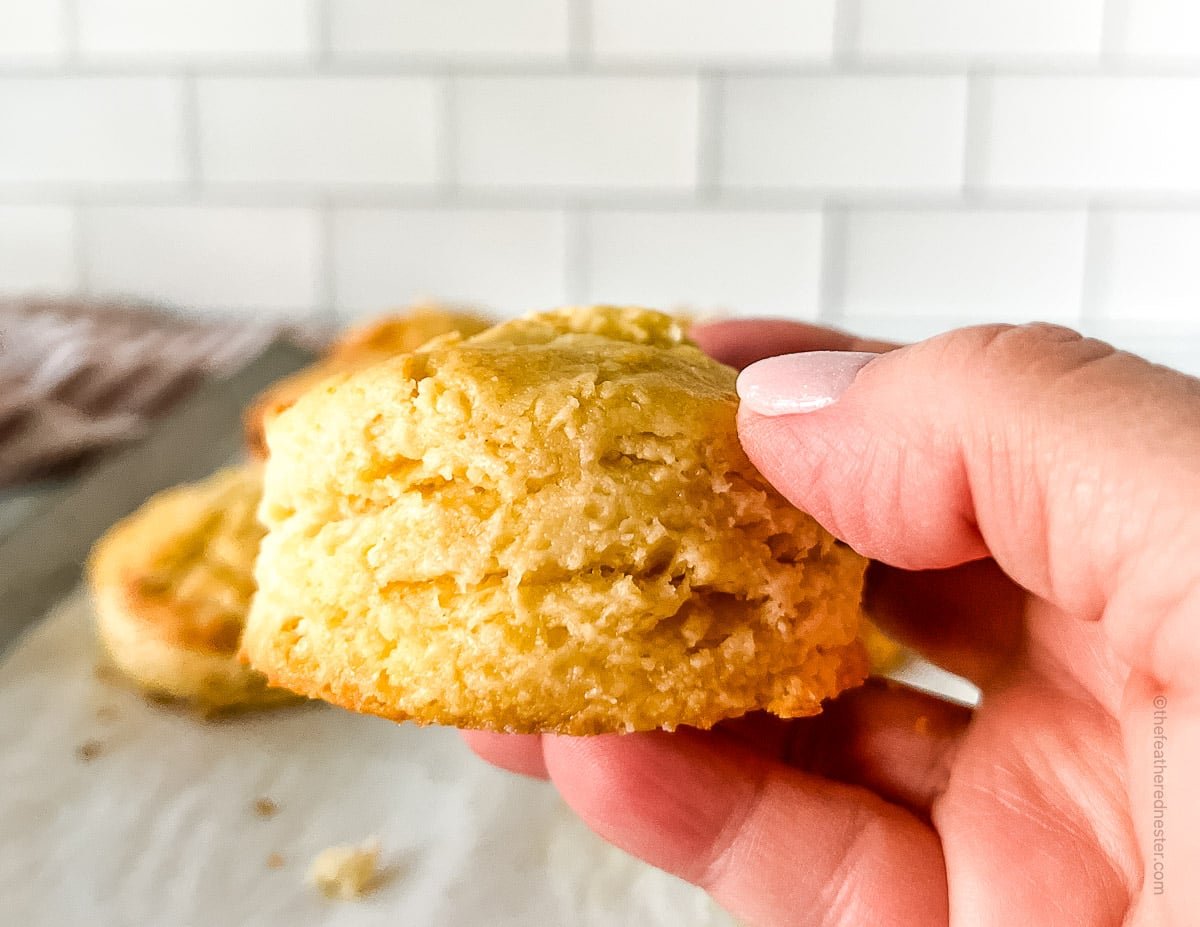 Storage and Reheating
Biscuits are best served fresh but can be stored in an airtight container for up to 3 days. Reheat in a 350ºF oven for 5-7 minutes before serving.
Biscuits freeze well for up to 2 months. Thaw overnight in the refrigerator and reheat as directed above.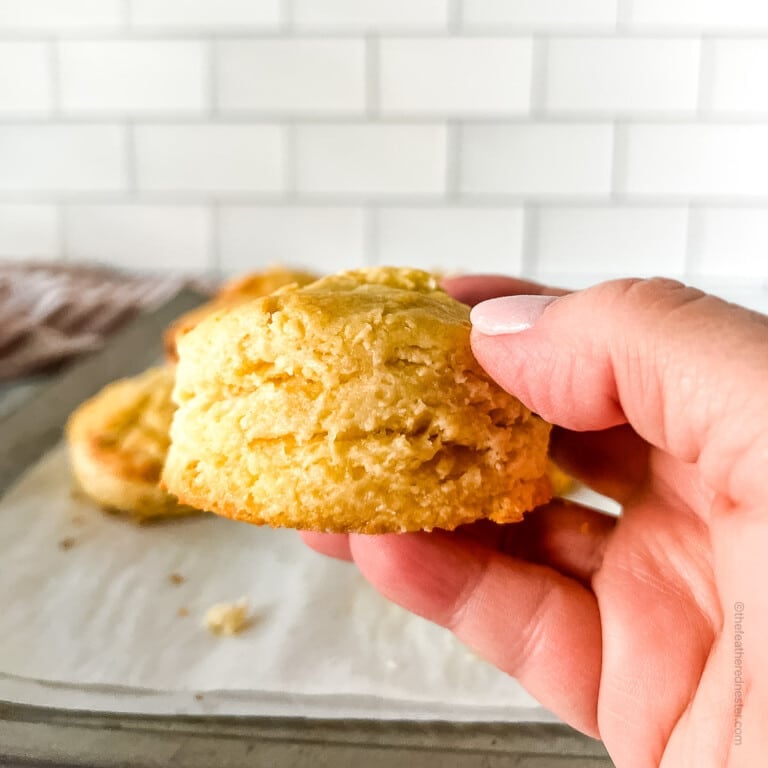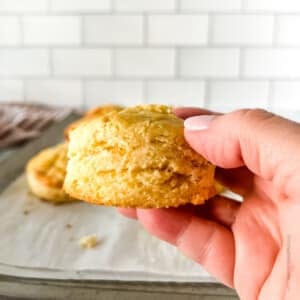 Bisquick Buttermilk Biscuits
Bisquick Buttermilk Biscuits are tender and so flavorful! Just mix, cut, and bake for perfect rolled biscuits on the table in 15 minutes.
Equipment
Baking Sheet

2 inch biscuit cutter

pastry brush
Ingredients
2½ cups Original Bisquick™ mix or homemade Bisquick
2 teaspoons baking powder
⅓ cup very cold butter see Notes
⅔ cup buttermilk, 2% milk fat see Notes for lower fat options
2 tablespoons melted butter to brush on biscuits
Instructions
Preheat oven to 425ºF. Grate very cold, butter and place in the fridge or freezer until needed. You can also use a food processor or pastry blender to combine the ingredients.

Using a medium-sized bowl, add dry ingredients and stir to combine. Create a well in the center of the Bisquick mixture. Add buttermilk and grated butter to the well. Stir, just until the dough comes together and away from the walls of the bowl (about 30 seconds). For flaky, tender biscuits, do not over mix.

Sprinkle a little Bisquick on to a countertop or wooden board. Add the dough and pat dough into a 1/2 inch thick rectangle. Fold the dough into thirds (like folding a letter). Use a 2 inch biscuit cutter to cut out biscuits, going straight down (do not twist!) and up. This recipe makes 8 biscuits.

Grease or line the baking sheet with parchment paper. Place biscuits about 2" apart on baking sheet. Brush with melted butter. Bake at 425 degrees F for 10 – 12 minutes, until golden in color. Serve warm with butter and honey or jelly.
Notes
Make your own Bisquick using my homemade Bisquick recipe.
If using Gluten-Free Bisquick, be sure to follow substitution instructions on the box.
For 1% skim and non-fat milk, increase butter to 1/2 cup.
Using lightly frozen, cold butter works easiest for grating.
Store leftovers in a sealed bag at room temperature for up to 3 days.
They keep well in the freezer for up to 3 weeks. Wrap in aluminum foil and seal in a freezer-safe zipper bag. Reheat from frozen by baking in a 350 degree Fahrenheit preheated oven for about 10 minutes.
Nutrition
Serving: 1biscuit | Calories: 266kcal | Carbohydrates: 25g | Protein: 4g | Fat: 17g | Saturated Fat: 9g | Polyunsaturated Fat: 1g | Monounsaturated Fat: 6g | Trans Fat: 0.4g | Cholesterol: 31mg | Sodium: 689mg | Potassium: 91mg | Fiber: 1g | Sugar: 5g | Vitamin A: 358IU | Vitamin C: 0.1mg | Calcium: 152mg | Iron: 1mg
PIN THIS POST!