These Cheesy Mini Biscuits will be a big hit at your next potluck or dinner party. They might be tiny, but they are loaded with lots of flavor from some of your favorite ingredients, like shredded cheese and savory bacon. Try these mini biscuits recipe for making the best, tender, and flaky appetizers from scratch in only 15 minutes!
Why We Love Cheesy Mini Biscuits
There is nothing better to bring to a potluck, or serve as an appetizer or side with your favorite dishes, than fluffy and tender homemade biscuits. Although they always impress guests, you might be surprised to know how easy they are to make from scratch…
Everyone loves these Easy 3 Ingredient Biscuits and Drop Biscuits with Self Rising Flour as simple and satisfying bakes. And Cheddar Jalapeno Drop Biscuits are packed with spicy flavors and cheesiness. They really add something special to the table!
Likewise, these mini biscuits are loaded with shredded cheese and many other tasty goodies, like bacon and chives. They're just as easy to prepare as out other appetizer biscuits but are smaller for an adorable presentation and great portion control (if you're into that).
Mini biscuits with cheese are the perfect finger food, and ideal to serve at your next get-together, BBQ, or potluck. They can even be made ahead with no need to keep them cold or heated. Serve them however you like and watch them disappear!
Ingredient Notes and Substitutions
Self-rising flour – If you don't have one, that's ok – you can easily make your own with self rising flour with our guide.

Cooked bacon – If you don't have cooked bacon, you can use cooked and crumbled sausage, ham, or prosciutto but keep in mind that using these may result in a different flavor and texture than using bacon.

Shredded sharp cheddar cheese – If you don't have sharp cheddar cheese, you can use any other type of shredded cheese that you have on hand, such as pepper jack, Monterey Jack, or Colby Jack.

Onion powder – If you don't have onion powder, you can use dried onion flakes. However, this will have a stronger flavor and a slightly different texture than onion powder.

Half and half – If you don't have half and half, you can use 1/2 milk and 1/2 cream mixed together.
How To Make Cheddar Bacon Biscuits
Because they are small, the biscuits require only a little bit of time to make from start to finish. They are ready in just 15 minutes… 5 minutes of prep time, and 10 minutes in the oven.
Follow these simple steps to make cute and tasty cheesy biscuit appetizers from scratch:
First, preheat the oven to 450 degrees F. Line a baking sheet with parchment or a slipat.
Then, combine the flour, cooled and chopped cooked bacon, shredded cheese, and seasonings in a medium bowl. Make a well in the middle of the mixture, and pour in the cold half and half. Use a wooden spoon to mix.
Dust a clean work surface with a bit of flour, and tip the dough onto the center of your workspace. Using clean hands, fold the sticky dough in thirds, like a letter. This process creates layers in the dough and eliminates any stickiness. Pat the dough into a rectangle shape about 1 inch thick.
Next, use a 1 3/4 inch biscuit cutter (or a greased shot glass) to cut out the mini biscuit appetizer. For the fluffiest biscuits, push straight down on the cuter and pull straight up – do not twist! Repeat the process, patting and reshaping the dough as needed until you've cut out 35 biscuit appetizers with cheese.
Place the mini biscuits on the baking sheet, leaving about an inch between them. Bake for about 10 minutes until lightly golden.
Let the mini cheese biscuits cool on a wire rack for a few minutes before you serve.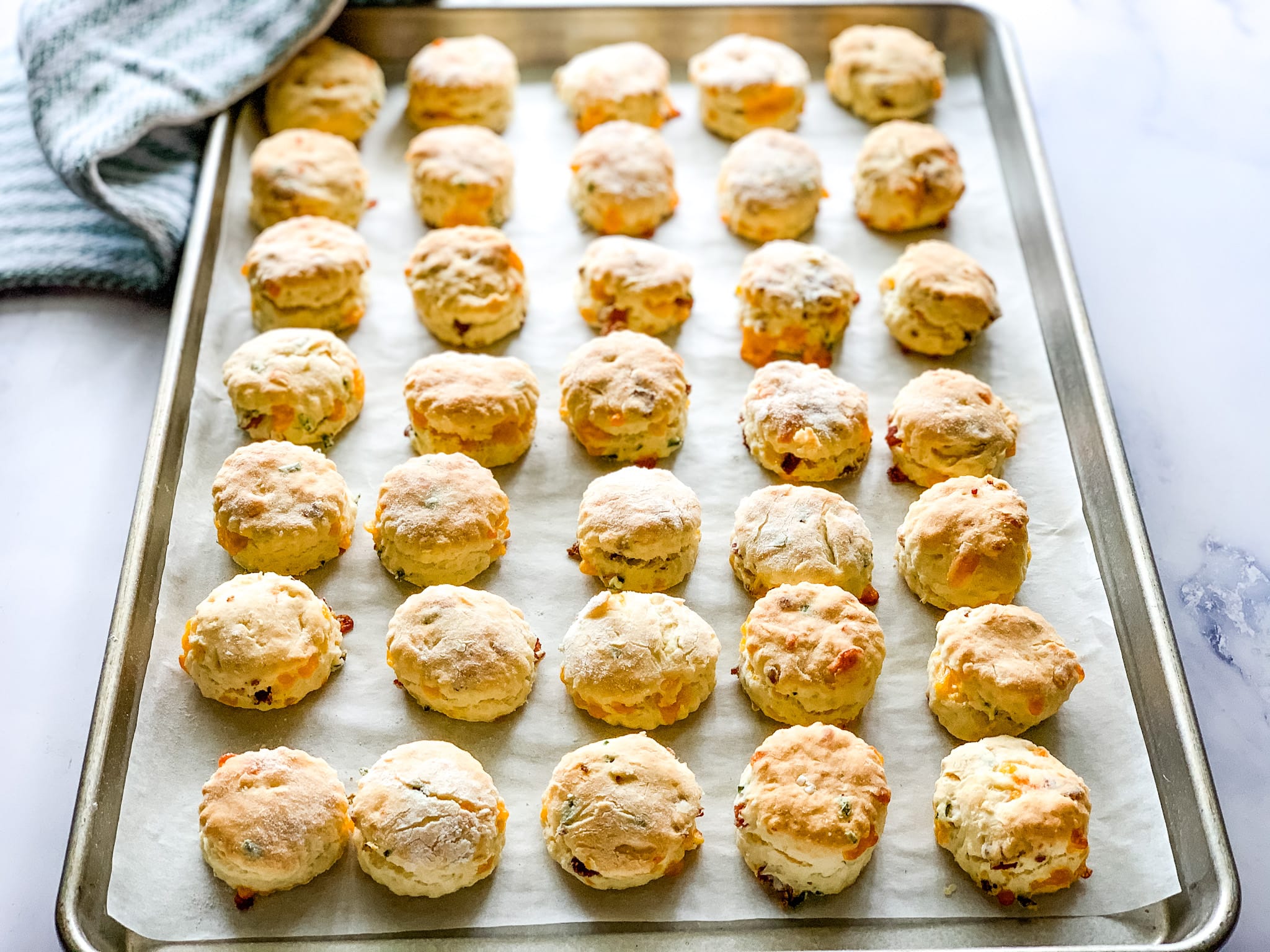 How To Reheat Biscuits
Reheat biscuits easily in the oven or air fryer, or quickly in the microwave.
In the oven: preheat the oven to 350 degrees. Wrap the biscuits in foil and bake for 10 minutes.
In the air fryer: preheat your air fryer (if needed), then air fry at 325 degrees for 5 minutes.
In the microwave: wrap the biscuits in a dampened paper towel. Microwave at 50% power in 30-second intervals. Reheat just until warmed, do not overcook them as they'll become hard.
If you love appetizers, check out these easy appetizer recipes
Frequently Asked Questions – Mini Biscuits
What can I use if I don't have half and half to make appetizer biscuits?
You can achieve the same tender biscuit texture by using half whole milk and half cream in place of half and half. You can also use only whole milk if it's all you have, but your mini cheese biscuits might not be quite as fluffy.
What should I serve with this mini biscuit appetizer?
I recommend that you serve them with herbed butter or cheese dip.
How should I store homemade biscuits?
Once the mini cheese biscuits have cooled, store them in a sealed container at room temperature. They will keep well for up to 4 or 5 days.

To freeze, wrap the biscuits individually with plastic wrap before storing them together in an airtight container. Keep them in the freezer for up to 3 months.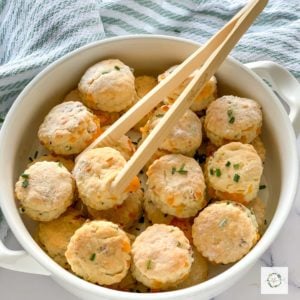 Cheesy Mini Biscuits
These mini biscuits with cheddar, bacon, and chives are a biscuit appetizer with BIG flavor! Make them for a savory snack in 15 minutes!
Equipment
Baking Sheet

biscuit cutter (optional)
Ingredients
2½ cups self-rising flour, divided (see notes for all-purpose flour)
4 slices bacon, cooked, crumbled, and cooled
½ cup (4 ounces) sharp cheddar cheese, shredded
2 tablespoons chives or scallions, minced
1 teaspoon onion powder
1 ½ cups half and half (can use half whole milk and half cream)
Instructions
Preheat oven to 450º F.

Add 2 cups flour, bacon (be sure it's cooled), cheese, and herbs/spices to a medium bowl. Make a well in the middle and pour in cold half and half. Stir with a wooden spoon until mixed.

Dust the counter with 1/2 cup of flour, and add biscuit dough on top. The dough will be sticky, fold the dough in thirds (like a letter) 3-4 times, until about 1/2 the flour has been mixed into the dough and it is no longer sticky. Pat into a rectangle about 1" thick.

Cut biscuits with a 1¾" biscuit cutter (or small shot glass). Press down and bring straight up. Do not twist biscuit cutter. Pat excess dough out, cut, and repeat process again. You will have about 35 mini biscuits.

Place biscuits on a cookie sheet about 1" apart. Bake for 10-12 minutes, until golden. Serve with herbed butter or cheese dip.
Notes
How to make self-rising flour from all-purpose flour. Turn all-purpose flour to self-rising with these additions: 2 cups of all-purpose flour, 1 tbsp baking powder, 1/2 tsp fine salt. Mix well.
Nutrition
Serving: 1biscuit | Calories: 267kcal | Carbohydrates: 24g | Protein: 5g | Fat: 17g | Saturated Fat: 10g | Cholesterol: 61mg | Sodium: 308mg | Potassium: 65mg | Fiber: 1g | Sugar: 1g | Vitamin A: 656IU | Vitamin C: 1mg | Calcium: 34mg | Iron: 1mg
PIN THIS POST!
More Potluck Recipe Ideas For You To Try
Check out these Self-Rising Flour Recipes