With a bit of whipped cream and a scoop of ice cream, our Bisquick cherry cobbler makes every day feel like summertime! A good Bisquick dessert is a no-brainer time saver, and you won't believe how sweet and juicy this homemade fruit cobbler turns out.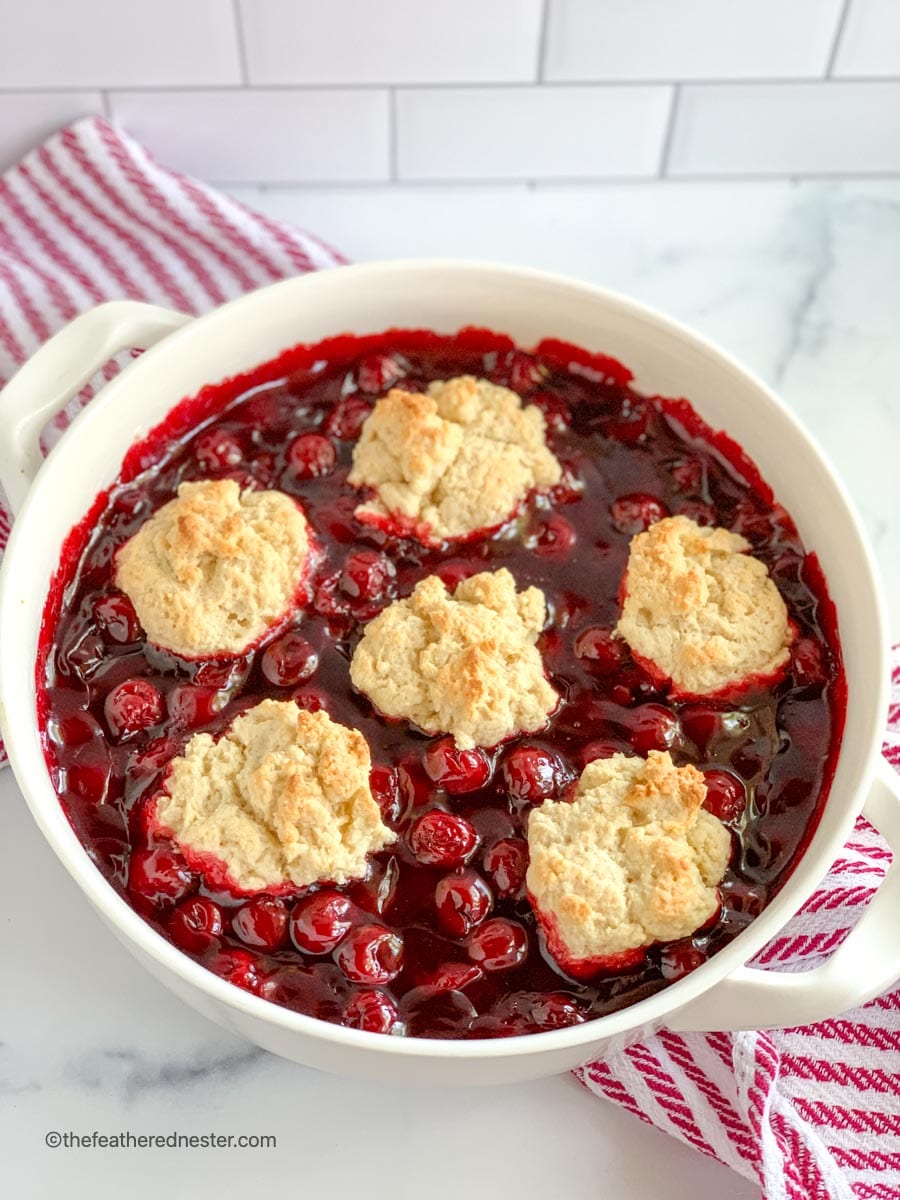 What is a Cobbler?
A cobbler is a little bit like an upside-down pie, but with a lot more fruit filling. The ingredients for cobbler and pie fillings are pretty much the same.
However, pie crust and cobbler topping are not the same at all! Pie crust is buttery and flaky, whereas cobbler topping has more of a biscuit-like texture.
If fruit cobbler is your favorite, then you should absolutely add our peach and blueberry cobbler recipes to your collection. (The blueberry version is a Bisquick dessert, too!)
Reasons to Make Bisquick Cherry Cobbler
This little Bisquick dessert has a lot of flavor! We really go crazy with the filling — two cans in one dessert! And with the right toppings, it tastes decadent and indulgent without much effort at all.
You can make it in a skillet or casserole dish. Multiple options mean no last-minute scrambling to find the right dish!
It's fantastic warm, at room temperature, or cold. Perfect for leftovers, freezing for the future, or late-night sweet cravings.
Cherry desserts are the perfect combination of tart and sweet! Those seeking a slightly less sweet summer dessert might want to check out our apple sourdough cake and chocolate chip cookies.
Ingredient Notes and Substitutions
Canned Cherry Pie Filling – Canned filling is the best shortcut to any easy cobbler recipe! You can also use canned cherries — grab two 20-ounce cans and add 2 tablespoons of cornstarch to get the right consistency.

You can even use frozen cherries! In fact, you can even leave them frozen to keep things easy.
Milk – Whole and 2% both work, but avoid using skim or nonfat milk. The fat is really necessary to create a good rise in the dough.

Non-dairy milk alternatives like almond milk probably won't work. However, coconut milk, which has a high fat content, should work well. Keep in mind though… We haven't tested this cobbler recipe using coconut milk.
Bisquick Mix – Regular, Heart-Healthy, and Gluten-Free versions all work well. If you don't have any on hand, or you want to avoid buying it, it is super simple to make at home. See our instructions below.
Sugar – Sweetener substitutes are an option, but don't use regular Splenda as a sweetener substitute in Bisquick cherry cobbler! Instead, use Splenda specifically made for baking.
Homemade Baking Mix for Bisquick Cherry Cobbler
You'll find the complete instructions in our homemade Bisquick recipe. But here's what, you will need:
All-Purpose Flour
Baking Powder
Salt
Shortening or Butter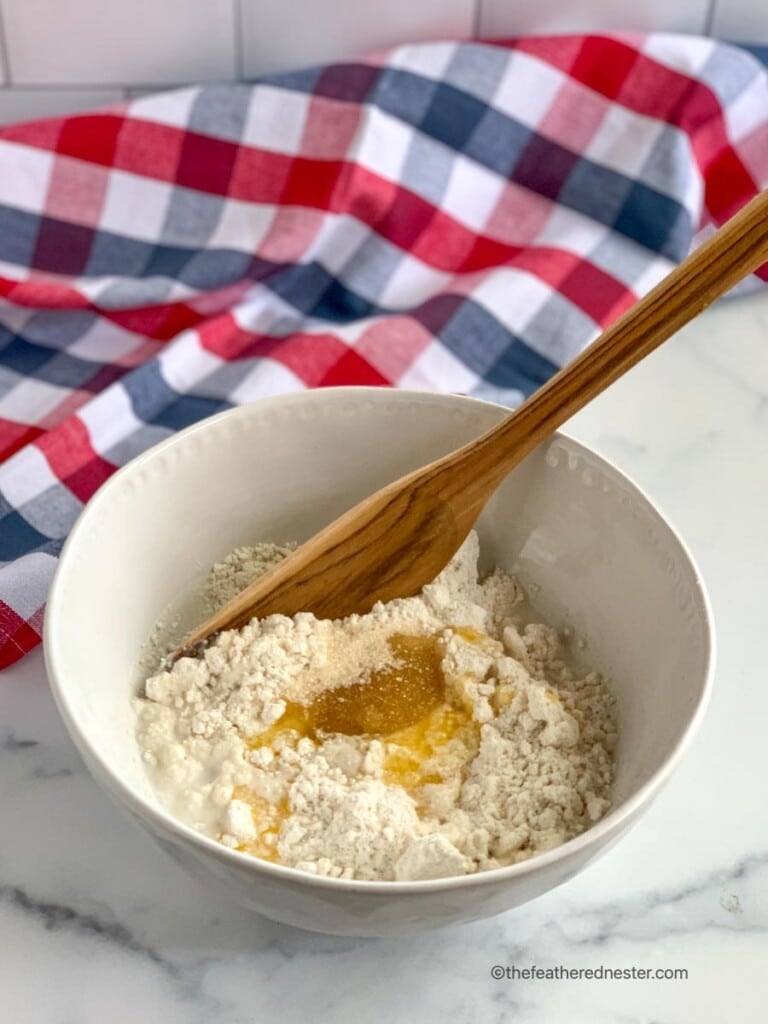 Combine the dry ingredients with a food processor or blender, then add the shortening, one cube at a time, until it's totally combined. Store in your pantry just like the store-bought stuff.
Fruit Cobbler Recipe Tips
Evenly space the biscuit topping.
Keep in mind, both the pie filling and the Bisquick need to cook. If you totally cover the surface of the fruit with batter, then neither will cook, leaving you with a goopy soup instead of a cobbler!

Leave at least a couple of inches of space between each drop of dough to let the filling breathe and the topping brown.
Don't under bake your dessert.
When it's ready to remove from the oven, the topping of your cherry cobbler should be golden brown. The filling will bubble, especially around the edges of the dish.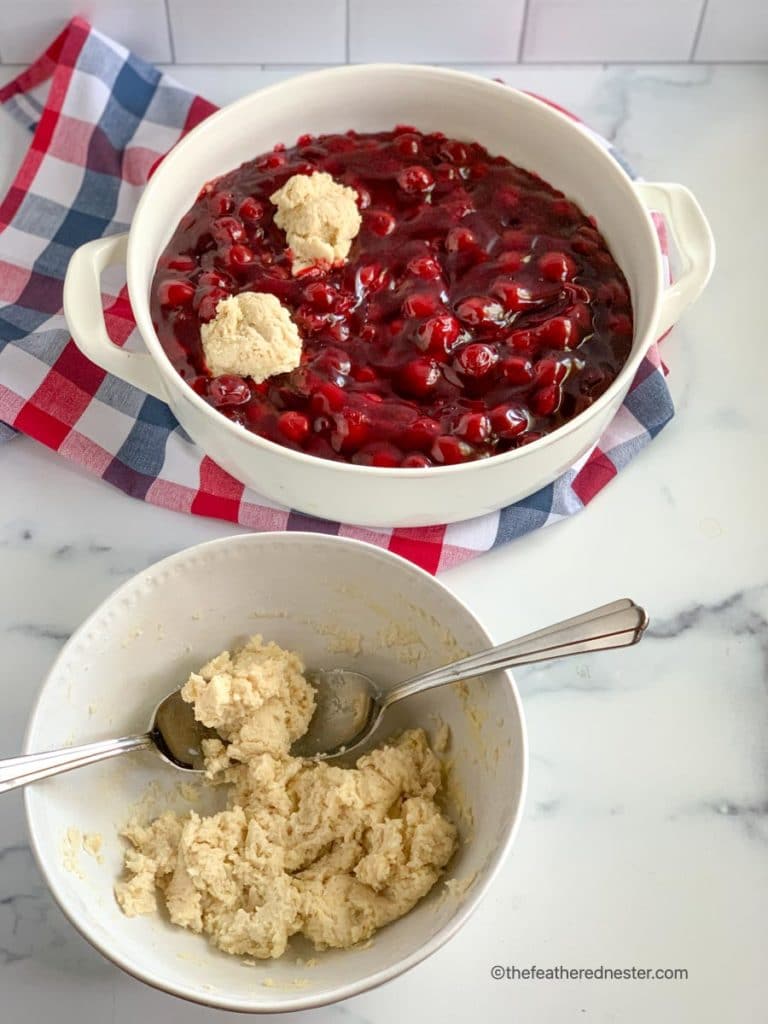 Use a cooking thermometer for the best results.
If the visual cues aren't giving you enough confidence, use an instant-read thermometer to check the temperature of the filling. When it reaches 200ºF., the cherry dessert is ready to come out of the oven.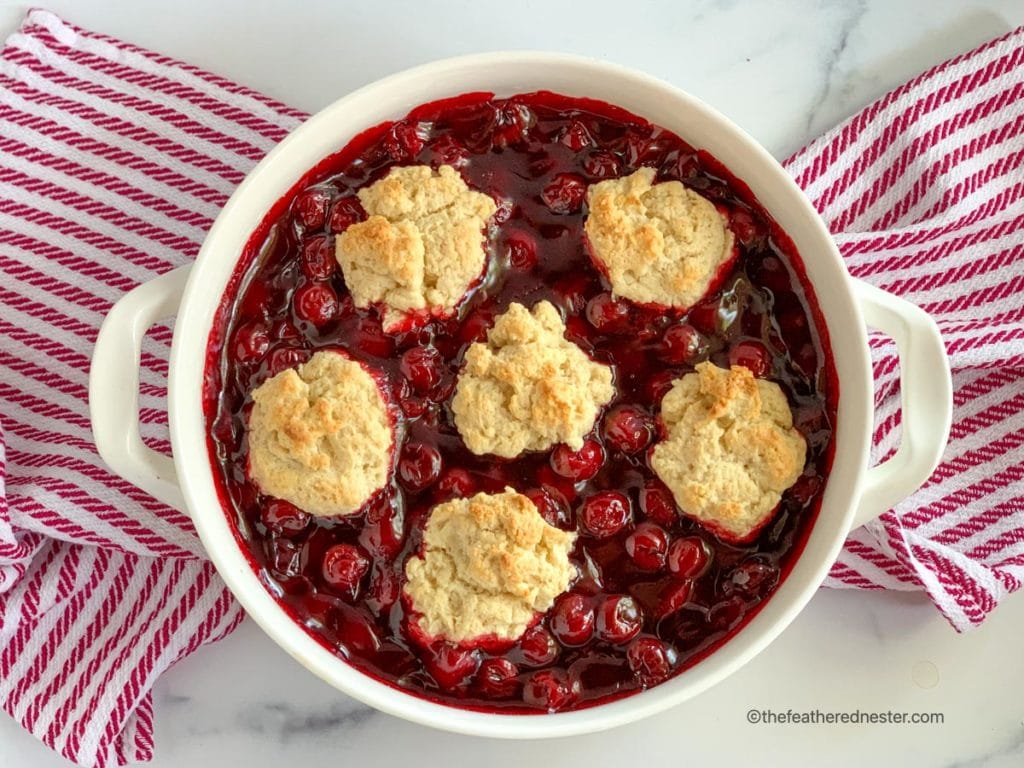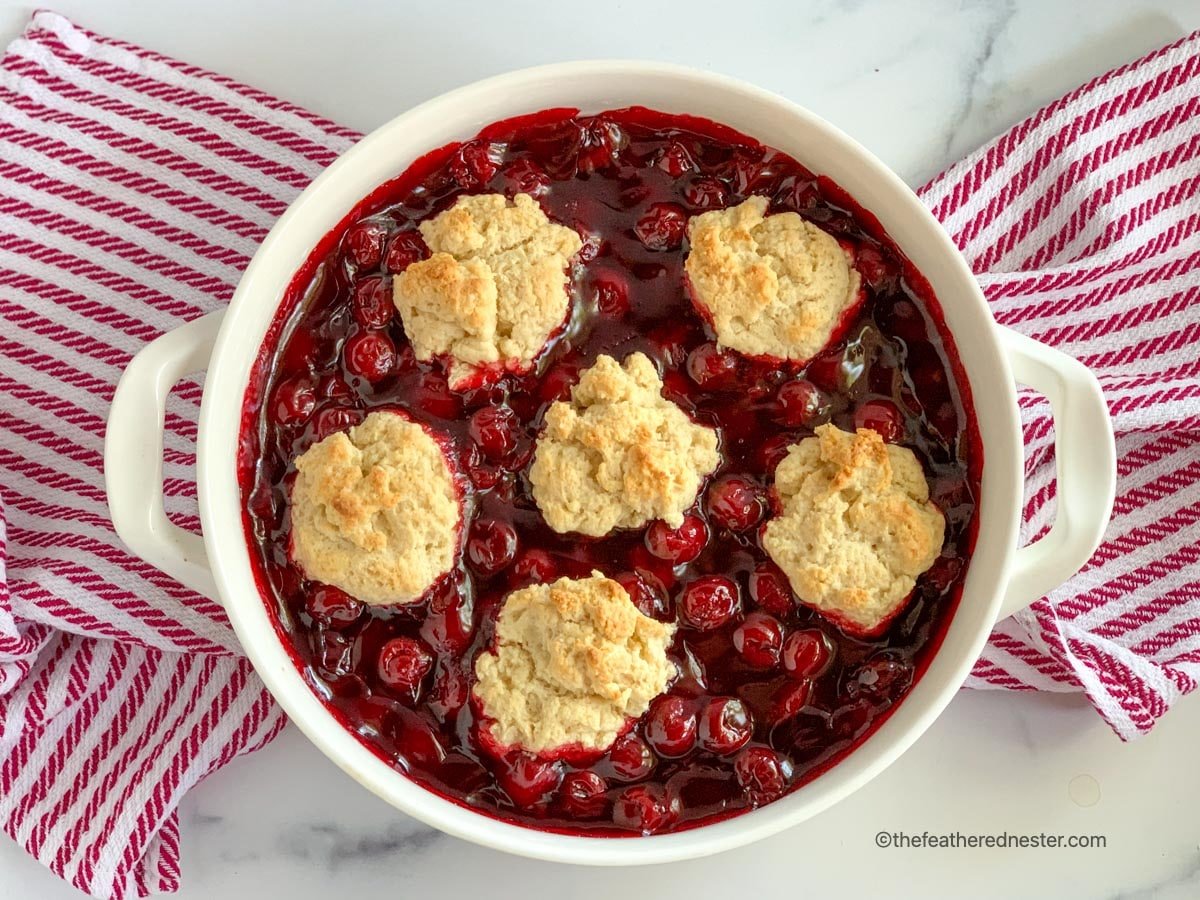 Looking for some more easy summer dessert ideas?

Click over and get our recipes for peach cobbler pound cake and cheesecake salad!
Bisquick Cherry Cobbler FAQ
How do you thicken fruit for cobbler?
All you need to do is add some cornstarch to your filling of choice.
If you're starting with just the fruit, you'll need to cook it with some sugar and lemon juice first to break it down to a filling-like consistency. Additionally, a warmer filling will thicken with cornstarch better than a cool or room-temperature filling.
Serving Suggestions
We can't imagine serving a warm Bisquick cherry cobbler without homemade whipped cream or a scoop of ice cream!
TFN Serving Tip!
If you will be serving someone who isn't a fan of sweet desserts, add a heaping spoonful of cream cheese or sour cream to their portion. The tanginess in either of those ingredients will tone down and balance out the sweetness of the pie filling.
Storing and Reheating
Wait until the Bisquick cherry cobbler cools completely to room temperature before storing it to avoid condensation in the container. Transfer to the refrigerator where it can be kept for up to 4 days and reheated in the microwave for just 20 to 30 seconds.
This easy Bisquick dessert also freezes very well for up to 3 months! Reheat in the oven at 350ºF for 30 minutes.
Do you have a favorite summer dessert using cherries or cherry pie filling? Please let us know about it in the comments below this post!
Bisquick Cherry Cobbler
Bisquick Cherry Cobbler is a lazy summer dessert that tastes extraordinary! Wow your guests with this juicy, tasty 30-minute fruit cobbler!
Equipment
9" cast iron skillet or 2 quart casserole dish

spoon or cookie scoop
Ingredients
42 ounces cherry pie filling 2 (21-ounce) cans – see notes for substitutions
1 ½ cups Bisquick baking mix homemade or store bought
⅓ cup milk whole or 2%
1 ½ tablespoons sugar or granulated sweetener substitute
2 tablespoons unsalted butter melted
Instructions
Heat the oven to 400º F. and grease a large cast-iron skillet or casserole dish. (Preheating the oven is not necessary for this recipe).

Add the cherry pie filling to the skillet or casserole dish and bake for 10 minutes.

While the cherry pie filling is baking, stir the last 4 ingredients together in a small bowl to make the Bisquick biscuit topping.

Remove the cherry cobbler from the oven. Using two spoons or a scoop, drop the biscuit dough on top of the cherry filling, evenly spacing them on top of the casserole.

Return Bisquick cobbler to the oven and bake for 15 minutes. The cobbler is done when the biscuits are golden and the cherries are bubbling. Let cool slightly before serving.

Serve with a dollop of homemade whipped cream, cool whip, or a scoop of vanilla ice cream. For an extra tangy treat, enjoy a bowl of cobbler with a cool spoonful of cream cheese on the side.
Notes
Recipe substitutions:
Canned cherries: Two 20 ounce cans, plus add 2 tablespoons cornstarch
Splenda sugar (baking) mix can be substituted 1:1 for sugar. Do not use regular Splenda, as the fruit cobbler will not thicken properly. Instead, use 1/2 regular Splenda and 1/2 sugar.
Freeze fruit cobbler for up to 3 months after putting in a tightly sealed container. Reheat covered, in a 350° F. preheated oven, for 30 minutes.
Nutrition
Serving: 1serving | Calories: 407kcal | Carbohydrates: 78g | Protein: 4g | Fat: 9g | Saturated Fat: 4g | Polyunsaturated Fat: 1g | Monounsaturated Fat: 4g | Trans Fat: 0.2g | Cholesterol: 11mg | Sodium: 424mg | Potassium: 279mg | Fiber: 2g | Sugar: 7g | Vitamin A: 550IU | Vitamin C: 7mg | Calcium: 93mg | Iron: 1mg
PIN THIS POST!