Sweet and gooey cherry cobbler with a fluffy biscuit topping is a delicious dessert everyone will love. This simple Bisquick Cherry Cobbler recipe is the perfect combo of classic cherry pie and easy fruit cobbler. It's made with canned cherry pie filling because who doesn't need more simple recipes using cherry pie filling?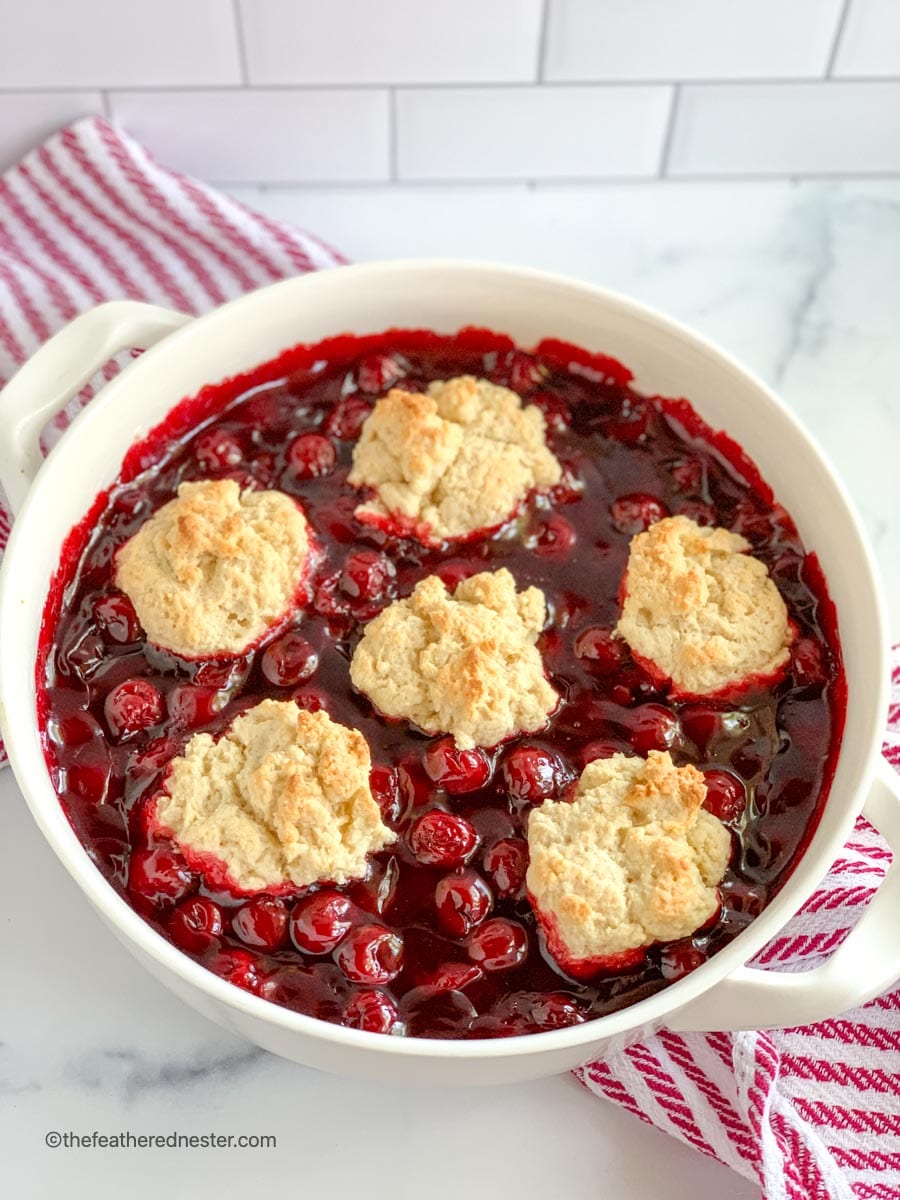 Jump to Recipe
Cherry Cobbler with Bisquick
This easy cherry cobbler with Bisquick is similar to my other easy cobbler recipes – Bisquick Apple Cobbler and Bisquick Strawberry Cobbler. With its simple prep and quick baking time, you'll be serving up this dessert in no time!
The stars of the show in this recipe are juicy, tangy cherries. Best of all, you can keep canned cherry pie filling in the pantry to make this recipe anytime.
Serve this delicious dessert at any gathering, or enjoy it with the family as a quick after-dinner treat! And, this easy Bisquick cherry cobbler is sure to become your go-to recipe all spring or summer long.
Or, take it to your next potluck, BBQ, or camping – for a fun cast iron dessert made over the campfire.
Love using Bisquick? Get more easy Bisquick recipes below!
Ingredients for Cobbler with Cherry Pie Filling
You only need 5 ingredients to make the best homemade cherry cobbler with a tasty, flaky, biscuit-like topping. This recipe calls for:
Canned cherry pie filling
Bisquick – or check out my Easy 3 Ingredient Biscuits or Drop Biscuits recipe for a homemade topping
Milk – whole milk is best for the flakiest and most tender biscuits
Butter – unsalted
Sugar – granulated cane sugar or your preferred sugar replacement
TFN tip: You can use 2% milk, however, I do not recommend that you use skim or non-fat milk. A bit of fat in the milk is essential to achieve just the right rise and perfect flaky biscuit texture.
How to Make the Best Cherry Cobbler Recipe
First, heat the oven to 400º F and grease a large cast-iron skillet or casserole dish.
Then add the cherry pie filling and bake for 10 minutes.
Next, whisk together the remaining four ingredients in a small bowl to make the Bisquick biscuit topping. Remove the cherry cobbler from the oven. Drop the biscuit dough on top of the cherry filling, evenly spacing them on top of the casserole.
The last step is to bake for 15 minutes. Remove from the oven when the biscuits are golden and the cherries are bubbling. Let cool for a few minutes before serving.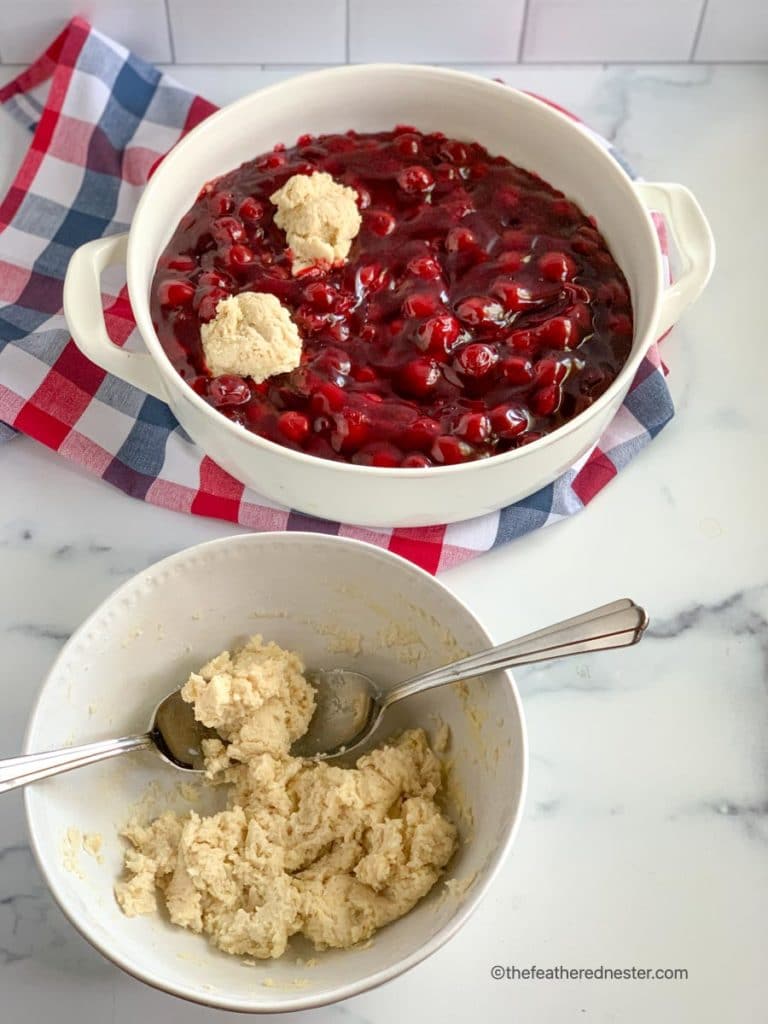 Serve Bisquick Cherry Cobbler with whipped cream, cool whip, or a scoop of vanilla ice cream. For an extra tangy treat, enjoy your cobbler with a cool spoonful of cream cheese on the side.
Get the full Easy Cherry Cobbler Recipe below
Frequently Asked Questions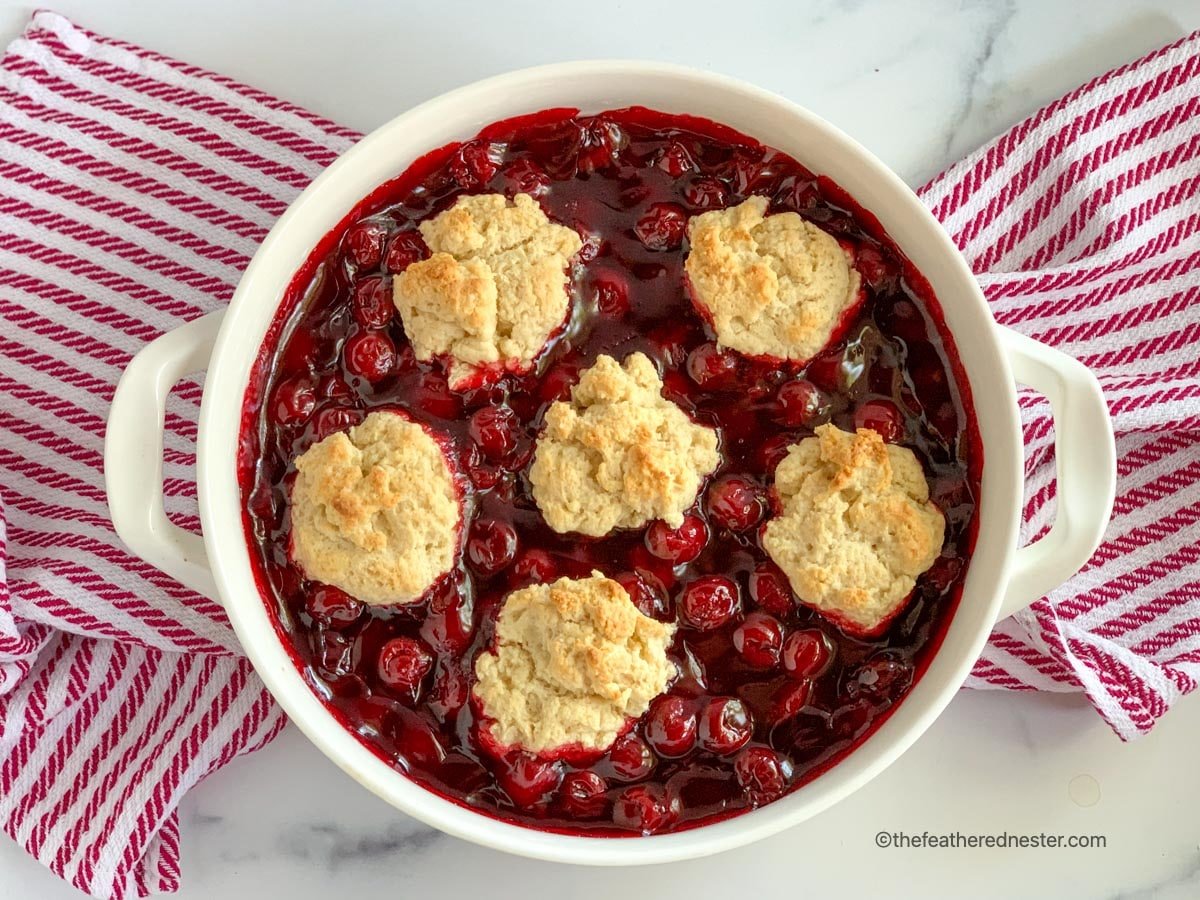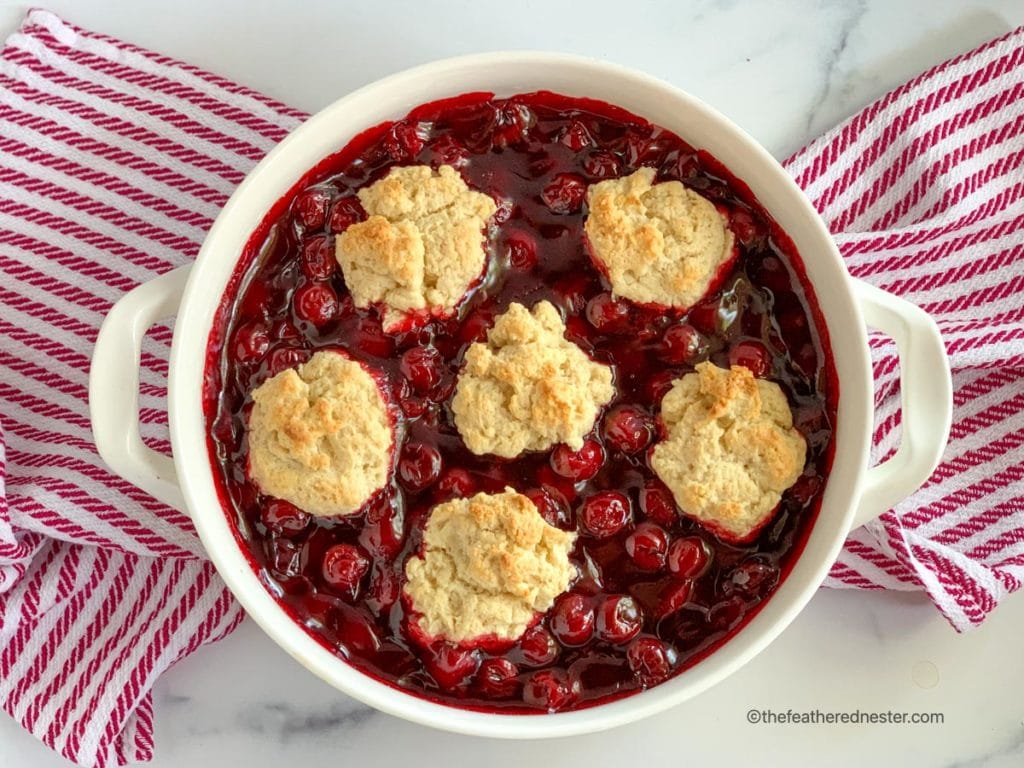 Easy Bisquick Cherry Cobbler Recipe
Get more quick and Easy Bisquick Recipes!