There's nothing like a red white and blue cheesecake salad to add patriotic flair to your holiday potluck or picnic! This no-bake fruit dessert is full of simple ingredients, with a creamy filling that won't weigh you down in the summer heat. Make this layered 4th of July salad – it's sure to become a hit with your family and friends.
Why We Love Red White and Blue Cheesecake Salad
It isn't overly sweet.
Most of the sugar is in the pudding mix and yogurt, but even that isn't too much. The pops of juicy, fruity sweetness from the berries are just perfect.
A time saver!
It can be made ahead of time and enjoyed later on. Make it the morning of the party or a few days before when you have some free time.
It's completely customizable.
The fruit and yogurt flavors can be switched around depending on what's available.
No baking is required.
For summer desserts, nothing is better than a no-bake recipe. Make this fruit dessert and you'll keep your kitchen nice and cool.
Cheesecake Salad Recipe FAQ
What is cheesecake salad?

Think of this no-bake dessert like a deconstructed cheesecake without the crust! It has a thick, tangy, smooth filling made with instant pudding mix. Depending on the recipe, it sometimes includes sweet syrups, chocolate, caramel, and/or fruit mixed into it.

Some are a hodgepodge delight of ingredients while others are arranged in layers, similar to a trifle, as this 4th of July salad is. We think this makes for the best presentation!
Can I use frozen berries in red white and blue cheesecake salad?

Unfortunately, no. As frozen fruit thaws, it adds water to the dessert, making the consistency goopy, runny, and all-around less appetizing.
Ingredient Notes and Substitutions
Instant Cheesecake Pudding Mix – If you're unable to find cheesecake flavored pudding, instant vanilla pudding mix also does the trick. The regular varieties of instant pudding mix are sold in a 5.1 ounce box.

Or, to remove some of the sugar, you can use sugar-free instant pudding mix. If so, you'll need two 1-ounce boxes.
Important: This cheesecake salad recipe will not work with cook and serve pudding. Be sure to use an instant variety.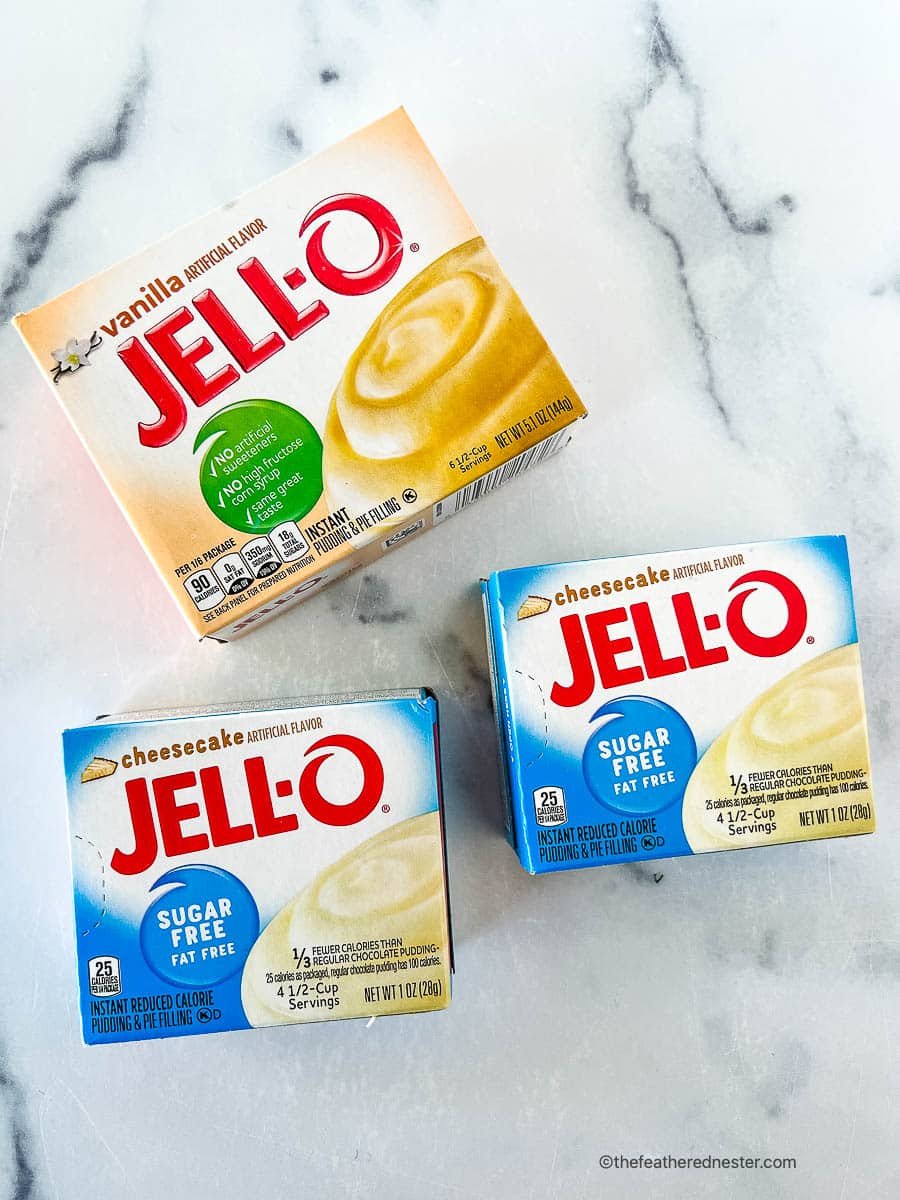 Strawberries – Make sure the berries are rinsed and "hulled" – which simply means removing the green stem and core from the heart of the fruit. Hulling leaves more of the juicy berry flesh behind than when the whole top is cut off.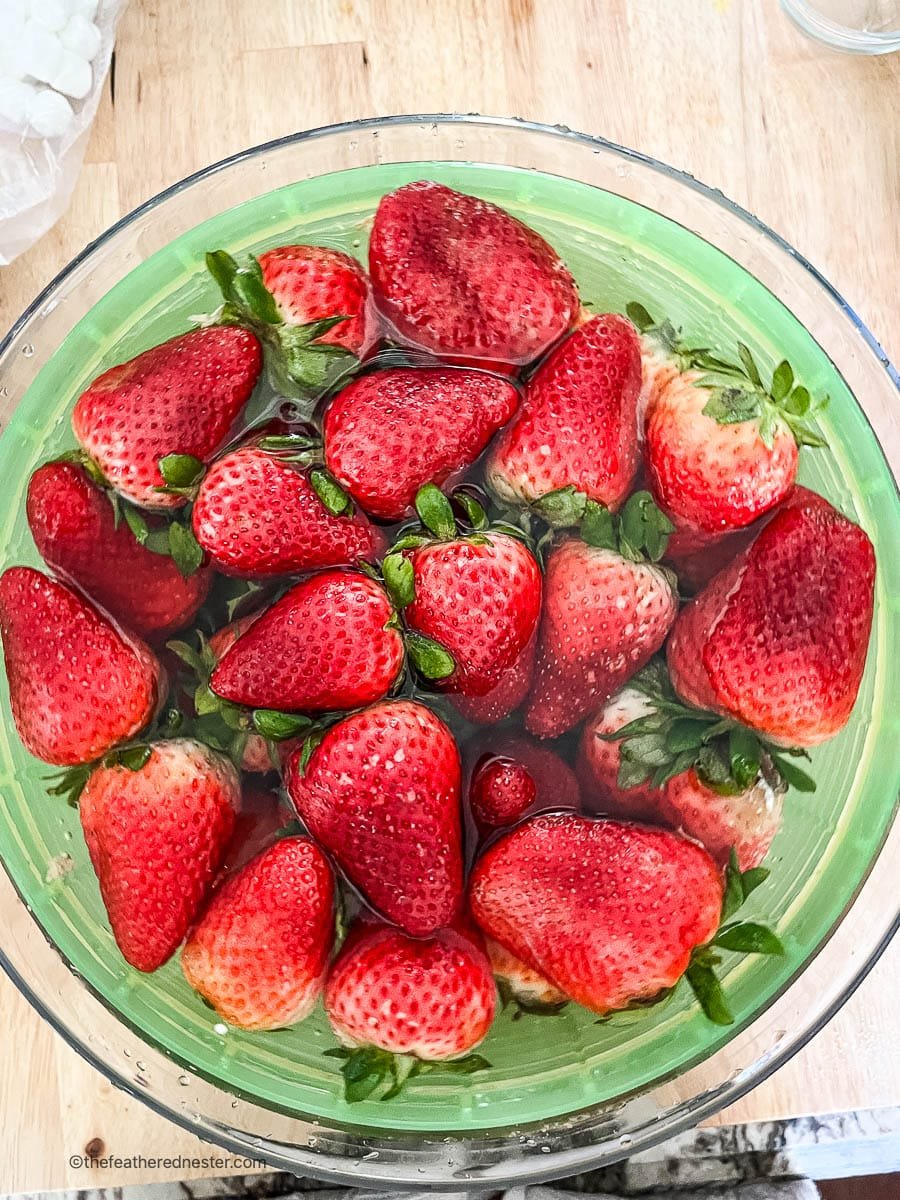 Milk – If you have a dairy intolerance, non-dairy milk works just as well. And thankfully, it doesn't affect the taste or texture of the 4th of July salad.
How to Slice Strawberries for Cheesecake Salad
For a really professional-looking dessert, be sure to slice the strawberries thinly and evenly. Not only will this help you to layer them properly, they'll look incredible once the whole salad is layered!
TFN Pro Tip
To create even, clean slices, chill the strawberries before slicing them. It's far easier to cut into the fruit when it's hard than when it is mushy, and at room-temperature.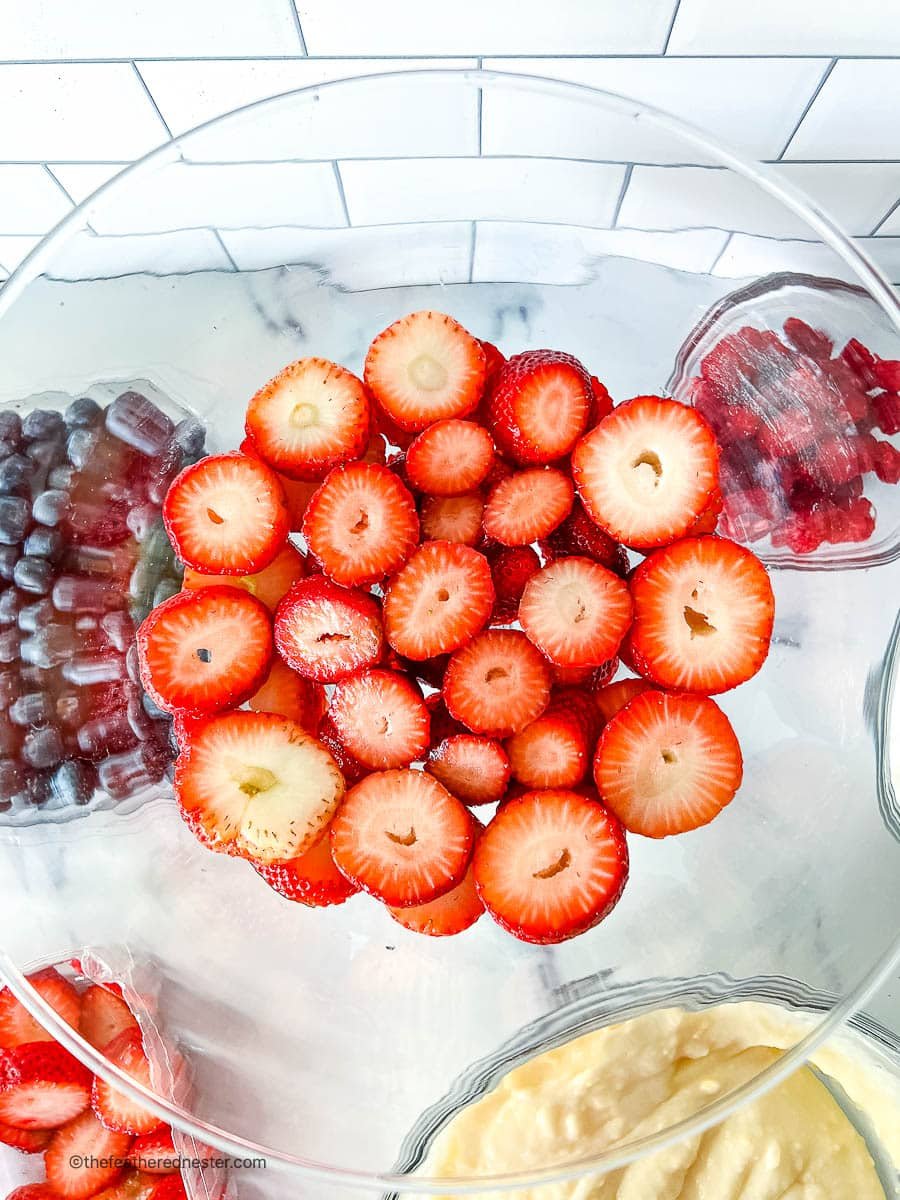 Tips for Assembling the Cheesecake Salad
Showcase your dessert salad with a pretty bowl.
Let your patriotic colors shine! Use a big glass bowl or individual parfait glasses to serve the cheesecake salad in. Otherwise, you won't be able to see all of the beautiful red white and blue layers of fruit, pudding, and marshmallows.
Also, be sure to use one that isn't too wide or too narrow, or you may have trouble scooping out servings. A trifle bowl or serving dish that's about 8 inches in diameter, and with a capacity somewhere around 84 ounces should be perfect.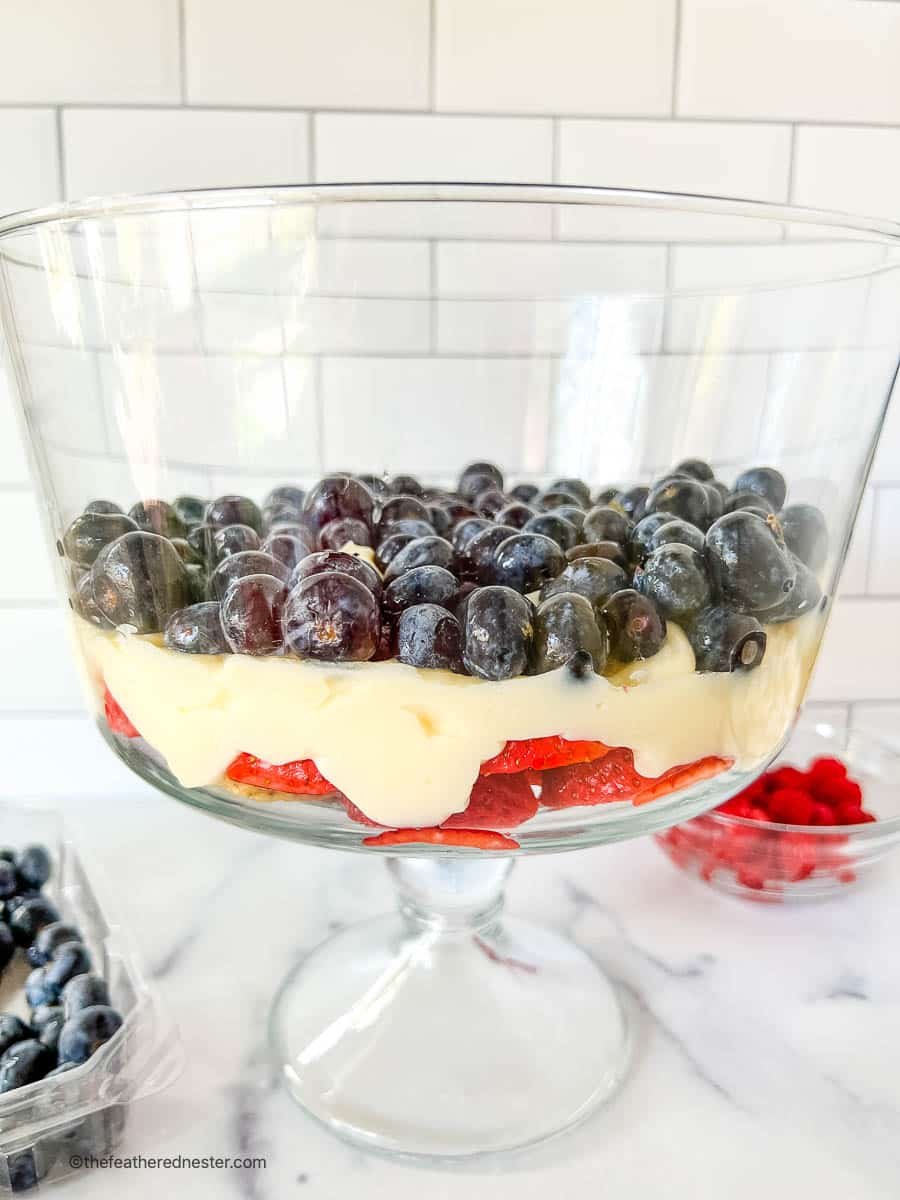 Looking for other simple potluck recipes?
You'll be the hit of the party if you take this Quick Pasta with Peas. It can be served as a cold pasta salad, or a warm main dish!

Another perfect picnic-worthy 4th of July dessert is Strawberry Blueberry Cobbler.
Adjust the consistency of the filling.
If the filling is too thick to spread easily, add small amounts of milk until it's thin enough. Don't use too much though, or you might end up with a soup rather than a pudding.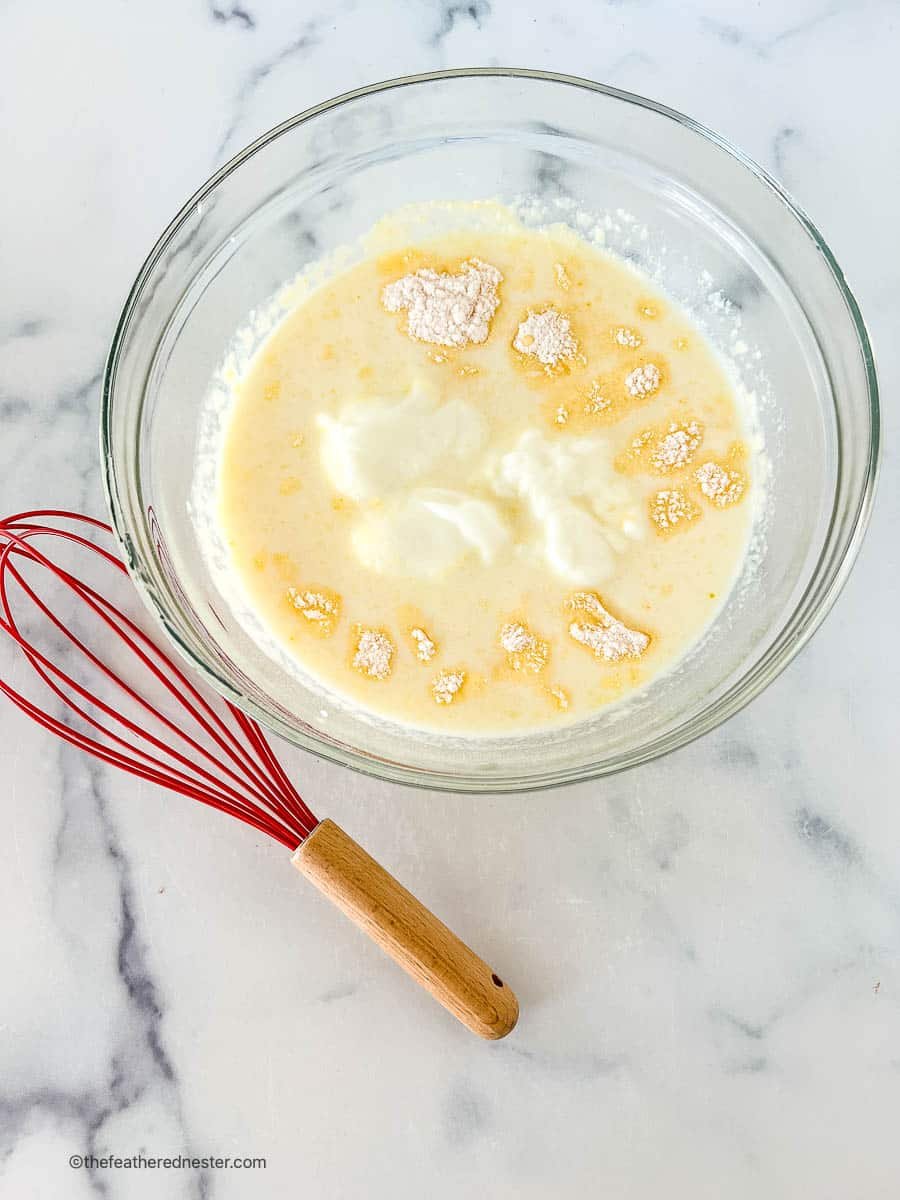 Alternatively, if it's too thin, you can add a bit of cornstarch or more pudding mix. However, before you do that, wait a bit longer! Instant pudding can take a while to thicken if the temperature in the room is especially warm.
This is also why it's best to let the dessert sit in the fridge for an hour before serving.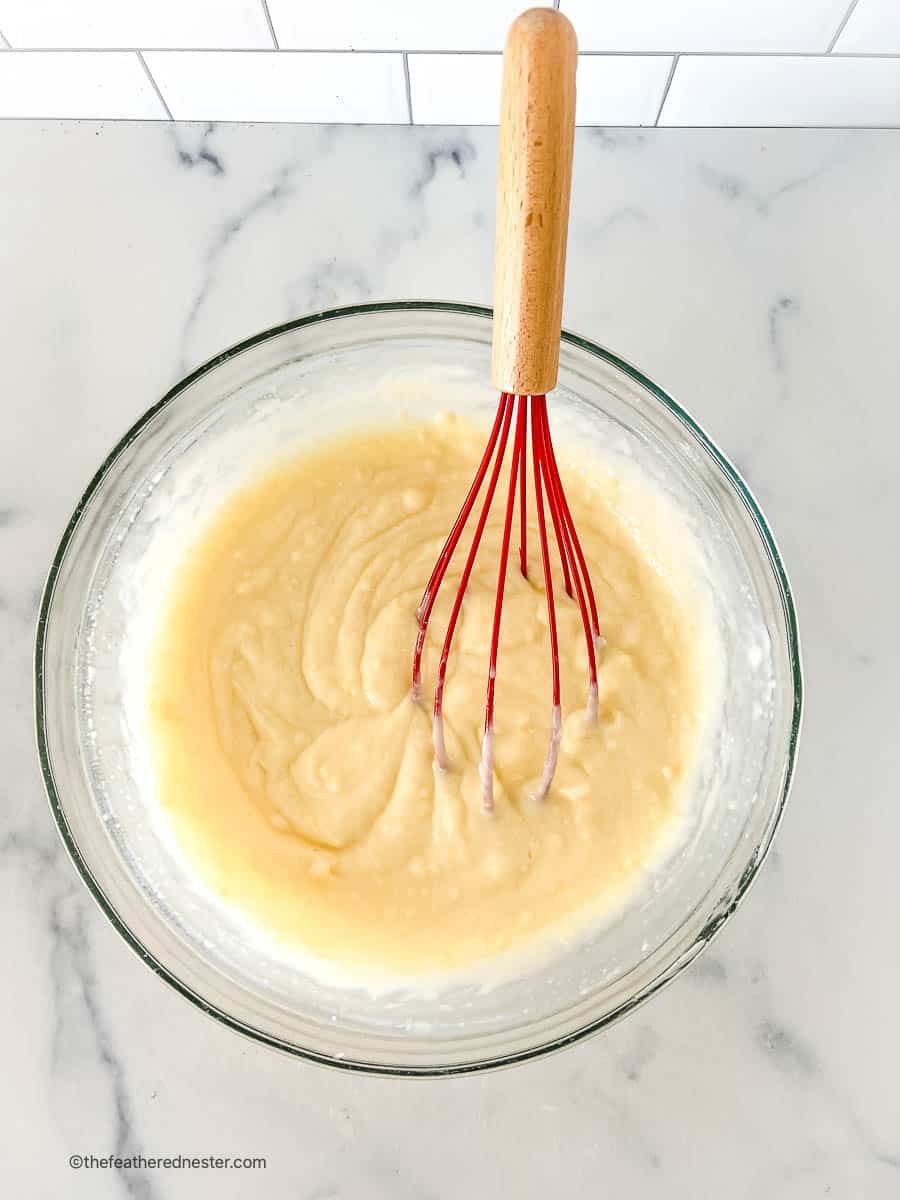 Use a spatula to create the layers.

We recommend using a flat, offset spatula for smoothing out the cheesecake layer. That is much easier than trying to smooth it out with the back of a spoon.

Additionally, we recommend scooping the filling right into the center. From there, spread the cheesecake filling out toward the edges to even it out.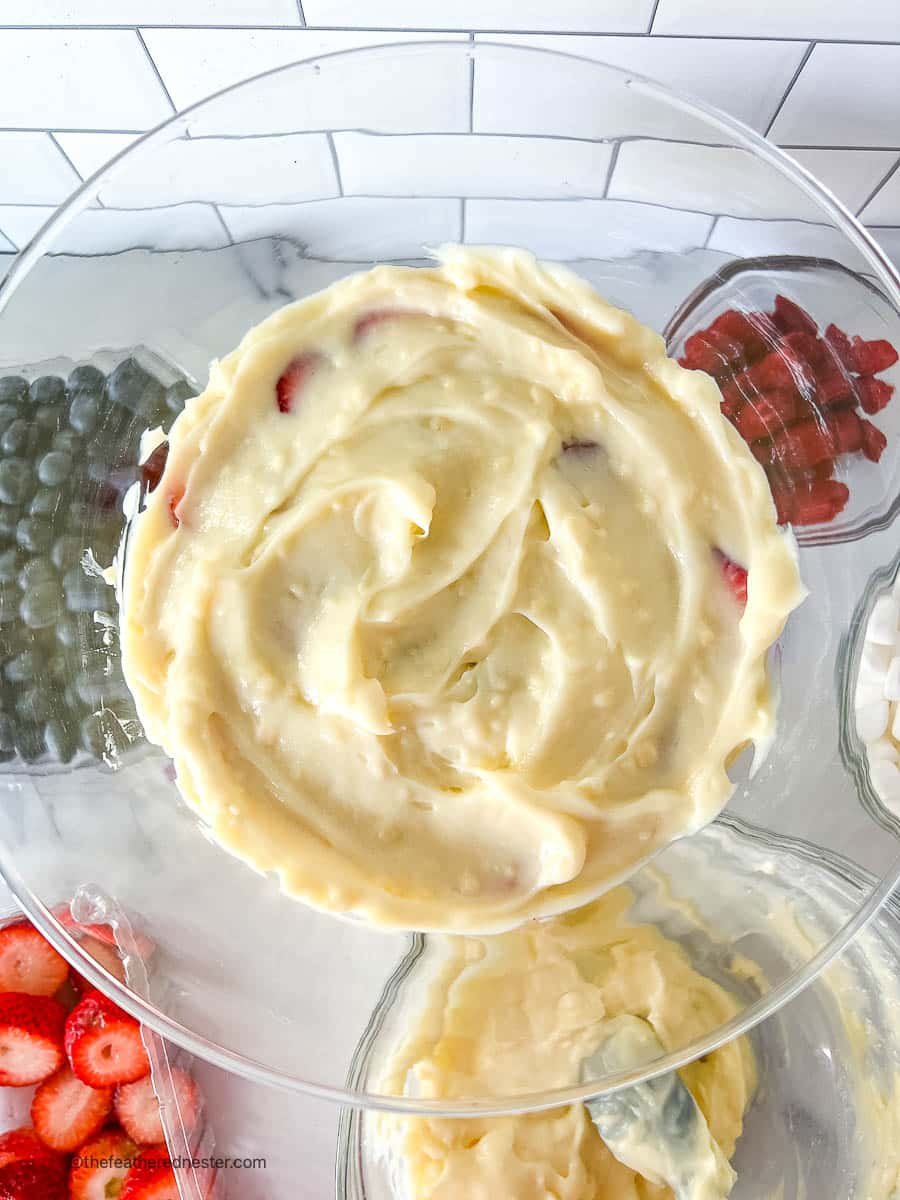 Make-Ahead Instructions
For quicker assembly, you can slice the berries and make the filling ahead of time.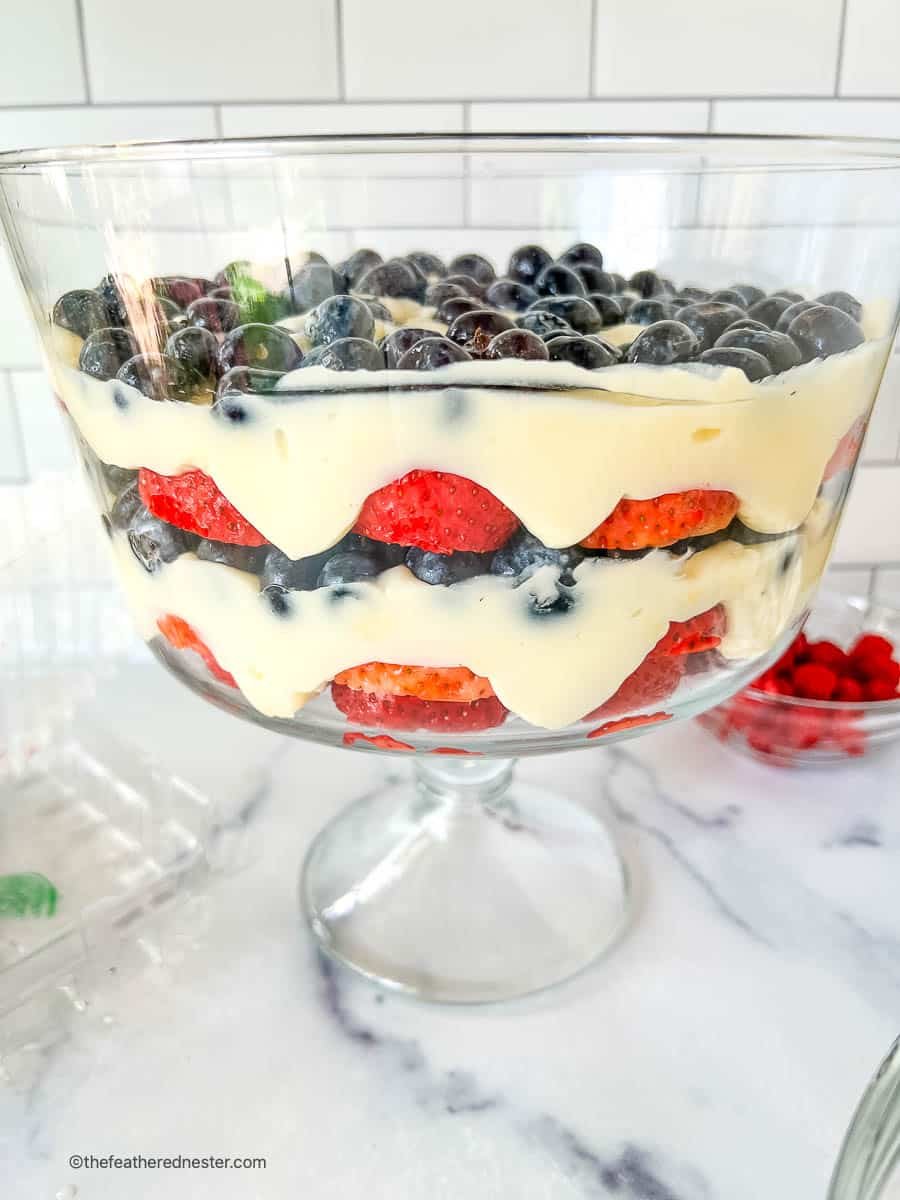 The entire red white and blue cheesecake salad can be made up to 48 hours in advance if you'd like extra time for it to chill. Similarly, any leftovers will keep for up to 48 hours in the fridge.
Storing Cheesecake Salad
Be sure to refrigerate the dessert salad in a covered bowl, so it doesn't pick up any odors from nearby foods! Left at room temperature, the berries will become mushy, and the overall texture will become unpleasant. For the same reason, we do not recommend freezing the 4th of July salad.
For This Cheesecake Salad Recipe, Renae Recommends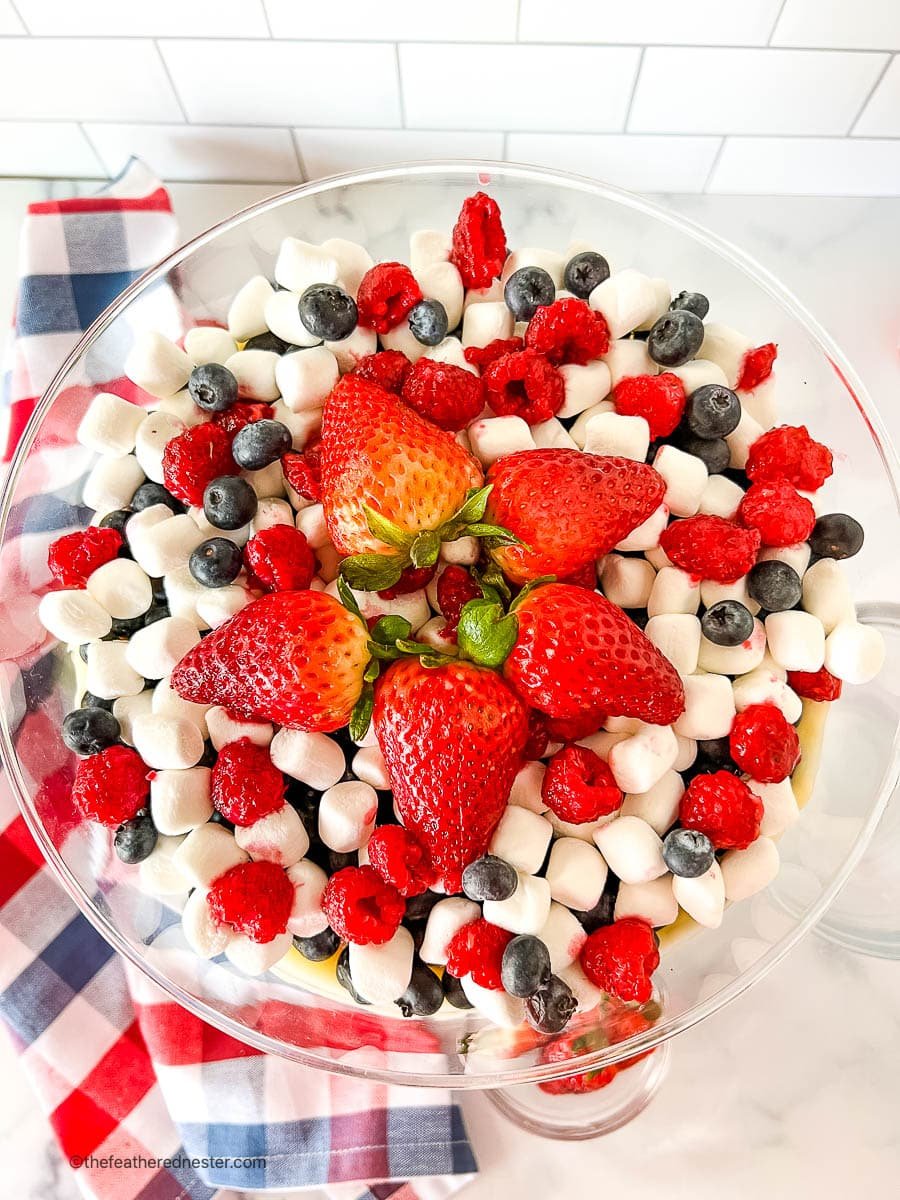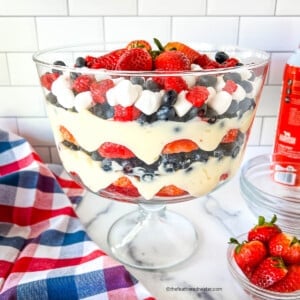 Red White and Blue Cheesecake Salad
Red White and Blue Cheesecake Salad is the perfect fruity, no-bake dessert for summer. Make this 4th of July salad recipe- it'll be a hit!
Equipment
1 trifle bowl

1 offset spatula
Ingredients
6.8 ounces unprepared instant cheesecake pudding mix (two 3.4 ounce boxes) *See Notes
10 ounces vanilla yogurt
2 cups milk or non-dairy milk
2 pounds strawberries hulled and thinly sliced *See Notes
1 pound fresh blueberries
1 cup mini marshmallows
1 cup fresh raspberries or 2 cups blackberries
Optional Topping
whipped cream or non-dairy whipped topping
Instructions
To a large bowl, add pudding mix, yogurt, and milk; whisk well to combine. Let the mixture sit and thicken for 5 minutes.

In a large glass serving bowl or trifle bowl, arrange half of the strawberries in an even layer. *Place larger diameter strawberries on the outer edges.

Use a flat spatula to smooth half of the pudding mixture over the strawberries.

Arrange 1/3 of the blueberries on top of the pudding.

Repeat the layers with the all the remaining strawberries, all the remaining pudding, and half of blueberries.

Top the cheesecake salad with mini marshmallows, remaining blueberries, and raspberries (or blackberries).

Cover the bowl with plastic wrap or foil and refrigerate for at least an hour before serving.

If desired, top with whipped cream before serving.
Notes
If you can't find instant cheesecake pudding mix, use instant vanilla pudding mix.
You can substitute sugar free instant pudding, but note that sugar-free pudding comes in a different size. You'll need two 1-ounce boxes.
Cut strawberries in even slices so they layer evenly.
When spreading the pudding, it's easier if you spoon the pudding in the center, then use a spatula to spread it out to the edges.
Make ahead: Cheesecake salad can be made up to 48 hours in advance.
Nutrition
Serving: 1cup | Calories: 235kcal | Carbohydrates: 39g | Protein: 5g | Fat: 8g | Saturated Fat: 5g | Polyunsaturated Fat: 0.3g | Monounsaturated Fat: 0.1g | Cholesterol: 29mg | Sodium: 129mg | Potassium: 203mg | Fiber: 4g | Sugar: 31g | Vitamin A: 319IU | Vitamin C: 52mg | Calcium: 34mg | Iron: 1mg
PIN THIS POST!