Use your extra-ripe bananas to make this moist and flavorful Bisquick Banana Bread recipe! This quick bread is fantastic for breakfast, snacks, or even as a dessert.
Don't throw away your over ripe bananas; make banana bread with Bisquick! You'll be surprised at how easy it is, and it's perfectly moist, tender, and delicious!
The best thing about this quick bread recipe is that it only takes a few minutes to prepare, and you probably have all of the ingredients you need in your kitchen already.
Why We Love Bisquick Banana Bread
Great use for ripe bananas! Just about everyone knows that banana bread recipes are a great way to use up overly ripe bananas.

Minimal ingredients. With simple pantry staples, you can have a 5 ingredient banana bread ready to eat in under an hour!

Customizable! To make this banana bread recipe extra special, add chopped nuts for a crunchy texture. Or, stir some chocolate chips or dried fruit into the batter.
Ingredient Notes and Substitutions
Unsalted butter – If you need a dairy free banana bread, feel free to use plant based butter sticks.
Ripe bananas – the riper, the better!
Bisquick baking mix
No Bisquick mix on hand? Make our Homemade Baking Mix recipe!
How to Ripen Bananas Quickly
Don't have any ripe bananas? Not a problem! You can soften bananas quickly by placing them on a microwave-safe plate, covering them with a damp paper towel, and microwaving on High power for 30 seconds. This softens the banana, making it easier to mash.
However, keep in mind that the banana is not quite as ripe, so your bread may not be as sweet. To adjust for this, just add a bit more sugar or honey to the Bisquick banana bread recipe.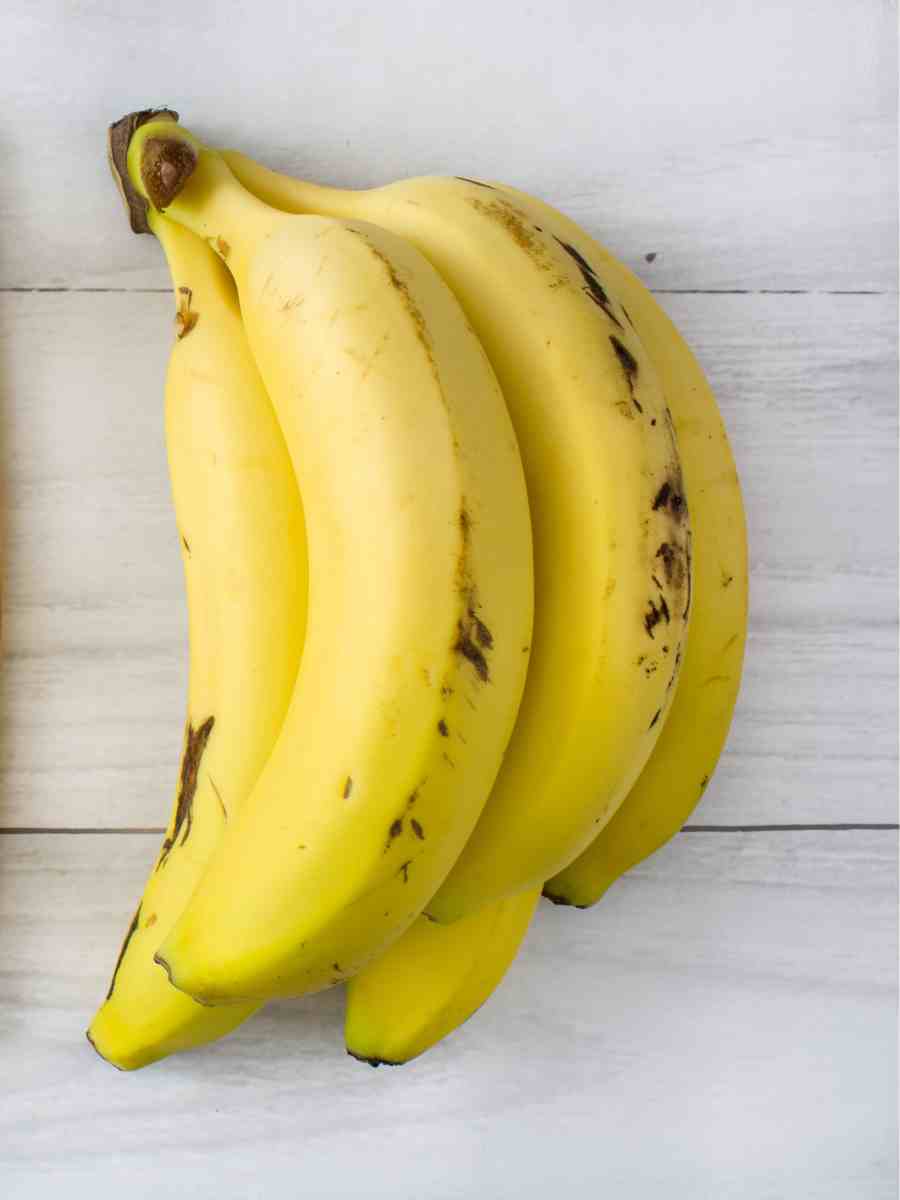 Tips for making Bisquick Banana Bread Recipe
Use very ripe bananas for the best flavor.

Don't over mix the batter, mix just until everything is combined.
Be sure to grease the loaf pan or use a nonstick pan.

Bake Bisquick banana bread at 325ºF for 45-55 minutes. If the loaf starts to become too brown, cover the top of the loaf pan loosely with foil for the remaining bake time.
Avoid overbaking the banana bread. Test the doneness by inserting a toothpick into the center of the loaf. Your quick bread is ready when the toothpick comes out dry, or with a few moist crumbs.
Cool slightly before serving. Allow the bread to cool in the pan for 10 minutes before removing and slicing it to serve.
Recipe Variations
Add chocolate chips or swirl some Nutella or peanut butter for a delicious twist.
For banana nut bread, add 1/2 cup chopped walnuts or pecans to the batter before baking.
For a healthier banana bread recipe, add 2 tablespoons of ground flaxseed or chia seeds to the batter.
Make it gluten-free by replacing traditional Bisquick with gluten-free Bisquick baking mix.
For portion control, make Bisquick banana muffins or sourdough Banana Muffins instead!
Serving Suggestions
Banana bread is a great snack or dessert. Serve it with a scoop of ice cream or chocolate sauce on top for a decadent treat.
Or, you can enjoy it with a schmear of butter or cream cheese for breakfast. It's also perfect as an afternoon snack with fruit or yogurt.
Storing and Reheating
Let the Bisquick banana nut bread cool completely before storing it. To store, wrap it in plastic wrap or store it in an airtight container. It will keep at room temperature for up to 5 days.
You can also put them in the fridge for up to 5 days or freeze them for up to 3 months. To reheat, put the slices in the microwave or oven until warm.
Banana Bread Recipe FAQ
What is the number one mistake made when making banana bread?
The number one mistake made when making banana bread is overbaking. This can cause the bread to become dry and crumbly. Be sure to check it at the minimum baking time and wait until a toothpick inserted into the middle of the loaf comes out clean before taking it out.
Why is my banana bread not moist?
If your banana bread seems dry, it's likely because you didn't use ripe enough bananas, or it was baked for too long. Be sure to use very ripe bananas, and set a timer to remind you to check the quick bread for doneness.
What happens if you add an extra egg to banana bread?
Eggs add moisture and also help to hold banana bread together. So, using an extra egg will make the bread moist and a bit sturdier. However, if you add too many eggs, the bread can become too dense. For the best results, it is best to follow the recipe and only use the recommended amount of eggs.
Love recipes using Bisquick?
Use the baking mix in our recipes for Blueberry Muffins, Funnel Cake, and Bisquick Sausage Balls with Cheese.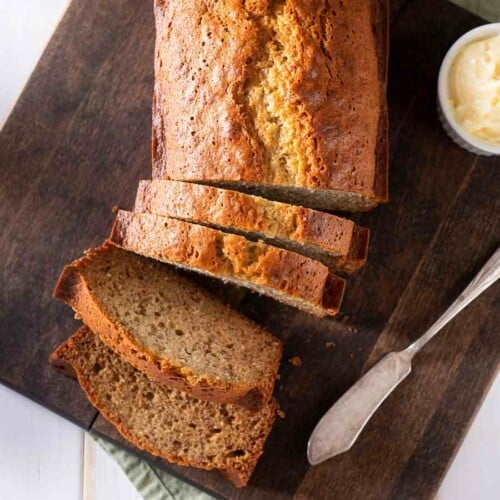 Bisquick Banana Bread
Banana bread recipes don't get easier than this winner! Not only is this Bisquick banana bread nearly effortless to prepare in just 10 minutes (with or without nuts!) but it bakes up as a perfectly tender, moist and flavorful loaf every time.
Equipment
1 loaf pan, approx. 9" x 5"
Ingredients
⅓ cup (6 tablespoons) unsalted butter, room temperature
⅔ cup brown sugar, packed
1 teaspoon vanilla extract
3 ripe bananas, mashed (the riper, the better!)
1 large egg, beaten
2 cups Bisquick baking mix (see notes for DIY baking mix)
Instructions
Preheat the oven to 325º F. Lightly grease your loaf pan, unless it's an uncoated stoneware pan.

Combine the butter, brown sugar, and vanilla extract in a medium bowl. Mix by hand until smooth, about 2 minutes. Or use a stand or hand mixer on low speed for 1-2 minutes until the mixture is smooth.

Stir in mashed bananas and eggs. Combine until smooth, though there might be small lumps of banana. Add Bisquick baking mix, 1/2 cup at a time, stirring in between. Then add nuts, if using.

Pour the banana bread mixture into the prepared loaf pan. Smooth the top before baking.

Bake at 325º F for 45-55 minutes or until a toothpick inserted into the middle of the loaf comes out clean. If the banana loaf gets too brown, cover it with foil during baking.

Allow bread loaf to cool for 10 minutes in the pan before removing and slicing to serve.
Notes
Get our recipe to make your own Bisquick in our DIY Homemade Baking Mix post.
Store leftover bread in an air-tight container at room temperature for up to 5 days. Freeze for longer storage (up to 3 months).
Nutrition
Serving: 1slice | Calories: 252kcal | Carbohydrates: 40g | Protein: 4g | Fat: 9g | Saturated Fat: 5g | Polyunsaturated Fat: 1g | Monounsaturated Fat: 2g | Trans Fat: 1g | Cholesterol: 48mg | Sodium: 16mg | Potassium: 159mg | Fiber: 1g | Sugar: 21g | Vitamin A: 305IU | Vitamin C: 3mg | Calcium: 22mg | Iron: 1mg
PIN THIS POST!