What is Bisquick, anyway? The answer is here! Plus, why the baking mix is popular, how it compares to self rising flour, and ways to use it.
What is Bisquick?
Bisquick is a popular pantry staple that is called for in many recipes. It's a convenient, all-in-one baking mix that has been helping busy home cooks prepare meals since 1930!
It is the base of many different dishes, including fluffy pancakes and waffles, biscuits, and even sweet desserts.
The primary ingredients in the Original Bisquick baking mix are flour, salt, baking powder, and shortening.
There are other varieties, including Heart Smart Bisquick, which is lower in cholesterol and sodium. For those who are allergic or sensitive to gluten, there is also a gluten free variety.
All of the varieties are manufactured by General Mills, a brand that is widely known and trusted in households all over the world.
The Popularity of A Simple Baking Mix
This popularity of this product is likely because it's so versatile and can be used in recipes for any meal of the day! Breakfast or brunch, lunches, appetizers, sides, and even sweet snacks and desserts.
Bisquick is very convenient, as it eliminates the need to measure each individual ingredient when baking from scratch. It saves time, energy, and money! What's not to love?
Plus, it's an affordable ingredient for most people. Depending on the area you live in, it can even be less expensive than buying individual ingredients.
However, if it is too expensive for your grocery budget, you can always use our recipe for homemade baking mix!
If you're buying it, ,look in the baking aisle or near the dry pancake mixes. Most grocery stores and supermarkets stock it, too. This means, you can always have some nearby, ready to use.
Bisquick vs Self Rising Flour
Bisquick is more than just flour. It also includes shortening, salt, and baking powder. Baking powder is what causes baked goods to rise.
In comparison, self-rising flour requires additional leavening ingredients to make dishes that you want to rise. Bisquick, which contain everything you need in just one mix.
This also means that Bisquick is much more convenient than self-rising flour!
The texture of this all-in-one baking mix is slightly different than self-rising flour, because it includes shortening.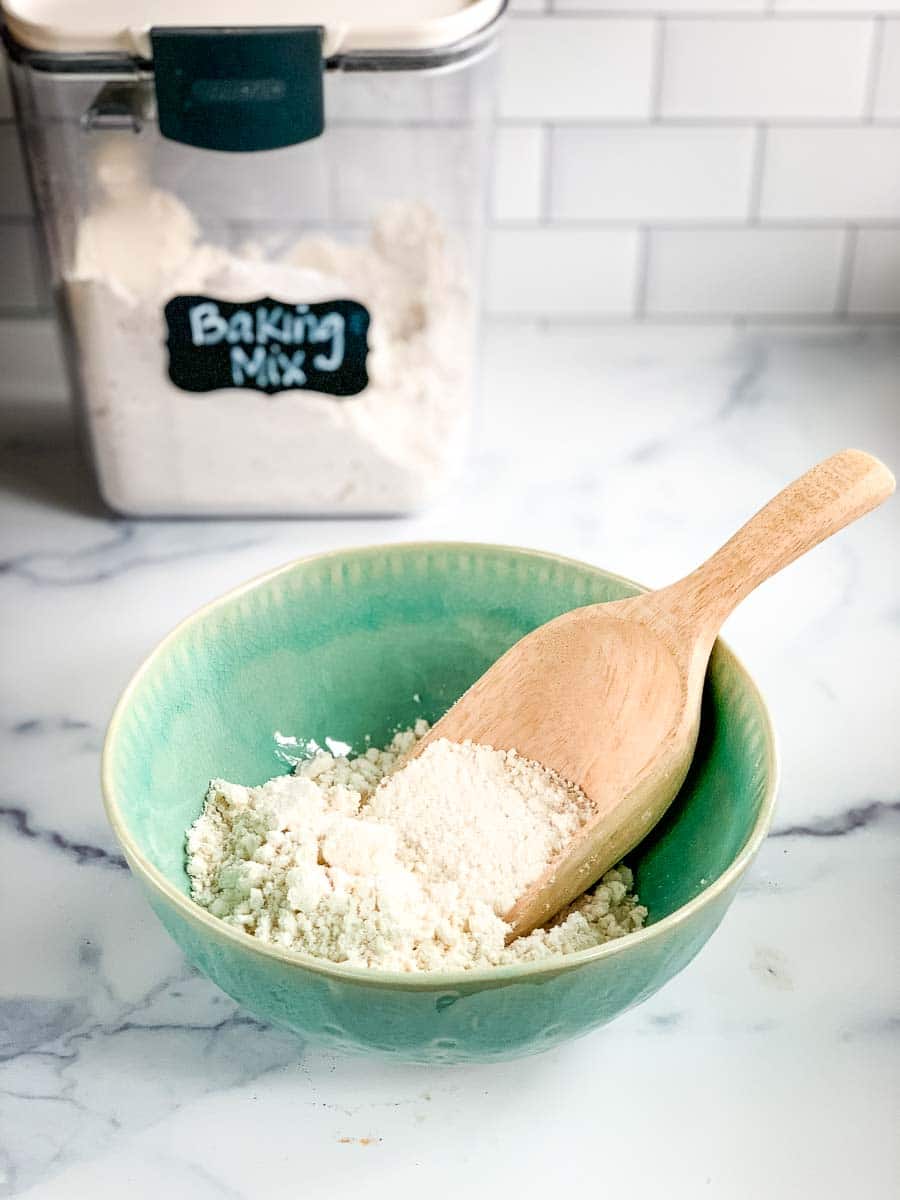 Using Bisquick Baking Mix
You can use the dry baking mix for cooking savory meals, like dumplings, chicken pot pie, and sausage balls. Of course, the most popular uses are for baking biscuits and pancakes.
Believe it or not, you can even use it for making dessert recipes! It is the base ingredient in sweets like cobblers and pies, funnel cake and fruit muffins.
We have a huge collection of Bisquick recipes here on The Feathered Nester. Take a look at a few of them and you will understand why we love it so much!