These oven-baked honey sriracha meatballs are the perfect answer to the question, "What's for dinner tonight?" Made with lean protein, you can feel good about serving the Asian chicken meatballs to the kids. In fact, this spicy meatball recipe has a perfect balance of heat and sweet that's so irresistible, every member of the family is going to want seconds — and thirds!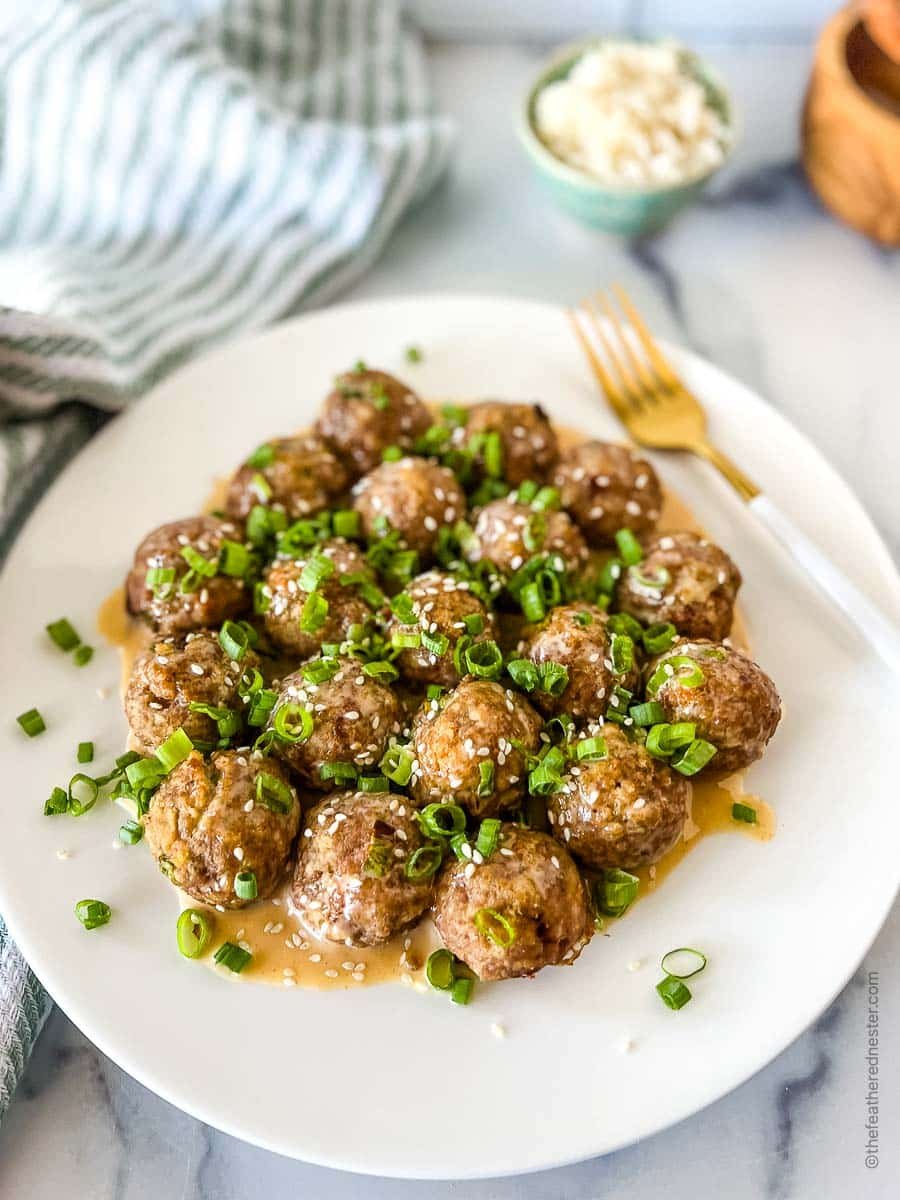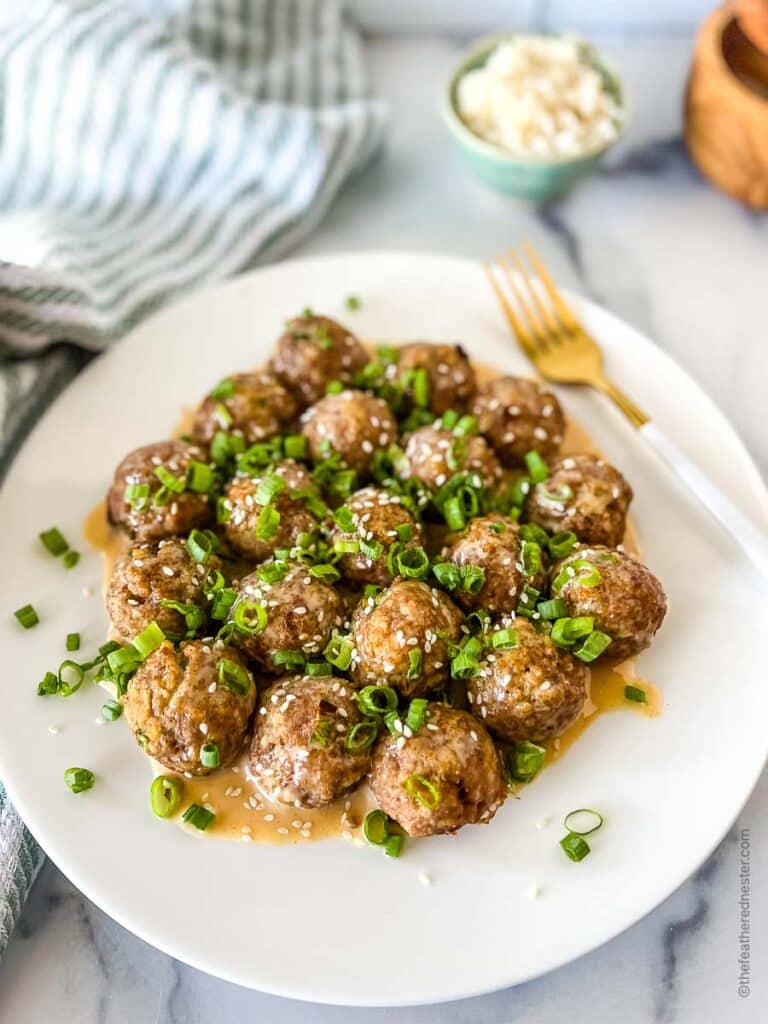 Reasons to Love Honey Sriracha Meatballs
They're quick!
This sweet and spicy meatballs dish is a painless 30 minute recipe you can throw into the oven on any busy weeknight.
Also makes a great appetizer.
This recipe makes a great before dinner dish or even a main course served with fluffy Jasmine rice and veggies.
They are freezer friendly.
Meatballs are an excellent meal prep option. When you don't feel like cooking, pull this dish out of the freezer, thaw, and reheat for a quick and easy meal.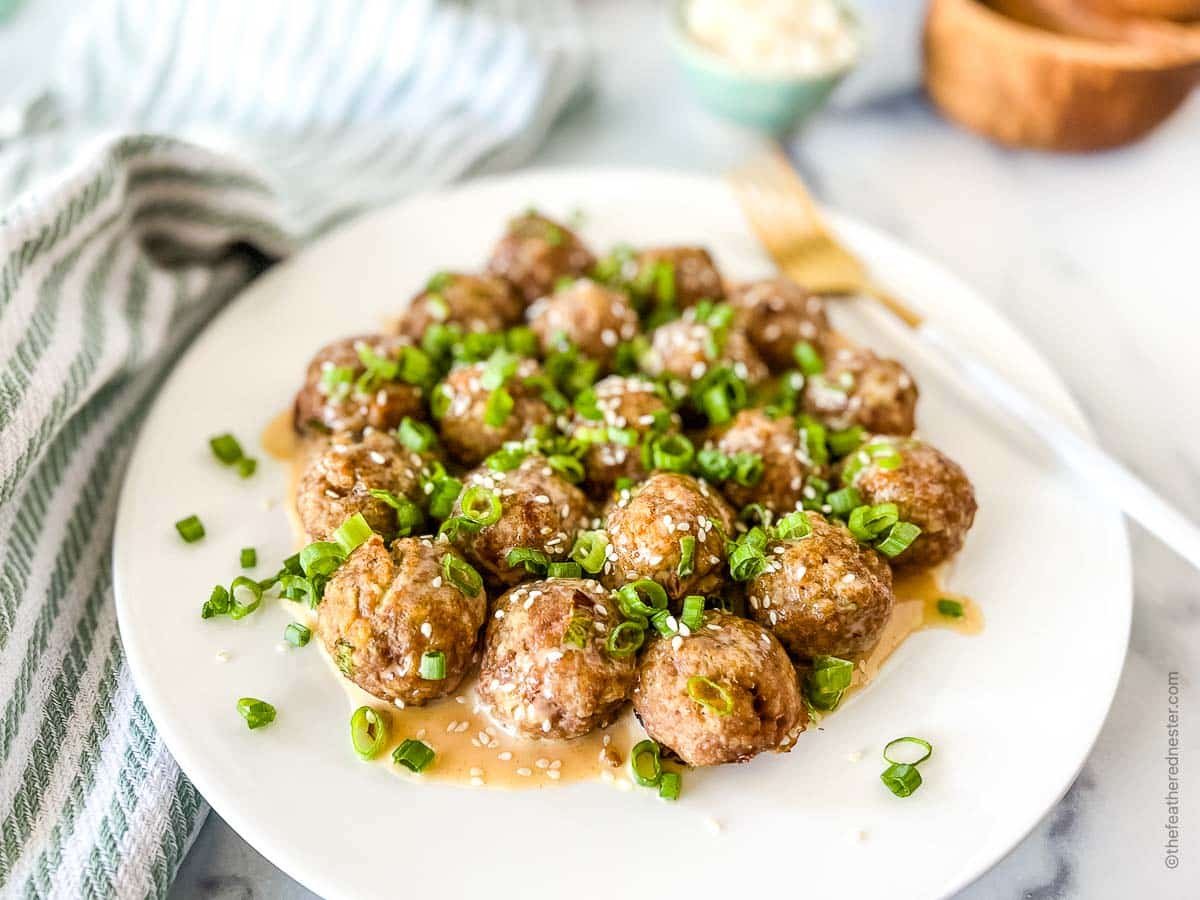 Ingredient Notes and Substitutions
Ground chicken – Use ground chicken, not ground chicken breast, because it has a bit more structure and less moisture. You can also try using different types of ground meat, such as ground beef, pork, turkey, or lamb.
Large egg – To bind the meatballs. So don't skip this one.
Panko breadcrumbs – Help add moisture to the meatballs and will help them stay juicy without being too soggy. You can use regular breadcrumbs if you want.
Scallions – Sliced, white part only — reserve greens for topping.
Garlic – This adds a deep rich flavor and goes really well with ginger. We used minced garlic tubes from the store, but you can use freshly minced garlic as well.
Ginger – Using minced ginger adds a zing of flavor to the meatballs. We used a tubed one, but you can mince your own as well.
Sesame oil – Adds a nutty flavor and helps crisp the meatballs while they bake.
Sour cream – Provides a creaminess and a tanginess to the sauce. You can also use Greek yogurt if you prefer.
Mayonnaise – This is the creamy base for the sauce.
Honey – Adds sweetness to the meatballs. But you can swap it for brown sugar or maple syrup.
Ponzu sauce – Adds acidity and umami to the spicy sauce. However, if you don't have it, you can use soy sauce or tamari.
Sriracha sauce – Adds a bit of spice to the meatballs. For a milder version, simply omit the sriracha from the spicy sauce.
Lime juice – Adds a bit of acidity and freshness to the spicy sauce. You can also use lemon juice.
Recipe Variations
We use ground chicken in our spicy meatball recipe because it's a flavorful yet lean protein. If you'd prefer beef or pork, use the meatball composition found in our skillet meatball marinara.
If sweet and spicy meatballs aren't hot enough for you, add hot sauce or cayenne pepper to the mix! For a milder heat, go with black pepper.
Alternatively, if there are some among your dinner guests with a lower spice tolerance, toss some of the Asian chicken meatballs in the sauce we make for our sweet Thai chili meatballs.
Some of Our Other Baked Chicken Recipes
You're not always in the mood for a meatball dinner, and that's okay! We have plenty of other baked chicken recipes to choose from:
Spicy Meatball Recipe Tips
Avoid overmixing.
Working the ground chicken and the binding ingredients for too long will result in dry chicken meatballs.

Not only that, but the mixture will stick to your hands, and you'll have a hard time forming them! So, mix until everything is just combined.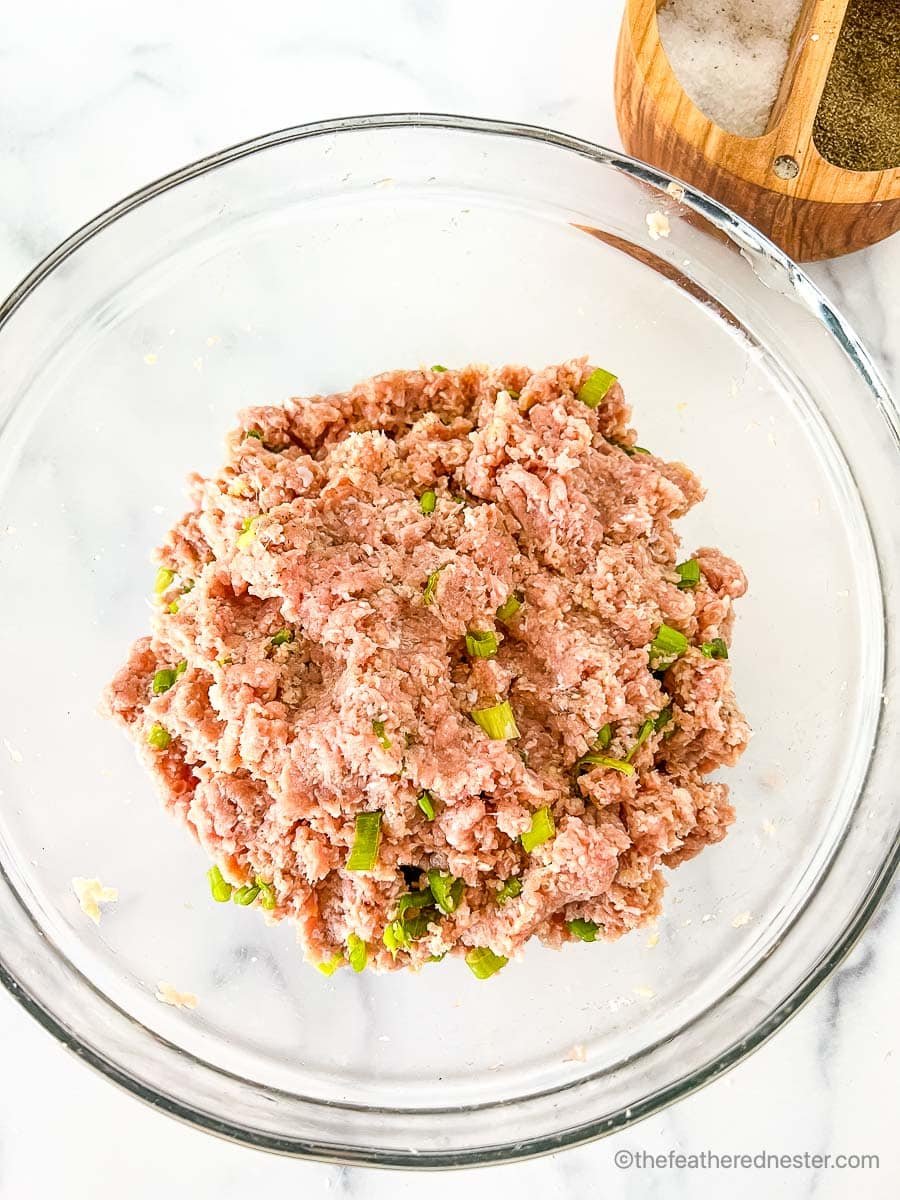 Don't pack the mixture too tightly.
This is a common mistake that can lead to dry and/or tough ground chicken meatballs. When they're really compact, they turn out more chewy than juicy and way too firm!
🎯 TFN Pro Tip
Use a cookie scoop to get a consistent size and shape for your honey sriracha meatballs. Then, roll them very gently to secure the shape, hardly applying any pressure.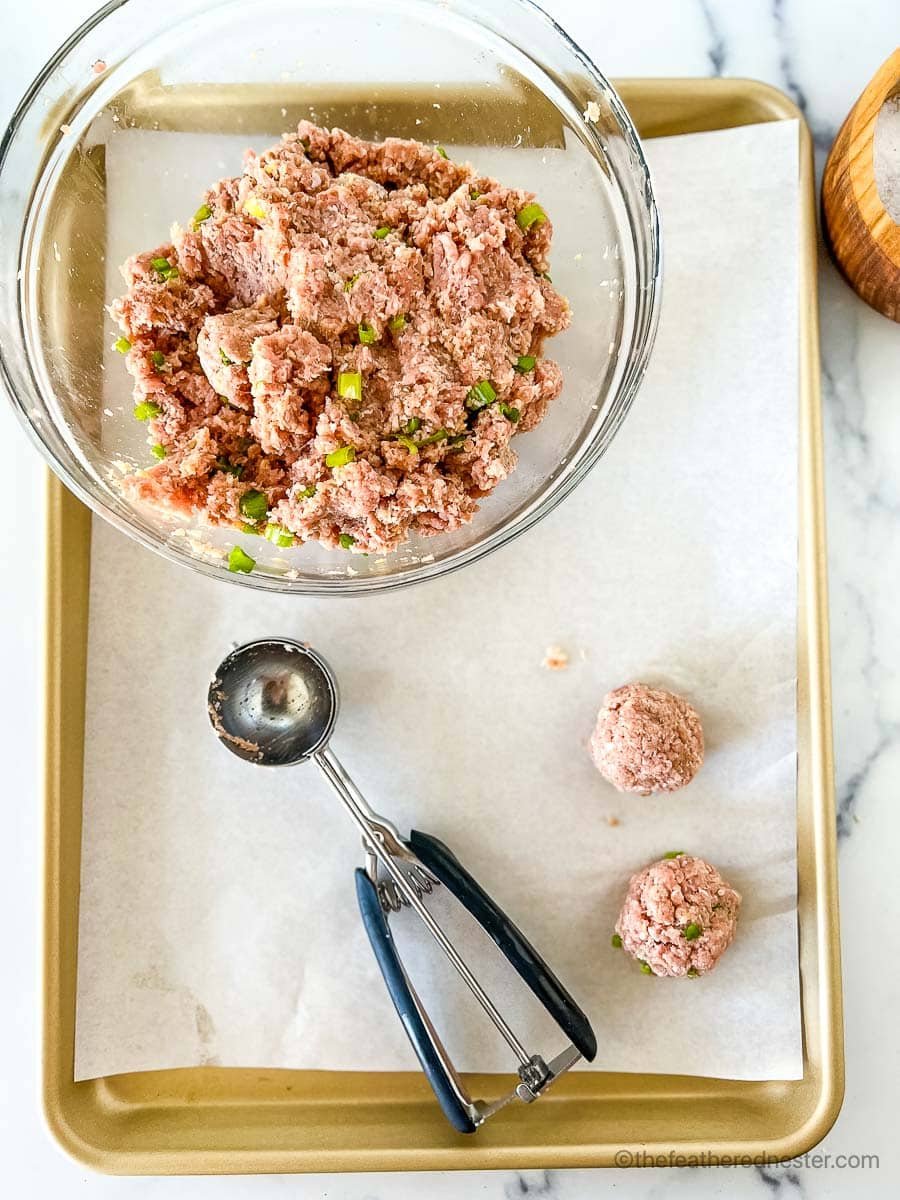 Taste for seasoning.
Cook some of the meat mixture in a skillet on the stovetop or even in the microwave until browned, then give it a taste.

Since ginger and garlic can both be overpowering, this is a great way to make sure you're not adding too much of either.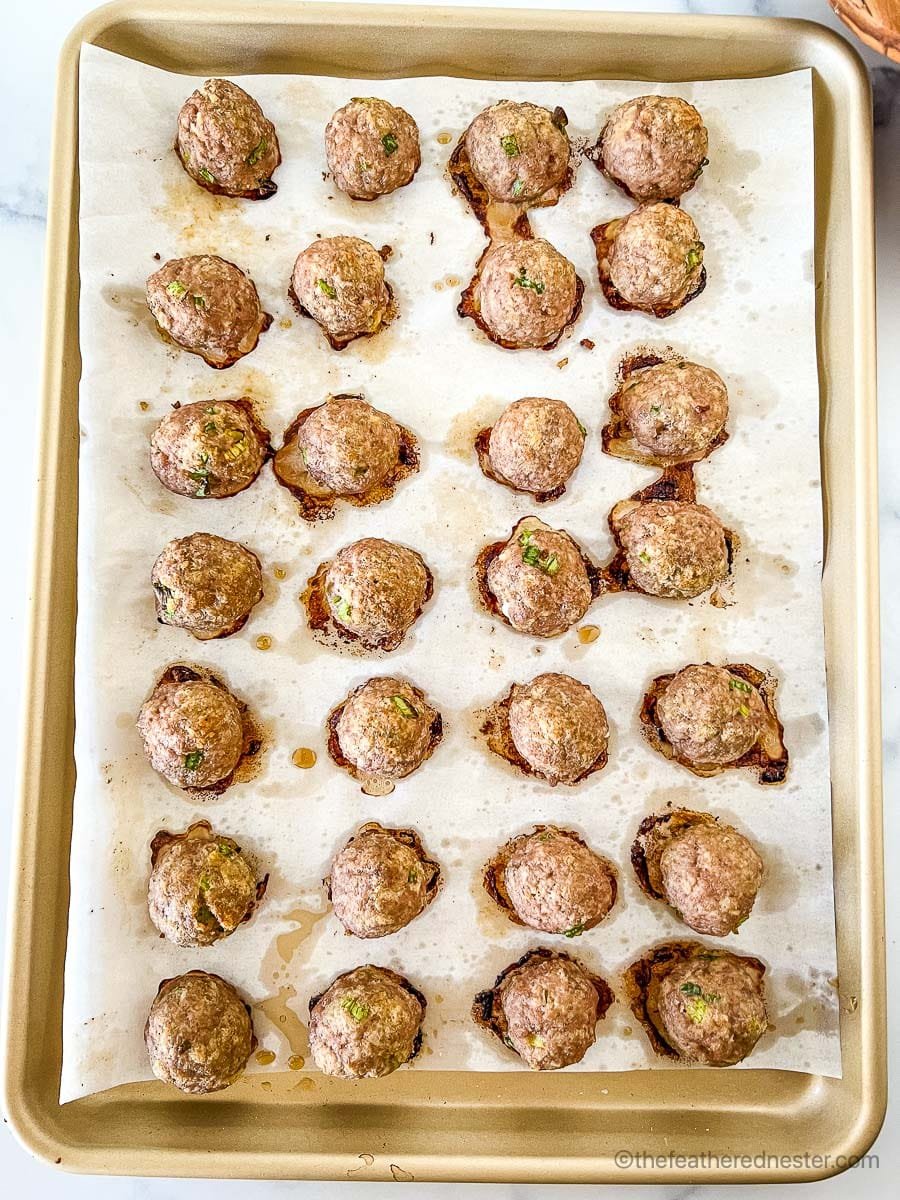 Honey Sriracha Meatballs FAQ
Do meatballs taste better baked or fried?
That's a matter of preference, but we absolutely love to serve our honey sriracha meatballs baked!
Making baked chicken meatballs allows you to really get a crunchy exterior while giving the meat time to cook and truly soak in the garlic and ginger flavors.
Is it better to cook meatballs before adding to the sauce?
We think so! It's the only way to get a really good crust, giving the sweet and spicy meatballs a fabulous texture.
If you bake honey sriracha meatballs with the sauce, the exterior won't be able to crisp up. Additionally, this is a mayo-based sauce, so the texture and flavor change significantly if cooked.
What pairs well with sweet and spicy flavors?
Perhaps unexpectedly, desserts (specifically chocolate desserts) hold up to heat deliciously! Mexican hot chocolate or brownies are a great example of this.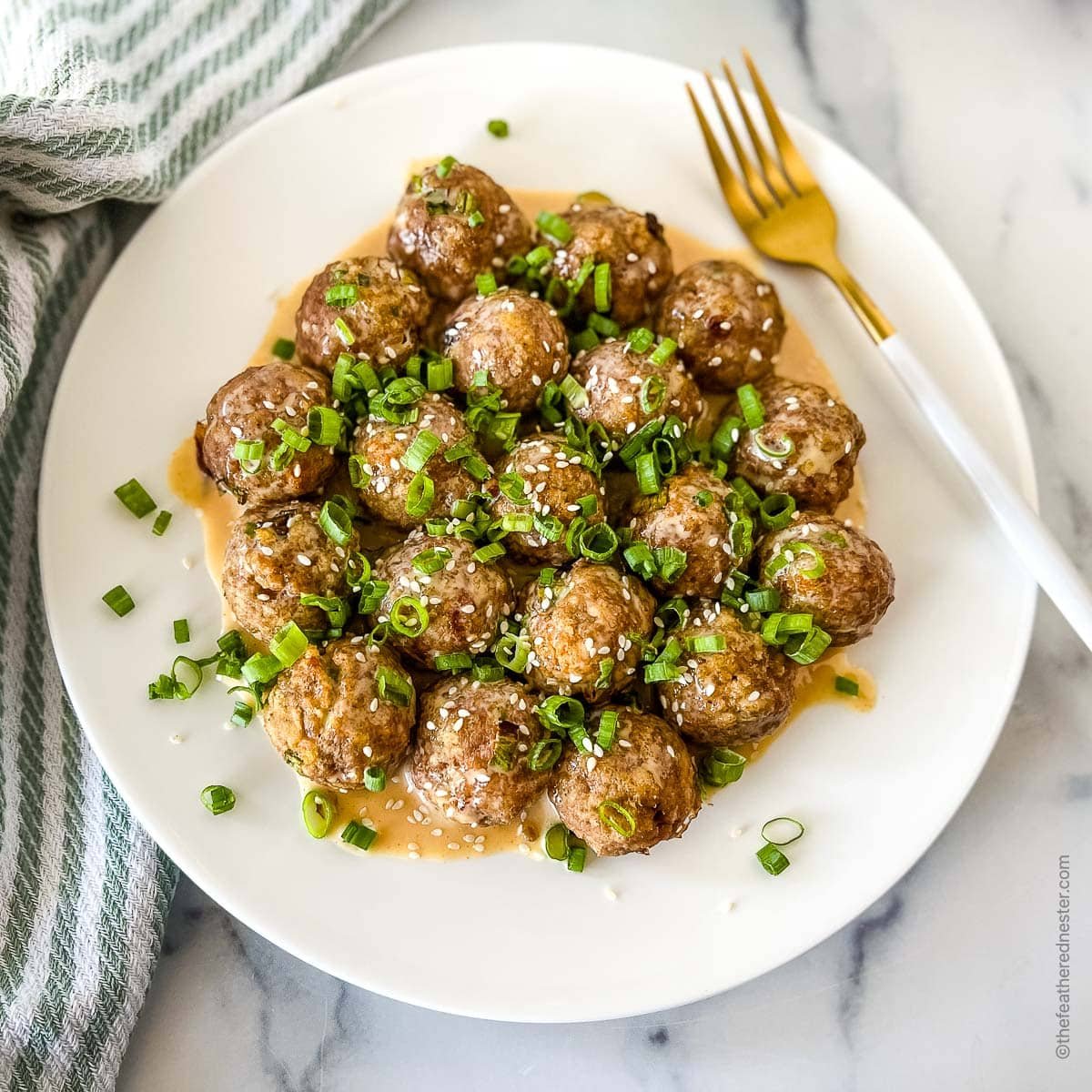 Storing and Reheating
Leftover chicken meatballs can be refrigerated for up to 4 days. The spicy sauce will last for 4 days in the fridge as well, even if stored separately.
Reheat the balls in the oven and the sauce in the microwave. Then toss in the sauce once warmed.
It is possible to freeze honey sriracha meatballs for up to 3 months, and the sauce can also be frozen! Just do so in a separate container.
Honey Sriracha Meatballs
Honey sriracha meatballs are sweet and spicy, baked, juicy, and made with ground chicken. This spicy meatball recipe is ready in 30 minutes!
Equipment
rimmed baking sheet

2 large mixing bowl

medium cookie scoop
Ingredients
1 tablespoon sesame oil
1 pound ground chicken
1 large egg
1 cup panko breadcrumbs or regular bread crumbs
1 teaspoon minced garlic
1 teaspoon minced ginger or 1/2 teaspoon ginger paste
For the Sauce
4 tablespoons sour cream or light sour cream
4 tablespoons mayonnaise or light mayo
4 tablespoons honey
2 tablespoons ponzu sauce
2 teaspoons sriracha sauce or to taste
1 tablespoon lime juice (1/2 lime, juiced)
Optional Garnish
4 scallions sliced, green parts only
Instructions
Make the Meatballs
Preheat the oven to 400°F.

Drizzle the sesame oil over a large sheet pan and rub it evenly over the pan with your clean hands. **Coating your hands with oil also prevents the meatball mixture from sticking as you form them.

Add the ground chicken, egg, bread crumbs, garlic, and ginger to a large mixing bowl. Gently combine the mixture with your hands or a mixing spatula, until just combined. **Avoid over mixing, which can make the chicken meatballs tough and dry.

Using a medium-sized cookie scoop, portion the chicken mixture into balls (about the size of a golf ball), and roll them in your hands. Arrange the meatballs on the oiled baking sheet, at least 1 inch apart.

Bake the meatballs for 15-18 minutes, or until the internal temperature of a meatball registers 165°F.

Remove from oven and let the meatballs sit on the pan while you make the sauce.

For the honey sriracha sauce, add the sour cream, mayonnaise, honey, ponzu sauce, sriracha sauce, and lime juice to a large mixing bowl. Whisk to combine.

Add the warm chicken meatballs to the spicy sauce and toss to combine, or drizzle the sauce over the chicken meatballs.

Garnish with sliced green onion and sesame seeds (optional) and drizzle with extra sauce.

Serve over rice with your favorite vegetables on the side, or as an appetizer with sauce for dipping.
Notes
Egg helps bind the meatballs together.
Panko helps absorb extra moisture in the meatballs to keep them juicy without being soggy.
Siracha sauce and honey provide a bit of spice and sweetness to the meatballs.
Garlic and ginger are classic additions to flavor the meatballs. We like using grated aromatics in these meatballs, so they incorporate well, without big chunks. You can find tubes of prepared minced ginger in most grocery produce sections.
Sesame oil adds a nutty flavor and helps crisp the outside of the meatballs as they bake.
Lime adds a bit of acidity and freshness to the sauce.
Nutrition
Serving: 5 meatballs | Calories: 563kcal | Carbohydrates: 51g | Protein: 23g | Fat: 30g | Saturated Fat: 7g | Polyunsaturated Fat: 10g | Monounsaturated Fat: 9g | Trans Fat: 0.1g | Cholesterol: 170mg | Sodium: 564mg | Potassium: 681mg | Fiber: 2g | Sugar: 18g | Vitamin A: 276IU | Vitamin C: 5mg | Calcium: 39mg | Iron: 1mg
PIN THIS POST!
This post, originally published in August 2022, was updated with new content in August 2023.