When you need a mess-free dessert, these homemade blueberry Pop Tarts will wow everyone! They're sweet hand pies with plump berries wrapped in a flaky crust made from refrigerated pie crust. This fruit pastry recipe doesn't get any easier and is perfect from Memorial Day to Labor Day!
Many of us grew up enjoying pop tarts as a morning treat. With fantastic flavors like maple brown sugar, chocolate fudge, berry, and strawberry, those hand-held fruit pastries are irresistibly delicious!
But, as delicious as they are, the store-bought kind is loaded with excess sugar and unhealthy preservatives. Thanks to our recipe, though you can make homemade pop tarts that don't have weird ingredients and taste absolutely fabulous!
Why We Love Homemade Blueberry Pop Tarts
We made this hand pies recipe all last summer, and it was a real hit with everyone – especially the grandkids. They even helped bake them in the air fryer!
Here's what we love about them:
Quick and easy to prep. Thanks to refrigerated pie dough, assembly is a snap. Not to mention, clean-up is a breeze, too!

Virtually Mess-Free – Since the fruit is covered with pastry, this dessert is kid-friendly. No one wants to deal with removing berry stains!

The perfect treat for bake sales, picnics, and potlucks. Plus, the recipe is easy to double, so you can freeze extras to enjoy all summer long.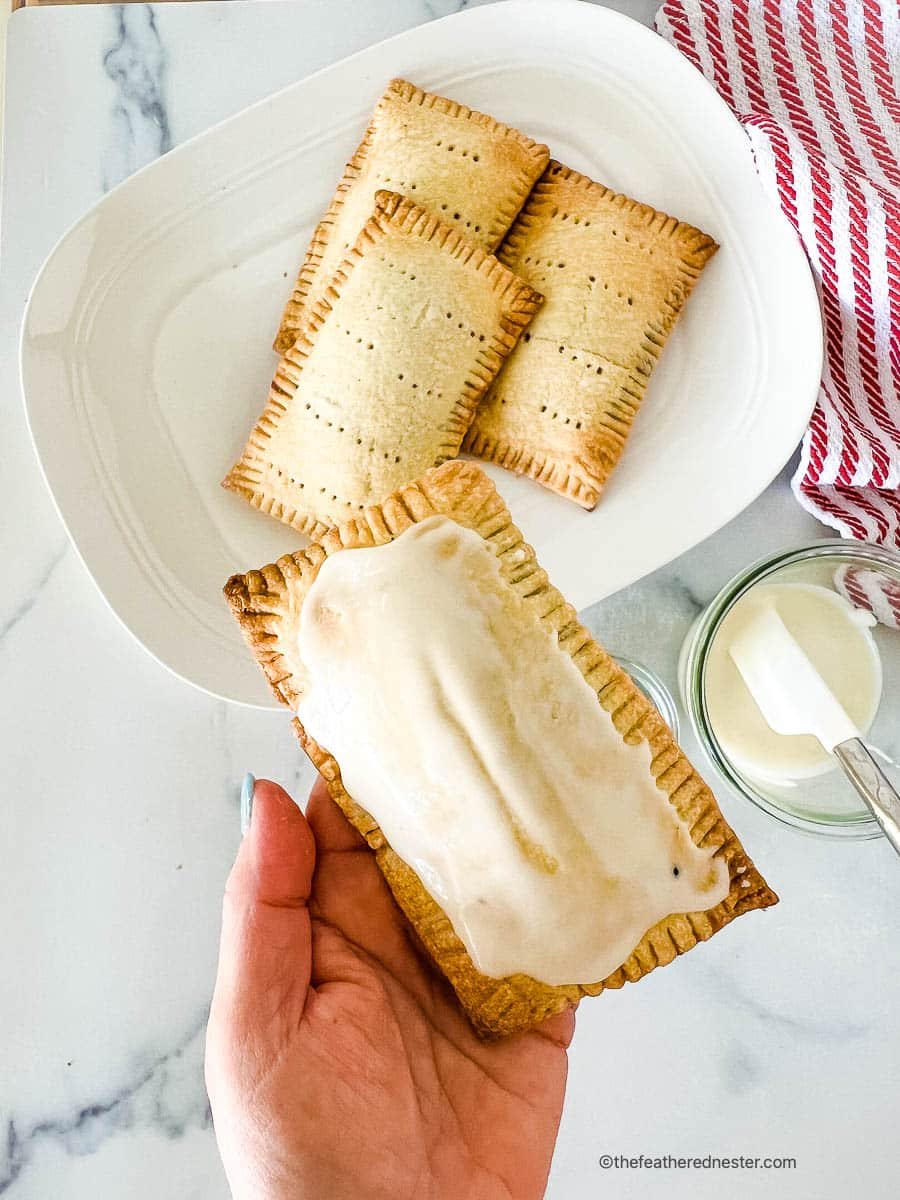 Ingredient Notes and Substitutions
Refrigerated or frozen pie crust – whether it's Pillsbury, a generic brand from the refrigerated section, or Trader Joe's from the freezer area – all work great with this recipe. To make your own pastry dough, see the notes in the recipe card below.

Egg wash – the egg wash serves double duty here. It acts as a sealer to keep the filling from oozing out, and gives the top of the blueberry pop tarts a golden color.

Blueberry filling – use fresh or frozen blueberries, or simplify things by using preserves or jam for the filling. We really like the quality of Bonne Maman jam.

Heavy cream – using heavy cream makes thick, creamy icing. You can substitute it with melted butter, or use milk instead.
Tips for the Best Homemade Pop Tarts
1. Let the berry filling cool while you roll the pastry dough.
Mix the filling ingredients a saucepan, and boil to thicken. While it's cooling, roll out and cut the pastry dough.
TFN Recipe Tip
Fold the pie crust rounds into a square shape first, and then roll them into a rectangle. This makes cutting easier.
2. Use the thicker piece of pastry on the bottom.
One of the two sheets of pie crust will be thicker than the other. Place that one on the bottom. Then use a rolling pin to roll from the middle out, to create a rectangle, about 10 inches x 15 inches. Cut each rectangle into 6 squares.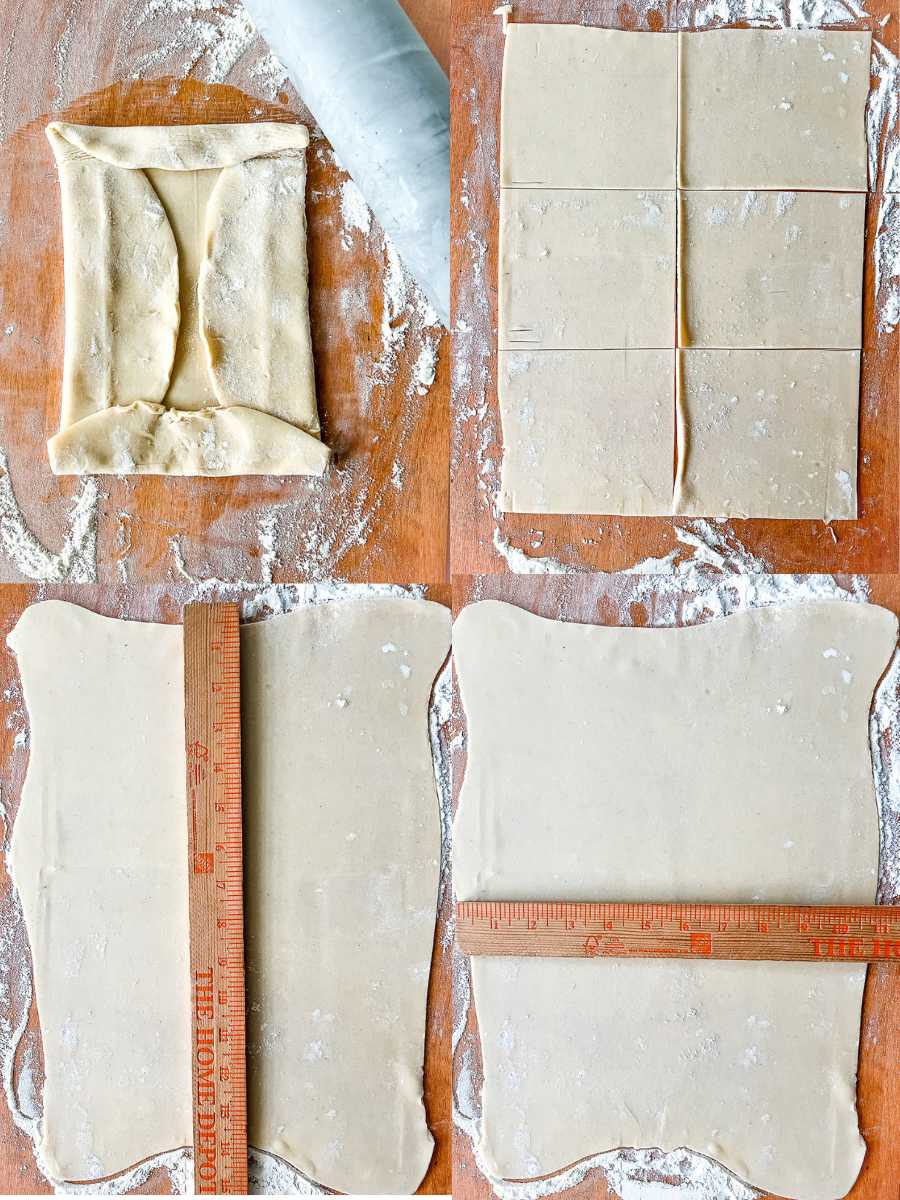 3. Don't skip the egg wash.
After adding the filling to 6 of the pieces of dough, use a pastry brush to apply egg wash along the 1″ interior edge.
4. Create vent holes in the homemade pop tarts to let the hot air escape.
Use a fork to poke holes in the 6 pieces of crust that will go over the top of the filling. Then crimp the edges to prevent the filling from oozing out.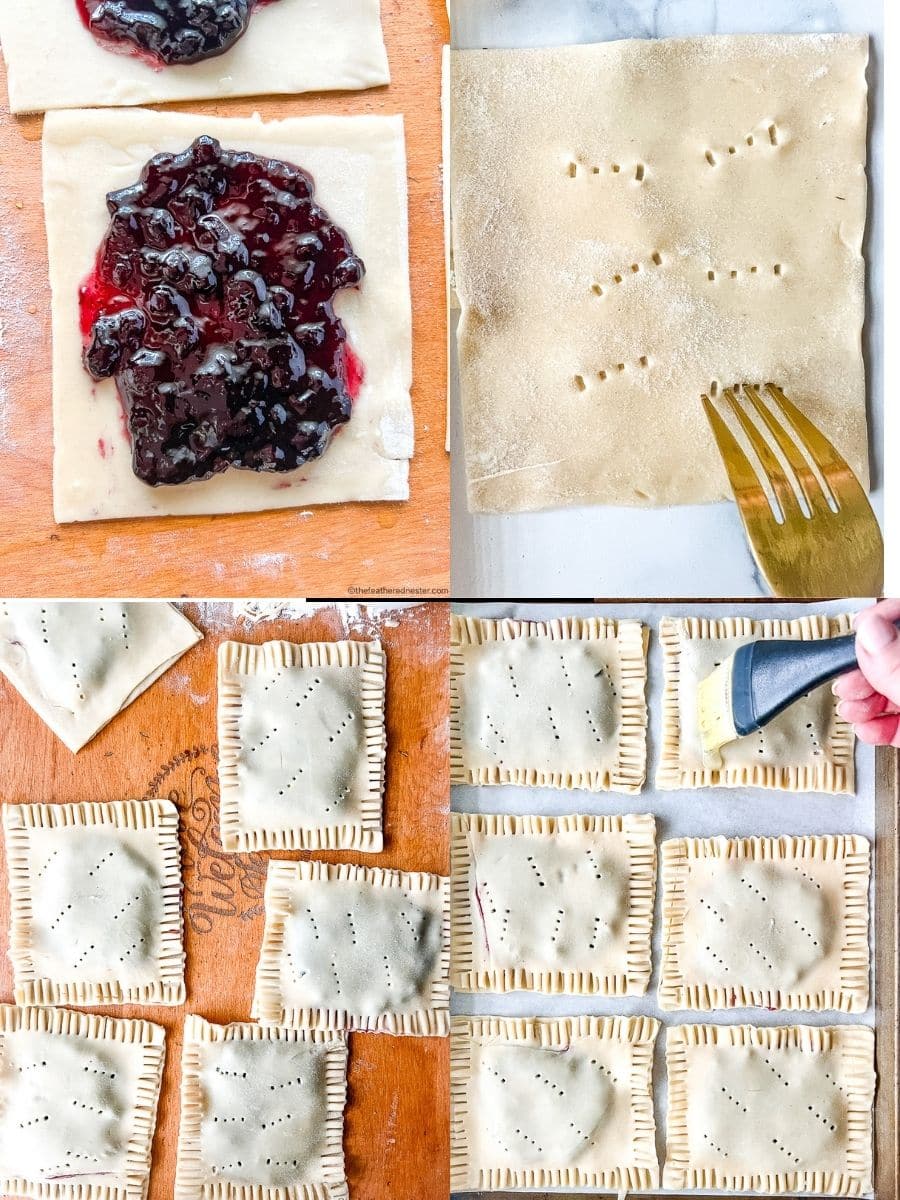 5. Refrigerate for 20 minutes before baking.
The dough for the blueberry Pop Tarts may get warm during the prep process. If so, place your baking sheet in the fridge before baking.
TFN Food Facts
The reaction of cold fats in the dough meeting hot air is what makes pastries light and airy. So be sure that your hand pie dough is nice and cold before baking.
6. Frosting is optional.
As you probably know, heat and icing or frosting are not compatible. So, be sure to let the pop tarts cool completely before adding the icing, and feel free to leave the frosting off entirely if it's too warm outside.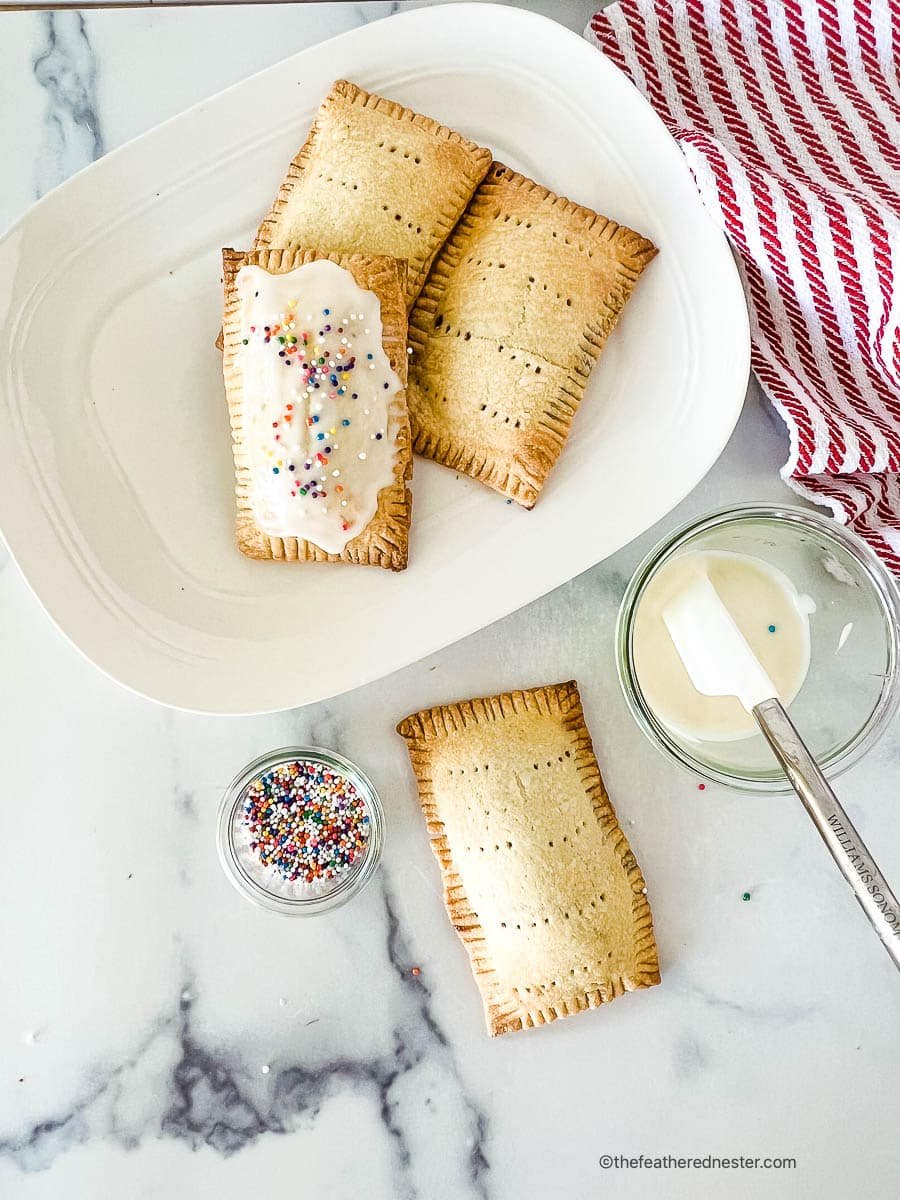 Put a holiday twist on these!
Make some heart-shaped treats for breakfast (or dessert) with our Valentine's Day pop tarts. Or for Halloween, try our Mummy hand pies for a fun, spooky fruit-filled treat that's mess free!
Recipe Variations
Use our homemade pie crust recipe (see notes below) for completely homemade pop tarts!

Make these gluten-free by using gluten-free flour in our pie crust recipe.

Change out the filling by using any fruit jam, like cherry, apricot, or mixed berry. Or swap blueberries for blackberries, raspberries, or strawberries.
Serving Suggestions
These handheld treats are ideal for BBQs, picnics, or at any outdoor gathering. Or, surprise your little one by packing them in their lunch!
Just like classic toaster pastries, blueberry Pop Tarts are amazing when they're warm!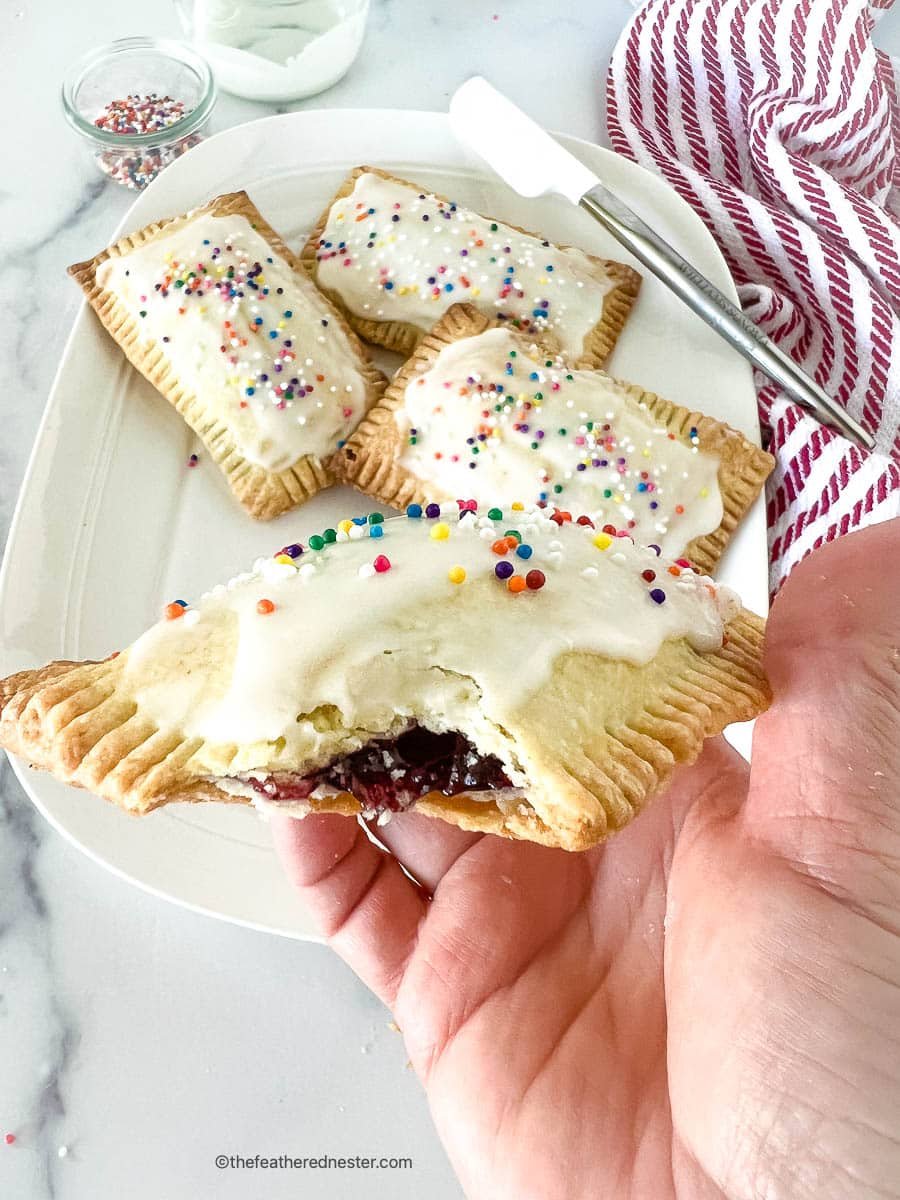 Storing and Freezing
To make the fruit filling ahead: Store it covered for up to 1 week in the refrigerator.
Freeze unbaked hand pies: Wrap them individually in greased aluminum foil or in Ziploc freezer bags. Unbaked fruit pies will keep in the freezer for up to 3 months. When you're ready to bake, let thaw in the fridge overnight and bake as directed.
Freeze fruit filling: Fill half a gallon-sized plastic Ziploc bag with the fruit filling and squeeze the air out. Seal the Ziploc bag and lay it flat, and freeze it for up to 6 months.
For this Hand Pies Recipe, Renae Recommends: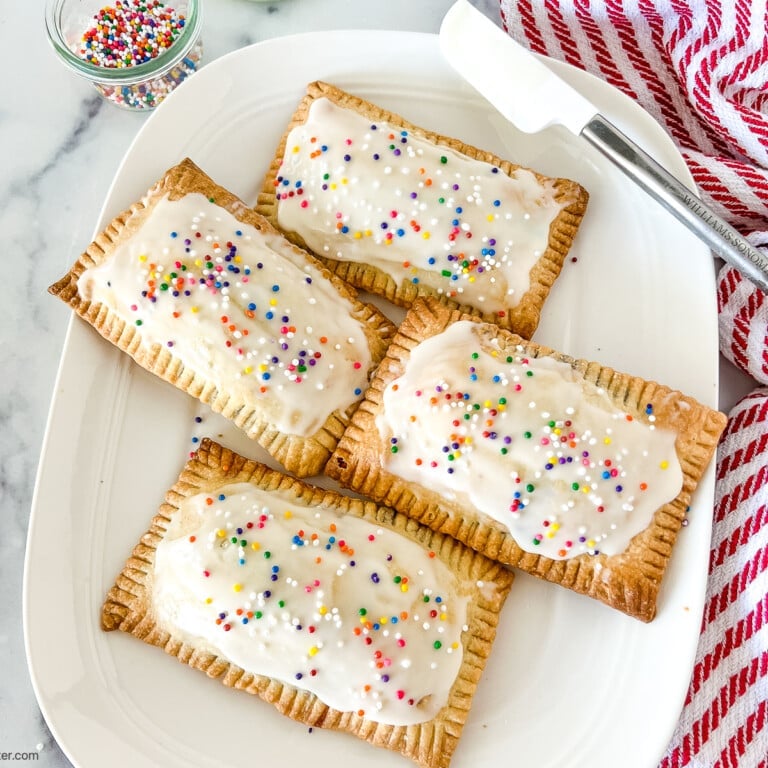 Homemade Blueberry Pop Tarts (Hand Pies)
This easy homemade Pop Tarts recipe creates delicious blueberry hand pies using refrigerated pie dough. They're mess-free and easy to make!
Equipment
sheet pan

rolling pin

pastry brush
Ingredients
2 sheets refrigerated pie crust *See Notes for homemade pie dough recipe
Filling (see notes for substitutions)
2 cups blueberries fresh or frozen
2 tablespoons cornstarch *use 2 1/2 tablespoons if using frozen berries
⅓ cup sugar
⅛ teaspoon salt
1 teaspoon lemon juice
Egg Wash
1 large egg beaten
1 teaspoon water
Icing (optional)
1 cup confectioners sugar
1-2 tablespoons heavy cream (or 1 tablespoon milk)
Instructions
Blueberry Filling
If you're using fresh berries, rinse and drain well. Place berries in a saucepan. Whisk the cornstarch with the sugar, and pour over the berries. Add the salt and lemon juice, stirring to combine.

Place the saucepan on a burner set to medium-high heat and cook, stirring, until the small amount of liquid in the bottom of the pan comes to a simmer. Reduce heat, stirring frequently, until the mixture starts to thicken, about 5 minutes.Transfer cooked berries to a bowl and let cool to room temperature. It's fine to make the filling ahead of time, and refrigerate until you're ready to use it.

Preheat the oven to 425°F; place a rack on the middle shelf. Line a baking sheet with parchment paper. **See Notes for Air Frying Instructions
Assembling Pop Tarts
Fold the edges of the round pie crust sheets to create a square. Roll the sheets into 10" by 15" rectangles by rolling from the middle of the dough out on opposite sides. Use a measuring tape or ruler to cut into 3.25" by 5" rectangles. Cut each sheet into 6 rectangles.

In a small bowl, mix the egg and water. Brush the inside 1" edge of the crusts with egg wash.

Add a heaping tablespoon of blueberry filling in the center of 6 of the hand pie crusts. Place them on the prepared baking sheet.For the other 6, use a fork to poke vent holes into each.

Top each filled square with a vented square, and press along the edges with the tines of a fork to seal. If the pies become sticky and soft, refrigerate them for about 20 minutes, until firm.

Brush the top of each pie with the remaining egg wash. Transfer hand pies on prepared baking sheet.

Bake the pies for 18 to 20 minutes, until they're a light golden brown. Remove them from the oven, and let them cool for 20 minutes.Add icing (optional) by drizzling icing over each hand pie or spreading it on top.
Notes
Substitute filling with 3/4 cup of blueberry jam or preserves.
Homemade Pastry Dough Recipe
2 cups all-purpose flour
3/4 teaspoon salt
1/2 teaspoon baking powder
1 cup unsalted butter, very cold
1/2 cup sour cream, very cold
Instructions
In a large mixing bowl, whisk together the flour, salt, and baking powder. Add the butter, working it in with a fork or pastry cutter to make a coarse/crumbly mixture. Leave most of the butter in large, pea-sized pieces. **Alternatively, you can use a food processor for this step, pulsing until the mixture has pea-sized pieces.
Add the sour cream, and stir until the mixture starts to come together in chunks. If using a food processor, pulse until mixed. Turn the mixture out onto a floured work surface and bring it together with a few quick kneads.
Pat the dough into a rough log, and roll it into an 8″ x 10″ rectangle. Dust both sides of the dough with flour, and starting with a shorter end, fold it in thirds, like a business letter. Flip it over, give it a 90° turn on your work surface, and roll it again into an 8″ x 10″ rectangle. Fold it in three again.
Wrap the dough tightly in plastic wrap and chill for 30 minutes before using.
Air Fryer Baking Instructions
Preheat air fryer to 400º F. Add pies to air fryer, leaving at least 1″ of space between hand pies. Bake for 8-10 minutes. They should be golden in color. Let cook for at least 20 minutes before icing and serving.
To Store Pies: lightly wrapped at room temperature for a few days; freeze for longer storage.
Nutrition
Serving: 1pastry | Calories: 180kcal | Carbohydrates: 41g | Protein: 1g | Fat: 2g | Saturated Fat: 1g | Polyunsaturated Fat: 0.3g | Monounsaturated Fat: 1g | Trans Fat: 0.003g | Cholesterol: 30mg | Sodium: 62mg | Potassium: 52mg | Fiber: 1g | Sugar: 36g | Vitamin A: 103IU | Vitamin C: 5mg | Calcium: 9mg | Iron: 0.3mg
PIN THIS POST!
This post, originally published in July 2017, was updated with new content April 2023.