Learn how to cook red lentils in the Instant Pot or on the stovetop with this how-to guide! These healthy, soft legumes are delicious in soups and stews, salads, dips, or on their own. It's a simple dish with loads of possibilities!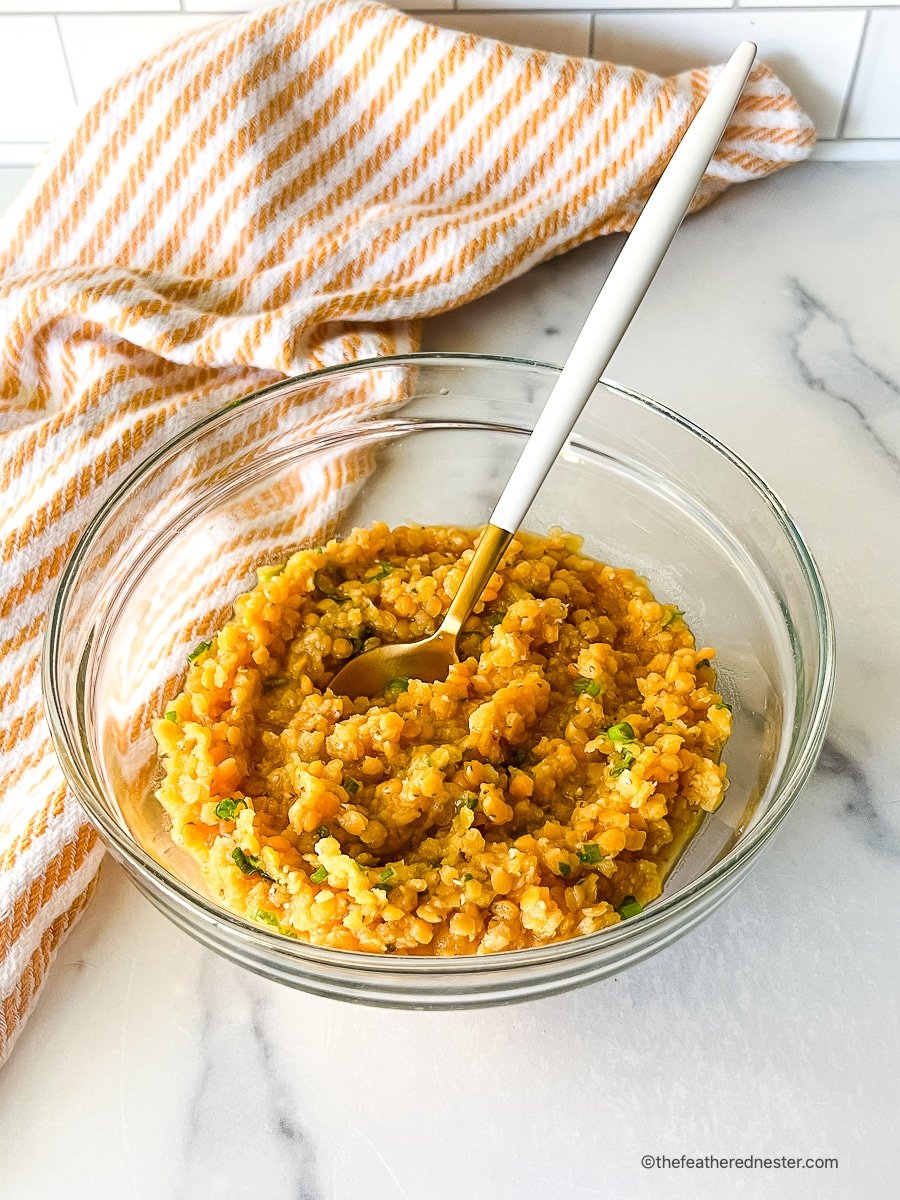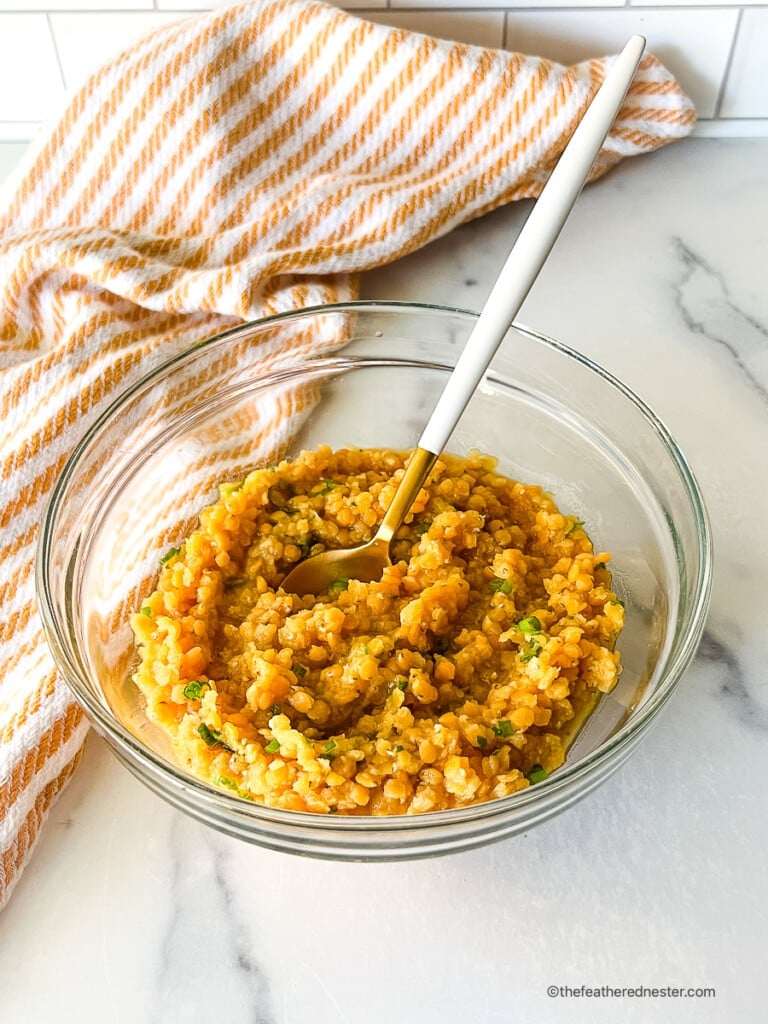 Benefits of Learning How to Cook Red Lentils
You can save time and ingredients.
Knowing how to cook red lentils perfectly can be tricky — you can end up with a lot of waste, because they are easy to over cook. But by using our tips, you'll end up with the right amount in the shortest amount of time the first time.
They're a healthy side dish.
This red lentils recipe is low in calories, fat and sodium, and packed with essential vitamins and minerals. Plus, they have antioxidant properties and are gluten-free.
Budget friendly. These are one of the most inexpensive legumes, and many stores sell them in bulk, by the pound.
In this post, we're going to cover cooking red lentils in an Instant Pot and on the stovetop, as well as some other information about lentils to help you get great results the first time.
What Are Lentils?
Red lentils are a type of pulse known as a legume. Pulses are the dried seeds of any legume plant. They come in green, red, brown, and black varieties.
Lentils have a ton of potential health benefits. They're very high in both protein and fiber, which makes them a fantastic plant-based main dish for vegans and vegetarians.
It's worth noting that the red variety does not hold its shape well when cooked. A quick boil will leave them soft, but still solid (great for salads!), but even in this state, they can be crushed and processed into more of a paste or puree.
They taste fantastic with almost everything (especially these vegetarian mushroom dumplings). We also like to serve them mixed together with wild rice or cilantro lime rice.
Facts About Cooking Red Lentils
Red lentils break down when cooked.
If you aren't careful, they can become mushy! The longer you cook them, the softer they'll get.
If you need a lentil that will stay firm, try black or brown lentils. They have thicker skins, so they keep their shape better.
1 cup of dry red lentils yields over 2 cups of cooked.
Lentils greatly increase in size as they cook, especially if they're cooked down to the point at which they're very mushy.
Therefore, it's important to know how much red lentil puree you want at the end of the process so that you know how many dried red lentils you need to add to the pot.
The ratio of water to red lentils for Instant Pot recipes should be between 3:1 and 2:1, but you'll need more water when cooking them on the stove.
The general rule of thumb is to keep them submerged while cooking. Need a longer cooking time for mushier results? Add more water!
How Long to Cook Red Lentils in Instant Pot
Making red lentils in a pressure cooker is much quicker than on the stovetop. After the IP comes to pressure, it takes just a few quick minutes for them to cook completely.
After 5 minutes of pressure cooking, they will be very soft, so stop cooking at 3 minutes or so for a firmer texture.
Let the pressure release naturally for longer for a softer texture, or do a quick release of pressure to keep them firm.
Pro Tip
If you prefer a firmer texture, cooking red lentils on the stovetop is the best method.
How Long to Cook Lentils on the Stove
Cooking red lentils generally takes between 5 – 10 minutes on the stovetop.
Just like when we consider how to cook red lentils in an Instant Pot, the exact timing will depend on your desired texture and firmness of the legumes.
Around the 5 minute mark lentils will be cooked but firm. The longer you cook them, the mushier they'll get. If your stovetop lentils aren't soft enough but you've boiled away the water, add more water and keep boiling.
It can also take longer if you're looking to cook red lentils in larger volumes.
How to Cook Red Lentils FAQ
Do red lentils need to be soaked?
Unlike legumes such as dried beans, no soaking is necessary with lentils!
However, rinse them with water to remove any dirt and debris from the harvesting and packing processes.
How do you know when red lentils are fully cooked?
It's a matter of preference – to be honest, learning how to cook red lentils is half about learning how you like to eat them!
Taste testing is the best way to determine their doneness. Once they're as soft as you want them, they're ready to use!
Storing and Reheating
Cooked pulses typically keep for up to 1 week in the refrigerator. However, they lose their moisture pretty quickly, so it's best to eat them sooner rather than later. Red lentils can also be frozen for up to 6 months.
They can be reheated in the microwave or on the stovetop in additional water or broth until warmed through.
For Cooking Lentils, Renae Recommends
How to Cook Red Lentils (Instant Pot or Stove)
Use our tips to learn how to cook red lentils in the Instant Pot or on the stove top. They're a healthy and delicious plant-based protein!
Ingredients
1 ½ cup red lentils
3 cups hot water or broth *See notes
Instructions
Spread lentils onto a sheet of parchment paper and sort through them, discarding any debris you may find.

Transfer lentils to a fine mesh strainer, and rinse with tap water until water runs clear.
Stovetop cooking method:
Add lentils and hot water or broth to a large saucepan over high heat.

Bring to a boil, then immediately lower heat to medium. Cover the pan with a lid and simmer for 5-10 minutes. If using them in another dish, 5 minutes should be ideal. As a standalone side dish, cook them 7 minutes to 10 minutes for a softer, creamer lentil dish.

Season with salt and pepper or other seasonings of your choice.
Instant Pot cooking method:
Add lentils and hot water or broth to the inner pot. Cover IP with lid and close the vent to seal. Set manually to cook at high pressure for 3 minutes.

Once the pressure cooking is done, perform a quick release by carefully turning or pressing the pressure release on top of the pot.

Remove lid and season red lentils with salt and pepper or other seasonings of your choice.
Notes
Using hot liquid helps the Instant Pot to come to pressure more quickly, and also speeds up the time to bring a saucepan of water to a boil.
For firmer lentils, sauté them in a teaspoon of oil in the pot before cooking.
Nutrition
Serving: 0.5cup | Calories: 159kcal | Carbohydrates: 27g | Protein: 12g | Fat: 0.5g | Saturated Fat: 0.1g | Polyunsaturated Fat: 0.2g | Monounsaturated Fat: 0.1g | Sodium: 9mg | Potassium: 430mg | Fiber: 14g | Sugar: 1g | Vitamin A: 18IU | Vitamin C: 2mg | Calcium: 29mg | Iron: 3mg
PIN THIS POST!