As an Amazon Associate I earn from qualifying purchases, at no extra cost to you. See my disclosure policy here.
Pesto vinaigrette is one of the best salad dressings I've ever had. This lemon basil nutty dressing is flavorful and zesty, and it goes well with almost any type of salad.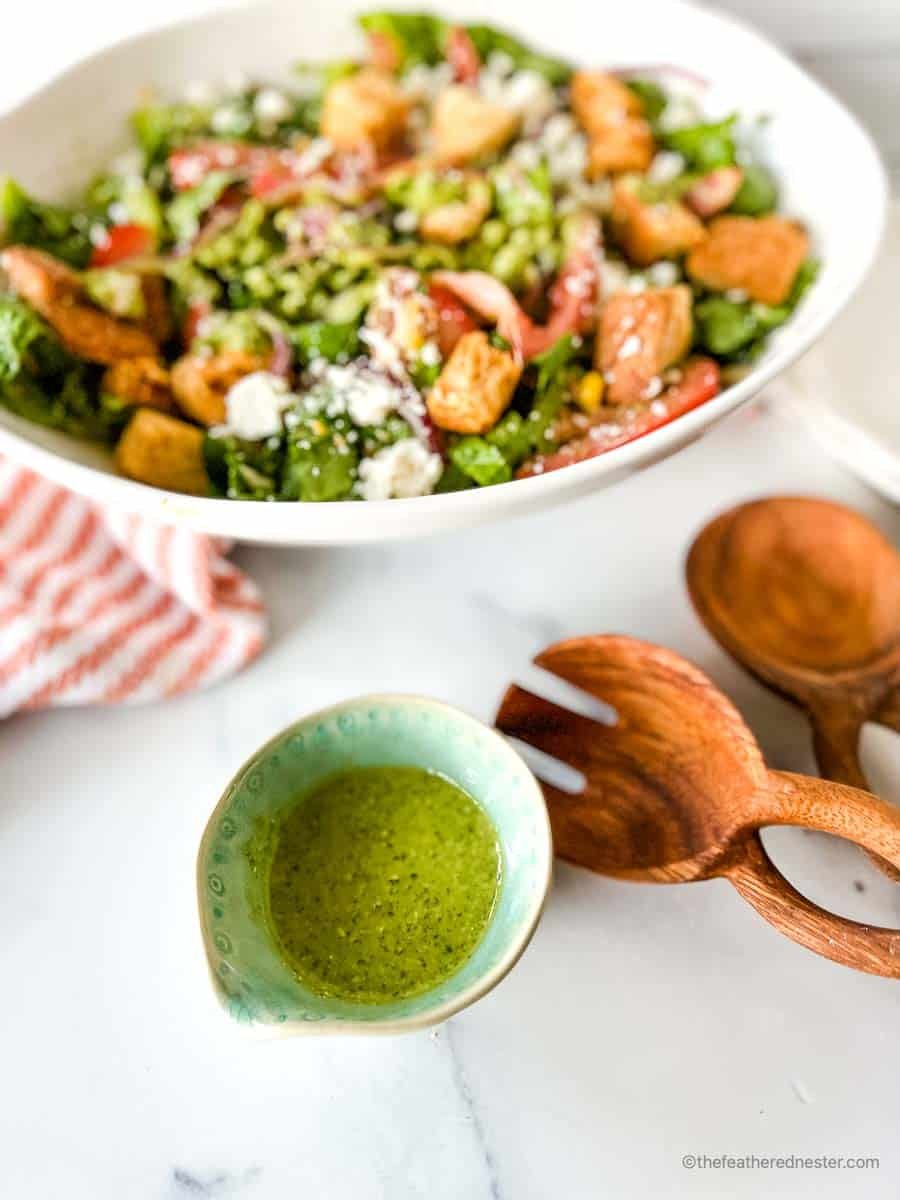 Summertime is the perfect time to enjoy light and refreshing salads. This pesto vinaigrette recipe is a delicious way to add flavor to any salad. The dressing is made with pesto, lemon juice, and basil, giving it a unique and flavorful taste.
It's the perfect addition to any fresh salad, but especially good on spinach or arugula salads. We're sure you'll love it like we do!
Perfect Pesto Salad Dressing
Pesto vinaigrette is a light and tasty dressing that can give any salad a delicious boost. I love this recipe because it is quick and easy to make and only requires a few ingredients.
The key ingredient in this homemade vinaigrette recipe is classic basil pesto. I suggest making your own pesto sauce instead of using store bought ones. If you're making your own, be sure to use fresh, unblemished basil leaves. This will give the dressing a more intense flavor.
This dressing goes well with our cowboy salad or toss it with pasta, rotisserie chicken, and veggies to make a quick pasta dinner salad.
Also, this pesto salad dressing can be stored in a jar and used later on. When you're ready to use it, simply shake it up and pour it over your favorite salad.
Ingredients for Lemon Basil Salad Dressing
Ingredient Notes
Equipment used for Making Pesto Salad Dressing
Featured Links powered by
How to make Pesto Vinaigrette
Combine the Ingredients. Combine the pine nuts, garlic, and lemon juice in a food processor.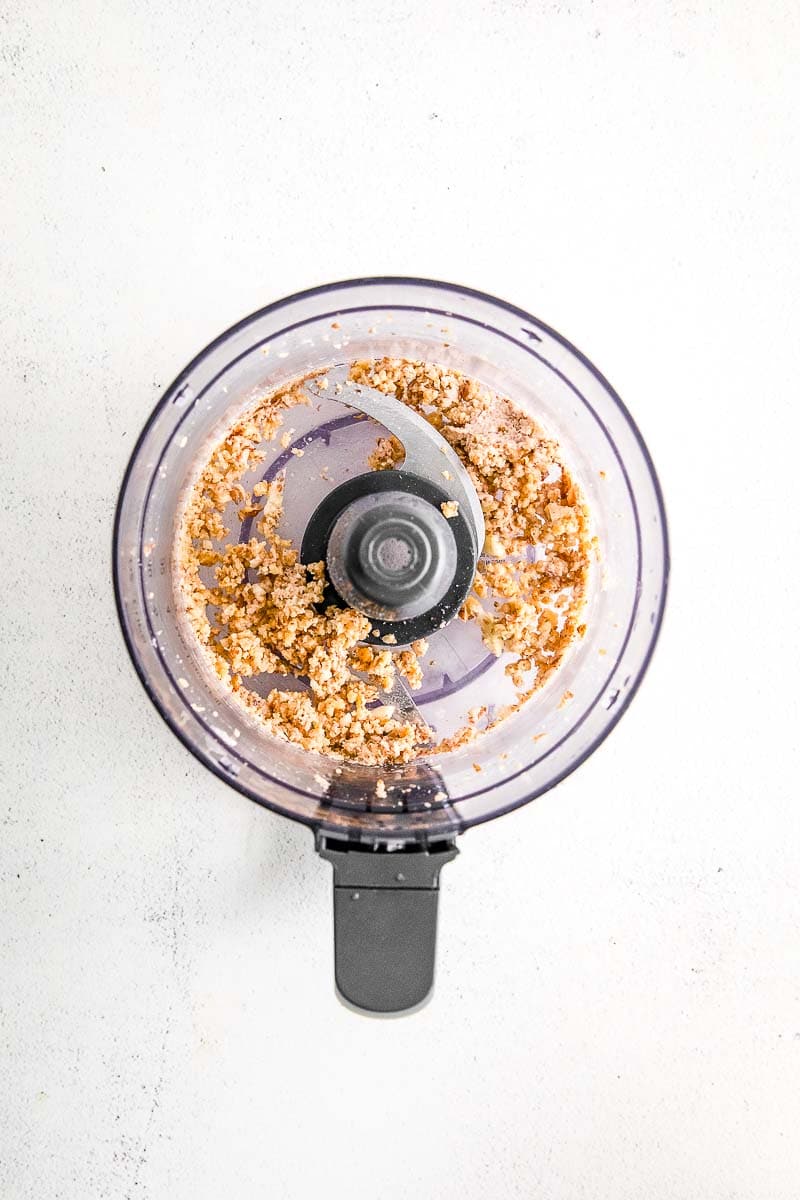 Pulse the Ingredients. Pulse the garlic and nuts until broken up into small pieces.
Add the basil and parmesan and blend until the basil is chopped into small pieces.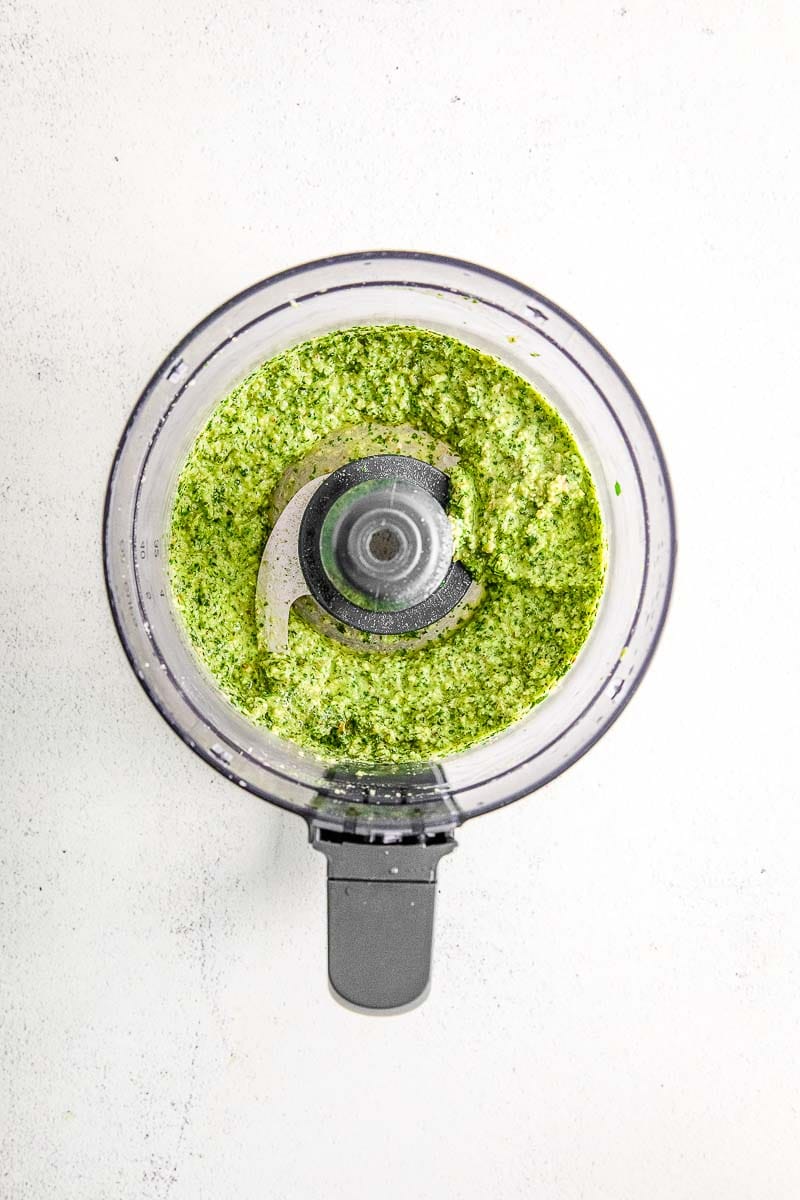 Slowly add the olive oil and red wine while the food processor is on low.
Keep processing the pesto dressing until it is smooth and lump-free. Season it with salt and pepper to taste.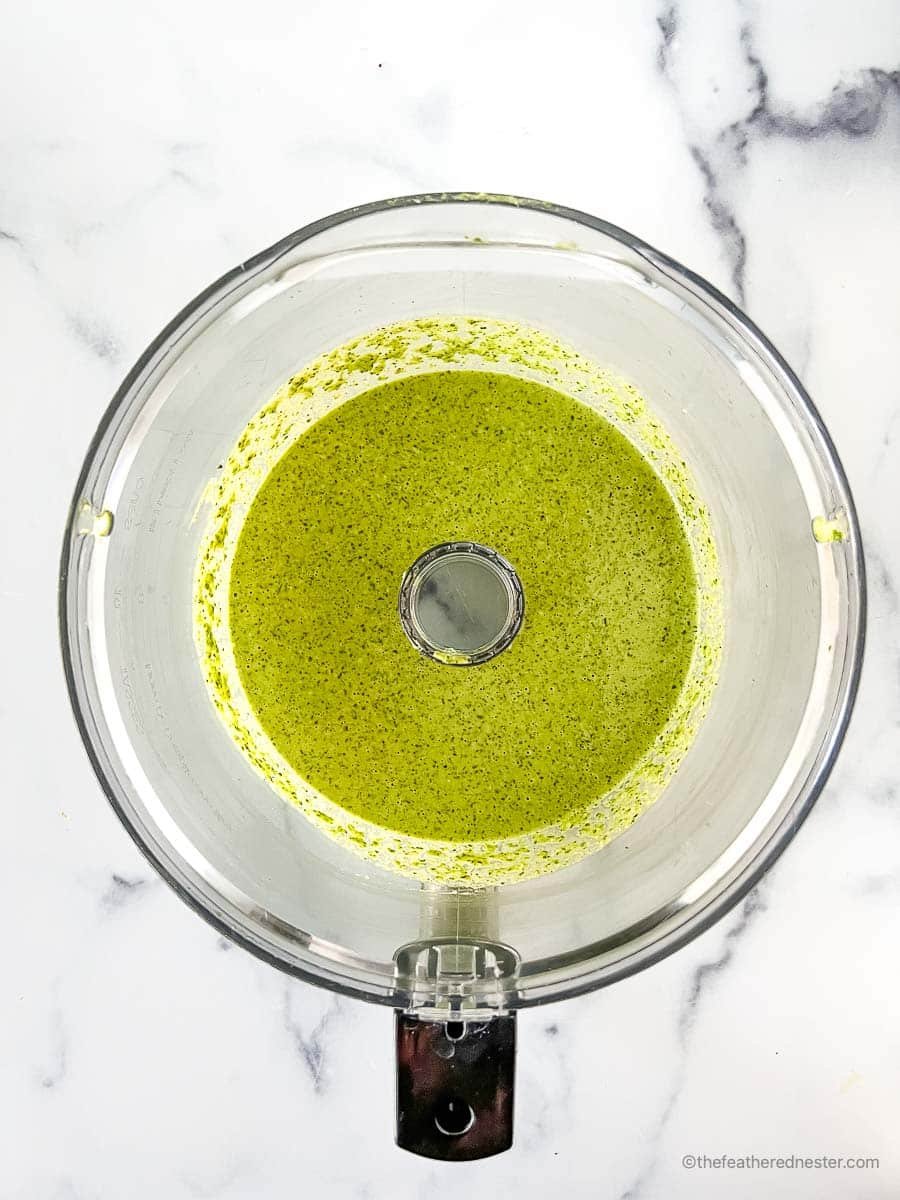 Ready for serving or storage. Store the sauce in an airtight container in the fridge for up to a week, or set it out at room temperature to use right away.
If refrigerated, let the creamy pesto salad dressing warm to room temperature for about 15 minutes before using it. The dressing may solidify in the fridge.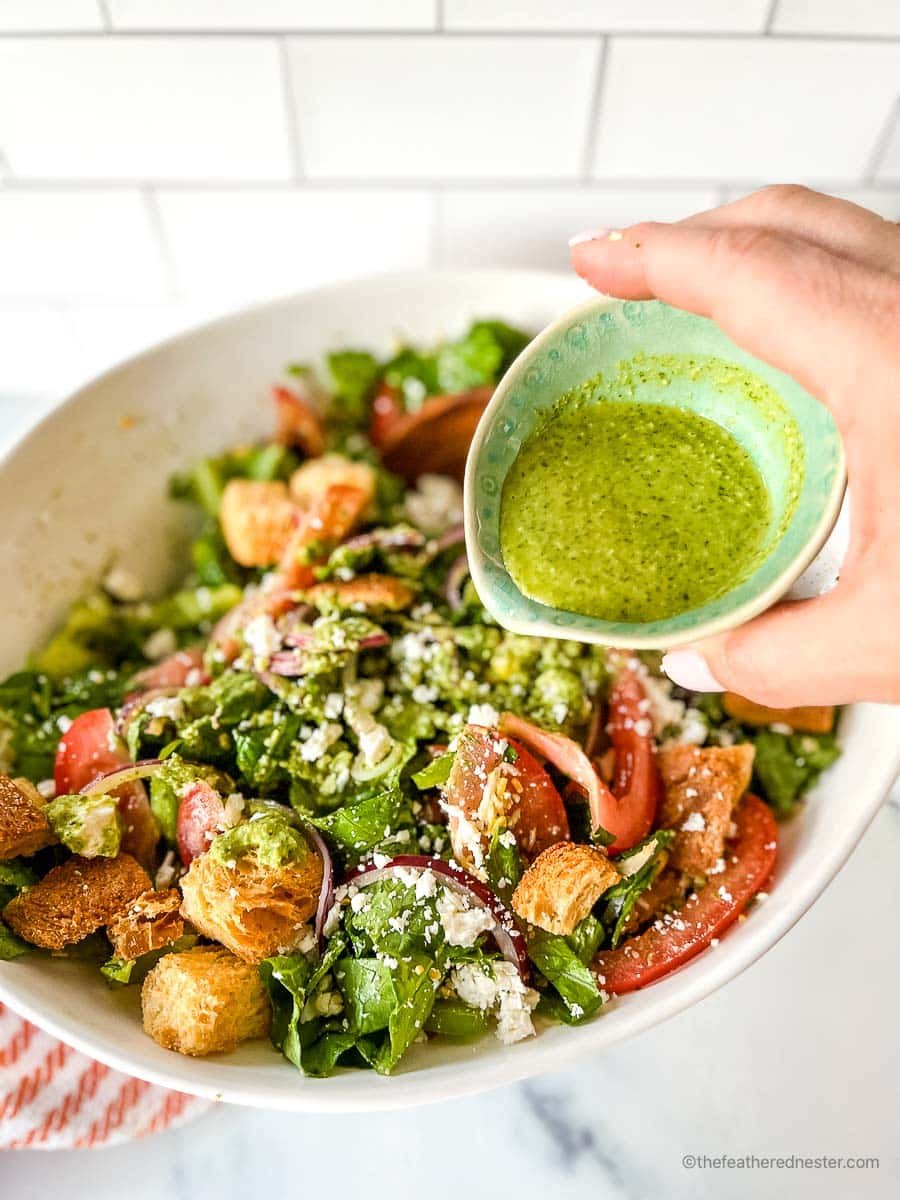 Recipe Variations
Love Pesto? Try our Pesto Recipes below
Pesto is a flavorful sauce made with fresh basil, garlic, olive oil, and Parmesan cheese. It is delicious with pasta, salad, pizza, chicken, fish, and vegetables.
If you are looking for pesto recipes, we have some great ones for you to try! Our Pea Pesto Pasta, Pesto Gnocchi with Asparagus, and Tortellini Caprese Salad are all delicious and will become new favorites!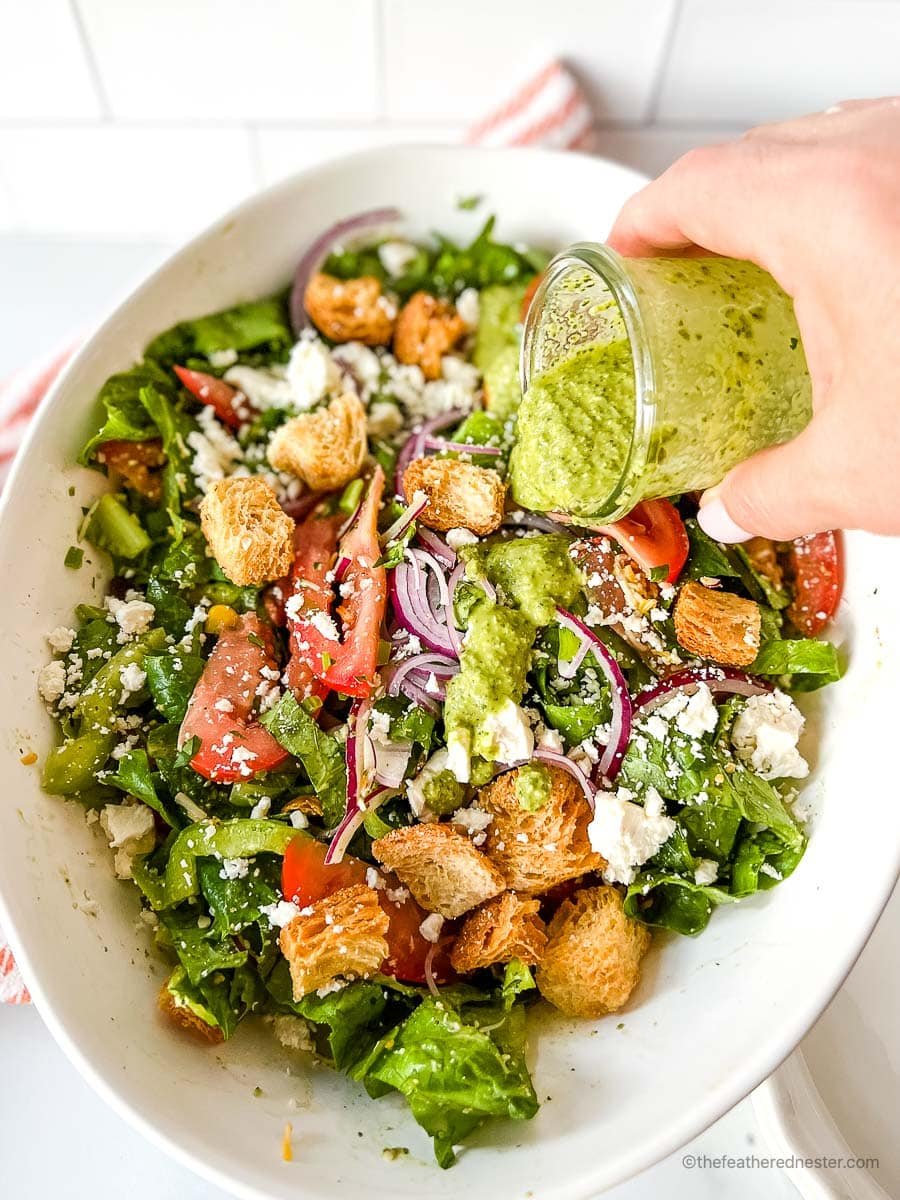 Frequently Asked Questions
What does pesto dressing taste like?
If a food ever tasted "green" pesto would be at the top of my list! Pesto is a sauce made from fresh basil, garlic, Parmesan cheese, and olive oil. It has a bright green color and a slightly thick consistency. The flavor of pesto is very strong and can be overpowering if you're not used to it.
What type of basil is used in this pesto dressing recipe?
There are many different types of basil that can be used for salad dressing with pesto. The most common type is sweet basil, but there are also other types like lemon basil, Thai basil, and holy basil. Each type of basil will give the pesto a slightly different flavor.
How long will fresh pesto last in the fridge?
You can store fresh basil pesto salad dressing in the fridge for up to two weeks. Just be sure to keep it tightly sealed in an airtight container. If you want it to last even longer, you can freeze it for up to six months.
How do you freeze pesto in a jar?
I recommend you freeze pesto using an ice cube tray. Pour in your pesto dressing then once the cubes are frozen you can store them in a Ziploc bag. To freeze lemon basil salad dressing, spoon it into a jar and leave about ½ an inch of space at the top. Put a lid on the jar and freeze it. Once it's frozen, take off the lid and store the pesto in a plastic bag.

When you're ready to use the pesto, thaw it in the refrigerator overnight. You can then use the pesto as you would any other pesto recipe.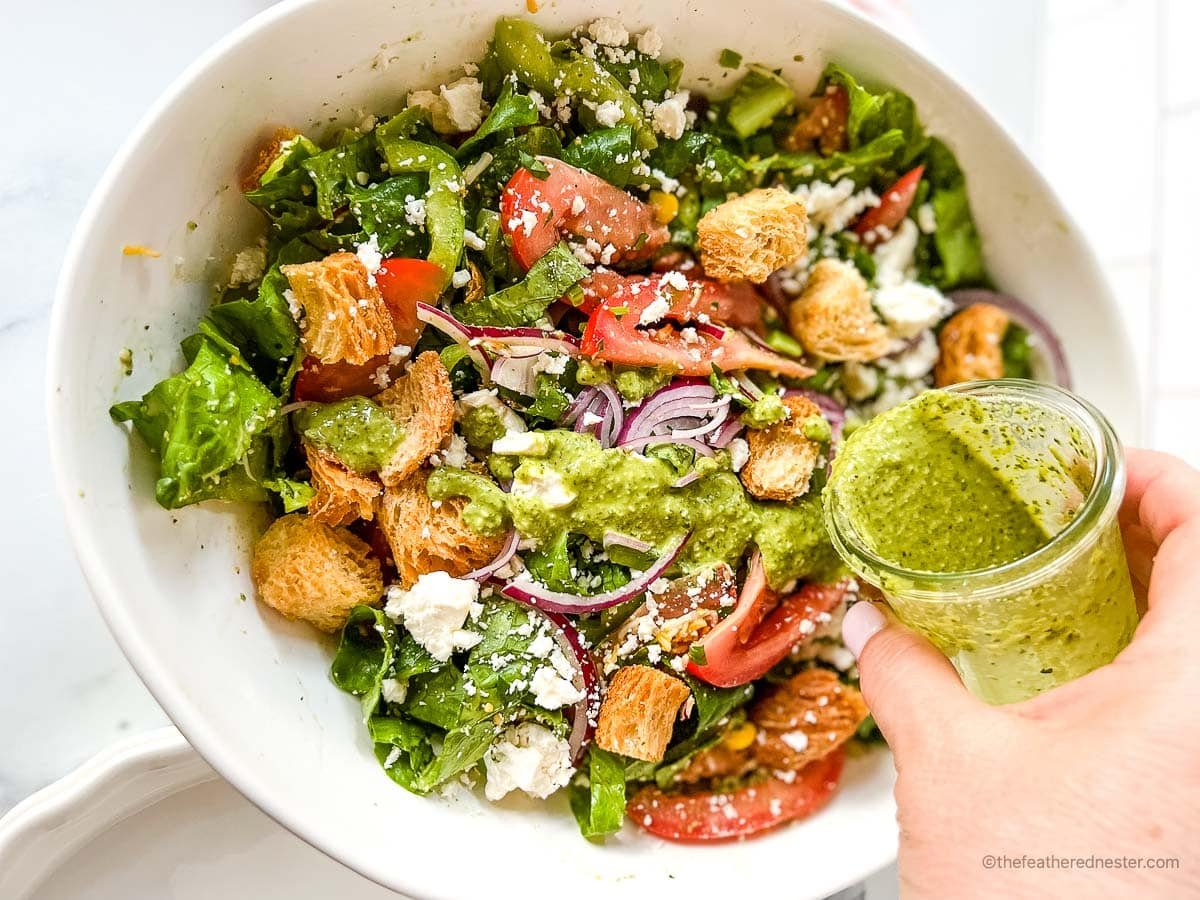 Get the Full Pesto Vinaigrette recipe here
Pesto Vinaigrette Dressing
This pesto Vinaigrette dressing is based on our homemade pesto sauce recipe, with the bright, fresh, zesty flavors that are the perfect topping for any salad.
Equipment
food processor or blender

jar
Ingredients
1/4

cup

toasted pine nuts

2

cloves

garlic

1/2

lemon, juiced

2

cups

fresh basil leaves

tightly packed

1/2

cup

parmesan cheese

freshly grated or shredded

1/3

cup

extra virgin olive oil

1/4

cup

red wine vinegar

1/2

teaspoon

Kosher salt

1/4

teaspoon

freshly ground black pepper
Instructions
Combine the pine nuts, garlic, and lemon juice in the bowl of a food processor. Pulse until the garlic and nuts are broken up into small pieces.

Add the basil and parmesan and pulse until the basil is broken up into small pieces as well.

Slowly add the olive oil, and red wine with the food processor on low. Continue to process until the pesto dressing is smooth and lump-free. Season with salt and pepper to taste.

Set aside (at room temperature) until ready to use or store in an airtight container in the fridge for up to a week. Let pesto dressing warm to room temperature for 15 minutes before using. The dressing may solidify in the fridge.
Notes
Pine nuts are the base of our pesto  vinaigrette dressing. If you can't find toasted pine nuts in the grocery store, you can toast raw nuts in a dry skillet over medium heat for 2-3 minutes or just until fragrant.
Fresh garlic adds a delicious flavor to the dressing. Don't skip it!
Lemon adds bright freshness to the pesto dressing. Freshly squeezed lemon juice is vital– I don't recommend using bottled juice here.
Basil is another base of our salad dressing– ensure it's fresh and green, not wilted or brown.
Parmesan adds a salty nuttiness to the vinaigrette.
Olive oil helps thin the pesto vinaigrette – I recommend a robust, good-quality olive oil that can stand up to the flavor of the basil and parmesan.
Nutrition
Serving:
3
tablespoons
|
Calories:
91
kcal
|
Carbohydrates:
1
g
|
Protein:
2
g
|
Fat:
9
g
|
Saturated Fat:
2
g
|
Polyunsaturated Fat:
2
g
|
Monounsaturated Fat:
5
g
|
Cholesterol:
3
mg
|
Sodium:
169
mg
|
Potassium:
38
mg
|
Fiber:
0.2
g
|
Sugar:
0.2
g
|
Vitamin A:
245
IU
|
Vitamin C:
1
mg
|
Calcium:
59
mg
|
Iron:
0.4
mg