Cheeseburger tater tot casserole includes everything you love about burgers and fries, all baked together! Juicy ground beef, two kinds of cheese, crispy tots, lettuce, and tomatoes. Add our 'special sauce' on top, for a drool-worthy Big Mac casserole that everyone in the family will love!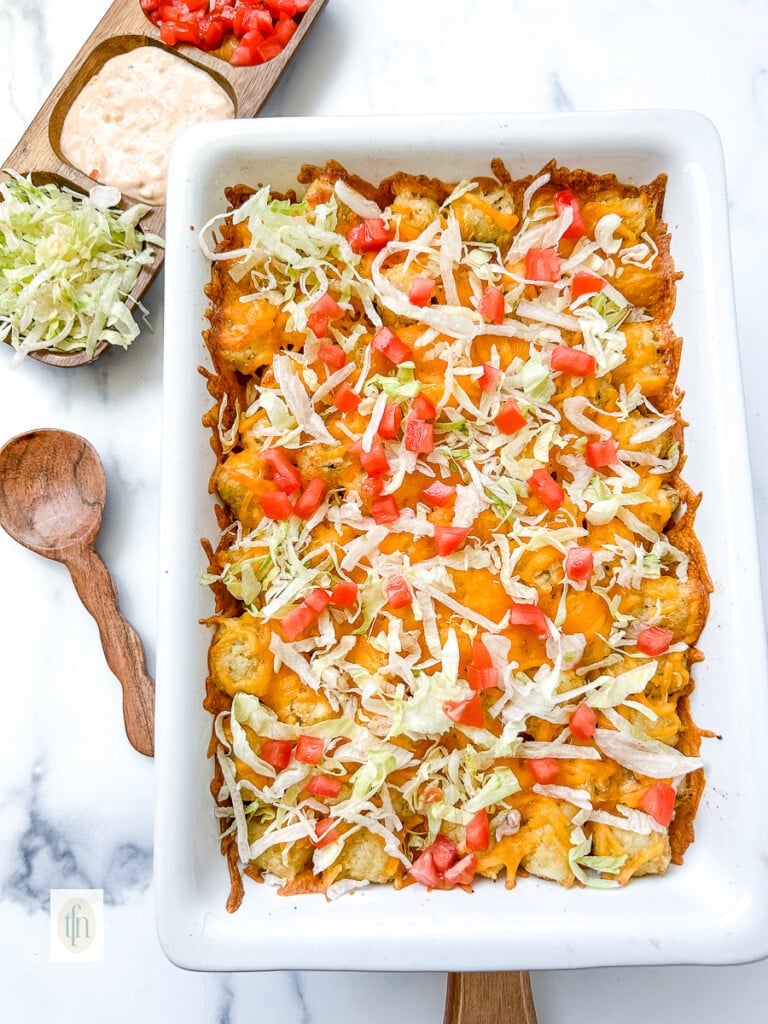 Easy casseroles like this one are perfect for a quick weeknight dinner. You'll find similar ingredients and flavors in our recipes for Bisquick cheeseburger pie and tachos!
Why We Love Cheeseburger Tater Tot Casserole
It's a great back-to-school dinner idea! It freezes and reheats really well, so you can portion it out and save so much time throughout the week. You have plenty on your plate as it is!
A one-skillet recipe means just there's a lot less to clean up after dinner.
It's incredibly customizable. Different proteins and toppings are super easy to incorporate. For example, our chicken tater tots casserole incorporates ground chicken.
Ingredient Notes and Substitutions
Ground Beef – We like to use a leaner blend of ground sirloin; 85/15 is our favorite. It has just enough fat to add some flavor, but not so much that it fills the pan with grease.
Onion and Garlic Powder – Fresh minced garlic and diced onion can be substituted. Just use a bit more of each to get the same level of flavor.
American Cheese – Shredded cheddar, gooey mozzarella, spicy Pepper Jack, or Monterey Jack are also delicious burger-topping cheeses to choose from!
Frozen Tater Tots – Perhaps the most versatile, kid-friendly potatoes around! We have a lot of different tater tot recipes on TFN – we use them in entrees, appetizers, and snacks, too!
Recipe Variations
In addition to the substitutions shown above, here are some other alterations you can make to your cheeseburger tater tot casserole:
Use a different ground protein, such as chicken or turkey.
Flavor the ground beef with barbecue sauce, Worcestershire sauce, or some dijon mustard. Whatever your secret burger ingredient is, don't hesitate to add it to this recipe!
Crumbled bacon is a fantastic add-in for tons of savory flavor. Add it to the ground beef, or crumble it over the top of the casserole when you add the cheese.
Soft avocado and sour cream are two popular toppings that add creaminess to this hamburger potato casserole. Try it out!
Tips for the Best Big Mac Casserole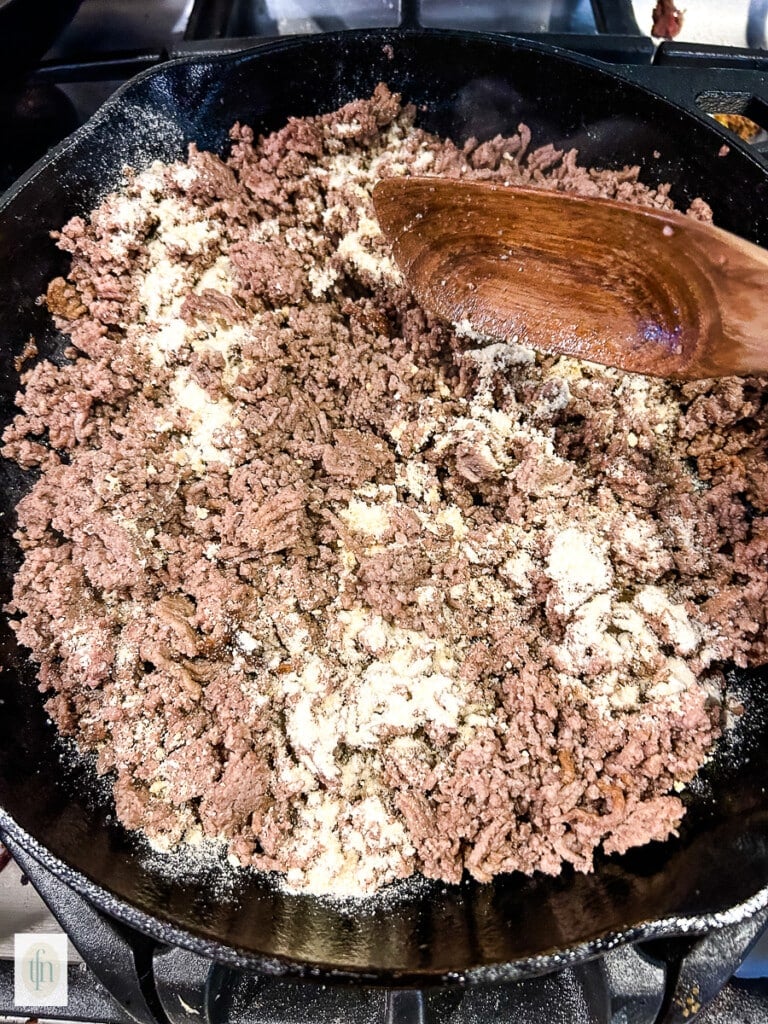 Break up the ground beef as it cooks.
Technically, this isn't a big deal- unless you're the unlucky person to end up with a huge clump of unseasoned hamburger on your plate. 😉
We recommend using a meat masher – it's a fantastic kitchen gadget.
Be sure to drain the grease.
The beef is the foundation of cheeseburger tater tot casserole, so consistency is key! Not draining the grease will give the meat a very oily, unpleasant texture.

The best way to remove excess fat from cooked ground meats is to transfer it to a strainer and let the grease drip right out. Use a spoon or spatula to stir up the meat to really get all that fat out.
TFN Pro Tip
Never pour hot grease down a drain.
Pour it into a trash can, mason jar, or any other heat-safe container.This will prevent it from clogging up your kitchen drain pipes!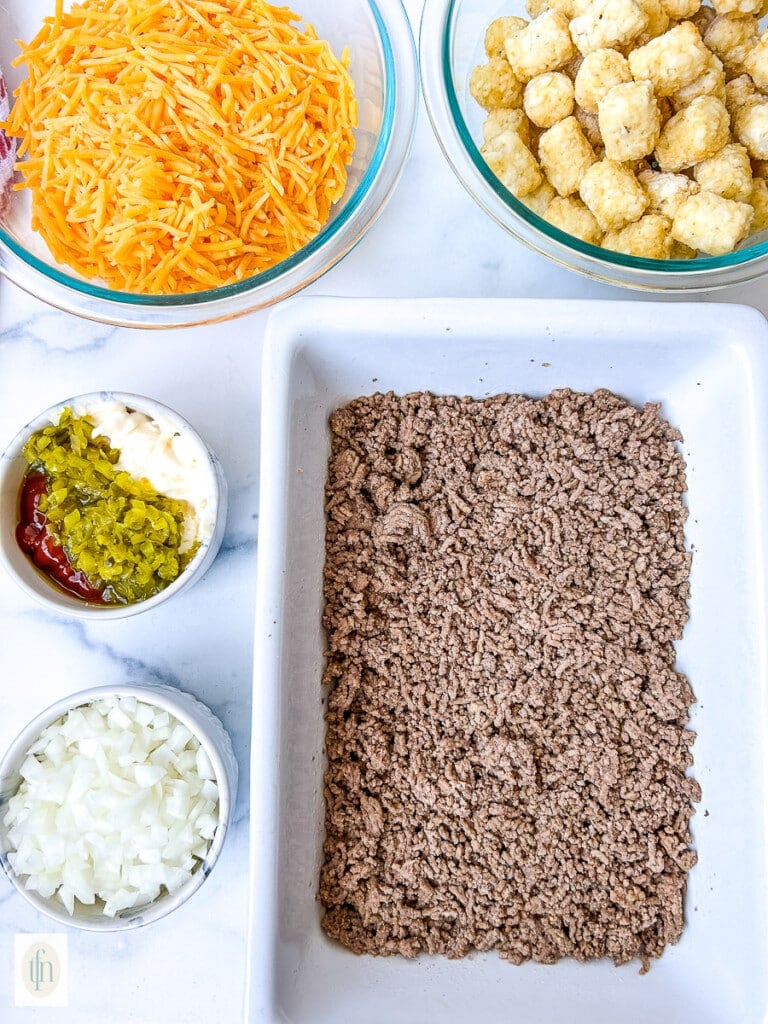 Use an oven-safe skillet to avoid extra dishes.
Shave a few minutes of clean-up time from your to-do list by using a cast iron skillet or other oven safe pan to brown the ground beef in. This way, you can assemble the layers of your tater tot casserole right over the cooked ground beef!
Broil the top for extra crispy potatoes.
This step is completely optional. Broiling the tots before adding the shredded cheese will crisp them up, and give them a deeper color, too.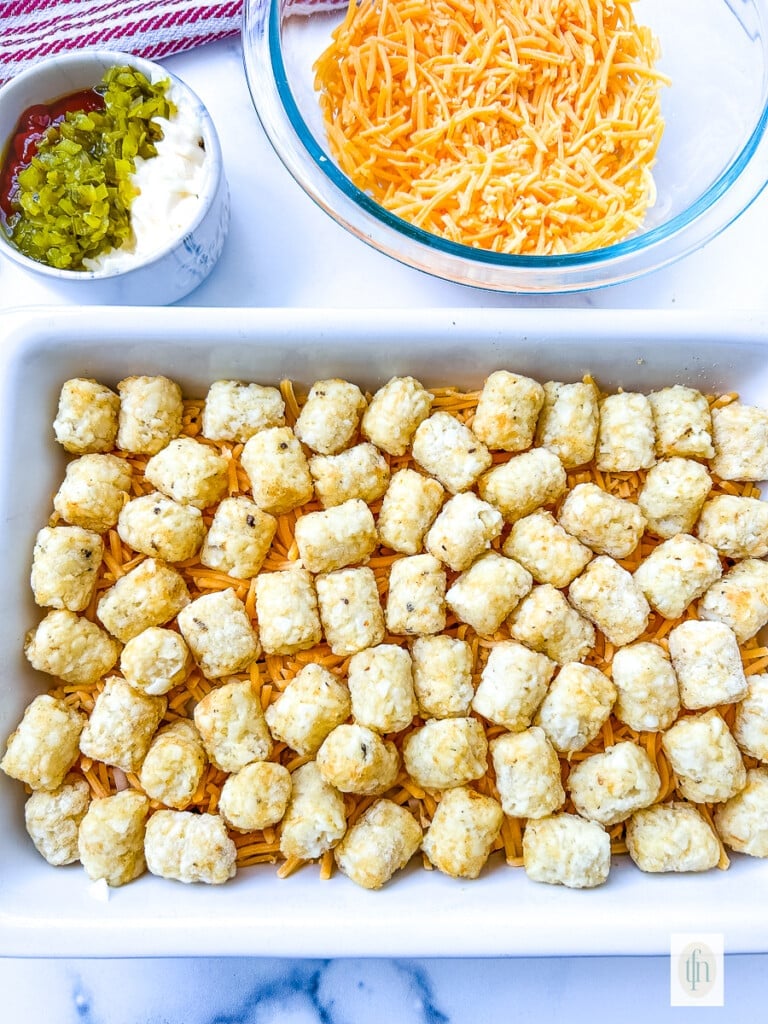 Cheeseburger Tater Tot Casserole FAQ
Why is my tater tot casserole runny?
One possible reason for a runny beef and potato casserole is undercooking the ground beef. This can cause excess moisture in the dish.

This can also happen when wet ingredients like diced tomatoes and lettuce sit on the top of the baked dish for too long. Wait until just before serving to add garnishes.
Can you freeze tater tot casserole before you cook it?
Yes, but do not freeze the meal with the potatoes already on top.

You'll first need to thaw the frozen cheeseburger casserole overnight before baking, and those tots may become soggy in the fridge. Just before baking, add the tots and then proceed with the recipe as normal.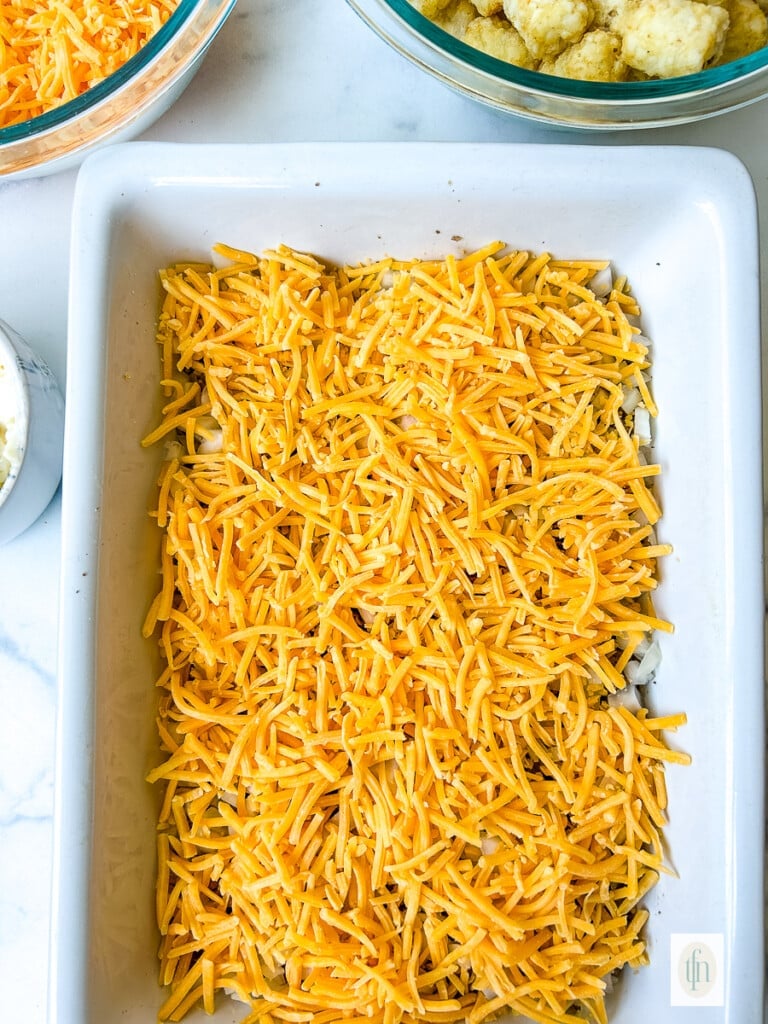 Serving Suggestions
We recommend serving a fresh, healthy side dish to offset the starches in your casserole. Any kind of salad is great!
Coleslaw, with its crisp sweetness, is a good choice, too. Our cucumber slaw has a healthy crunch that kids love.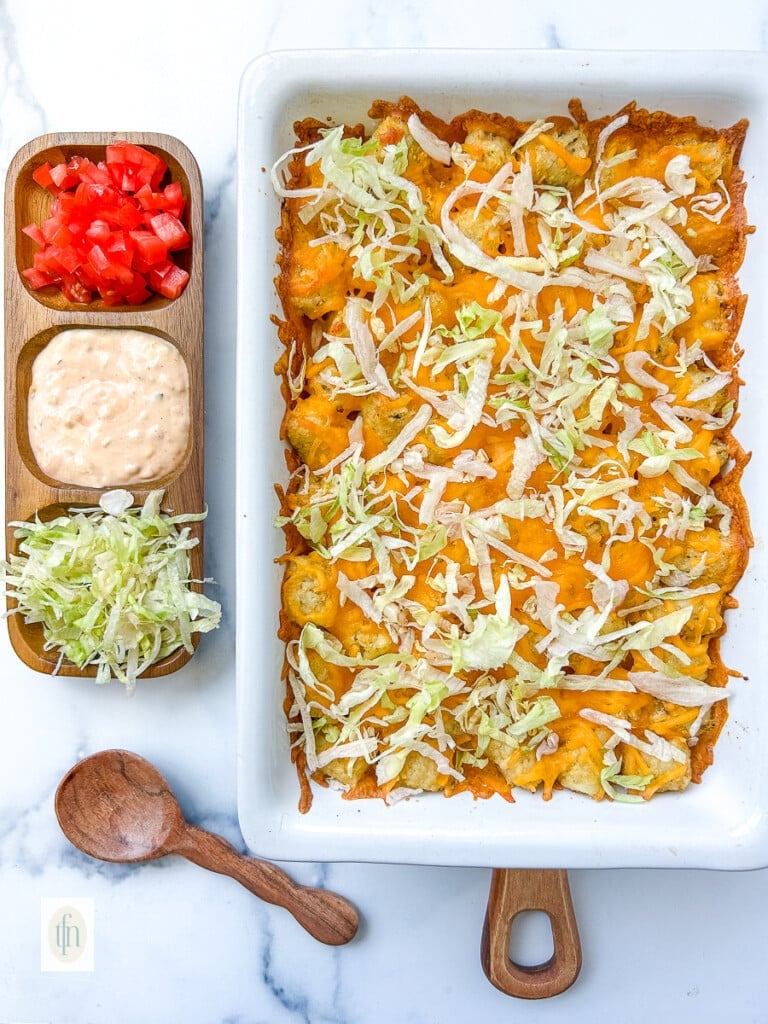 Make plenty of special sauce!
Just like the traditional Big Mac burger, some people are crazy for the special sauce in this casserole! Some people like to dip forkfuls of their cheeseburger tater tot casserole into the sauce. Others love the ketchup and mayo combo so much, they slather it on thick.
By the way, the sauce is also delicious on scrambled eggs, in sandwiches, and as a dip for sausage balls!
Play it safe and double or triple the sauce if you're cooking for a larger group, or if you plan on serving leftovers throughout the week. It'll keep in the fridge for up to two weeks — just give it a good stir before serving.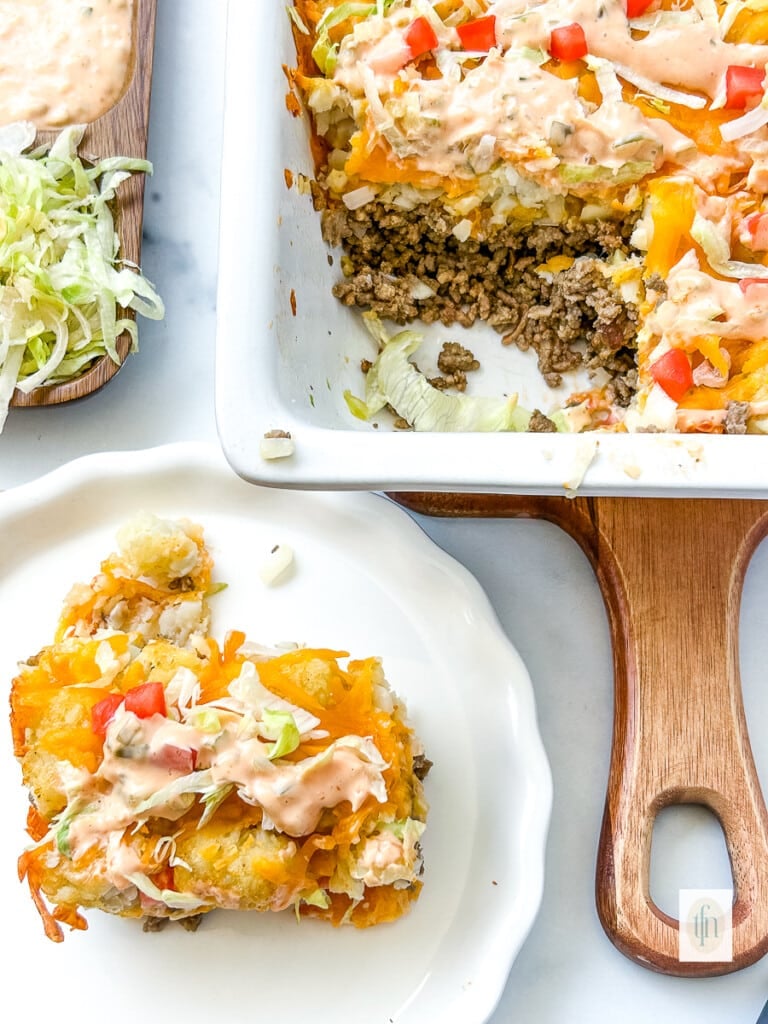 Storing and Reheating Cheeseburger Tater Tot Casserole
Fridge: Leftovers can be refrigerated for up to 4 days. The potatoes will turn soggier with each day. So, if possible, reheat in the oven or air fryer within a couple of days.
Freezer: This hamburger potato casserole can also be frozen for up to 2 months. Thaw it in the fridge overnight before reheating.
Reheating Leftovers
Oven: Reheat in a 350º F. oven until the dish is warm all the way through. You may need to add a few minutes to the reheating time if you're reheating it from frozen.
Microwave: You can also reheat individual servings in the microwave. Just place the desired amount in a microwave-safe dish and heat it for 1-2 minutes, or until it's hot.
Air fryer: Reheat the leftover casserole at 400°F., for 5-7 minutes, or until it is warm all the way through.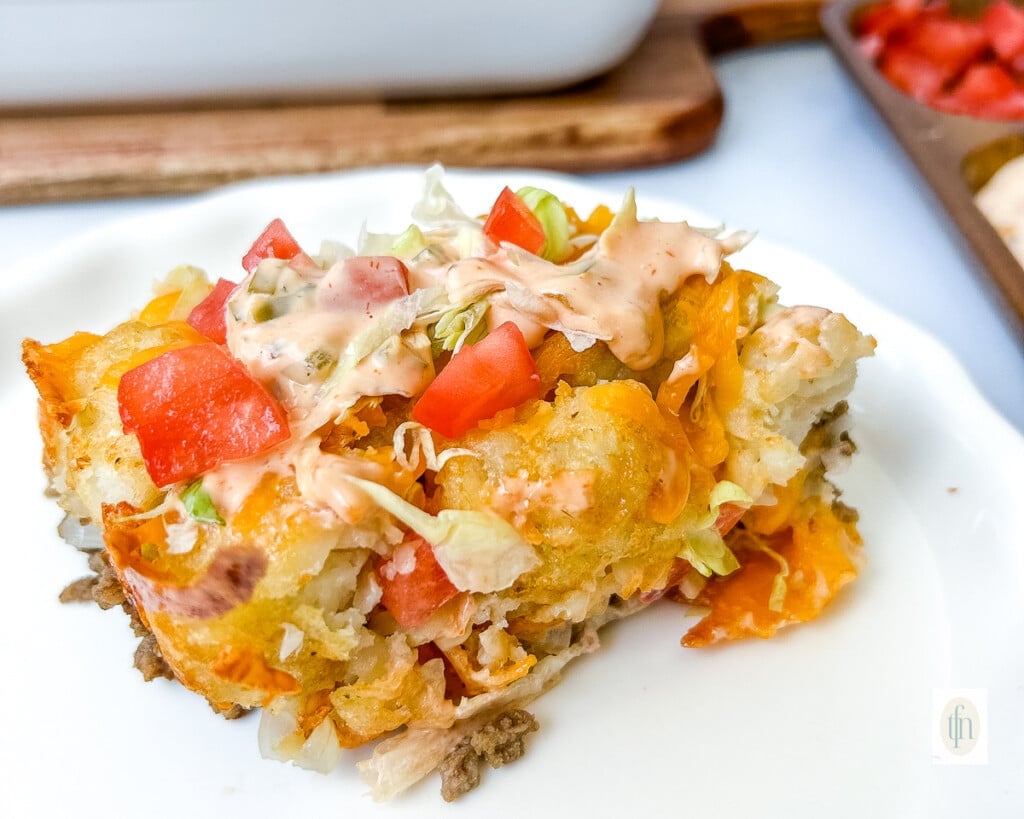 Renae recommends these tools for making Big Mac Casserole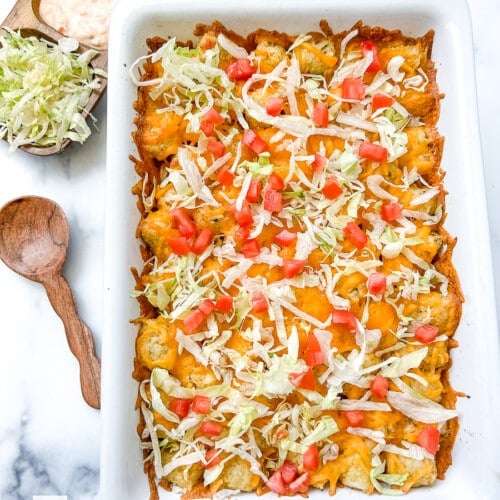 Cheeseburger Tater Tot Casserole
This cheeseburger tater tot casserole combines the yumminess of crispy potatoes and a Big Mac into one delicious, kid-friendly dinner.
Equipment
10" – 12" skillet - (if you use an oven safe skillet, the casserole can be baked in it.)

9" x 13" casserole baking dish
Ingredients
½ cup mayonnaise or light mayo
½ cup ketchup or sugar-free ketchup
¼ cup pickle relish
1.5 pounds lean ground beef (we prefer 85/15)
1 tablespoon onion powder
1 tablespoon garlic powder
2 teaspoons Kosher salt
½ onion diced
8 slices American cheese or 1 cup shredded cheddar cheese
16 ounces frozen tater tots
1 cup shredded cheddar cheese
Garnish
2 cups shredded iceberg lettuce
3 Roma tomatoes diced
special sauce
Instructions
Preheat oven to 400º F.

Add the mayonnaise, ketchup, and pickle relish to a small bowl; stir well to combine. Set aside or refrigerate until ready to use.

Cook the ground beef in a large skillet over medium-high heat. Break up the ground beef as it browns. When the ground beef is no longer pink, remove the pan from the heat and drain the excess grease.

Add the onion powder, garlic powder, and salt to the skillet with the beef. Stir the ingredients well to combine.

Place the casserole mixture into a greased 9" x 13" baking dish and use a flat spatula or the back of large spoon to smooth it out. *If you used an oven-safe skillet, you can assemble the casserole in the skillet instead.Sprinkle the diced onions evenly over the top, then cover with a layer of American cheese slices.

Add a single layer of tater tots over the sliced cheese, then sprinkle the shredded cheese on top of the tater tots.

Bake at 400ºF for 25-30 minutes, until the cheese melts and is golden brown.

Remove the casserole from the oven and let it cool for 5 minutes. Sprinkle the shredded lettuce and diced tomatoes evenly over the top of the tater tot casserole.

Garnish with a drizzle of special sauce just before serving.
Nutrition
Serving: 1 serving | Calories: 663kcal | Carbohydrates: 35g | Protein: 37g | Fat: 42g | Saturated Fat: 15g | Polyunsaturated Fat: 12g | Monounsaturated Fat: 12g | Trans Fat: 1g | Cholesterol: 125mg | Sodium: 2204mg | Potassium: 934mg | Fiber: 4g | Sugar: 8g | Vitamin A: 1242IU | Vitamin C: 14mg | Calcium: 477mg | Iron: 4mg
PIN THIS POST!