This post may contain affiliate links. If you click on a link and make a purchase, I may receive a small commission at no extra cost to you.
Beef Stew represents the ultimate cold weather comfort food. After all, it's warm and filling, perfectly rich and meaty. Stew is easy because it cooks on the stove or in a slow cooker all day. But, what if you didn't have all day to make a beef stew? That's where the pressure cooker comes in. You'll love this Instant Pot Beef Stew recipe for quickly cooking a hearty batch of stew in a fraction of the time. You can even use frozen beef and McCormick Beef Stew Seasoning to make absolutely the easiest Beef Stew!
Slow Cooking vs. Pressure Cooking
Traditional beef stew recipes have all been made in a slow cooker, requiring little effort but several hours to properly cook.
In case you are unfamiliar, slow cooking cooks food to the simmer point in an electric pot, like a CrockPot. The Crock Pot was introduced in the 1970s, and began an era of "fix it and forget it" cooking.
Slow cookers have low and high functions, and some have browning features on them. But, a slow cooker's high heat is nothing like a pressure cooker. It simply brings food to the simmer point quicker than the low heat setting.
Although slow cooking has its niche, it definitely takes more planning. It's perfect for when you have some time in the morning to prep, and want to come home to a good meal. Or when you're busy and don't have time to "babysit" a complicated dinner dish all day long.
You might have to precook defrosted meat by searing on the stovetop before using in your slow cooker recipe. This creates good flavor and produces a more even cook, but requires additional work and dishes.
If you don't have time for that – or have frozen beef that hasn't gotten a chance to thaw – then this Instant Pot Beef Stew recipe is just right for you!
Pressure Cooking in Instant Pot
Pressure cooking has been around for more than a century.
Early stove top pressure cookers delivered inconsistent results like chewy meat and burned foods. Electronic pressure cookers, though, like the Instant Pot (the most well-known brand) have modernized pressure cooking. With a variety of different functions and cooking modes for nearly any dish, you're able to create perfectly cooked foods with literally the push of a button.
You can even control the amount of pressure and heat, and how quickly the pressure releases.
New to Pressure Cooking? Read this first.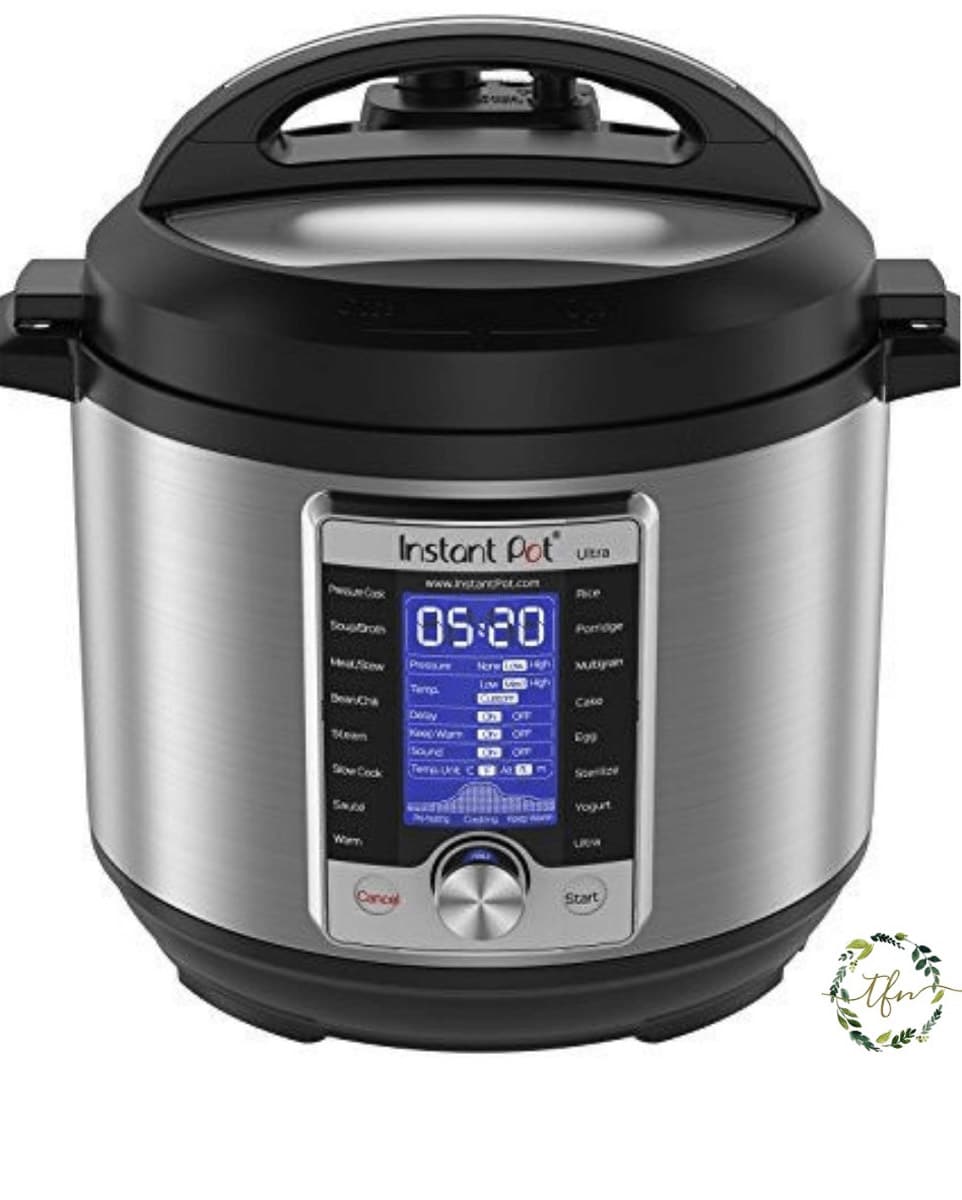 The Instant Pot is ideal for when you didn't plan ahead.
Maybe you ran out the door and forgot to defrost the chicken breasts. Or you need a big meal in a hurry.
Whatever the reason, with an Instant Pot you can take frozen chicken or beef straight from freezer to pot.
Become an Instant Pot Pro with my tips!
First, read your owner's manual before using your pressure cooker.
Then, this post discusses the basics of pressure cooking and how to use an Instant Pot. You'll quickly be an Instant Pot Pro with my Top 10 Tips and Hacks for the Instant Pot!
TFN Tip: One of the biggest risks with pressure cooking comes from overfilling the pot. Pay close attention to the marks in the pot to keep from overfilling it. And, when making soups allow the pressure to naturally release for at least 5 minutes before initiating a quick release.
What Ingredients are in the Best Instant Pot Beef Stew Recipe
Classic Beef Stews, including those made in a pressure cooker, only need a handful of wholesome ingredients to create rich, meaty, hearty flavor. I've made this recipe even easier by using packaged McCormick Beef Stew Seasoning!
Here is everything you need:
Olive oil
Onion
Beef stew meat
McCormick Beef Stew Seasoning Mix
Dried thyme
Beef broth
Carrots
Celery
Frozen peas
TFN Tip: For those of you who like making soups and stews: keep frozen stewing vegetable mixes in your freezer. They keep for months and it's great to have them on hand.
How to Make Beef Stew in the Instant Pot
Beef stew is easily made in either a slow cooker or Instant Pot.
Slow cooking tenderizer tougher cuts by cooking at low heat.
Pressure cooking just speeds up the process while stewing the meat at the same time. I find that pressure cooked meat is a little more flavorful.
With this recipe, the beef and onions are browned on the sauté mode of the Instant Pot. The sauté mode is my favorite feature. Not only does it give color to the meat and vegetables by browning them, but it adds flavor to the dish.
If using frozen beef in your Beef Stew, simply skip sautéing the meat beforehand. While this process certainly creates the most juicy and tender beef, it is not absolutely necessary. I do, however, suggest that you still sauté the onions for the best flavor.
See Below for the Complete Instant Pot Beef Stew Recipe!
Deglazing the Instant Pot
TFN Tip: Browning meats and vegetables in the Instant Pot leaves a flavorful fond (or residue) on the bottom of the pan.
When liquids are added – like the beef broth used in this pressure cooker Beef Stew recipe, it releases the fond. That's called deglazing and it adds great flavor to the food.
So, there's a lot more reasoning to browning meats than just "browning" them. Deglazing also helps prevent getting that dreaded burned notice on your Instant Pot.
You definitely don't want to skip this step!
Beef Stew with Mashed Potatoes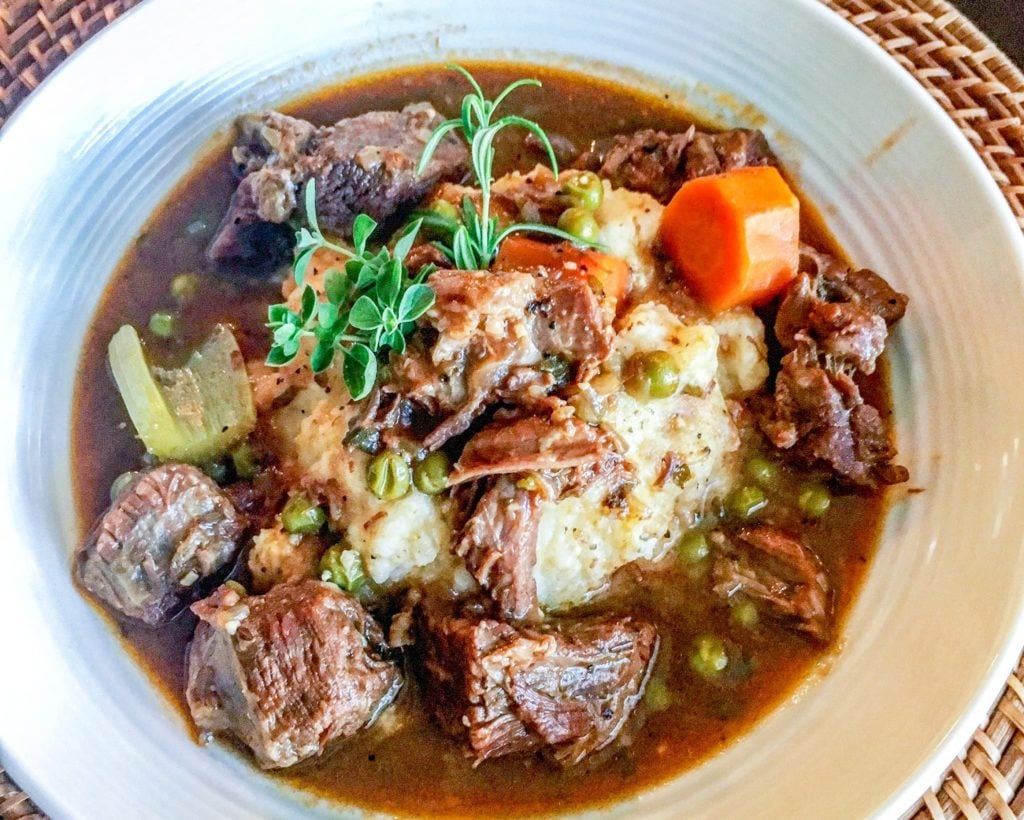 Beef Stew goes amazingly well with Mashed Potatoes. It gives the creamiest, richest taste to this dish. So, serve this over Mashed Potatoes like we do.
Frequently Asked Questions
Can I use frozen beef stew cubes in this recipe?
Yes, to use frozen cubes: sauté the onions first then add the frozen beef cubes and add other ingredients as directed in recipe.
My stew broth is a little thin. Can I made it more gravy like?
Sure! After adding peas, turn the Instant Pot to sauté (normal) and let the stew simmer until it is the consistency you like. This will probably take 5-10 minutes or so.
Do I need to use McCormick beef stew seasoning?
You can use any brand of beef stew seasoning. If you don't have any beef stew seasoning, use 2 cubes of beef bouillon, 2 Tbsp of Better than Bouillon paste, or double the beef broth for the best flavor.
Get the Easiest Beef Stew Recipe Here:
Instant Pot Beef Stew
You can use frozen beef and McCormick Beef Stew Seasoning to make absolutely the easiest, most delicious Instant Pot Beef Stew recipe in a fraction of the time!
Equipment
Electric Pressure Cooker (Instant Pot)
Ingredients
1

Tbsp

olive oil

1

onion, sliced

2

pounds

beef stew meat, cut into 1" cubes

1

packet

McCormick Beef Stew Seasoning

(*see notes for substitutions)

1

tsp

thyme

1

cup

beef broth, low sodium

1/2

pound

carrots, sliced 1"

1/2

cup

celery, sliced 1"

1/2

cup

frozen peas
Instructions
Set the Instant Pot to saute for 30 minutes. Add the olive oil. Once the pot reaches temperature, add the stew meat and brown for 2 minutes on each side. Push the browned beef to one side and saute the onions for 3 minutes.

Stir beef and onion together. Add beef broth to pot to deglaze it, stiring until the bottom if clear of the fond. Add carrots and celery, sprinkle McCorking seasoning and thyme on top. Twist on lid, close sealing valve, press cancel, and set for 25 minutes at high pressure. If using frozen beef cubes, add 5 minutes to pressure cooking time*

At the end of the pressure cycle, allow pressure to naturally release for 10 minutes. Then quick release any remaining pressure. Wait until all pressure has escaped and the pressure button has dropped before opening pot.

Press the cancel button, and set to saute mode. Add peas, stirring occasionally for 5 minutes, before serving.
Video
Instant Pot Beef Stew - Easy & Ready in Minutes!
Notes
Leftover Instant Pot Beef Stew will keep well stored in an airtight container in the fridge for up to 3 days.
*You can use any brand of beef stew seasoning. If you don't have any beef stew seasoning, use 2 cubes of beef bouillon, 2 Tbsp of Better than Bouillon paste, or double the beef broth for the best flavor.
Nutrition
Serving:
1
serving
|
Calories:
388
kcal
|
Carbohydrates:
6
g
|
Protein:
27
g
|
Fat:
6
g
|
Saturated Fat:
2
g
|
Cholesterol:
70
mg
|
Sodium:
216
mg
|
Potassium:
552
mg
|
Fiber:
2
g
|
Sugar:
3
g
|
Vitamin A:
4834
IU
|
Vitamin C:
7
mg
|
Calcium:
41
mg
|
Iron:
3
mg
Shop my Instant Pot Recommendations
Get more easy and delicious Instant Pot recipes:
For more meal inspiration, follow me on Instagram at https://www.instagram.com/thefeatherednester/ or on Facebook at https://www.facebook.com/houseon3rd/.
As an Amazon Associate I earn from qualifying purchases