Smoked chicken quarters are delicious to enjoy either on their own or in other recipes! Smoking chicken quarters is the best way to keep the nutrient-dense, dark meat moist and succulent while infusing it with earthy, smoky flavors.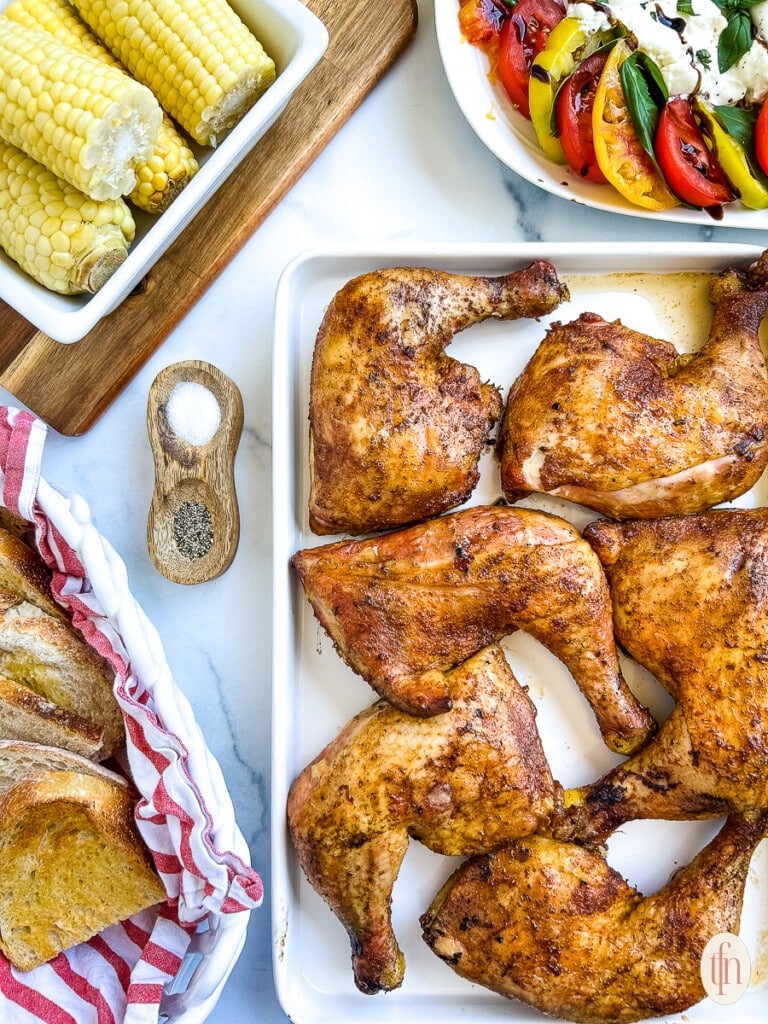 Why We Love Smoked Chicken Quarters
An economical meal!
Using chicken quarters is a great way to save money, especially with the cost of meat lately.
Kids love them.
The drumstick part of the quarters are very tender and juicy, and fun for kids to hold.
They're large cuts that are easy to serve and eat.
The final presentation is so appetizing!
Ingredient Notes and Substitutions
Chicken Leg Quarters – They are sometimes labeled as a "thigh-drumstick piece." It's a budget-friendly cut of dark meat, with plenty of nutrients!
Olive Oil – A thick oil like olive oil helps to keep the meat moist and keeps the seasonings on the surface. Avocado and canola oil are two other good options. Flavor-infused olive oils are also perfect for this use!
Dried Poultry Seasoning – Don't hesitate to use any of your preferred rubs and blends, like a lemon pepper seasoning or zesty chicken taco seasoning!
Smoked Paprika – This spice is made from chile peppers, so it really enhances the smoky flavors in the dish. Chili powder or cayenne are the two best alternatives.
What Are Chicken Quarters?
This term is used to describe the whole leg of the bird. This consists of a portion of the back, the thigh, and the drumstick.
They consist of entirely dark meat and connective tissue. As a result, we're working with a little more fat that releases an abundance of flavor when slowly smoked.
Tips for Smoking Chicken
Use a combination of direct and indirect heat for the best results.

When grilling the chicken, using a combination of these two types of heat gives you an incredibly juicy and perfectly cooked chicken.

Start the cooking process over direct heat to get a nice sear and then finish with indirect heat for the final portion of cooking time to finish cooking all the way through without burning the outside and drying out the middle.
Use an internal wired or wireless thermometer.

Every time you open the door to the grill or smoker to check the temperature, you're releasing that hard-found heat and smoke. Doing this over and over again makes cooking take longer!

That's why we recommend using an internal wired or wireless thermometer that can give you constant readings of the internal temperature of the meat.

Not only that, but many of these also give you the ambient temperature of the grill itself so you know when you need to adjust!
Finish cooking in the oven if necessary.

The smoked chicken quarters finish cooking on high heat, to crisp up the skin.
If you're using a traditional smoker instead of a Traeger or other grill, you'll need to use an oven for this step.

Take the pieces out of the smoker after about an hour of smoking. or when the internal temperature at the thicken portion of the thigh reaches 150ºF. Transfer them to an oven or grill heated to 350ºF to continue.
What to Serve With Chicken Quarters
All of the classic barbecue and picnic sides are welcome options to plate alongside this dish.
Calico bean casserole is a unique, smoky beef and bacon recipe that matches all of the flavors we use smoking chicken quarters. If you really want to stick to that BBQ theme, this is the side to choose!
With such a rich, meaty spread, something that's refreshing and light is needed — crunchy cucumber slaw is perfect!
But we'll rarely put on a barbecue without serving up some mac and cheese! And if we're already smoking chicken leg quarters, then why not smoke the mac and cheese too? It's a really tasty take on an everyday recipe!
Smoked Chicken Quarters FAQ
What is the smoker temperature to smoke chicken pieces?
When smoking chicken leg quarter pieces, the smoker should be preheated to 225ºF. After an hour of cooking, increase the heat to 350ºF. Using both temperatures, it takes roughly 1 hour and 45 minutes to bring the meat to a safe internal temperature of 165°F.
What wood flavor is the best for smoking chicken?
We use apple or mesquite wood chips for smoking chicken on a pellet grill.
While fruit woods like cherry and apple lend a sweet flavor, mesquite lends a stronger, earthier flavor. Either taste fabulous with dark thigh and leg meat.
Where do you put the meat thermometer in a chicken leg quarter?
To find the internal temperature, insert the thermometer at the thickest portion of the leg while avoiding the bone. This is usually somewhere in the thigh.
Storing and Reheating
Leftover smoked chicken quarters can be refrigerated for up to 4 days.
To reheat, place on a baking sheet prepared with parchment paper and bake in the oven at 350ºF until warmed through — between 15 and 20 minutes.
If desired, you can reheat in a baking dish with a bit of liquid (such as broth or stock) to help prevent it from drying out. In this case, give it a final 5-minute broil to help the skin crisp up.
Smoked Chicken Quarters
Smoked Chicken Quarters are plump and juicy with crisp, roasted skin! Check out our guide for smoking chicken quarters in a smoker or grill.
Equipment
rimmed sheet pan

small mixing bowl

apple wood pellets - or mesquite, or fruit wood pellets of choice

smoker - OR

digital cooking thermometer - for monitoring internal temperature of food

Infrared thermometer - for monitoring grill/smoker temperature
Ingredients
6 chicken leg quarters
3 tablespoons olive oil
2 tablespoons dried poultry seasoning
2 teaspoons smoked paprika
Instructions
Arrange chicken quarters in a single layer on a shallow platter or rimmed sheet pan. Brush or rub each piece with olive oil.

To a small bowl, add poultry seasoning and paprika, then stir with a spoon to combine. Sprinkle seasoning evenly over each piece of chicken. Cover the platter/pan with plastic wrap and refrigerate for 1-2 hours.

When you're ready to cook, preheat smoker or grill to 225ºF. If using an internal temperature probe, insert it into the thickest part of a chicken leg, avoiding the bone.

Smoke for 1 hour, turning pieces over after 30 minutes. Cook until internal temperature reaches 150ºF.

*If using a stand-alone smoker, transfer smoked chicken quarters to a 350°F. grill or oven to finish cooking and crisp the skin.Increase grill temperature (or preheat oven) to 350ºF.

Move chicken pieces from lower rack of grill to top rack of grill. Alternatively, turn off burners on one side and place the chicken there, so it cooks over indirect heat. Cook until the internal temperature at the thickest portion of a leg reaches 165ºF, about 30-45 minutes. **Be sure the probe of the thermometer isn't touching a bone.

Let chicken rest for 10 minutes before serving.
Notes
If using a Traeger or grill, I highly recommend using an internal wired or wireless thermometer. Every time you open the lid to check the chicken, heat escapes, which lowers the temperature inside the smoker. This can delay your cooking time.
Nutrition
Serving: 1 leg and thigh | Calories: 384kcal | Carbohydrates: 2g | Protein: 24g | Fat: 31g | Saturated Fat: 7g | Polyunsaturated Fat: 6g | Monounsaturated Fat: 15g | Trans Fat: 0.1g | Cholesterol: 142mg | Sodium: 112mg | Potassium: 321mg | Fiber: 0.4g | Sugar: 0.1g | Vitamin A: 476IU | Vitamin C: 0.2mg | Calcium: 26mg | Iron: 2mg
PIN THIS POST!