Ever since I came out with my very popular 3 Ingredient Biscuits from self-rising flour, I've wanted to create a tender, tasty scone that is a sweet variation of that recipe. And here it is! Let me introduce my Cranberry Almond Scones recipe, made with real cream. You'll love how delicious and versatile this recipe is: Try it with different dried fruits, with or without crunchy almonds or other nuts, and an easy homemade glaze using your favorite extract flavor.
Cranberry Almond Scones Made With Cream
Dense, sweet, crumbly cranberry nut scones are one of my favorite breakfast treats. I love ordering them when we grab a coffee and was always too intimidated by the seemingly complex dough to try making myself. But finally, I figured, no, there has got to be an easy way to make delicious scones at home – and boy, was I right!
Not only are homemade scones relatively simple, but they are also terrific for customizing with different flavors. For instance, my husband is not a fan of nuts in his baked goods. Something about the texture just throws him off… and although I completely disagree, I do understand.
So, the secret to these Cranberry Almond Scones is that they aren't made with almonds in the batter.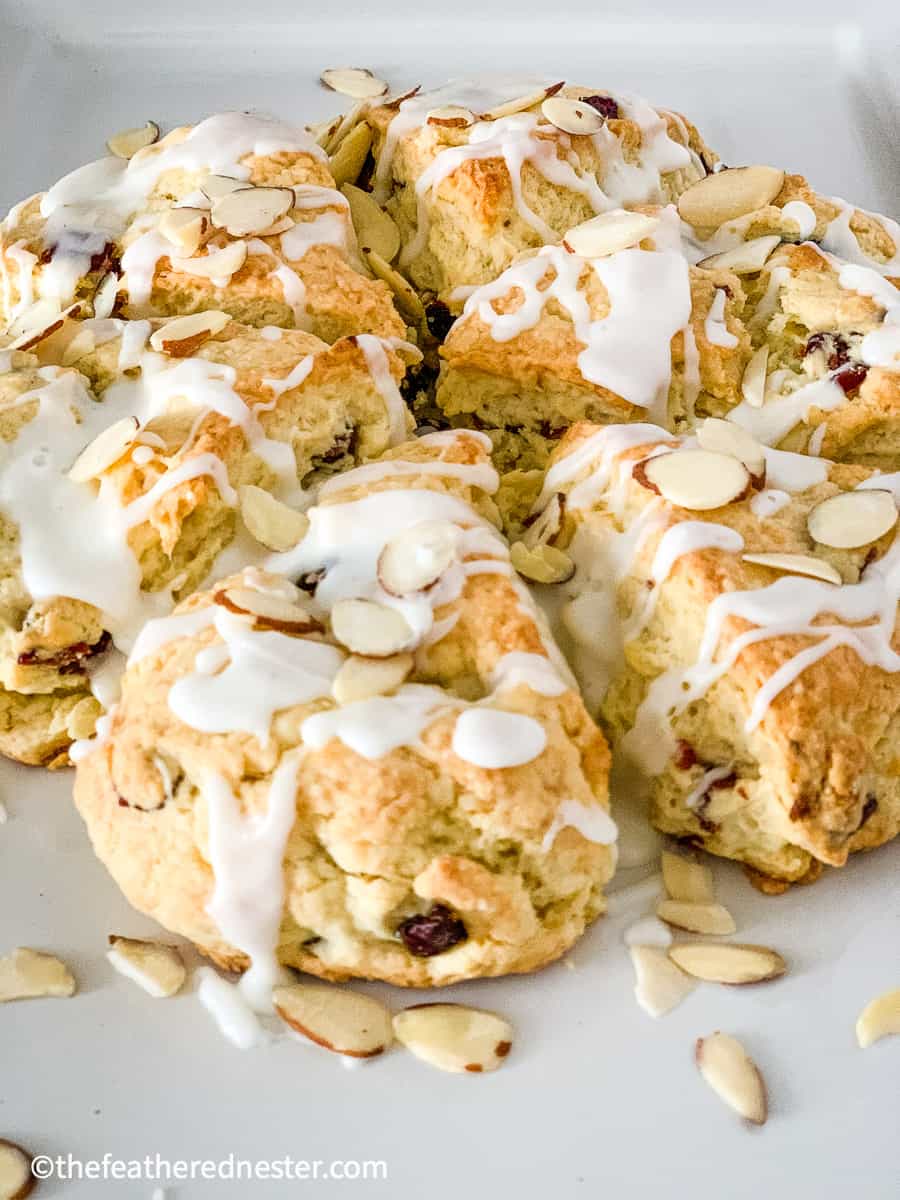 Either add them to the top with icing and almonds for a delicious crunchy topping. Or load these scones with deliciously tart and sweet dried cranberries, and then make an easy icing glaze with almond extract.
Together they create beautiful bites of mouth-pleasing goodness that you'll want to enjoy any time of day!
Using Extracts in Baking
Did you know you can buy different extract flavors like almond, lemon, rum, or amaretto? Walmart has a whole section dedicated to them, but you are likely to find them in your local grocery store, too.
Using simple extracts is an easy (but amazing!) way to add variety to your dishes, both baking and cooking. It gives them a whole new flavor and makes these cranberry nut scones extra exciting.
Here are some articles with great ideas on how to use extracts in your baking and cooking: How to Use Extracts in Baking and Cooking and Using Extracts in Holiday Baking.
What Ingredients You Need for this Cranberry Cream Scones Recipe
I found that the softest, most tender scones are made with real cream. The high fat content of heavy cream makes the scones moist, and using self-rising flour keeps them on the lighter side.
Here are the ingredients you need to make cranberry creams scones:
Self-rising flour
Granulated cane sugar
Heavy cream
Butter
Dried cranberries
You can of course, add chopped almonds to the scone batter if you do like nuts in your baked goods.
To make the optional sweet icing glaze, you need:
Confectioners sugar (powdered sugar)
Heavy cream
Almond extract
Again, feel free to get creative and try different extract flavors in the icing for your cranberry nut scones.
No self rising flour? It is quick and easy to make your own. DIY self-rising flour: Combine 4 cups of flour, 2 Tablespoons of baking powder, and 1 teaspoon of salt. Mix well, and store in a sealed container at room temperature. This is enough for two batches of biscuits.
Love almonds? Then check out this Almond Amaretto Pound Cake.
Keep reading to get fun flavor variations you can make with this scones recipe!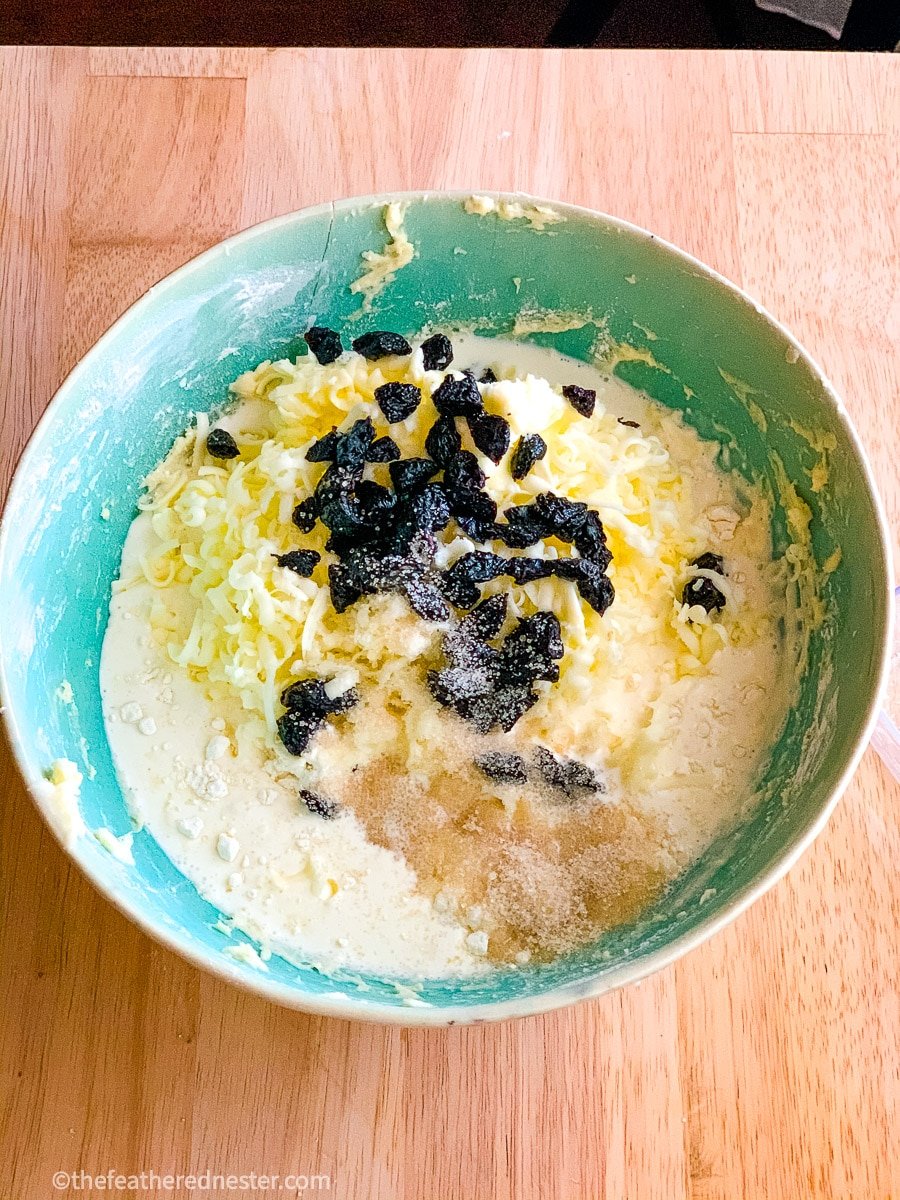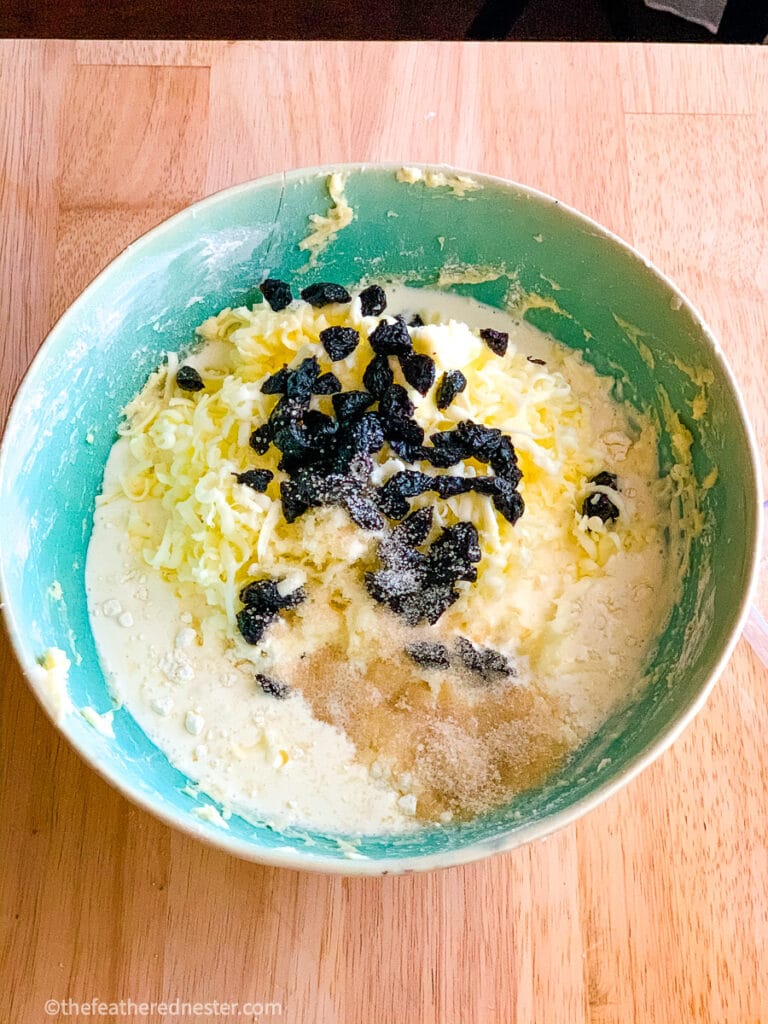 How to Make Cranberry Scones – With or Without Almonds
Although this cranberry almond scones recipe leaves the actual almonds out of the dough, you can choose to add them in before baking.
To include chopped nuts for those who do enjoy them, you can always sprinkle them onto a few scones after drizzling with icing.
The secret to making the best tender scones is to use a light touch and work quickly to keep the butter and cream cold when it reaches the oven. You'll be rewarded with light, tender, and delicious scones that are so easy they and sure to become a new favorite in your home!
Get the Cranberry Almond Scones Recipe Below
How to Make Almond Icing Glaze
It's just three simple steps to make a wonderfully sweet and rich glaze for your dried cranberry scones.
In a medium bowl, whisk together the confectioner's sugar (powdered sugar), heavy cream, and extract of your choice until smooth.
Generously drizzle the icing over the cooled scones.
Allow the glaze to dry and harden slightly before serving.
Other Variations of Scones
This basic recipe for cranberry almond scones is great for changing up different ingredients. There are several variations you can make, including these ideas:
Cranberry Walnut Scones – sprinkle 1/4 cup chopped over the top of the scones after icing.
Lemon Cranberry Scones – use 1 Tbsp lemon zest and lemon extract instead of almond extract.
Cranberry Orange Scones – use 1 Tbsp orange zest and orange extract instead of almond extract.
Cherry Almond Scones – swap the dried cranberries for dried cherries to give these scones a yummy cherry taste.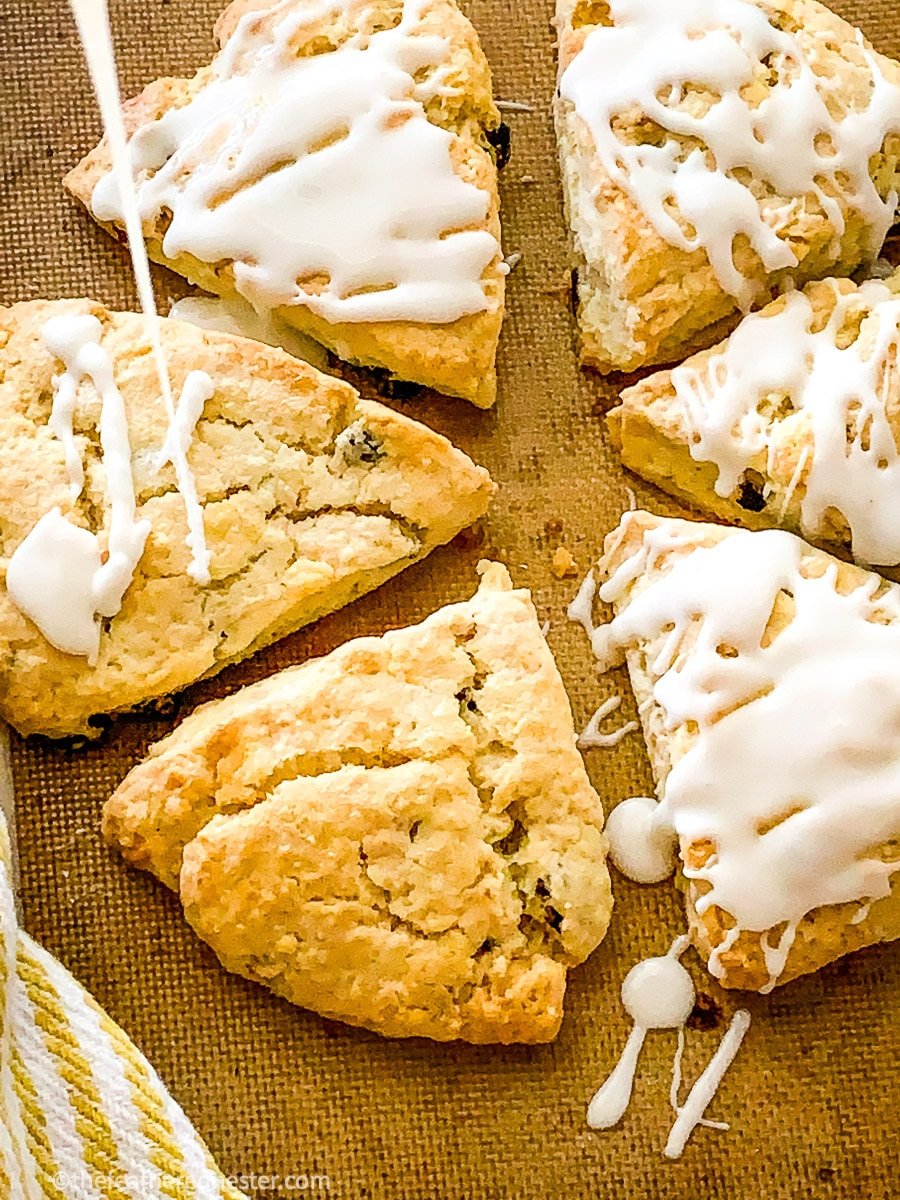 Can I use regular milk or half & half for the heavy cream?
Because the fat in the heavy cream is essential for creating a perfectly soft, flaky scone, I do not recommend that you substitute with milk or half & half.
Can I use all-purpose flour instead of self-rising flour?
You want to use self-rising flour because it contains ingredients necessary to make the scones rise. If you want to use all-purpose flour, you'll need to add baking powder and salt to the recipe.

Check out this Easy 3 Ingredient Biscuits post for more details!
Here's the Best Cranberry Almond Scones Recipe
Cranberry Almond Scones
Cranberry almond scones are light, tender, and absolutely delicious. This baked treat is easy to make and great with tea or coffee!
Equipment
Baking Sheet

mixing bowl

grater, pastry blender, or 2 knives
Ingredients
Scones
2 cups self rising flour (see notes below on how to use all purpose flour)
¼ cup granulated cane sugar
¾ cup heavy cream (do not substitute with milk or half-n-half)
4 tablespoons butter
½ cup dried cranberries
Icing Glaze (optional)
1 cup confectioners' sugar
2 tablespoons heavy cream
1 tablespoon almond extract (can substitute with other extracts, including vanilla)
Instructions
Scones
Preheat the oven to 425º.

Using a medium mixing bowl, stir together the self-rising flour and sugar. Grate the butter using a box grater and stir into the flour. You can also cut the butter directly in the flour mixture using two knives or a pastry blender. With either method, the mixture should look like coarse crumbs the size of peas. Stir in the dried cranberries.

Create a well in the center of the mixing bowl and pour in all of the cream at once. Genty mix with a fork or rubber spatula just until the dry indients are absorbed. This should only take about 15-30 seconds.

Turn the dough onto a lightly floured surface and press together with your hands until the dough pulls together. Flatten the dough slightly, and fold into thirds as if you were folding a letter. Turn the dough and fold again. Press in the sides of the dough to create a circular shape.

Cut the dough into 6 wedges. Place them on a greased or parchment lined baking sheet. Leave 1" of spacing between each wedge.

Bake scones in the center of the oven for 13-17 minutes, or until golden. Let cool for 5 minutes before icing.
Icing Glaze (optional)
Whisk together confectioners' sugar, heavy cream, and extract until the glaze is smooth. Drizzle over the top of the scones with a large tablespoon, letting it run over the sides slightly.
Notes
You can use all-purpose flour in place of self-rising flour, with these additions: 2 cups of all-purpose flour, 1 tbsp baking powder, 1/2 tsp fine salt. Mix well.
Nutrition
Serving: 1scone | Calories: 486kcal | Carbohydrates: 68g | Protein: 6g | Fat: 21g | Saturated Fat: 13g | Cholesterol: 68mg | Sodium: 83mg | Potassium: 64mg | Fiber: 2g | Sugar: 35g | Vitamin A: 747IU | Vitamin C: 1mg | Calcium: 31mg | Iron: 1mg
PIN THIS POST!
Check out these Easy recipes using Self Rising Flour
Get More Baking Recipes