This homemade pizza dough recipe delivers a foolproof, pizzeria-quality pizza crust every time. Whatever your previous experiences have been, with this easy and vegan pizza dough recipe you'll be a pizza pro! Here you'll find the Best 00 Pizza Dough Recipe, with Sourdough Pizza Dough alternative and step-by-step cooking tips.
For years, yeast doughs and I had a love-hate relationship. After a while, I just gave up on making homemade pizza dough.
Then a few years ago, I discovered Instagram and learned some tricks for making easy, foolproof yeast dough. That's inspired me to share these tips with you.
This was the first recipe to ever work the first time I made it, and every time since. Thanks to this pizza dough success, I gained confidence and branched out to other yeast dough.
I hope this does the same for you!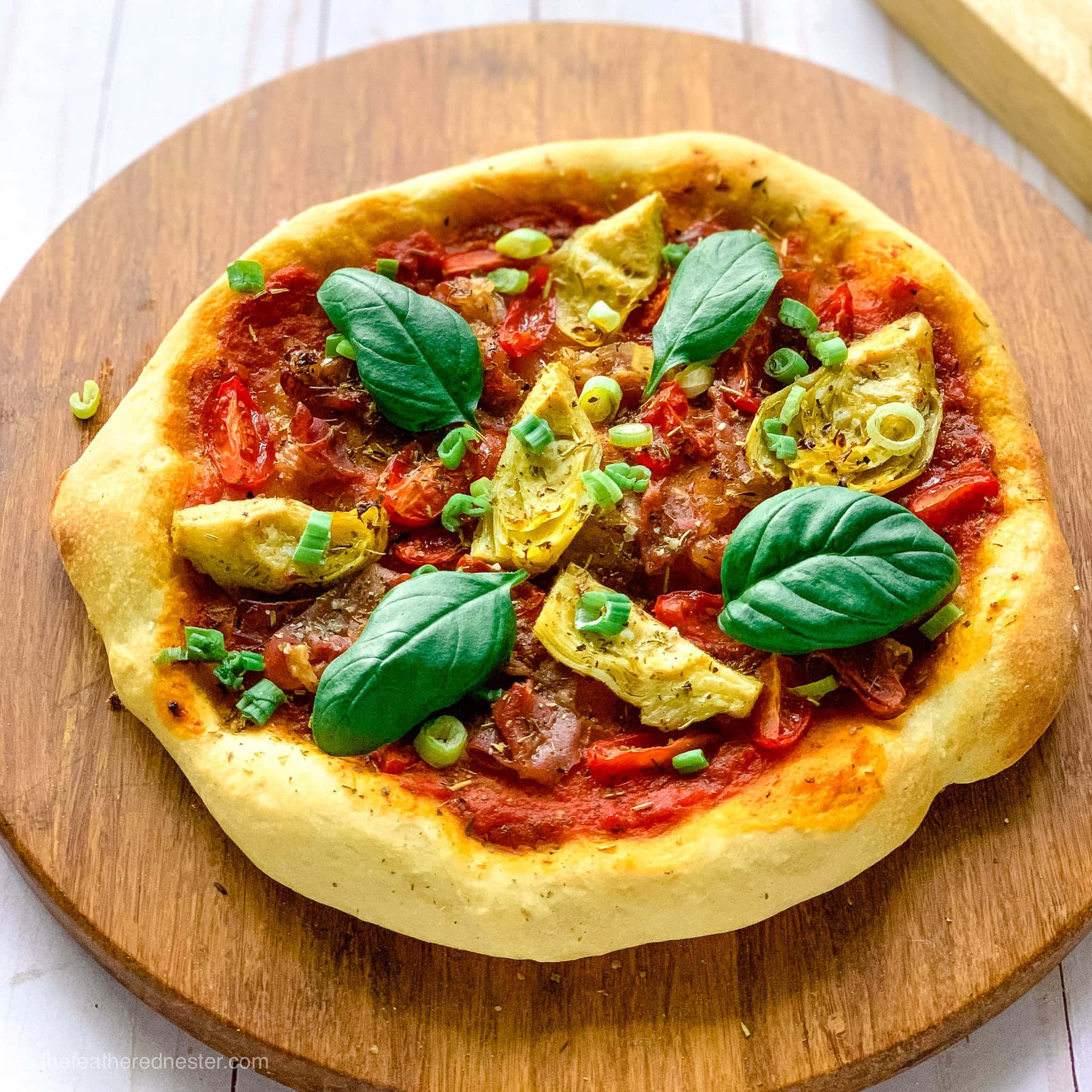 Ingredients for Vegan Pizza Dough
One of the many great things about this homemade pizza dough recipe is that it's naturally vegan-friendly. It only requires a handful of wonderfully simple pantry staples.
Here's what you need to create pizza dough for the best crust:
00 flour (see recipe for substitutes)
all-purpose flour
salt
active dry yeast – Italian pizza yeast is the best
extra-virgin olive oil
Yeast is in short supply now, if you're out, make a sourdough starter. Then relying on yeast will be a thing of the past. Check out my Sourdough Pizza Crust recipe. It uses a sourdough starter instead of commercial yeast.
Tips for Making the Best Homemade Pizza Dough
I recommend that you leave 2-3 hours prep time the first time you make this, then you can adjust it accordingly.
TFN TIP: I speed up the rising time a little by putting it in my oven to proof at 85ºF. If you do not have a proof option on your oven, leave the oven turned off but turn the light on to let it rise.
Although I weigh my ingredients, you don't need to. If you have a small kitchen scale, though, try weighing your ingredients. It is much quicker than measuring.
I even weigh the water, using filtered water from my fridge. I microwave it for about 30 seconds to warm it slightly.
Pictured above: This might be my secret ingredient. I use Italian pizza yeast when it is available. Regular active-dry yeast works well, too.
Below are step-by-step directions and photos for making pizza dough that produces soft, slightly chewy, lightly crispy on the edge, perfect pizza crusts every time.
How to Make My 00 Pizza Dough Recipe
This is such an easy recipe. Just follow the directions, and you'll see it is literally fail-proof.
In a small bowl, sprinkle yeast over lukewarm water and olive oil. Add the yeast to a large bowl, then add the flours and salt.
Next, stir the dough with a strong wooden spoon or a dough whisk.
Then knead with your hands or a stand mixer with dough hook for 3 minutes. Let the mixture rest for 15 minutes. Knead rested dough by hand or in stand mixer for 3 minutes.
TFN Tip: Do not add extra flour. The dough should feel smooth, like the inside of your cheek, and tacky but not sticky.
This makes one large or two individual pizzas. For two pizzas, divide the dough into equal pieces. Shape dough each into a ball.
See Below for the Complete Easy Pizza Dough Recipe!
Easy Pizza Dough Rise Time
Let the 00 pizza dough rise. Cover the bowl with a damp towel or oiled plastic wrap and place it in a warm spot about 75º-85º F.
Let the dough rise for 2-3 hours or until it is double in size. Ease it from the bowl onto a lightly floured surface.
Tip: If you plan to store your pizza dough, you can check our Freezing Pizza Dough instructions.
Creating the Perfect Pizza
Be sure to treat the dough gently when shaping. I usually start by gently patting it between my hands until it flattens, then stretch it out with my fingers.
Then your 00 pizza crust is ready for toppings!
I love keeping this a vegan pizza recipe by skipping the cheese and just adding fresh vegetables. My family, however, likes to load theirs up with extra cheese, pepperoni, and maybe a veggie or two.
There's no wrong way to enjoy pizza made with the best pizza dough.
Adding the pizza to a really hot oven ensures you have a soft and chewy pizza crust. The yeast creates air pockets in the dough and allows it to bubble up.
I prefer to place the pizza on parchment paper, then slide it on to a pizza stone. This makes cleanup much easier, and keeps the bottom of the crust nice and crispy.
And, before you know it, your pizza is ready!
Frequently Asked Questions
Can I use white alfredo sauce instead of red sauce on this pizza?
You can absolutely use white alfredo sauce. That is my husband's favorite.
I left my dough in the refrigerator for 2 days, Is it okay to use?
The dough should be just fine to use if it has been in the fridge for 2 days.
All I have is bread flour. Will it work for this recipe?
You can use bread flour for this pizza crust recipe. The crust texture will be slightly denser, but still delicious.
I've never heard of 00 flour. What is it?
00 flour is also called 00 pizza dough flour or Italian flour. It is available in many gourmet markets and on Amazon.
Where did you get the Italian pizza yeast?
I got the Italian pizza yeast from Amazon.
the Best PizZa Crust Recipe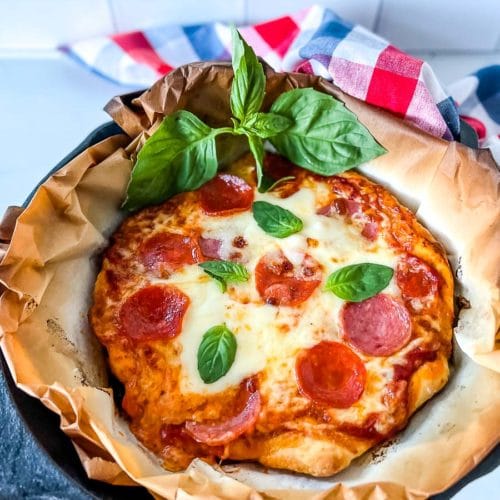 Easy Pizza Dough with 00 Flour
This easy homemade pizza dough recipe delivers a fail-proof, pizzeria-quality pizza crust every time. Make it to see how it really is the best ever pizza dough!
Equipment
baking sheet or pizza stone
Ingredients
153 grams 00 Flour (1 cup + 1 Tbsp)
153 grams all-purpose flour (1 cup + 2 Tbsp)
1 teaspoon salt
1 cup lukewarm water (95º to 105º)
¾ teaspoon active dry yeast
1 teaspoon extra-virgin olive oil
Instructions
In a large mixing bowl, combine flours and salt.

In a small bowl, sprinkle yeast over lukewarm water and olive oil. Wait 2-3 minutes, then pour it into flour mixture. Stir ingredients together, then knead with your hands or a stand mixer with dough hook, for 3 minutes. Let the mixture rest for 15 minutes.

Knead rested dough by hand or in stand mixer for 3 minutes. Cut into 1 large, 2 small, or 4 mini (kid's size) equal pieces and shape each into a ball.

Place on a heavily floured surface, cover with dampened cloth or plastic wrap. Let rise until doubled for 2 to 3 hours at room temperature, or 8 to 24 hours in the refrigerator. (If you refrigerate the dough, remove it 30 to 45 minutes before you begin to shape it for pizza.)
Notes
To make pizza, place each dough ball on a lightly floured surface and use your fingers to stretch it gently, then your hands to shape it into rounds or squares. Top with your favorite toppings, and bake at 425 degrees for 12-15 minutes individual pizzas and 20 minutes or so for a full-size.
Nutrition
Serving: 1slice | Calories: 291kcal | Carbohydrates: 59g | Protein: 8g | Fat: 2g | Saturated Fat: 1g | Sodium: 482mg | Potassium: 82mg | Fiber: 2g | Sugar: 1g | Calcium: 11mg | Iron: 4mg
PIN THIS POST!
---
more classic Homemade recipes you'll love