This Cinnamon Roll Apple Bake is the easiest and most delicious two ingredient recipe ever. Just think of freshly baked cinnamon rolls meeting sweet, gooey apple fritters. And best of all, it requires barely any prep work!
Easy Cinnamon Roll Apple Bake
Busy moms, rejoice! Part cinnamon roll, part apple pie, this perfectly sweet casserole is delicious.
Serve it for breakfast or dessert as a special treat that's sure to make the whole family happy.
It tastes just like your favorite cinnamon rolls with icing AND yummy apple fritters. Except they are baked together to create one amazing dish.
How could that not be a crowd-pleaser?!
And, although this apple fritter cinnamon roll bake tastes impressive, it's actually really easy to make.
It needs just 2 simple ingredients and less than 30 minutes in the oven! Plus this baked cinnamon roll apple pie recipe needs no prep bowl and a single skillet or casserole dish. So cleanup is a breeze!
Perfect for breakfast or dessert, this will be your new go-to dish for when you want to put something super tasty that is on the table fast and effortlessly.
So, give this rich, gooey, sweet cinnamon roll dessert or breakfast casserole a try. Just be ready for lots of clean plates!
2 Ingredients Needed For Cinnamon Roll Apple Pie Bake
For this recipe you really only need 2 ingredients:
Canned, refrigerated cinnamon rolls
A can of apple pie filling
That's seriously it!
I use Pillsbury Grands! Cinnamon Rolls to make this recipe, but you can use any similar brand.
Now, you might be wondering if serving your family apple pie is a healthy breakfast choice.
This cinnamon roll apple bake is certainly an indulgent dish. Though you should be happy that a can of apple pie filling only contains a handful of simple ingredients. Like real apples, sugar, food starch, natural flavors, citric acid, and cinnamon.
How to Make the Best Apple Fritter Cinnamon Roll Bake
You are going to love how easy it is to put together and bake this canned cinnamon roll dessert or breakfast recipe.
Just follow these simple steps and in less than 30 minutes you'll have the most kid friendly and family approved sweet treat on the table!
Preheat the oven to 350º F. Then spray a skillet or casserole dish with non stick spray.
Next, separate the cinnamon rolls and cut each into 4-6 pieces. Add them to the prepared casserole dish or 10″ skillet. Then, cover with the apple pie filling. Cut any large apple chunks into bite sized pieces.
Bake uncovered for 25 minutes. When done, it should be lightly browned. There will be crisp bits of cinnamon roll and gooey apple goodness.
Drizzle the cinnamon roll icing evenly over the top, and serve warm.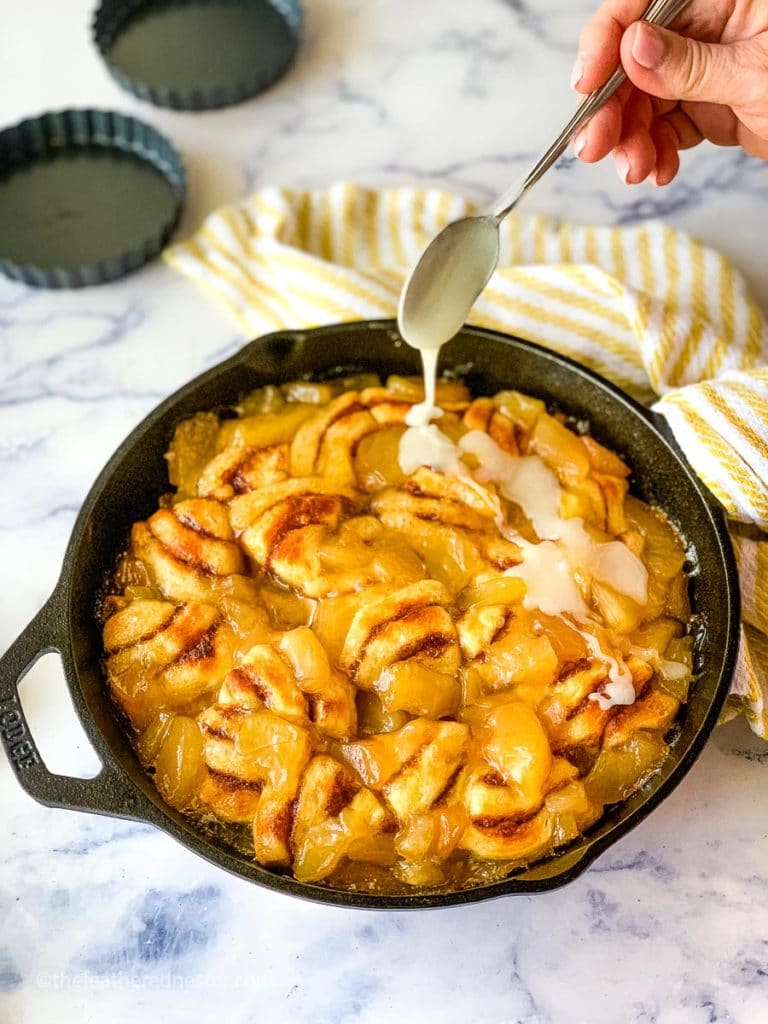 Tips for Making as a Camping Recipe
Baked apple cinnamon roll casserole is great for making over an open fire while camping. It's the perfect breakfast for a crisp, cool morning outdoors. Or as a dessert treat after a long day of hiking and/or relaxing in the tent!
Just add the roll of cinnamon rolls to the cooler and keep a can of apple pie filling in your pack. Then you can cook this yummy breakfast right over the campfire with a cast iron pan.
To cook: combine the 2 ingredients together in the skillet. Then cover the pan with aluminum foil and cook over the fire until ready, about 20-30 minutes.
Frequently Asked Questions
What should I serve with this cinnamon roll apple bake?
For breakfast, I suggest serving with a side of yogurt and perhaps some crunchy granola. Enjoy this cinnamon roll dessert with a scoop of vanilla ice cream and/or whipped cream on top.
How long can I keep leftovers?
Stored in an airtight container this apple fritter cinnamon roll bake will keep well for up to 4 days in the refrigerator. Cover leftovers with foil and reheat leftovers in the oven, to keep them from drying out.

Due to the icing, I do not recommend that you freeze leftovers. However, if you want a make ahead casserole, you can do so without using the icing. Then cool and freeze in a sealed plastic bag for up to 3 months.
Be sure to check the expiration date on the packaged icing before keeping it in the fridge and using it later.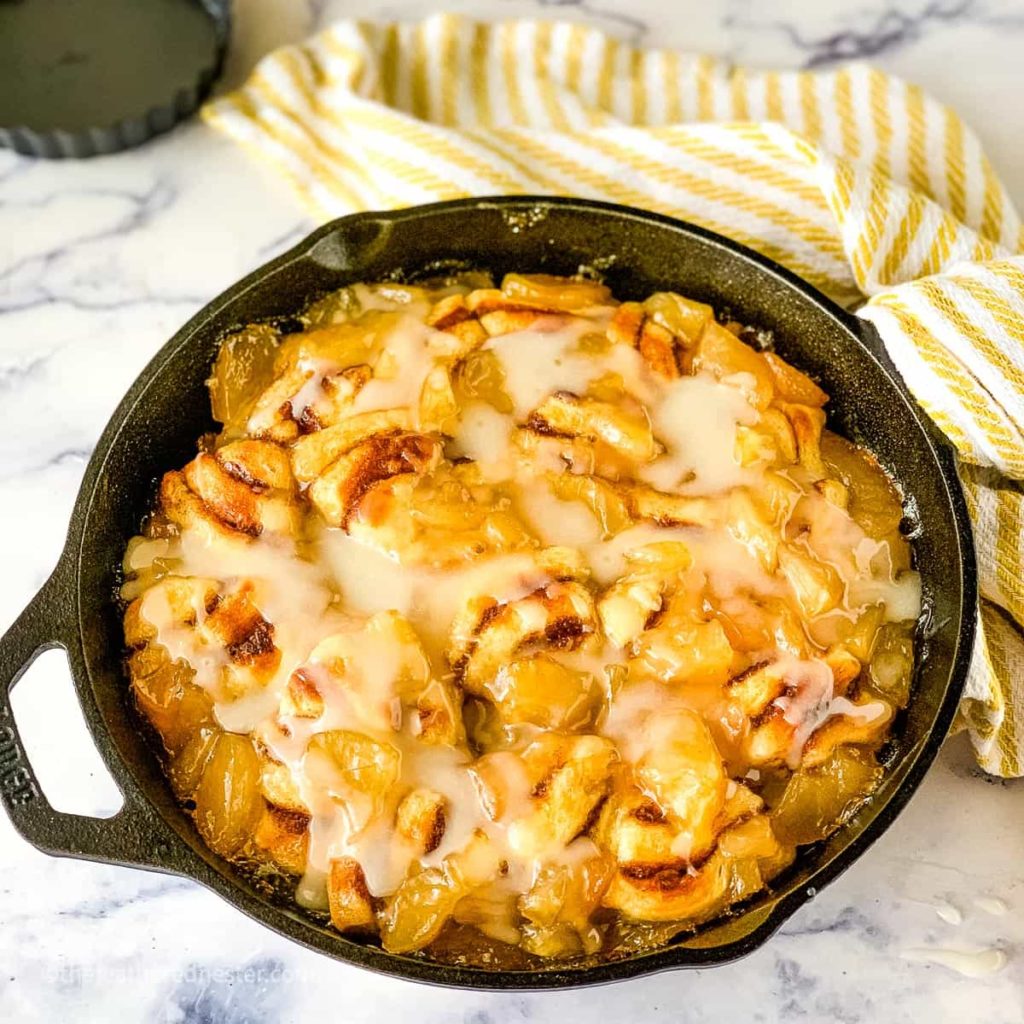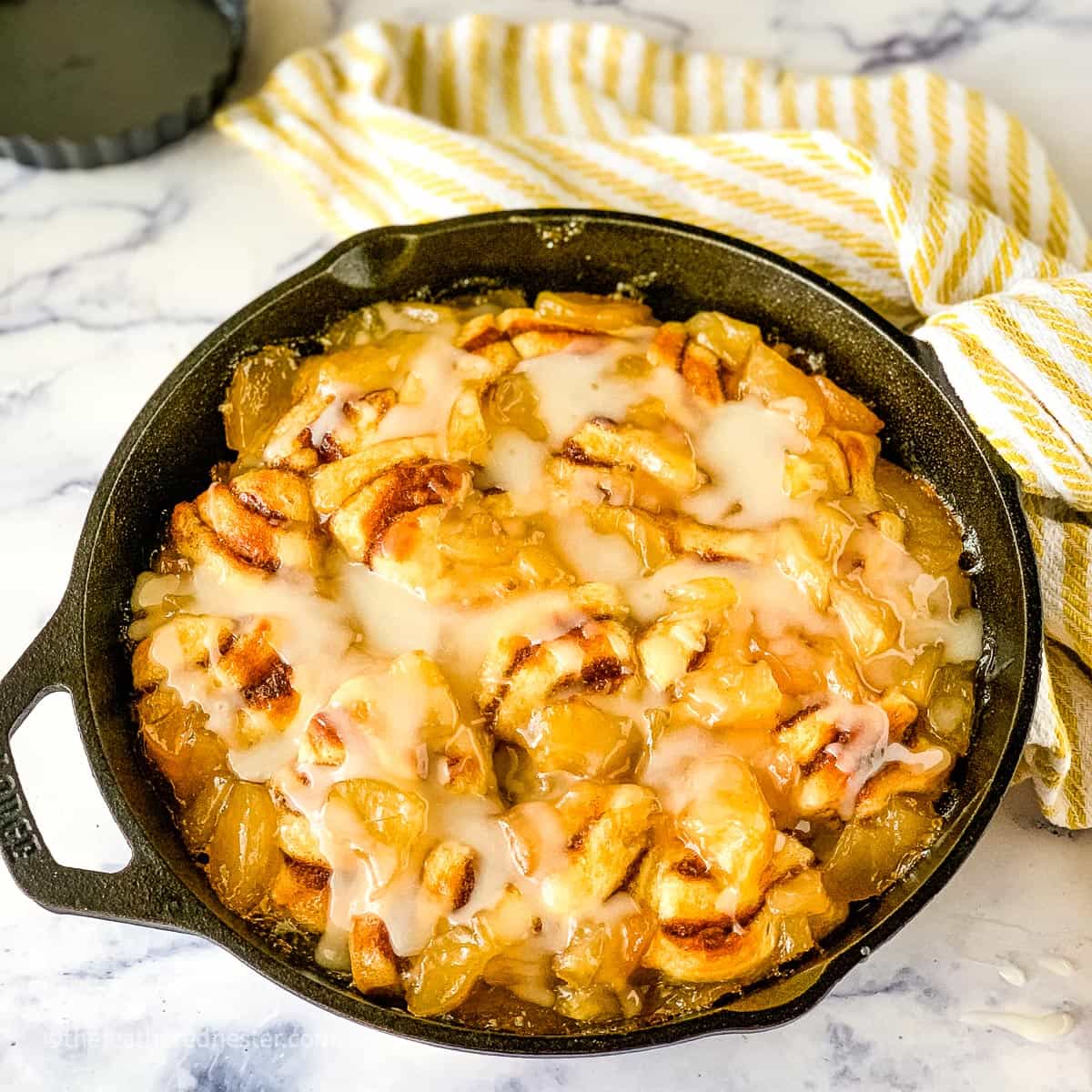 The Full Recipe for the Easiest Apples and Cinnamon Roll Bake
Cinnamon Roll Apple Bake
Cinnamon Roll Apple Bake is an incredibly delicious and 2 ingredient breakfast treat of cinnamon rolls with apple pie filling. SO easy to make!
Equipment
2-quart casserole dish - or 9"-10" skillet
Ingredients
17.5 ounces Pillsbury Grands Cinnamon Rolls or similar brand (The large tubes of cinnamon rolls work best here)
21 ounces apple pie filling
Instructions
Preheat oven to 350º. Spray your casserole dish or skillet with cooking oil.

Separate the cinnamon rolls and cut each into 4-6 sections. Add them to the prepared dish or skillet. Cover the dough with the apple pie filling, cutting any large apple chunks into bite sized pieces.

Bake in preheated oven for 25 minutes, until the cinnamon rolls are lightly browned and the apples are golden and bubbly.

Drizzle the icing that came with the cinnamon rolls over the top. Let cool slightly before serving.
Serving ideas:
As a dessert, serve with vanilla ice cream or add whipped cream on top.

For breakfast or brunch, serve with granola or vanilla yogurt.
Video
Nutrition
Serving: 1serving | Calories: 296kcal | Carbohydrates: 54g | Protein: 3g | Fat: 9g | Saturated Fat: 4g | Sodium: 453mg | Potassium: 45mg | Fiber: 1g | Sugar: 26g | Vitamin A: 24IU | Vitamin C: 2mg | Calcium: 4mg | Iron: 1mg
PIN THIS POST!
Here are More Delicious Baked Breakfast and Dessert Ideas