Put a dish of cinnamon rolls with apple pie filling on your table and you'll be lucky if there's a crumb left over. Think of freshly baked cinnamon rolls, monkey bread style, with warm fruit inside and sweet icing on top. And best of all, it requires barely any prep work!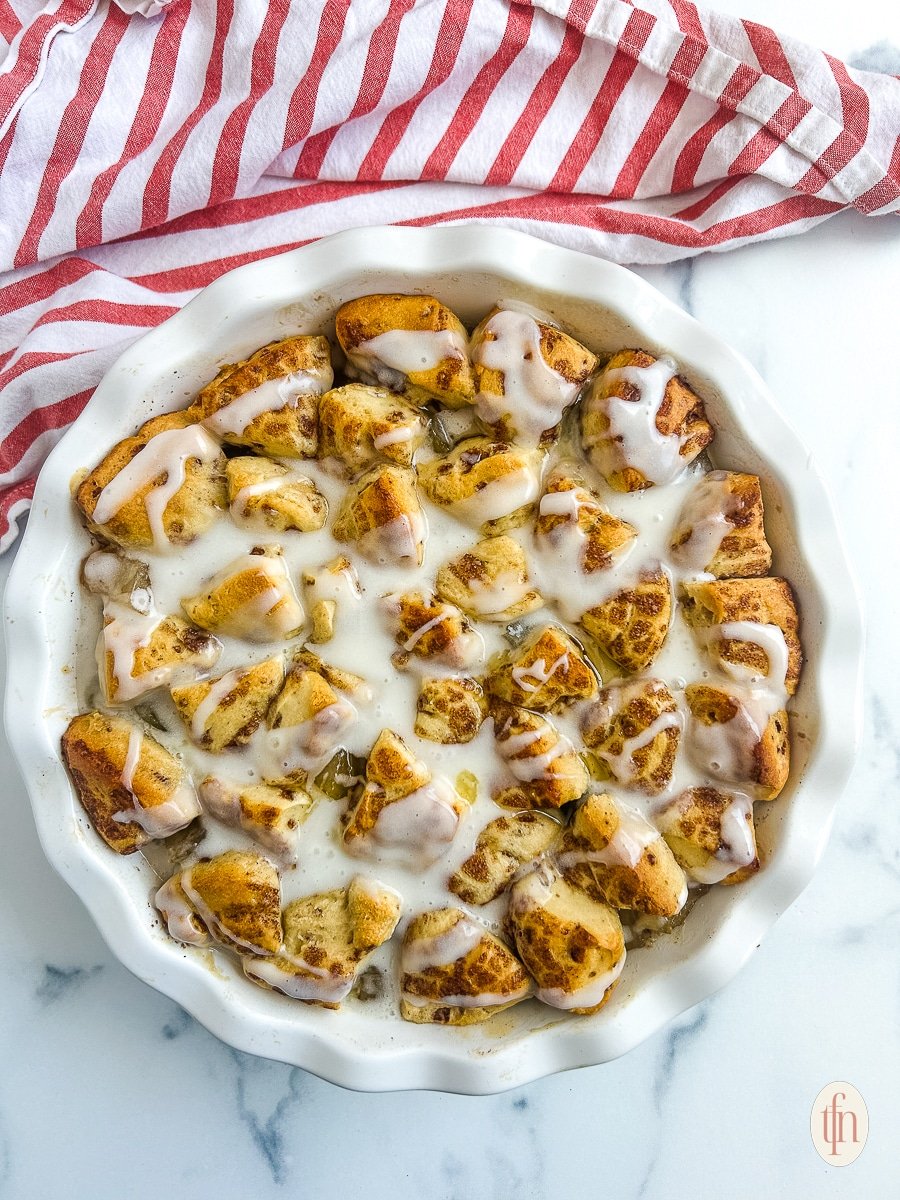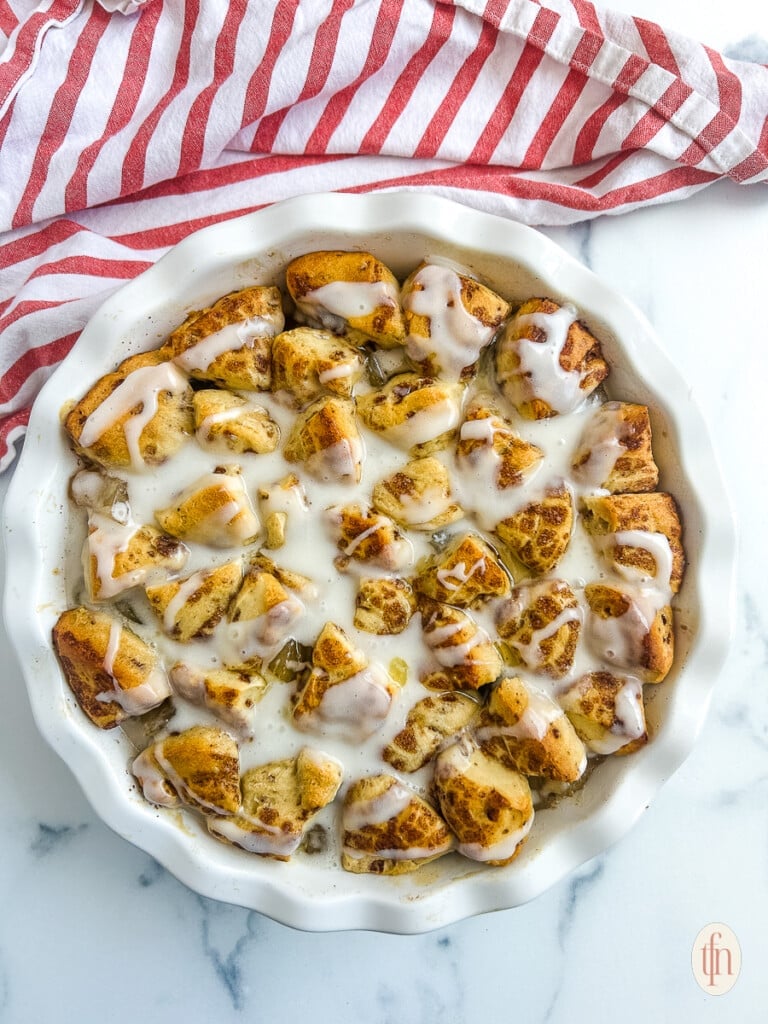 Why We Love Cinnamon Rolls with Apple Pie Filling
Easy to transport.
Whether it's to a church potluck, Christmas brunch with family, or to give to your delivery driver, this breakfast casserole is easy to wrap up for a ride.

A dump and bake dessert.
This apple cinnamon rolls recipe requires just 2 ingredients! This means, you won't need a prep bowl. Assemble everything in a skillet or casserole dish and you're ready to bake.

There are times when you just need a quick and convenient recipe. Hands down, Pillsbury cinnamon roll recipes like this one are the answer!

Fantastic birthday breakfast idea.
You know that when you make this dish, the kids will devour them. They are fantastic for a special birthday breakfast!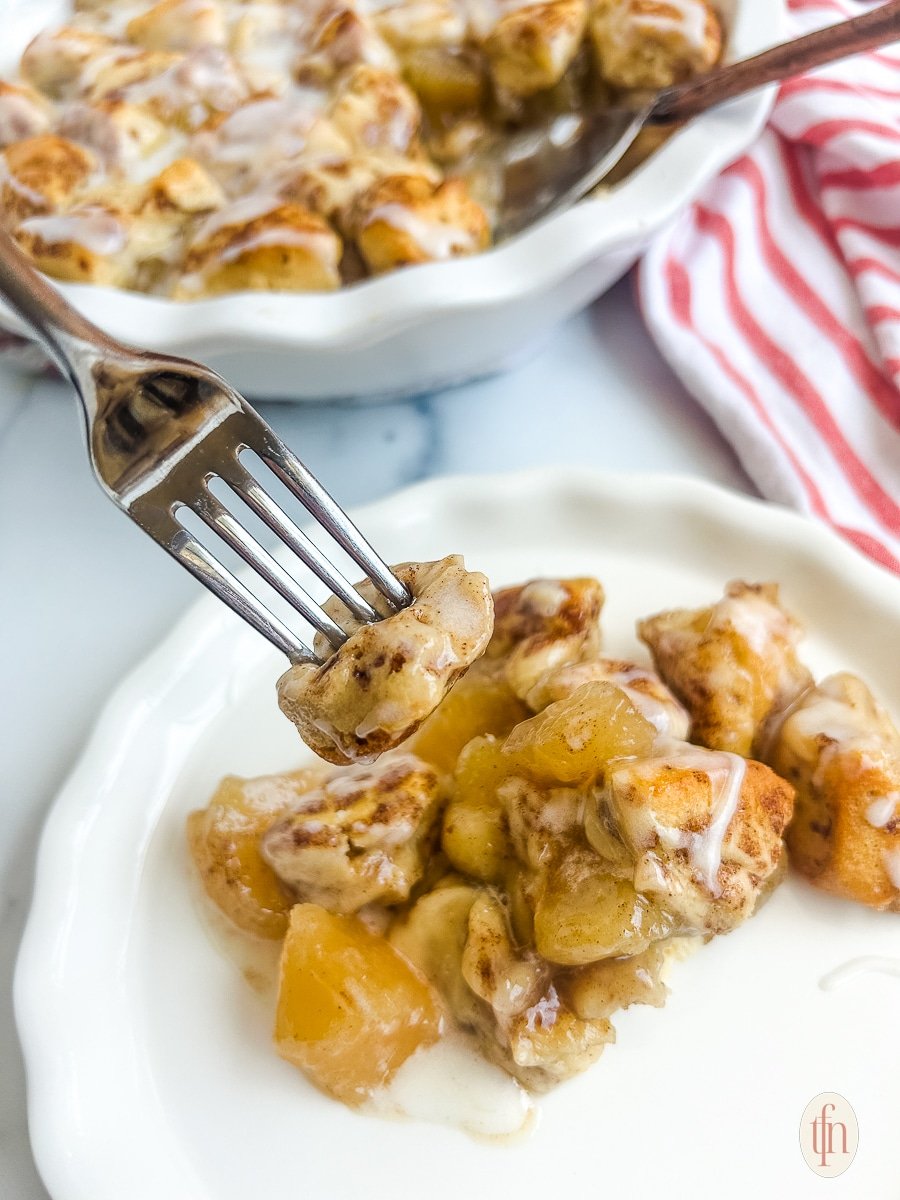 Ingredient Notes and Substitutions
Canned, refrigerated cinnamon rolls:
We used two tubes of the regular size Pillsbury cinnamon rolls to make this recipe. Obviously, any brand will be fine. Another option is to use the Grands variety, but because those are thicker, you may only need one tube.
Apple pie filling
You can find pie filling in the baking aisle of your store, and really, if you aren't in the mood for apples, you can use any flavor. Peaches, blueberries, cherries, and low sugar and no sugar pie filling is nice option, too!

If you're feeling the desire to use homemade apple pie filling, go ahead! It will make the cinnamon rolls even more delicious!
Need a few more easy apple desserts?
When you have a fridge full of crisp Galas or Granny Smiths, you can use them to make this sourdough cake! Another super simple recipe is Bisquick apple cobbler
Tips for the Best Apple Cinnamon Rolls
Be sure to grease your baking dish really well.
Cut the rolls in small pieces.
Cutting each piece of dough in 4 pieces is how this cinnamon rolls with apple pie filling becomes more like a pull apart bread.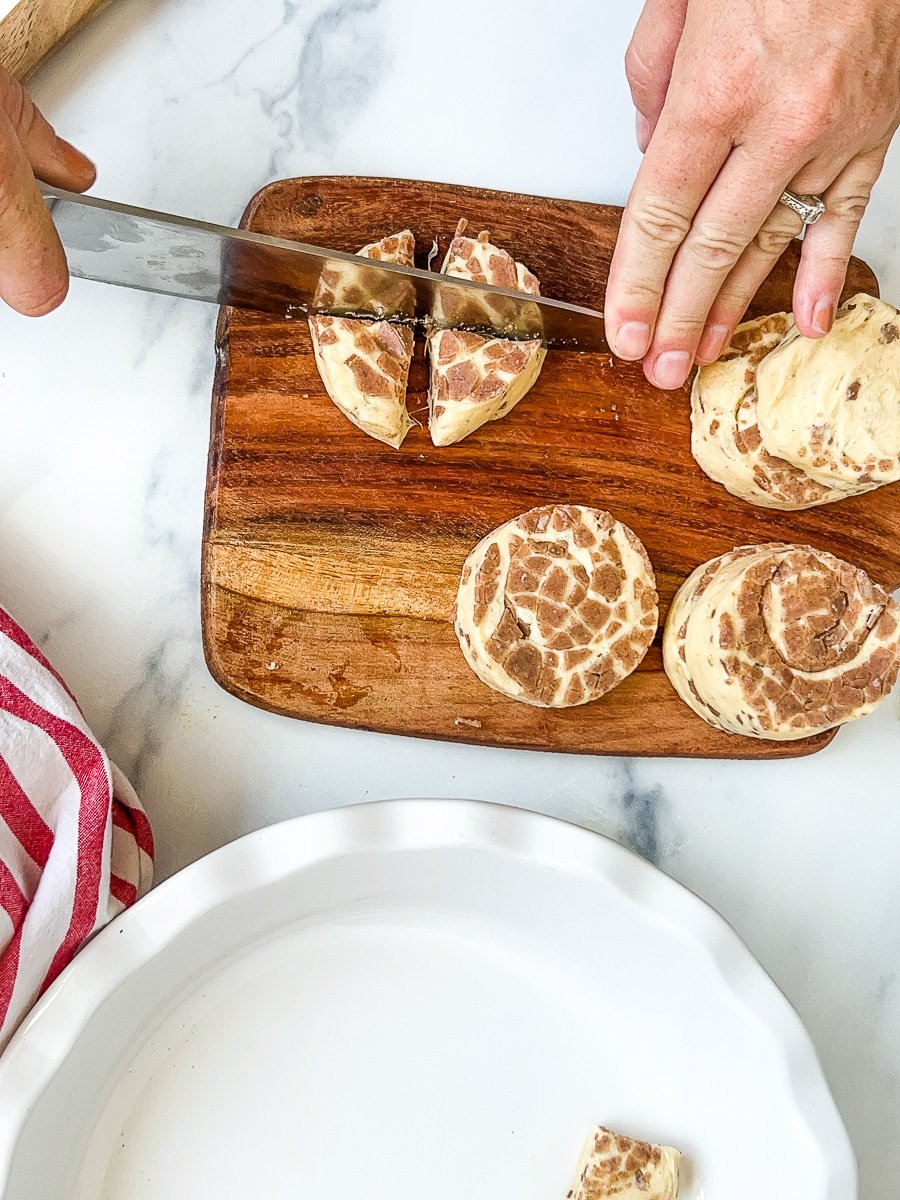 Cut the pieces of fruit if necessary.

We find that it varies by brand, but if you come across any huge pieces of apple pie filling, use a pair of kitchen shears or a sharp knife to make them bite-sized.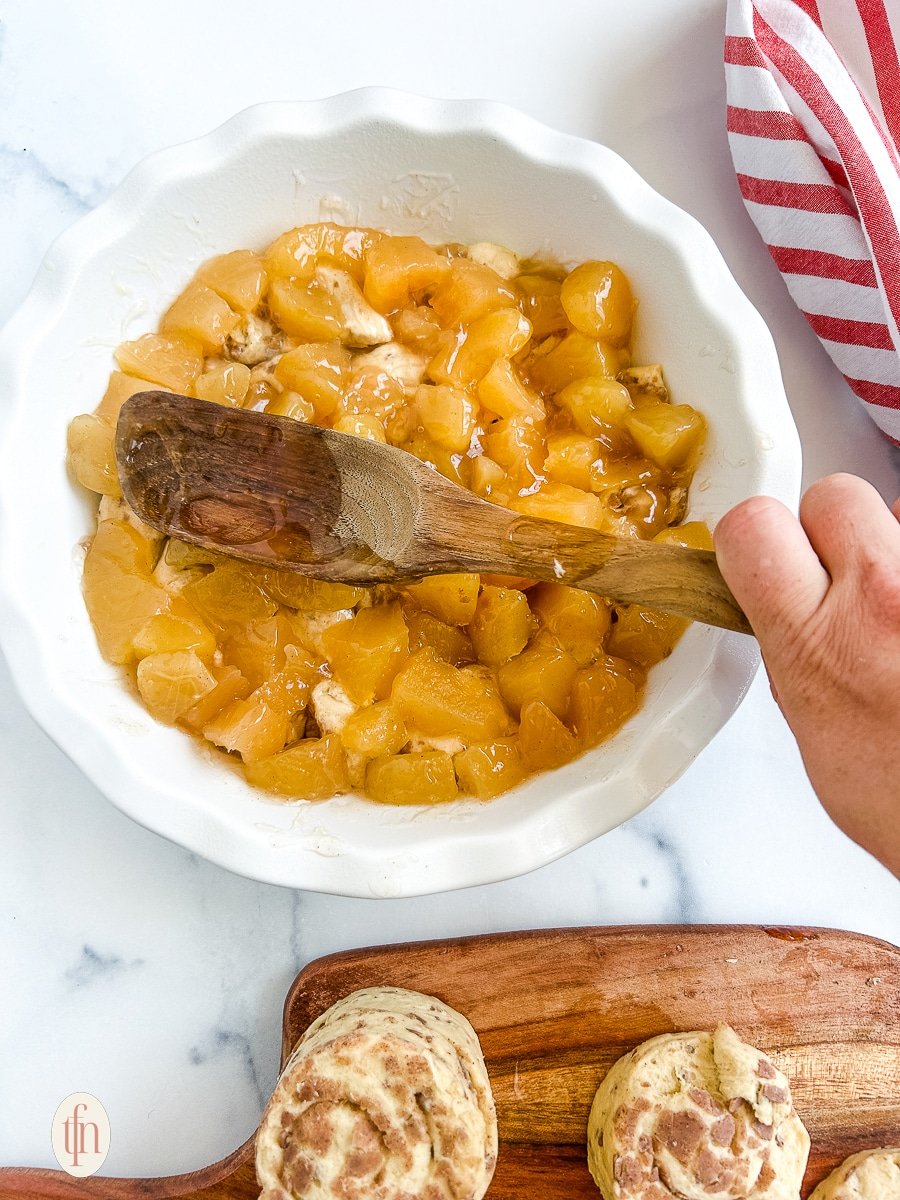 Make a double layer of ingredients.
After you arrange the first tube of cinnamon rolls and apple pie filling, add a second layer of dough!

Use the second roll of Pillsbury cinnamon rolls to cover the first layer. Essentially, you are burying the apple pie filling between two fluffy layers of the cinnamon roll bake.

Hungry yet??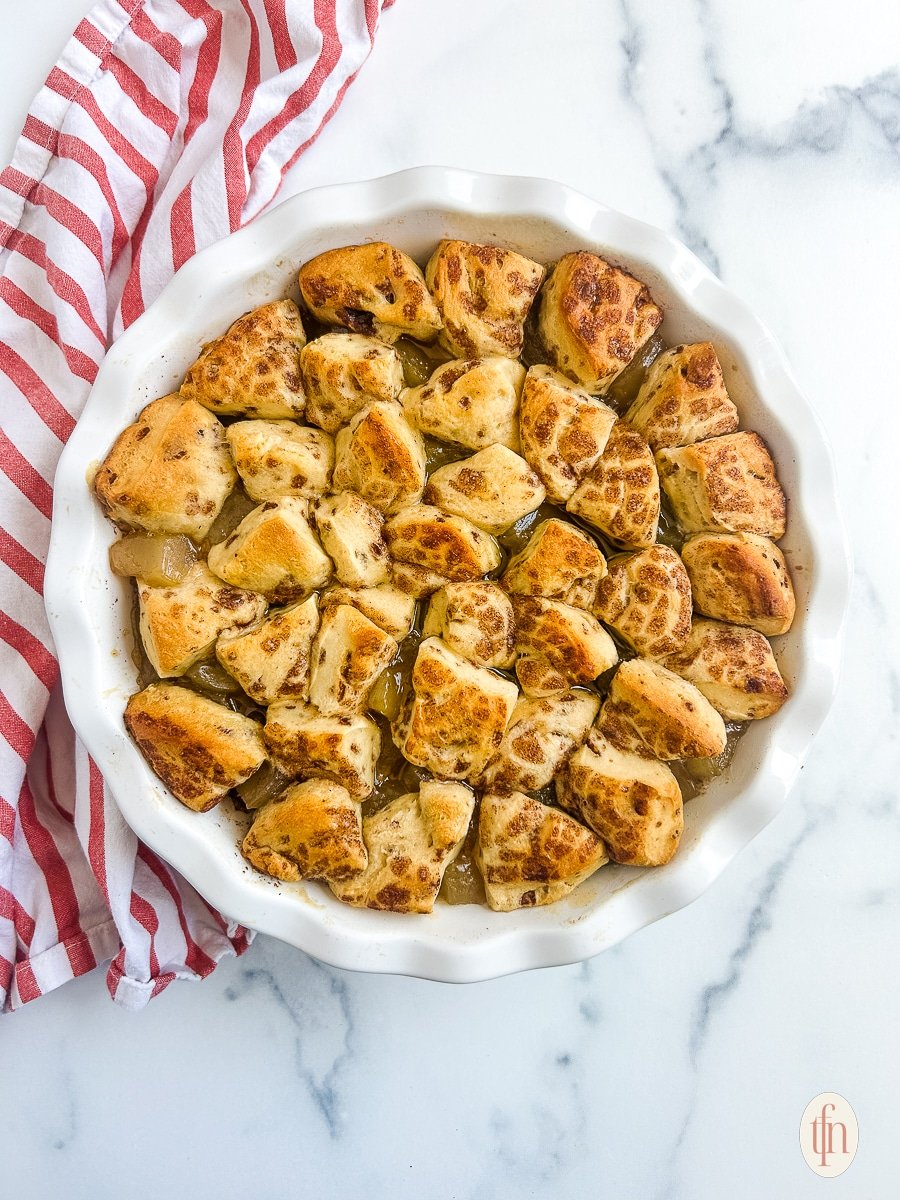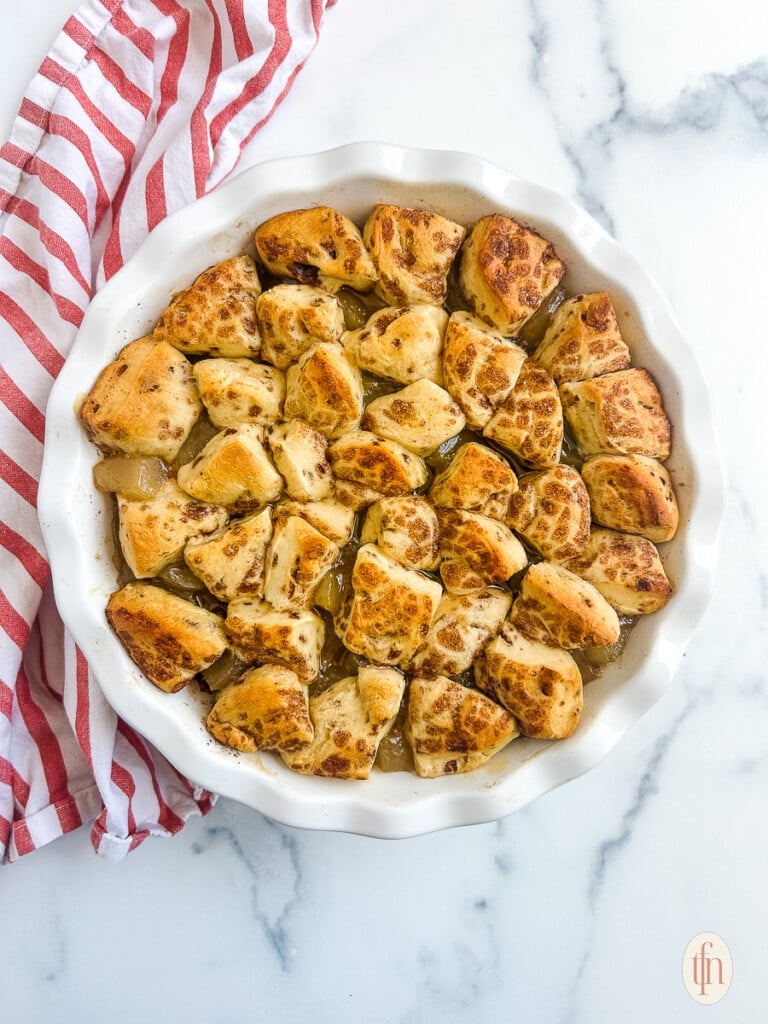 Drizzle the icing evenly over the top, and serve warm.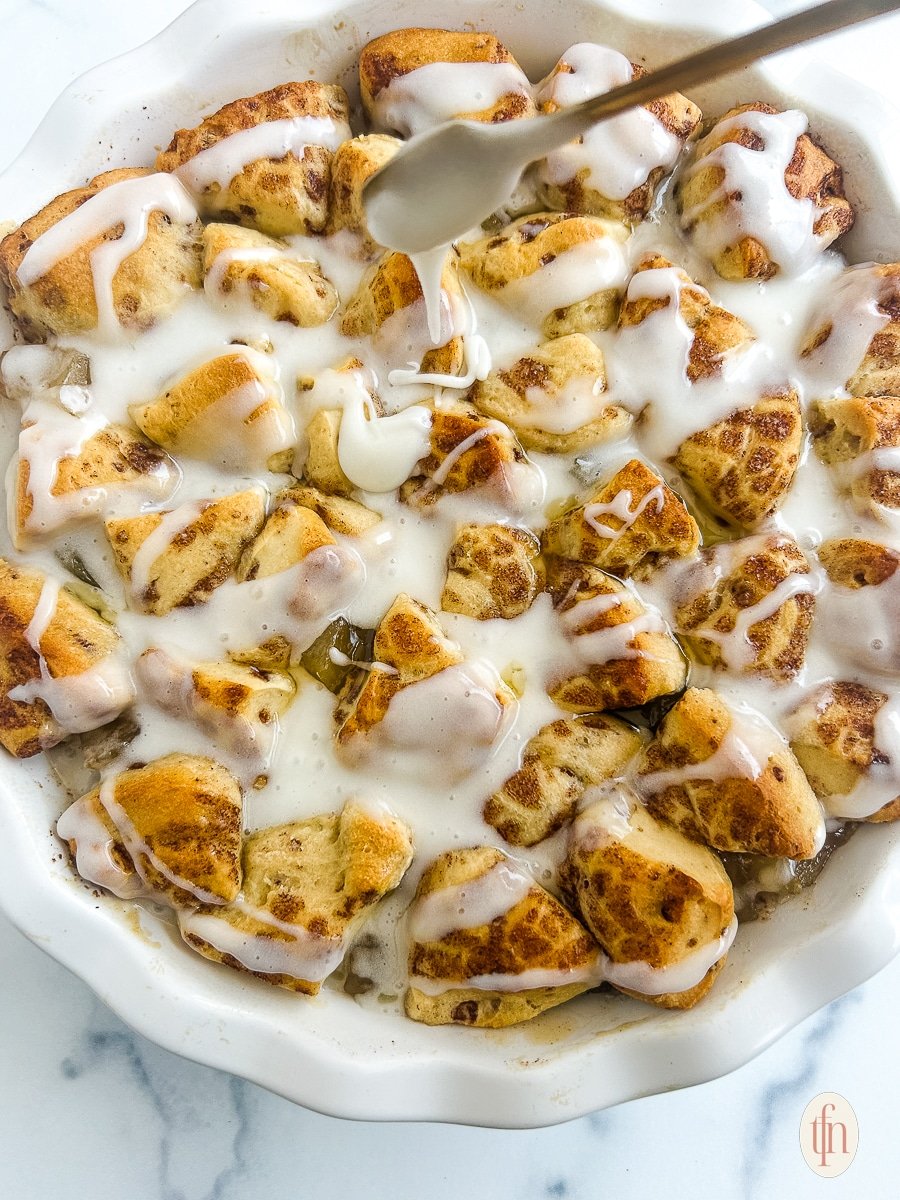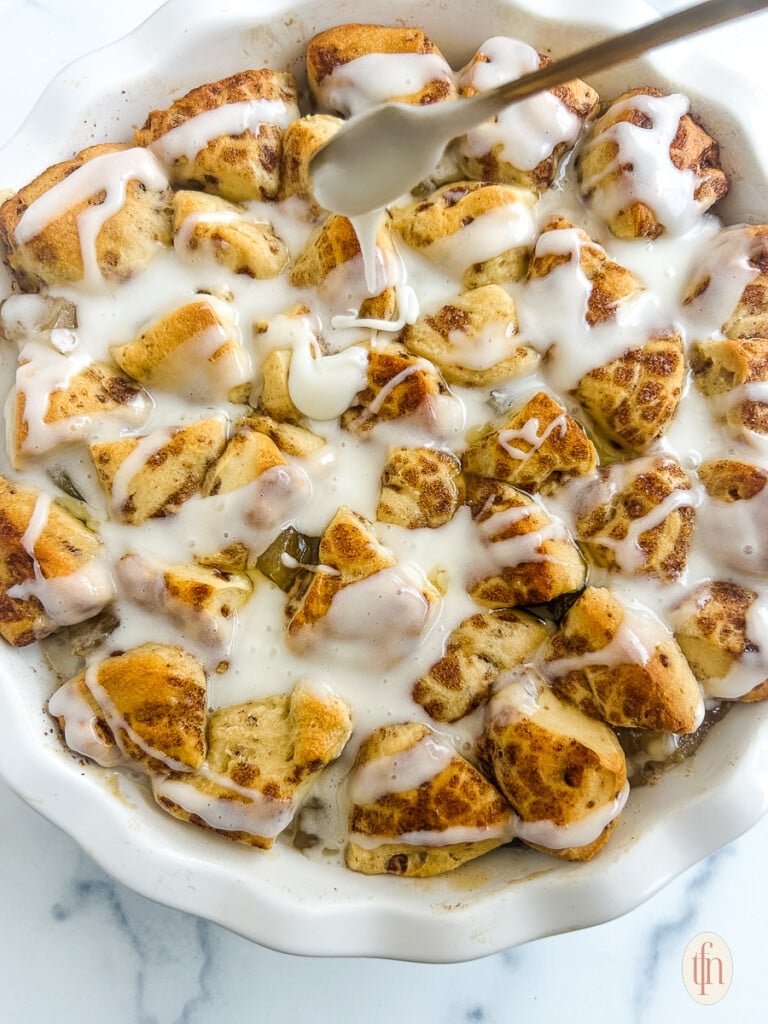 FAQ
Why are my cinnamon rolls so dry?
If your apple cinnamon roll bake comes out dry, it may have been over baked. When this happens, the moisture is pulled out. Be sure to remove them from the oven when the tops are just barely golden brown on top.
How can I jazz up canned cinnamon rolls?
Using pie filling is a great way to make pre-made cinnamon rolls more fun! We've used apple pie filling here because we love the flavor combination of apples and cinnamon.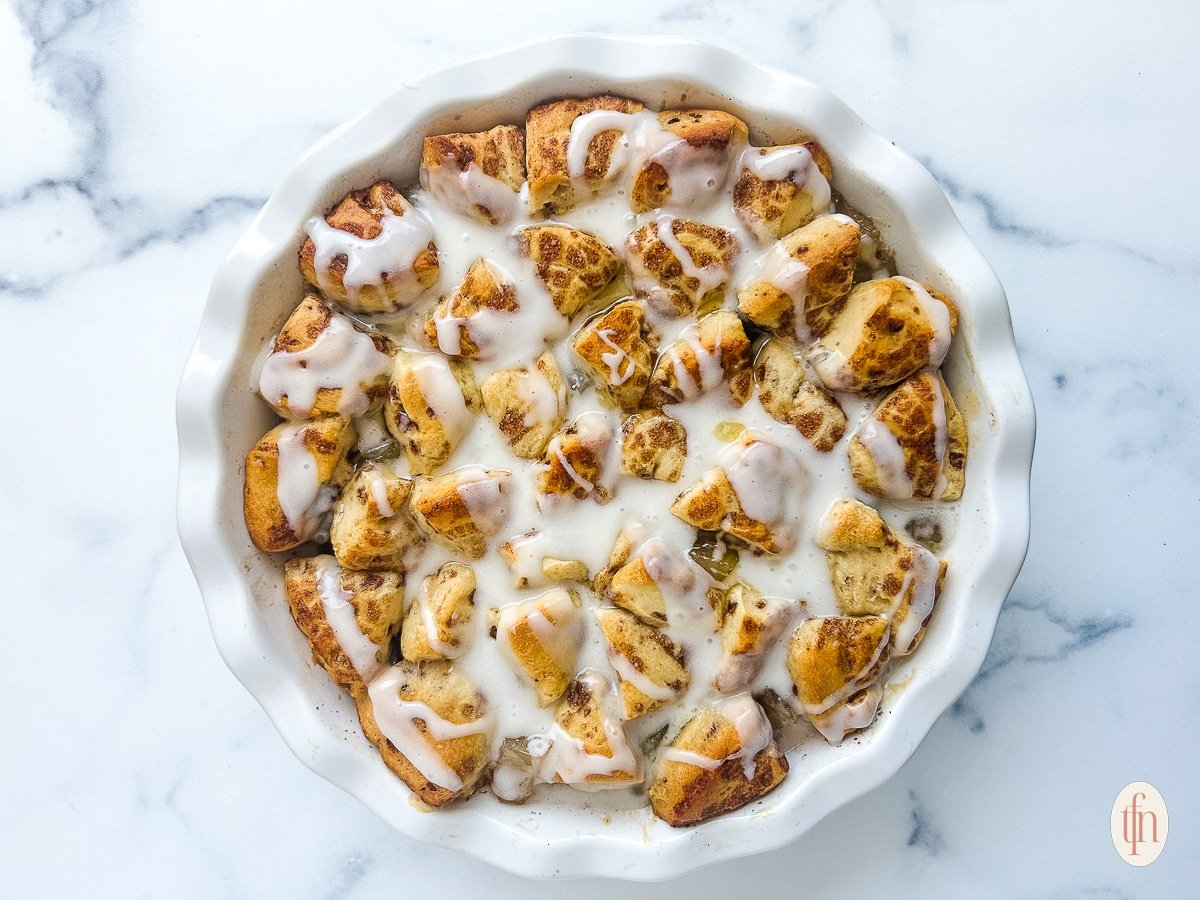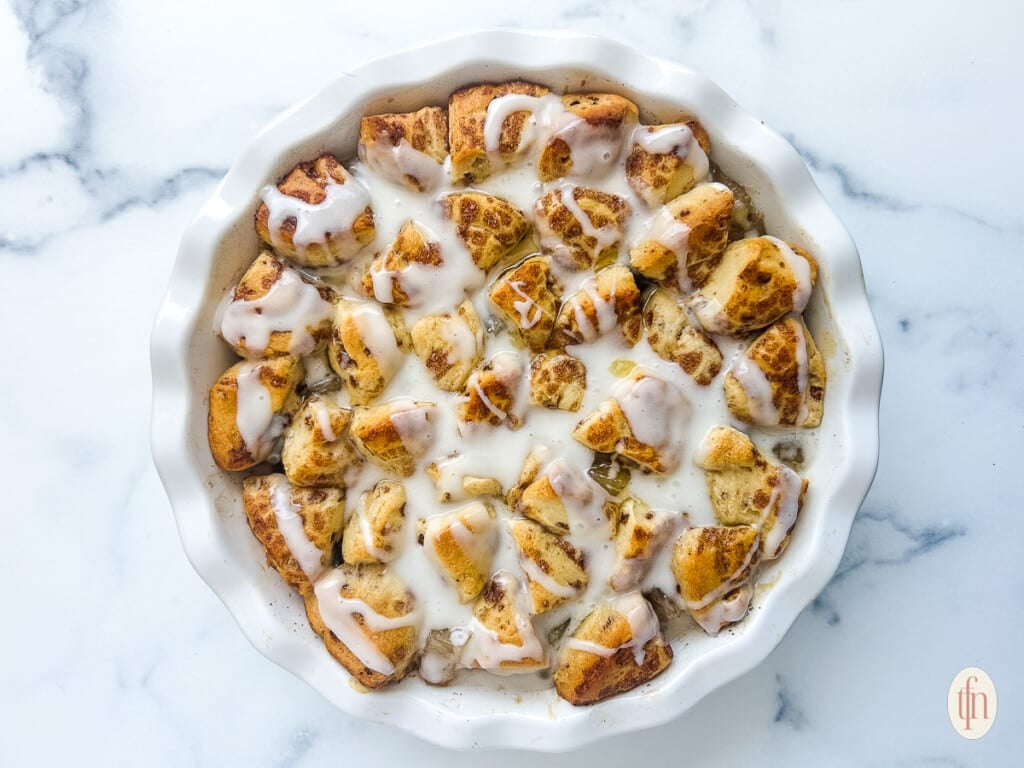 Storing and Reheating
Stored in an airtight container this treat will keep for up to 4 days in the refrigerator. Cover leftovers with foil and reheat in the oven, to keep them from drying out.
Unfortunately, once it's been covered in icing, the apple cinnamon roll bake doesn't freeze well.
However, if you want a make-ahead casserole, you can freeze the cinnamon rolls with apple pie filling without icing.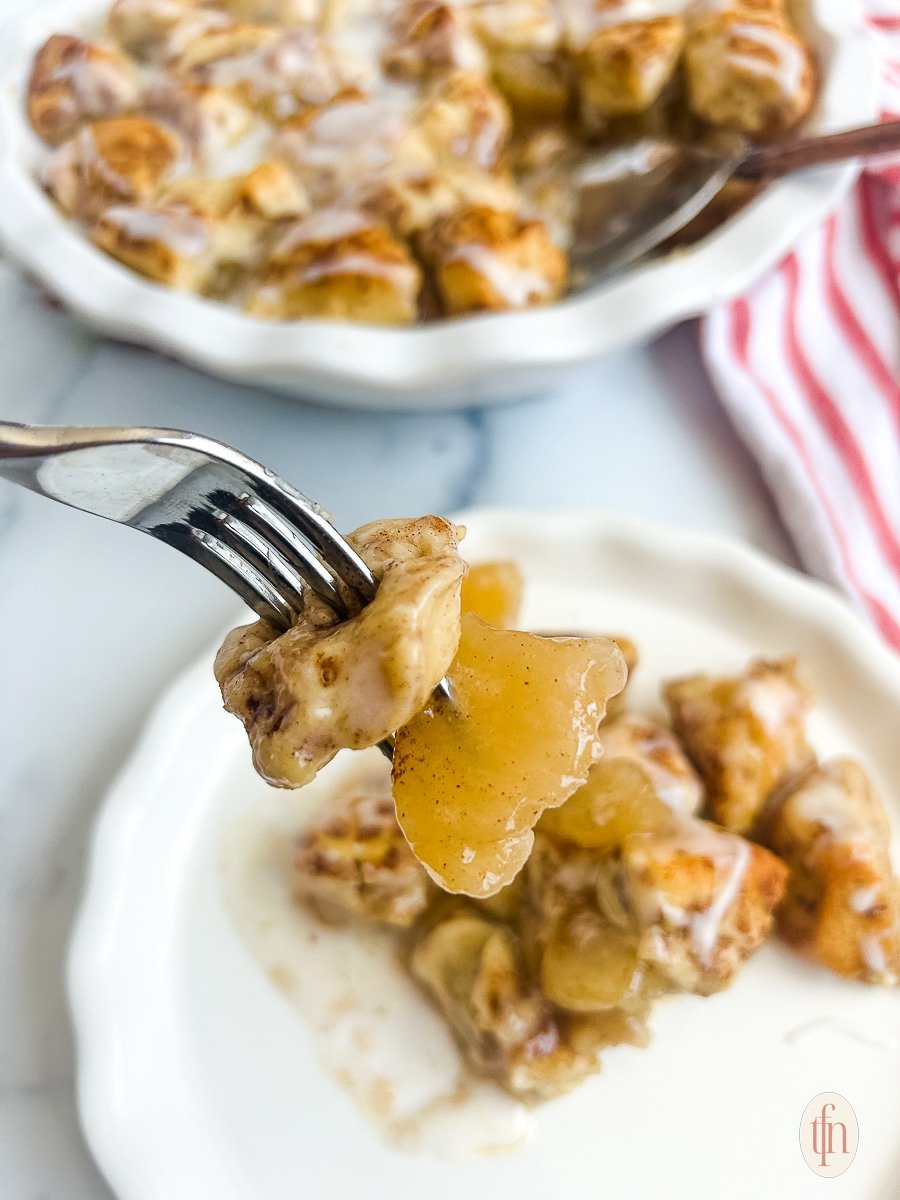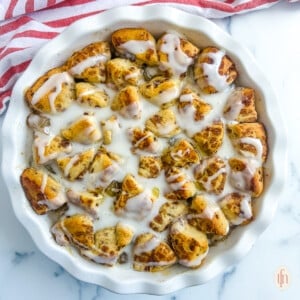 Cinnamon Rolls with Apple Pie Filling
For an easy holiday brunch idea, serve cinnamon rolls with apple pie filling. The tasty, sweet apple cinnamon roll bake is a crowd pleaser!
Equipment
2-quart casserole dish - or 9"-10" oven safe skillet
Ingredients
14.6 ounces Pillsbury cinnamon rolls (or other brand) – use two 7.3 ounce regular variety, or one 17.5 ounce package of Pillsbury Grands cinnamon rolls.
21 ounces apple pie filling
Instructions
Preheat oven to 350ºF. Grease a casserole dish or oven-safe skillet with non-stick spray or cooking oil.

Separate the cinnamon roll dough and cut each one into 4-6 sections. Arrange half of the pieces in a single layer in the prepared dish or skillet. Cover the dough with the apple pie filling, cutting any large apple chunks into bite sized pieces. Arrange the remaining cinnamon roll dough pieces in a single layer over the apple pie filling.

Bake in preheated oven for 25 minutes, until the cinnamon rolls are lightly browned and the apples are golden and bubbly.

Drizzle the icing that came with the cinnamon rolls over the top. Let the apple cinnamon rolls cool slightly before serving.
Notes
Serving Ideas
As a dessert, serve with vanilla ice cream or whipped cream on top.
For breakfast or brunch, serve topped with granola, fresh berries, and/or vanilla yogurt.
Nutrition
Serving: 1 serving | Calories: 290kcal | Carbohydrates: 50g | Protein: 3g | Fat: 10g | Saturated Fat: 4g | Trans Fat: 1g | Sodium: 480mg | Potassium: 33mg | Fiber: 1g | Sugar: 24g | Vitamin A: 18IU | Vitamin C: 1mg | Calcium: 3mg | Iron: 1mg
PIN THIS POST!
This post, first published February 26, 2021, was updated with new content on September 9, 2023.