This Tasty Pumpkin Spice Bread Twist recipe is shaped into a wreath to make a delicious and easy holiday bread that your family and friends will love!
This post is brought to you by Bridgford Foods.
Fall is in the air and you know what that means: It's pumpkin spice season! This easy and delicious Pumpkin Spice Bread Twist recipe is actually made with frozen dough. And although it looks complicated, this beautiful bread twist is super simple to make at home. Learn how to wow your family and friends with a lovely and yummy "homemade" bread wreath.
Most of you know that I value ease, as well as taste when it comes to food. I love time-saving measures, as long as they yield amazing results. When taking that first bite, what matters is the taste, not the process.
What's a Pumpkin Spice Bread Twist Wreath?
Formed in the shape of a festive wreath, the first thing you notice about this Pumpkin Spice Bread is how impressively beautiful it is. Not only is it pretty to look at, but this bread twist is also super delicious, too! It has that rich, spicy, bold pumpkin spice flavor you crave, baked into flaky and tender rolls of sweet bread.
So how do you make this unique and tasty design? This bread recipe comes with a few "twists" of its own…
Firstly, while it looks complicated with the layers of dough and spices, it's actually really easy to make a bread twist wreath. The dough is rolled up, jelly-roll style, and then cut down in the middle. It's the cut side that you see creating the twisted layers.
The other twist is how easily you can customize a bread twist wreath recipe.
Need something savory as an appetizer? No problem! Just use pesto as the filling. Not a fan of pumpkin spice? Swap out the cinnamon for a classic Cinnamon Bread Twist. Add your favorite glaze with chopped nuts on top, or leave off the nuts.
It's completely up to you how you serve this bread twist.
Looking for a savory bread braid for an appetizer or side? Make this Tasty Pesto Cheese Bread Twist!
Love frozen dough recipes? Try our Ham & Brie Pull Apart, Braided Lemon Bread, Overnight French Toast Casserole, Easy Italian Sliders, and Pretzel Balls from Ready-Dough.
What Ingredients are in this Pumpkin Spice Bread Twist Recipe
Most importantly, you'll need a bag of Bridgford's Ready-Dough to make an easy bread wreath. There are three frozen loaves in each bag, but you'll just need one. (Try making this Easy Overnight French Toast Casserole with the remaining loaves!)
Here are the other ingredients needed to make a marvelous Pumpkin Spice bread twist:
Butter
Granulated sugar
Pumpkin spice
Cinnamon
Egg
Confectioners sugar
Almond extract
Note: If you don't have almond extract you can swap it for vanilla extract.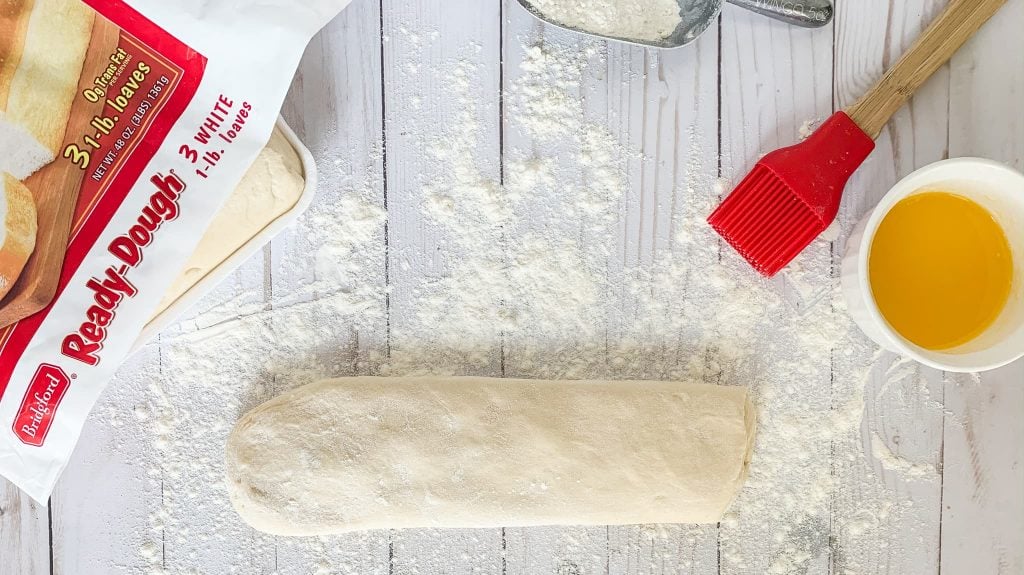 Equipment Used for this Bread Twist Recipe
How to Make an Easy Pumpkin Spice Bread Twist
This bread wreath recipe is perfect for adapting to your favorite flavors! Here's how I make it with pumpkin pie spice and cinnamon for a tasty fall treat…
Prepare the Bread. First, take out one frozen loaf of bread and allow it to thaw completely.
Once the Ready-Dough is thawed, place it on a floured surface, Silpat, or parchment sheet, and roll until you have a rectangle of about 12″ by 18."
Next, spread softened butter on the dough with a pastry brush, leaving 1/2″ margins around it.
Sprinkle the granulated sugar and pumpkin spice evenly over it. Firmly roll the dough up, length-wise.
Then carefully roll the dough over. Using a very sharp knife, cut the dough down the middle lightly (as shown below).
TFN Tip: I found that a serrated knife sprayed with a little cooking oil made the cutting process much easier.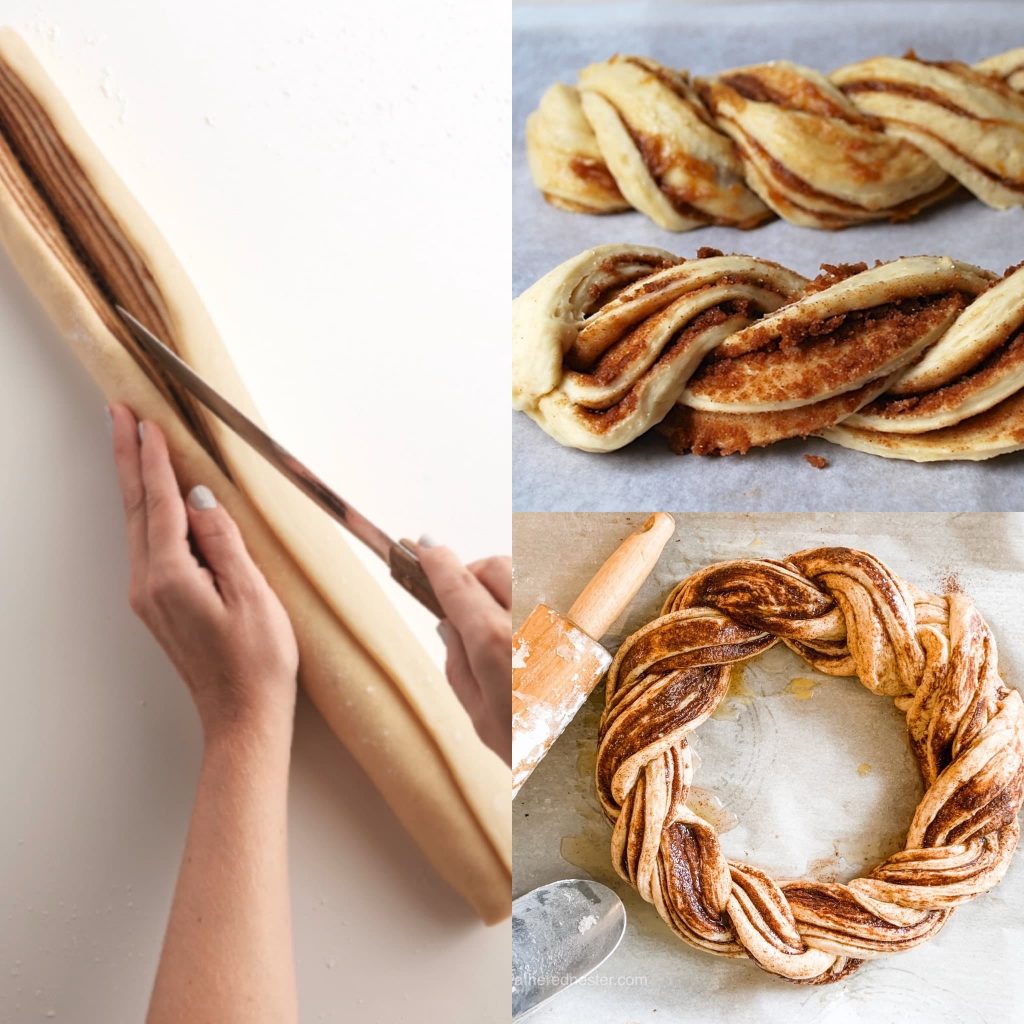 Twist the Bread. Twist the two sides, cut side out. This is what gives the dough a layered appearance. Bring the ends around together, and lightly pinch the ends to form a bread twist wreath.
Spray the wreath lightly with cooking oil, cover with plastic wrap and let rise in a warm location for 45 minutes. The bread twist will look puffy, but not quite doubled in size.
Towards the end of the rising process, preheat the oven to 400°F. Once ready to bake, brush the pumpkin bread twist with an egg wash.
Bake the Bread. Place on a baking sheet. Bake for 20 minutes, until lightly golden and the middle tests 200°F in temperature. Let the bread twist wreath cool completely while you make the glaze. After the Pumpkin Spice Bread Twist has cooled, drizzle on the glaze and serve!
Then, get ready for the accolades. Everyone will love this bread twist!
Recipe Variations
Cinnamon Bread Twist: Omit pumpkin spice and use 2 teaspoons of cinnamon in its place.
Pesto Cheese Bread Twist: Make a savory bread braid by omitting sugar, pumpkin spice, and cinnamon. Instead, spread on a layer of pesto, sprinkle with shredded Mozzarella cheese and chopped sun-dried tomatoes (if desired). Continue with the recipe as directed.
Garlic Bread Twist: Omit sugar, pumpkin spice, and cinnamon. Instead, spread on a layer of garlic butter (softened butter + garlic powder), sprinkle with shredded Parmesan cheese, and chopped parsley (if desired).
Omit the glaze and serve bread twist plain, or dusted with confectioners sugar.
How to Serve
Bread twists are best served the day they are made. It is best served warm but can be reheated briefly in a 350°F oven if necessary.
Serve this bread twist as is, or with a simple glaze made of confectioners sugar, milk, and almond extract. For a little something extra, top with chopped nuts before serving.
This bread twist also makes a great appetizer! Cut into 1-2″ pieces and serve with a dipping sauce. My favorite dipping sauces are honey mustard sauce and cheese dip.
How to Store Pumpkin Spice Bread Wreath
Leftover bread twist can be stored in an airtight container at room temperature for up to 3 days. To reheat, place in a 350°F oven for about 10 minutes, or until warm.
Alternatively, you can wrap it tightly in plastic wrap and freeze it for up to 2 months. Let thaw overnight in the refrigerator before reheating. Reheat as directed above.
Pumpkin Spice Bread Wreath Recipe
Pumpkin Spice Bread Twist
This easy and tasty pumpkin spice bread twist recipe starts with frozen ready-dough. The seasonal treat is topped with a simple, sweet glaze.
Ingredients
1 pound Bridgford Ready-Dough (thaw according to package)
¼ cup butter, melted and cooled
¼ cup granulated sugar
2 tablespoons pumpkin pie spice
1 tablespoon cinnamon
1 egg, beaten
1 cup confectioners sugar
3 tablespoons butter, room temperature
½ teaspoon almond extract (can substitute with vanilla extract)
Instructions
Let dough thaw, following instructions on bag. On a silpat, sheet of parchment paper, or floured surface, roll out the dough into the shape of a rectangle, about 18" x 12." Dough will be about 1/2 inch thick.

Using a pastry brush, spread the melted butter on the dough, leaving a 1/2" margin around the edges. Mix the granulated sugar and spices in a small bowl with a fork. Sprinkle evenly over the butter. If needed, use the back of a spoon or spatula to level out the sugar mixture.

Roll up the dough, length-wise. Use a sharp knife or bench scraped to cut the dough length-wise in half. Lay the halves cut side up. Pinch top of the loaves at the top and twist them together with the cut side facing up. This is what gives the twist the look of layers. Shape the dough into a round wreath and place on a large cookie sheet.

Spray the top of the bread twist with cooking spray and lightly cover with plastic wrap. Let dough rise in a warm, draft-free area for about 45 minutes. It should look puffy but not quite doubled in size.

Preheat oven to 400 degrees. Brush on egg wash. When the oven is ready, bake the bread twist for 20 minutes or until the middle is 200 degrees.

Let bread twist cool for at least 30 minutes. Meanwhile, make the glaze: Mix together the confectioners sugar, butter, and extract until smooth. Using a large spoon drizzle the glaze over the cooled bread twist.
Notes
Make a Pesto Cheese Bread Twist https://thefeatherednester.com/pesto-cheese-bread/
Nutrition
Serving: 1serving | Calories: 221kcal | Carbohydrates: 33g | Protein: 3g | Fat: 8g | Saturated Fat: 4g | Cholesterol: 31mg | Sodium: 243mg | Potassium: 12mg | Fiber: 1g | Sugar: 14g | Vitamin A: 225IU | Vitamin C: 1mg | Calcium: 17mg | Iron: 1mg
PIN THIS POST!
Frequently Asked Questions
Can I use my own homemade bread dough to make this?
Absolutely. Using frozen Ready-Dough just makes the process quicker and easier. If you prefer making your bread dough from scratch, I have a recipe for homemade bread.
What if my dough is too soft to cut?
If your dough gets too soft to cut, it's probably got too warm. Spray your dough roll with cooking oil, cover with plastic wrap or foil, and refrigerate for 15-30 minutes or until the dough had "firmed" up.
Can I use ghee or non-dairy butter?
Yes, you can.
I don't have pumpkin spice seasoning. What can I use instead?
You can use cinnamon or nutmeg, whatever your preference is.