If you click on a link and make a purchase, I may receive a small commission at no extra cost to you. See my disclosure policy here.
Frozen monkey bread is a simple and easy way to serve a deliciously gooey treat. It's ideal for gatherings, breakfast or brunch, as a snack or dessert. This monkey bread is microwavable, oven-ready and air fryer friendly. I use Bridgford's Cinnamon Monkey Bread Cinnamon Pull-Apart (made from frozen bread dough) because it is ready to make right out of the package – just heat and serve – and their new packaging is even more environmentally friendly.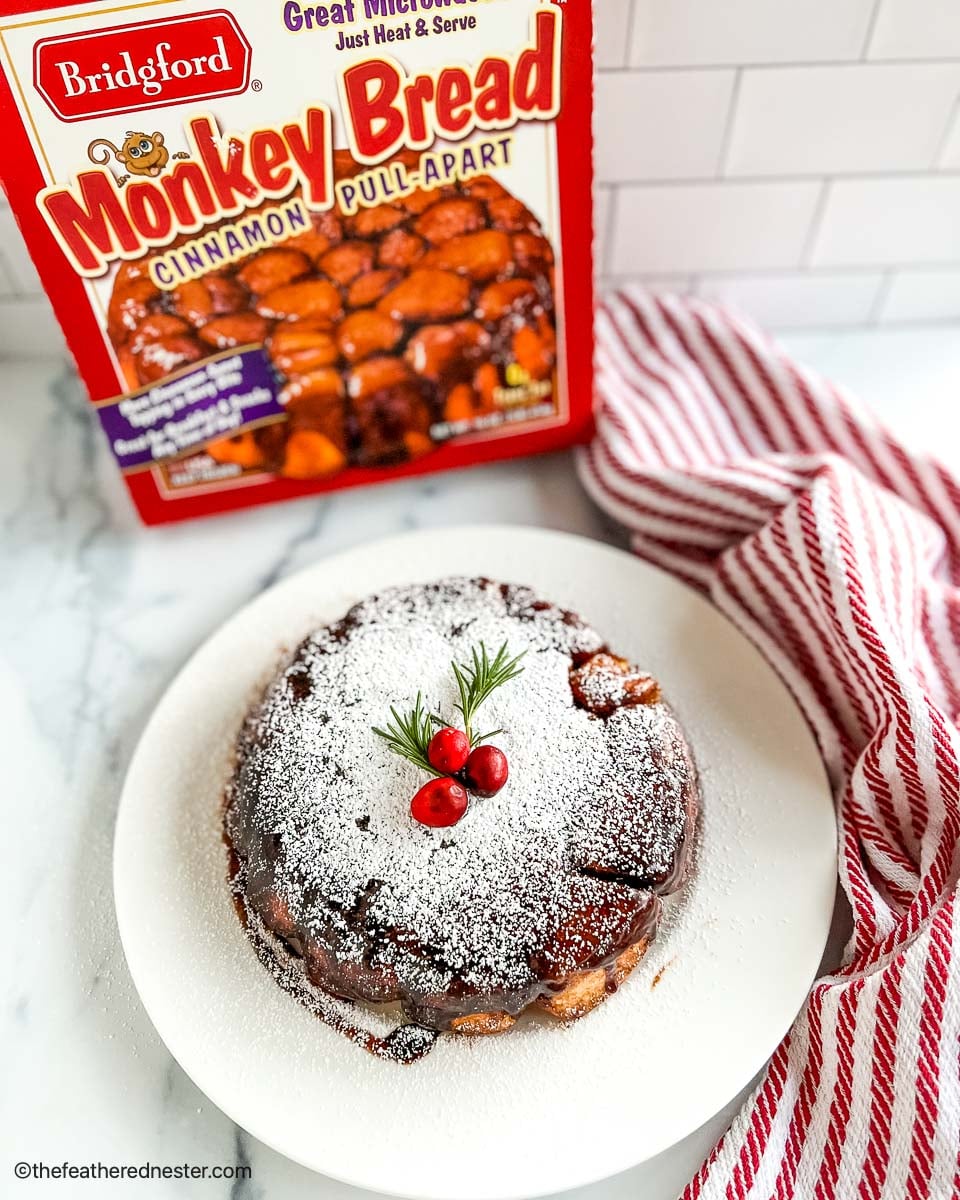 These cinnamon pull-aparts are a fun way to get the kids involved with food! Older kids can make something delicious all by themselves if they know how to safely use a microwave.
What is Monkey Bread?
Monkey bread is a sweet dough, baked in bite-sized chunks and drizzled with sugar and cinnamon glaze. This frozen monkey bread recipe uses Bridgford frozen Cinnamon Monkey Bread (cinnamon bread pull-apart) to save time. Keep a package of it in your freezer so you can serve it at any time.
You can't beat the deliciousness of bite-sized, sticky cinnamon sugar rolls, covered in a rich, thick caramel sauce. Right?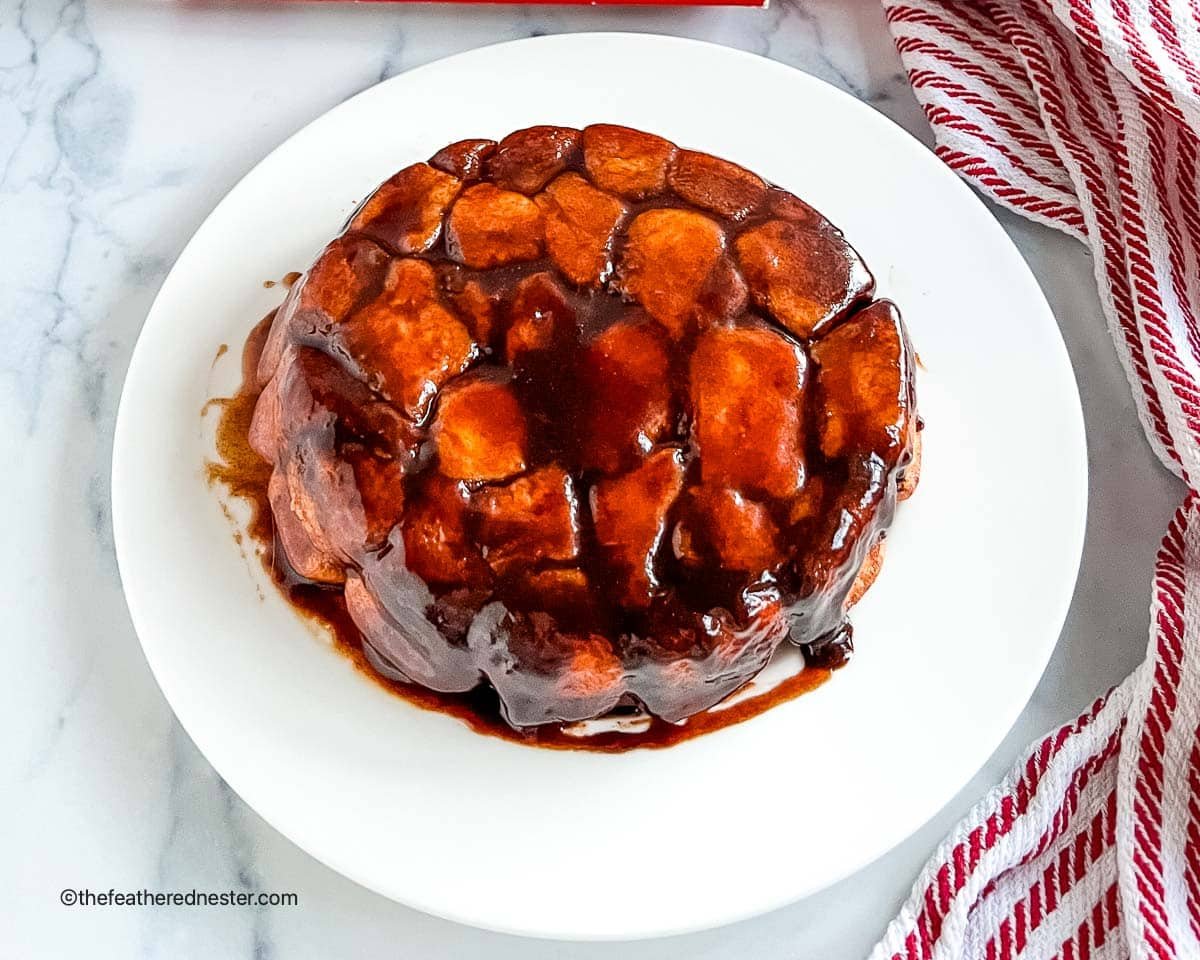 Using frozen pre-made monkey bread makes this super simple – it goes from the freezer to the oven or microwave (no rising or thawing needed!) then serve.
Plus, Bridgford's monkey bread has an enclosed baking tray that is made from over 90% useable, sustainable materials and you can toss it into your recycling container once it has been used.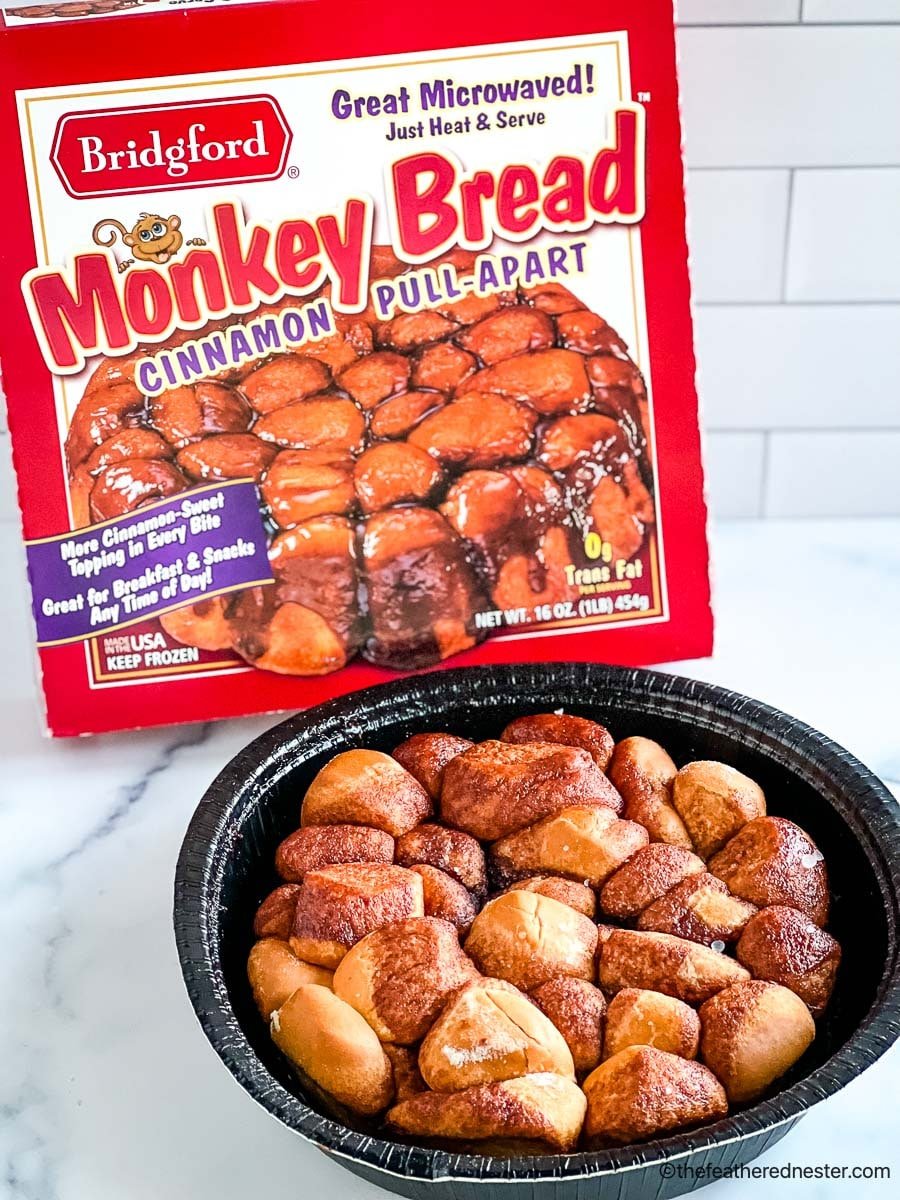 Where to Buy Frozen Monkey Bread
You can find Bridgford's frozen Cinnamon Monkey Bread at retailers like Walmart, Albertsons, or Kroger's – just look in your freezer section.
Get a coupon on your next Bridgford purchase here.
How to Make Bridgford Cinnamon Money Bread
This simple, easy recipe uses just one ingredient – frozen Bridgford Cinnamon Monkey Bread.
Prepared frozen monkey bread is about as easy as it gets.
The frozen bread dough is microwavable, and the enclosed tray makes it easy to prepare right in the microwave. Or you can prepare it in the oven or air fryer. See the easy directions below.
Microwave directions
Baking directions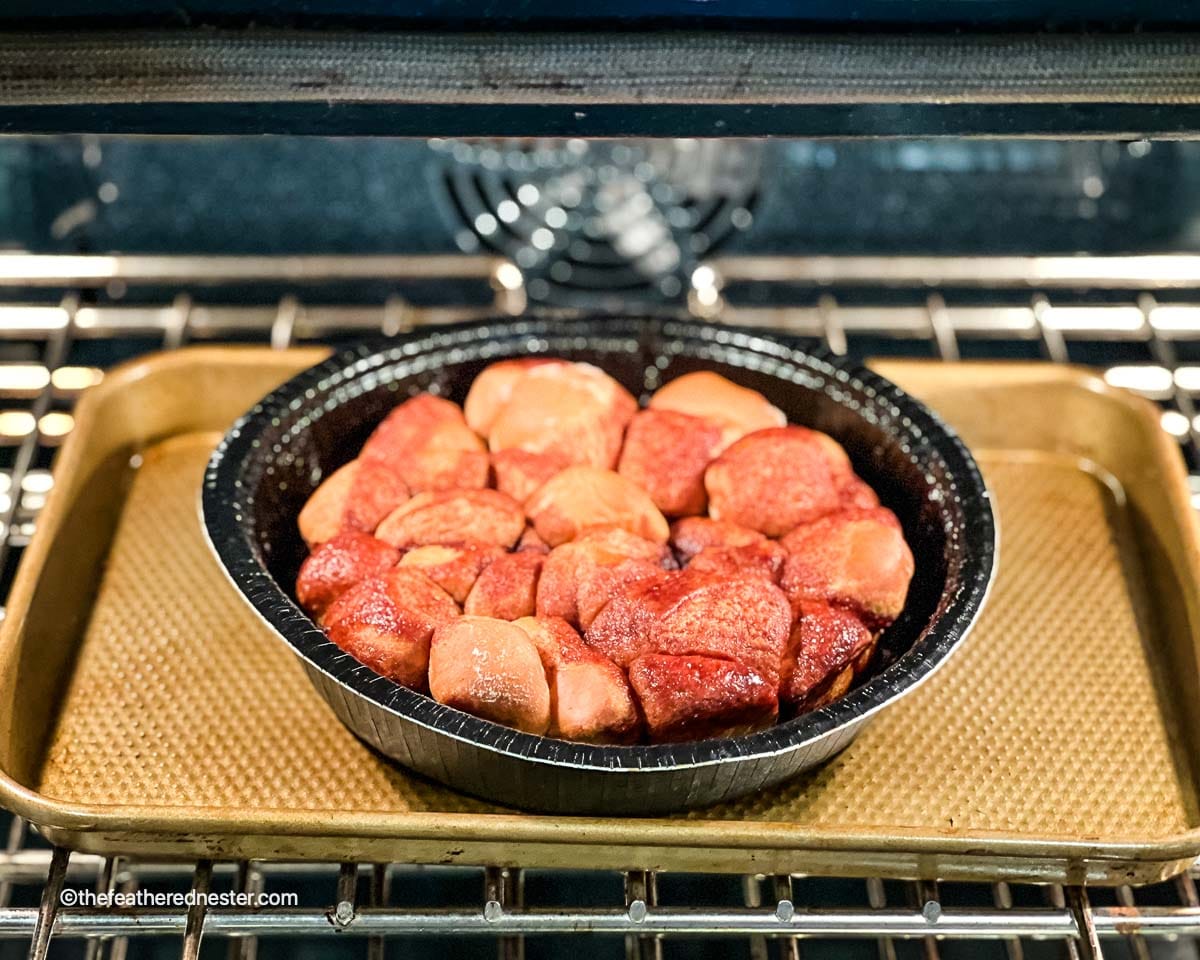 Air fryer directions
Be sure to freeze or refrigerate any leftovers within one hour after baking.
FREQUENTLY ASKED QUESTIONS
How do you reheat monkey bread?
Monkey bread is definitely best enjoyed warm! To reheat, zap each portion in the microwave for about 15 seconds, or place the whole thing in a 170 degree F oven, covered tightly in foil, for about 15 minutes.
Do you have to refrigerate Monkey Bread?
No need to refrigerate the bread. It could dry out and become stale. Keep it in an air-tight container at room temperature for up to 4 days.
GET THE FULL RECIPE AND DIRECTIONS BELOW
Bridgford Foods is a brand you can trust. Their frozen products are produced in the USA and made with quality ingredients, like pure cane sugar. Plus, they have zero grams of trans fats.
Get the Easy Recipe for Frozen Monkey Bread!
How to Make Monkey Bread Cinnamon Pull-Apart
Just heat and serve frozen monkey bread cinnamon in the microwave, oven, or air fryer. This gooey cinnamon bread is ready to serve in less than 5 minutes!
Equipment
Microwave, Oven, or Airfryer
Ingredients
1

package

Bridgford Monkey Bread Cinnamon Pull-Aparts
optional (for a holiday presentation)
powdered sugar to sprinkle over the top

3

whole

cranberries

1

sprig

rosemary
Instructions
Microwave directions
Open the package. It comes with a paper cooking pan enclosed in the package. Microwave the tray for 2 to 2 1/2 minutes. 

When it's done, take it out of the microwave. Turn it over onto a plate and it's ready to serve. Or serve it right from the container as cinnamon pull-aparts.
Baking directions
Preheat your oven to 350ºF. Open the package. You can bake it in the enclosed paperboard tray placed on a baking sheet.

Bake frozen monkey bread for 20 minutes or until golden brown. Turn it over onto a place or serve it right from the container as cinnamon pull-aparts.
Air fryer directions
Check your air fryer to ensure that there is at least 1" of space all around the container and your air fryer basket or tray. If not, use the microwave or oven instead.

Preheat your air fryer to 325ºF. Open the package, place the baking tray in your air fryer and bake for 15 minutes or until golden brown. Turn it over onto a place or serve it right from the container as monkey bread cinnamon pull-aparts.
Serving Ideas (optional)
For a festive holiday look, sprinkle with powdered sugar and top with rosemary sprigs and fresh whole cranberries.
Notes
Freeze or refrigerate leftovers within one house
Nutrition
Serving:
1
serving
|
Calories:
200
kcal
|
Carbohydrates:
28
g
|
Protein:
3
g
|
Fat:
10
g
|
Saturated Fat:
2
g
|
Cholesterol:
10
mg
|
Sodium:
230
mg
|
Fiber:
1
g
|
Sugar:
13
g
|
Calcium:
44
mg
|
Iron:
1
mg
Get more Frozen Dough Recipes using Bridgford frozen bread dough and rolls
This post is sponsored by Bridgford Foods. All views are my own and based on my own personal experience using Bridgford's products.