Heart Jam Cookies is a super cute Valentines Day cookie recipe! These buttery heart cookies are filled with thumbprints of sweet strawberry jam. They are adorable, delicious Valentine treats, and fun for kids to make, too.
This Valentines day cookie recipe is the perfect way to show your love and appreciation, with a homemade gift that's sure to be enjoyed.
The heart shape of the cookies makes them super cute and appealing, while the strawberry jam thumbprint filling adds a sweet surprise to every bite.
Great Reasons to Make Heart Jam Cookies
The thumbprint cookies are special because they are in the shape of a heart and have strawberry jam filling. They look great and taste even better! Here are a few reasons why we love this Valentines day cookie recipe:
Adorable – You can't help but smile when you see these treats. The kids will love and surely have fun decorating them with colorful sprinkles and candies.

Kid-Friendly Recipe
This recipe is easy enough for kids to make, so let them have a blast getting creative!

A great food gift idea!
Whether you're giving them to family, friends, or your sweetheart, they are sure to be a hit.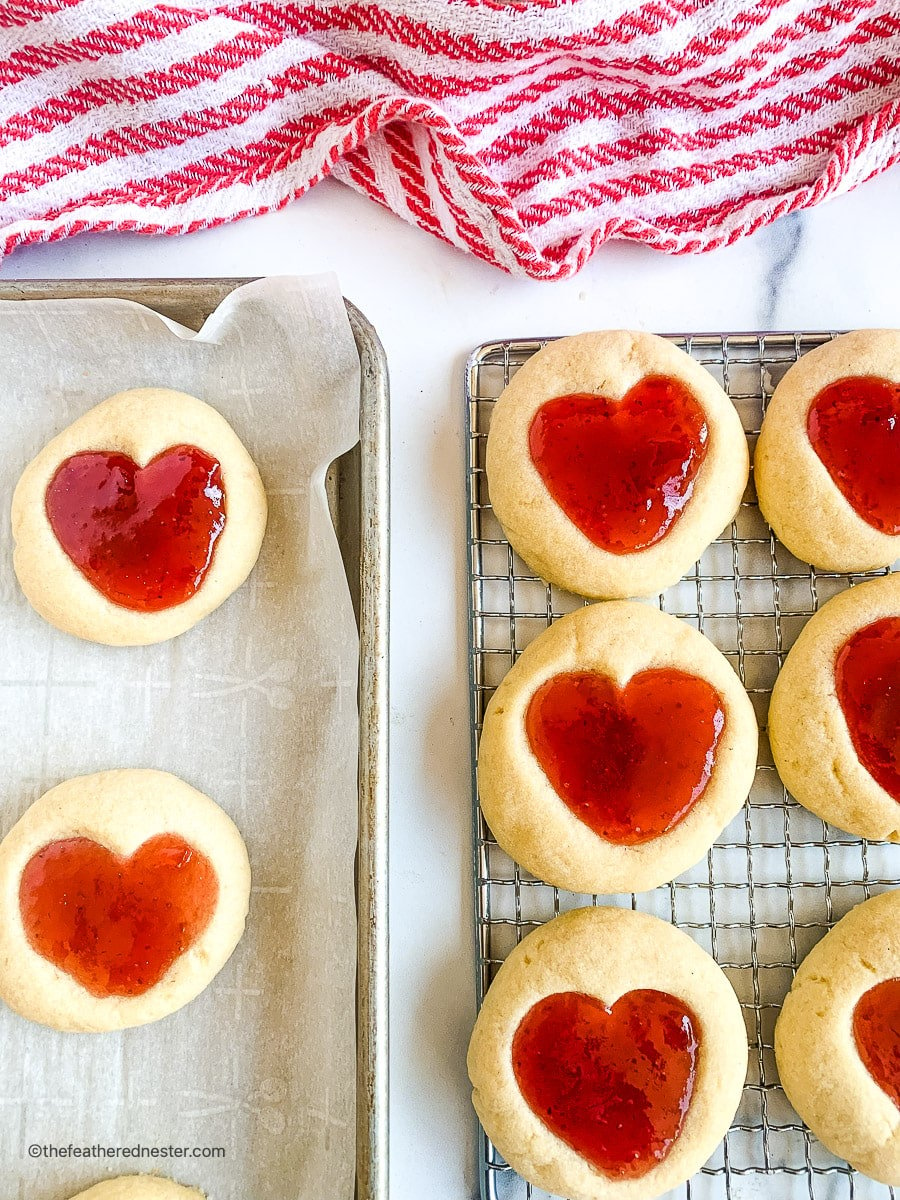 Ingredient Notes and Substitutions
Jam – We like to use strawberry jam for this thumbprint cookie recipe, but any red preserves will be perfect. You can even use sugar-free jam. Cherry thumbprint cookies would make fantastic Valentine's Day treats, too.
Sugar – Granulated sugar is used in the dough, but feel free to use your favorite cup-for-cup granulated alternative sweeteners like coconut sugar or monk fruit.
Butter – We use unsalted butter for this recipe as it gives the cookies a better flavor. If you are using salted butter, reduce the amount of salt in the recipe by half.
Flour – All purpose flour is used in the recipe, but feel free to substitute it with your favorite cup-for-cup gluten-free blend.
Vanilla and almond extract – These extracts enhance the flavor of your Valentine treats. Either or both can be omitted, but there will be a significant difference in the overall taste.
🎯 Important Note
IMPORTANT NOTE:
Because this cookie recipe doesn't include an acidic ingredient like lemon juice or vinegar, do not substitute baking soda for baking powder. If you do, your jam thumbprints will not rise.
Helpful Tips for Making Heart Thumbprint Cookies
How to make thumbprint hearts in the dough.
This step is easy and fun, too!
Using your thumb, gently press into the cookie dough at a slight right angle to form one half of the heart. Then, overlap the first thumbprint with a second thumbprint at an opposite angle to form the other half of the heart shape.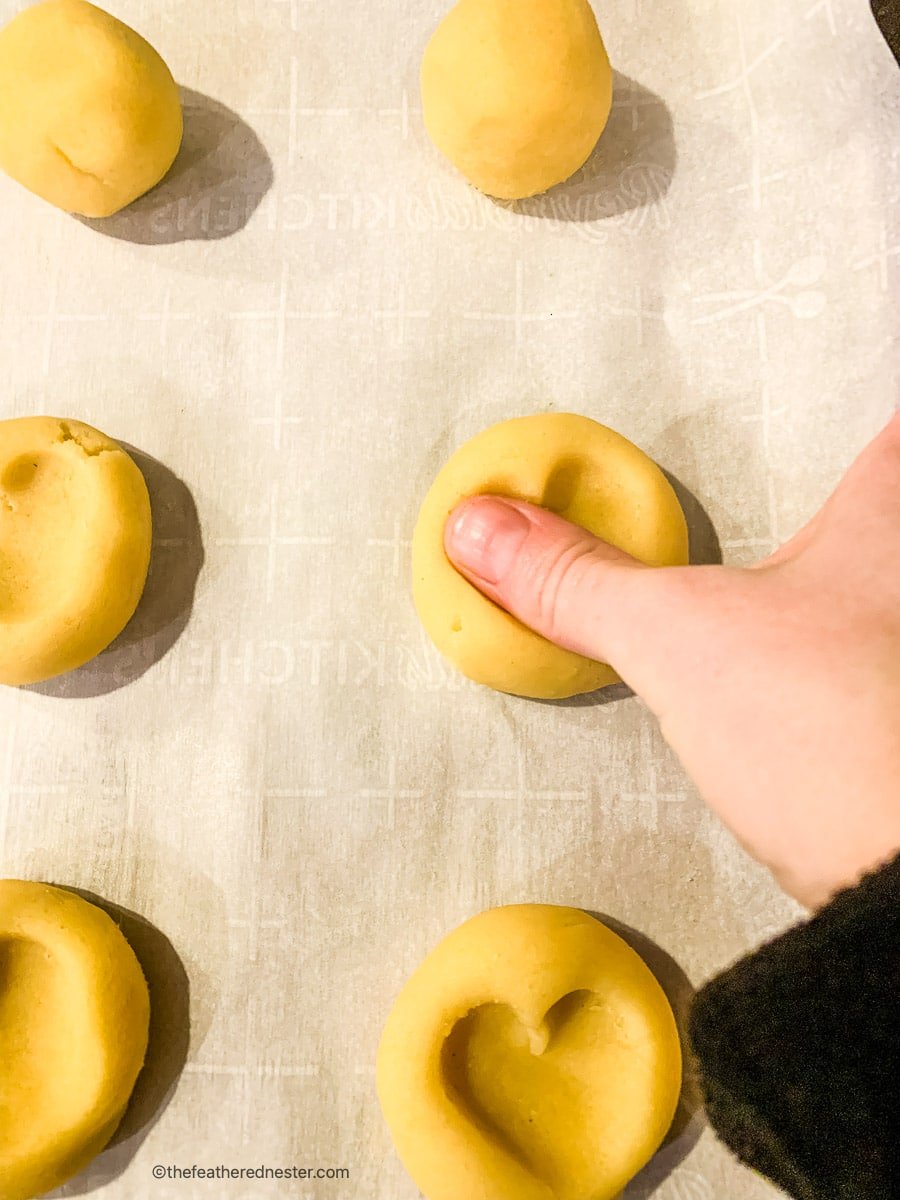 Make sure your cookies are the same size and shape so they bake evenly.
You can use an ice cream scoop or tablespoon measure to help you portion the dough on the baking sheet.
Bake the thumbprint cookies until they are lightly golden and starting to crack on the edges.
You want the dough set, but still soft to the touch. This will ensure that the cookies are baked all the way through, but not overbaked on the outside.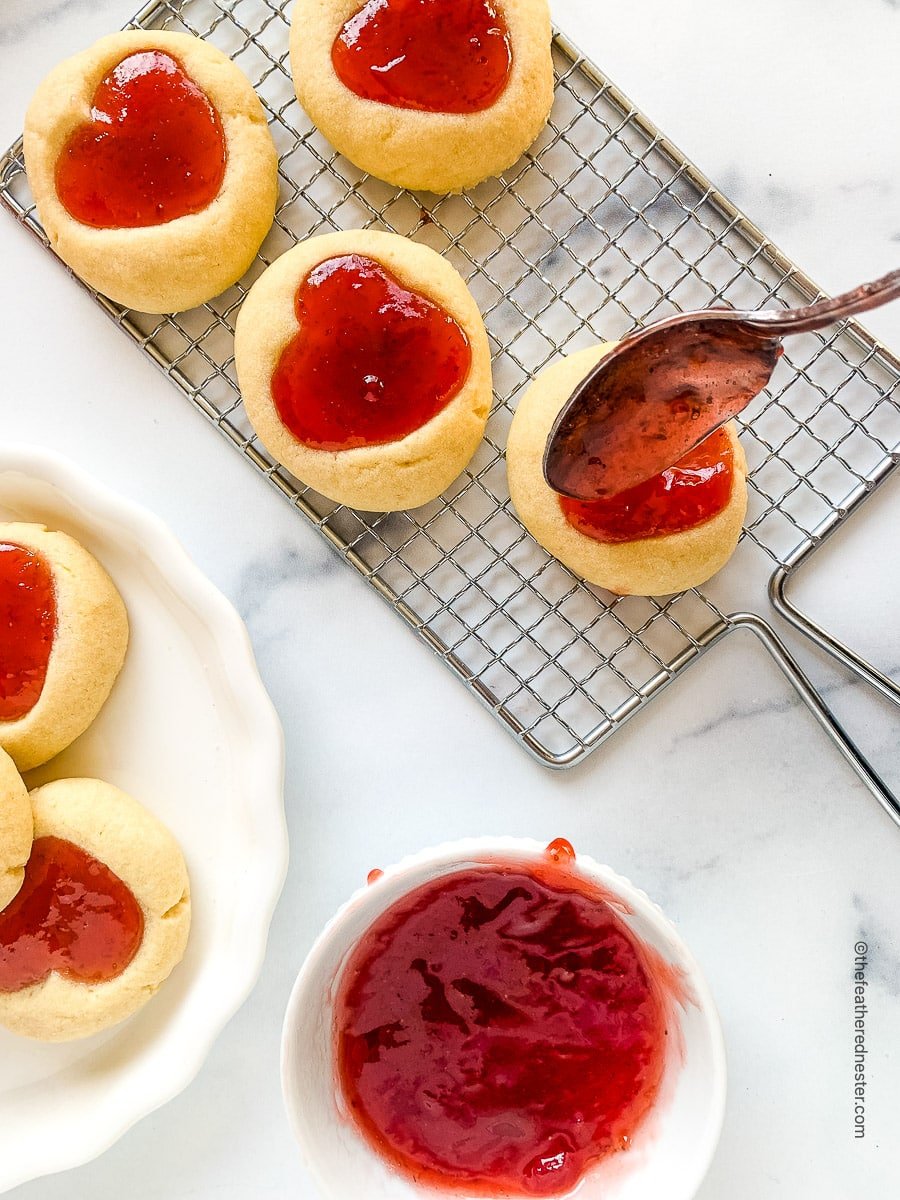 Looking for other recipes with jam?
Check out our hand pies recipe, or make some sourdough French toast and serve it topped with your favorite flavor of preserves. If you'd like another cookie option, make a batch of raspberry thumbprint cookies with icing.
Jam Cookie Recipe Variations
Use different flavors and/or colors for other holidays.
Instead of strawberry, make cherry thumbprint cookies, or use blueberry jam for Memorial Day or 4th of July cookies.
Dust with powdered sugar.
Dust your cookies with powdered sugar for a beautiful finish that's perfect for any special occasion.
Add decorations.
Decorate the tops with sprinkles, colored sugar, chocolate chips, or candy for a festive touch.
Add a bit of spice.
Add a pinch of cinnamon to the dough or sprinkle a bit of ground ginger on top for a hint of warm spice.
Add nuts for extra crunch.
Stir in some chopped pecans or walnuts to the cookie dough for a crunchy bite and nutty flavor.
Craving more cookies?
We have plenty of dessert recipes to cure your craving! Make a batch of White Chocolate Raspberry Cookies, or let the kids help you make Chewy Chocolate Chip Cookies.
Serving Your Valentine's Day Treats
Serve the heart cookies with a cold glass of milk or a hot cup of coffee. Also, these treats look adorable on a platter with Valentine's Day Pop Tarts!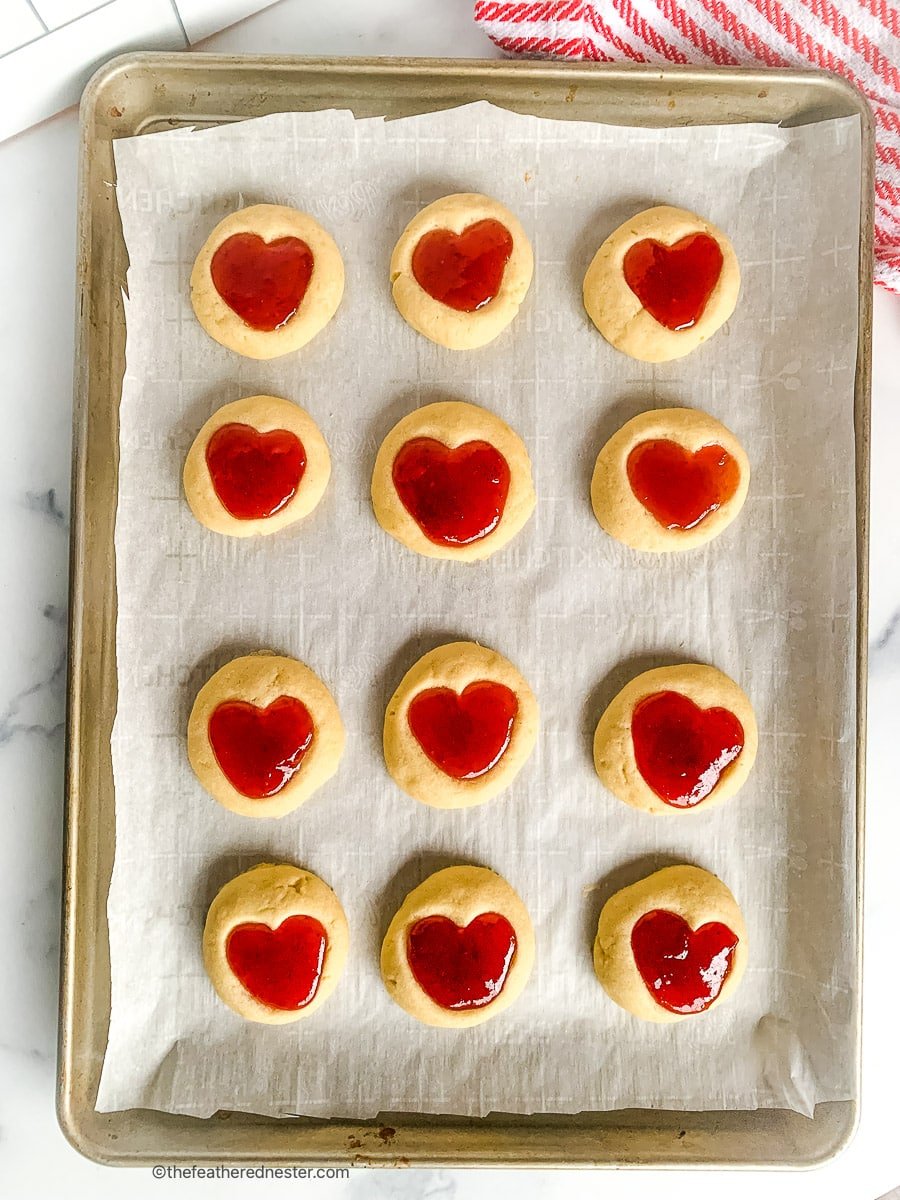 Thumbprint Cookie Recipe FAQ
Why are my thumbprint cookies cracking?
Your cookies are probably too dry. Make sure to add enough butter, or try adding a tablespoon of milk or cream to help keep the dough moist.

Do jam filled cookies need to be refrigerated?
No, these cookies don't need to be refrigerated. However, if you are using a different type of jam that requires refrigeration then it is best to refrigerate the cookies for storage.
How long will heart jam cookies last?
If stored in an airtight container, these cookies with jam will last for about a week at room temperature. You can also freeze them for up to 6 months.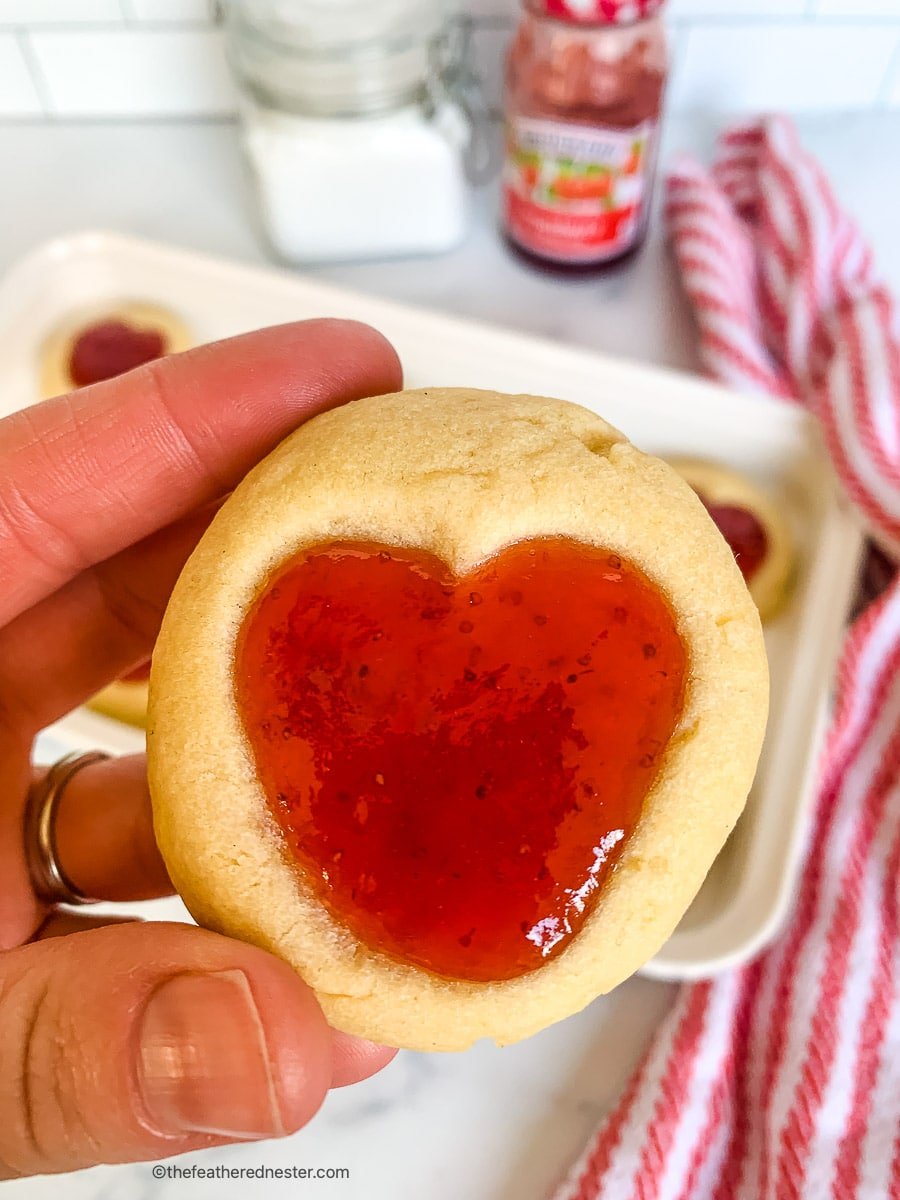 How to Freeze Jam Cookies
To freeze the cookies, first put them on a baking sheet that has parchment paper. Then put the baking sheet of cookies in the freezer for about an hour until they are frozen.
Once they are frozen, package them in a resealable bag or airtight container. You can store them in the freezer for up to 6 months. To thaw the cookies, remove them from the freezer and let them sit at room temperature for 20-30 minutes.
Heart Jam Cookies
Heart Jam Cookies is our Valentines Day cookie recipe for buttery heart cookies with strawberry jam. This thumbprints recipe is cute and easy!
Ingredients
1½ cups (12 ounces) unsalted butter softened
1 cup granulated sugar
1 large egg
1 teaspoon vanilla extract
½ teaspoon almond extract optional, but recommended
3 cups all purpose flour
1 teaspoon salt
⅔ cups red jam use strawberry, cherry, or red raspberry jam or preserves, or a sugar-free jam
Instructions
Preheat oven to 350ºF. Grease two baking sheets, or line with parchment or silicone (Silpat) mats.

In a large bowl (or stand mixer bowl), add butter and sugar; combine at medium speed for 3 minutes. The mixture should be light yellow and smooth.

Add egg, vanilla extract, and almond extract; combine at medium-high speed for 2 minutes, or until light and fluffy.

Set mixer to low speed and add flour, one cup at a time, and salt until completely blended.

Use a small scoop or large tablespoon to portion dough and roll them into balls. Arrange cookie dough balls on the prepared baking sheets, leaving 2 inches of space between cookies. Place your thumb at a slight left angle and press deeply into the middle of the dough. Repeat, but at a slight right angle, to create a heart-shaped indentation.

Bake at 350ºF for 12-14 minutes, until cookies are lightly golden and beginning to crack on the edges. Remove them from the oven and let them rest on the baking sheet for 2 minutes.

Using a spatula, transfer the cookies to a cooling rack to cool completely. Then, use 2 teaspoons to 1 tablespoon of jam or preserves to fill each heart shaped indentation.
Notes
To store the cookies, first cool completely, until the jam is set. Layer the cookies between sheets of waxed paper. Store in an airtight container.
Nutrition
Serving: 1cookie | Calories: 147kcal | Carbohydrates: 18g | Protein: 1g | Fat: 8g | Saturated Fat: 5g | Polyunsaturated Fat: 0.4g | Monounsaturated Fat: 2g | Trans Fat: 0.3g | Cholesterol: 26mg | Sodium: 70mg | Potassium: 21mg | Fiber: 0.4g | Sugar: 9g | Vitamin A: 244IU | Vitamin C: 1mg | Calcium: 6mg | Iron: 1mg
PIN THIS POST!