If you love Costco cookies, you know how big, chewy, and soft their chocolate chip cookies are. The best part is, there are massive amounts of chips, from edge to edge! For a seriously fabulous sweet treat, make this soft cookie recipe, ASAP!!
I promise you, these taste so much better than anything from a warehouse club.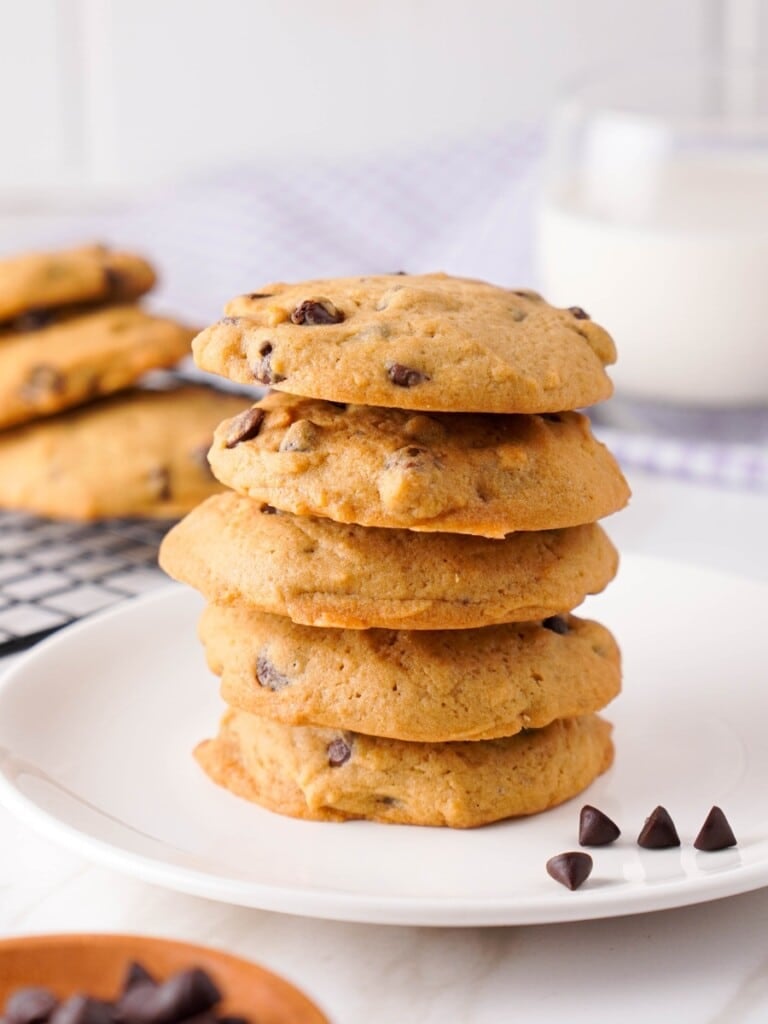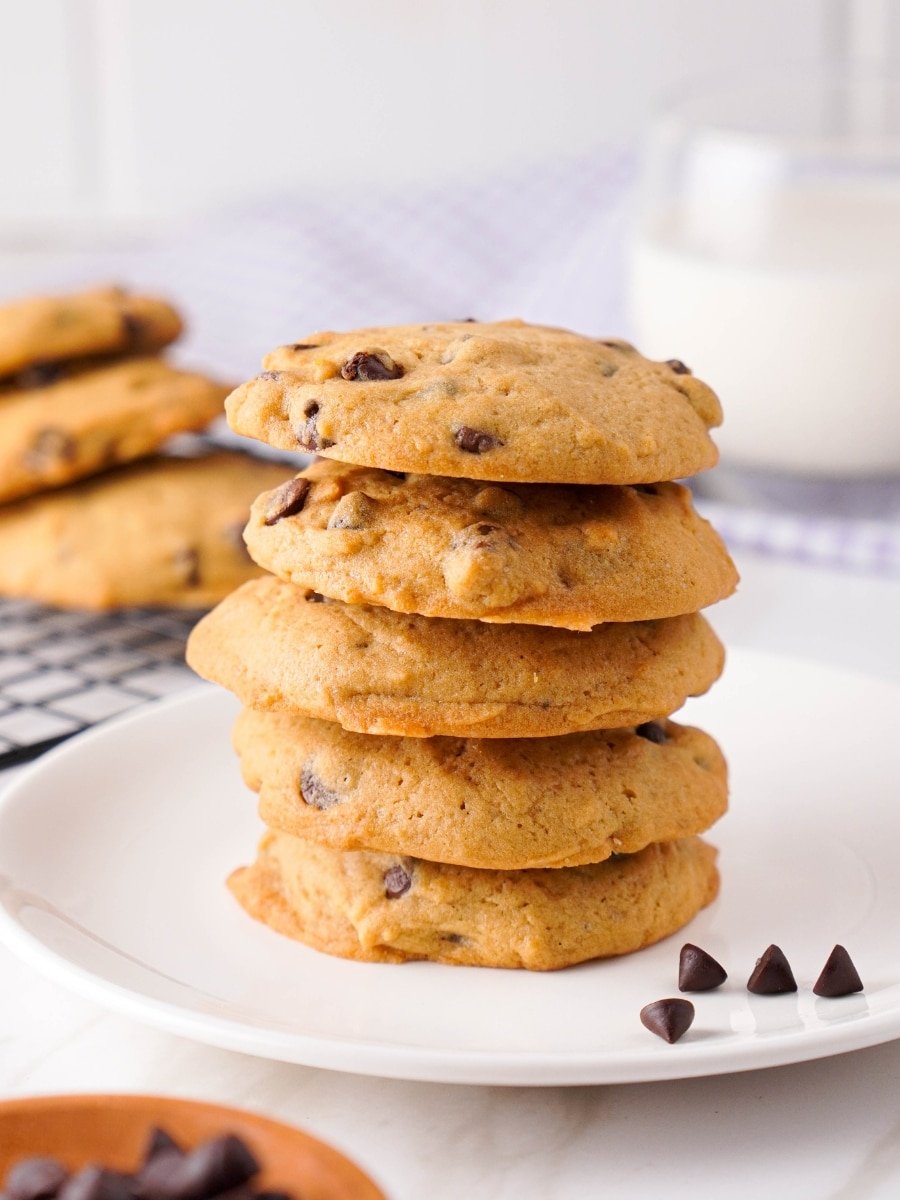 I have been baking sweet treats for over 20 years. As a dessert lover, I really enjoy baking from scratch. I have recipes for everything from apple strawberry crisp to Bisquick funnel cake, and of course, plenty of cookies.
This recipe is my hands-down favorite, and after your first bite, chances are good that it will become yours, too!
How This Recipe Compares to Costco Cookies
Bakery-Style – These are not wimpy store-bought chocolate chip cookies. They're BIG, soft, chewy and so full of chips, you'll have chocolate in every bite!

Better Flavor – The gigantic size and texture of ours is just like Sam's Club or Costco chocolate chip cookies. But since these are homemade (with love), they taste so much better!
Get ready to meet your new favorite chewy, soft cookie recipe! A batch of these fabulous homemade treats can be baked and ready to devour in about 25 minutes!!
This recipe is actually adapted from a KitchenAid cookie recipe. It was one of several in a small cookbook I received with my first KitchenAid stand mixer.
After making and tasting the KitchenAid chocolate chip cookies, I felt they were good, but could be much better!
So, I made a few tweaks to that KitchenAid cookie recipe. I now a have completely delicious homemade version of the chocolate chip cookies you can buy at Costo or Sam's Club!
Ingredient Notes + Substitutions
Cane sugar and brown sugar – Either light or dark brown sugar is fine. The difference between light and dark brown sugar is the amount of molasses. Dark brown sugar has more molasses, which gives a slightly bitter and very rich flavor.
Out of brown sugar? Not a problem! Make our recipe for chocolate chip cookies without brown sugar instead.
Unsalted butter – We use unsalted butter because this recipe also calls for salt. The actual amount of salt in butter varies by brand, so using unsalted will prevent your Costco chocolate chip cookies from being overly salty.

Use salted butter if you have to, but then don't add any kosher salt.
Chips or Chunks – For results that are as close as possible to Costco, Sam's Club, and KitchenAid chocolate chip cookies, definitely use semi-sweet chocolate. My favorite brands are Guittard and Ghirardelli.

Baking 101 – Purpose of eggs in cookies.

Eggs and sugar act as tenderizers in baked goods. Both are absolutely essential for a chewy and soft cookie recipe like this one.
Tips for Making Costco Chocolate Chip Cookies
Use a stand mixer to save time.
For the best texture, it's important to beat the butter and sugar together really well, so the sugar dissolves into the butter.

This can take up to 8 minutes with an electric hand mixer, but only 2 minutes if you use a KitchenAid or other brand of standing mixer.
Add the flour gradually, one cup at a time.
Can't you just dump all of the flour into the bowl at once? Well, you can… but there will be a massive cloud of flour dust in your kitchen to clean up. 😉
Use a portioning scoop, and leave space on the pan for the dough to spread.
Costco chocolate chip cookies are VERY large! The scoops of dough should be equal in size (for even baking). For this recipe, we recommend using a 3-tablespoon size scoop.

Instead of scooping, some people like to weigh the dough on a kitchen scale instead. If you'll be doing this, each portion of cookie dough should weigh 1.5 ounces.
On the pan, leave at least 2-inches of space between each piece. Although chocolate chip cookies don't spread during baking quite as much as oatmeal cookies do, they will spread a bit.
Tips for Perfectly Soft cookies
Don't over bake the cookies.

They are best when soft and chewy, so keep an eye on them as they're baking. You'll want to pull them out of the oven when the edges are just barely set, and the tops are a very light golden brown.

Let the them rest on the baking sheet for 5 full minutes before moving them to a cooling rack.

During that rest time, they'll continue to bake, and the color will deepen.
You are just 4 easy steps and 25 minutes away from the best homemade version of Costco cookies!!
Cookie Mix-In Ideas
You can add a total of 2 cups of any sweet goodies you like to your chewy cookies! Here are a few ideas:
Use different chips
Swap semi-sweet chocolate chips with dark chocolate, milk chocolate, peanut butter, or white chocolate chips.

Add nuts and/or dried fruit
Toss in chopped pecans, walnuts, and/or cashews for a nice crunch. For a little extra sweetness, add 1/4 cup of dried cherries or other dried fruit.

Candies
Mini peanut butter cups, Rolos, or chopped Snickers would be fantastic in these big chewy chocolate chip cookies!
Craving a different soft cookie recipe?

Nobody can resist our classic M&M cookie recipe, and we even have a mint version that's perfect for St. Patrick's Day or Christmas!
Costco Cookies Recipe FAQ
Which stand mixer attachment do you use for cookie recipes?
The flat paddle attachment works best for mixing batters and doughs.
How should I store homemade chocolate chip cookies?
Keep cookies in an airtight container at room temperature for up to a week.
Can I freeze Costco chocolate chip cookie dough?
Yes, you can, for up to 3 months. It's best to portion the cookie dough into balls, then flash freeze them on a baking sheet for one hour.

Store the frozen dough in a freezer-safe storage bag or container. Before baking, let the dough thaw on the baking sheet at room temperature for 30 minutes.
For Baking Cookies, Renae Recommends
Better Than Costco Chocolate Chip Cookies
Costco Chocolate Chip Cookies are chewy, soft and packed with chips! This soft cookie recipe creates cookies better than Costco or Sam's!
Equipment
2 Baking Sheets

Stand Mixer - OR

Hand Mixer
Ingredients
1 cup (2 sticks) unsalted butter softened, but still cool
1 cup granulated cane sugar
1 cup packed brown sugar
2 large eggs
1½ teaspoons vanilla extract
1 teaspoon baking soda
1 teaspoon kosher salt
3 cups all purpose flour
12 ounces (2 cups) semi sweet chocolate chips
Instructions
Prepare two cookie sheets by greasing or lining with parchment paper or silicone baking mats. Set aside.Preheat oven to 375º F.

To the bowl of a stand mixer fitted with the paddle attachment (or use electric hand mixer and a large mixing bowl), add softened butter and both sugars. Mix at high speed for 1 minute, then stop and scrape down the sides of bowl. Crack one egg into the bowl and mix at medium-high speed for 30 seconds. Stop mixing, scrape down bowl again, then add second egg and vanilla extract. Continue mixing for another 30 seconds, or until egg is fully incorporated.

With mixer running on low speed, add baking soda, salt, and flour, one cup at a time. Continue mixing on medium-low speed for 2 minutes. Do not overmix or your cookies will be tough and dry.Add chocolate chips and mix for 15 seconds to incorporate. Alternatively, use a wooden spoon to stir chips in by hand.

Using a medium-sized scoop (3 tablespoons), portion dough onto prepared cookie sheets, leaving 2 inches of space between each scoop of dough.

Bake in preheated oven for 10-12 minutes or until edges of cookies look slightly dry and tops are very light golden. Remove from oven and let cookies rest on pan for 5 minutes, then use a spatula to transfer to a cooling rack.

Store cool cookies in an airtight container at room temperature for up to 4 days.
Video
Notes
To Freeze Cookie Dough
After step 4, place baking sheets in the freezer for 1 hour, to flash freeze the scoops of dough. Once frozen, store frozen cookie dough in an airtight container for up to 3 months.
To Bake Cookies From Frozen
Place frozen cookie dough on prepared pans; let it thaw at room temperature for 30 minutes. Bake according to recipe instructions shown above.
Nutrition
Serving: 1cookie | Calories: 280kcal | Carbohydrates: 37g | Protein: 3g | Fat: 14g | Saturated Fat: 8g | Polyunsaturated Fat: 1g | Monounsaturated Fat: 4g | Trans Fat: 0.3g | Cholesterol: 35mg | Sodium: 153mg | Potassium: 117mg | Fiber: 2g | Sugar: 23g | Vitamin A: 263IU | Calcium: 23mg | Iron: 2mg
PIN THIS POST!
This post, first published May 2021, was updated with new content February 2023.