The Louis Vuitton Neverfull is undoubtedly their most popular handbag. And it's no wonder – this bag comes in 3 different sizes and with a variety of exterior options. So, what made me buy one? Is it really never full? Which size – GM vs. MM? New or used? See the sizes comparison chart, the pros and cons, and of course, lots of photos of this amazing LV tote so you can decide.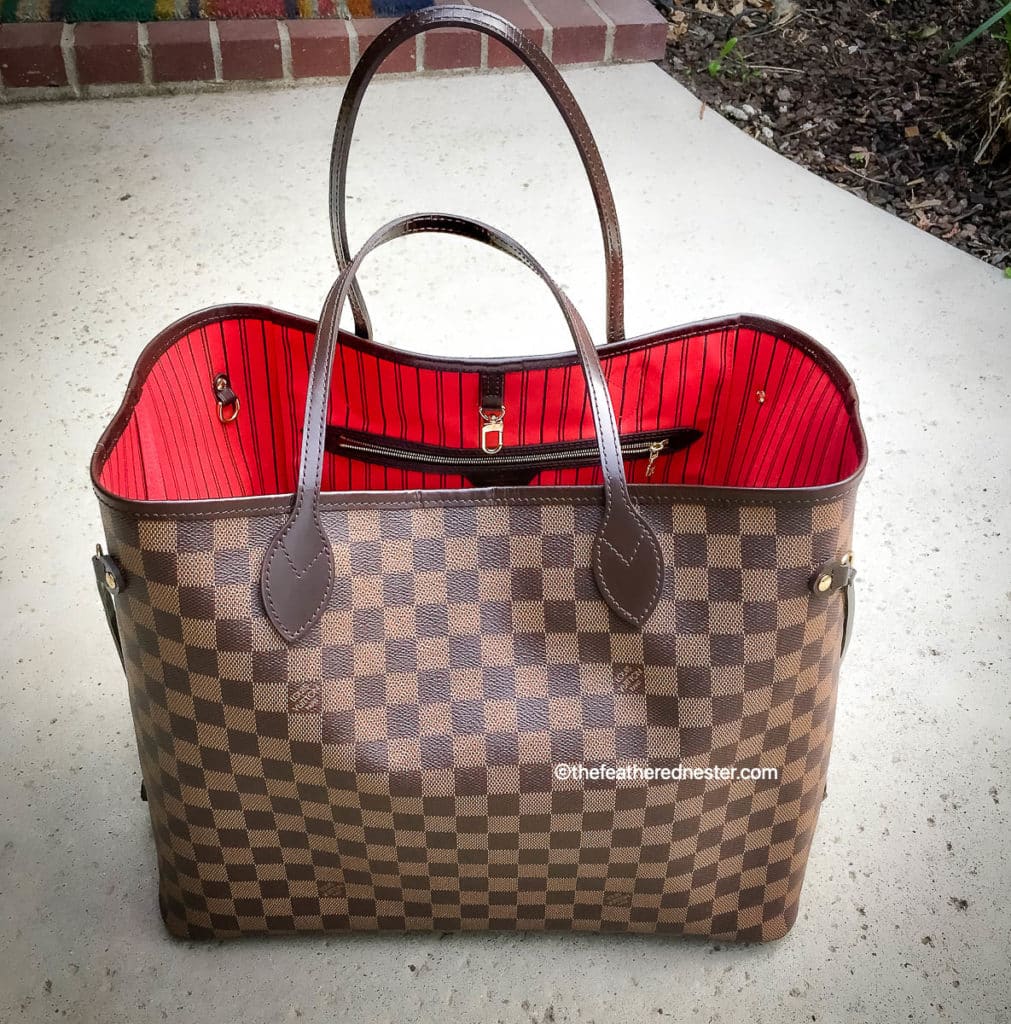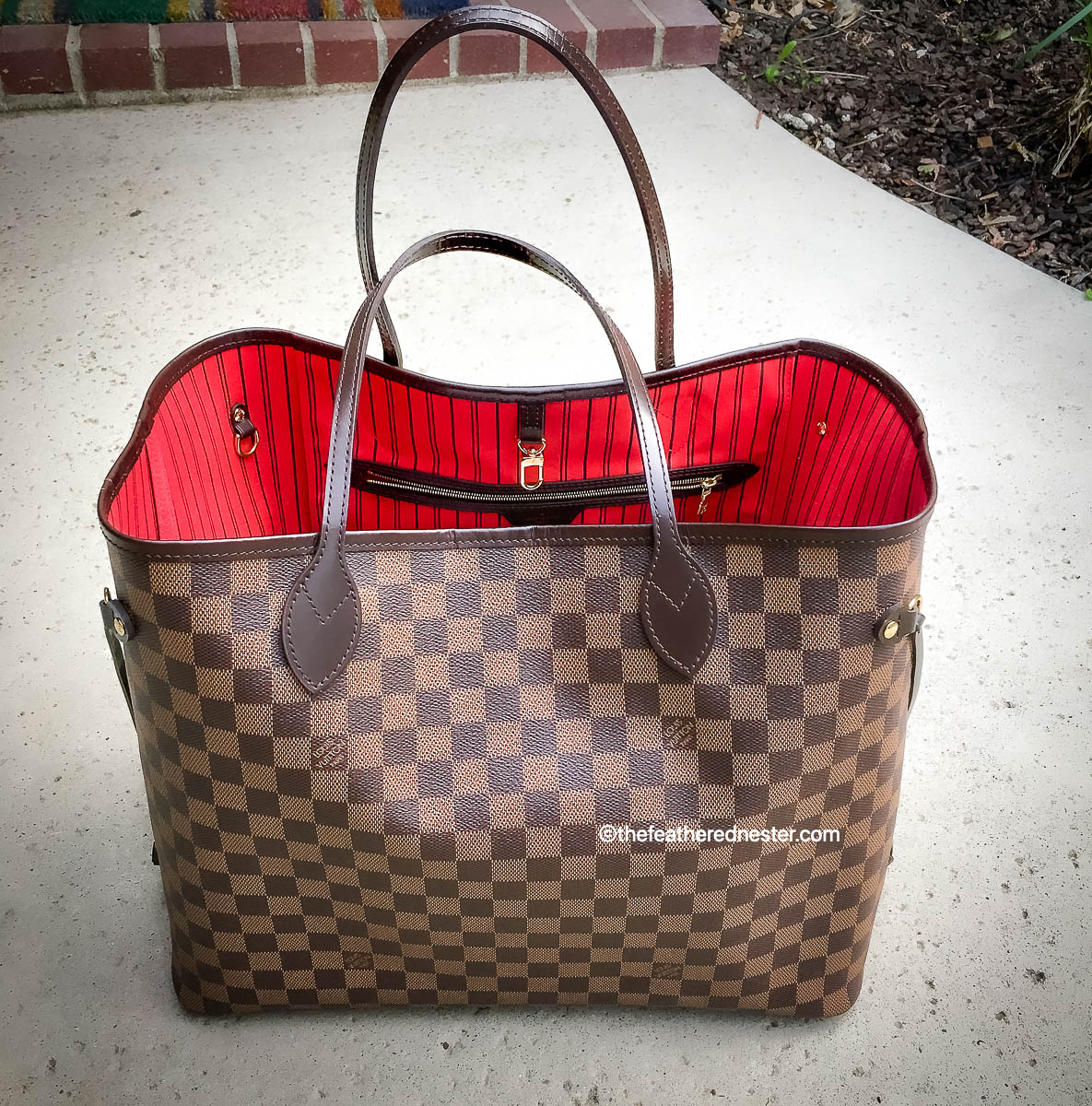 Why I Chose This Amazing Style
The Neverfull is iconic, and I see them everywhere I go. I bought mine in March 2017.
I already owned a few Louis Vuitton handbags, so I was looking for one primarily for travel. It was my carry-on tote when I went to Florida and the Caribbean. Then on a few weekend trips and day trips with me. This tote style is the ideal size for a weekend carry.
I found that this style worked best as a carry-on when traveling on larger jets. That way, I didn't have to worry about anything sliding out since the top doesn't zip shut.
To learn more about this tote style, which size is right for you, and buying tips and suggestions, keep reading…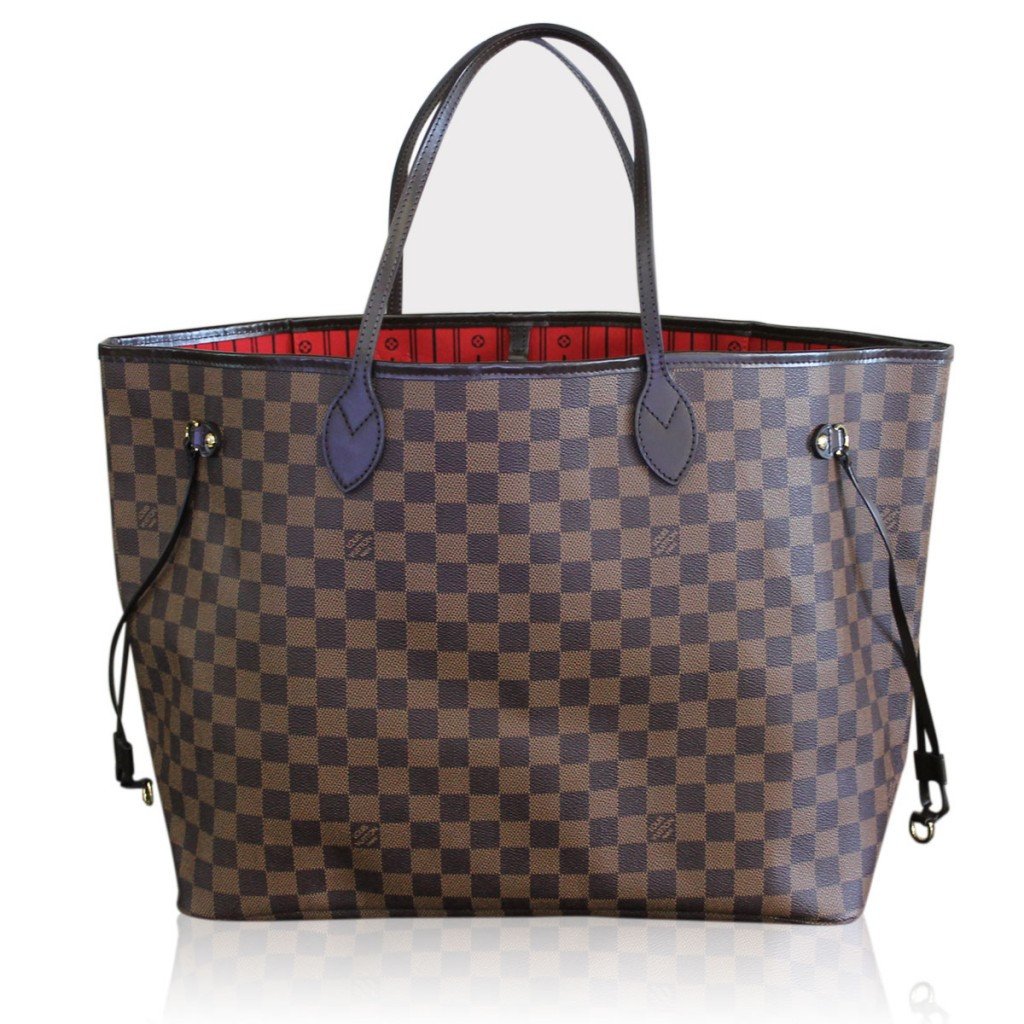 Damier or Monogram?
This tote unites timeless design with easy-to-carry style with two thin straps and an open, reach-in design. The top secures with an interior clasp (or clip) in the center, which brings the sides together. But, the top does not zip or securely close.
You'll have your choice of the legendary Monogram canvas print and the Damier checker print in Azur (blue) and Ebene (brown). As well as the Empriente leather and other seasonal designs – they're countless!
LV Neverfull Sizes
Then there are three different sizes: PM (petite or small), MM (moyenne or medium), and GM (grand or large).
Those contemplating purchasing this tote often wonder, "Which size should I get?" And I did, too!
On designer purse forums, I saw lots of forum posts by people who wondered which size they should get. The nearest boutique is over two hours away from me. So, I couldn't go in and compare them for myself.
My Tip: Just because the price difference between sizes is low, don't go for the biggest one. If the one you choose sits on the shelf because it's too big (or small!) then it's of no value to you.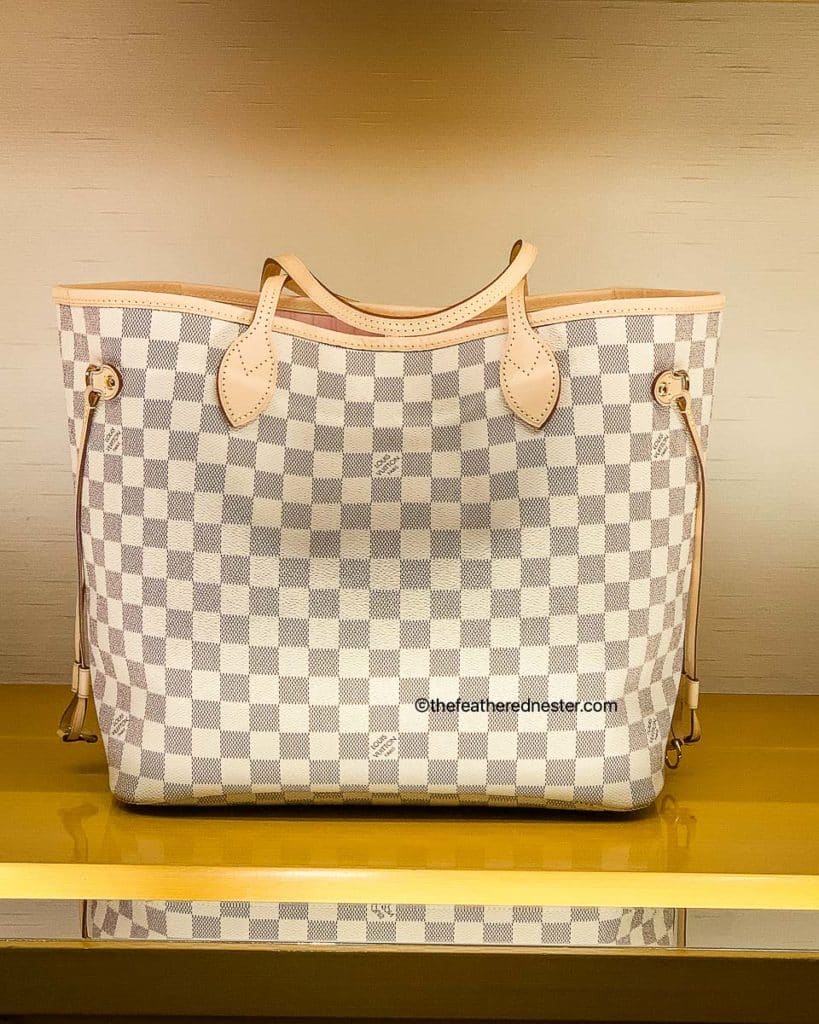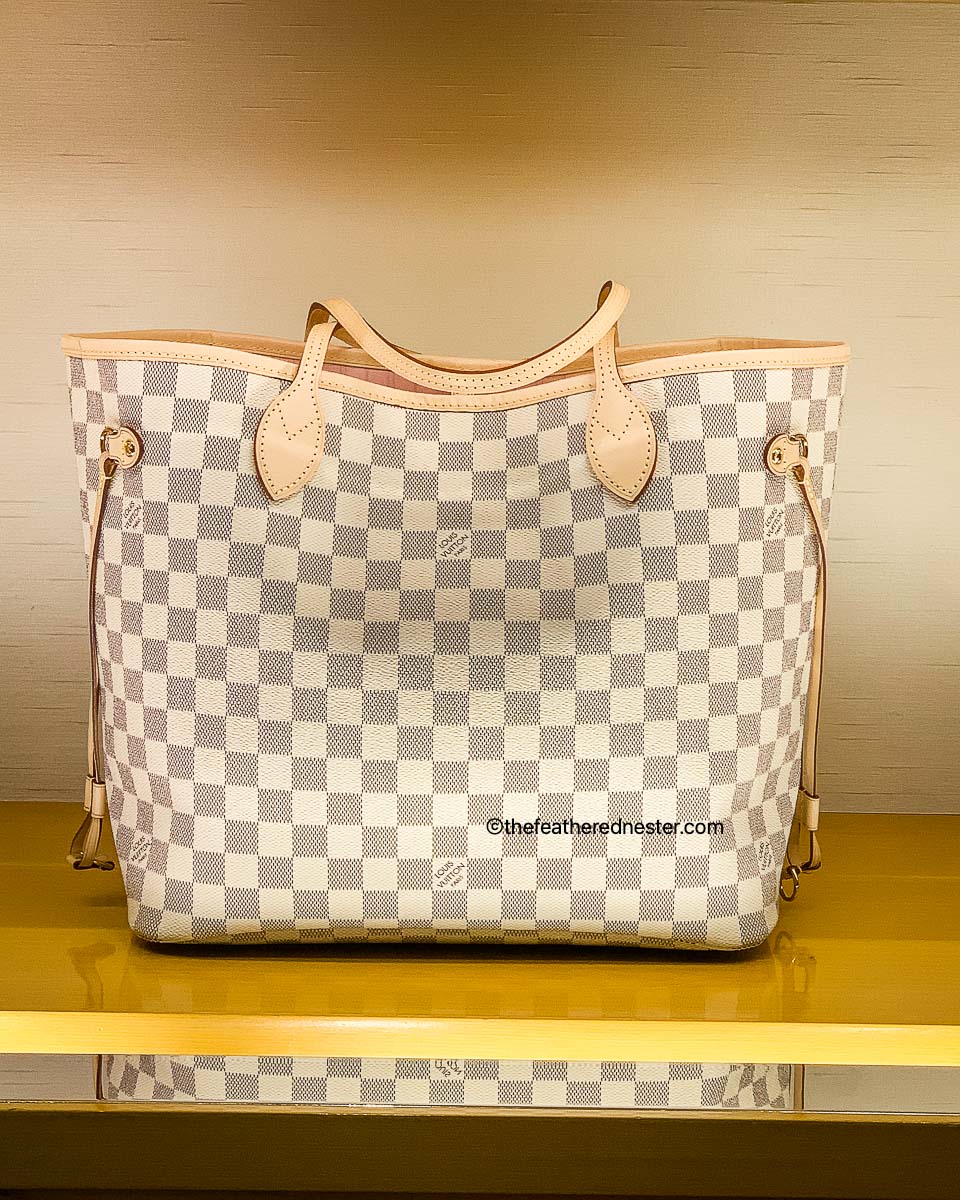 Size Comparison Measurements and Chart
This helpful image below shows a model showing the different sizes: PM on the left, MM in the center, and GM on the right.
PM dimensions are 11.4 x 8.7 x 5.1 inches (Length x Height x Width)
MM dimensions are 12.6 x 11.4 x 6.7 inches (Length x Height x Width)
GM dimensions are 15.7 x 13.0 x 7.9 inches (Length x Height x Width)
*All sizes are approximate.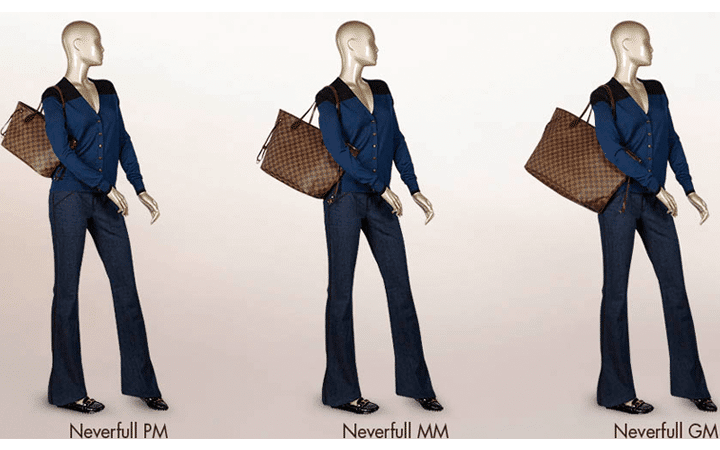 Packing the GM in Damier Ebene
While packing for our anniversary trip to the coast, I took the opportunity to discuss and show how much you can fit into the GM size.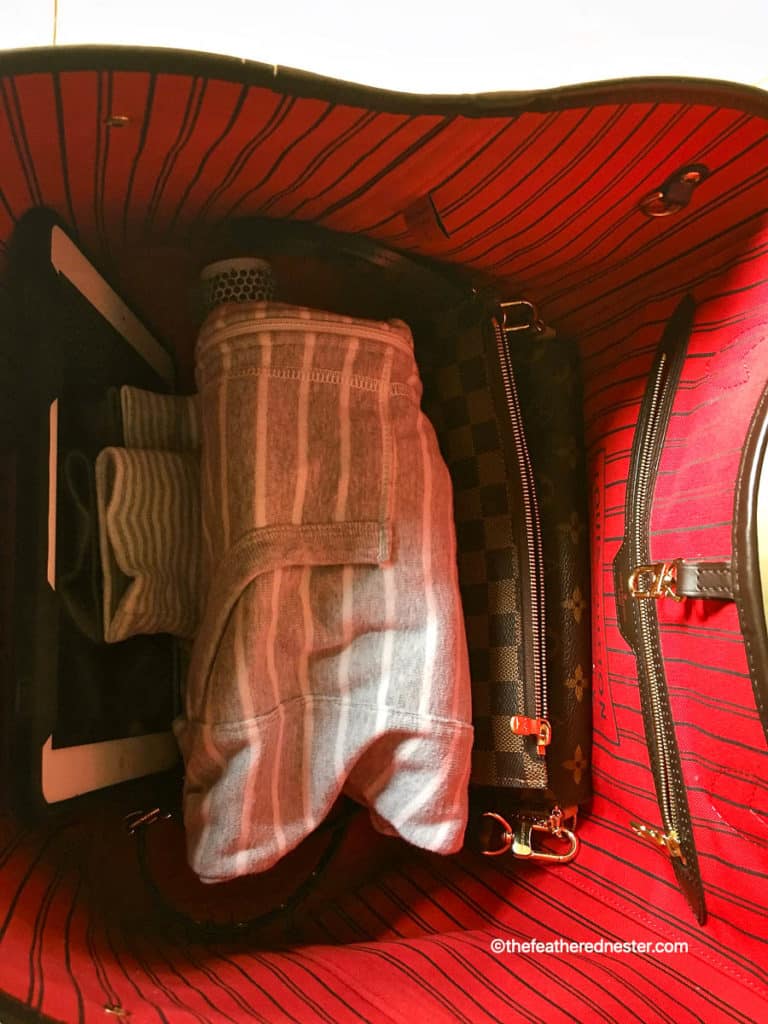 I put everything I wanted close at hand, such as my iPad, Kindle, jacket or sweater, vitamins, snacks, and my smaller Favorite that I carried around while we were out and about.
You can see I packed for the weekend trip in the video below.
Above is a video I shared on my Instagram Stories.
Is it Really Never full?
The GM is extremely roomy inside! As you can see from the video above, the GM is huge. So, using an organizer helps keep things organized inside this large tote.
An organizer is also helpful for keeping items within view and easy to reach.
My Tip: Look for organizers that are made from wool or felt. Firm or hard interior organizers can cause the exterior corners to rub. This happened to me.
Because of the roomy interior, it's easy to overload. The straps are incredibly strong, so that isn't a concern. But, they will dig into your shoulders from the weight. See more in my pros and cons below.
A bonus: the Wristlet Pochette
The Neverfull comes with a wristlet pochette (French for "pouch") that attaches with a clipped strap or leash to the inside. Some call it a wristlet because you can convert the strap and clip for wrist carry.
The strap leash also attaches to a small ring on the interior top left corner of the interior.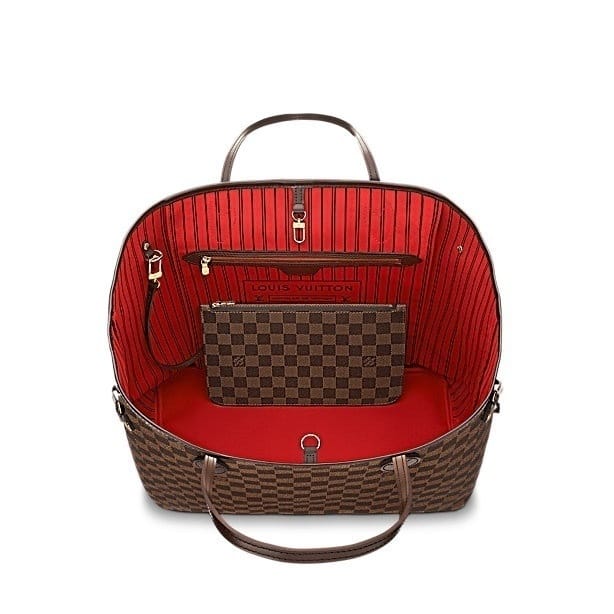 If you've looked at these online in preowned, you might have noticed that many listings do not include the wristlet. There are a few reasons for this:
First, until 2014, the wristlet pochette with the Neverfull.
Secondly, the pochette is pretty valuable, and some owners sell the wristlet to offset the purchase cost.
Finally, some people don't use the pochette. Since I stored mine inside the tote, I'd forget about using it, too.
The pochette is good-sized. As I mentioned, the pouch easily converts to a wristlet for on-the-go use.
Or it can become your wallet. Because let's face it – once you buy the purse, you will want a matching wallet. That's an additional several hundred dollars.
My Tip: If you want a matching wallet, consider selling the wristlet to help fund the purchase of a wallet. As of January 2023, wristlets in excellent shape are selling for as much as $615 on Fashionphile.
How Much Does a Neverfull Cost?
Louis Vuitton regularly raises their prices. And, can you blame them when they are so popular?
For reference, when I bought mine in March of 2017, I paid $1,340 USD. In July 2021, it was $1620. As of January 2023, the cost was up to $2,100!
That's an increase of $760 (or over 36%) in nearly five years.
This brings me to my next topic.
Should I buy One New or Used?
Should you buy designer items like this, new or used? Let's talk about the differences in buying new vs used.
I've purchased used (or preowned) twice; both were very positive experiences. What I received was exactly what I expected.
First Used Louie
The first one was my Turenne MM, which I bought on eBay from a trusted seller. I had the images authenticated from an outside source before my purchase.
The Turenne was about three years old and in very good condition. I saved about $300 on the cost of the purse. The Turenne was in very good condition and came with the dust bag and gift receipt.
A year later, I noticed that the side tabs' stitching was loose. So, I took it to Louis Vuitton to have the leather tabs restitched. Since I had the receipt, they waived the repair fee even though the purse was about four years old.
Second Used Bag
My second preowned purchase was my Girolata in 2018.
At the time, the Girolata was unavailable to purchase online. So I turned to second-party sellers. After authentication, I purchased a like-new Girolata from a reputable, trusted seller in a Facebook group. My purchase came with a gift receipt.
Having the receipt came in very handy with this purchase.
I used my Girolata as my spring and summer purse during 2018 and 2019. When taking it out of the dust bag in 2020, there was a pink tint on the part of the exterior canvas.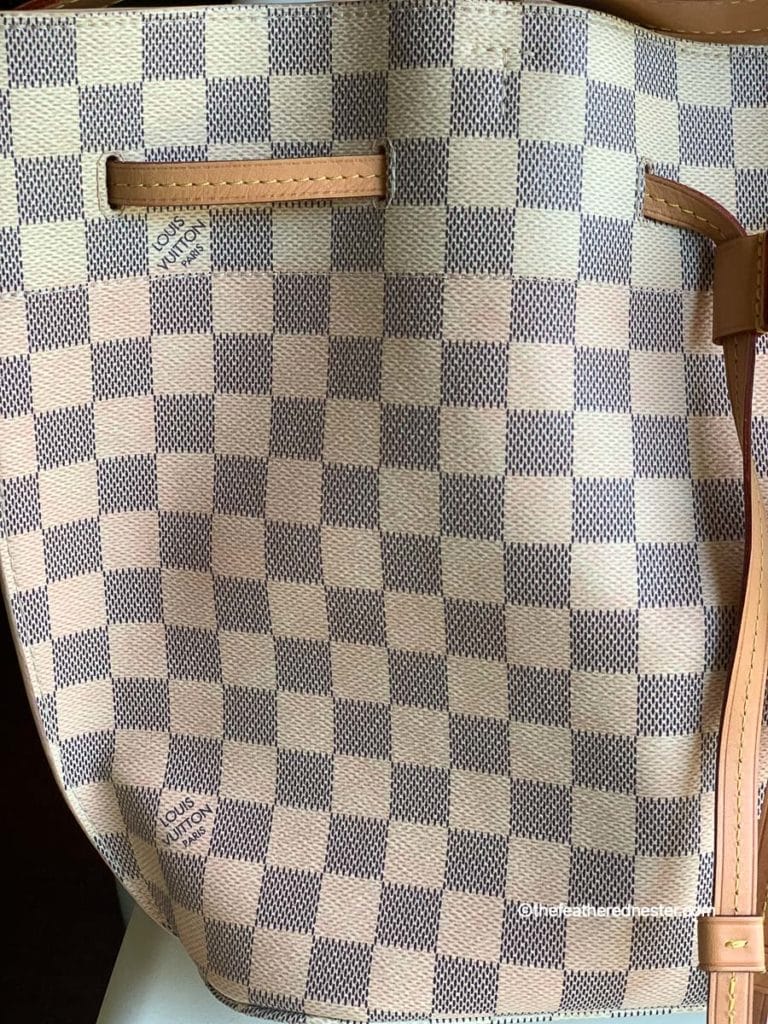 After doing some research, I found out that the pink interior lining was bleeding from the inside out onto the coated canvas. My next step was to go to louisvuitton.com. After submitting photos of it and the receipt in 2021, I was given full store credit.
In October 2021, I used that credit towards a new Propriano.
What Can you do?
Generally, if your designer item is determined to be "defective," they will repair, replace, or give you store credit. But each situation is different, and this isn't a guarantee.
My Tip: If anything is wrong with your Louis Vuitton item, go to their online repair and submit a repair ticket. I mentioned to two different sales associates in 2020 that I had a Girolata with canvas that had turned pink, but neither of them mentioned there might be a defect.
How will you know whether you will receive a brand-new replacement or store credit? If it's been discontinued (like my Girolata), you'll likely receive store credit. Otherwise, they will repair or replace the item.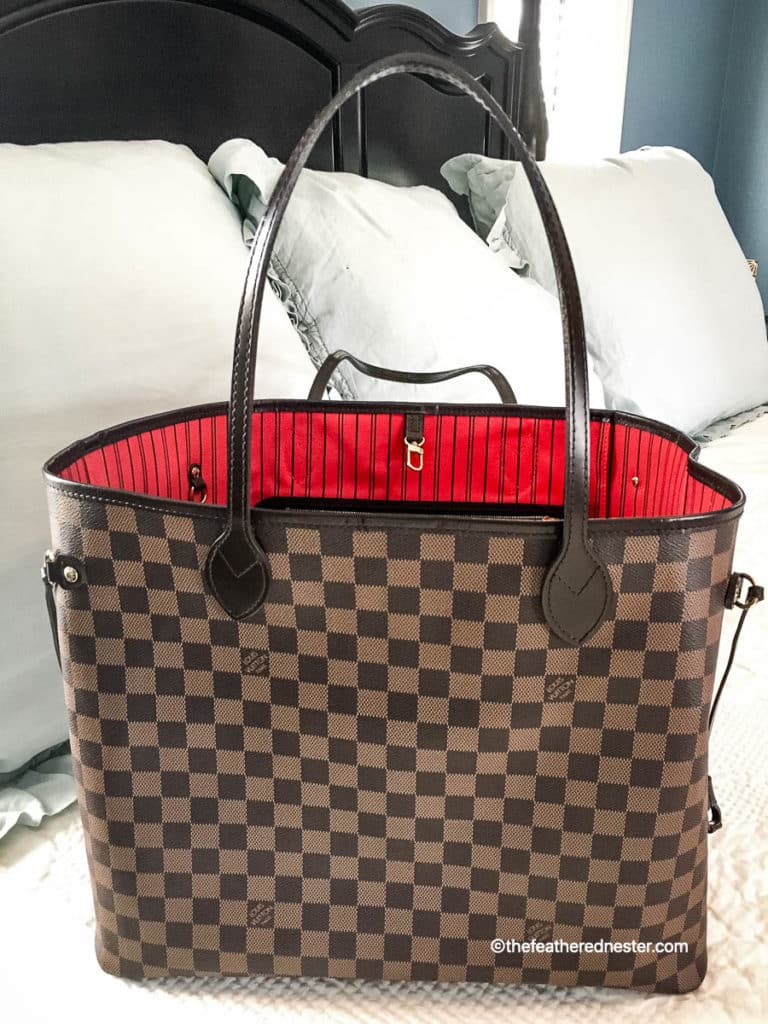 Louis Vuitton Receipts
I am always a little skeptical when someone says they don't have the receipt. Especially if it's only a few years old, I'll tell you why:
After spending thousands of dollars on a purse, most people keep the receipt in a safe spot or save it for insurance purposes.
If you have purchased a new item from their website online, you can access the receipt online in your account at any time and print out a new copy.
You can also call their customer services to get a list of your purchases. It's a bit of a process (they'll want proof of your identity). But you can get it.
When you buy an item in-store, they usually email you a copy of the receipt.
Tips and Suggestions for Buying Preowned
A receipt does not in any way assure authenticity. Receipts can be faked and reused.
But get a copy of the receipt if you can, especially if it's less than three years old.
Always get a used luxury item authenticated, even if the seller is someone you know and trust. It costs very little, and you'll be glad you did. See the FAQs below for recommendations. And, contrary to rumor, their boutiques will not do this for you.
If you buy a used luxury or designer item online, use a credit card and payment service like PayPal that offers buyer protection. Do not use PayPal's Friends & Family to pay for luxury goods or expensive purchases.
Buying expensive goods online from private sellers can be risky. Be sure that you feel that the risk equals the reward.
Have the seller send it "signature required." If you can, open the box in front of a neutral third party. Last year, I had an expensive item stolen out of the box during transit. Thankfully, the delivery driver noticed the box felt empty, and I refused delivery.
My Tip: Be smart about buying used luxury goods. Do your research. Get proof that they have the item for sale in their possession. Or only buy from companies that guarantee authenticity. Regardless, get it authenticated, no matter who you buy from.
(These are my personal tips and suggestions, not to be confused with any professional advice).
My Pros and Cons of this Handbag
As an update to this post, I sold my Neverfull in September 2019. Although I used it several times the first year I had it, it began to sit in my closet.
One of the reasons is that the GM is huge! Although you can cinch in the top with the exterior straps, the bottom is still very wide.
Unfortunately, this also makes it easy to scuff the exterior corners. And that happened with mine, even though I probably only used it about ten times.
Another reason is that when traveling with it, I had to be careful about overloading it. If I added my MacBook, the straps would dig into my shoulders. You can buy covers from Etsy to go over the straps to make them more comfortable. And, if I'd loved the it more, I would have used them.
Although it's beautiful, it wasn't practical for me. Possibly if I'd bought the MM instead of the GM, I would have kept it.
In 2019, I bought the Zippered Flower Tote in MM (Monogram with noir black trim) to replace it. The Flower Tote is roomy enough for my MacBook and comfortable to carry. The inside is soft suede, perfect for carrying a laptop or tablet.
The Pros
It's a trendy handbag instantly recognized as a Louis Vuitton.
It's perfect for carrying a lot of lightweight items.
You can change the look of the handbag by cinching in the side straps.
The pochette it comes with is very versatile and valuable to sell on its own.
It works perfectly as a Mom bag, especially as a diaper bag, without actually looking like one.
The MM size is probably the perfect all-around tote.
The Damier Ebene canvas is the ideal worry-free tote with its brown leather trim.
The Cons
It's a trendy LV – it seems like everyone has one!
Without an interior organizer, it's a bottomless pit.
It lacks structure, and the coated canvas is fairly thin. I've seen many photos of the canvas or straps torn and ripped.
It seems crazy to spend over $1500 for a coated canvas tote with very little leather on it.
The vachetta leather trim on the monogram and Damier Azur darkens over time, and water will leave spots if left untreated.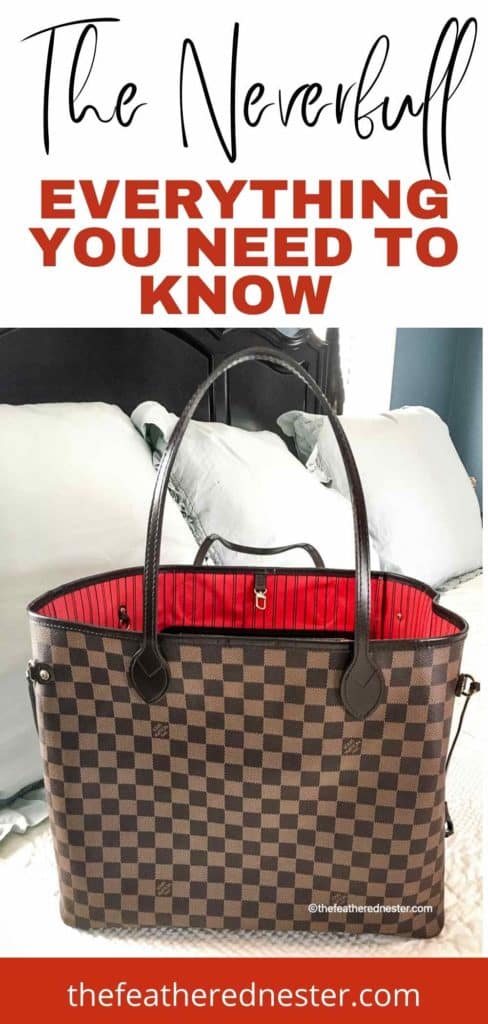 My Love for Louis Vuitton Endures
I love handbags! Read about my history and love of them in my love of purses. And I especially love my Louies. I've tried other designers like Gucci, but then I go into the boutique or check online and fall in love with a new style.
My current handbag collection includes the bag that started it all – Portobello PM, and the Speedy Bandouliere 30, Favorite MM, Zippered Flower Tote in MM, Propriano, Maida Hobo, and my latest – the Toiletry Pouch on Chain. Plus, several wallets, key pouches, handbag straps/bandouliere, and a makeup bag (called small leather goods of SLGs).
Read my new review on the key pouch!
Frequently Asked Questions
How can I tell if a Louie item is authentic?
This is best left to the professionals. I recommend Pro Authenticators (not sponsored) when authenticating luxury goods because I have personally used them. They are quick and inexpensive. The fastest way to get something verified or authenticated is to follow them on Facebook and send them a messenger message.
I purchased a new bag from the LV website and don't see a date code tag.
They began using an RFID tag inside all leather items manufactured after March 1, 2021. Anything manufactured after that won't have a physical date code tag, but an embedded microchip
How can I find the date code tag on my new Louis Vuitton purchase?
The date tag can vary from item to item. This link can help you find the date code tag.
This post is not sponsored, though it does contain affiliate links. The views contained here are my personal opinion. Any services or products recommended are based on my own experiences. But, your own experience might vary from mine. Recommendations are based on what I consider to be best practices but are not an endorsement or guarantee.