This post may contain affiliate links. If you click on a link and make a purchase, I may receive a small commission at no extra cost to you.
The Neverfull is undoubtably one of Louis Vuitton's most popular handbags. And, it's no wonder. It's roomy, versatile, and comes in their legendary monogram canvas print. The LV Neverfull tote is an iconic bag, and I see them everywhere I go. So, what made me buy one? How roomy is it? And, which size should you get? Should you go with new or used? Well, see my size comparison chart, get the dimensions, the prices, pros and cons, and of course lots of photos of this amazing LV tote tote so you can decide.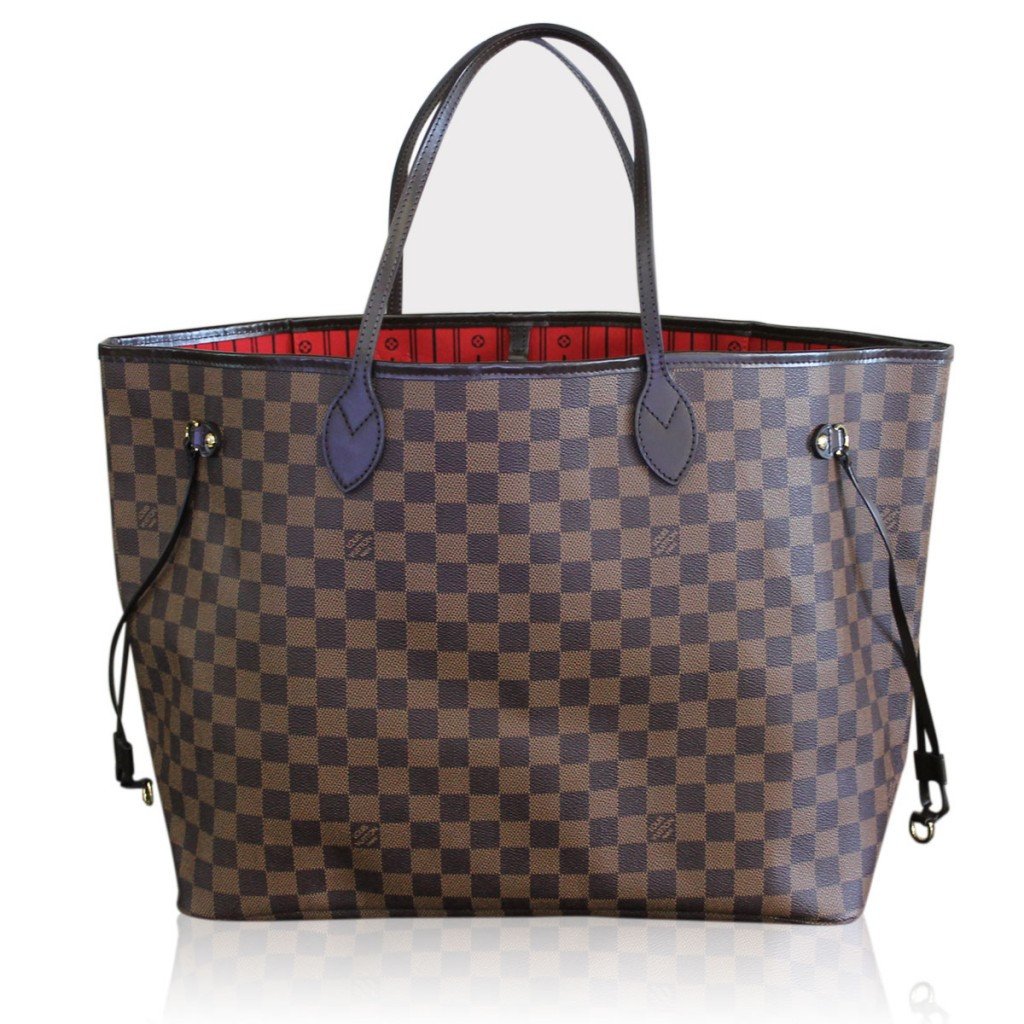 I bought the Louis Vuitton Neverfull in March 2017. As I had a few other Louis Vuitton handbags, I was looking for one primarily for travel. And, later that month, I took it to Florida and the Caribbean as my carry-on and tote bag.
After that it went on a few weekend trips and day-trips with me. It's an ideal weekend bag.
As a carry-on, it works best on larger jets where it can stay upright under the seat, although I did lay it on its side on smaller jets and didn't have any issues with items rolling out.
Louis Vuitton Neverfull Tote
The LV Neverfull is a tote design, with two thin straps and an open, reach in design. It has a interior metal clasp in the center which keeps the sides together. But, the top does not zip or securely close.
Louis Vuitton Neverfull Sizes
The Neverfull comes in three sizes: PM (petite or small), the MM (moyenne or medium), and GM (grand or large).
Those contemplating purchasing the Louis Vuitton Neverfull often wonder, "which size should I get?" And, I did, too!
On designer purse forums, I saw many forum posts by people who wondered which size they should get.
The nearest Louis Vuitton boutique is over two hours away from my home. So, I wasn't able to go in actually compare them for myself. On previous trips to LV, I had held and tried on the Neverfull before but not recently.
Neverfull Size Comparison
This helpful photo below shows a model with the different sizes: PM on the left, MM in the center, and GM on the right.
PM dimensions are 11.4 x 8.7 x 5.1 inches (Length x Height x Width)
MM dimensions are 12.6 x 11.4 x 6.7 inches (Length x Height x Width)
GM dimensions are 15.7 x 13.0 x 7.9 inches (Length x Height x Width)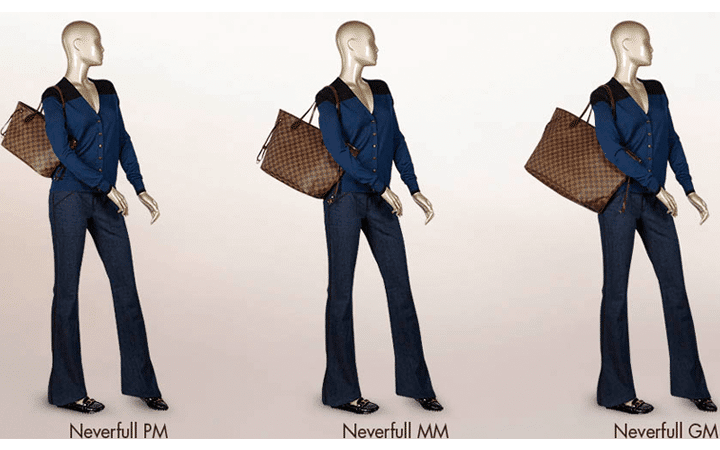 LV Neverfull GM
While packing for our anniversary trip to the coast, I took the opportunity to talk about and show just how much you can fit into the Neverfull GM.
I put everything I wanted close at hand in it, such as my iPad, Kindle, a jacket or sweater, my vitamins, snacks, and my smaller LV Favorite (upcoming post) that I carried around while we were out and about.
And, here is a video I filmed for my Instagram Stories:
In the video, I packed what I'd take for a weekend trip. I did actually take those clothes, but I needed enough clothing for 4 days for the trip.
Is the Louis Vuitton Tote Neverfull?
It is extremely roomy inside! As you can see from the video above, an organizer helps keep things organized inside this huge tote.
An organizer is also helpful for keeping items within view and easy reach. Look for organizers that are made from wool or felt. Firm or hard interior organizers and cause the exterior corners to rub. This happened to me.
Although the Neverfull tote is really roomy, it is easy to overload it. The straps are incredible strong, so that isn't a concern. But, they will dig into your shoulders from the weight of the bag. This is something I talk about in my pros and cons below.
A bonus: the Neverfull Pochette
The Neverfull tote comes with a pochette or pouch that attaches with a clipped strap to inside of the bag. There is a small ring it attaches to in the top left corner of the Neverfull.
If you've looked at used Neverfulls online, you might have noticed that most listings do not include the Pochette. There are a few reasons for this.
One is that until 2014, Louis Vuitton did not include the pochette with the Neverfull.
Second is that the pochette is pretty valuable on it's own and some owners sell the pochette to offset the cost of the Neverfull.
Lastly, some people don't really use the pochette. Since I kept mine inside the Neverfull, I'd forget about using it.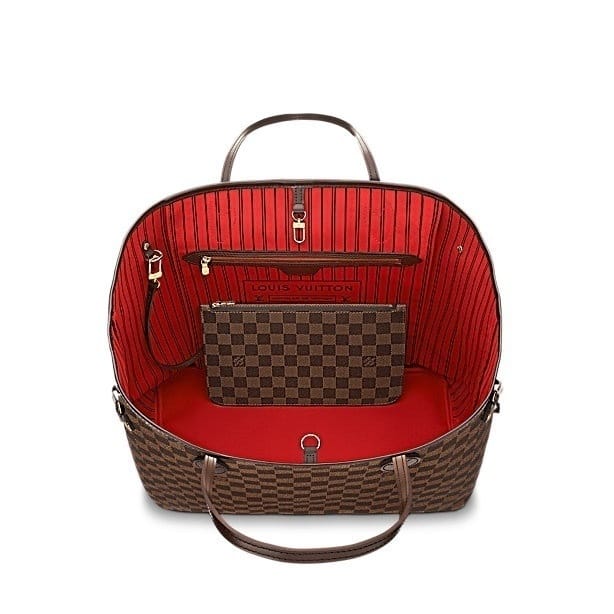 The pochette is good-sized. It easily converts to a wristlet for on-the-go use.
And, you can use it as a wallet. Because, let's face it, once you buy the purse you're going to want a matching wallet. And, that's an additional several hundred dollars.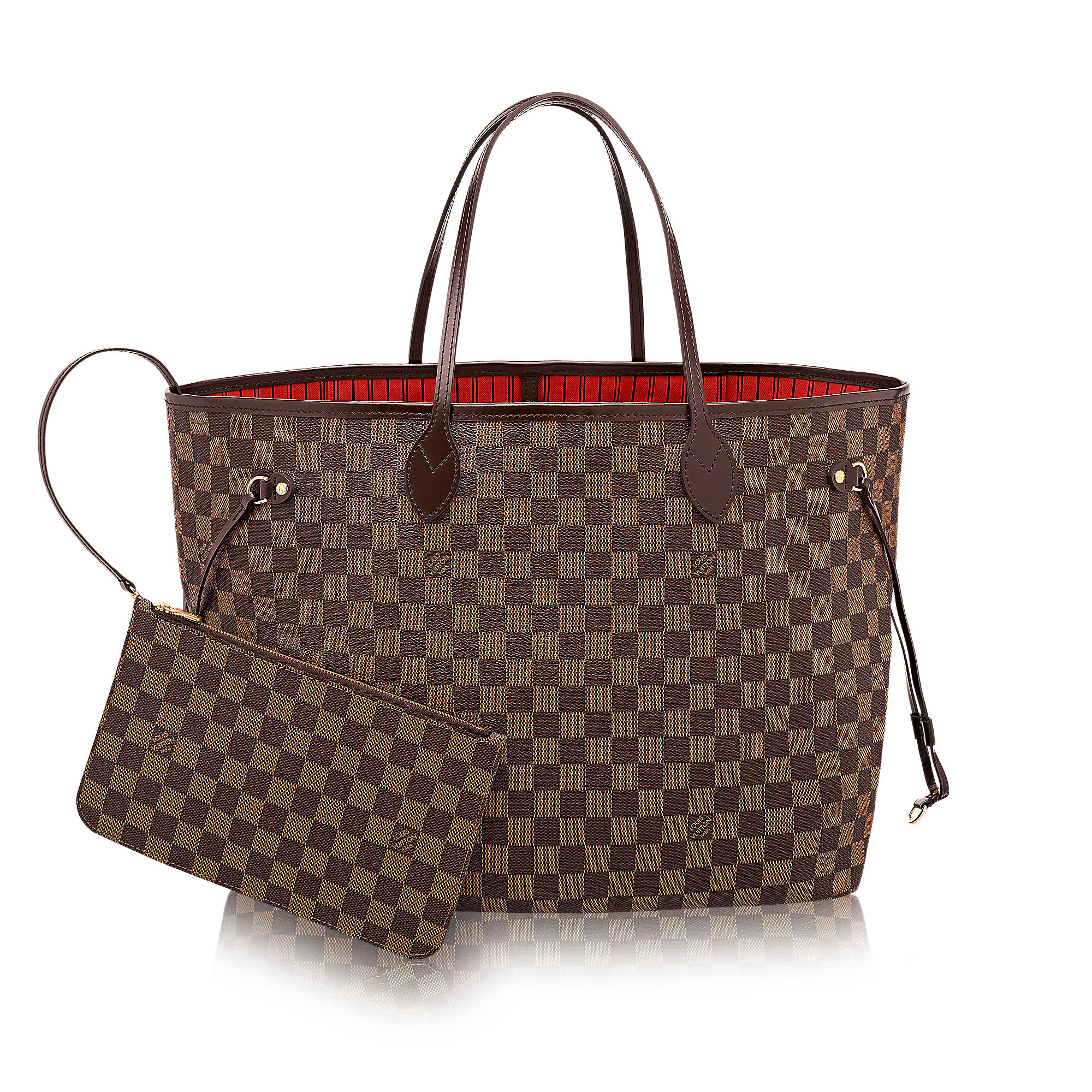 Neverfull Pricing
Louis Vuitton regularly raises their prices. And, why not when they are such popular bags?
For reference, when I bought my Neverfull GM in March of 2017, I paid $1,340 USD. As of July 2020, that same bag is $1580 USD. That's an increase of $240 (or over 15%) in 3 years.
This brings me to my next topic.
Should I buy Louis Vuitton New or Used?
I have bought two of my Louis Vuitton bags used (or preloved).
The first one was my Turenne MM, which I bought on Ebay from a trusted seller. I had the bag authenticated before I bought it. The Turenne was about 3 years old and I saved about $300 on the cost of the purse. It was in good condition.
Louis Vuitton Warranty and Repairs
Luckily for me, it came with a Louis Vuitton gift receipt, because later I needed to take it into Louis Vuitton for repairs. As I belong to a few purse forums, I knew they might ask me for a receipt and they did. Even though the purse was about 4 years old at the time, they did the repairs for free.
These situations vary from boutique to boutique. If you take a bag in to Louis Vuitton they might not work on the handbag if you don't have a receipt. And, if you tell them it was a gift, they may ask for the name of the buyer to look into their computer system.
My second preowned purchase was my Girolatta two years ago. I really wanted the bag and it was unavailable from Louis Vuitton online. Someone in a Facebook I belong to had a brand new one for sale with an original gift receipt (purchased in London) and I bought it. I think the savings was less than $100.
Louis Vuitton Receipts
I am always a little suspicious of someone who says they don't have the receipt for their own personal bag, and it's only a few years old. I'll tell you why:
If you've spend several thousands of dollars on a purse, you're going to keep the receipt in a safe place.
When you purchase a Louis Vuitton bag online, you can access the receipt online and print off a new copy.
You can call Louis Vuitton to get a copy of your purchases. It's a bit of a hassle as they'll want proof of your identity before sending it to you. But, you can get it.
When you buy a Louis Vuitton item in store, they email you a copy of the receipt.
Tips on Buying a Louis Vuitton Used
A receipt does not in any way assure authenticity. Receipts can be faked and reused.
But, do try to get receipt, especially if the bag is less than 5 years old.
ALWAYS get a used bag authenticated. There are services that will do this for a nominal fee. And, Louis Vuitton boutiques will not do this for you, contrary to rumor.
If you are buying a used bag online, use a credit card and payment service like PayPal that provides buyer protection. DO NOT pay through PayPal's Friends & Family unless they are a personal friend or family member.
Buying used can be risky, so keep that in mind. so do for a reason like to save money or to get a bag that isn't available.
Be smart about buying used. Get proof that they have the bag in their possession.
Pros and Cons of the LV Neverfull
As an update to this post, I sold my Louis Vuitton Neverfull GM in September of 2019. Although I used the Neverfull LV tote a number of times the first year I had it, it began to sit in my closet, unused.
One of the reasons is that the LV Neverfull GM is huge! Although you can draw in the top with the exterior straps, the bottom is still really wide. This makes it easy to get rubs on the exterior corners. And, that happened with mine. Even though I probably only used it a total of ten times.
Another reason is that when I traveled with the Neverfull GM, I had to limit what I put in the tote. When I added my MacBook, the straps would dig into my shoulders. There are covers you can buy to go over the straps to make them more comfortable. And, if I'd loved the bag more, I would have used them.
The Neverfull is a beautiful LV tote, but it just wasn't practical for me. Possibly if I'd bought the MM size, I would have kept it.
Instead, last year I got the Louis Vuitton Zippered Flower Tote in MM and it's roomy enough for my MacBook and comfortable to carry.
Neverfull Pros
It's a very popular LV tote and instantly recognized as being a Louis Vuitton.
It's perfect for carrying a lot of lightweight items.
You can change the look of the bag by cinching in the side straps.
The pochette it comes with is very versatile and valuable to sell on its own.
It works really well as a Mom bag, especially as a diaper bag, without actually looking like one.
The MM is probably the perfect, all around tote.
Neverfull Cons
It's a very popular LV tote – it seems like everyone has one!
Without an interior organizer, it's a bottomless pit.
The Neverful lacks structure and the material is really thin. I've seen several photos of the bags being torn and ripped.
It seems crazy to spend $1500 for tote that is coated plastic with very little leather on it.
My Love for Louis Vuitton Endures
I love handbags! Read about my history and love of them here. And, I especially love Louis Vuitton. I've tried other designer bags, but keep coming back to Louis Vuitton.
My collection is always expanding. Look for a new post on my Louis Vuitton Flowered Zip Tote which I got in August 2019. And, my Graceful MM that got in June 2020.