Decadent chocolate mousse cups can serve as a simple dessert or a tantalizing topping for cakes, pastries, cobblers — you name it! Ours is a 3 ingredient chocolate mousse recipe that can be whipped to perfection in no time at all. It's the best light, easy chocolate mousse to end your night with!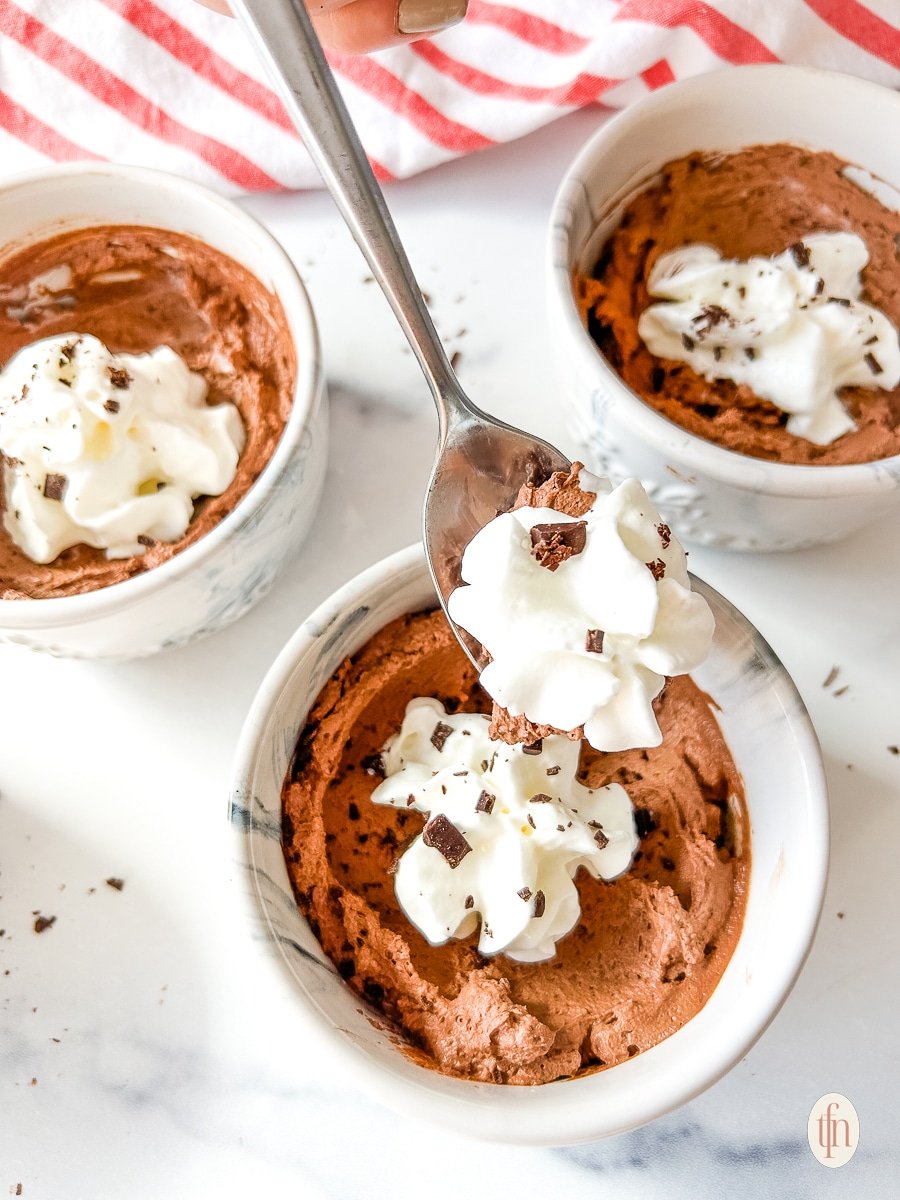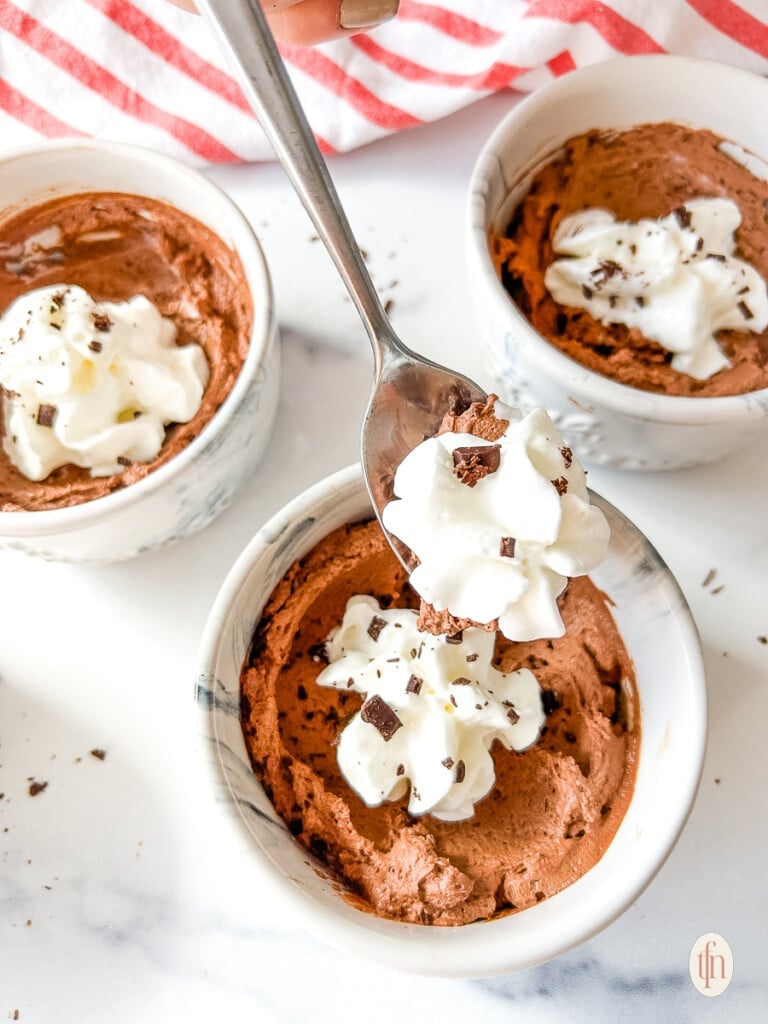 Why We Love Chocolate Mousse Cups
It only takes 10 minutes to prepare.
It doesn't get much quicker than that! And as long as it's refrigerated, you could even make it a couple of days in advance. This quick chocolate dessert is great for saving time.
It only requires 3 ingredients.
Using so few ingredients leaves plenty of room for customization — or keeps things sweet and simple!
It's a delicious alternative to whipped cream!
There are times when you want something denser and richer than regular whipped cream. You could technically call this a stabilized chocolate whipped cream, perfect for topping off our double chocolate sourdough bread pudding or seasonal pumpkin custard pie!
Ingredient Notes and Substitutions
Heavy Whipping Cream – A full-fat cream is ideal for a firm, stable result. Half and half will still work, and full-fat milk will lead to a runnier — but still stable — result. However, avoid 2%, skim, or alternative milk options.
Dutch Processed Cocoa Powder – This is a unique cocoa powder made with specially prepared cocoa beans for a rich flavor, dark color, and fine texture with minimal clumping. Any other cocoa powder is suitable, too, as long as it's unsweetened.
Powdered Sugar – Did you know this ingredient actually contains cornstarch? This is what makes our 3 ingredient chocolate mousse similar to a homemade stabilized whipped cream! Do not substitute this with granule or liquid sweeteners! The consistency will be way off.
Why Is It Important to Sift Powdered Ingredients?
Chocolate mousse cups are smooth and silky. The last thing you want is a dry clump of sugar or cocoa!
Sifting powdered ingredients removes any and all outstanding lumps. Not only that, but it improves accuracy while measuring as those dense, packed-together clumps are broken down.
Next time you make a cake, sift all of the dry ingredients! This includes both baking powder and flour (we never skip this step when making this German apple cake!) and even moist brown sugar.
This is even good practice for boxed mixes! After all, those boxes have been sitting around at the store and in your pantry for who knows how long. So when you go to make our seasonal apple cobbler with cake mix, don't forget to sift that mix!

3 Ingredient Chocolate Mousse – Tips for Success
Chill the bowl for fast and fluffy chocolate mousse cups.

Just 20 or 30 minutes in the freezer will get your bowl nice and chilled. In fact, chill the mixer beaters while you're at it!

The colder the equipment, the faster the cream will firm up! Additionally, colder ingredients whip better, resulting in a pillowy, fluffy texture you won't achieve otherwise.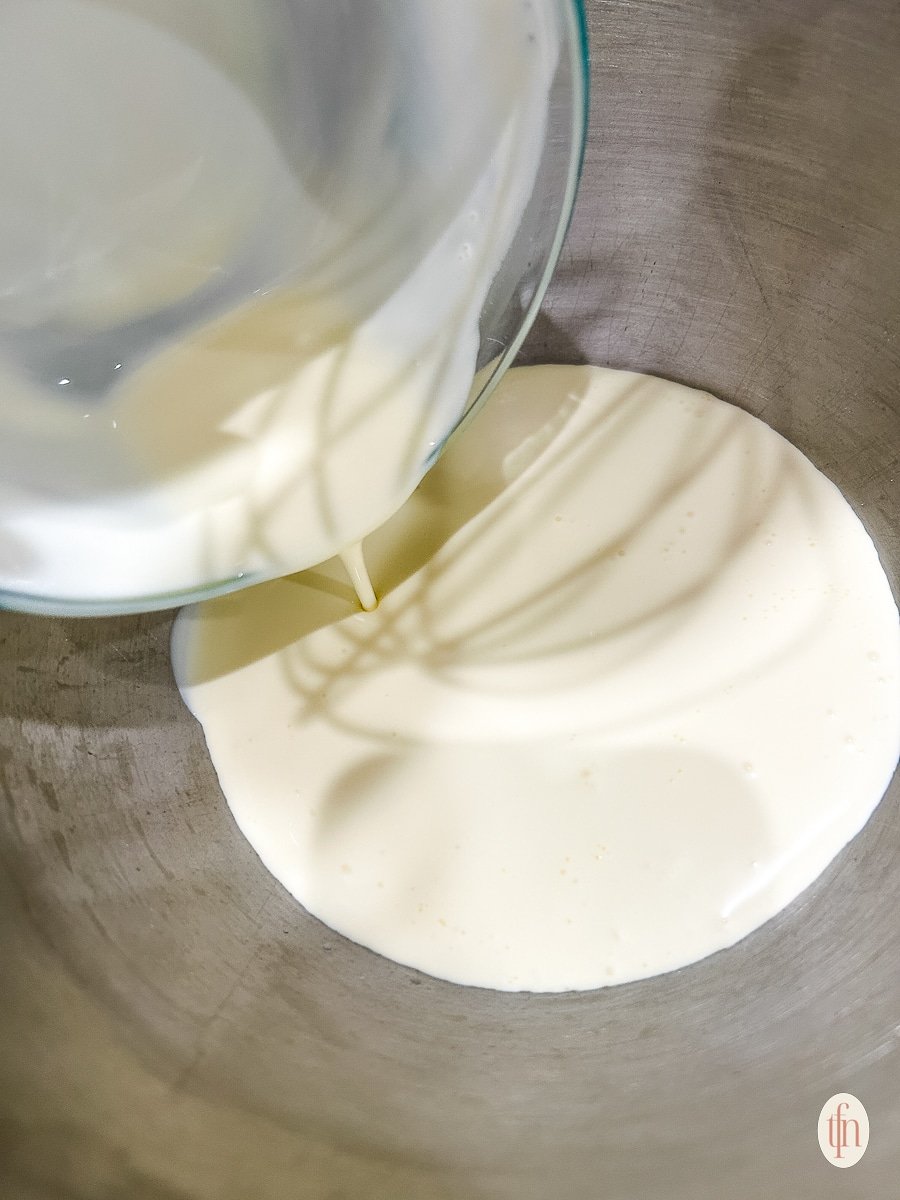 Stir the powder slightly before whipping.

Here's a tip to help you avoid an extremely common first-time mousse-making mistake!

Once you add the powdered ingredients to the bowl, stir into the cream just slightly so that the powder isn't sitting on the surface. This way, the powder won't go flying into the air once the mixer starts!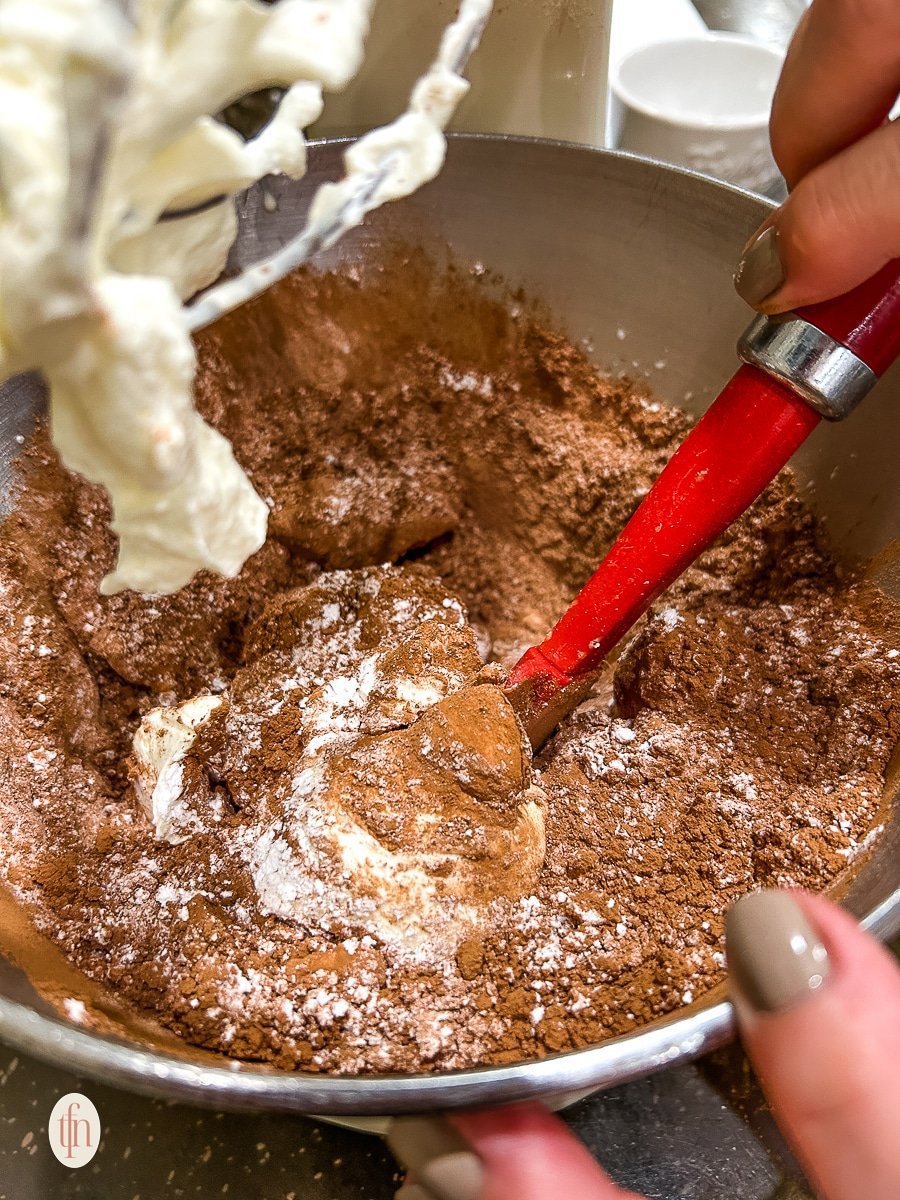 Whip gradually for a stiff, solid mousse.

Start whisking at a low speed. Once the ingredients are just combined, gradually increase the speed until you're whipping at high speed.

Continue for 2 or 3 minutes until stiff peaks form–being careful not to overwhip–and you're done!
Avoid large, hard garnishes.

Chocolate mousse cups are extremely lightweight and smooth — you don't want a hard, crunchy garnish to ruin the texture!

We love to top this recipe with chocolate shavings. We recommend chilling a candy bar (dark or semi-sweet are best) and chopping finely with a sharp knife or even running it over a grater for a lightweight topping.
Chocolate Mousse Cups Recipe FAQ
What's the difference between pudding and mousse?
If you look at them side by side, you'll see that pudding is thick, solid, and dense. It also has a richer flavor, heavier texture, and is cooked.

Mousses, on the other hand, do not involve cooking at all! They are aerated for a cloud-like consistency and have a less intense flavor.
Is chocolate mousse vegan?
This recipe includes heavy cream so it is not vegan. However, there are several plant-based heavy whipping cream alternatives if you need to make it so.
Why isn't my 3 ingredient chocolate mousse fluffy?
There are a couple of reasons why! If you use low-fat cream or milk, then the resulting mixture will be flat and runny. Additionally, if the cream is warm, then it will not whip properly.

It's also possible that it was over-whipped — and you absolutely can whip this for too long!
Serving Suggestions
The easiest way to transfer this recipe to serving cups is with a pastry bag fitted with a large star tip–this is also the most visually pleasing method for a uniform, smooth finish!
You could also simply spoon the mousse into the cups as well. Either way, be sure to keep refrigerated until you're ready to serve!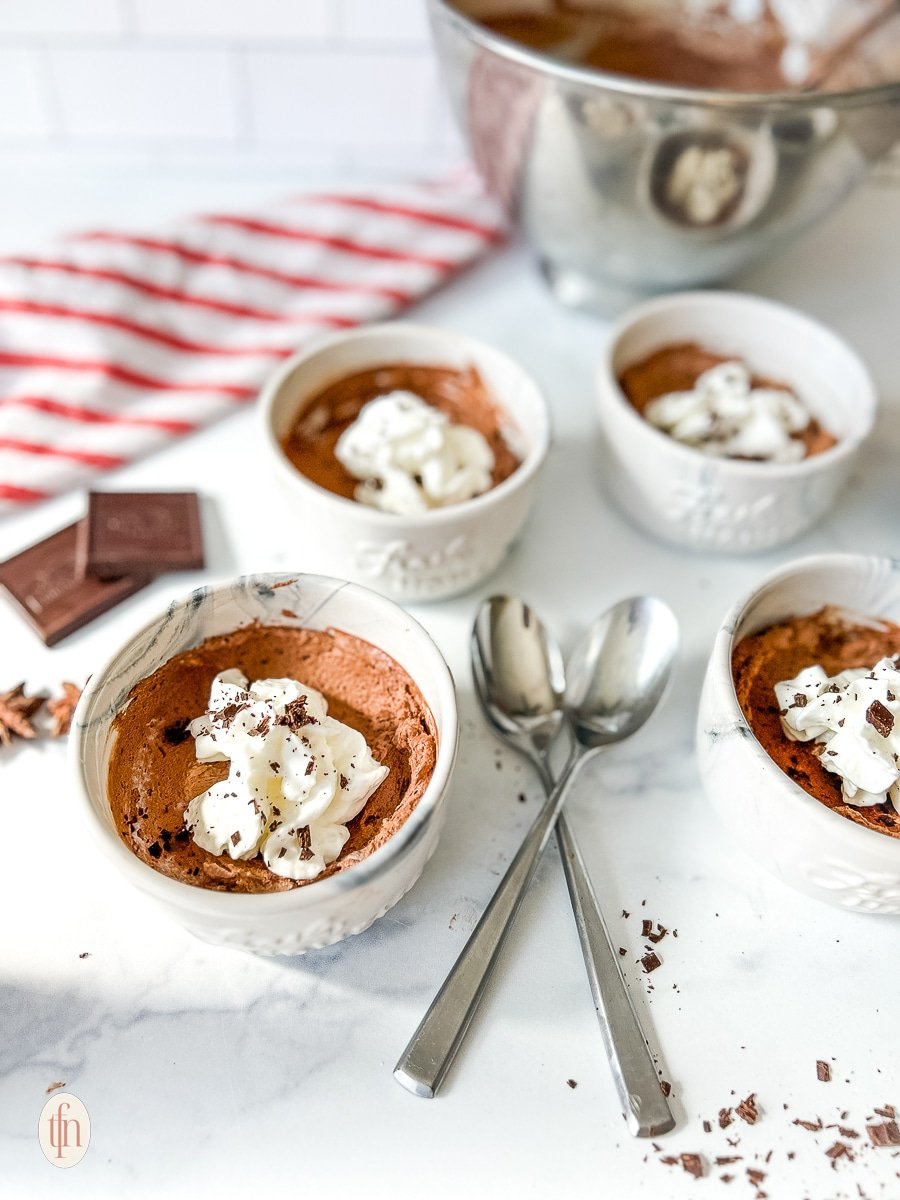 Recipe Variations
Spiked chocolate mousse cups.
Kahlua, Irish Cream (we recommend Baileys!), Amaretto, and rum all have fantastic flavors that meld with this cocoa cream dessert in the most whimsical way!
Coffee chocolate whipped cream.
Rather than adding liquid, replace some of the cocoa powder with instant coffee for a slightly bitter mocha mousse!
Berry good mousse options.
Strawberries, blueberries, blackberries, and raspberries are best for this. Mash the fruit in a bowl and stir them into the mousse at the end — not too soon, or else it'll weigh down the cream!
3 Ingredient Chocolate Mousse Cups
Chocolate Mousse Cups are clouds of slightly sweet, satisfying cocoa flavor. Try a spoonful of our 10 minute, 3 ingredient chocolate mousse!
Ingredients
1 ½ cups heavy whipping cream
6 tablespoons Dutch process cocoa powder *See Note 1
6 tablespoons powdered sugar *See Note 2
For Serving (Optional)
dark chocolate grated or finely chopped
whipped cream
Instructions
Place the beaters of an electric hand mixer and a medium-sized stainless steel mixing bowl in the freezer for 20 minutes before making the mousse. *This shortens the whipping time and results in fluffier whipped cream.

Pour the cream into the chilled bowl and attach beaters to the electric mixer. Whip the cream on high speed for about 2 minutes, until it is frothy and just beginning to thicken.

Sift the cocoa powder and powdered sugar into the bowl, then use a spoon to stir them in slightly. *This prevents the dry powders from flying out of the bowl when you turn on the mixer.

Whip the cream starting on low speed, gradually increasing to high speed, for another 2-3 minutes, or until stiff peaks form.

Add the chocolate mousse to serving cups piped through a pastry bag fitted with a large star tip. Or, if you prefer, you can spoon it in. Refrigerate until ready to serve.

Just before serving, garnish each chocolate mousse cup with chocolate shavings and a dollop of whipped cream.
Notes
Dutch-process cocoa powder is made from cocoa beans that are washed in an alkaline solution of potassium carbonate. This results in cocoa powder with a darker color, less clumping, and a richer chocolate flavor than natural cocoa powder.
Sift cocoa powder and powdered sugar to eliminate any clumps.
Our chocolate mousse recipe has no eggs, but it does include dairy products, so it is not a vegan mousse recipe.
Because powdered sugar has cornstarch in it, technically our 3 ingredient chocolate mousse could also be called stabilized chocolate whipped cream.
Nutrition
Calories: 367kcal | Carbohydrates: 19g | Protein: 4g | Fat: 33g | Saturated Fat: 21g | Polyunsaturated Fat: 1g | Monounsaturated Fat: 8g | Cholesterol: 101mg | Sodium: 26mg | Potassium: 199mg | Fiber: 3g | Sugar: 14g | Vitamin A: 1312IU | Vitamin C: 1mg | Calcium: 69mg | Iron: 1mg
PIN THIS POST!