If you click on a link and make a purchase, I may receive a small commission at no extra cost to you. See my disclosure policy here.
It's no secret that I've fallen in love with my Instant Pot. In the past year, I've made countless Instant Pot meals and converted several of my recipes for use in it. In honor of fall, I'm sharing my five favorite Instant Pot recipes with you.
Before I share my favorites with you, though, I should share what's so special about about the Instant Pot.
Why I love Pressure Cooking
The Instant Pot is a pressure cooker that uses steam pressure to cook food quickly. It's not actually "instant" as the name suggests. It takes time to create high heat and build pressure, then reduce it enough to open the pot when the cooking is over. It is definitely faster than conventional cooking.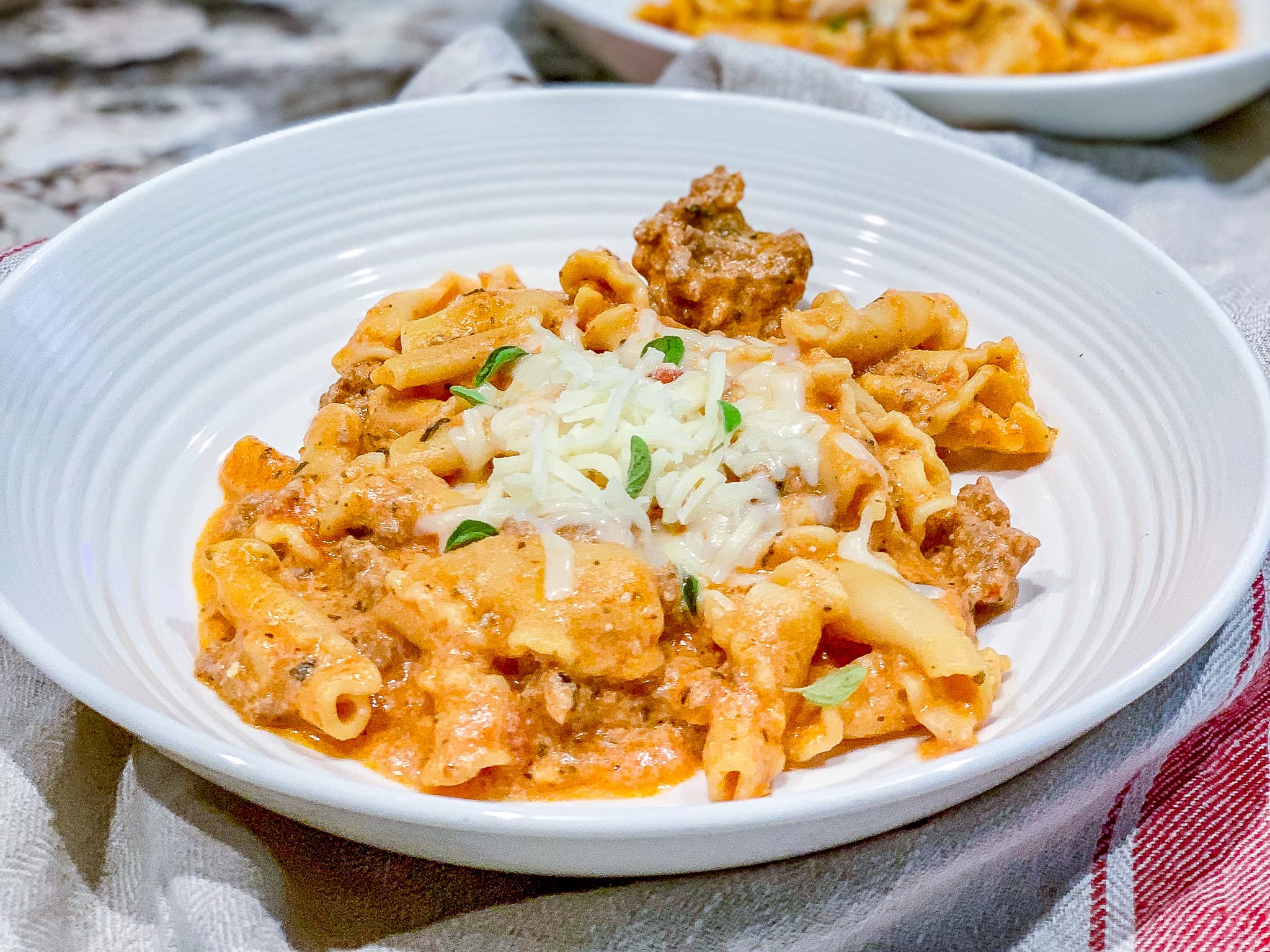 What I love most about using the pot is how flavorful the food is. During the pressure cooking, the liquid is literally infused into meats and vegetables. For example, if you add enchilada sauce or marinade to chicken breasts in the pressure cooker, the meat comes out stewed in the sauce. The flavoring is superior to any other way I've cooked.
Something else I like is that chicken breasts can go into the Instant Pot frozen and won't come out rubbery. In fact, they'll be tender and easy to shred. What a time saver!
Another bonus is when it comes to soft or hard boiled eggs, pressure cooking takes the prize. In minutes, you'll have perfectly boiled eggs with shells that peel off with ease. Ideal for egg salad and deviled eggs, right?
Lastly, you can saute vegetables and brown meats right inside the pot before using the pressure or slow cooking settings. This is especially helpful when making stews and soups. This one pot feature saves you time with meal prep and kitchen cleanup.
All this is why creating Instant Pot meals is probably my favorite cooking method. New to Instant Pot cooking? Click here to learn more about cooking with the Instant Pot.
My Top Five Instant Pot Meals & Recipes
5. Chicken Tortilla Soup
What an incredibly flavorful soup this is! It's adaptable and versatile, too. Just add whatever vegetable you have on hand. I've used both corn and zucchini in this soup.
Everything's made right in the Instant Pot. The chicken pieces go into the pot whole, are taken out to shred, then go right back in.
Top this soup with your favorite garnishes like tortilla chips, Cotija cheese, cilantro, and avocado.
https://thefeatherednester.com/instant-pot-chicken-tortilla-soup/
4. Chili Cheese Mac
Oh my creamy, this Chili Cheese Mac is so good! If you're looking for a healthier alternative to Macaroni & Cheese, then this recipe is it.
With puree and diced tomatoes, onions, and bell pepper, it delivers on vegetables. Thanks to the ground beef and cheese, though, it doesn't skimp on flavor.
Plus, this Chili Cheese Mac is quicker and easier to make than Macaroni & Cheese. Once you make this dish, you'll have a new family favorite. The recipe includes modifications for conventional stove top cooking, too.
https://thefeatherednester.com/instant-pot-chili-cheese-mac/
3. Chicken Posole
Posole is a traditional Mexican broth soup. One of the hallmarks of Posole is the addition of hominy. There are different versions based on the types of broth and meats added.
This Chicken Posole is a wonderful tasty soup. It's one of my husband's favorites. In fact, he always asks me to double the hominy.
By using the Instant Pot, the preparation is quicker than traditionally made Posole, It takes less than an hour from start to finish, rather than 1-2 hours on the stove or 4-6 hours in a slow cooker.
I've lightened up my Posole recipe by using chicken and fresh tomatillos. When serving, yes traditional toppings like radishes, cabbage, cilantro, and lime.
https://thefeatherednester.com/instant-pot-chicken-posole/
2. Beef Stew
When I'm looking for a warm, tasty meal on a cold winter's night, it's Beef Stew to the rescue! Who can resist those tender beef chunks and flavorful beef broth? You can see why it's one of my favorite Instant Pot meals.
In our home, we serve Beef Stew over mashed potatoes. Which means I leave the potatoes out of the recipe and add more vegetables in their place. It's an unconventional way to serve it, but if you're a potato lover like my husband, you'll love it.
Although I've made it a number of times in the Instant Pot, I have yet to put the recipe on the blog. It will make it on here one of these days. Until then, check out this Mel's Kitchen Cafe recipe for a delish Instant Pot Beef Stew.
https://www.melskitchencafe.com/perfect-instant-pot-beef-stew/
1. Easy Lasagna
Here it is, my number one favorite meal to make in the Instant Pot. It's Easy Lasagna for the win! You just can't beat this winning combination of pasta, creamy cheeses, robust marinara sauce, and Italian sausage.
Until now, making lasagna was a long, time-consuming process. Well, let me introduce you to my Easy Lasagna. It's quick, easy, and everything is made right in the Instant Pot.
Once you're done, you just put the cooking pot into the dishwasher. There's no messy casserole dish to clean. Plus, you haven't touched your stove or oven, so they're still clean, too!
Make this Easy Lasagna soon, and you'll be singing it's praises. It's one of the tastiest Instant Pot dishes I've made.
https://thefeatherednester.com/instant-pot-easy-lasagna/
---
I hope my Instant Pot Five Favorite recipes have inspired you to make something special this weekend!
Now we're truly ready for fall, right?
I don't know about you, but I'm still waiting for real fall weather. The kind where you need a sweater or jacket. We're still experiencing warm October days here in Central California. Our daytime temperatures are in the low to mid 80ºs, but nice and cool at night. Next week, though, it's supposed to drop into the 70ºs.
Here are some fall recipes I know you will love:
https://thefeatherednester.com/apple-crisp-everyones-fall-favorite/ https://thefeatherednester.com/chicken-pot-pie-fall-favorite/ https://thefeatherednester.com/fall-recipes-roundup-decor/
Until next time…