Cowboy salad is a delicious combination of flavors and textures that you'll enjoy by the forkful! Because it's a no-cook dish, making this Tex Mex salad recipe will keep your kitchen cool – a definite plus during the heat of summer. Whether you serve it as a summer side or potluck dinner entree, everyone will love this light and refreshing meal!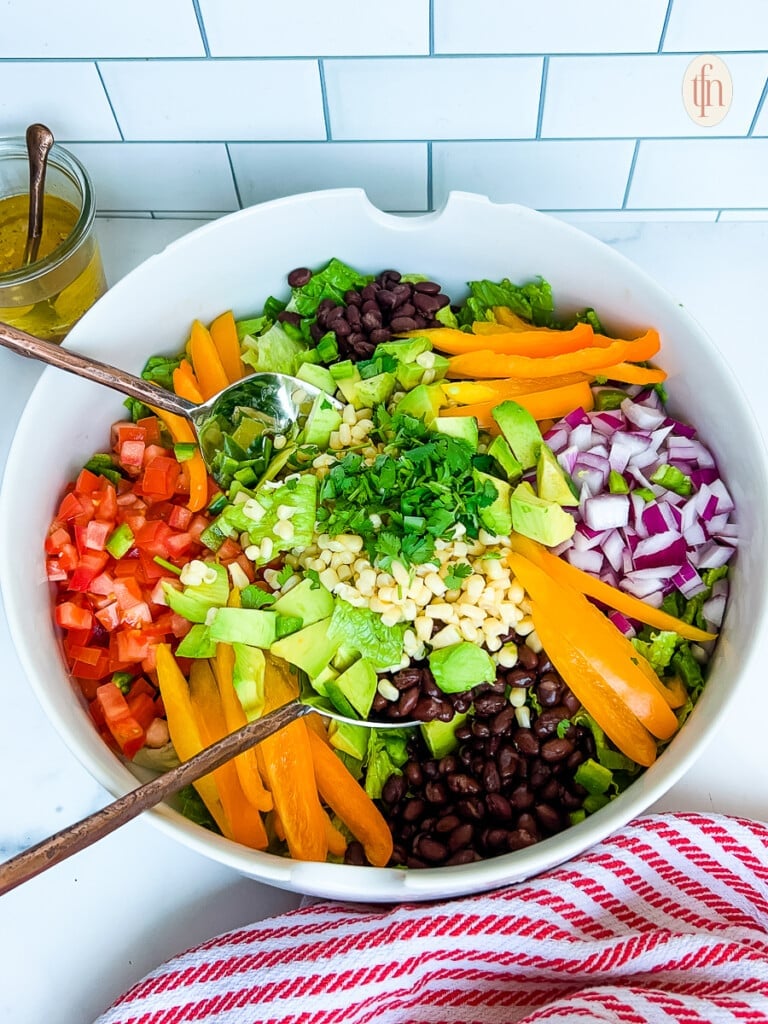 Why We Love Cowboy Salad
It's made with seasonal ingredients that are easy to get your hands on and easy to swap out with garden produce or discount alternatives.
Plenty of serving options.
While it makes the perfect summer salad or side dish, it's fantastic as a game day snack, too. Serve it with some chips and treat it like a dip – when do this with Tuscan bean salad, it's always a hit!
It's beyond simple to make.
Just throw everything together, and you're done. With just 15 minutes of prep, it's even quicker than a 30 minute meal!
Ingredient Notes and Substitutions
Almost everyone is familiar with the corn and black bean salad known as 'cowboy caviar' or 'Texas caviar'. This Tex Mex salad is our tasty take on that popular dish!
Romaine – hearty, crunchy greens are best for holding up to the heavy weight of the other ingredients in thisTex Mex salad. While it isn't as nutritious as Romaine lettuce, iceberg can be used in a pinch.
Tomatoes – We like to use cherry or grape tomatoes — small, flavorful varieties with meaty flesh and fewer seeds are the best.
TFN Pro Tip:
If you're unable to find any good quality tomatoes, substitute fresh ones with a can of diced tomatoes! Just be sure to drain the juice so it doesn't water down your Texas caviar salad.
Black Beans – Using canned beans is convenient and easy, but there's no reason why you can't cook them from scratch if you prefer. Our Instant Pot black beans recipe is a quick and easy way to do that.
White Corn – Canned or frozen, either will do, and yellow corn is absolutely fine to use.
Cilantro – This is our favorite herb for southwest and Mexican recipes. But flat leaf parsley is also delicious and suitable — you could even use both.
Bell Pepper – Use any color you like, or a mix of them.
Avocado – The amount of avocado you use is completely up to you! If you don't have it (or don't like it), go ahead and leave it out.
Jalapeno – Poblano and Anaheim peppers are great substitutes. To add a big kick of spicy heat, use habanero, serrano, or even a healthy helping of red pepper flakes.
Dressing – Use your favorite! Creamy dressings like southwest ranch and green goddess are fabulous, but lighter options like pesto vinaigrette are tasty on a cowboy salad, too!
Serving Tex Mex Salad as an Entree
There are a few ways you can make this cowboy salad recipe a bit heartier, while still keeping with the southwest theme.
For a vegan chopped salad, add some more healthy legumes – chickpeas (garbanzo beans) are a great choice. You can also double the avocado.
These are great ways to add protein, fiber, and healthy fats to your meal.
Add a meat-based protein. If you don't need a vegetarian dish, another good option is to add some meat.
For example, we bulk up our calico bean casserole by adding ground hamburger and bacon. Chicken would be tasty too!
Cowboy Salad Recipe Tips
Take time to properly drain and/or dry the wet ingredients.
The Tex Mex salad contains quite a few wet ingredients: canned corn, canned beans, juicy tomatoes, and lettuce. To prevent an overly wet dish, avoid using large tomatoes, and properly drain the liquid from the canned products.
Use caution when seeding chiles!
Unless you want a fiery bite, carefully remove the seeds and membranes from the peppers. Also, we recommend that you wear kitchen gloves while cutting chiles. This helps to prevent the capsaicin in hot peppers from irritating your skin.
Chill the ingredients beforehand.
So that you can serve the Tex Mex salad right away, start with everything cold and ready to use. Otherwise, after making the dish, pop it in the fridge for 15 to 30 minutes before serving.
Don't add the dressing until you're ready to serve.
Not much tastes worse than soggy lettuce, so wait until just before serving to toss it with dressing.
Storing and Serving Recommendations
Leftovers can be refrigerated for up to 3 days and served as-is. However, the sooner you enjoy it, the better, because the longer it sits in dressing, the more soggy your cowboy salad will become.
Renae Recommends These Tools for Salad Recipes
Tex Mex Cowboy Salad
For a delicious twist on Texas caviar, make a Cowboy Salad! With veggies, beans and corn, our Tex Mex salad recipe is an easy summer side.
Ingredients
6 cups chopped romaine lettuce (about 2 small heads of lettuce)
3 Roma tomatoes diced, or 15 oz canned diced tomatoes, drained
15 ounces canned black beans drained and rinsed well
11 ounces canned white corn drained and rinsed, or 1 1/2 cups fresh, frozen, or other canned corn
½ cup diced red onion (about 1 onion)
¼ cup chopped cilantro or flat leaf parsley
1 bell pepper any color (seeds and membrane removed), cut into slices
1 avocado pitted and chopped
1 jalapeno pepper (seeds and membrane removed), minced
1 tablespoon fresh lime juice 1 small lime
pesto vinaigrette or your favorite salad dressing
Instructions
Add all ingredients to a salad bowl in the order listed. Add lime juice and toss to combine. OR, spread the salad ingredients on a large serving platter, and squeeze lime juice over the top.

Just before serving, make pesto vinaigrette (or your favorite dressing). Pour over the Tex Mex salad, then toss well to combine.
Notes
To make salad ahead: Mix all salad ingredients together, except tomatoes. Keep the salad in one large or a few individual airtight containers in the fridge. Wait to add tomatoes and the salad dressing until ready to serve.
Nutrition
Serving: 1serving | Calories: 242kcal | Carbohydrates: 40g | Protein: 11g | Fat: 7g | Saturated Fat: 1g | Polyunsaturated Fat: 1g | Monounsaturated Fat: 4g | Sodium: 11mg | Potassium: 832mg | Fiber: 12g | Sugar: 6g | Vitamin A: 5284IU | Vitamin C: 43mg | Calcium: 49mg | Iron: 3mg
PIN THIS POST!