The Louis Vuitton key pouch is an affordable accessory, and the LV pouch doubles as a small wallet! Carry the keychain wallet from home to the gym, or on vacation to hold the essentials you need on the go. Get your own and you'll love how handy this small leather goods (SLGs) is!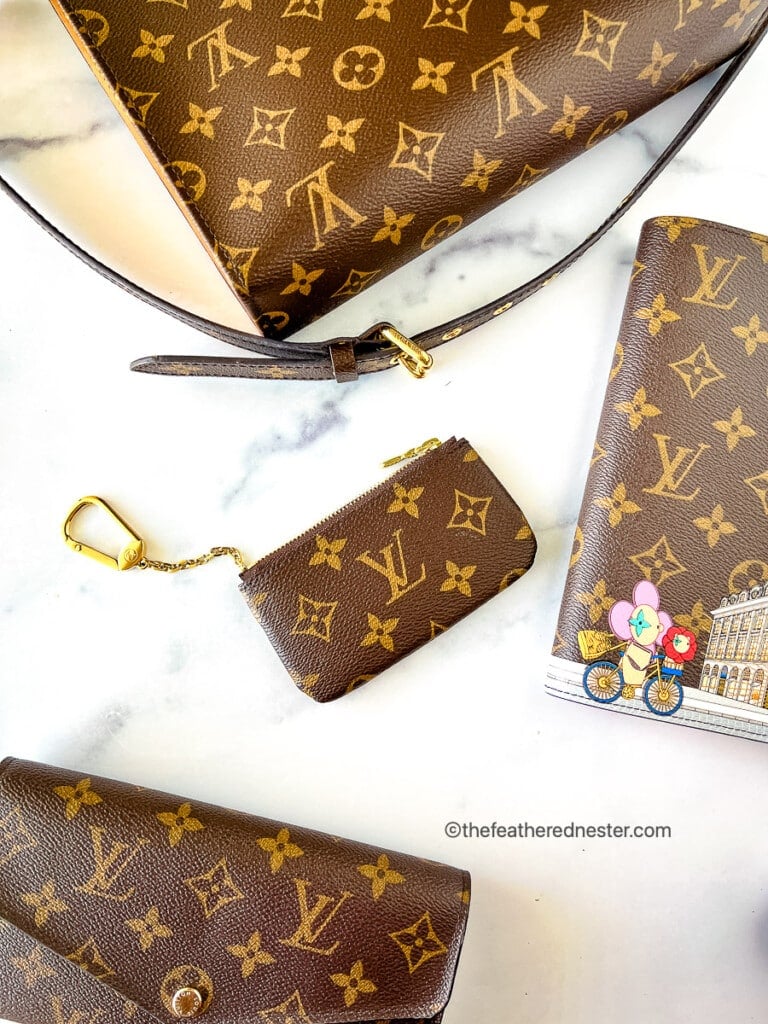 Why I love the Louis Vuitton key pouch
What I love about this pouch is how versatile it is! Most of the time it stays in my purse, holding my keys and car fob. It attaches securely to the D ring inside my handbag or on the outside for easy access.
On vacation, it works as a keychain wallet to hold folded bills, a drivers license, hotel card, and debit or credit cards. Fasten it securely to a beach bag with the attached clasp, or just slip it into your pocket.
Are you attending a concert or event with a "no bag" policy? No problem! Add your car fob, drivers license, and some bills or a credit card, and hook it on a belt loop.
Heading to the gym? Zip your AirPods or earbuds (including the case!) and ID in, then secure your keys and car fob to the outside ring.
You can see why this Louis Vuitton small leather good (called SLGs) goes by so many names – pochette clés, change holder, and keychain wallet. It's one of their most versatile accessories.
Features
Here's what you'll find in the current collection:
Full-length yellow metal zipper on top, with an LV monogrammed pull (or leather pull on the Empriente and Mahina).
A gold ring with a secured lever, attached to a metal chain that can use used inside or outside of the pouch.
Key or car fob holder – keys stay securely zipped inside, or fastened outside on the secure ring.
*Damier Graphite, Mahina, and some seasonal designs come with silver metal.
You'll find preowned LV key pouches from precious collections created in EPI leather, as well as seasonal editions. Previous versions had a snap flap with a zipper across the back, like a mini wallet.
Renae's Tip:
For a good bargain, look for EPI leather! In preowned Louis Vuitton accessories, these type of leather goods are always available at a huge discount compared to new prices!
How big is the LV key pouch?
The size depends on the design and when it was made. Here are the dimensions:
The Monogram and Damier Azur, Ebene, or Graphite clés versions are 4.7″ x 2.8″ according to LV's website. Other resellers, like Fashionphile, list them as 4.5″ or 4.7″ x 2.5″.
Older versions of the keychain wallet are slightly smaller, at 4.25″ x 2.25″.
The black Empreinte (imprinted or embossed leather) is 4.7″ x 2.8″.
Older versions in Empreinte leather come in black and marine rouge (navy blue with red trim), with a snap flap and zippered back. They measure 5″ x 3.5″.
Mahina leather is currently the largest size at 5.1″ by 3.5″. Mahina is perforated leather available in Magnolia (pink).
COST For New and Preowned LV Key Pouch
New Louis Vuitton key pouches range in price from $325 to $780 USD.
Used or pre-owned, you can find them from $195 to $1395 USD on reputable resale sites like Fashionphile.
Renae's Tip:
Even if you buy pre-owned designer goods from a trusted seller or company, be sure to get them authenticated! I've always been happy with Pro Authenticators (not affiliated).
How Does it Compare to Other Small Leather Goods?
How comparable is this key holder with other SLGs like the Mini-pochette, Neverfull pouch, Recto Verso card holder, and compact or mini wallet? Here's are similar SLGs in Monogram and their sizes and cost:
The mini-pochette is $745 new or pre-owned, in excellent condition. It is 5.5″ x 3.5″.
Neverfull pouches are widely available pre-owned, in like new condition for $550 to $625 USD.
See my full review of the Neverfull bag and pouch.
They are 7.5″ x 4.5″ in PM (small), or 9.5″ x 6″ in the MM (medium) and GM (large) sizes.
The Recto Verso card holder is the closest SLG to the LV key pouch and is $620 USD new or pre-owned, in excellent condition. The cardholder has a snap flap front, with credit card slots on the back. A zipper compartment to hold currency, and an attached ring that you can tuck inside.
There are several compact wallets, without ring holders, that are comparable to the clés.
My favorite is the Victorine wallet. It's stylish with a snap front flap to hold a house key, an interior zippered pouch that's large enough for a thin car fob, an area for currency bills, and slits for credit card slots. It's 4.7″ x 3.7″ and $575 USD new.
Common Questions and Answers
How do you open and close the key ring?
The ring uses a secure latching mechanism. Pull the flat bar (it has a tiny visible hinge) away from the LV stamp and lift. The first few times you do this it will be stiff, but it gets easier over time.
Can you connect the pouch to a handbag?
Most LV handbags have a D ring inside of them, or totes like the Neverfull have leash straps with a fastener to connect it with.
Why would you pay more for a pre-owned SLG than buy a new one from Louis Vuitton?
Here are a few reasons:
1. The desired SLG is discontinued in that color or style.
2. It's hard to find new, but readily available pre-owned.
3. What you want is sold as a set or a replacement item, like a handbag strap, a Neverfull pouch, or a wallet insert.

Pros and Cons
Pros
A versatile Louis Vuitton, the zipped pouch works as a keychain wallet to hold cash and cards, a change holder for coins, and AirPods (and their case) or earbuds

It's widely available in preowned, like new condition

It connects to handbag D rings, belt loops, or straps securely thanks to the secured ring
Store the ring inside the zippered pouch for a clean look. And, it's easy to add and remove things without breaking a fingernail!

Ideal for gift giving, it comes in a dust bag and box with ribbon and gift card

The interior is lined in coated canvas or leather, so it's easy to clean.
Cons
It's pricey for its size (though not for a Louis Vuitton product!)

Some Monogram and Damier pouches have visible interior stitching around the exterior perimeter (my 2023 one does not)

The metal zipper looks nice but the thicker zipper on the Monogram and Damier versions doesn't run as smoothly as the zippers on the leather versions.

Can only hold one car fob inside the zippered compartment, unless your fob is exceptionally small.

It is often out of stock on the LV website, which is another reason so many people buy preowned.
Renae's Tip:
Create a wish list on LV's website and save out of stock items there. That's what I do.
When I want something that's out of stock, but I know it's not discontinued, I check every evening. Usually within a week or so, it's available for purchase.
In conclusion
Next to my wallet, the key pouch is my favorite and most used designer SLG! For the cost, you cannot beat the versatility and it is one of Louis Vuitton's most affordable accessories.
I wish it were a tad bigger so it could hold both of my vehicle fobs. So, I have two of them – one for each of my fobs. Have more questions? Add them to the comments below and I'll be happy to answer!