This amazing roundup of over 50 sheet pan meals includes Whole30 meals, keto dinner recipes, and even one-pan breakfast ideas. With this number of easy sheet pan dinners and meal recipes, you are covered with easy dinners and meals for the next few months! Just scroll down to get the best easy meal ideas served up on a baking sheet.
These few ingredient recipes include pork, beef, shrimp, vegetarian, fish, and chicken sheet pan dinner recipes. These incredible one-pan dinner recipes are perfect for quick and easy weeknight meals when you're short on time but have a hungry family to feed.
If you've never had a one-sheet dinner, get excited! You'll first chop or prep your ingredients, then lay them in a single layer on a sheet pan, and then bake until it's cooked all the way through and golden brown.
Looking for the absolute best sheet pans? See my favorite, heavy-duty baking sheets that I use.
These colorful meals usually include lean protein like chicken or sausage and vegetables as a side dish. This is wonderful because you don't need to worry about what else you're going to make besides the main dish. Also, because all the ingredients are cooked on the same baking sheet, the flavors come together beautifully!
Pork Tenderloin
The first category of one-pan dinners is a super simple sheet pan pork tenderloin with colorful vegetables. This is so easy to make because pork is lean meat and roasts so well in the oven. That caramelized golden brown pork is so hard to resist!
SAUSAGE Sheet Pan Suppers
Sausage is one of the easiest meals to make on a sheet pan in the oven. They are the perfect size to cook well alongside vegetables and pack such a wonderful flavor. You'll definitely come back for these sheet pan meals again and again.
Chicken sheet pan meals
There are endless ways to roast chicken on a pan in the oven. It pairs so beautifully with almost any vegetable and turns tender and juicy with this cooking method.
Chicken goes well with so many different flavor profiles as well. There are Italian, Asian, Mexican, Indian, and so many other profiles in this section. You'll be hard-pressed to choose just one of these easy sheet pan chicken recipes to try!
More chicken sheet pan meals
Still looking for the perfectly easy sheet pan chicken dinner? We have more recipes below!
Whether you have boneless chicken thighs, chicken tenderloins, drumsticks, chicken fajita meat, or a whole chicken to roast – there's a recipe here for dinner tonight.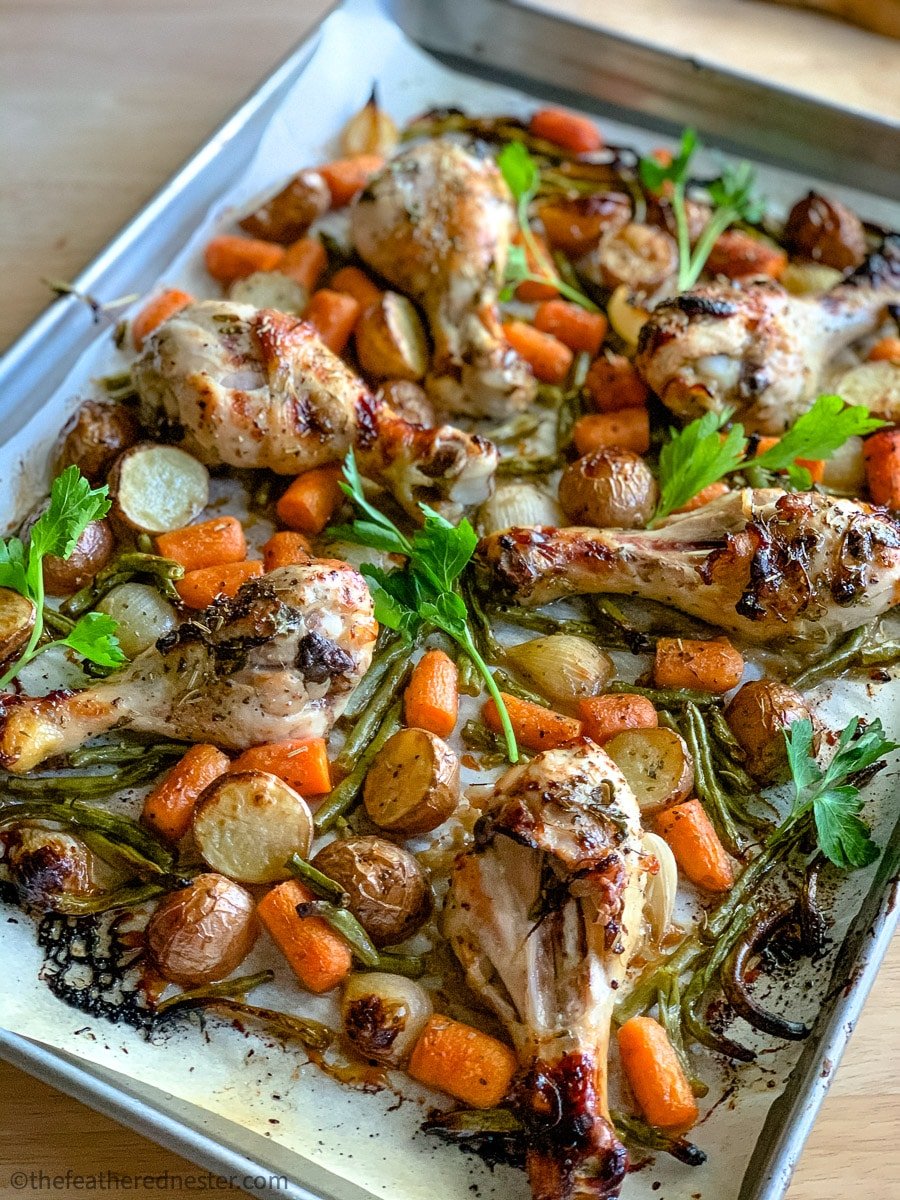 Get even more Sheet Pan Chicken Dinners: Here are 25+ Sheet Pan Chicken Recipes.
Beef
Whether you're making meatloaf or meatballs, roasting them on a pan in the oven is such an easy way to get dinner done for your family.
Shrimp/fish
Shrimp, salmon, mahi-mahi, tilapia, and other types of fish are perfect for cooking this way. Who doesn't love making fish tacos in the easiest way possible?!
Breakfast Sheet pan meals
Who thought you could make breakfast this simple?? One sheet meals are genius for busy mornings. These will be family favorites!
Vegetable sheet pan dinners
Whether it's Meatless Monday, your family is vegetarian, or you want to enjoy the wonderful in-season produce, this meal is healthy, filling, and delicious.
Frequently Asked Questions