This baked Camembert bread appetizer is the perfect savory snack to share with friends and family, or to serve for a holiday treat. We love how it looks as lovely as a Christmas wreath, with pomegranate seeds and springs of rosemary, and so will everyone else!
Looking for a festive, savory treat for your holiday party? Your solution is this bread appetizer, shaped like a Christmas wreath! This pull-apart dinner roll ring makes the perfect party food.
The best part is it's easy to make and only takes minutes to bake up in the oven.
Baked Camembert and Bread Wreath
Nothing says Christmas like this bread wreath made from frozen rolls. It's a crowd-pleasing appetizer that's perfect for entertaining and is sure to impress your guests.
It's served with baked camembert cheese, which is deliciously rich and creamy. The bread appetizer is sprinkled with fresh rosemary, making it extra flavorful and fragrant.
Love making recipes with bread dough? You'll love our Pesto Cheese Bread and Pumpkin Spice Twist.
Ingredients
Camembert cheese
Frozen dinner rolls
Melted butter
Rosemary sprigs
Pomegranate seeds
Salt flakes
Instructions
Make the bread wreath. Put the wheel of camembert in the center of a large, round flat baking sheet. I use a large pizza pan for this recipe.
Place the frozen dinner rolls around the camembert cheese in a single layer. Leave about 1″ of space between each roll and the cheese.
Then take the camembert out of its container, but leave the lid in place to be a spacer. Refrigerate until you are ready to bake it.
Let them rise. Cover the rolls with plastic wrap and a damp kitchen towel.
Let them rest in a warm place for at least 45 minutes to 1 hour. The rolls will become bigger, and they should be touching each other.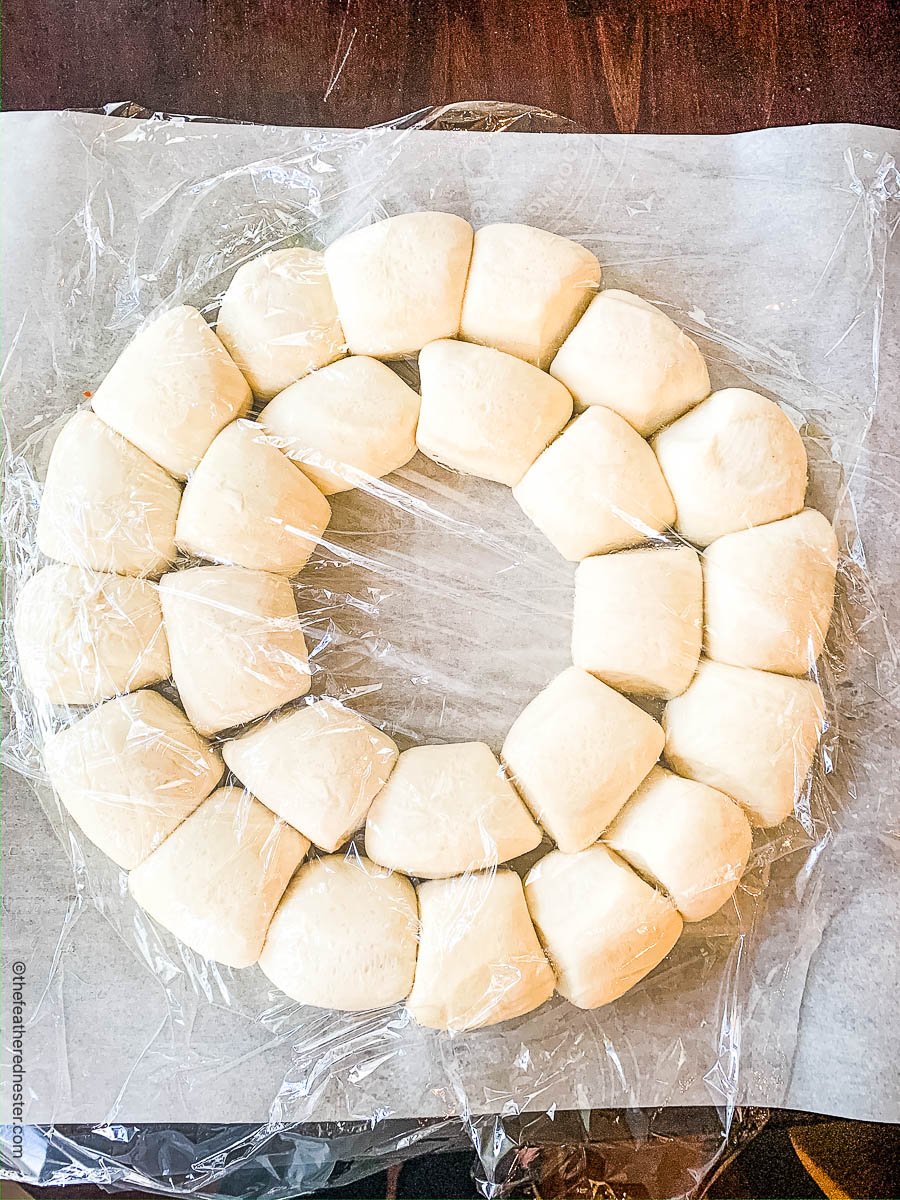 Bake the dinner rolls. Place the cheese ring in the middle of the rolls and bake for about 20 minutes or the roll wreath is golden.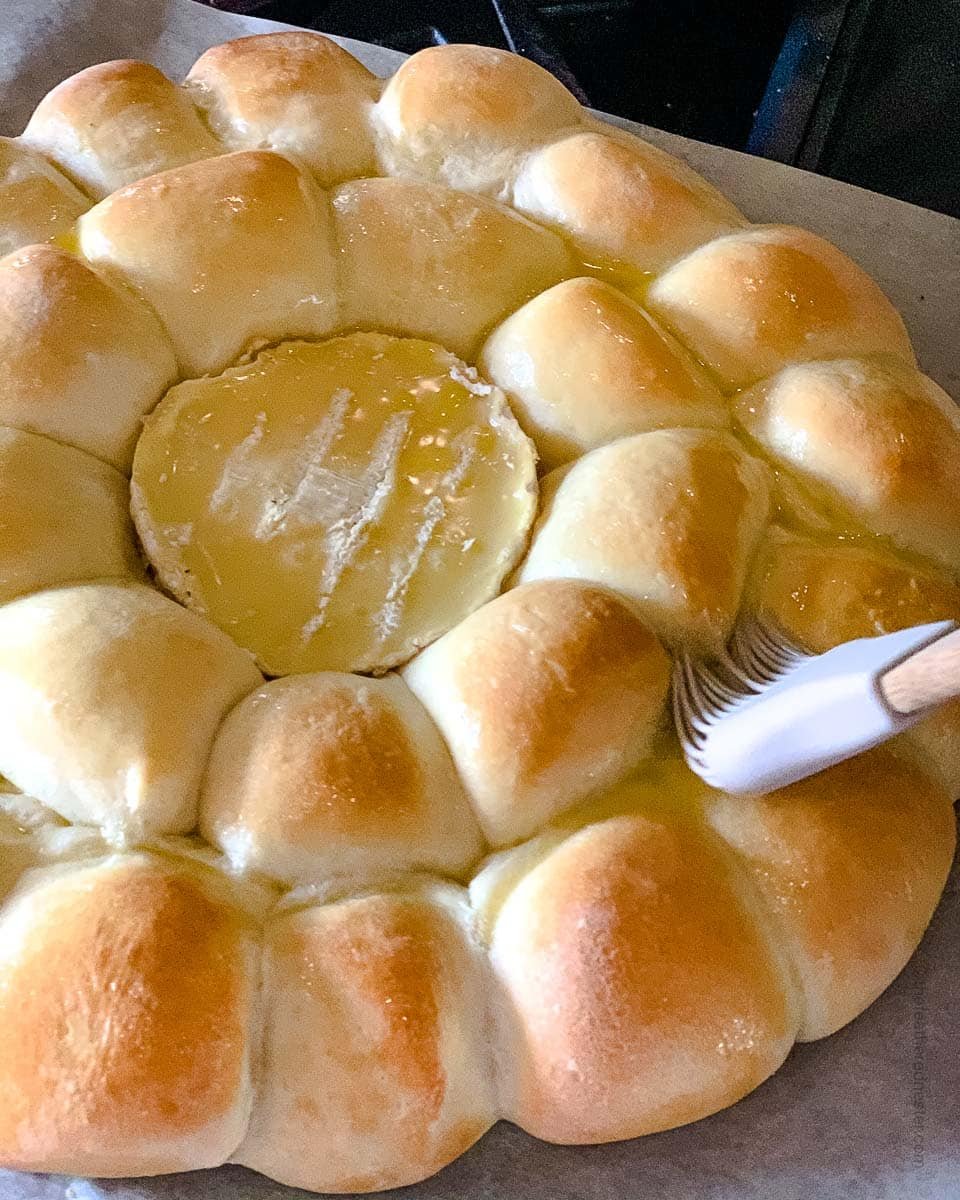 Ready to serve. Take the camembert cheese and bread ring out of the oven and brush with melted butter. After cooling for 5 minutes, sprinkle cheese with minced rosemary. Add pomegranate seeds, tiny springs of rosemary, and flake salt before serving.
Recipe Variations
If you want, you can add some chopped bacon to this recipe for a delicious savory twist.
Use different types of cheese in this recipe, such as brie or other wheel cheeses.
Add chopped dried fruit, such as apricots or figs, instead of pomegranate seeds for a festive touch.
How to Serve
This camembert bread ring is delicious on its own as an appetizer or side dish. Serve it with a salad and a glass of wine for the perfect appetizer or light meal.
It can also be served with a soup, like our acorn squash soup, cheeseburger soup, clam chowder, or lasagna soup.
Storage and Reheating Instructions
Store any leftovers in an airtight container in the fridge for up to 3 days. To reheat, simply place it on a baking sheet and reheat in a 350°F oven for about 10 minutes.
You can also freeze it for up to 2 months. Thaw in the fridge overnight and bake as directed.
Baked Camembert FAQ
Do you cover Camembert when baking?
Yes, you will need to cover the camembert when baking. This helps to prevent the cheese from drying out and keeps it nice and creamy.
Can you reheat the camembert cheese twice?
Yes, you can reheat the camembert cheese. Be sure to reheat it at a low temperature to keep it from drying out.
How long does camembert take to cook?
It only takes 20 minutes to cook this recipe.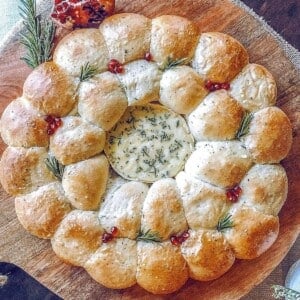 Baked Camembert Bread Appetizer
Looking for an easy, festive savory snack for the holidays? This baked camembert bread appetizer is easy to make using frozen dough!
Equipment
large pizza pan - or large round flat baking sheet

basting brush - or pastry brush
Ingredients
8 ounces Camembert cheese *see Note 1
24 ounces frozen dinner rolls
2-3 sprigs rosemary
2 tablespoons butter melted
2 teaspoons flake salt or more or less, as desired
¼ cup pomegranate seeds also known as pomegranate arils
Instructions
Place the wheel of camembert in the center of a large round flat baking sheet or pizza pan.

Place 1 row of frozen dinner rolls in a single layer around the camembert cheese, leaving 1 inch of space (or a finger's width) between each piece. Repeat, making a second ring of dough around the first.Remove the cheese wheel, leaving the lid as a spacer. Refrigerate the cheese until ready to bake.

Cover the rolls loosely with plastic wrap or a damp kitchen towel. Leave them in a warm spot for at least an hour to let them thaw and rise. After rising, the rolls should be about double in size and not quite touching each other. If necessary, allow additional rising time.

While the rolls are rising, remove rosemary leaves from one half of the sprigs and mince finely using a sharp chef's knife. Set minced rosemary aside. Break the remaining rosemary into tiny sprigs and set aside. Rinse the pomegranate seeds and let them air dry on a paper towel.

Preheat the oven to 375ºF.

When dough has doubled in size and is ready to bake, remove cheese from the refrigerator and place it back into the middle of the rolls.

Bake your appetizer in the preheated oven until tops of bread rolls are golden, about 20 minutes. Remove from the oven and brush tops with melted butter. Let everything cool on for 5 minutes.

Sprinkle the minced rosemary over the baked Camembert. Lightly sprinkle flake salt over the bread ring. Garnish with the pomegranate seeds and rosemary sprigs in the space between the two rows of rolls. Serve warm and enjoy.
Notes
The weight of 1 wheel of Camembert cheese varies by brand, but is roughly 8 ounces. It's okay if your wheel weighs a little more.
This recipe makes 24 rolls, enough for 2 rolls per serving, plus 1 tablespoon of baked cheese. If you want to allow for more per serving, you can bake additional wheels.
Nutrition
Serving: 2rolls | Calories: 231kcal | Carbohydrates: 27g | Protein: 9g | Fat: 10g | Saturated Fat: 5g | Polyunsaturated Fat: 1g | Monounsaturated Fat: 4g | Trans Fat: 0.1g | Cholesterol: 19mg | Sodium: 859mg | Potassium: 109mg | Fiber: 2g | Sugar: 1g | Vitamin A: 214IU | Vitamin C: 0.4mg | Calcium: 174mg | Iron: 2mg
PIN THIS POST!