I've been a little distracted with rearranging and redecorating this month, so my kitchen needs a little love. What better way to give it love than by creating some delicious meals? That's what I aim to do this week.
When it comes to meal planning, I generally turn to my favorite cookbooks. Right now, I am using these four cookbooks. I rotate them frequently.
I shared on Facebook and Instagram that I got a new cookbook, Love Welcome Serve, last week. So that will plan into what's cooking in my kitchen this week.
Prep Tips for Cooking Ease
For those of you interested in doing as much meal prep as possible the night before, I've listed easy "Night Before Tips" for my recipes. One tip is to cook your chicken breasts in batches and save or freeze them for later use in casseroles and soups. Another tips is to hit the freezer section and stock up on chopped onions, bell pepper and onion blend, and seasoning blend.
It doesn't matter what brand you use, these all can be found in the frozen section. The Seasoning Blend contains onions and celery. This week's meals are also low-carb friendly!
What's Cooking This Week
Beef Crockpot Stew
Creamy Chicken Enchiladas with Ranch Salad
Spaghetti Pie (with a Low-Carb option) with Green Salad
Chicken Dumplings
Recipes
Beef Crockpot Stew
Night Before Tip: If your crockpot has a removable crock, put the stew meat and broth in the crock, along with the seasonings (not the cornstarch) and place the lid on, upside down. Put your prepared vegetables in a ziplock bag and place them on top of the lid. In the morning, all you have to do is to add the bagged vegetables to the meat, put the crock your crockpot, and set the crockpot.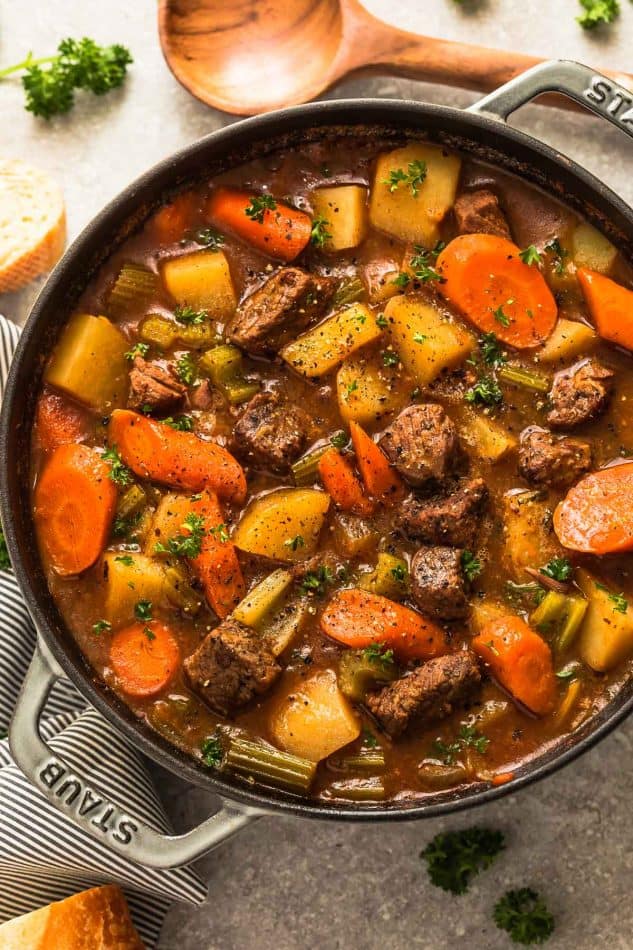 Ingredients:
1 1/2 pounds of stew meat, cut into 2″ chunks
2 carrots, thickly sliced
4 celery stalks, thickly sliced
4 cups of beef stock or bone broth (low sodium recommended)
1 onion, roughly chopped
1 tsp. each of onion powder, garlic powder, and black pepper
2 tsp of salt
pinch of cayenne pepper
2 Tbsp. of nutritional yeast (optional, but recommended)
2 Tbsp cornstarch (this equals 15 carbs total, but you can replace with a lower carb option if needed)
Instructions:
Add all the ingredients except peas and cornstarch into the crockpot. Cook on low for 7-8 hours.
About 30 minutes prior to serving, mix cornstarch and 1/2 cup of COLD water together. Mix until smooth. Add to crockpot and allow to thicken the liquid before serving.
Creamy Chicken Enchiladas with Tortilla Salad
Night Before Tip: Poach your chicken ahead of time. Consider making enough for the Chicken Dumplings, too. Using a skillet with a tight-fitting lid, add chicken breasts. Cover with water and several generous pinches of salt. Bring to a boil, put on the lid, turn down the heat to simmer and cook for 30 minutes. Let cool and dice or shred meat.
Ingredients:
8 Mission Carb Balance tortillas (highly recommended, they come in white and whole wheat)
2 cups cooked (about 2 big or 3 small breasts), shredded chicken
2 cups shredded Colby Jack cheese
3 Tbsp. butter
3 Tbsp. flour
1 3/4 chicken broth
3/4 cup sour cream
2 (4 oz) cans diced mild green chilies
Instructions:
Preheat oven to 350 degrees. Grease a 9×9 pan
Mix chicken, 1 cup cheese, and 1 can of chilies. Warm your tortillas slightly in the microwave, wrapped in paper towels for about 30 seconds.
Add about 1/3 cup on each tortilla, give or take. Roll it up, and place in pan.
In a sauce pan, on medium heat, melt butter, stir in flour and cook 1 minute. Add broth and whisk until smooth. Heat until thick and bubbly.
Turn down heat to low or simmer. Stir in sour cream and the second can of chilies. Do not bring to boil, you don't want curdled sour cream.
Pour the sauce over enchiladas and top with remaining cheese.
Bake 20 min, then broil for 3 min to brown the cheese.
I generally buy bagged salad for the convenience. I recommend adding tortilla chips and ranch salad for this entrée.
Spaghetti Pie with a Low-Carb option and Green Salad
Low-Carb option: use Konjac noodles (amazon link) like Trim Healthy Noodles (https://www.trimhealthymama.com), or Dreamfield's Angel Hair pasta (available in grocery stores). This recipe was inspired by Love Welcome Serve's Layered Spaghetti Pie, but has been modified to a lower-carb version.
This is a great brand to use to lower carbs. It doesn't have any added-sweetness, including sugar.
Ingredients:
1 Tbsp. Olive Oil
1 cup onion (I use frozen)
1 lb of lean ground beef
2 jars (23-24 oz) of Bertolli's Rustic Cut Pasta Sauce (or similar no-sugar added pasta sauce)
2 tsp. garlic powder
generous pinch of salt
pinch of ground black pepper
14 oz of Trim Healthy Noodles or Dreamfield's Angel Hair Pasta
2 cups of ricotta cheese (or sub with strained cottage cheese)
4 cups of mozarella cheese, divided
2 large eggs, beaten
2 tsp. dried oregano
Instructions:
Preheat oven to 350. If using dried pasta, cook pasta according to instructions. For Trim Healthy Noodles or Konjac, drain and rinse well, following instructions on bag.
Add olive oil to a large skillet and saute onions until they are translucent (about 3 minutes or so). Add ground beef and cook until no longer pink. Strain out fat. Add 2 jars of sauce, 1 tsp. garlic, salt, and pepper, and bring to a boil, then lower the heat to simmer. Add the
In a medium bowl, mix the ricotta cheese and 2 cups of mozzarella cheese, add eggs, 1 tsp. garlic, a pinch of salt and pepper, and the dried ricotta.
Grease a springboard pan and place on top of a large sheet pan. Spread 1/3 of the meat/pasta mixture, 1/2 of the ricotta/cheese mixture, then repeat with 1/2 of the remaining meat/pasta, all of the ricotta/cheese mix, then the rest of the meat/pasta.
Top with 2 cups of mozzarella cheese, over loosely with foil and base for 40 minutes.
Let stand, cooling in the springboard pan for 10 minutes before slicing and serving.
Pair with a green salad, I buy prepackaged salads for convenience.
Chicken Dumplings
Night Before Tip: Prepare the chicken the night before (see Creamy Chicken Enchiladas).
Low-Carb version: Skip the dumplings, or remove enough of the Chicken Stew for the low-carb serving before adding dumplings.
Chicken Stew
2 Tbsp. unsalted butter
1 cup diced carrots
1 cup diced celery
2 small or 1 large onion
1 ½ cup frozen peas
2 lbs. of chopped or diced chicken
8 cups of reduced sodium chicken stock
4 cups water
2 tsp. kosher salt
½ tsp. black pepper
Dumplings
2 cups all-purpose flour
⅓ cup cornmeal
1 Tbsp. baking powder
½ tsp baking soda
1 tsp kosher salt
2 Tbsp. minced fresh herbs (parsley, thyme, chives)
3 Tbsp. unsalted butter, melted and cooled slightly
1 cup buttermilk
*minced herbs for garnish
Stew Instructions:
Using an 8 quart or larger heavy-bottomed stock pot or Dutch oven, add butter and vegetables and sauté for 5-7 minutes.
Add chicken, stock, and water and bring to a boil. While chicken is cooking, prepare the dumplings.
Dumplings Instructions:
In a medium bowl whisk together the flour, cornmeal, baking powder, baking soda, salt and herbs.
Stir in the butter and the buttermilk, until just combined, don't over-mix.
Scoop heaping tablespoons of the dumpling mixture and place on top of the stew, leaving a little space between the dumplings (they will expand). You'll get about 24 dumplings.
Cover and cook over low heat for about 15 mins. The dumplings cook in the steam, so don't lift the lid. Stir the dumplings, replace lid, and cook for another 15 minutes.
Enjoy your week!
Don't forget to subscribe to my blog (at the right) so you know when I've added a new blog post. Your email address won't be used for any other purpose.
If you like seeing more menu or decor ideas, follow me on Instagram or Facebook. I post on there daily, and include videos of prepping my meals.
**I do not receive any compensation for anything in my blog. Any links used are not affiliate links, just my suggestions**