If you click on a link and make a purchase, I may receive a small commission at no extra cost to you. See my disclosure policy here.
The beauty of this homemade chicken pot recipe is that you can make it quickly using rotisserie chicken, frozen vegetables, and prepared pie crust. Or prepare your own chicken in the Instant Pot or on the stove in minutes. You'll love the mouthful of tender chicken and savory vegetables covered with a rich, creamy sauce, and wrapped in flakey pie crust from this chicken casserole.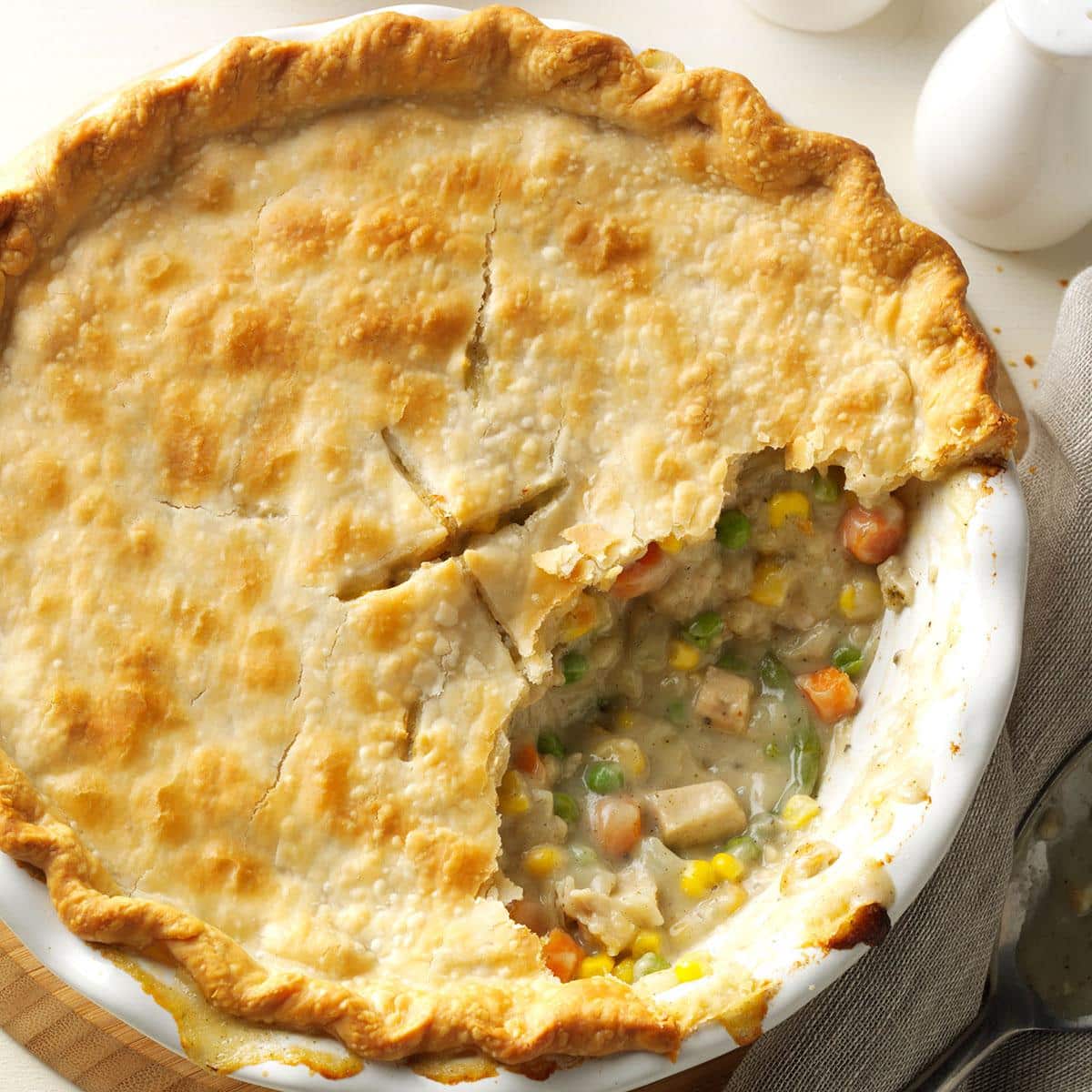 I decided to use the Instant Pot to poach the chicken, because I'm making it for two meals. The pot pie today and for chicken enchiladas later in the week. It feels so good to work ahead. I'll keep the extra chicken in the fridge until I make my enchiladas. What a time saver!
If you use the Instant Pot to poach your chicken, this is the process: place the wire trivet in the bottom of the Instant Pot. Add your chicken on top of it, and pour over 1 cup of water (or chicken broth, for more flavor).
Use high pressure for 14 minutes if frozen, or 11 minutes for non-frozen chicken. After the beeping indicator, let the pressure release naturally for 10 minutes, then do the quick release. Let the chicken cool a little before shredding.
Here are some suggestions to shorten the prep for Chicken Pot Pie: buy a rotisserie chicken, use frozen mixed vegetables, and prepared pie crust.
No matter how it's made, your pot pie will be delicious. And, if you are sharing this meal with others, they'll smell this meal baking all throughout the house.
Homemade Chicken Pot Pie Recipe
Frequently Asked Questions
How do you thicken pot pie filling?
How do you thicken chicken potpie filling? The process of adding the milk and broth to the floured onions should create a thick mixture, but if it still seems runny, use a bit of cornstarch to thicken it further. Stir 1 to 2 teaspoons of cornstarch into cold water and gradually add to your mixture to thicken.
How do you know when chicken pot pie is done?
Chicken pot pie should generally be baked, uncovered, in the center of a 350 degree oven for 30 – 40 minutes. The internal temperature should be bubbly, reaching 160 degrees, and the top should be golden brown.
How do I make sure the bottom of my pie is done?
Always set your pie pan on a larger baking sheet, preferably lined with parchment. The metal baking sheet will help conduct heat to the pie's bottom quickly; and parchment will catch the inevitable spills, making cleanup super-easy.
Chicken Pot Pie
I use frozen mixed vegetables (for soup) in this recipe. If you don't have heavy cream on hand, use 3/4 cup of milk and increase the flour to 1/2 cup. You can also use 3-4 cups of pre-cooked chicken instead of poaching your own.
Ingredients
2

large chicken breasts

salt

3

Tbsp

butter, divided

1

cup

chicken stock

1

cup

heavy cream

32

oz package

mixed vegetables (carrots, potatoes, peas, celery, green beans)

1

medium

onion (or 1 cup frozen), diced

2

cloves

garlic, minced

1/4

cup

flour

1

Tbsp

fresh thyme (optional) or 1 tsp dried

1

tsp

sage

1

tsp

freshly ground pepper

1

pie crust: frozen, prepared, or homemade
Instructions
To poach the chicken breasts, lay them in a single layer in a large pan. Add enough water to totally cover them. Season the water with a large pinch of salt and fresh herbs, if you have them. Bring the water to a boil, reduce heat, and simmer on low heat for 30 minutes. Then remove the breasts from the water to a carving board or plate and shred with two forks.


Preheat oven to 400 degrees. In a small saucepan, melt 1 Tbsp of butter, and warm the cream and chicken broth/stock. Do not boil, just a very low simmer.

In a large skillet, heat olive oil, then add the vegetables and saute them for about 5 minutes, until softened. Add the garlic and stir until it's fragrant. Shake the flour over the vegetables, stirring to mix it in. Turn heat to low and add the cream and shredded chicken. Season with salt and pepper.

Add the mixture to a casserole dish at least 9″ square and 3″ deep. Place the pie crust on top, and add slits to allow the steam to escape while cooking. Crimp the edges of the crust. Melt the last 2 Tbsp of butter and brush on top of the crust. Bake for 35-40 minutes, until golden brown and the mixture is bubbling in the middle.
Nutrition
Serving:
1
serving
|
Calories:
1394
kcal
|
Carbohydrates:
226
g
|
Protein:
63
g
|
Fat:
40
g
|
Saturated Fat:
18
g
|
Cholesterol:
95
mg
|
Sodium:
975
mg
|
Potassium:
3420
mg
|
Fiber:
62
g
|
Sugar:
1
g
|
Vitamin A:
77704
IU
|
Vitamin C:
159
mg
|
Calcium:
424
mg
|
Iron:
16
mg
This is such a wonderful meal to make. Certainly, it's one of the best fall comfort foods I can think of!
If you make this, or one of my other recipes, be sure to tag me on social media with the hashtag #thefeatherednester so I can see how it turned out. I'd love to share it in my stories, too. Here are more fall favorites: