I love purses! I must have been about 10 when I got my first one. I have a photo I'll share of me in the summer of 1976. That's me holding a purse! It was a few months before I turned 11. My mom made that purse for me out of upholstery scraps.
Maybe that was the beginning of my love of purses?
My Evolution of Purses
Over the years, I've owned different designer purses and handbags. I had Dooney & Bourke purses in the early 2000s, then Coach became the rage. I remember how excited I was when I got my first Coach purse. It was about $300, which I considered a lot to spend on a purse in 2006.
It is made of monogram fabric with leather trim and suede flowers. I loved that purse! For a few years, it was my spring and summer bag.
Then I got another really nice Coach purse for my birthday in 2007. It's one of the best-made purses I've ever owned, and it's fairly heavy for a purse. The lining is silky, with a Tattersall design, and the exterior is cloth monogram and leather.
After I got this bag, I alternated it with my first Coach purse. One for the spring and summer and the new for fall and winter. I haven't used either of those purses for many years, but I can't bear to get rid of them.
Over the years, I moved on from Coach to Michael Kors, then to Tory Burch.
My First Louis Vuitton
In 2014, my husband got me my first Louis Vuitton handbag for my birthday in Maui when we were on vacation. The Portobello in Damier Ebene is my favorite style of bag, the hobo bag.
I used the heck out of that purse for the next two years. I'm a tad disappointed with the quality of my Portobello. The leather shoulder handle shows a lot of wear, especially on the edges.
After I joined the PurseForum, I read about cracking along the sides of the canvas near the zipper. When I looked at mine closely, I had cracks, too.
Louis Vuitton has a great warranty on their bags and I could have returned it for a credit towards a new bag (since it's been discontinued). I chose not to because this bag is sentimental to me.
My sister had a problem with her two-year-old Artsy bag, and they exchanged it for a brand-new one right in the store.
The Neverfull
In 2017, I bought the Louis Vuitton Neverfull (linked) before we went on our Caribbean cruise. I planned to use it as a carry-on.
I live almost 3 hours from the closest LV store, so I ordered it on their website. It was really easy to navigate and purchase.
Here is a picture of how it arrived:
And here is how it looked out of the box: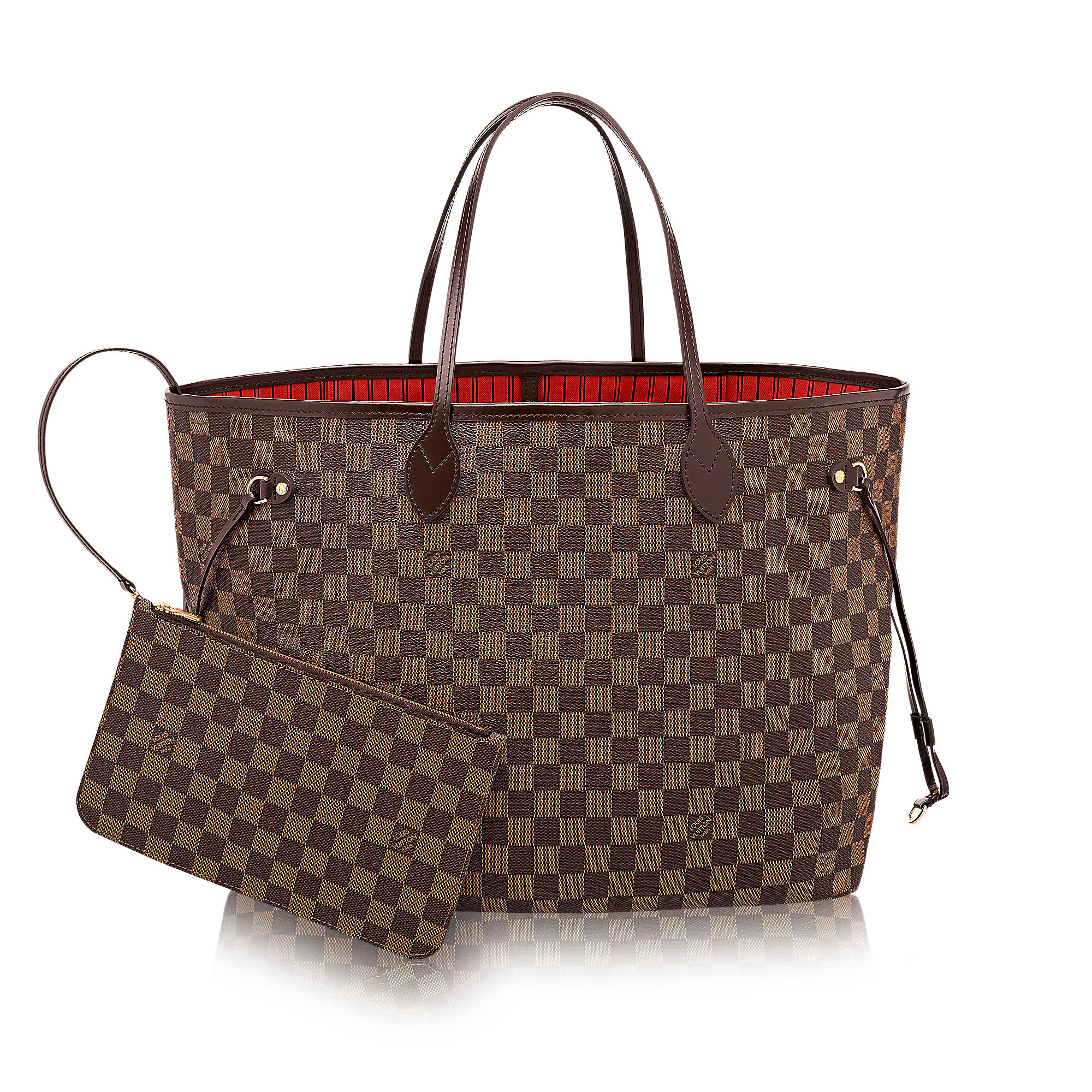 It was hard to choose between the GM and the MM, the Damier Ebene, and the Monogram. Ultimately, I chose the GM in Damier Ebene because I wanted a big travel bag, and the Damier Ebene leather trim is treated.
If you are curious about the Neverfull or have some questions about which size to buy or want to compare them, check out my Neverfull post.
The GM size worked well as a carry-on. But over the years, I found it was too large for everyday use and I sold it.
The Turenne in MM
In 2018, I purchased the MM Turenne "preloved." The Turenne is a really versatile bag, it can be handheld, a shoulder bag, or worn cross-body.
It was my first bag in Monogram. I tend to be a real matchy-match gal, so I was worried about how my Damier Ebene SLGs (small leather goods or accessories) would look with it.
But, they look great together, as you can see:
This bag is really roomy. Here's what I keep inside of it:
speedy Bandouliere 35
Around 2019, I got the Speedy Bandouliere 35 in Damier Ebene. It comes with a strap that works as a shoulder strap and an extension that makes it into a cross-body.
I can see myself using this purse a lot this in the fall and winter. I'm always a little worried about getting the vachetta trim on the Turenne wet or stained, so I doubt I will use it as much after this summer.
On my last trip out of town, I used the Speedy as my handbag and the Neverfull as my weekend bag. They looked great together.
Do you have certain styles of handbags you love? Personally, I prefer those that lay flatter against my side. How about designers? Share your favorites below.
Are you a Gucci fan? Check out this Guicci reveal!
Love designer shoes? I share them in this designer shoe post.