This post may contain affiliate links. If you click on a link and make a purchase, I may receive a small commission at no extra cost to you.
This week, I have been hard at work cooking in my kitchen. So, I have some new recipes share with you. Check out my Macaroni & Cheese, Chicken Chile Verde, Pork Tenderloin, and Black Bean Soup recipes. I see an amazing week ahead with some delicious meals!
Cooking is my passion and I love to share my recipes with you. So, here's what I'm serving up this week.
New Recipes to Share
Some recipes, like Macaroni and Cheese, I've been making for years. Others, like Salsa Verde Chicken are newer to me. The main thing these recipes have in common is that they are all delicious, but easy to make.
If you have an issue with chicken overcooking in the slow cooker, use large, frozen half-breasts in your recipes instead of thinner breast fillets. If your mornings are hectic, place all the ingredients in the slow cooker crock the night before so that all you have to do it pop it in the slow cooker and set the timer.
So, What's Cooking?
Macaroni and Cheese
Macaroni and Cheese is one of my favorite meals to make. My husband has yet to meet a cheesy sauce he doesn't like. To change things up, sometimes I add diced ham or sausage to this recipe.
For a smoked version of Macaroni & Cheese, it's here: https://thefeatherednester.com/smoked-macaroni-cheese/
When reheating the leftovers in the microwave, either use the reheat function or 30-second cycles. If you reheat it too quickly, the oil in the sauce separates leaving you with an oily sauce. Low and slow is how you want to reheat this.
Macaroni and Cheese
This Macaroni and Cheese is simply crazy good! It's rich and creamy with the perfect blend of cheesiness.
Equipment
stock pot

large sauce pan

Casserole dish
Materials
6

Tbsp

butter, unsalted

1/2

cup

flour

5 ½

cups

milk (whole milk or 2% recommended)

2 ½

tsp

salt (divided)

1/2

tsp

freshly ground pepper

1/2

tsp

ground nutmeg

12-16

oz

pasta

12 oz

(3 cups)

cheddar cheese, grated

I prefer Coastal Cheddar or Extra Sharp (see notes)

4 oz

(1 cup)

gruyere cheese, grated

if you don't have gruyere, substitute more cheddar
Instructions
Using a large pot, start 4 quarts of water boiling for the pasta. Spray a large casserole dish (i.e. 13"x9" or 10"x10" deep dish square) with cooking spray and set aside. Preheat oven to 350 degrees.

In a large sauce pan (at least 3 quarts), melt butter until bubbly. Add flour, stirring with a whisk for 2-3 minutes, until it has a thick pasty consistency.

Slowly add milk, 1 cup at a time, stirring well in between cups. Next, add nutmeg, salt, and pepper. Cook on low heat until the sauce has thickened (about 5-10 minutes). 

Once the water is boiling, add pasta and 1 tsp. of salt to water. Cook the pasta for 1-2 minutes less than listed on the box/package to avoid mushy pasta. It will continue to cook during baking.  

Stir in 2 cups of the cheddar and the gruyere cheese to the sauce, allowing cheeses to melt. Continue stirring until they are completely melted and the sauce is thickened. 

When the pasta is ready, drain the pasta. Shake the colander well to remove any leftover water, as it will thin the cheese sauce. Add drained pasta to back to the pot it was cooked in. Pour the cheese sauce over it and stir, then add to the casserole dish. Sprinkle the last cup of grated cheese on top (I usually add a little more cheese). 

Bake at 350 degrees for 25-30 minutes, or until golden and bubbly on top. 
Nutrition
Serving:
1
g
|
Calories:
352
kcal
|
Carbohydrates:
46
g
|
Protein:
12
g
|
Fat:
13
g
|
Saturated Fat:
8
g
|
Cholesterol:
38
mg
|
Sodium:
892
mg
|
Potassium:
330
mg
|
Fiber:
2
g
|
Sugar:
9
g
|
Vitamin A:
443
IU
|
Vitamin C:
1
mg
|
Calcium:
222
mg
|
Iron:
1
mg
Chicken Chile Verde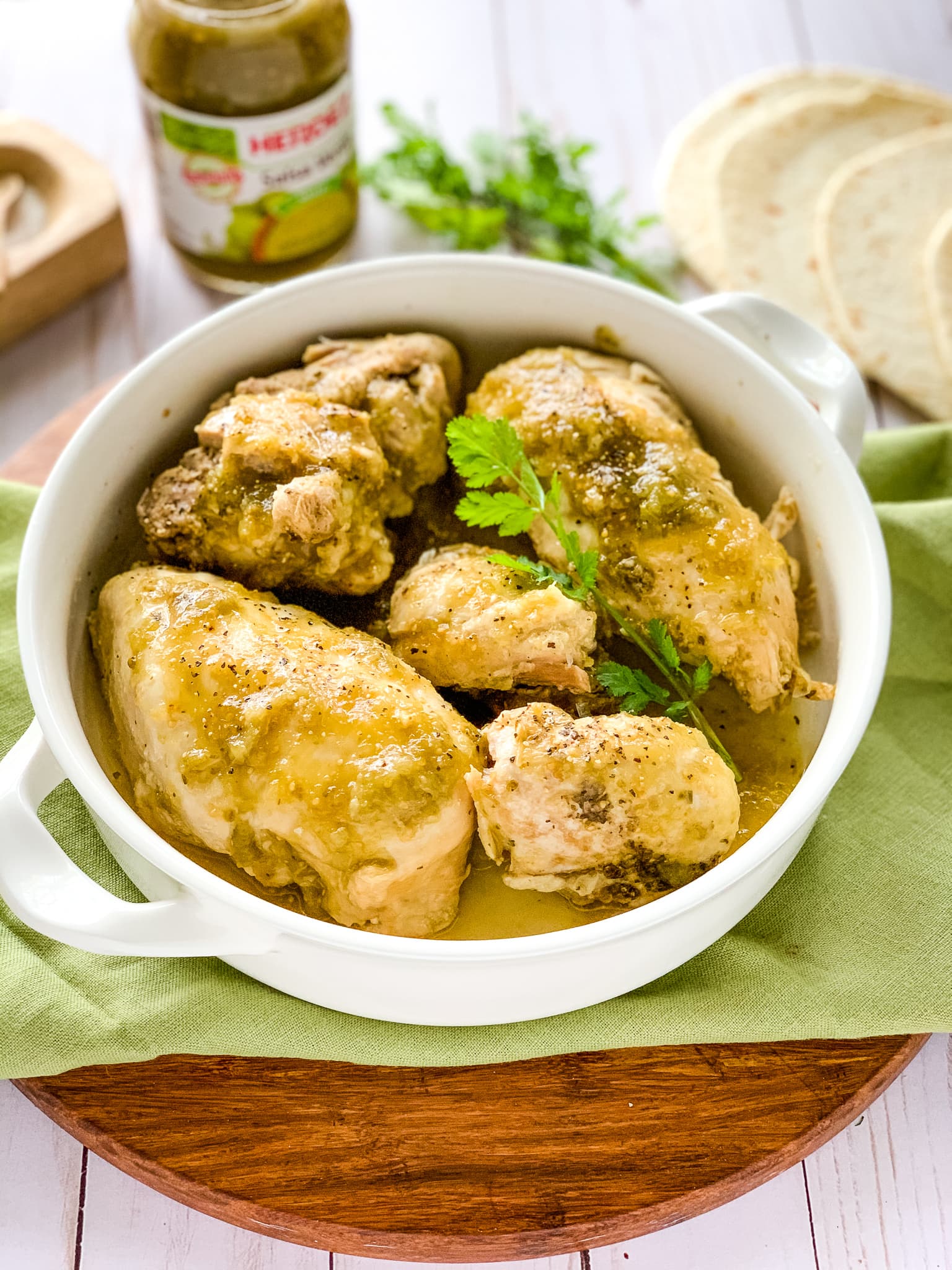 If you have a smaller family, you'll get two meals out of this recipe. Or you can double it and have a make once, eat twice meal. This Chicken Chile Verde makes great tacos and later you can make Chicken Enchiladas with it.
Chicken Chile Verde (Instant Pot or Slow Cooker Recipe)
This Chicken Chile Verde is a cook once, eat again meal. Make it early in the week and you can use the chicken to create other meals, such as Chicken Enchiladas or Chicken Cobb, later that week. 
Equipment
Pressure Cooker OR

Slow Cooker
Materials
1

pound

boneless chicken breasts

1

pound

boneless chicken thighs

1

jar (12 ounce)

Salsa Verde (I like Hatch Valley brand)

1

tsp

ground cumin

1

tsp

dried oregano

salt and pepper
Instructions
Add chicken to slow cooker, and add the other ingredients on top. Cook in slow cooker on low setting for 5-6 hours. Shred chicken and serve over rice or with tortillas.

For Instant Pot, add all ingredients to the Instant Pot. Cook on high pressure for 12 minutes, then allow pressure to naturally release for at least 10 more minutes before performing a quick release. Shred chicken and serve over rice or with tortilas.
Nutrition
Serving:
4
ounces
|
Calories:
223
kcal
|
Carbohydrates:
1
g
|
Protein:
21
g
|
Fat:
15
g
|
Saturated Fat:
4
g
|
Cholesterol:
92
mg
|
Sodium:
81
mg
|
Potassium:
245
mg
|
Fiber:
1
g
|
Sugar:
1
g
|
Vitamin A:
91
IU
|
Calcium:
17
mg
|
Iron:
1
mg
Black Bean Soup
When I'm pressed for time, I double this recipe and use the leftovers for lunch during the week. My favorite toppings are crushed tortilla chips and sour cream.
If you like your black bean soup with a real kick, use the original version of Rotel. If you'll be serving kids, or those who prefer more mild food, be sure to get the mild version of Rotel. It is definitely spicy with the original!
Black Bean Soup
This is a really versatile recipe. You can easily spice it up by using original Rotel instead of the mild version. It can be adapted to make it vegan (leave out the bacon and use vegetable broth) friendly. I like my soup a little creamy so I use the blender to mix the last can of beans with broth until creamy.
Materials
2

slices

bacon, cut up into 1/2″ pieces

(for vegan-friendly, sub 2 tsp olive oil)

1/2

onion, chopped

3

cloves

garlic, minced

(I like using roasted, minced garlic

2

carrots, chopped (about 1 cup)

1

can (10 oz)

Rotel tomatoes (mild for less spicy version, original for more)

1

tsp

ground cumin

1

tsp

ground chili powder

2-3

cans

Black Beans, drained and rinsed

4

cups

chicken (or vegetable) broth
Optional ingredients
sour cream

crushed corn or tortilla chips

chopped cilantro
Instructions
In a 3 qt. saucepan or dutch oven, cook bacon pieces until fat has been rendered (about 5 minutes). Add onion and cook until translucent, then add spices, garlic, and carrots. Saute for 3 more minutes. Add Rotel tomatoes, and 1-2 cans of black beans (reserving one for later) and 3 cups of broth. Place on lid and cook for 30 minutes, or until carrots are tender.

Using a blender, mix remaining can of black beans and remaining cup of broth until smooth. Add mixture to soup, and cook an additional 5 minutes.

Garnish with crushed corn or tortilla chips, sour cream, and cilantro.
Roasted Pork Tenderloin
Celebrate these last winter days by making a real comfort meal, like a roast with mashed potatoes. Here I'm sharing my pork tenderloin recipe. What a delicious meal to serve on a Saturday or Sunday evening! After smelling this roasting all afternoon, everyone will bring their appetite to the table.
Roasted Pork Tenderloin
When we were researching our new kitchen appliances, the pork tenderloin made in the Thermador steam oven sold me on it. Steam creates a tender and moist tenderloin. For a flavorful roast, use a pre-marinated one from the store or brine it yourself for at least 30 minutes.
Materials
2

pounds

boneless pork loin roast

pre-marinated or brined

½

cup

white wine
Instructions
Bring roast to room temperature by pulling it out of the fridge, opening the wrapping, and letting it sit for 30 minutes. Preheat oven to 350 degrees. Drain marinade or brine from roast, rinse it well, and dry with paper towels. When it's dry, rub with olive oil on all sides.

Place pork loin in the oven, elevated in a v-rack or placed over thickly sliced onions. If using a conventional oven add ½ cup of water to the pan.

While baking, turn and basting with pan liquids every 30 minutes. Cook until the pork is no longer pink in the center, about 1 hour or until an instant-read thermometer inserted into the center reads 145 degrees.

Remove roast to a platter. Heat wine in the pan and stir to loosen browned bits of food on the bottom. Serve with pan juices.
---
I hope that spring is beginning to make its appearance where you are. Here in California, spring temperatures have arrived.. Although we have more rain forecast, the temperatures should stay mild.
Have a beautiful weekend and make something special!
Looking for more new recipes or dinner ideas? Check out these weekly menus:
https://thefeatherednester.com/lighter-dinner-menu-march-4th/
How about my favorite kitchen tools? http://www.amazon.com/shop/thefeatherednester