This post may contain affiliate links. If you click on a link and make a purchase, I may receive a small commission at no extra cost to you.
It's almost Christmas here at The Feathered Nester. And, I'm sharing it with you. Our Christmas decor, what's for Christmas Dinner, and of course, all the recipes. Let's see what's going on around here!
Christmas Decor
The highlight of my Christmas decor is definitely our tree. Decorating our tree is like an annual walk down memory lane. Our ornaments are a mix of those made by family, purchased on our travels, and those gifted and bought over the years.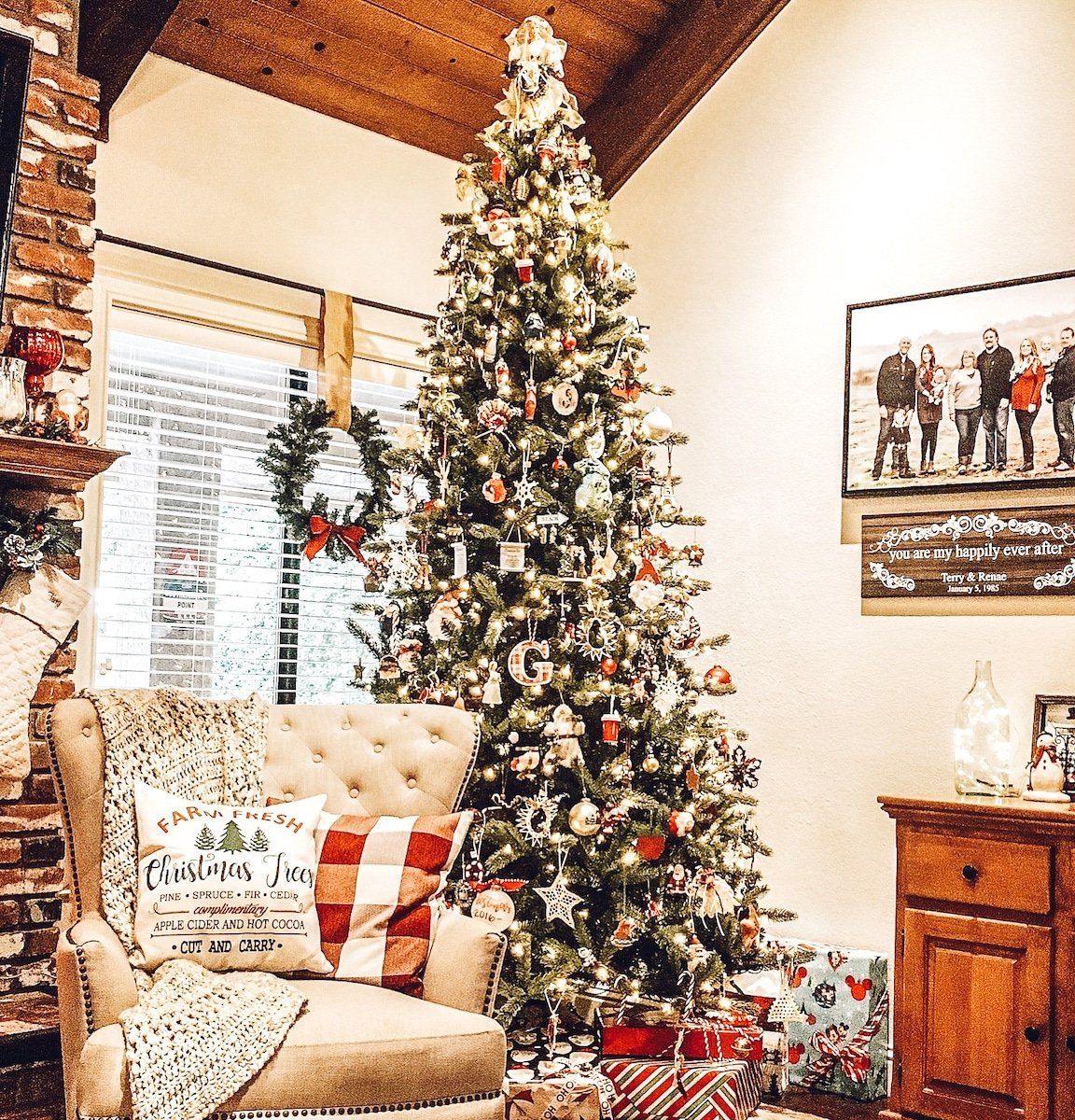 My husband and I got married about two weeks after Christmas, so my sister-in-law gave us an entire collection of beautifully, handcrafted ornaments. To this day, we put them on our tree every year. And, each year I buy a few new ornaments to commemorate the year.

Our new off-white sectional begged for colorful Christmas pillows. So, I didn't disappoint. Generally, I turn to Pottery Barn or Home Goods for pillows. I stumbled on these red and white buffalo check and farmhouse style "Christmas Trees" pillow covers on Amazon, though. What a bargain! And, they're perfect in this space.
Christmas Dinner
For the past decade or so, we have served Prime Rib during Christmas. Last year we had it for Christmas Eve and Ribeye steaks and Lobster for Christmas Dinner. This year we are having Prime Rib on Christmas Day.
My husband is preparing the Prime Rib. I think he might be cooking it on the grill. But, I'm sharing my usual recipe with you.
Another Christmas Dinner tradition is serving Hash Brown Casserole (aka Cheesy Potato Casserole). If you've been around here a while, you know that I like cooking from scratch. But, Hash Brown Casserole breaks all the rules! It has condensed Cream of Potato Soup AND frozen, shredded Hash Browns.
It is creamy, rich, and sinfully delicious! Perfect for Christmas, right?
I don't think Christmas Dinner would be complete without my newly discovered Potato Rolls. My family is hooked on them and they are really so easy to make.
These are the most divine rolls! Although the preparation is easy, the rising can be time consuming. So, I'm thinking of trying to flash freeze the dough rolls individually to bake later.
Rounding out our Christmas Dinner are Roasted Green Beans
and Carrot Cake.

So, let's get to the recipes!
The Recipes
I'm sharing and/or linking all recipes below:
Prime Rib Roast
Nothing says the holidays like a Prime Rib Roast. It is one of our family's favorite dinners. Here is our family recipe.
Equipment
A v-rack and baking sheet with high sides

Temperature probe (leave in or instant read)
Ingredients
7

lb.

standing rib roast

kosher salt and pepper

vegetable or olive oil
Instructions
Make cross-cuts through the fat pad on top of the roast, only cutting through the fat – not the meat. Rub about 2 Tbsp. of kosher salt all over the roast. Refrigerate at least 24 hours and up to 4 days.

Preheat oven to 200 degrees. Heat 2 tsp of vegetable oil in a 12-inch heavy skillet until just smoking. Brown the roast on all sides, 6-8 minutes total. Let rest for 10 minutes. Place the roast on a V-rack or wire rack inside of a roasting or rimmed pan. Season with salt and pepper, and place the oven on a middle rack. Roast until meat reaches 110 degrees (about 3-4 hours).

Turn off the oven, leaving the roast inside, until meat reaches 125 (for medium-rare). This will take between about 60 minutes. Let rest for 15 minutes, then slice.
Nutrition
Serving:
1
serving
|
Calories:
950
kcal
|
Protein:
43
g
|
Fat:
85
g
|
Saturated Fat:
35
g
|
Cholesterol:
191
mg
|
Sodium:
722
mg
|
Potassium:
696
mg
|
Calcium:
24
mg
|
Iron:
4
mg
Hash Brown Casserole
Recipe is here: https://www.kraftrecipes.com/recipe/184617/cheesy-potato-casserole
Old Fashioned Yeast Rolls Recipe
You'll love Grandma's homemade Old Fashioned Yeast Rolls recipe. Make these easy potato dinner rolls for all your holidays and gatherings!
Ingredients
1/4

cup

warm water

(about 95º to 110ºF)

2

tsp

yeast

(1 envelope of yeast)

1

large

potato

2/3

cup

sugar

2

large

eggs

1 1/2

teaspoon

salt

2/3

cup

butter, melted and cooled

6-7

cups

all-purpose flour

butter for tops of rolls
Instructions
Scrub your potato, quarter, and add enough water to cover potatoes by 2". Do not add salt. Bring to a boil and cook until softened, about 10 minutes. Remove potato and mash. Set aside 1 cup mashed potatoes. Pour potato water into measuring cup, and set aside 1 ½ cups potato water to let cool.

In a small bowl or measuring cup, sprinkle yeast over 1/4 cup warm water . Add pinch of sugar to test yeast. Set aside yeast and water.

In a large mixing bowl, combine potato water, sugar, salt and yeast mixture. Begin mixing with dough hook attachment on stand mixer. Add butter and eggs. Continue mixing. Add mashed potatoes, then add flour 1 cup at a time, mixing thoroughly between cups. Stop adding flour after the 6th cup and see if the dough cleans the sides of the bowl. If not, add 1/2 cup of flour at a time until the dough will begin forming a ball. Do not add more than 7 cups of flour. Knead dough in stand mixer for at least 5 minutes or by hand for 10 minutes.

Place dough in lightly greased bowl to rise. Lightly grease top of dough and cover with a towel. Place dough in warm place and let rise for 2 hours (or until double in size).

After first rising, punch dough down. Begin second rise for two hours or until double in size, or refrigerate dough overnight. If refrigerated overnight, place dough in warm place the next morning and let rise for 2 hours.

Then, 2 hours before baking, divide dough into two pieces and continue dividing dough until you have 36 similar sized balls. Place rolls on greased cookie sheet. Cover and let rise in warm place until double in size.

Bake at 400 for 12-15 minutes. Butter tops of each roll after baking to preserve soft crust. Serve warm.
Notes
Although this recipe calls for all-purpose flour, I have used Kamut and bread flour with great results.
Nutrition
Serving:
1
roll
|
Calories:
134
kcal
|
Carbohydrates:
22
g
|
Protein:
3
g
|
Fat:
4
g
|
Saturated Fat:
1
g
|
Cholesterol:
10
mg
|
Sodium:
142
mg
|
Potassium:
77
mg
|
Fiber:
1
g
|
Sugar:
4
g
|
Vitamin A:
165
IU
|
Vitamin C:
2
mg
|
Calcium:
7
mg
|
Iron:
1
mg
Roasted Green Beans
Recipe here: https://thefeatherednester.com/weeks-poultry-seafood-recipes/
Carrot Cake
Recipe here: https://www.foodnetwork.com/recipes/paula-deen/grandma-hiers-carrot-cake-recipe-1917589
Gathering Together
I am in love with this new custom wooden sign (harpergrayce.com) above our dining room buffet. We just got it a few weeks ago, and it says it all, "Gather Here With Grateful Hearts." That's what truly means the most to me. People gathering and sharing a special meal.
From my family to yours, wishing you a very Merry Christmas. Full of wonder, happiness, and love.