If you click on a link and make a purchase, I may receive a small commission at no extra cost to you. See my disclosure policy here.
It's almost Christmas here at The Feathered Nester. And, I'm sharing it with you. Our Christmas decor, what's for Christmas Dinner, and of course, all the recipes. Let's see what's going on around here!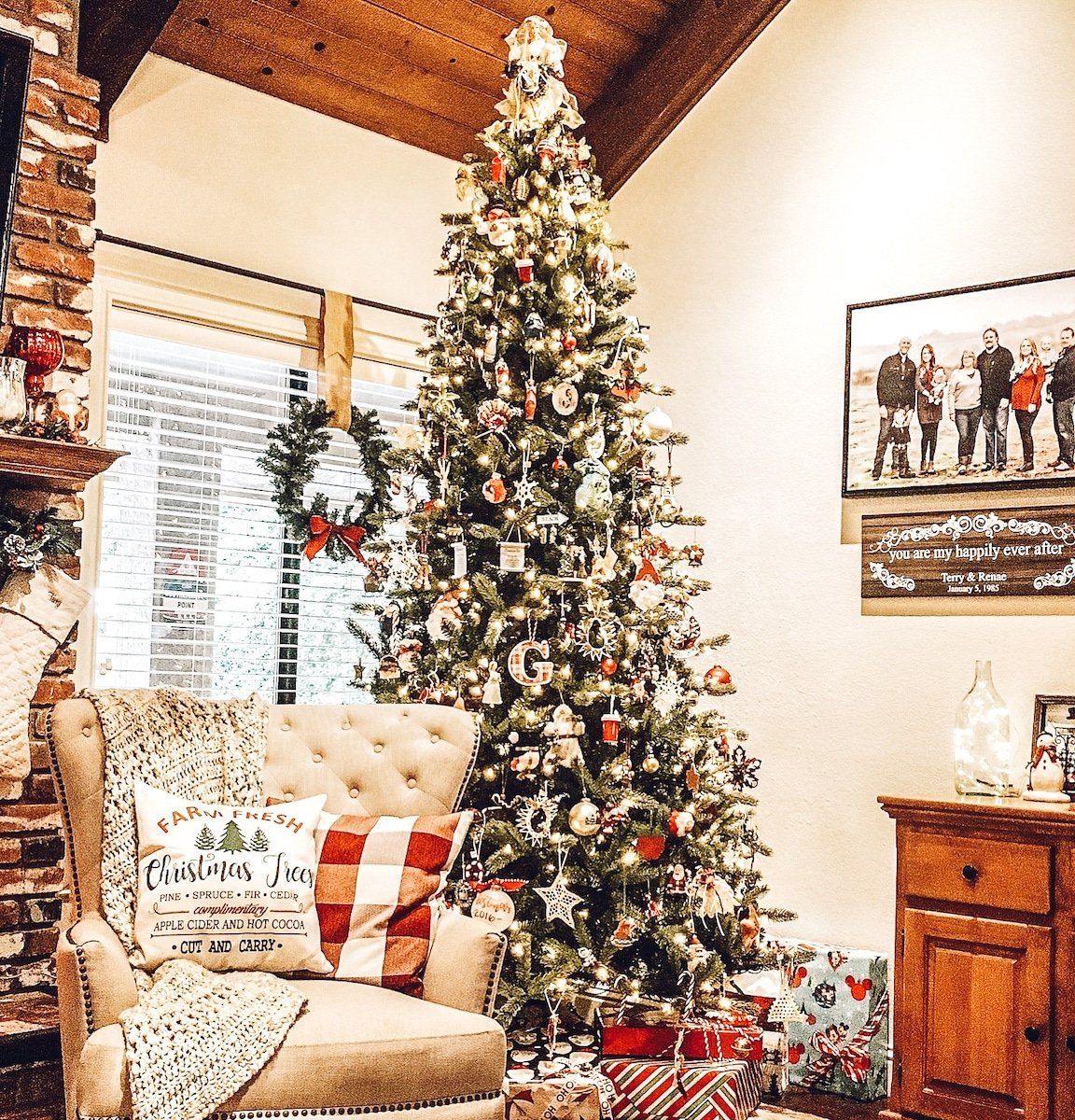 Christmas Decor
The highlight of my Christmas decor is definitely our tree. Decorating our tree is like an annual walk down memory lane. Our ornaments are a mix of those made by family, purchased on our travels, and those gifted and bought over the years.
My husband and I got married about two weeks after Christmas, so my sister-in-law gave us an entire collection of beautifully, handcrafted ornaments. To this day, we put them on our tree every year. And, each year I buy a few new ornaments to commemorate the year.

Our new off-white sectional begged for colorful Christmas pillows. So, I didn't disappoint. Generally, I turn to Pottery Barn or Home Goods for pillows. I stumbled on these red and white buffalo check and farmhouse style "Christmas Trees" pillow covers on Amazon, though. What a bargain! And, they're perfect in this space.
Christmas Dinner
For the past decade or so, we have served Prime Rib during Christmas. Last year we had it for Christmas Eve and Ribeye steaks and Lobster for Christmas Dinner. This year we are having Prime Rib on Christmas Day.
My husband is preparing the Prime Rib. I think he might be cooking it on the grill. But, I'm sharing my usual recipe with you.
Another Christmas Dinner tradition is serving Hash Brown Casserole (aka Cheesy Potato Casserole). If you've been around here a while, you know that I like cooking from scratch. But, Hash Brown Casserole breaks all the rules! It has condensed Cream of Potato Soup AND frozen, shredded Hash Browns.
It is creamy, rich, and sinfully delicious! Perfect for Christmas, right?
I don't think Christmas Dinner would be complete without my newly discovered Potato Rolls. My family is hooked on them and they are really so easy to make.
These are the most divine rolls! Although the preparation is easy, the rising can be time consuming. So, I'm thinking of trying to flash freeze the dough rolls individually to bake later.
Rounding out our Christmas Dinner are Roasted Green Beans
and Carrot Cake.

So, let's get to the recipes!
Christmas Dinner Recipes
I'm sharing and/or linking all recipes below:
Prime Rib Roast
Nothing says the holidays like a Prime Rib Roast. It is one of our family's favorite dinners. Here is our family recipe.
Equipment
A v-rack and baking sheet with high sides

Temperature probe (leave in or instant read)
Ingredients
7

lb.

prime rib, standing rib roast, rib eye roast

(see notes below for bone-in roasts)

kosher salt and pepper

vegetable or olive oil
Instructions
Make cross-cuts through the fat pad on top of the roast, only cutting through the fat – not the meat. Rub about 2 Tbsp. of kosher salt all over the roast. Refrigerate at least 24 hours and up to 4 days.

Preheat oven to 200 degrees. Heat 2 tsp of vegetable oil in a 12-inch heavy skillet until just smoking. Brown the roast on all sides, 6-8 minutes total. Let rest for 10 minutes. Place the roast on a V-rack or wire rack inside of a roasting or rimmed pan. Season with salt and pepper, and place the oven on a middle rack. Roast until meat reaches 110 degrees (about 3-4 hours).

Turn off the oven, leaving the roast inside, until meat reaches 125 (for medium-rare). This will take between about 60 minutes. Let rest for 15 minutes, then slice.
Notes
Bone-in Roasts: Use the bones to create your own v-rack for roasting. With a sharp knife, carefully remove cut bones from the roast. Once removed, invert the bones beneath the roast. Use cooking twine to anchor them to the prime rib by tying them on. When inverted, the bones will elevate the roast from the roasting pan, but still provide flavoring and release marrow into the au jus.
Leftovers will keep well for up to 4 days in the refrigerator, or 3 months in the freezer. Let the roast beef cool completely before transferring to an airtight container. If freezing, I also suggest you wrap the container in a layer of aluminum foil.
Nutrition
Serving:
1
serving
|
Calories:
950
kcal
|
Protein:
43
g
|
Fat:
85
g
|
Saturated Fat:
35
g
|
Cholesterol:
191
mg
|
Sodium:
722
mg
|
Potassium:
696
mg
|
Calcium:
24
mg
|
Iron:
4
mg
Hash Brown Casserole
This is a holiday favorite! Although I love the original hash brown casserole recipe from Kraft, I've modernized it and make it in the Instant Pot now. No matter which recipe you use, you are in for a real treat with this cheesy, delicious side dish!
Instant Pot Cheesy Hash Brown Casserole
Instant Pot Cracker Barrel cheesy hash brown casserole recipe is perfect to make in the pressure cooker as a side or main dish, for breakfast or dinner.
Check out this recipe
Old Fashioned Yeast Rolls
These are the best, softest, melt-in-your-mouth rolls. Just like your mom or grandma used to make. No holiday would be complete without these delicious old fashioned yeast rolls!
Old Fashioned Yeast Rolls Recipe – The Feathered Nester
Soft, tender Old Fashioned Yeast Rolls are a must-have at the family table. Serve Grandma's easy potato rolls at your next gathering and you'll see why they're the best foolproof homemade yeast rolls!
Check out this recipe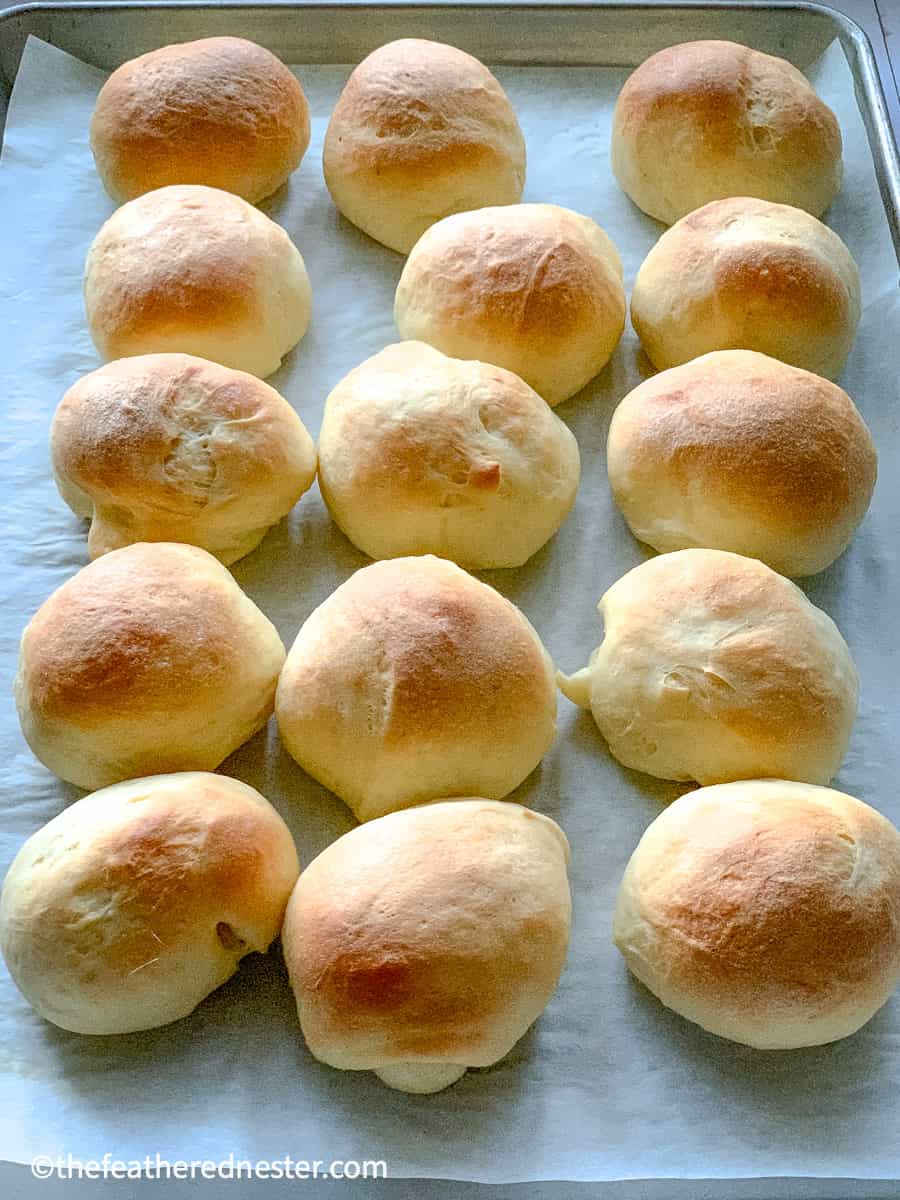 Roasted Green Beans
If you haven't tried roasting your green beans, you need to make them! They bring a whole new level to yumminess. Get my roasted green beans recipe and make this for Christmas and add a little healthy goodness to dinner.
Carrot Cake
My husband loves homemade carrot cake! And, thanks to a lot of shredded carrots, it's almost healthy. We aren't big pie fans, so I made this quite a bit during holiday dinners.
Here's my favorite recipe for carrot cake: Carrot Cake recipe
Gathering Together
I am in love with this new custom wooden sign (harpergrayce.com) above our dining room buffet. We just got it a few weeks ago, and it says it all, "Gather Here With Grateful Hearts." That's what truly means the most to me. People gathering and sharing a special meal.
From my family to yours, wishing you a very Merry Christmas. Full of wonder, happiness, and love.