Dr. Pepper Cake… a two-fold, double-decker dessert! Enjoy two of your favorite indulgences all in one bite. The deep, subtly sweet, cherry-like taste of Dr. Pepper is worked into a moist chocolate cake and a thick, luscious fudgy frosting. One-of-a-kind, and so delicious!
Why We Love Dr. Pepper Cake
It's a fun way to use everyday ingredients!

Boxed mix, soda, and pudding mix — all average on their own, but extraordinary together!

The perfect kitchen shortcut.

Using boxed mix is the best kitchen shortcut, and we admit we use it all the time!

Our peach cobbler with cake mix and Bisquick funnel cake recipes are two more testaments to how simple yet scrumptious cake mix desserts can be!

It's quick!
This Dr Pepper cake recipe takes less than an hour from start to finish, and you end up with 12 servings to pass around the table.
Ingredient Notes and Substitutions
Cake Mix – Feel free to use any chocolate boxed mix of around 15.25 to 16 ounces. We use a chocolate fudge mix to really drive that taste home!
Butter – For the Dr. Pepper frosting. If you're using salted butter, omit the additional salt in the recipe.
Pudding Mix – It's important to use instant mix, not Cook and Serve mix.
Eggs – Three of them! For a dense cake, use more egg yolks than white.
Dr. Pepper – You don't need a lot — a 12 ounce can is enough to divide between the batter and frosting. Any cola will have the same effect, but we really recommend sticking to the classic Dr. Pepper for this cake recipe.
Vegetable Oil – Another neutral oil, such as canola, is perfectly acceptable in our soda cake recipe. And we recommend oil over butter for an even, reliable moisture distribution.
The Trick to Making Soda Cake
You might not expect to see soda pop in a baked dessert recipe — just like you wouldn't expect to see a Dr. Pepper ham crockpot recipe or a crock pot ham with Coca Cola glaze!
But soda is actually so useful in the kitchen! It's acidic, so it can be used in a glaze or a marinade, and its sweet taste has so many layers of complexity. It's not uncommon to get a taste of citrus, dark licorice, and caramel.
When it comes to using soda in a cake mix recipe, it's best to begin with room temperature soda. Once it warms up a bit, there's less carbonation which makes it easier to incorporate with the other ingredients.
However, you don't want it to be flat. Flat soda won't have the same bubbly effect, and the cake will end up much more dense.
Soda Cake Recipe Tips
Use non-stick baking spray for clean, stress-free results.
So what's the difference between non-stick cooking and baking spray, anyway?

It's actually important to know! Baking spray contains a bit of flour. This helps the cake release more easily.

When working with baked goods, like cakes and cupcakes, baking spray is the way to go to make sure your efforts don't fall apart transferring from pan to plate!
Dr. Pepper cake is a hands-on recipe. Don't walk away!
For starters, the frosting needs to be whisked constantly to avoid scorching while it works up to and comes back down from a boil.

Save time by making the frosting while the cake bakes.
Additionally, you can save some time by making the frosting while the cake bakes.

Especially since the this easy fudge frosting needs at least 30 minutes to set up, working between two sections of your kitchen will help the whole thing come together quickly and efficiently.
Dr. Pepper Cake FAQ
How can I make boxed cake mix taste better?
It's often as easy as using more eggs and introducing other fatty, moisture-adding ingredients.

For our soda cake recipe, we add chocolate pudding mix, some more eggs, and pop to make boring, off-the-shelf mix fluffy yet moist, with a delicious and dense crumb you wouldn't get from just following the instructions on the back!
Can I use diet soda for Dr. Pepper cake?
Unfortunately, we don't recommend it. Aspartame, the sweetener in most diet sodas, reacts very differently than regular sugar when heated and affects the overall texture of the cake.
How does using soda in cake work?
All of the best light, fluffy cakes have some sort of leavener. You'll usually see baking soda or baking powder fulfilling this role.

But in a soda cake recipe, the soda acts as that rising agent! It's all possible due to the carbon dioxide in the recipe.
Storing and Freezing
Keep leftover Dr. Pepper cake refrigerated to maintain the texture and keep the frosting solid. It will last 3 to 4 days in an airtight container.
If you'd like to freeze and preserve for up to 3 months, wrap very well in a few layers of plastic wrap.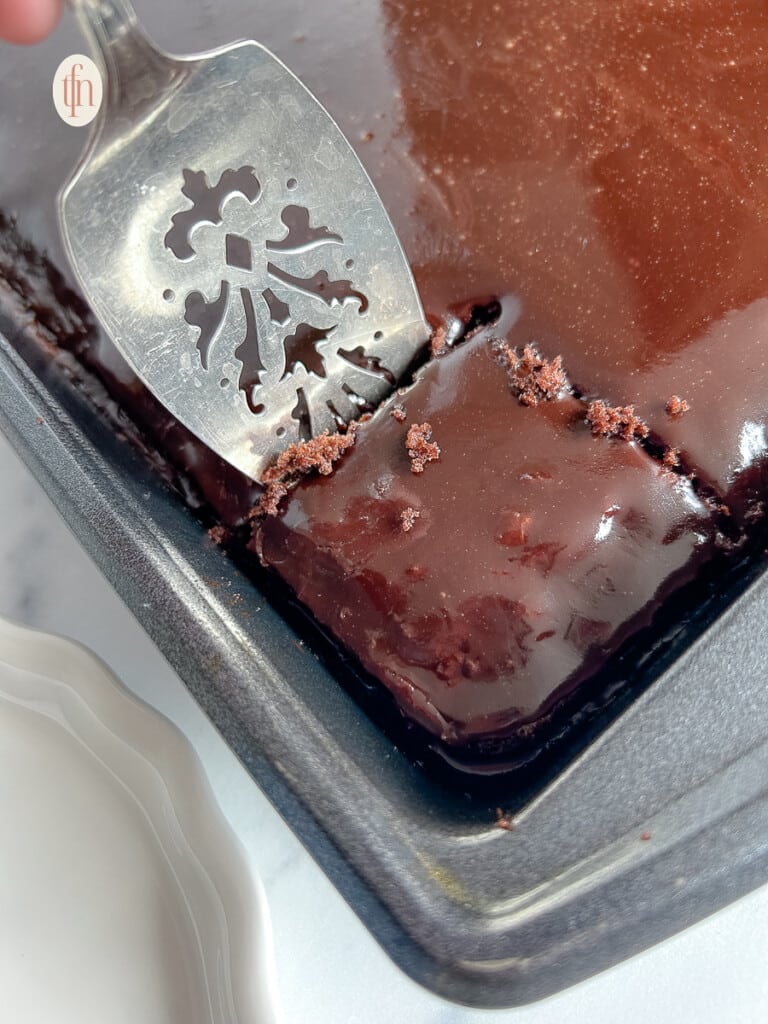 Dr Pepper Cake with Fudge Frosting
Dr. Pepper Cake is an easy way to get your soda fix! Enjoy that sweet taste in rich cake and easy fudge frosting with our soda cake recipe.
Equipment
9×13-inch cake pan

non-stick baking spray

large mixing bowl

offset spatula

2-quart saucepan
Ingredients
15 ounces chocolate fudge cake mix *See Notes
3.4 ounces instant chocolate pudding mix (not Cook and Serve)
3 large eggs
8 ounces Dr Pepper soda room temperature – from a 12-ounce can. (remaining 4 ounces is for the frosting)
¾ cup vegetable oil or other neutral flavor cooking oil
For Frosting
4 ounces butter (4 ounces = ½ cup = 1 stick)
2 ½ cups powdered sugar
3 to 4 ounces Dr Pepper soda room temperature
½ cup unsweetened cocoa powder
¼ teaspoon salt (omit if using salted butter)
1 teaspoon vanilla extract
Optional Garnish
¼ cup chocolate jimmies or sprinkles (use more or less, as desired)
Instructions
Preheat oven to 350°F.

Grease a 9×13-inch cake pan with butter or non-stick baking spray (the spray with flour is best for this recipe) and set aside.

Add all cake ingredients to a large mixing bowl; whisk well to combine. Pour batter into the prepared pan; Using an offset spatula, smooth the batter into an even layer.

Transfer pan to the center rack of the preheated oven and bake for 35-40 minutes, or until a toothpick inserted into the center of cake comes out clean or with a few moist crumbs. Meanwhile, make the frosting (see instructions below).
Make the Frosting
Melt butter in a 2-quart (or larger) saucepan over medium heat. Add powdered sugar, Dr Pepper, cocoa, salt (if needed), and vanilla extract, then whisk to combine.

Increase heat to medium-high and stir constantly until mixture comes to a full boil. Immediately reduce the heat to low and boil frosting for one minute.

Remove saucepan from the heat, and allow the frosting to cool in the pan while the cake finishes baking.
Final Steps
Remove cake from the oven and leave it in the pan. Pour the warm frosting over the top of the warm cake, then use an offset spatula to spread frosting into an even layer.

If desired, garnish the top of the cake with jimmies or sprinkles. Allow the frosted cake to cool for at least 30 minutes before slicing and serving.
Notes
Any chocolate cake mix between 15.25 and 16 ounces may be used.
Nutrition
Serving: 1 slice | Calories: 397kcal | Carbohydrates: 66g | Protein: 4g | Fat: 15g | Saturated Fat: 7g | Polyunsaturated Fat: 2g | Monounsaturated Fat: 5g | Trans Fat: 0.3g | Cholesterol: 61mg | Sodium: 538mg | Potassium: 209mg | Fiber: 2g | Sugar: 50g | Vitamin A: 297IU | Calcium: 67mg | Iron: 2mg
PIN THIS POST!