Just like the ones your mom or grandma used to make, these chewy Oatmeal Cookies are made using quick oats and they are perfect for a tasty snack or dessert!
I've always had a soft spot for oatmeal cookies. And, what's not to like? They are soft, and chewy, with that buttery and oat taste. Oatmeal cookies are the hallmark of many childhoods.
Well, get ready because this quick oats cookie recipe is just like those cookies that your mom (or grandma) made!
Tried and True Oatmeal Cookies
This simple oatmeal cookie recipe was my mother-in-law's. My husband says that she made cookies regularly. In fact, we have the exact cookie jar that sat on the counter when he was growing up.
Apparently, it was a challenge for him and his younger brother to get it open and closed without anyone hearing it.
I have a large collection of old family recipes. Last year, I started organizing and testing them. And, these oatmeal cookies using quick oats were a winner!
It's the perfect balanced mixture of buttery sweetness and it is versatile and adaptable.
Best of all is that you can add in M & M, raisins, chocolate chips, nuts, or a variety of goodies to customize this just like your grandma's oatmeal cookies.
Tips for Making the Best Oatmeal Cookies
For softer cookies just leave the dough in small balls before baking.
If you like chewier cookies, lightly mash the dough with a fork before baking.
You can use old-fashioned oats. I prefer old-fashioned oats as they have more texture and a nuttier taste. But, you can use instant oats or even a mixture of the two.
And, the flatter, chewier cookies are perfect for making oatmeal cookie sandwiches.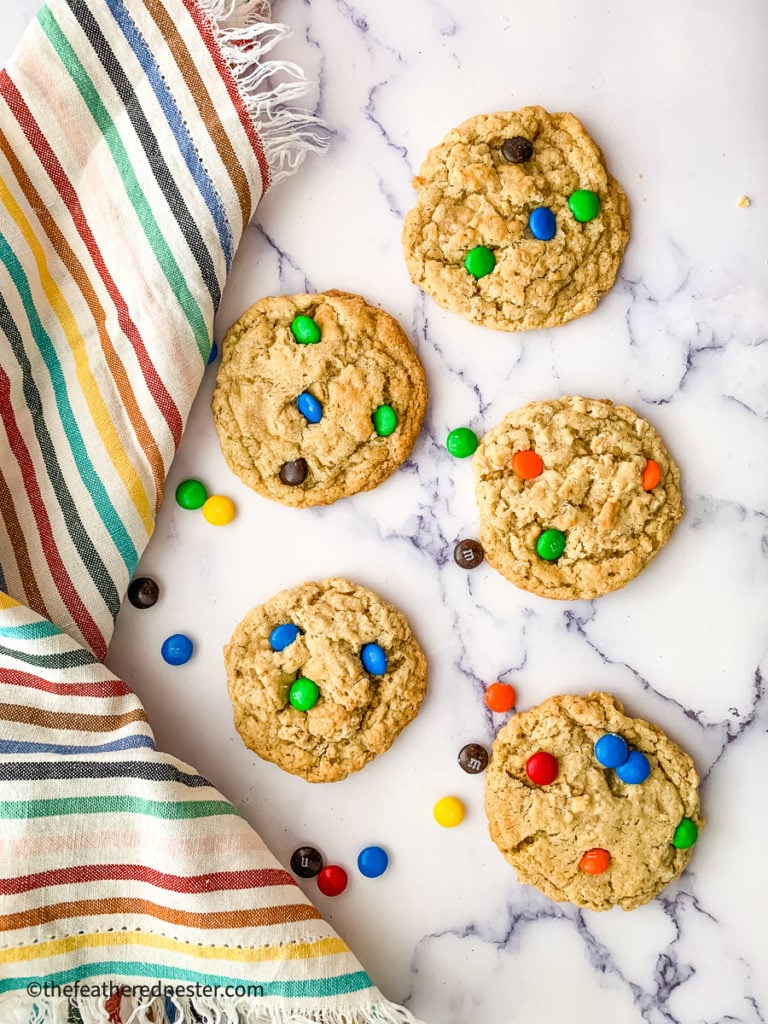 Check out my recipes for the original M&M cookies recipe, spring sugar cookies with M and Ms, or chewy chocolate chip cookies.
Cookie Ingredients and Substitutions
Brown sugar
Granulated sugar
Butter
Eggs
All-purpose flour
Salt
Baking soda
Baking powder
Vanilla
Quick cooking oats
For Cookie Recipes, Renae Recommends and Uses These Supplies
How to Make Oatmeal Cookies
Mix the ingredients. In a large bowl, whisk the butter and sugar together. Add eggs and mix until it becomes light and fluffy.
Add the dry ingredients, mixing until combined. Stir in oats and raisins or nuts (if adding).
NOTE: If adding M&Ms and to get perfectly formed M & M, add them to oatmeal cookies after baking. Let them cool for 3-5 minutes before gently pressing them into cookies.
Shape the cookies. Preheat oven to 375°F. Prepare the baking sheet. Grease or line with parchment paper. Drop dough by spoonful then flatten the dough slightly.
Bake the cookies. cookies for 8-10 minutes, or until they are lightly browned. Let them cool on the cookie sheet for 5 minutes, then move them to a wire rack to cool completely.
Make them into Ice Cream Sandwiches
Refrigerate your cookies overnight. Once they are chilled, add 1/2 cup of ice cream to one cookie and spread it evenly. Use a wet knife to smooth the top of the ice cream.
Then top with another cookie and press down gently to create a sandwich. Smooth out the sides of the ice cream so it looks neat and tidy.
Wrap them in foil or ziplock bags. Freeze it for at least 2 hours, until it becomes hard.
Quick Oats Cookie Recipe Variations
Chocolate Oatmeal Cookies: Add 1 cup of semi-sweet chocolate chips to the dough.
Peanut Butter Oatmeal Cookies: Add 1/2 cup of peanut butter to the dough.
Oatmeal Scotchie Cookies: Butterscotch chips can be substituted for chocolate chips.
Oatmeal Cranberry Cookies: Substitute dried cranberries for the raisins.
Serving Suggestions
These cookies are perfect for breakfast with a glass of milk. They also make a great snack or dessert. Serve them with a cup of coffee or tea, or even a cold glass of milk.
Storage Instructions
Quick oats cookies can be stored in an airtight container at room temperature for up to 1 week. Or, they can be frozen for up to 3 months.
To freeze, place the cookies in a single layer on a baking sheet and freeze for 2 hours. Then transfer them to a freezer bag and store them in the freezer.
When you are ready to eat them, let the cookies thaw at room temperature for 30 minutes. Or, place them in the microwave for 15-20 seconds to soften them up.
Oatmeal Cookie Recipe FAQ
Are oatmeal cookies healthy?
Oatmeal cookies have a high fiber content compared to normal sugar cookies. Oatmeal cookies contain significant amounts of minerals like calcium, iron, magnesium, and potassium, all of which are needed for overall physical health. Compared to sugar cookies, oatmeal cookies also have less calorie content
Should you soak raisins before baking cookies?
To plump up the raisins, soak them in hot water before adding them to the cookie dough. Just make sure you drain them well and dry them on a paper towel so they don't add too much moisture to the cookies.
How do you moisten oatmeal cookies?
Reheat them in the microwave on medium setting for 15 to 20 seconds. This should be enough time for the cookies to soak in the moisture from the paper towel. If you take them out and they haven't softened enough yet, wrap them in another damp paper towel and microwave them again for 10 more seconds.
Mom's Oatmeal Cookies
These oatmeal cookies are soft but chewy, just like those your mom or grandma made. In fact, the recipe was a family recipe, handed down to us from my mother-in-law.
Equipment
Baking Sheet

mixing bowl

mixer
Ingredients
1 cup brown sugar
1 cup granulated sugar
1 cup butter
2 eggs
2 cups all-purpose flour
½ teaspoon salt
1 teaspoon baking soda
1 teaspoon baking powder
1 teaspoon vanilla
3 cups quick oats (I use 1/2 Old Fashioned Oats)
1 cup M&Ms, raisins, chopped nuts (Optional. For M&Ms see notes below)
Instructions
Cream sugars and butter. Add eggs and mix until light and fluffy. Add dry ingredients, mixing until combined. Stir in oats and raisins or nuts (if adding). Preheat oven to 375 degrees. Drop by spoonful onto greased cookie sheet. Flatten dough slightly. Bake for 8-10 minutes. Let cookies cool on cookie sheet for 5 minutes, then cool on racks.

To assemble Ice Cream Sandwiches: Refrigerate cookies overnight. Add 1/2 cup of ice cream onto a cookie. Smooth top of ice cream with a wet knife. Then top with cookie. Press to compress sandwich, smooth sides of ice cream. Wrap in foil or in ziplock bags. Freeze for at least 2 hours, until hardened.
Notes
For perfectly formed M&Ms, add the candies after baking. Let cookies cool 3-5 minutes before gently pressing them into oatmeal cookies.
Nutrition
Serving: 1cookie | Calories: 216kcal | Carbohydrates: 32g | Protein: 3g | Fat: 9g | Saturated Fat: 5g | Cholesterol: 34mg | Sodium: 194mg | Potassium: 66mg | Fiber: 1g | Sugar: 17g | Vitamin A: 256IU | Calcium: 30mg | Iron: 1mg