From 2017: Friends, I can't believe it's almost Christmas! I love all the excitement leading up to Christmas…listing to holiday music, setting up the Christmas tree, buying and wrapping gifts, and being thankful for all my blessings. Each year, as soon as Thanksgiving is over, I start planning my Christmas Menu. What special recipes will make the list for Christmas dinner? Find out what's made the cut as I share my Christmas dinner menu and recipes with you.
Luckily for me, this holiday season has been one of the most relaxing in a long while. Usually at this time of year, I'm studying for finals and writing papers. But, I've been on a hiatus from school for about a month now and don't go back until spring. What a treat it's been!
As I mentioned several weeks ago, we will be starting on more projects around here after January 1st. So, I am really excited about what the new year will bring for our home projects.
Christmas Menu Planning
Getting back to the here and now, though – as I mentioned I love planning our holiday (for Thanksgiving and Christmas) menus early. Although I have my tried and true traditional recipes, I always love adding a new recipe or two. It's usually something that I created that year and is Christmas menu worthy.
My holiday meals and recipes were planned a few weeks ago. This year, we are hosting three holiday dinners: Christmas Eve, Christmas Day, and our extended family Christmas at the end of the month.
The other day, I shared my menu and recipes for Christmas Eve Menu HERE.
Christmas Dinner Menu
Today, I'm sharing our Christmas Day dinner menu and recipes with you. We will have six adults and three children for dinner.
The kids are having their own Christmas menu, provided by my daughter, Heather. The adults will be feasting on:
Holiday Cheese Wreath
Loaded Tater Tots Appetizer
Rib Eye Steaks
Hash Brown Casserole
Mixed Greens Salad
Roasted Green Beans
Rolls or Biscuits
German Apple Cake
Christmas Menu Recipes
Our Christmas menu is a mixture of recipes. Some are here on The Feathered Nester website and others are ones I've used for years. One of my favorite easy appetizers is a holiday cheese wreath shared below.
Holiday Cheese Wreath
Isn't this cheese wreath simple but perfect for Christmas? I found a photo on Instagram of a similar cheese cube wreath. It was so easy to recreate for the holidays.
How to make a Holiday Cheese Wreath
I don't have the recipe, but bought a variety of cheeses and cut them into dice sized cubes.
Then added sprigs of rosemary from my garden. I added olives for a little variety, and two strips of bell pepper for my ribbon.
Loaded Tater Tots Recipe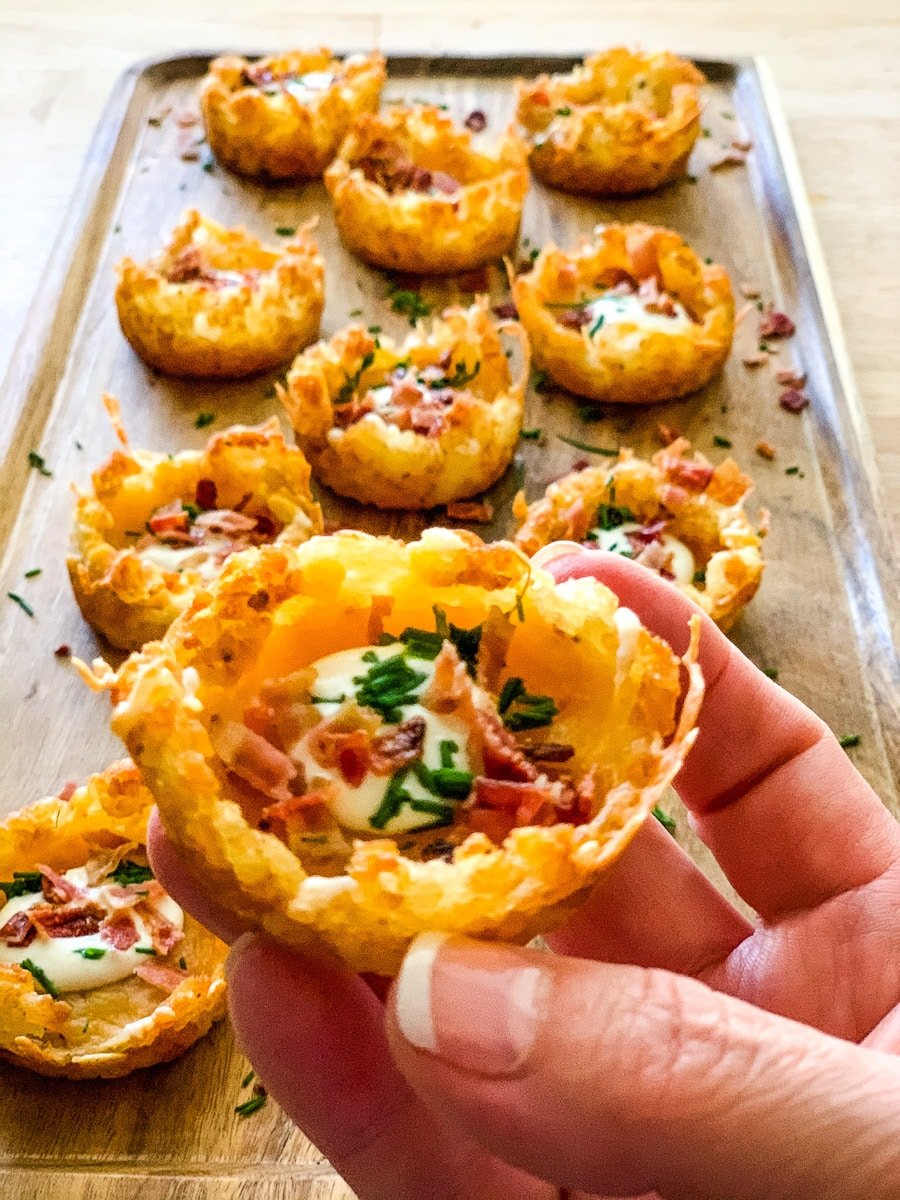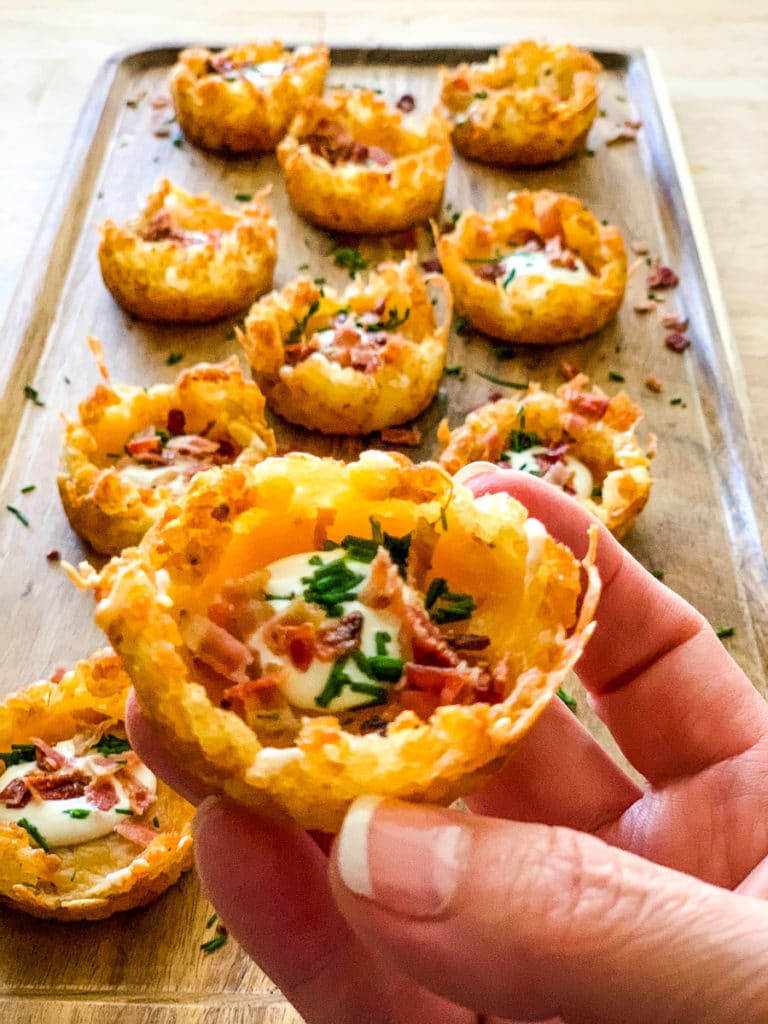 This loaded tater tots appetizer is absolutely delicious! Turn tater tots into the perfect appetizer with these Loaded Tater Tots! Bite sized crispy tater tot nests with a cheesy inside, then topped with sour cream, green onions, and bacon bits – what's not to love?
And, they are guaranteed to take center stage at any holiday event. Make them as an appetizer or side dish. Loaded tater tots are the perfect finger food.
Get Loaded Tater Tots recipe here: https://thefeatherednester.com/loaded-tater-tots-appetizer-recipe/
Rib Eye Steak Recipe
Although we are having Prime Rib on Christmas Eve, this beef loving family isn't complaining. Bring on the beef!
Rib Eye steaks and Rib roasts come from the same cut of beef. And, either of these cuts of beef are Christmas menu worthy.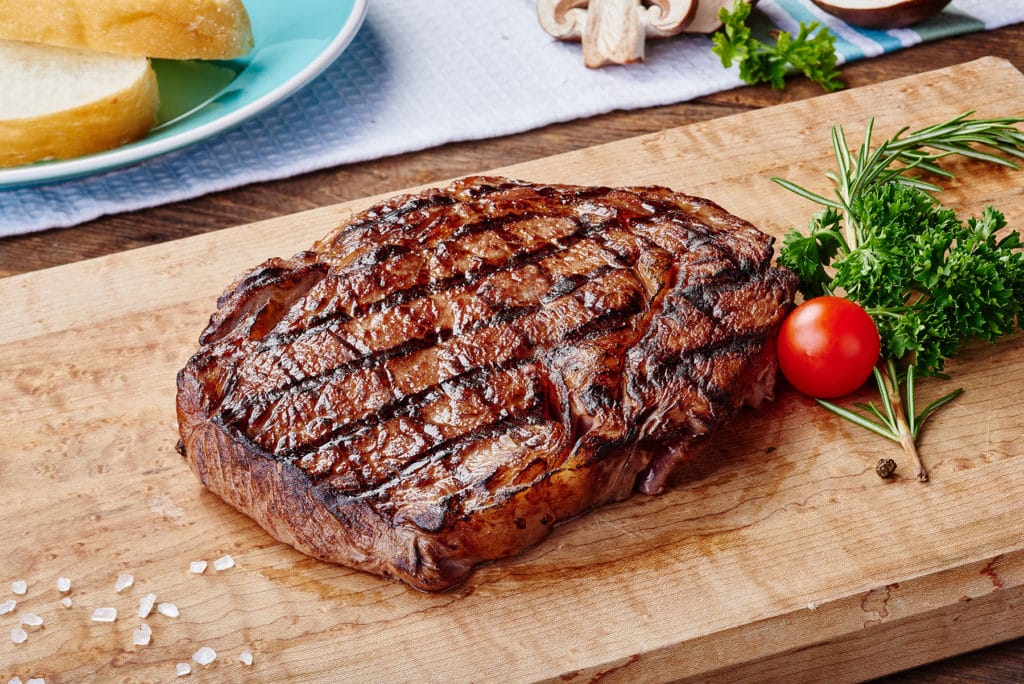 Ingredients for Rib Eye Steaks:
4 Rib Eye Steaks, 1" thick
Olive Oil
Seasoning, my favorite is Montreal Steak
The night before, remove steaks from package, and dry them off with paper towels. Add enough olive oil to lightly cover the steak. Liberally apply your favorite steak seasoning evenly over the steaks, or spread it with your hands to apply evenly. My seasoning of choice is Montreal Steak Seasoning. Cover the seasoned steaks with plastic wrap and return them to the fridge.
Grilling Directions:
Remove steaks from the refrigerator at least 30 minutes before cooking (but no more than an hour). This allows them to cook more evenly. Preheat your grill to high heat. Set up a two-zone fire.
Place ribeye steaks on the grill and cook over direct heat for 4-5 minutes on each side for medium rare. Do you wonder why you need a two-zone setup? If your steaks are close to being done, you can move them over to the cold side of the grill to finish them off. Use a meat thermometer to determine if you've cooked steaks the way you like them. Here are the temperatures you should keep in mind: 120° F = Rare, 130° F = Medium rare, 140° F = Medium, 160° F = Well done
Remove steaks from grill and let them rest for five minutes. The juices will redistribute throughout the meat, producing a tender, juicy result.
Hash Brown Casserole Recipe
This has been a family favorite for about 10 years or so. We were served this casserole at a party, and it was love at first bite. We usually have it for Easter and Christmas. This year, my daughter, Danielle, is making it.
36 oz. package frozen hash brown potatoes, thawed
1/2 cup butter, softened
1 teaspoon salt
1/2 teaspoon ground black pepper
1/2 cup chopped onion
(10.75 ounce) can condensed cream of chicken soup
2 cups shredded Cheddar cheese
Preheat oven to 350 degrees F (175 degrees C). Spray a 9×13 inch pan with non-stick cooking spray. In a large bowl, combine the potatoes, butter, salt, pepper, onions, soup and cheese. Mix and pour into prepared pan or dish. Bake in the preheated oven until browned, about 45 minutes.
Mixed Greens Salad
My daughter, Heather, is making this salad and it sounds like it's going to be delicious. I'll have her share it in a future post. Usually, I would just buy a prepared salad kit from my local grocery store or Costco.
Roasted Green Beans Recipe
Get the recipe for Roasted Green Beans here. Sometimes we have green bean casserole, but this year it's roasted green beans.
If you haven't roasted green beans, yet, you should. Roasting gives them a richer, deeper flavor that I think makes them Christmas menu worthy.
Rolls or Biscuits
Grandma's Old Fashioned Rolls Recipe
Aren't soft, homemade rolls amazing? These rolls are so special that they are reserved for our Thanksgiving or Christmas menu. They are the softest, yummiest rolls ever.
Make your own special holiday rolls with Grandma's Old Fashioned Rolls:
Old Fashioned Yeast Roll Recipe
This old fashioned yeast roll recipe creates soft pull apart dinner rolls that everyone loves! Your holiday needs warm homemade yeast rolls!
Check out this recipe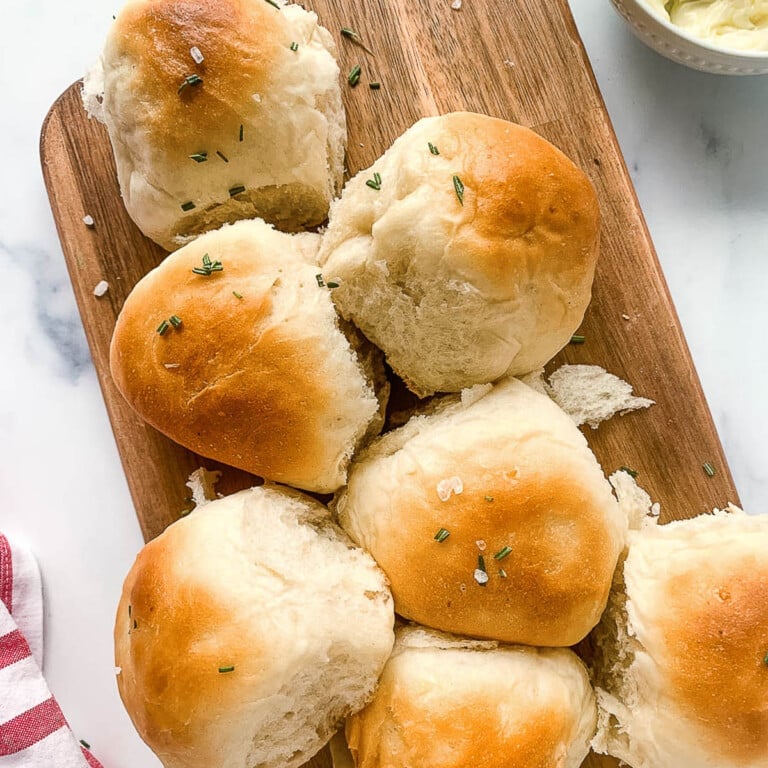 3 Ingredient Biscuits Recipe
If you're pressed for time, make my Easy 3 Ingredient Biscuits. Once you make them, they'll become a new favorite side. This recipe is very Christmas menu worthy because they are the flakiest, most delicious biscuits you've had. But, they are so incredibly easy to make that you don't really need a special occasion for them!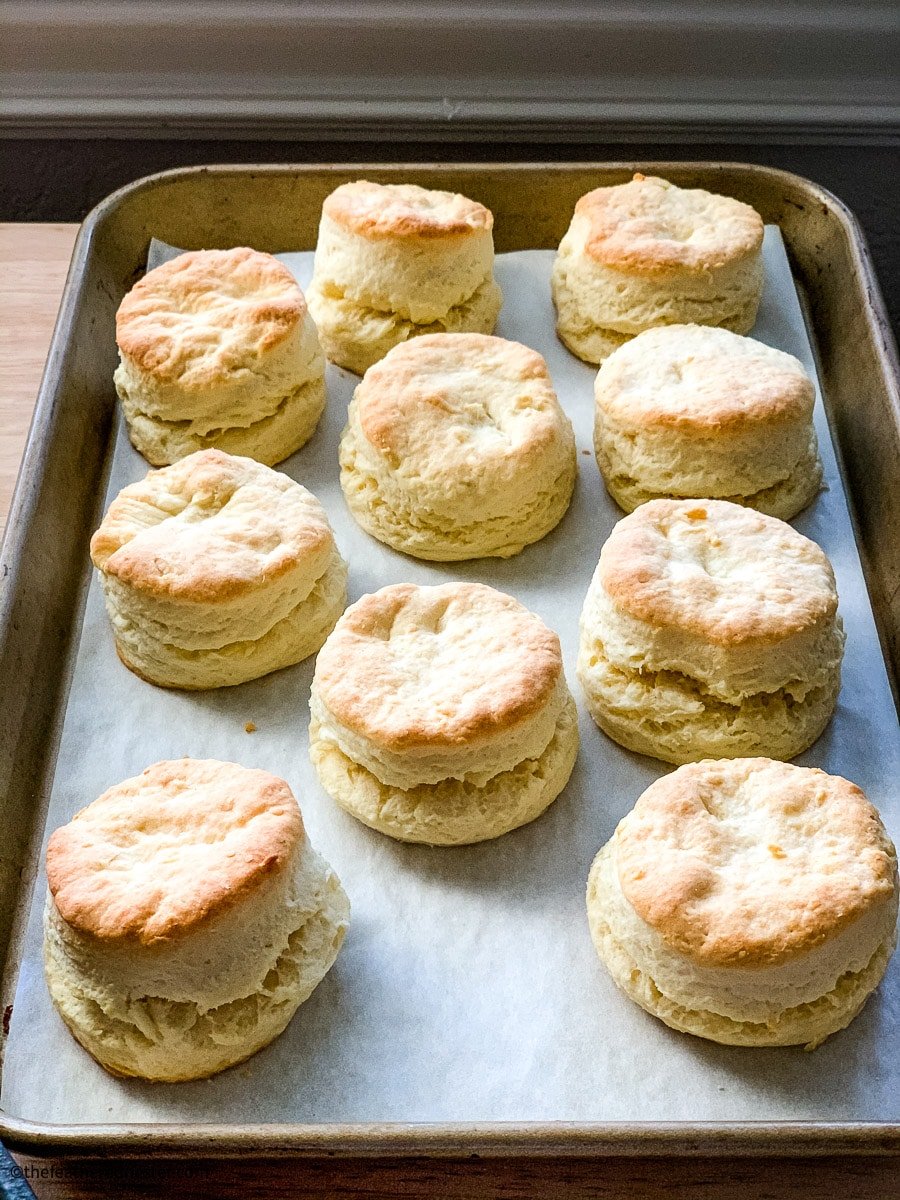 Get the recipe for my Easy 3 Ingredient Biscuits here:
3 Ingredient Biscuits
Use our pro tips to make flaky, delicious 3 ingredient biscuits for breakfast in just 20 minutes. Top them with homemade sausage gravy!
Check out this recipe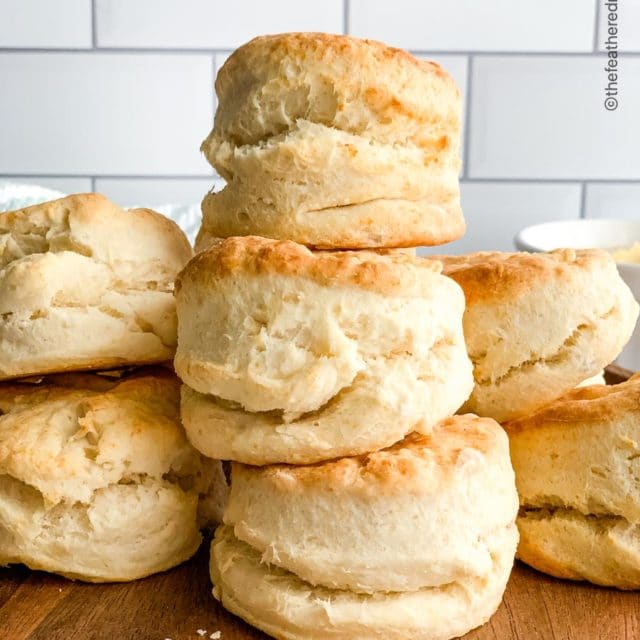 German Apple Cake Recipe
I have been making this delicious Sunken German Apple Cake for years. With sliced apples nestled in a rich vanilla cake, it's absolutely delicious. My German born son-in-law loves this cake as does the rest of our family. Since we are having so many traditional American dishes, I decided to make a German Apple Cake to our Christmas menu for dessert.
Here is the recipe: German Apple Cake (Sunken Apple Cake)
Here are more holiday menus and recipes
I hope my Christmas menu and recipes give you some holiday inspiration.
Here's wishing you a very Merry Christmas, filled with peace, love, and good cheer!