If you click on a link and make a purchase, I may receive a small commission at no extra cost to you. See my disclosure policy here.
Recently, my daughter challenged me to incorporate more meatless meals into my meal plans. I was intrigued by her suggestion and certainly recognized the health benefits in doing so. So, I'm accepting the meal challenge. I've added a few meatless meals into this week's meal plan.
Meatless Meal Challenge
The only obstacle is my hubby's meat loving ways. I'll never forget the time when as a newlywed I made him marinara over pasta (without meat). Oh my, you'd have thought I'd served him dog food! He believes dinners should be meat-centered meals.
The other obstacle is that we aren't big vegetable eaters. So if I take the meat out of the meal, I need to rely on beans or cheese as our protein source for the meatless meals. And, I'll sneak in some hidden veggies when I can.
This Week's Meals and Recipes
So, in honor of the challenge, I am adding some meatless meals to this week's recipes. These meals are Trim Healthy Mama friendly, too.
I'm posting a live video on Instagram Saturday and Sunday showing how I do this. Here's my link: https://www.instagram.com/thefeatherednester/ and if you're not familiar with the Stories feature of Instagram, you go to the top of your feed where it says "Stories" and look for my face bubble with the words thefeatherednester below.
Let's check out the meals for this week!
South of the Border Pinto Beans
To make these pinto beans quickly and easily in the Instant Pot, get the recipe for Instant Pot Pinto Beans here. This recipe offers an easy, no-soak method.
Make Pinto Beans on the stovetop with the recipe below:
South of the Border Pinto Beans
The spices and jalapeño pepper give these beans a zesty kick. You can control the level of spiciness by removing all of the membrane and seeds in the jalapeño pepper, or adding in some for more spice.
For a vegan main dish, add quinoa or rice.
Ingredients
1

lb

dried pinto beans

2

Tbsp

olive oil

1

large onion, chopped

4

cloves

garlic, minced

1

large jalapeno, chopped with membranes and seeds removed

1

Tbsp

oregano

(Mexican oregano is recommended)

1

tsp

ground cumin

1

32 oz container

vegetable or chicken stock, low sodium

1-2

smoked ham hock (optional)

1

tsp

cider vinegar
Instructions
Rinse and soak black beans overnight, or use quick soak method (using instructions on bag of beans).

In a large pot or dutch oven, heat olive oil over medium-high heat, then add onion and cook until translucent. Stir in garlic and spices and sauté for 1 minute.

Stir in stock, 3 cups or water, beans, and ham hock. Bring to a boil, then reduce heat and simmer covered for 1 hour. Stir in vinegar, then simmer uncovered for 45-60 minutes until beans are tender and the liquid has thickened. Remove ham hock and use a fork or knife to remove the meat from the bone.
Nutrition
Serving:
1
g
|
Calories:
411
kcal
|
Carbohydrates:
51
g
|
Protein:
25
g
|
Fat:
12
g
|
Saturated Fat:
3
g
|
Polyunsaturated Fat:
1
g
|
Monounsaturated Fat:
7
g
|
Cholesterol:
31
mg
|
Sodium:
82
mg
|
Potassium:
1215
mg
|
Fiber:
13
g
|
Sugar:
3
g
|
Vitamin A:
44
IU
|
Vitamin C:
10
mg
|
Calcium:
116
mg
|
Iron:
5
mg
Chicken Piccata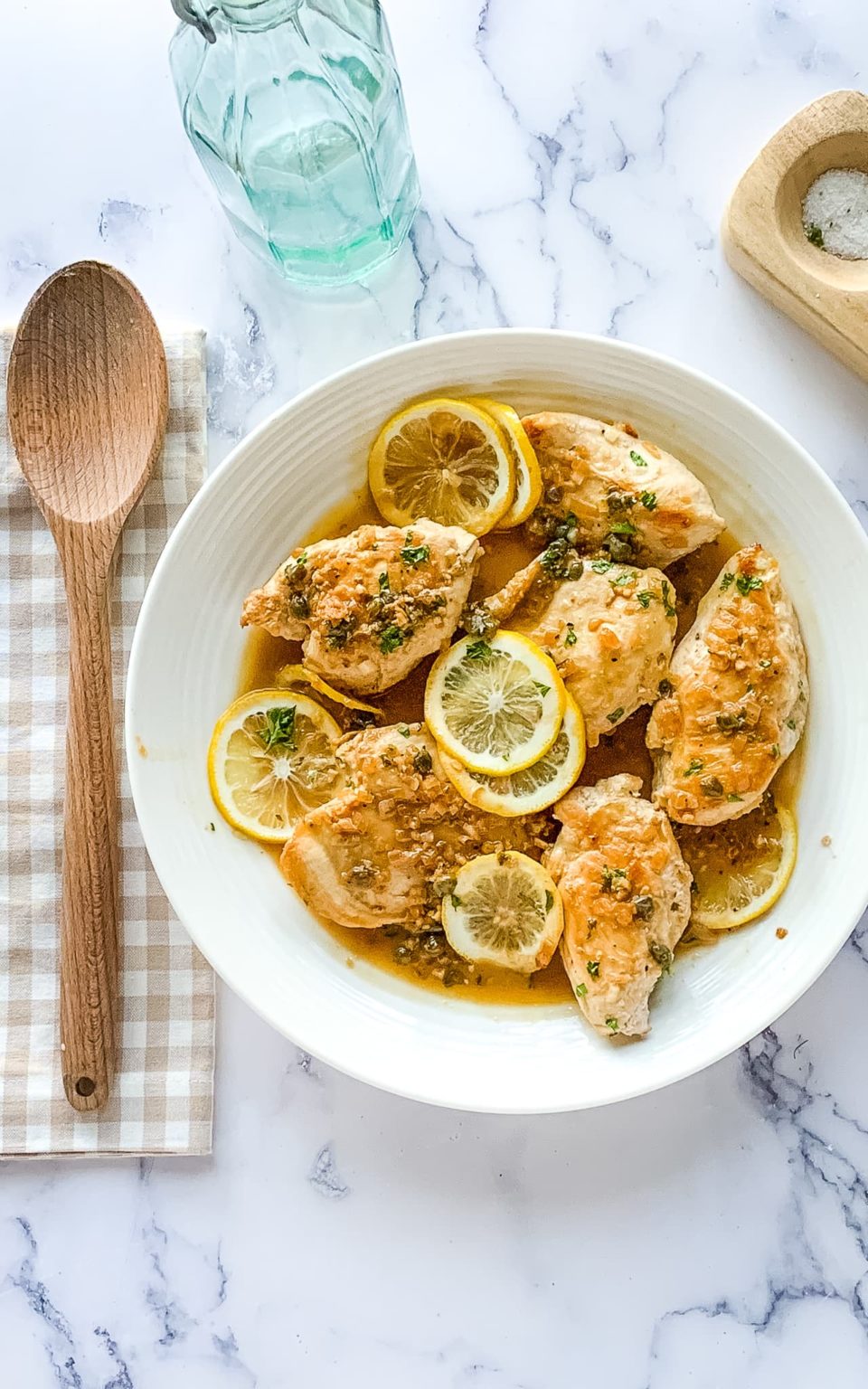 Get the recipe for Chicken Piccata here:
Chicken Piccata Recipe
This bright and flavorful lemon Chicken Piccata recipe is the perfect weeknight dinner, easily homemade in less than 30 minutes with just one skillet!
Check out this recipe
Traditional Marinara Sauce
Use Dreamfield's pasta, Zero Pasta, or Trim Healthy noodles for those following THM.
Quick Traditional Marinara Sauce
Traditional marinara sauce contains simple ingredients. For best results use San Marzano tomatoes, available in most grocery stores.
Ingredients
1

28-oz can

whole San Marzano tomatoes

¼

cup

extra-virgin olive oil

7

garlic cloves, peeled and slivered

1

tsp

red pepper flakes

1

tsp

kosher salt

1

large fresh basil sprig

or 1/4 teaspoon dried oregano, more to taste
Instructions
Pour tomatoes into a large bowl and crush with your hands. Pour 1 cup water into can and slosh it around to get tomato juices. Reserve.


In a large skillet (do not use a deep pot) over medium heat, heat the oil. When it is hot, add garlic.

As soon as garlic is sizzling (do not let it brown), add the tomatoes, then the reserved tomato water. Add red pepper flakes, oregano, and salt. Stir.

Place basil sprig, including stem, on the surface (like a flower). Let it wilt, then submerge in sauce. Simmer sauce until thickened and oil on surface is a deep orange, about 15 minutes. (If using oregano, taste sauce after 10 minutes of simmering, adding more salt and oregano as needed.) Discard basil.
 Slow Cooker Teriyaki Ribs
Make it a fix it and forget it kind of day with these Slow Cooker Teriyaki Ribs. Once you add the ingredients to the Crock-Pot, set the time and dinner's ready when you are. That makes this an ideal set it and forget it or dump and go dinner!
Pair these slow cooker ribs with coleslaw for the perfect dinner any night of the week.
Slow Cooker Teriyaki Ribs
Perfect for a busy day, you can throw these ribs in your crockpot in the morning and have dinner ready when you get home. 
Ingredients
1

rack/slab

baby back ribs (about 2.5 lbs)

2/3

cup

teriyaki sauce

1

Tbsp

balsamic vinegar

2

cloves

garlic, minced or pressed
Instructions
Sprinkle ribs lightly with pepper, place in crockpot, and brush with 1/3 cup of  teriyaki sauce generously to ensure that the ribs are coated on both sides with sauce.

Cover with the lid and turn on low for 7-8 hours or high for 4-5 hours. Internal temperature should be 145ºF.

Remove from crockpot, cover with foil, and allow to rest for 10 minutes. 

While the ribs are resting, add vinegar, garlic, and remaining 1/3 cup of teriyaki sauce to the juices in the bottom of the crockpot. For a really rich sauce, add 1/3 cup of your favorite BBQ sauce. Turn crockpot to high setting and allow to simmer until thickened, about 5-10 minutes. 

Brush thickened sauce from crockpot onto the ribs, and serve warm.
Nutrition
Serving:
2
ribs
|
Calories:
246
kcal
|
Carbohydrates:
6
g
|
Protein:
20
g
|
Fat:
16
g
|
Saturated Fat:
6
g
|
Trans Fat:
1
g
|
Cholesterol:
66
mg
|
Sodium:
1310
mg
|
Potassium:
314
mg
|
Fiber:
1
g
|
Sugar:
5
g
|
Vitamin A:
21
IU
|
Vitamin C:
1
mg
|
Calcium:
40
mg
|
Iron:
1
mg
Fluffy Scrambled Eggs with Ham
The weekend breakfast meal is fluffy scrambled eggs with ham. The ham is optional, of course. I learned the secret to making fluffy, perfectly scrambled eggs from watching Martha Stewart's cooking show many years ago.
The tips to perfect scrambled eggs are matching the number of eggs to the size of the skillet, mixing the eggs to just the right consistency, and using a rubber spatula to cook them.
Fluffy Scrambled Eggs with Ham
Making delicious, light and fluffy scrambled eggs is much easier than you imagined. The key is in using the right sized skillet for the number of eggs.
Ingredients
8

large eggs

2

Tablespoons

cream

(can substitute with milk or water)

1

teaspoon

salt

1/2

teaspoon

pepper

1/2

cup

precooked ham, diced

1

Tablespoon

butter

(can substitute with oil, but do not use margarine)
Instructions
Crack the eggs and add them to a medium-sized bowl. Tip: crack eggs on a flat surface to minimize shells fragments.

Add the water or cream to the eggs. Use a whisk to gently mix the eggs until they are a uniformly yellow color throughout. 

Melt the butter in a 10" to 11" non-stick skillet until it's foamy. Pour in the eggs. Slowly slide the rubber spatula around the sides. 

When the edges of the eggs are beginning to set a little, use the spatula to slide the eggs from the edge of the pan towards the middle, going around the pan. Continue doing this as the runny portions move back towards the edges of the pan, until all the eggs look like big curds.

Add the diced ham and gently stir into the eggs. Serve immediately, while eggs are still warm. 
Notes
When you are sliding the eggs from the edge of the pan to the middle, the direction looks like spokes of a bicycle wheel. 
Nutrition
Calories:
193
kcal
|
Carbohydrates:
1
g
|
Protein:
14
g
|
Fat:
15
g
|
Saturated Fat:
6
g
|
Polyunsaturated Fat:
2
g
|
Monounsaturated Fat:
5
g
|
Trans Fat:
1
g
|
Cholesterol:
353
mg
|
Sodium:
920
mg
|
Potassium:
131
mg
|
Fiber:
1
g
|
Sugar:
1
g
|
Vitamin A:
674
IU
|
Vitamin C:
1
mg
|
Calcium:
56
mg
|
Iron:
2
mg
More Tips, Meal Preparation, What's Cooking Daily
For cooking tips, additional meal preparation, or to know what's cooking in my kitchen daily, follow me on Instagram or Facebook (link) and watch my stories there.
Get more dinner inspiration:
Learn more about Trim Healthy Mama:
Stay cooking my friends. Oh and let me know what you think about the meatless meals…and I'll share how they're going over in my home!