If you click on a link and make a purchase, I may receive a small commission at no extra cost to you. See my disclosure policy here.
It's springtime and I can't believe it! But, seeing the daffodils and tulips in bloom reminds me that it's here. Everything seems lighter and brighter, including my dinners.
Did I mention in last week's meal post that I'm making our meals lighter? Yup, it's true. I'm using leaner cuts of meat and lower fat dairy to cut the fat and calories. And, our meal plan has a few meatless dinners this week.
You'd never know these meals have been lightened up. They still have all the flavor, just fewer calories and more whole grains. Cheers to eating a little lighter!
Meatless Monday
This week, in keeping with my lighter theme, Monday's dinner is meatless. We're having Black Bean Soup with Cheese Quesadillas.
Black beans are full of protein and fiber. My recipe uses canned beans, but you can easily substitute dried beans. That's what I'll probably do.
Prepare the black beans as directed on the package. If you're pressed for time, I've had success pressure cooking them. Add 6 cups of hot water and a bag of black beans to the Instant Pot. Cook at high pressure for 25 minutes, then let the pot do a natural release for 20 minutes. Use 1.5 cups to replace each can of beans.
To make the quesadillas lighter, I'm using whole grain tortillas and reduced-fat cheese.
The Black Bean Soup is in this blog post: https://thefeatherednester.com/whats-cooking-kitchen-new-recipes-share/.
For the quesadillas (serves 2-4):
2-4 whole wheat flour tortillas
1/2 cup to 1 cup of Mexican blend cheese, grated
Heat a griddle or heavy skillet on medium-high heat, once its heated add the tortillas and cook until lightly browned and bubbly. Turn down the heat to medium, return a tortilla to the pan, sprinkle 1/4 cup of grated cheese on it, and top with a second tortilla. Once the cheese has started melting, flip the tortilla. Cut into wedges, and serve with light sour cream or guacamole.

Tasty Tuesday Made Lighter
How about Sheet Pan Chicken Fajitas? Sheet pan dinners are so easy. And, it's great having less pots and pans to clean.
This dinner is full of nutrition with colorful bell peppers and onions. It's full of protein, but lighter thanks to lean chicken breast. For those of you following a Keto or low-carb program, fajitas are a winning dinner. Just skip the tortillas.
To make Sheet Pan Chicken Fajitas (Serves 4):
1 lb of chicken breast, thinly sliced into 1/2″ x 3″ strips.
3 bell peppers, thinly sliced lengthwise
1 red onion, thinly sliced lengthwise
1-2 Tbsps olive oil
a blend of seasonings – chili powder, cumin, salt, pepper
10-12 corn tortillas
toppings – cilantro, sour cream, cheese
Spread the chicken and vegetable slices out on a large sheet pan. Drizzle with olive oil and sprinkle on the seasonings. Bake at 350 degrees for 20-25 minutes.
Serve on whole grain, stone-ground corn tortillas.
Wednesday is "National Frozen Food Day"
When I think of frozen foods, prepackaged, convenience foods come to mind. But, there are nutritious frozen foods! One of them is Trader Joe's Japanese Fried Rice. I'm serving it with stir-fry pork tonight.
This meal is made lighter by using lean pork. The fried rice is pretty nutritious, too, with edamame, tofu, and seaweed in it.
Here's what I'm using (serves 3-4):
3/4 lb. lean pork, thinly-sliced (for stir-fry)
1 tsp sesame oil
Trader Joe's Japanese Style Fried Rice
Snow peas
For the fried rice: Preheat a heavy skillet or wok. Swirl the sesame oil and when it's shimmering add the pork slices. Cook 2 minutes, then add the fried rice and follow the package directions for the fried rice.
I'll serve the snow peas raw because that's how I prefer them. And, raw food is nutritious and lighter. But, you can stir fry them with the pork if you liked them cooked.
Thursday Leftovers
Leftovers get a bad rap. My favorite way of using leftovers is to re-purpose them. That leftover taco meat becomes meat in the chili, or the leftover chicken breasts turn into chicken soup. No one's the wiser.
My idea for tonight's dinner is to take the leftover black beans and turn them into burritos. We'll mix them up with some rice, lettuce, tomato, and onion. Top with salsa or enchilada sauce, sprinkle with cheese and make it a fancy burrito.
This meal becomes lighter by using whole grain tortillas, brown rice, and reduced-fat cheese sparingly. This Minute Brown Rice is a busy cook's best friend:
The prep for this meal will be shared Thursday on Instagram stories: https://www.instagram.com/thefeatherednester/. To see, click on my picture circle and it will take you to my stories. It will be available after 3pm Pacific Time on Thursday.
Fabulous Friday
This Friday, we're having my favorite meal tonight! Grilled Ribeye steaks, with green salad, and baked potatoes. After eating lighter, healthier meals this week, this steak is going to taste delicious!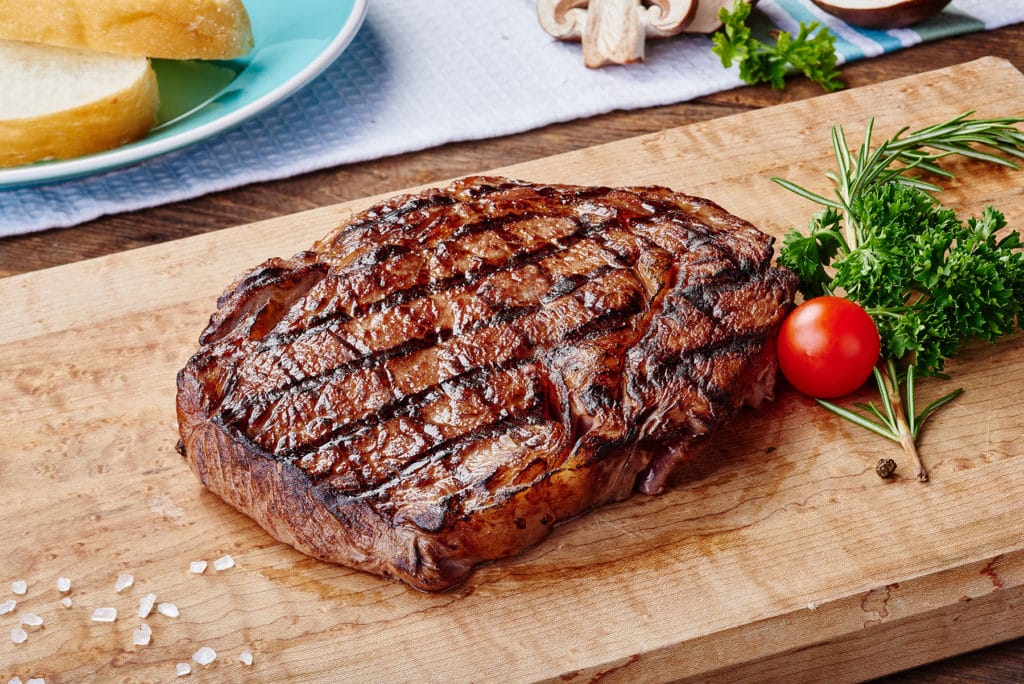 Although this is an indulgence meal, I'll eat more salad and less steak. The hubs and I will probably share a Ribeye.
To lighten the meal more, I'll use light sour cream, and only a tiny pat of butter. Chives and green onions will bring a welcome flavor boost to the baked potato, too.
The recipe is in this blog post: https://thefeatherednester.com/almost-christmas-sharing-menu-recipes/. I'll probably share my husband preparing the steak in Instagram Stories on Friday.
Weekend Eats
This weekend is our 4th annual girls getaway! Our getaways began as a day-long shopping trip with my daughter's on Mother's Day in 2016. The next year, we made it an overnight trip. This year, we're going north to Sacramento for the weekend to go to Ikea and The Container Store.
I should be home for dinner Sunday evening. If so, we're having Turkey Burgers with sweet potato fries. I really like the Alexa brand of sweet potato fries, so we'll be having those. Feel free to make yours from scratch. They just take a little longer to bake.
There you have next week's meals and recipes. To make grocery shopping easier, I'm using "grocery pick up" again this week. One of the things I like best about it is that I start a new cart as soon as I pick up my old grocery order. As I run out of things, I just add them to my cart. Then checkout and schedule a pickup when I'm ready.
Guess What? I'm going LIVE!
Did you know I do live dinner prep? Yep, I recently started doing dinner prep live through my Instagram account. Generally, it's every Monday and one or two other nights that vary. If you follow me on Instagram, you'll get notified when I go live. I also post a "heads-up" about it in my Instagram stories.
To see live dinner prep, follow me on Instagram: https://www.instagram.com/thefeatherednester/.
See more healthy dinner inspiration and recipes:
Now, go make something delicious today!