For an easy holiday breakfast or brunch, you and your guests will love this oven baked french toast casserole! It features cinnamon French toast baked with a maple custard, and then it's topped with a creamy and sweet icing glaze. Prep this easy overnight breakfast casserole the night before, using frozen dough, and then just bake it in the morning when you're ready to enjoy.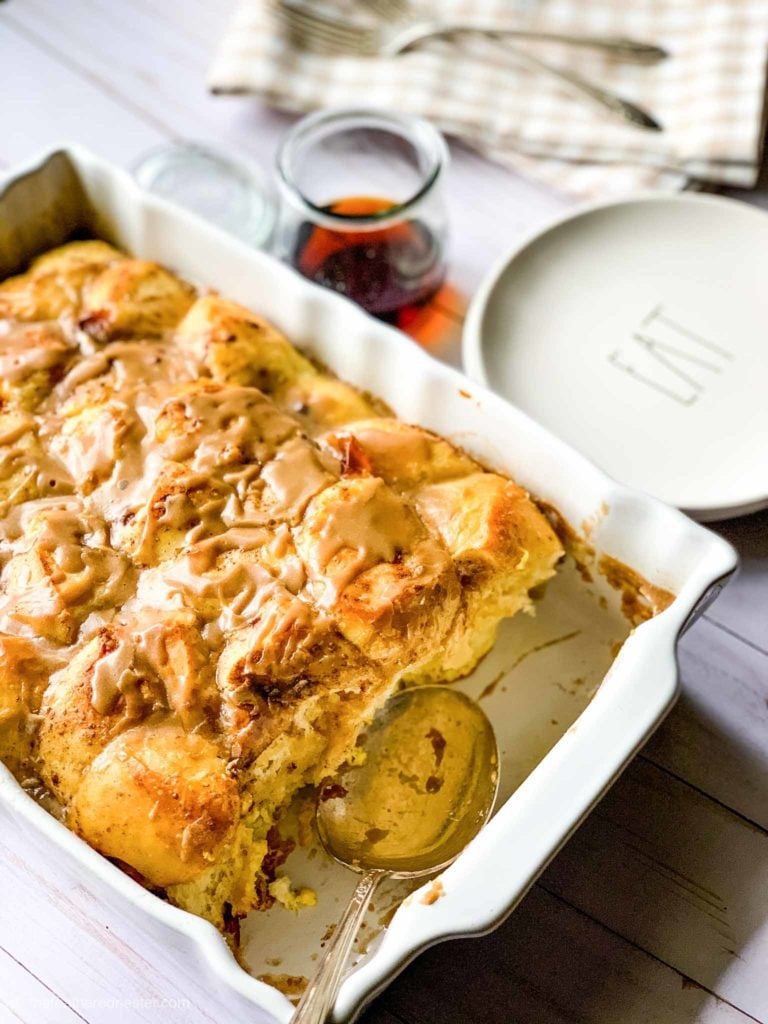 Life is a little different right now, and we are all trying to find a new normal in our lives. Which includes that beloved tradition of having frequent weekend brunches and holiday breakfasts with our family and friends.
Food has always been something that brings people together. So, here's an idea: share a recipe with your loved ones! It's fun planning to enjoy the same breakfast together or "together" on those special holidays or for a relaxed virtual Sunday brunch. Near or far, you can still connect through food.
Why We Love Oven Baked French Toast Casserole
This Easy casserole recipe is perfect for sharing, whenever and however you can! It makes a nice weekend breakfast because you can make it ahead. It's really easy to prep ahead, so we like to make during the busy holidays for a brunch entree. It's great for Easter, Mother's Day, and Christmas.
If you want a french toast recipe using sourdough, make our Sourdough French Toast! Another popular holiday brunch favorite is Hawaiian roll french toast.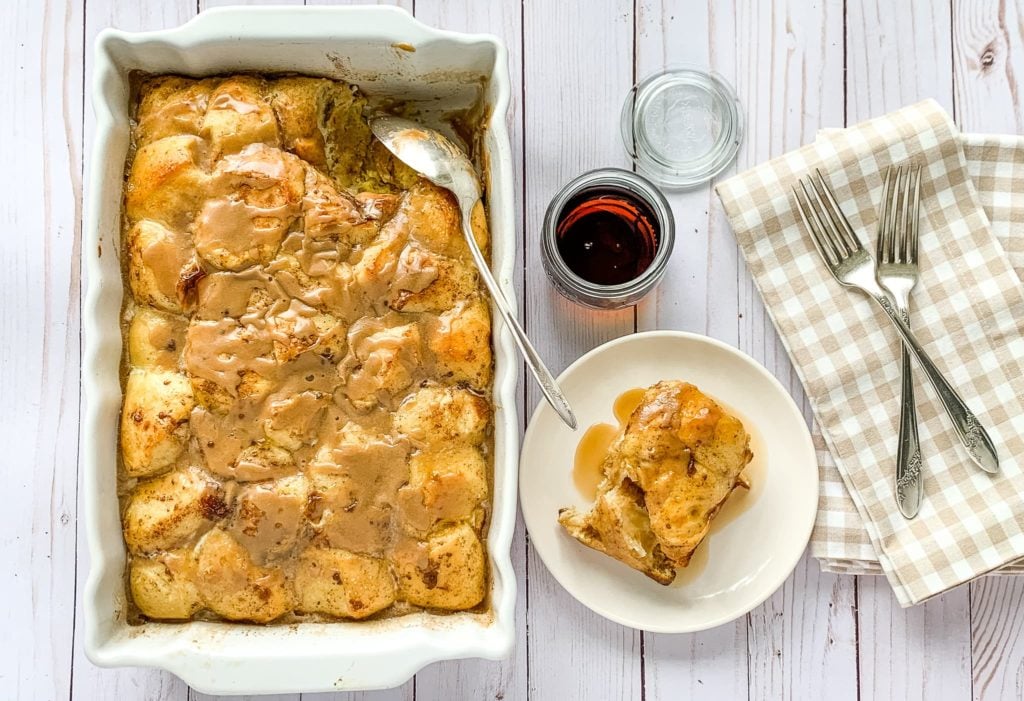 To make this breakfast casserole even easier than ever, we start with frozen dough!
You know, I am a big fan of Bridgford Food's frozen dough. I've shared their Monkey Bread and made a Ham & Brie Casserole and Italian Sliders with it.
This time around, we decided to make a scrumptious breakfast casserole. Something that can be made ahead. And, here it is – The Best Overnight Cinnamon French Toast Casserole.
For Overnight Breakfast Casserole, Renae Uses and Recommends
Well, thanks to Bridgford's Ready-Dough, making this french toast bake is simple. You prepare it the night before, then pop it in the oven in the morning. Plus, it's so easy that even kids can help make it!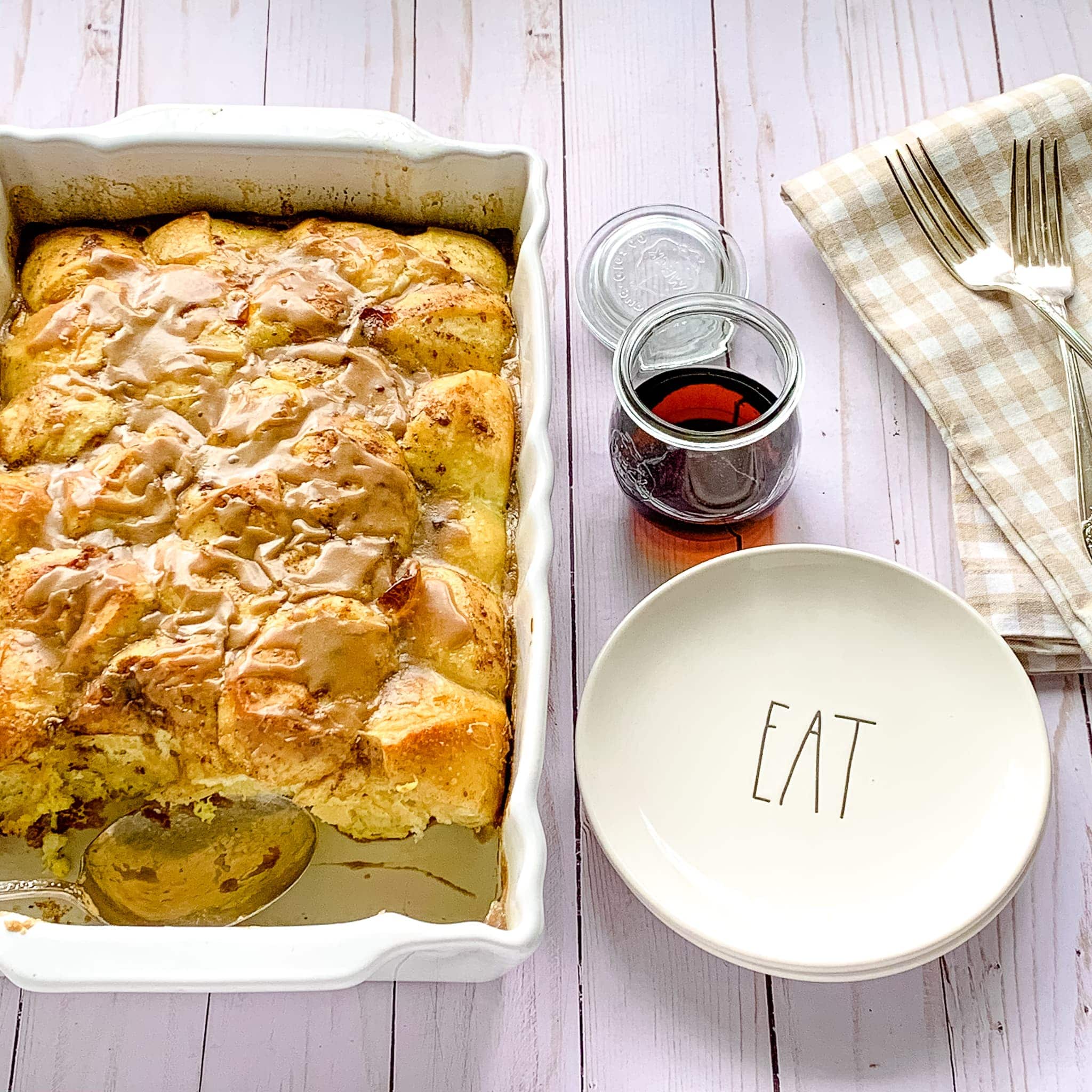 Ingredient Notes and Substitutes
Along with using premade dough, this French toast casserole recipe only requires a handful of simple ingredients.
Sugar
Ground Cinnamon
Eggs – If you're watching your cholesterol, you can use just the egg whites. Some stores even carry containers of egg whites in the dairy section. Look near the milk products.
Milk – Whole milk will give you a rich, custard-like consistency. 2% works great as well.
Maple extract – If you can't find this, feel free to use 1 teaspoon of pure maple syrup instead. Or, use vanilla or almond extract.

The maple does give this dish that extra authentic french toast taste, but your casserole will still be delicious with a hint of vanilla flavor.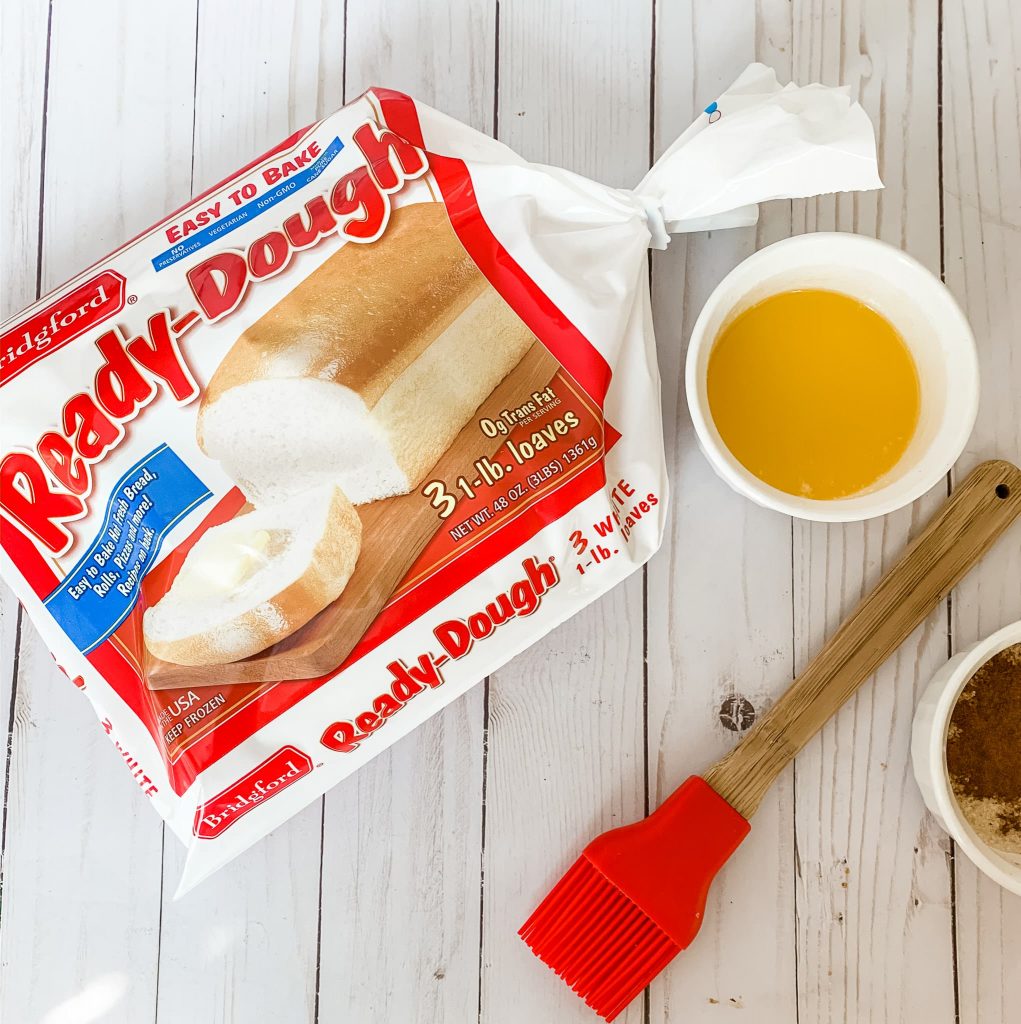 Tips For The Best Overnight French Toast Casserole
Ready-Dough comes in a three-pack of frozen bread dough loaves. This recipe only uses two loaves, so you'll have one left. Use it to make my bread twist recipe for a yummy dessert.
Here's how to bake the best make-ahead cinnamon French toast breakfast casserole:
First, let the two loaves thaw on the countertop for a few hours. The dough should be cold, but easy to cut.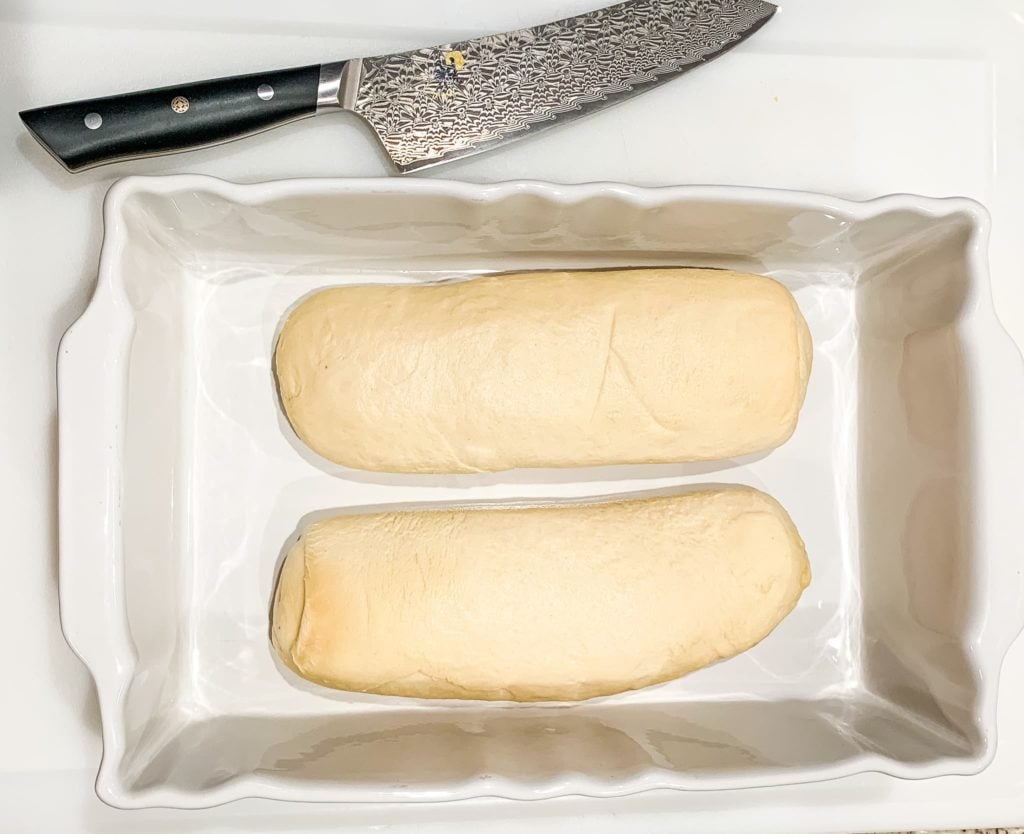 Divide each loaf into 16 pieces. Place them in the casserole dish, and sprinkle on the sugar and a bit of cinnamon.
Next, make the maple custard. Beat 4 eggs and 1/2 cup of milk. Add the maple extract and the rest of the cinnamon. Pour the mixture over the dough.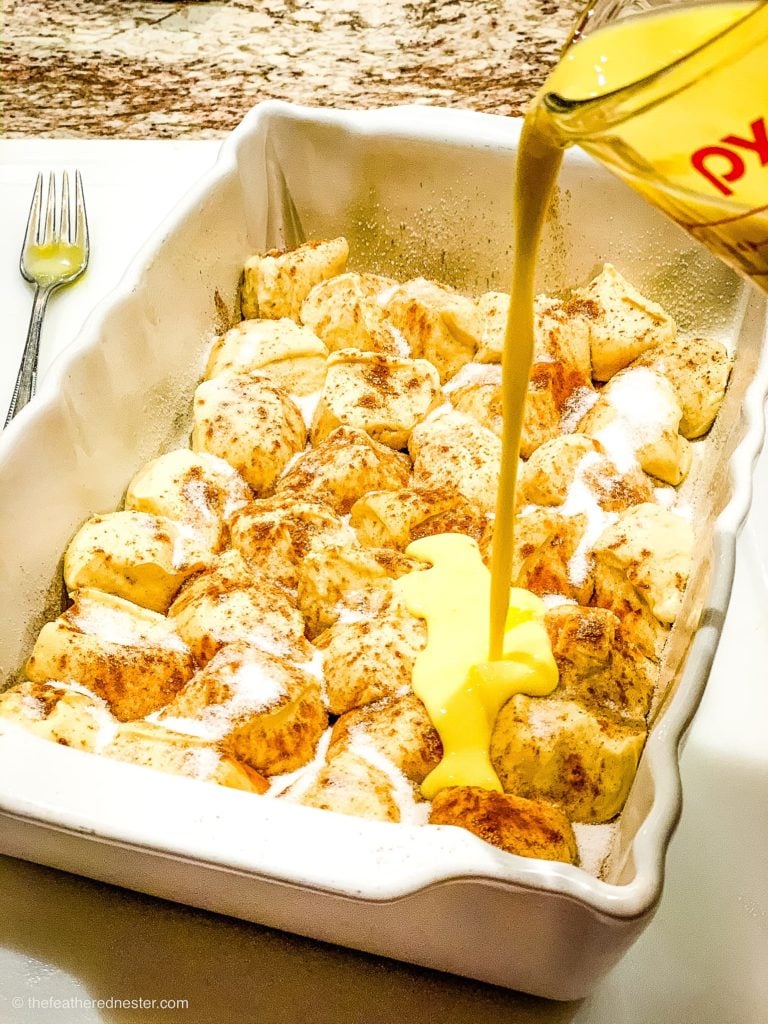 Then, cover the casserole with plastic wrap and refrigerate overnight.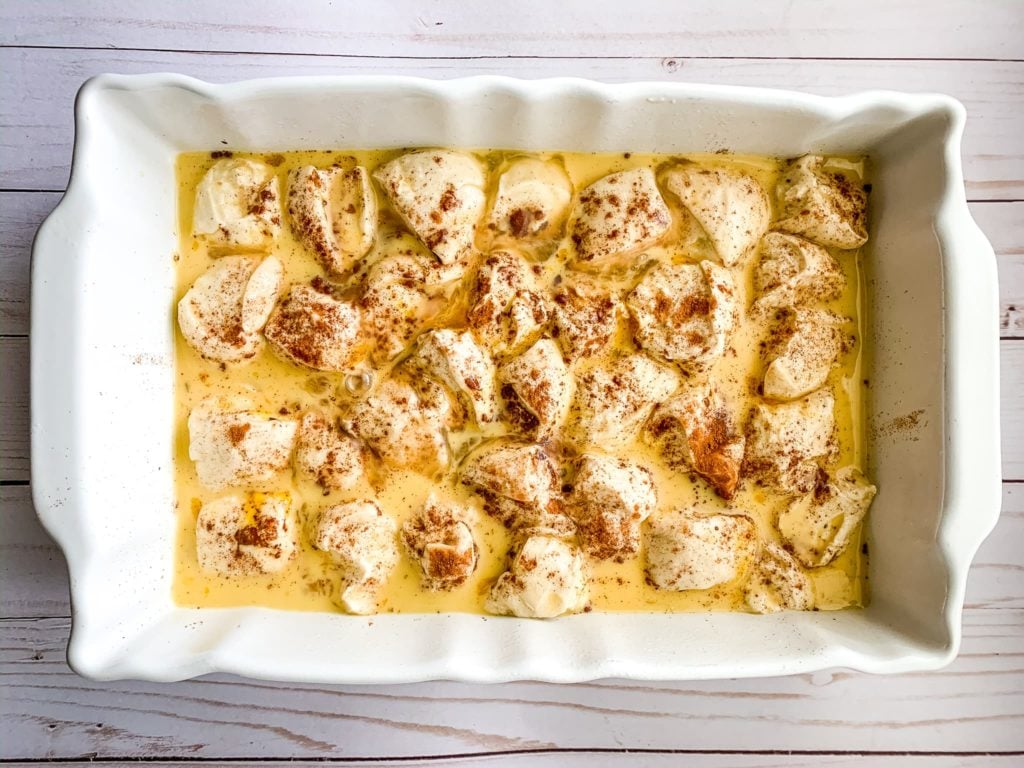 In the morning, pull the french toast casserole out of the fridge, and preheat the oven to 350º. Bake for 20-25 minutes, then let cool for 15 minutes.
While the breakfast casserole is cooling, mix the creamy icing together. Then drizzle it over the top and serve.
Oven Baked French Toast Casserole Recipe FAQ
How long is French toast casserole good for in the fridge?
Keep any leftover casserole in the fridge for up to three days, covered with plastic wrap. Reheat the casserole in your oven until warm in the center, or microwave individual servings.
Is French toast supposed to be gooey in the middle?
The ideal French toast is browned and crispy on the outside and creamy on the inside. It is not dry and it is not soggy. It has a rich, custard flavor (without being too eggy), and is usually sweetened with sugar and garnished with maple or fruit syrup, fresh fruit, and butter — but it can be served savory as well.
Overnight Oven Baked French Toast Casserole
This oven baked French toast casserole is made overnight, and even better, we use frozen bread dough! An easy recipe for a holiday breakfast.
Ingredients
2 loaves Bridgford Ready-Dough (see notes below)
¼ cup cane sugar
2 teaspoons cinnamon
4 eggs
½ cup whole milk
2 teaspoons maple extract or vanilla extract. Or 1 teaspoon pure maple syrup.
Icing
1 cup confectioners sugar
2 tablespoons milk
1 tablespoon maple extract
Instructions
Let the Ready Dough defrost on the countertop in a greased casserole dish covered with plastic wrap for 2-3 hours. Cut each loaf into 16 pieces. Place in the greased casserole dish. Sprinkle the pieces of dough with sugar and cinnamon.

In a small bowl, beat 4 eggs with 1/2 cup milk. Stir in maple extract, and pour the mixture over the bread pieces. Cover the casserole dish with plastic wrap and refrigerate overnight.

The next morning, pull the casserole dish out of the fridge. Let it sit at room temperature while the oven preheats to 350º.

Bake casserole for 20-25 minutes. Let cool for 15 minutes.While the casserole is cooling, mix the ingredients for the icing together until smooth. Drizzle over the casserole and serve.
Notes
*You can also use a 25 oz. bag of Bridgford Parkerhouse Style rolls instead of the Ready-Dough. Thaw rolls on a covered, greased sheet pan on the counter for 1 hour. Cut rolls in half, and follow directions in step 1.
Nutrition
Serving: 8servings | Calories: 416kcal | Carbohydrates: 76g | Protein: 10g | Fat: 6g | Saturated Fat: 1g | Cholesterol: 84mg | Sodium: 573mg | Potassium: 55mg | Fiber: 2g | Sugar: 22g | Vitamin A: 144IU | Calcium: 39mg | Iron: 1mg
PIN THIS POST!