Dutch Oven Carnitas are wonderful to have on hand for a variety of meals — tacos, sandwiches and sliders, burritos — the sky's the limit! Enjoy the deep aroma of Mexican spices that will waft through your kitchen as it cooks. Also called Mexican pulled pork, it's tender and juicy, and is the ultimate make-ahead meal to try now.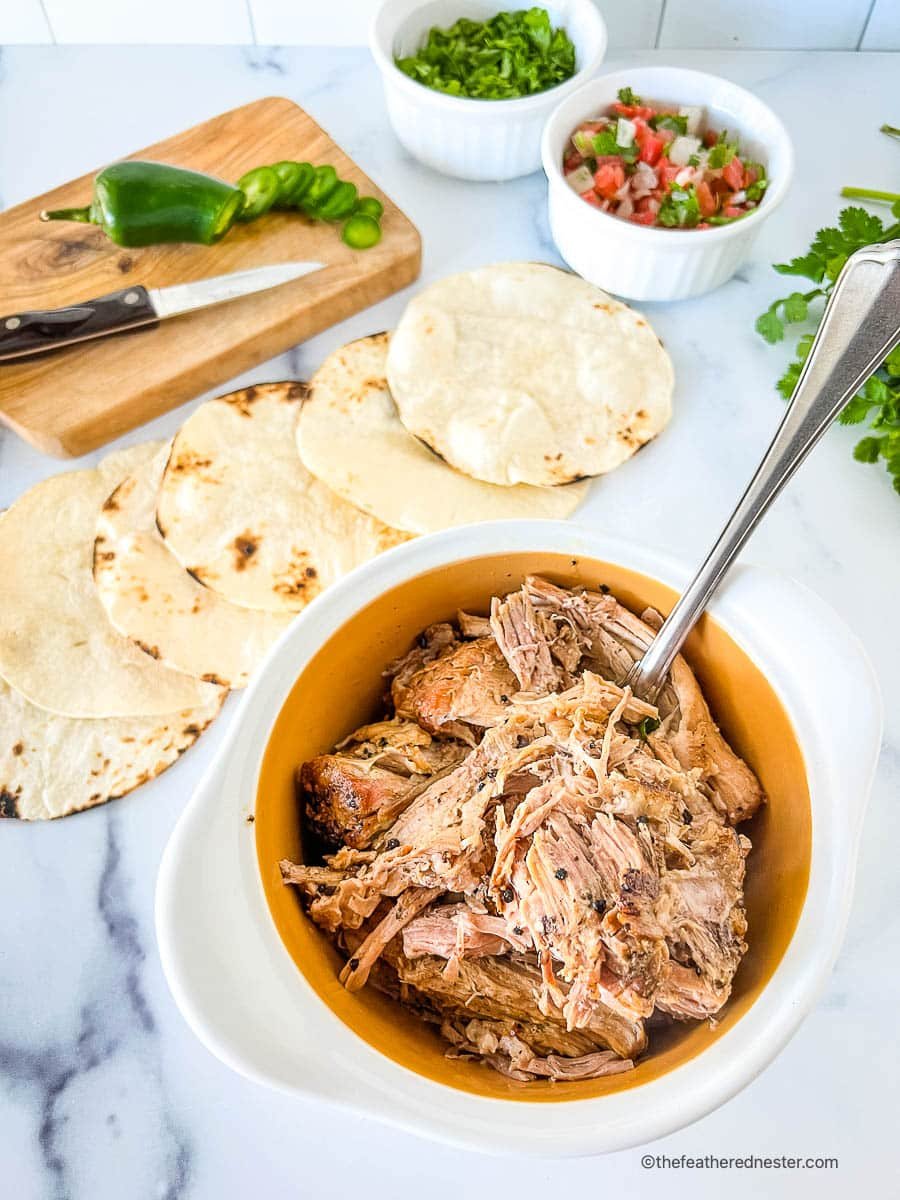 Why We Love Dutch Oven Carnitas
It has fantastic slow roasted flavor.
Every carnitas recipe varies a bit, and it's important to note that ours is Mexican-inspired. Traditional recipes include orange zest, bay leaf, and Mexican oregano. We prefer to let the pork be the star of the show by highlighting its rich flavor with just a few seasonings.
It's easy to make.
While this isn't necessarily a "set-it-and-forget-it" recipe, it comes pretty darn close. All you have to do is load up your Dutch oven with the ingredients, and then check in on it a few times over the course of 5 hours.

For a more hands-off pork dinner, make our recipe for slow cooker teriyaki ribs.
Great for meal prepping.
Want to get ahead for the week on a Sunday afternoon? Pulled pork shoulder is ideal! It reheats beautifully.
Ingredient Notes and Substitutions
Pork Shoulder – You'll need a 4-pound boneless pork shoulder for oven roasted carnitas. Alternatively, you could also use a type of pork butt called Boston butt.

Montreal Steak Seasoning – We almost always have this seasoning blend on hand at home. You could substitute it with an all-purpose seasoning, or make your own by combining garlic powder, onion powder, and salt.

Beef Broth – You need to add some liquid to the pot so that your Dutch oven carnitas don't dry out while they cook. Vegetable broth works, but the flavor of the meat won't be quite as rich.

Olive Oil – This is for searing the pork shoulder before roasting it. Avocado oil is another good choice.

Ground Chili Powder – Here's where the heat comes in! If you like things extra spicy, you can use ground ancho chile or cayenne pepper.
Carnitas FAQ
What cut of pork is best for carnitas meat?
Pork shoulder (also known as butt) is the best. Make sure that it is boneless. It will make shredding a lot easier, and without the bone, you'll get more bang for your buck.
Should you brown carnitas before cooking?
Yes! Searing the pork shoulder before cooking is essential. Your final results will be tender, juicy, and oh-so-yummy. It's a simple step that takes Mexican carnitas to the next level.
Ways to Use Mexican Pulled Pork
There are so many delicious ways to use shredded carnitas meat!
Use the pulled or shredded pork as a topping for tater tot tachos, or a filling for burritos or street tacos.
If you're craving a Mexican-inspired pulled pork sandwich, we have great recipes for homemade hamburger buns and sourdough rolls.
Honestly, you can use it as a filling for any type of sandwich, taco, and burrito, or as a topping on a fresh salad. It also tastes great paired with our avocado crema or Instant Pot black beans. Don't be afraid to get creative!
Dutch Oven Carnitas Recipe Tips
This meal is pretty straight-forward and easy to make, but we do have a few tips to ensure the best results.
Be generous with the seasonings before searing.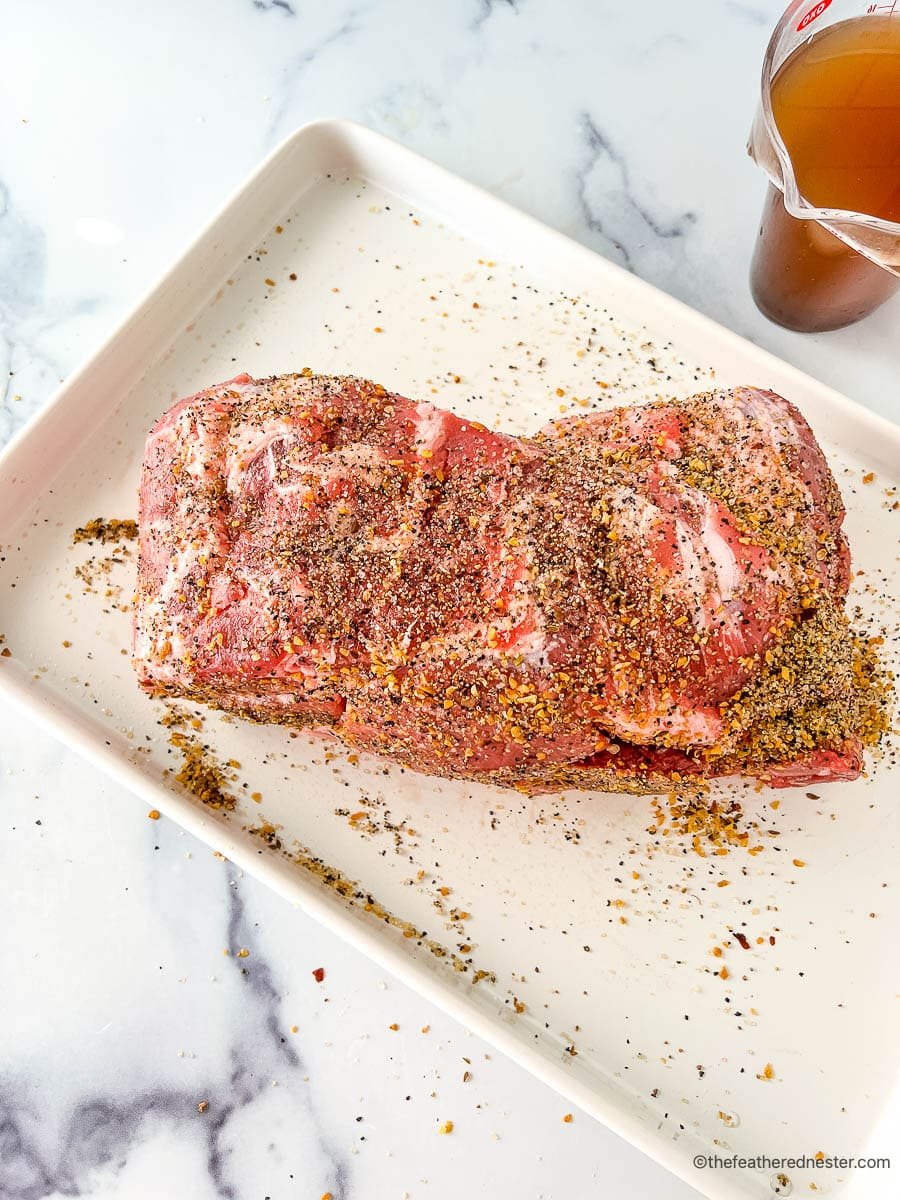 You'll be applying seasoning to the roast before searing, and then another layer of Mexican spices goes over the seared pork shoulder.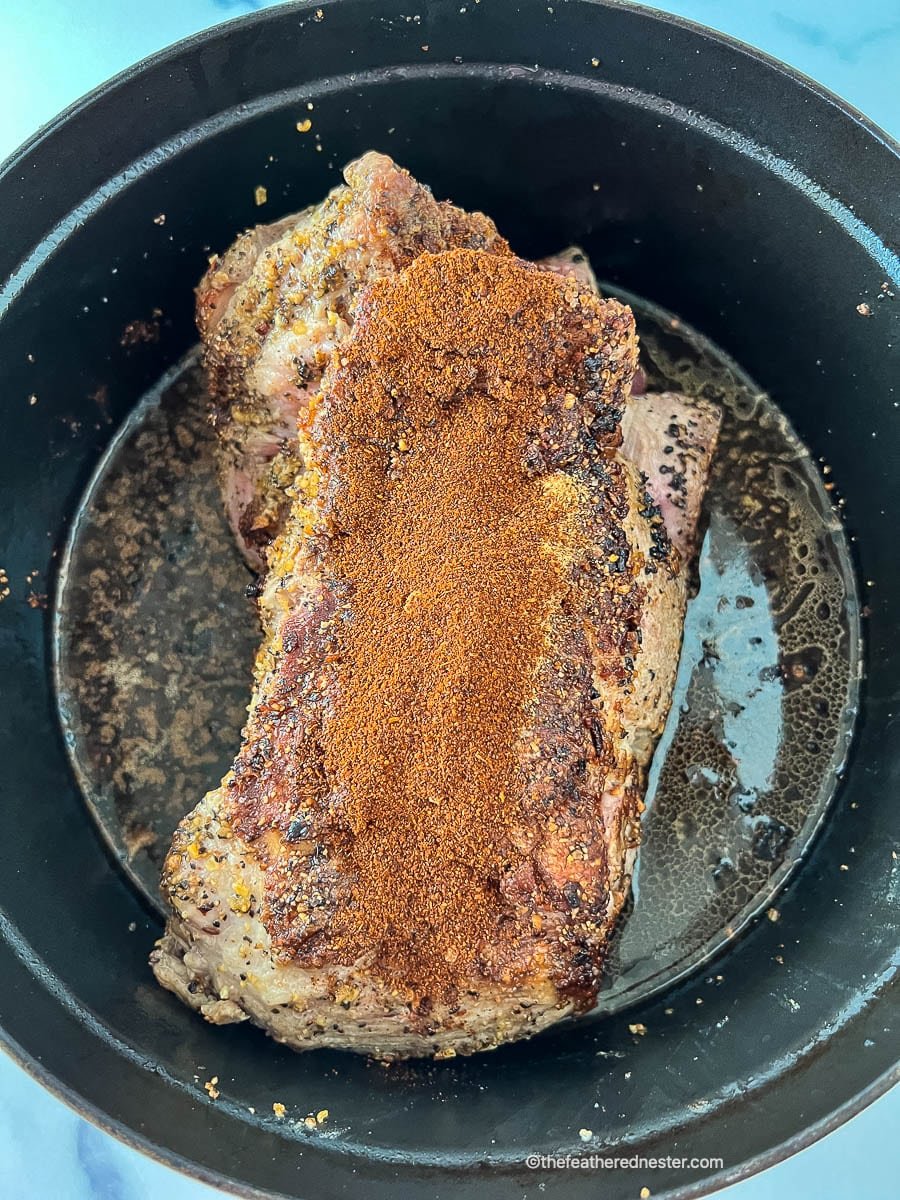 Don't skip the searing.
Before you place your Dutch oven carnitas in the oven for slow roasting, you need to sear the meat on all sides. This helps lock in all of those precious juices and flavors, which ensures perfectly juicy, tender pork.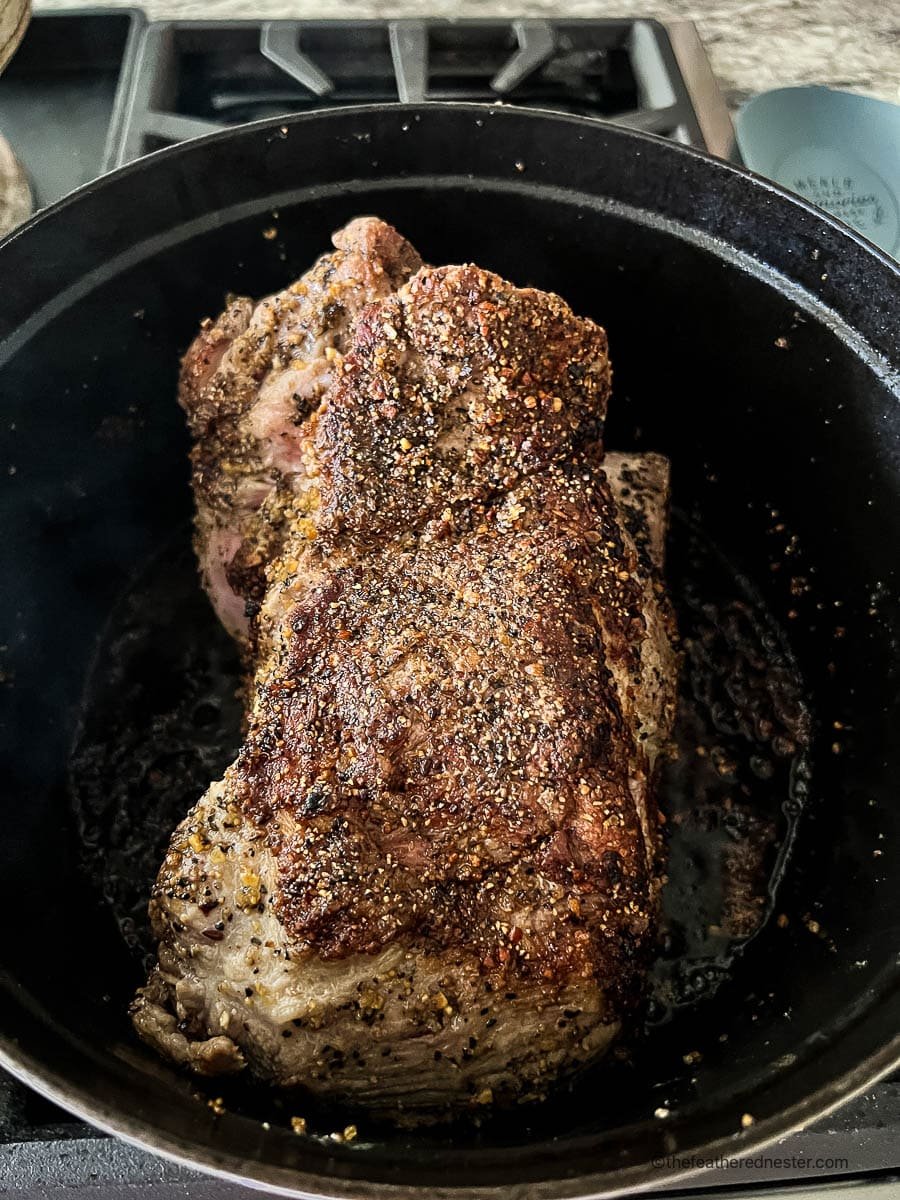 Check on the carnitas as they cook.
It's important to take a look at the pork shoulder after about 2 ½ hours of cooking. Make sure that it isn't burning or drying out; if the liquid level looks low, add a bit more broth to the Dutch oven.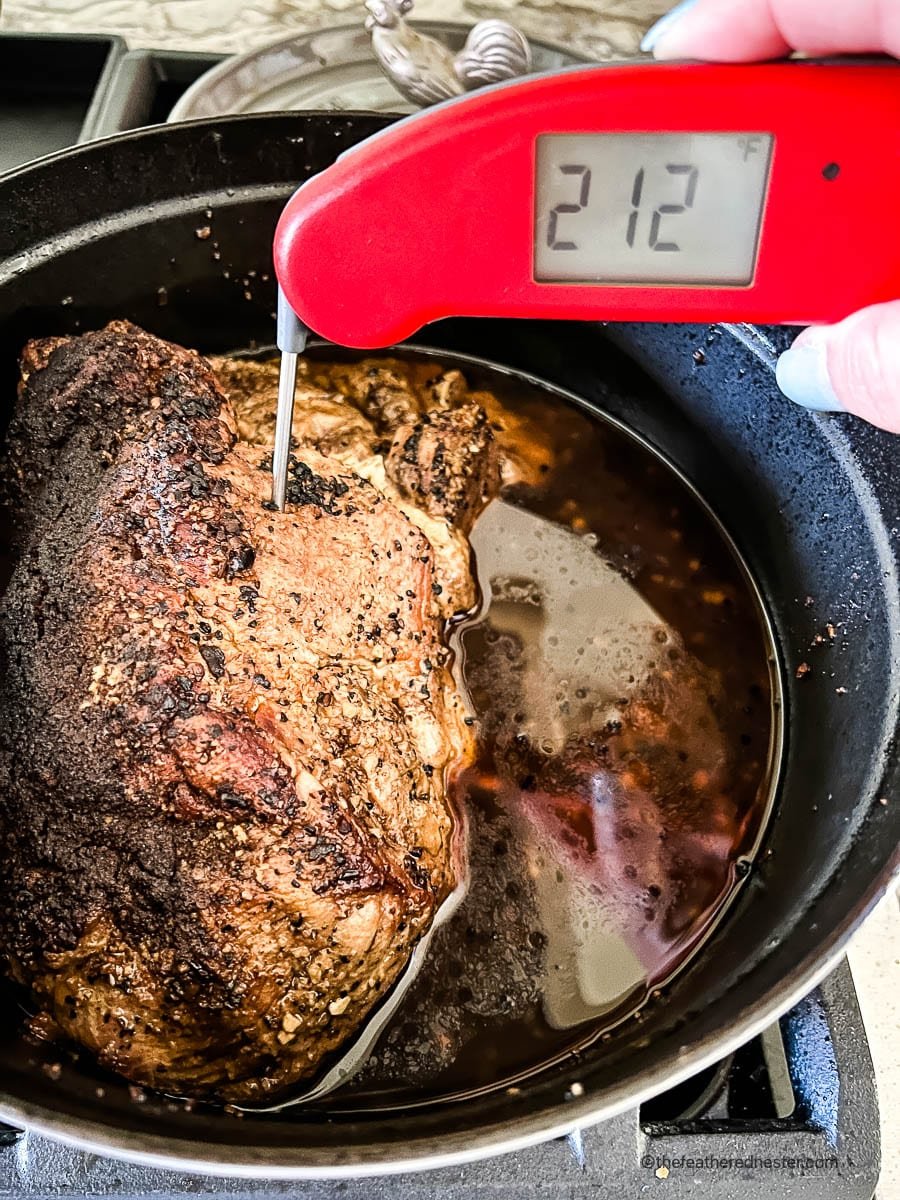 Check the internal temp and tenderness before shredding.
The roast should be perfectly tender and ready to go after about 5 hours. Pork is safe to eat when the internal temperature reaches 145°F., but it isn't tender enough for shredding until it reaches about 190°F.

Use two large forks or meat shredding claws to pull the meat apart (where the name Mexican pulled pork comes from) before serving or storing it for later.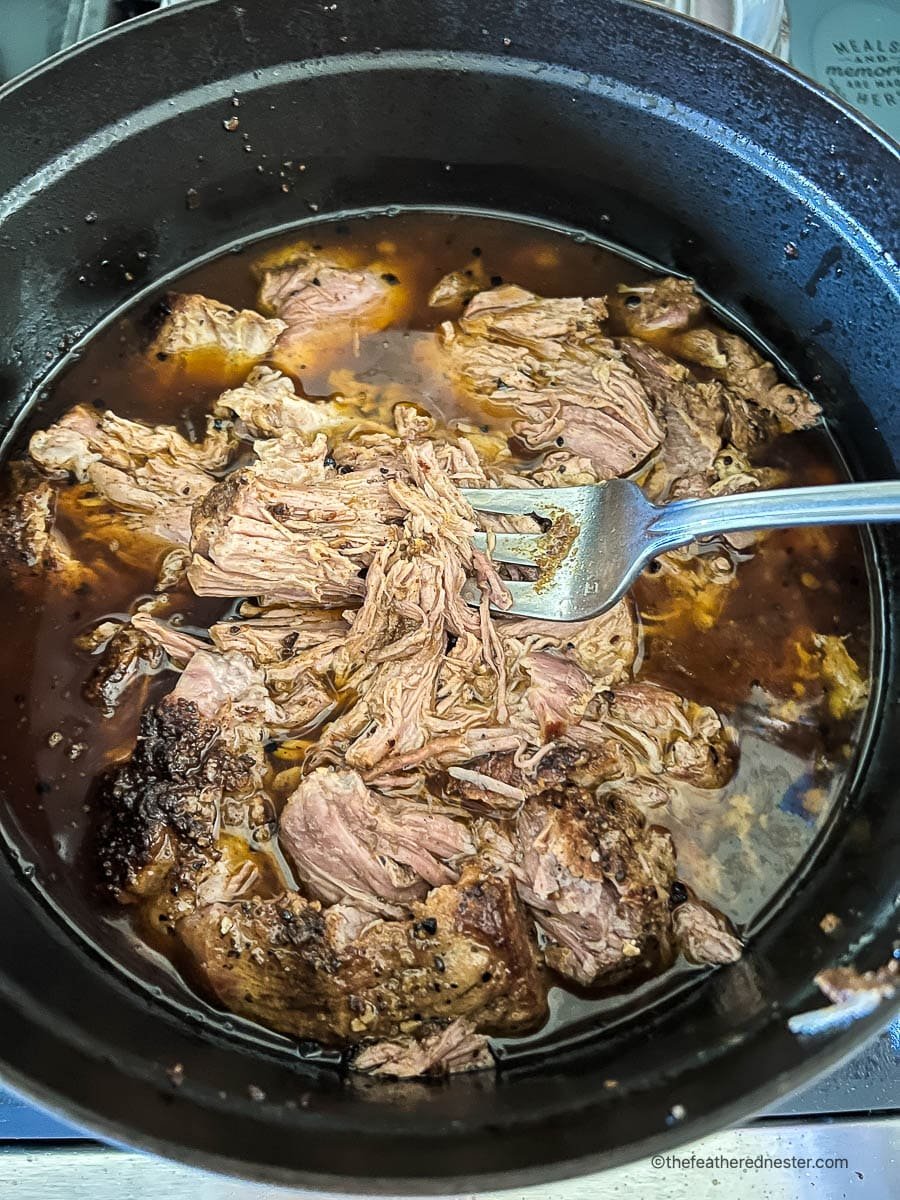 TFN Pro Tip
For crispy carnitas, you can broil the shredded carnitas meat on a sheet pan for about 5 minutes before serving.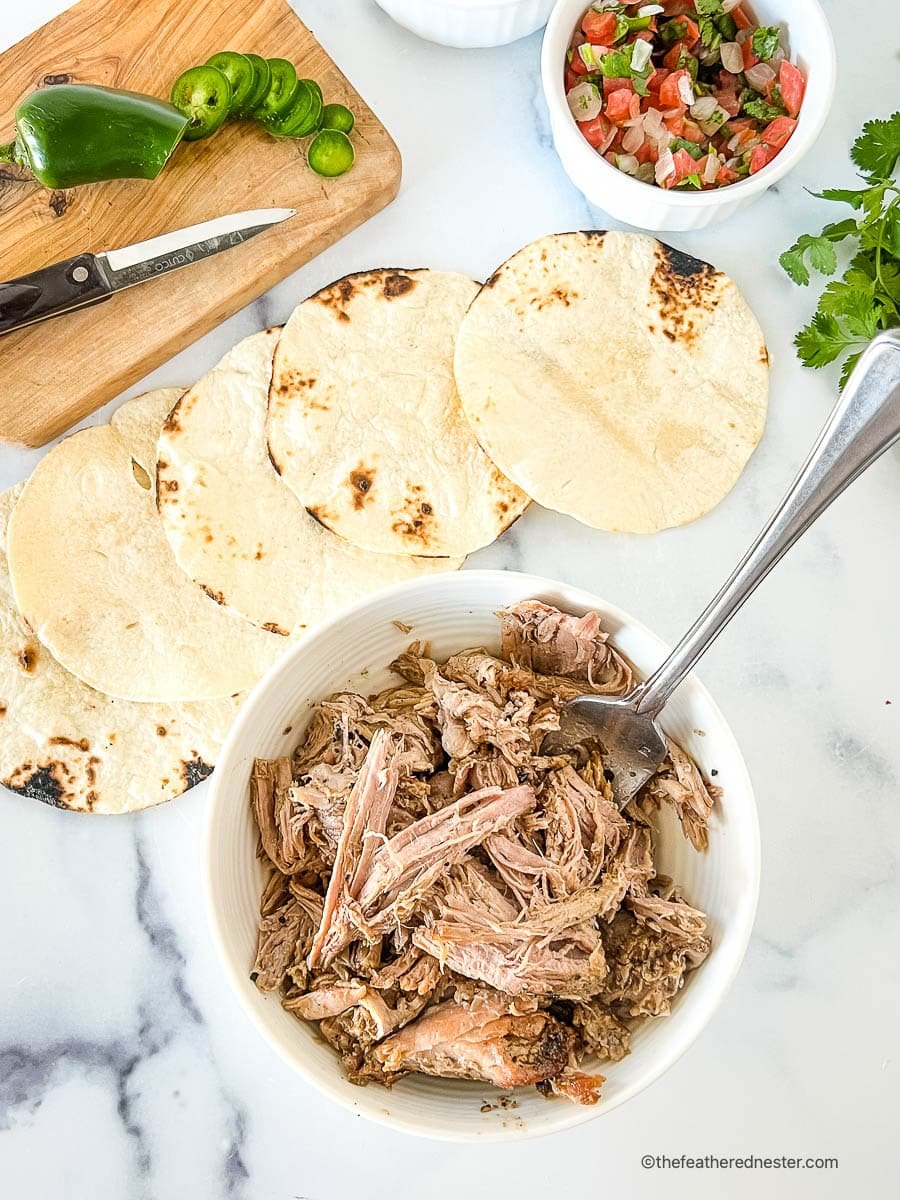 Storing and Reheating
Store leftovers in an airtight container in the refrigerator, where they will keep for 3-4 days.
You can also freeze carnitas for future meals. Place the meat in an airtight, freezer-safe container and store it in the freezer. It will keep for up to 3 months!
To reheat, simply use the microwave or your stovetop. If you want to reheat large quantities, you can place the carnitas on a baking sheet and heat in the oven.
If working from frozen, be sure to let the meat thaw in the fridge overnight for the best results.
Enjoy this Mexican-inspired meal, and please leave a comment and rate the recipe to let us know what you think of it.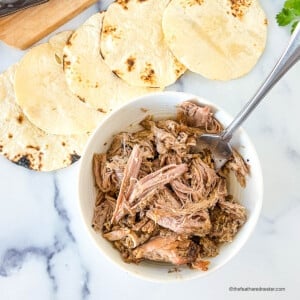 Dutch Oven Carnitas (Mexican Pulled Pork)
Our Dutch oven carnitas are slow roasted for fork tender Mexican pulled pork. Make this pork carnitas recipe for the best tacos or burritos!
Ingredients
4 pounds boneless pork shoulder or Boston butt
2-3 tablespoons Montreal steak seasoning or all purpose seasoning (garlic powder, salt, onion powder)
2 tablespoons olive oil or avocado oil
2 cups beef broth or stock
2 teaspoons ground chili powder
1 teaspoon ground cumin
Instructions
Preheat oven to 250ºF. Liberally sprinkle pork shoulder roast all over with Montreal steak seasoning.

Add oil to a cast iron Dutch Oven pot over medium-high heat. Once the oil is almost smoking, sear the pork on all sides. Add 2 cups beef broth to the pot. (The liquid should cover the bottom half of the roast).Add chili powder and cumin in a layer over the top of the roast.

Cover pot with lid and roast in oven for 5 hours. After 2 1/2 hours, check the pot and add more liquid if necessary.

After 5 hours, the meat should be fork tender and easy to shred. If not, continue roasting for a while longer.

Optional: For a slightly crispy Mexican pulled pork, drain liquid from the pot, turn on oven broiler, and place meat on a sheet pan under the broiler for 5 minutes.

Serve with tortillas and top with avocado crema, pico de Gallo, salsa, or other condiment of your choice.
Notes
This is an ideal make ahead meal or for meal prepping. The meat reheats beautifully and can be used in many other recipes.
Nutrition
Serving: 1serving | Calories: 206kcal | Carbohydrates: 1g | Protein: 29g | Fat: 9g | Saturated Fat: 3g | Polyunsaturated Fat: 1g | Monounsaturated Fat: 4g | Trans Fat: 0.1g | Cholesterol: 91mg | Sodium: 253mg | Potassium: 548mg | Fiber: 0.2g | Sugar: 0.05g | Vitamin A: 118IU | Vitamin C: 0.1mg | Calcium: 33mg | Iron: 2mg
PIN THIS POST!
This post, first published in April 2018, was updated with new content in April 2023.