If you click on a link and make a purchase, I may receive a small commission at no extra cost to you. See my disclosure policy here.
Updated for this year! There are some exciting new products out there for the aspiring home chef or someone who loves to cook. Whether you are looking for holiday gift giving, hostess gifts, teachers gifts, Mother's Day, birthday, or a housewarming gift – you'll find the perfect present in this handy guide. These are my favorite kitchen tools and appliances, all highly rated and available online from Amazon. With this list of must have gift ideas for cooking enthusiasts gift giving is easy and effortless. Just click and ship.
For the complete list of Gift Ideas, see my personalized list on Amazon.
These gift ideas for the home chef have been personally tested or used in my own kitchen. 
Professional, All Purpose Knife
Every aspiring chef needs at least one high quality professional knife in their kitchen. My favorite versatile, all-purpose size is the Santoku 7″-8″ size. Not only is this knife amazing to use, but it's beautiful to look at.
Cast Iron Round Dutch Oven
I love cast iron cookware. Every cooking enthusiast needs at least one all purpose, round dutch oven for baking bread, making soup, or making a roast. The round size is the most versatile and I use mine a few times a week.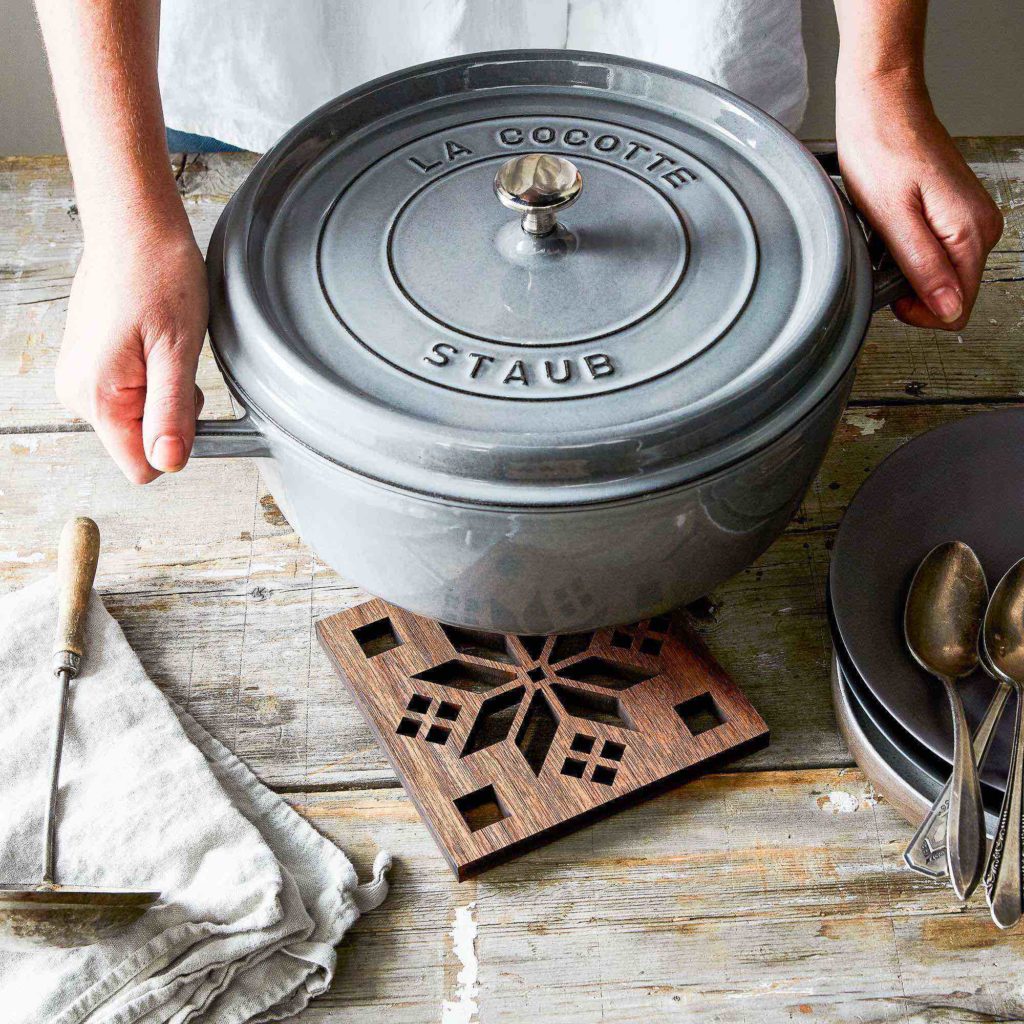 2. Staub Round Dutch Oven, 4 quart $250
Stainless Steel Saucier Pan
There are some specialty sauce pans worth having and this is one. The saucier sauce pan is ideal for making sauces. It has flared sides that provide a wider surface that allows the sauce to thicken easier. I use it to make pasta sauce, gravy, and roux-based sauces. Consider upsizing to the 3 quart size if you have a large family.
3. All-Clad Saucier Pan, 2 quart $165
Instant Pot
An Instant Pot is great kitchen appliances to have, especially those short on time or space in the kitchen. It works as a pressure cooker, slow cooker, and rice cooker all-in-one. Plus, many models even offer yogurt and sous vide settings.
Learn more about the Instant Pot by checking out my article on How to Use the Instant Pot 101.
4. Instant Pot Duo Plus $120
Instant Pot Air Fryer Lid
This handy appliance fits right over the top of your Instant Pot, turning it into an air fryer! Although I still love my air fryer (the Cosori model below) for general air frying, the air fryer lid is perfect for crisping up roasts and potatoes that have been pressure cooked.
5. Instant Pot Air Fryer Lid $79
Air Fryer
An air fryer is the newest must-have small kitchen appliance! Not only does it makes foods crispy without frying, but it is faster and more efficient than an oven. I use it for so many things: chicken tenders, biscuits and rolls, individual sized pizzas, tater tots and french fries, and anything smaller that I'd ordinarily bake.
Air fryers are perfect for everyone, from busy moms to those living alone. They are a real time saver in the kitchen.
6. Cosori Air Fryer XL 5.8 quart $120
Copper Cookware
Having copper cookware is a dream for many, which is why I am including it in this home chef gift guide. Aspiring chefs and someone who likes to cook will love a set of copper pots and pans. Not only is copper cookware is gorgeous to look at, but it conducts heat beautifully throughout the pan making cooking a dream to cook with.
7. Cuisinart Copper Cookware 8 pc. Set, $300
Hostess Gifts and Stocking Stuffer Ideas
New to the gift guide this year are some of my favorite kitchen tools. Whenever I use these cook online with these tools, I get asked about them.
8. This Mix N Chop tool does it all. Use it to chop up ground meat then use it to stir together the rest of the meal. It's also hand for making soups and so much more. $12
9. Cork Pops Wine Opener (the cork pops right off!) I've gone through numerous wine openers, but this one is still my favorite. $19
10. Charcuterie Board Set (literally everything you need!) This is perfect for the aspiring chef or entertainer. $46
There you have it! All the things that an aspiring home chef or hostess would love. I hope this home chef gift guide has inspired you. Happy gift giving!
Learn more about the Instant Pot:
Get my Instant Pot Recommendations: