If you click on a link and make a purchase, I may receive a small commission at no extra cost to you. See my disclosure policy here.
Have some spooky fun this season with DIY Halloween mini pizzas! These extra special pies are great for making with children (of all ages!) and letting them get creative. Let me share these Halloween food ideas for kids with you, so you can make wonderfully creepy, super yummy pizzas the whole family will love!
Now that fall has rolled in and spooky season is here, I've been looking at a lot of Halloween food ideas for kids. These individual mini pizzas are perfect for taking your homemade pizza parties up a notch this year!
I made this creepy-tastic collection using my easy Best Ever Pizza Dough recipe below. The recipe makes enough dough for 4 individual pizzas. You and the kids can mix and match whichever designs you like for your personal pizzas.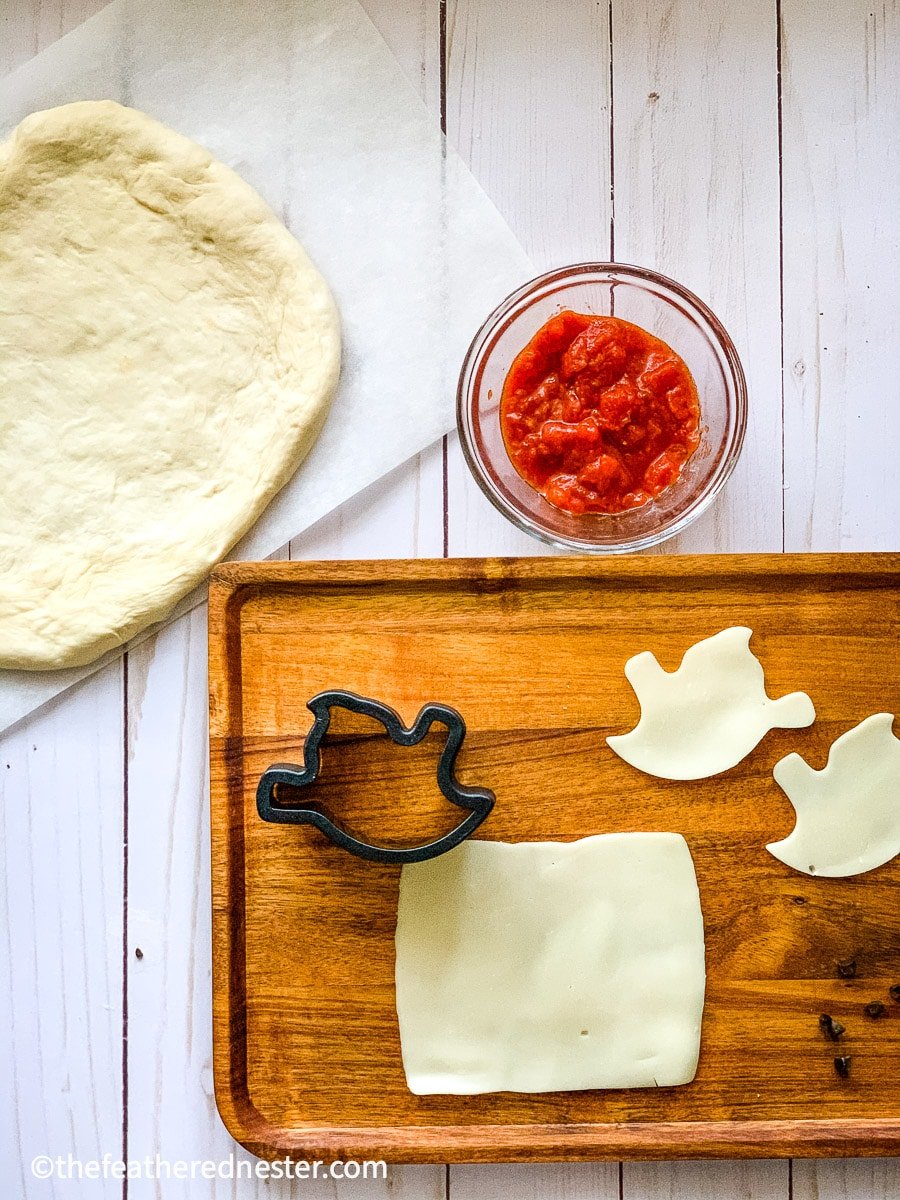 Read on for Halloween mini pizza ideas that will add festive fun to your dinner table!
How to Make a Pumpkin Mini Pizza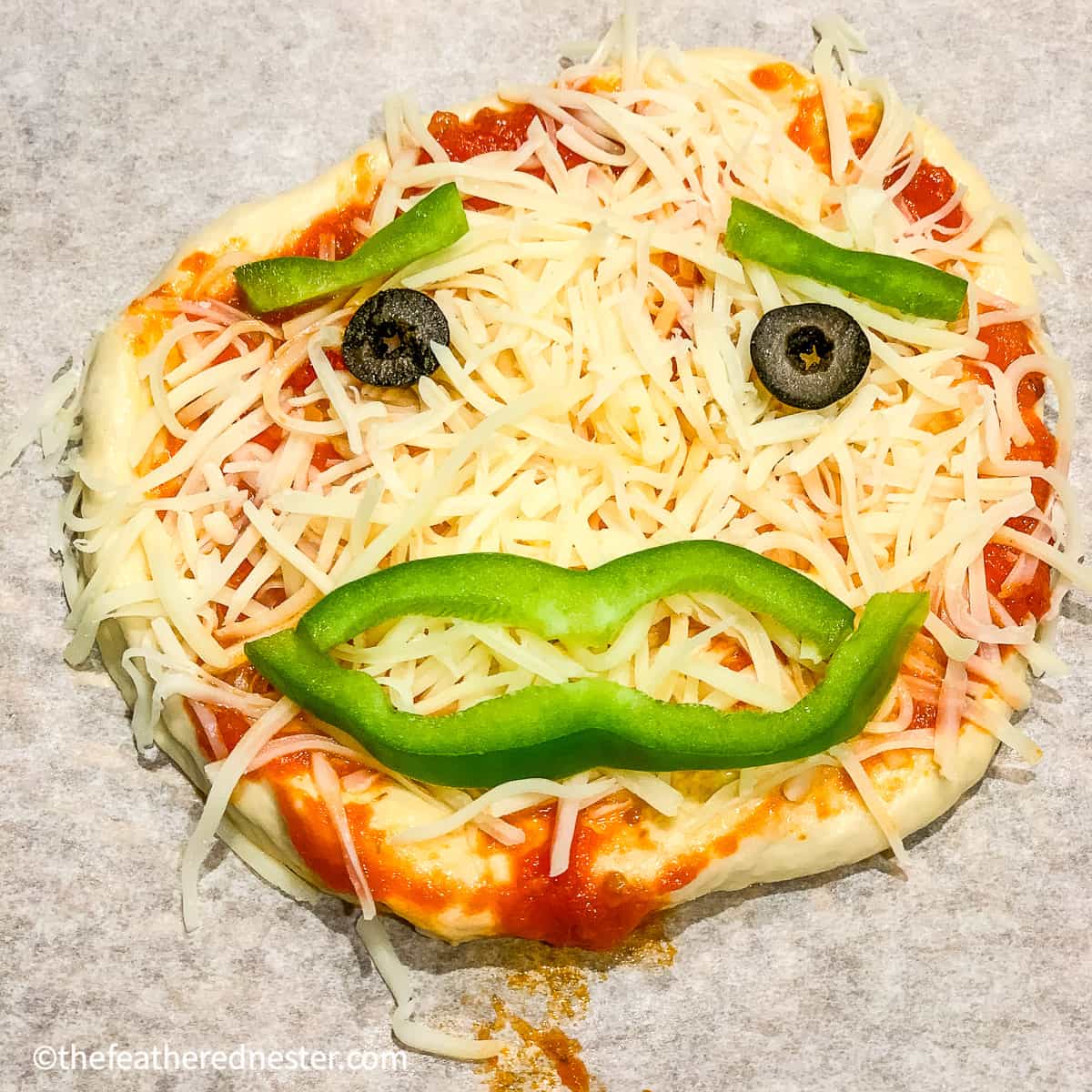 What Ingredients You Need
Along with crust, you'll need these ingredients for each mini pizza. :
1/4 cup pizza sauce
1 cup shredded mozzarella cheese
a ring slice of green bell pepper
1 large or jumbo olive, sliced into 2 rings
Spread pizza sauce on pizza crust.
Then cut bell pepper ring into 3 equal pieces, and use 2 pieces for the mouth. Cut the last piece in half for the eyebrows.
Place a slice of olive under each eyebrow for eyes.
Bake the Halloween pizzas in a preheated 425º oven for 12 minutes. The cheese should be melted, and the crust golden.
How to Make a Mummy Mini Pizza
What Ingredients You Need
For each of these Halloween mini pizzas you'll need:
1/4 cup pizza sauce
4 slices of mozzarella cheese cut into 1″ strips
1 large (or jumbo) olive, sliced into 2 rings
Spread pizza sauce on the pizza crust.
Layer on 2 slices of cheese to resemble a wrapped mummy, and add the olives for the mummy's eyes.
Bake pizza at 425º for 12 minutes. As soon as the pizza comes out of the oven, layer on the last two slices of cheese on top. This helps create a more defined wrapped mummy look!
How to Make a Ghost Mini Pizza
What Ingredients You Need
To make these Halloween mini pizzas with ghosts, you just need:
1/4 cup pizza sauce
2 slices of mozzarella cheese
8 peppercorns
Use a ghost shaped cookie cutter to cut out 4 ghosts with the mozzarella cheese.
Tip: Cold cheese and a cookie cutter sprayed with cooking oil will make it much easier to cut the ghost shapes!
This is the easiest of my Halloween pizza ideas. To make a ghost pizza, simply spread on pizza sauce and place the ghost-shaped cheese pieces on top of. Add the peppercorns for the eyes. Then you're done!
Bake the mini pizzas in a preheated 425º oven for 12 minutes. The ghosts should be slightly melted, and the crust golden.
How to Make a Spider Mini Pizza
What Ingredients You Need
For this Halloween pizza recipe you'll need these ingredients for each mini pizza:
1/4 cup pizza sauce
1 cup of shredded mozzarella
7 slices of pepperoni
1 ring slice of bell pepper
2 peppercorns
Feel free to substitute traditional pepperoni with mushrooms or plant-based pepperoni for a vegetarian Spider pizza.
Spread pizza sauce on pizza crust, and add the shredded cheese on top.
Next, use pepperoni to create the body of the spider (make a circle shape with 1 of the pepperoni slices). Place last pepperoni slice on top of the body for the head.
Cut bell pepper into 6 even pieces. Place three on each side of the spider's body as the spider's legs.
Place the two peppercorns for the eyes.
Bake the pizzas at 425º for 12 minutes.
Frequently Asked Questions
Can I make vegan Halloween pizzas?
It's easy to enjoy this as a vegan Halloween pizza recipe. The dough recipe below is already vegan-friendly, and you can simply swap your favorite dairy-free cheese substitute for traditional mozzarella. Or, feel free to leave off the cheese entirely for a healthier cheese-less pizza!
How long will leftovers last?
Halloween mini pizzas will get gobbled up quickly by your little goblins, but if there are any leftovers, they'll keep well in the fridge for up to 3 days. Just be sure to store in an airtight container after the pizzas have completely cooled.
What other Halloween pizza idea variations do you recommend?
There are lots of ways to personalize these mini Halloween pizzas!

For instance, try using a creamy white Alfredo sauce instead of classic tomato sauce.

Another delicious, unique crust option try this Sourdough Pizza Crust recipe – no yeast required! It's a great way to use that sourdough discard.

Get creative and try using other pizza toppings to replicate the fun Halloween designs we've shown here. Let me know in the comments what you come up with!
Can I use store bought pizza dough?
Certainly! If you are looking for Halloween food ideas for kids that are quick and super easy from start to finish, you can make this Halloween pizza recipe using readymade pizza dough.
Use this Easy Pizza Dough recipe for your Halloween Mini Pizza
Best Ever Pizza Dough
This easy homemade pizza dough recipe delivers a fail-proof, pizzeria-quality pizza crust every time. Make it to see how it really is the best ever pizza dough!
Equipment
baking sheet or pizza stone
Ingredients
153

grams

00 Flour

(1 cup + 1 Tbsp)

153

grams

plus 2 Tbsp. of all-purpose flour

(1 cup + 2 Tbsp)

1

tsp.

salt

1

cup

lukewarm water

(95º to 105º)

¾

tsp

active dry yeast

1

tsp

extra-virgin olive oil
Instructions
In a large mixing bowl, combine flours and salt.

In a small bowl, sprinkle yeast over lukewarm water and olive oil. Wait 2-3 minutes, then pour it into flour mixture. Stir ingredients together, then knead with your hands or a stand mixer with dough hook, for 3 minutes. Let the mixture rest for 15 minutes. 

Knead rested dough by hand or in stand mixer for 3 minutes. Cut into 1 large, 2 small, or 4 mini (kid's size) equal pieces and shape each into a ball.

Place on a heavily floured surface, cover with dampened cloth or plastic wrap. Let rise until doubled for 2 to 3 hours at room temperature, or 8 to 24 hours in the refrigerator. (If you refrigerate the dough, remove it 30 to 45 minutes before you begin to shape it for pizza.)
Notes
To make pizza, place each dough ball on a lightly floured surface and use your fingers to stretch it gently, then your hands to shape it into rounds or squares. Top with your favorite toppings, and bake at 425 degrees for 12-15 minutes individual pizzas and 20 minutes or so for a full-size.
Nutrition
Serving:
1
slice
|
Calories:
291
kcal
|
Carbohydrates:
59
g
|
Protein:
8
g
|
Fat:
2
g
|
Saturated Fat:
1
g
|
Sodium:
482
mg
|
Potassium:
82
mg
|
Fiber:
2
g
|
Sugar:
1
g
|
Calcium:
11
mg
|
Iron:
4
mg
More family-friendly meals that kids love
For more meal inspiration, follow me on Social Media!