Baked chicken tenderloins are lean strips of white meat chicken that are healthy and packed with flavor! It takes less than 30 minutes to make chicken tenderloins in the oven, and kids love them. No messy breading is needed – just serve with dipping sauces and enjoy!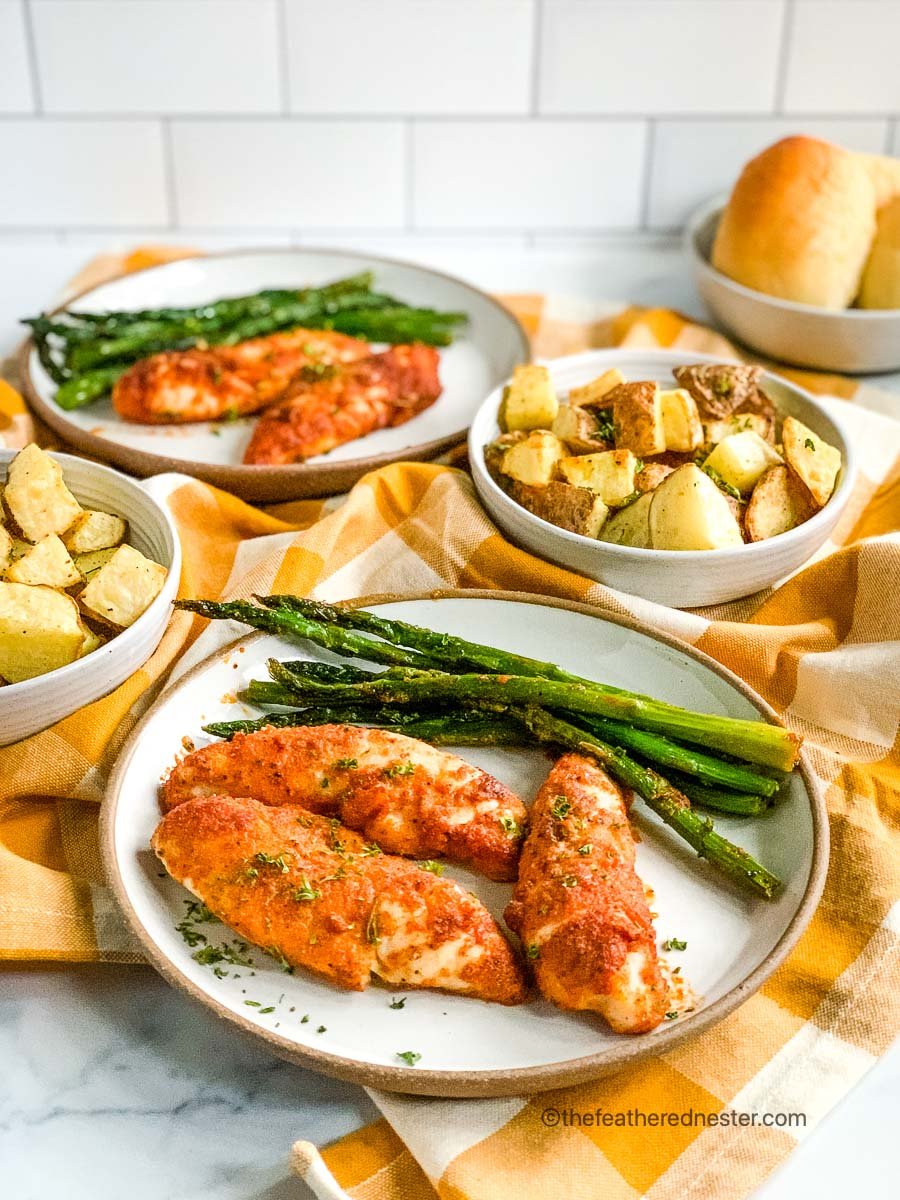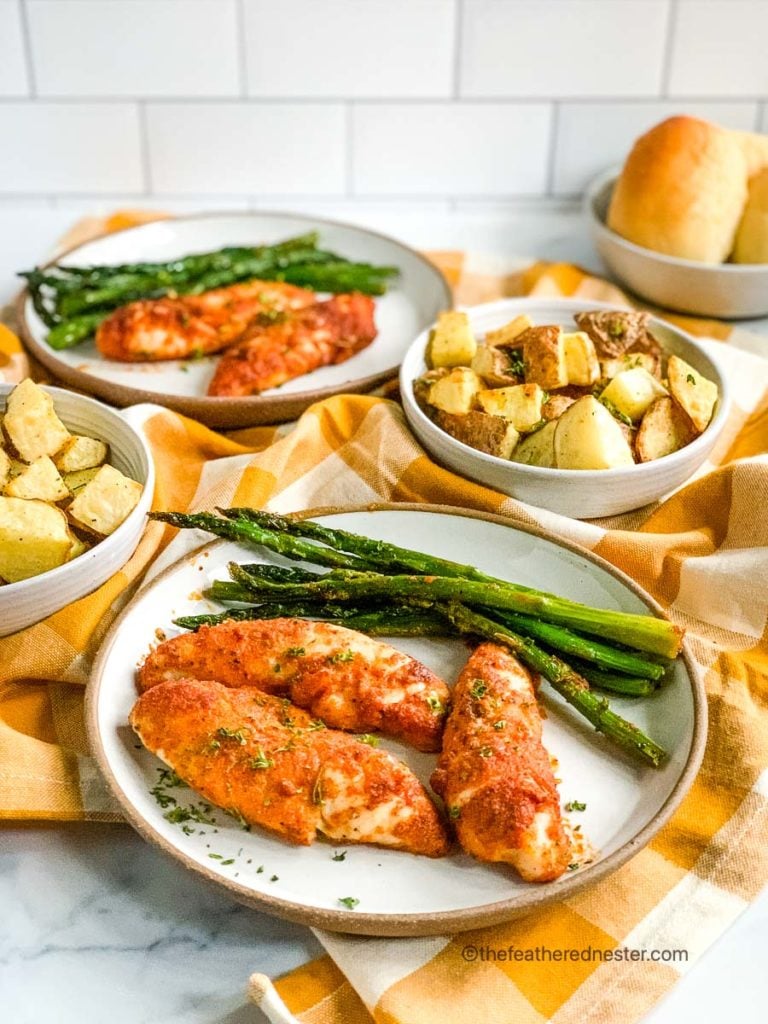 Baked Chicken Tenderloins
Chicken tenders, also known as chicken fingers or strips, are a classic dinner staple that both kids and adults love. This recipe calls for tenderloins, which are equally delicious. Even though they aren't exactly the same as tenders, most chicken tenderloin recipes can be prepared with strips or tenders.
Related Content – Are tenders, strips, and tenderloins the same thing?
Curious about the difference between tenders and tenderloins? Read What is a Chicken Tenderloin?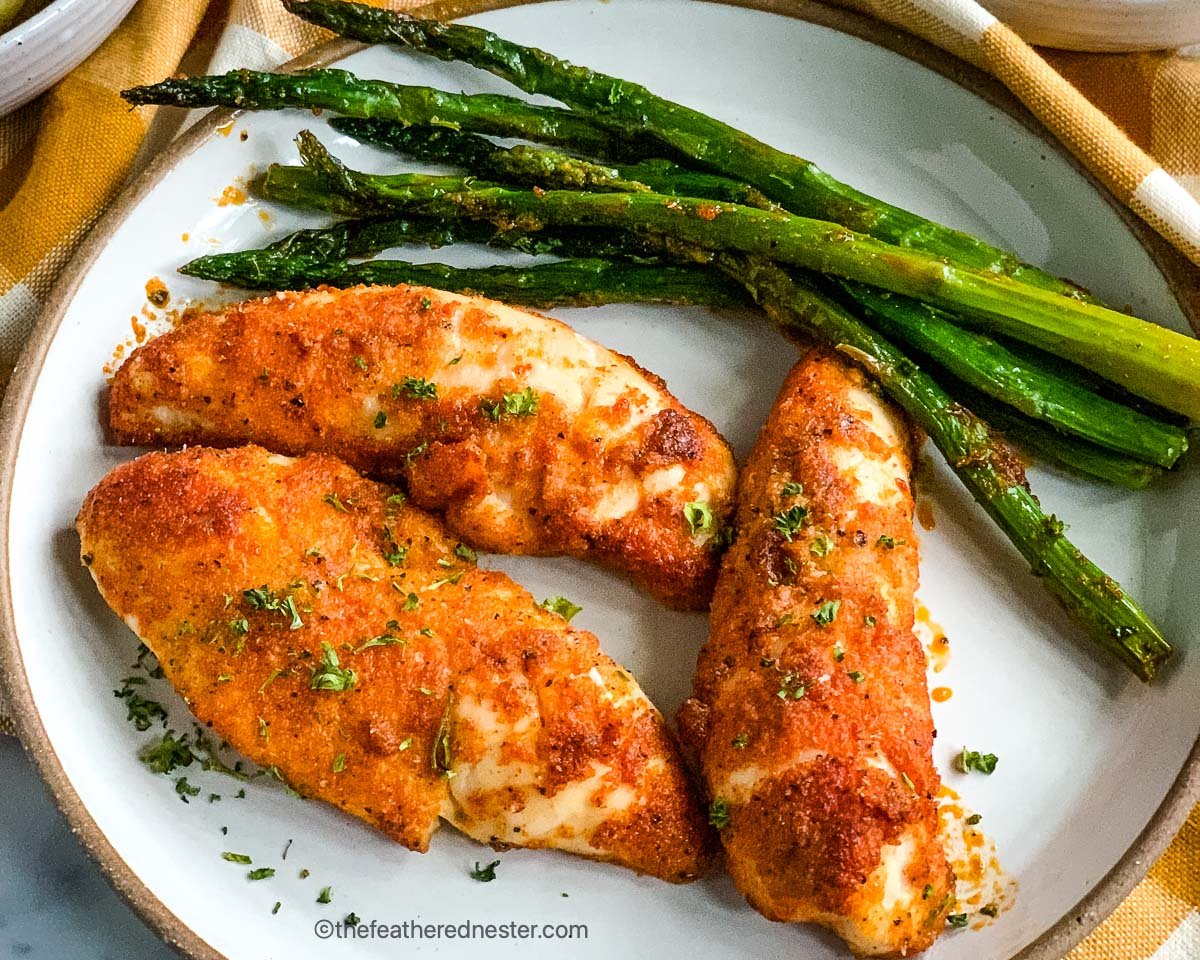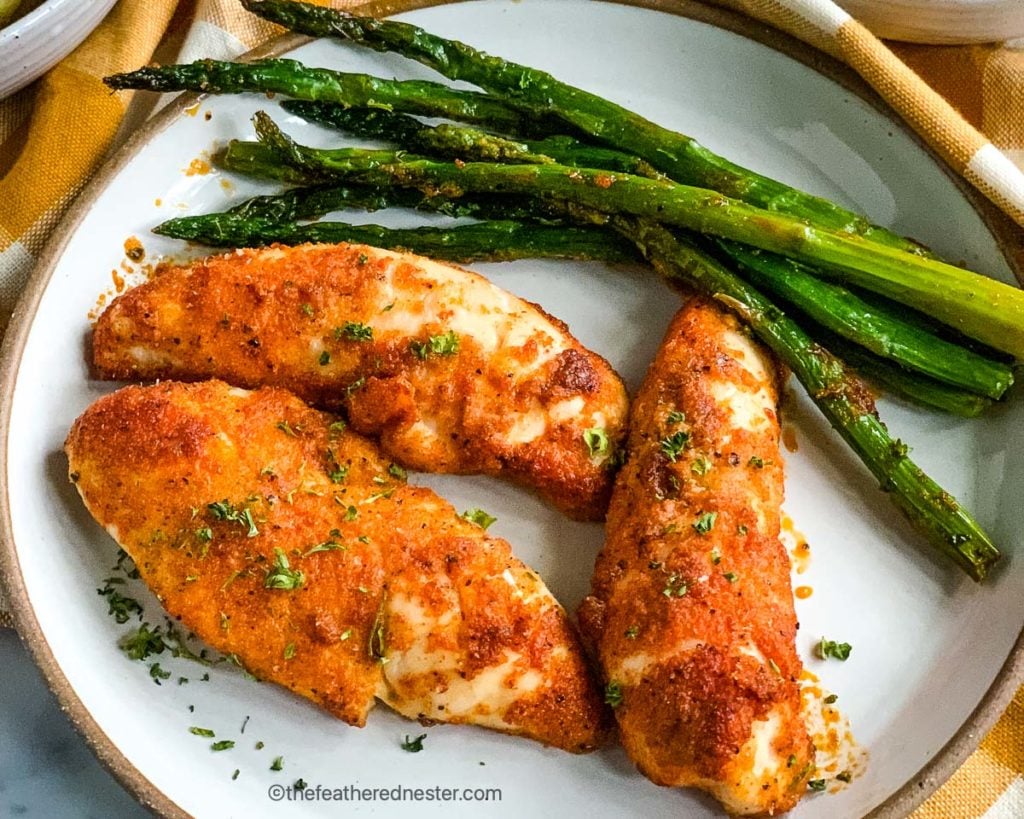 "Naked" chicken tenderloins are naturally gluten-free and happen to be keto and paleo-friendly. But healthy baked chicken tenders with no breading are more than just a low-carb option… You won't believe how delicious they are, too!
Pair them with comfort food side dishes for a quick and satisfying weeknight dinner.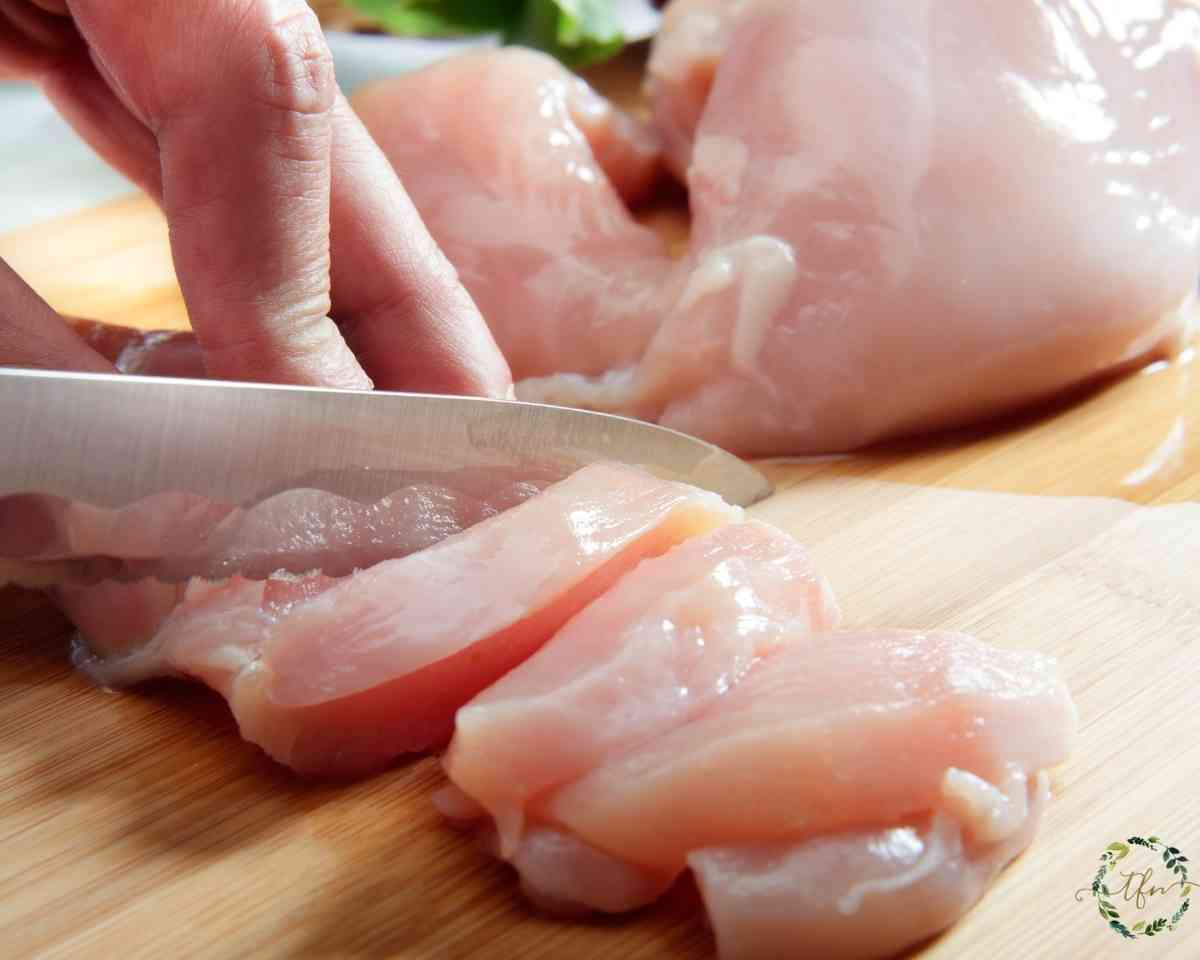 Ingredient Notes and Substitutions
Melted butter – If you're watching your cholesterol or prefer something plant based, you can use any healthy cooking oil with a neutral flavor. Great options include avocado oil, coconut oil, and sunflower oil.
Seasonings – paprika, garlic powder, fine sea salt, ground black pepper
Chicken tenderloins – Actual tenderloins or strips of breast meat will work for this recipe!
Tips for Making Juicy Chicken Tenderloins in the Oven
Simply season the chicken pieces, drizzle with oil, and oven bake for 20 minutes until golden. You can even use frozen chicken! And because this easy recipe does not include any binders or breading (like eggs and flour and/or breadcrumbs), it's also super healthy.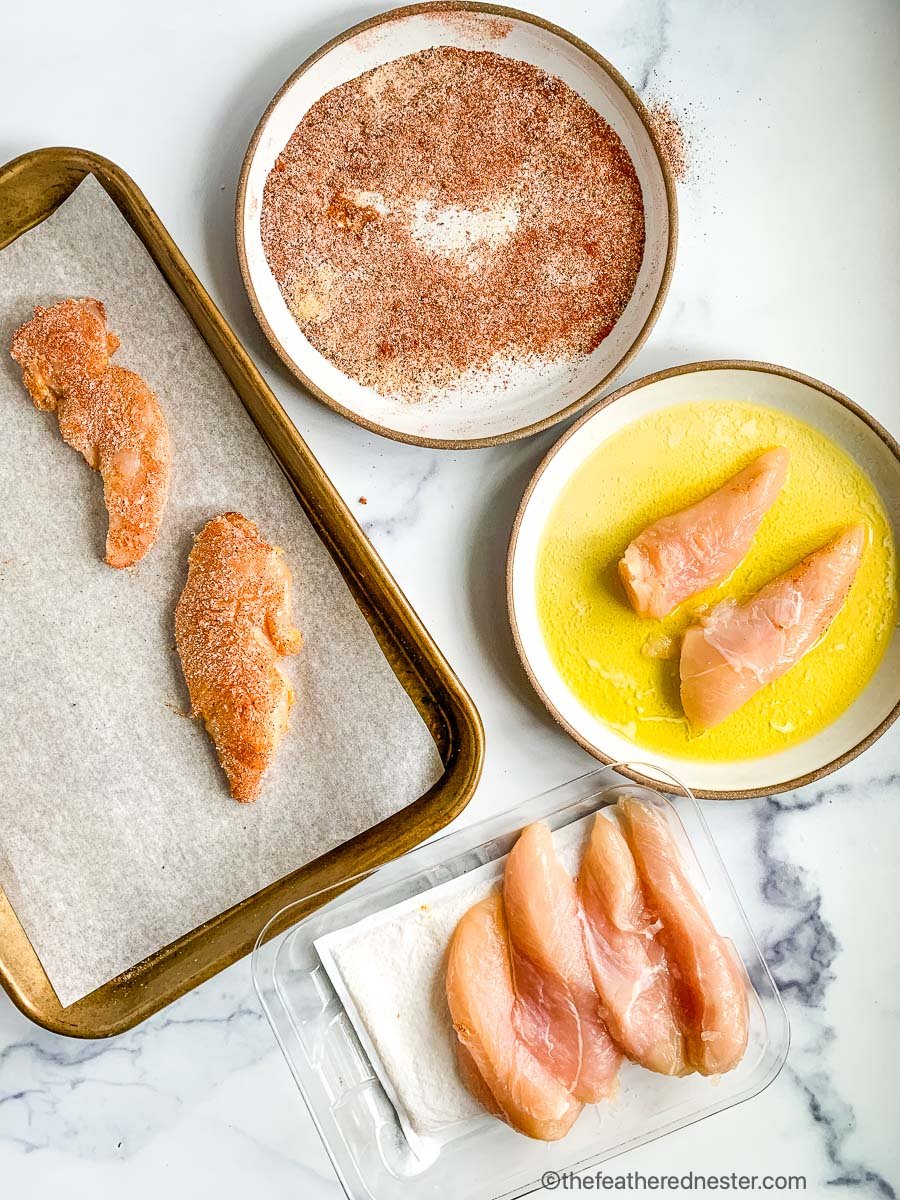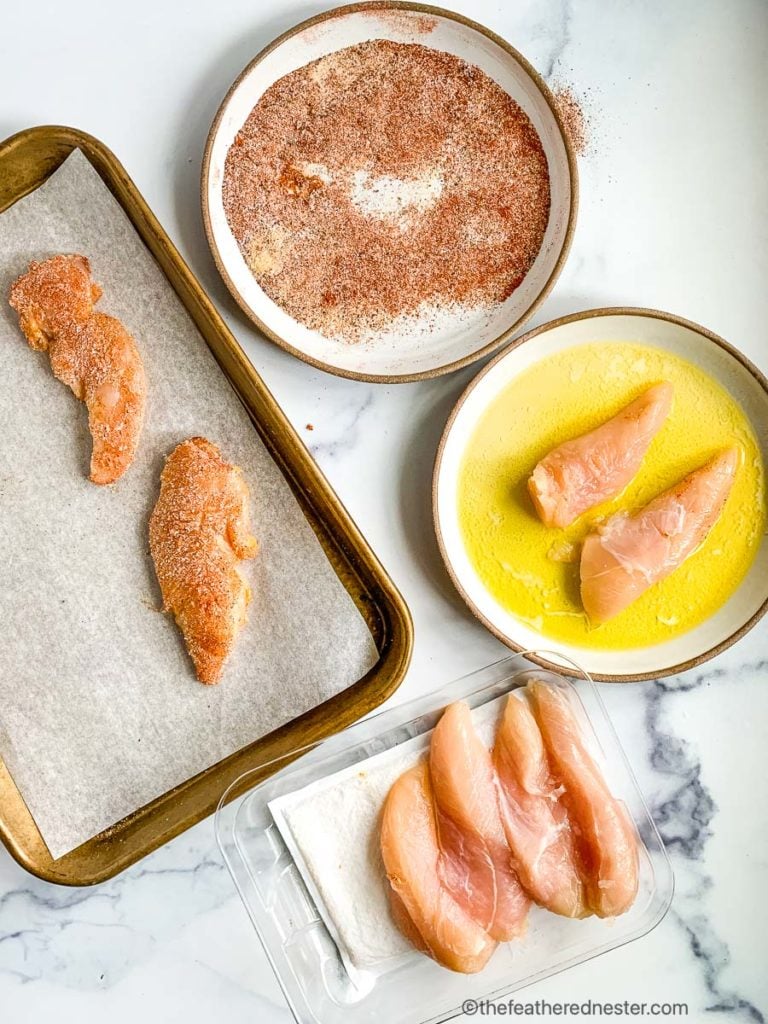 Shake or dip the chicken breast tenderloins in the butter or oil to coat. Then dredge them through the plate of spices.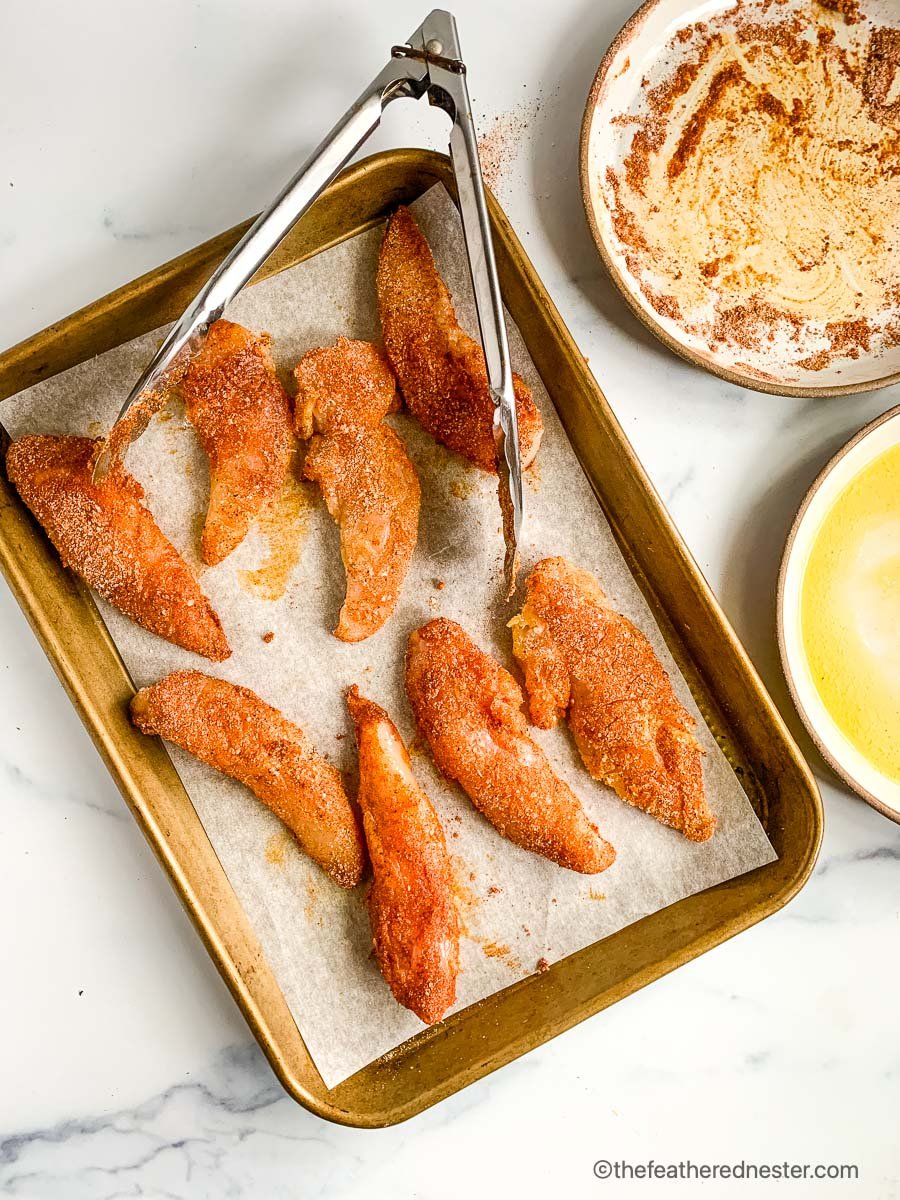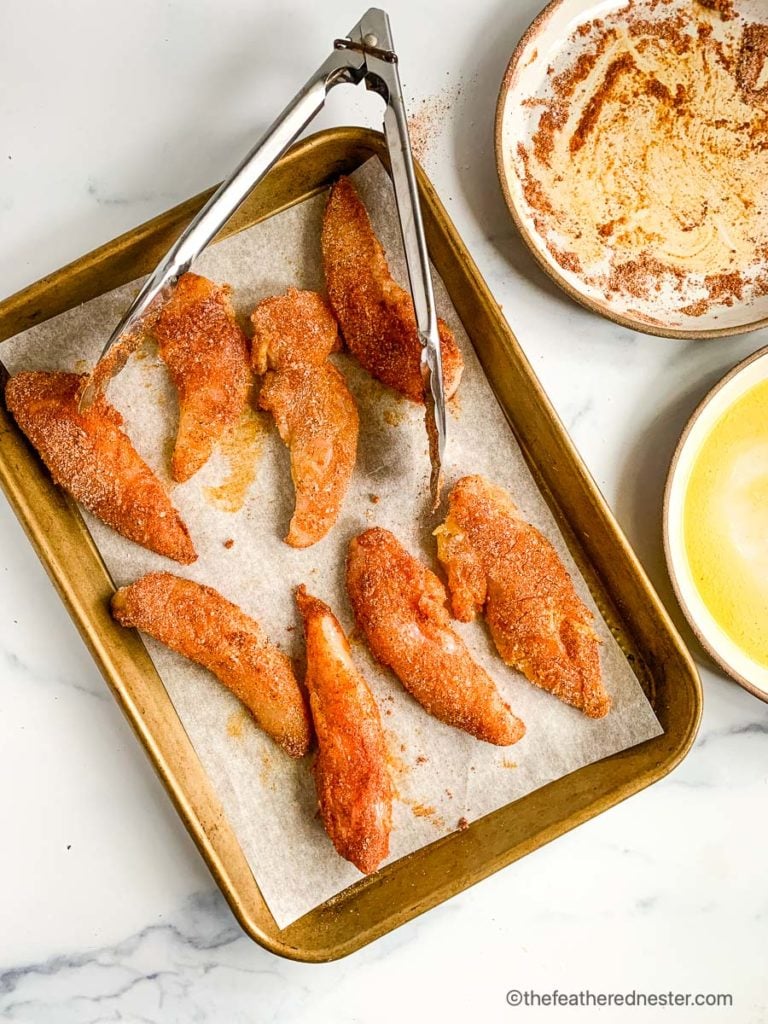 Add your favorite fresh or frozen vegetables like green beans, bell peppers, mushrooms, broccoli, or diced potatoes to the baking sheet for an easy sheet pan dinner.
Below, we prepared chicken tenderloins in the oven with asparagus spears. Sheet pan dinners are great because there are less dishes to wash!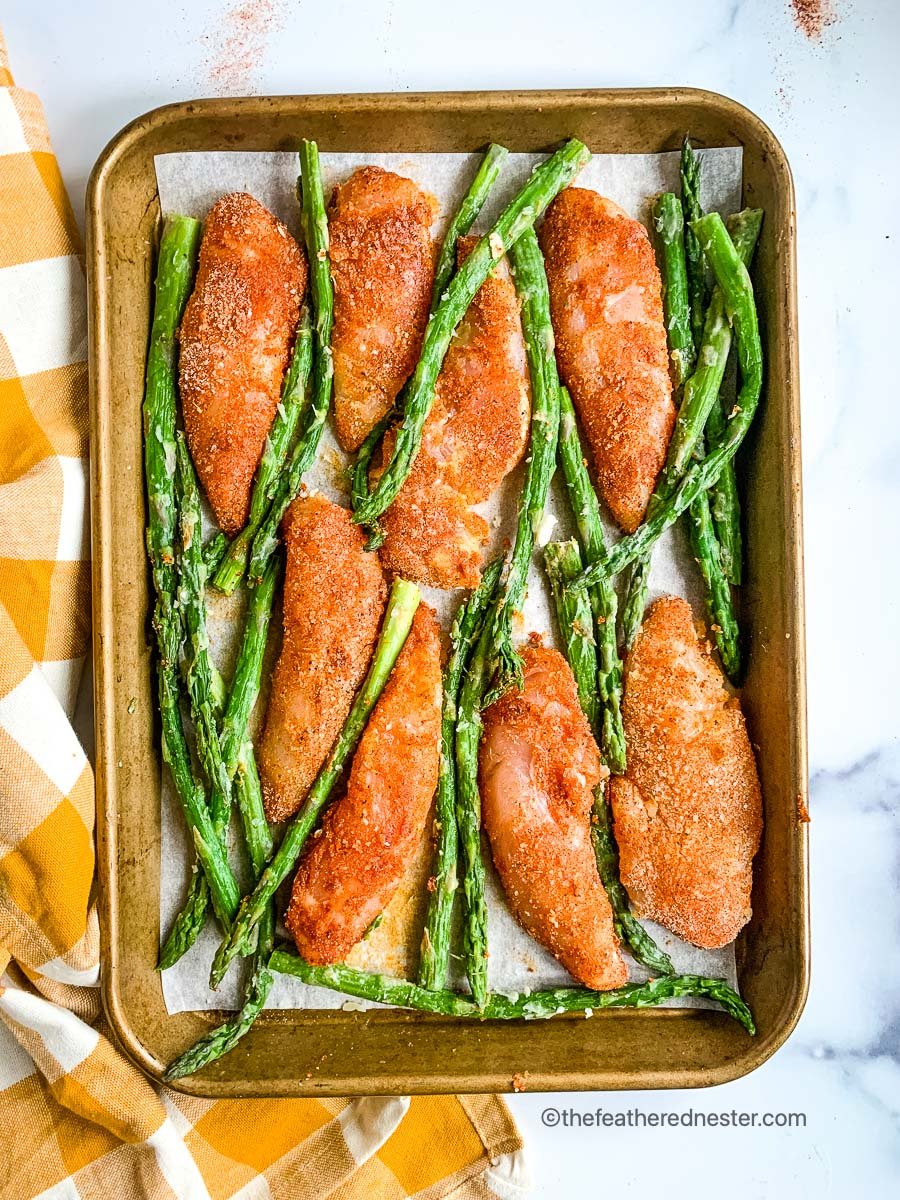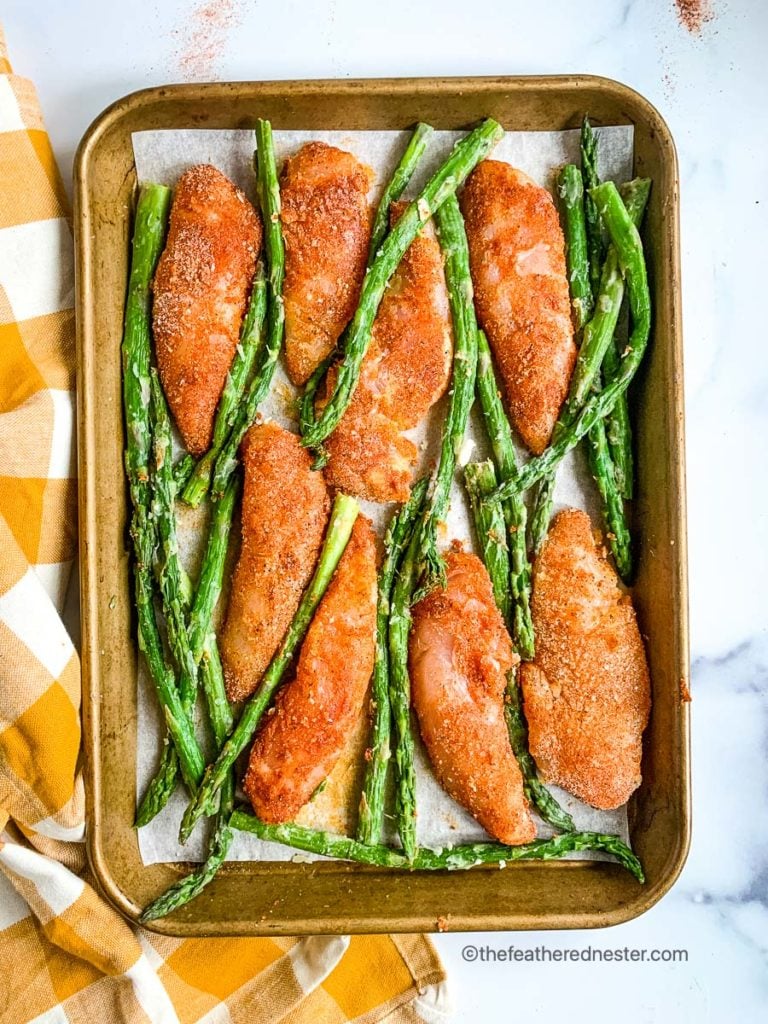 What to Serve with Baked Chicken Tenderloins
To keep this meal healthy, try to avoid serving anything high in starchy carbs. We recommend serving them warm with kid-friendly dipping sauces like ranch, 3 ingredient BBQ sauce, yogurt-based shawarma sauce, or homemade In n Out sauce.
If you'd like a whole grain side dish, we recommend cilantro lime brown rice (Like Chipotle) or our brown basmati rice Instant Pot recipe.
Recipe Variations
Mix up the spices however you like. Feel free to swap or add spices, like Italian seasonings, chili powder and cumin, or cayenne pepper for some heat.
Double the recipe as part of your weekly meal prep, and have plenty of chicken tenders for lunches or quick dinners.
Air fry chicken tenderloins! After preheating your air fryer to 325ºF, bake or air fry chicken tenderloins for 10-15 minutes or until they reach an internal temp of 165ºF. See the notes in the recipe card at the bottom of this post for full details.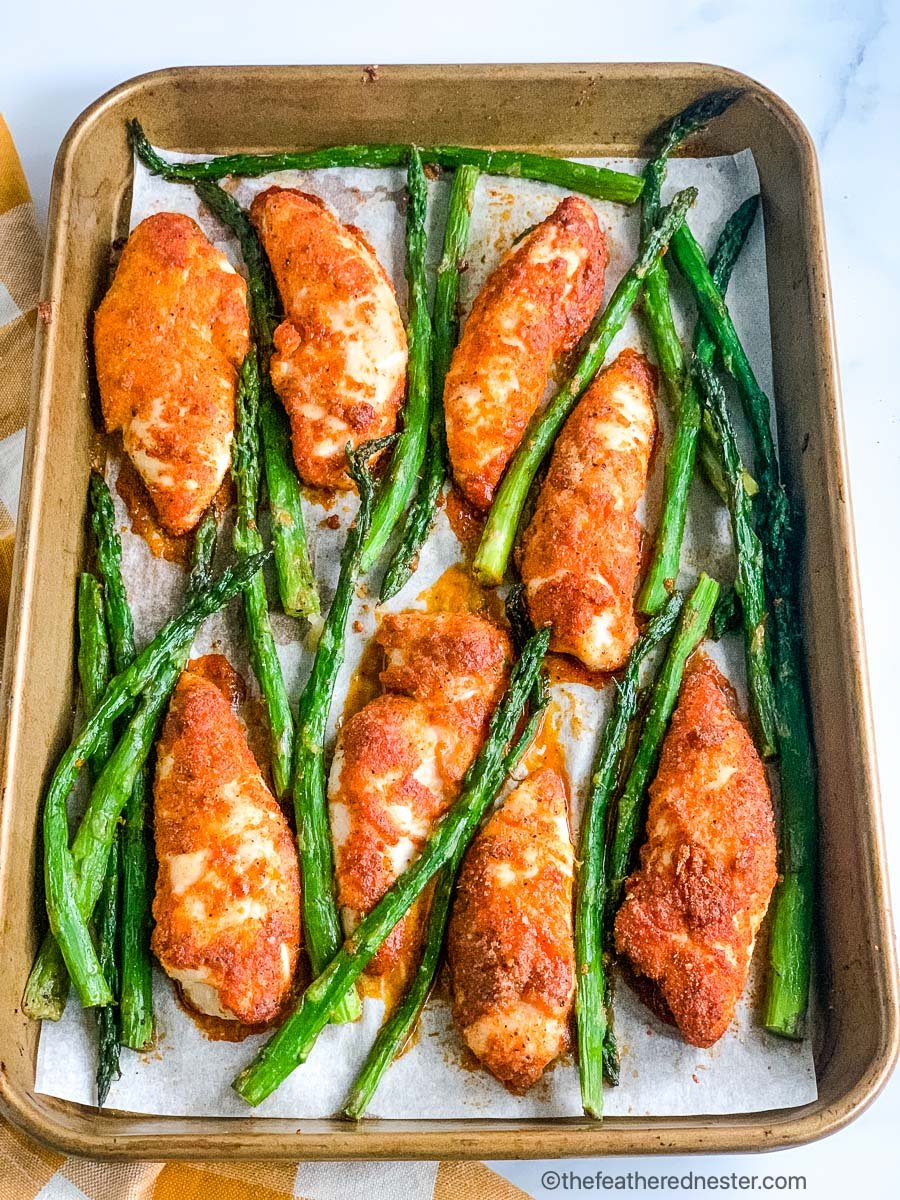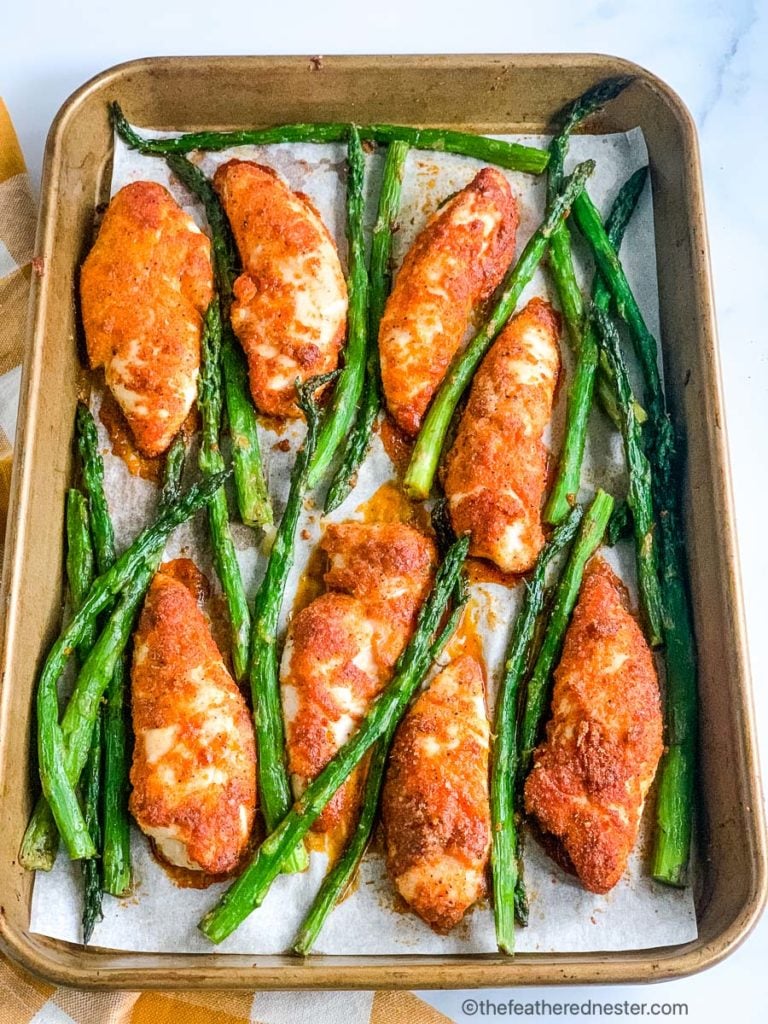 Frequently Asked Questions
Can I make frozen chicken tenderloins in the oven?
Since chicken tenders are small, thin slices cuts of chicken then baking chicken tenderloins from frozen is easy! Just add 3 minutes of baking time, and check the internal temperature of the chicken to be sure they are 165ºF.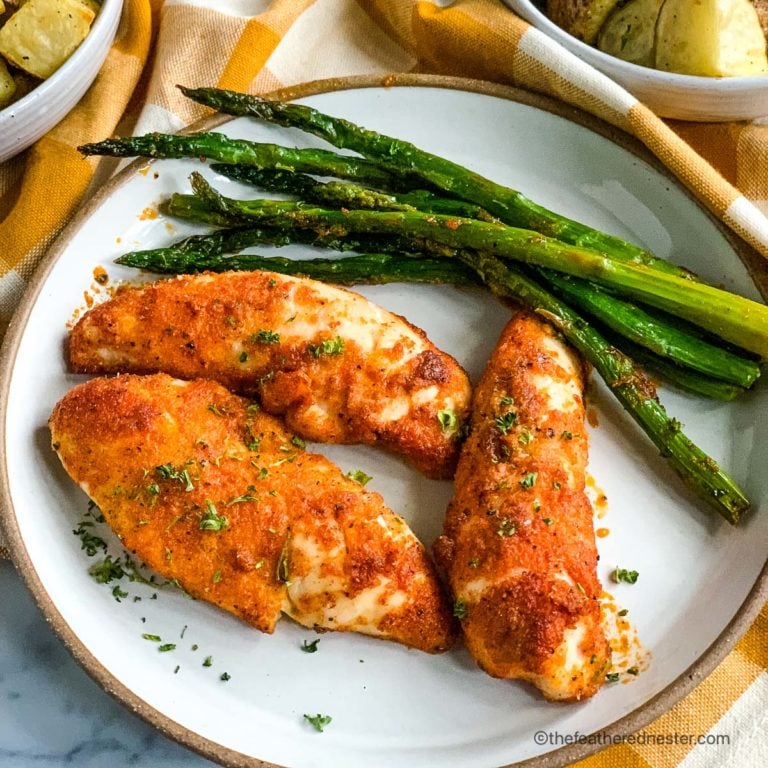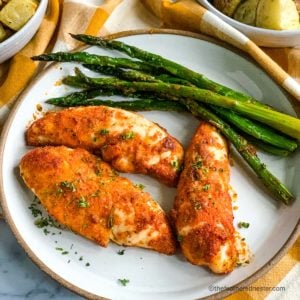 Baked Chicken Tenderloins (No Breading)
Baked chicken tenderloins are delicious, healthy, and kid friendly! Use fresh or frozen chicken pieces to make this easy 30 minute recipe.
Equipment
shallow baking dish - or rimmed baking sheet

dipping trays - Ziploc bags, or plates
Ingredients
2 tablespoons melted butter or neutral flavor cooking oil
2 teaspoons onion powder
2 teaspoons garlic powder
1 teaspoons paprika
½ teaspoon fine sea salt
¼ teaspoon ground black pepper
1½ pounds chicken tenderloins fresh or frozen *for frozen, see Notes below
Instructions
Preheat oven to 350ºF. Prepare the shallow casserole dish or baking sheet by spraying it with cooking oil.

Add seasonings to a ziplock bag, dipping tray, or plate. Use a separate bag, tray, or plate for the melted butter or oil.

Shake or dip the chicken strips in the butter or oil and to coat on all sides. Then do the same with the chicken tenders and seasonings, pressing gently all around to coat.

Place dipped chicken tenderloins on the prepared casserole pan or a baking sheet. Add fresh or frozen green beans, asparagus, sliced bell pepper, or broccoli, or diced potatoes (see below), if desired.
Baking Instructions
Bake for 15- 20 minutes, until the chicken tenders reach an internal temperature of 165ºF in the center. Serve the chicken tenders warm with your favorite dipping sauces like ranch, BBQ, or honey mustard.
Air Fry Instructions
Preheat your air fryer to 325ºF. Air fry the chicken tenderloins for 10-15 minutes. Check the internal temperature of the chicken strips to ensure they are 165º internally before serving. Serve the chicken tenders warm with your favorite dipping sauces like ranch, BBQ, or honey mustard.
Notes
Add 3 minutes baking time for frozen chicken tenderloins. If using diced potatoes, ensure that the size of the potatoes are less than 1″ dice so they will be baked through. Serve homemade chicken tenders with your favorite dipping sauces. Put cooked and cooled chicken strips in a sealed container and keep them in the fridge for up to 3-4 days. They also freeze very well! Seal in an airtight bag or storage container and keep in the freezer for up to 3 months.
Nutrition
Serving: 4ounces | Calories: 177kcal | Carbohydrates: 1g | Protein: 24g | Fat: 8g | Saturated Fat: 1g | Polyunsaturated Fat: 1g | Monounsaturated Fat: 4g | Trans Fat: 1g | Cholesterol: 73mg | Sodium: 327mg | Potassium: 441mg | Fiber: 1g | Sugar: 1g | Vitamin A: 60IU | Vitamin C: 3mg | Calcium: 10mg | Iron: 1mg
PIN THIS POST!
This post, first published in Nov. 2021, was updated with new content in Feb. 2023.