You know I love simple, satisfying recipes. Especially for a quick and tasty breakfast! Well, this is by far the ultimate Bisquick pancake recipe that's easy to make using everyone's favorite baking mix. So save pantry space with just one box for all your cooking needs, and enjoy the best, fluffiest, most melt-in-your-mouth pancakes with our foolproof steps and tips!
As an Amazon Associate I earn from qualifying purchases, at no extra cost to you. See my disclosure policy here.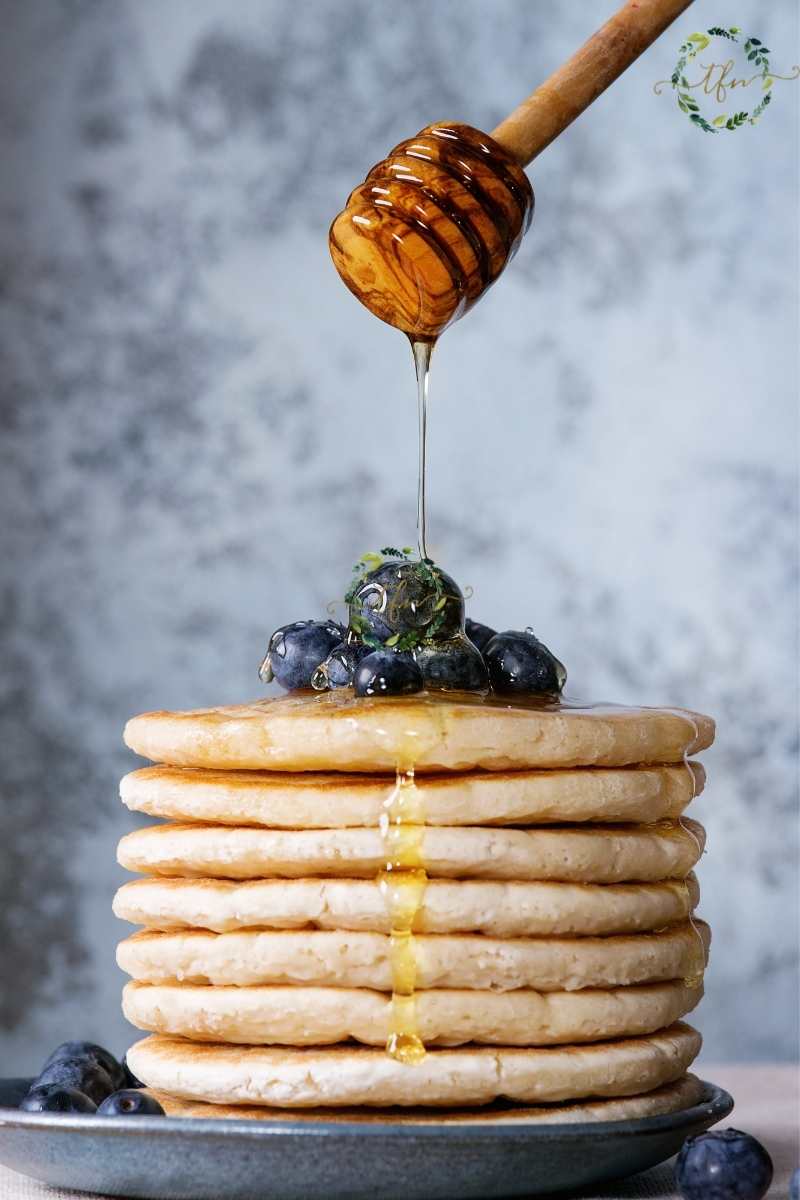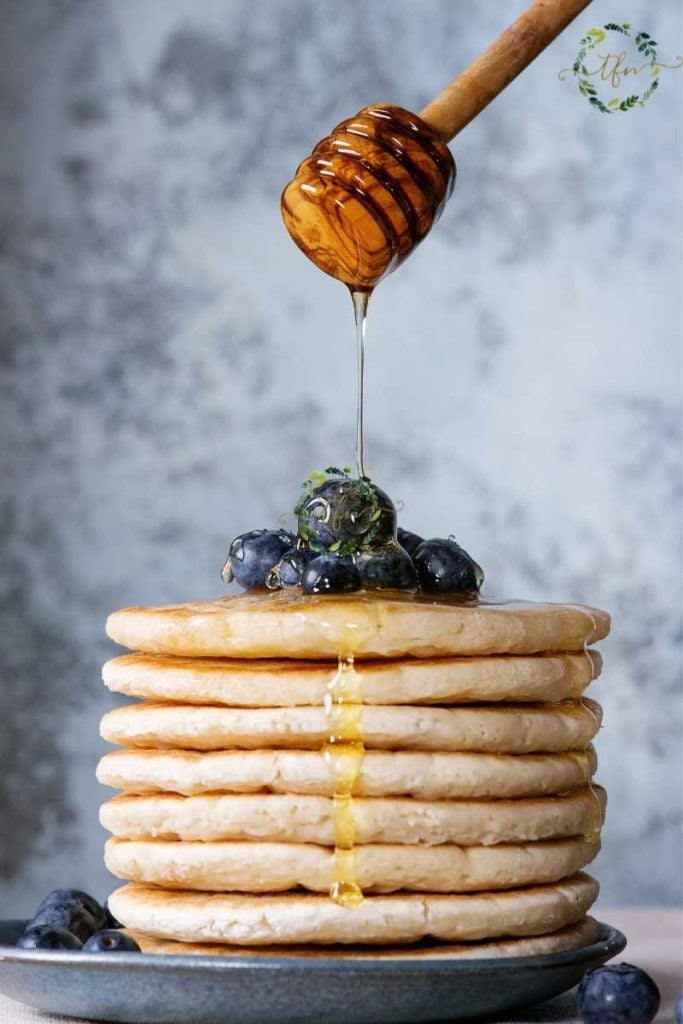 The Ultimate Bisquick Pancake Recipe
These Bisquick pancakes are not only light and fluffy but they're guaranteed to melt in your mouth. You can enjoy them with your favorite pancake toppings like butter and syrup. Or, they're sweet and delicious enough to eat as-is practically right off of the griddle.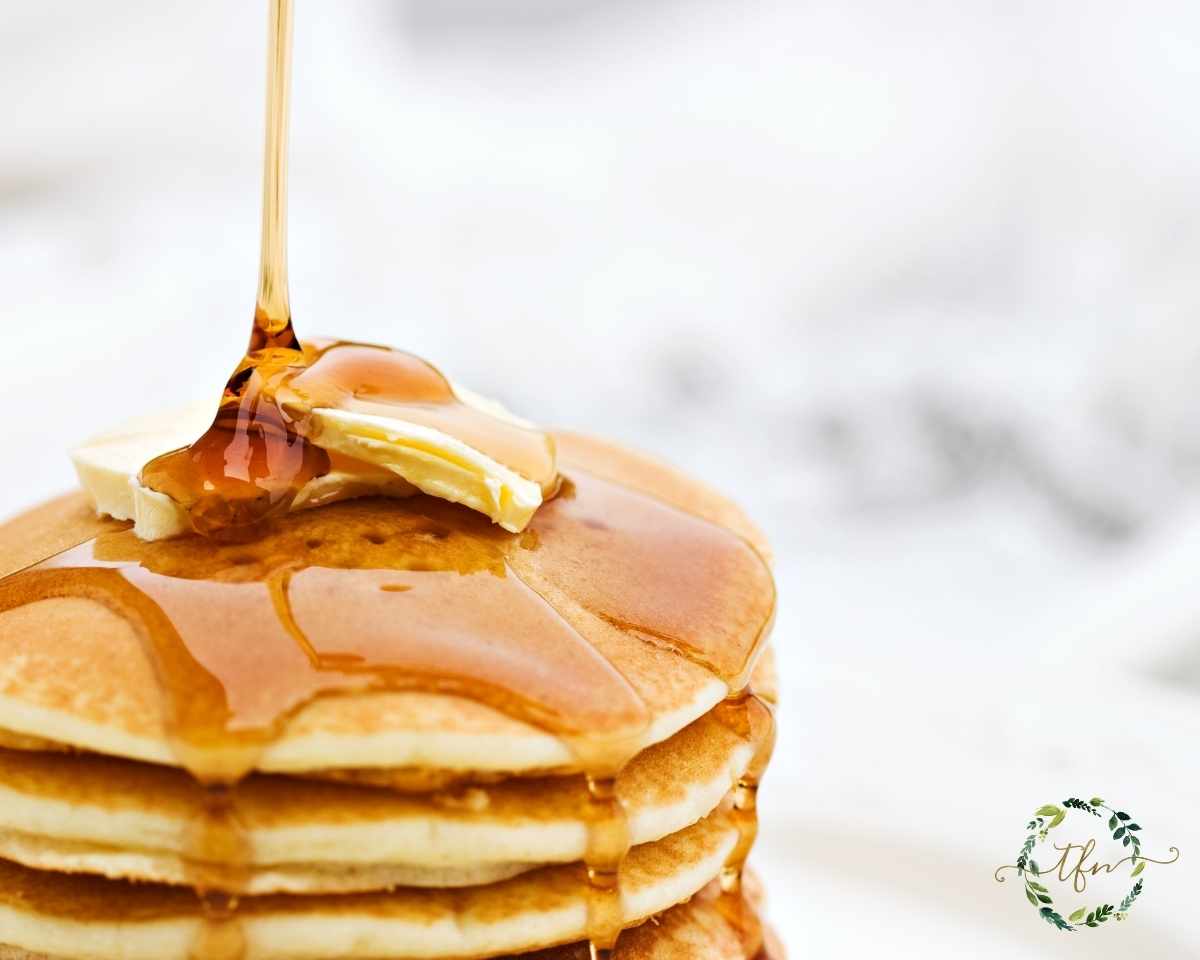 Although I'm a big fan of the classic Bisquick pancake recipe on the box, I longed for a richer, fluffier pancake. After all, I've created many fresh and fun Bisquick-based recipes. So I know this stuff has serious potential!
Have you tried my Bisquick Chicken Tenders, Bisquick Strawberry Cobbler, Apple Cobbler, Bisquick Cherry Cobbler, Bisquick Funnel Cake, or Bisquick Corn Bread recipes yet? You'll love these simple, easy recipes!
Well, there are no fancy tricks or special ingredients needed to make the best Bisquick pancake recipe.
This ready-to-use mix is just the right blend of nearly everything needed. So follow my simple tips and steps for making Bisquick ultimate pancakes the whole family will love!
Ingredients You Need to Make Fluffy Bisquick Pancakes
After testing out different ingredients, I found the secret ingredient for the tastiest and fluffiest pancakes was using melted butter instead of cooking oil in the mix.
These are the simple ingredients needed to make the best Bisquick pancakes from "scratch:"
Bisquick baking mix
Sugar
Baking powder
Milk
Melted butter
Eggs
You can skip the maple extract or substitute it with vanilla extract. But the maple really is delicious for bringing out the sweet, earthy flavor of the pancakes.
How to Make Bisquick Ultimate Pancakes
Using a packaged baking mix cuts down on the number of ingredients you need to keep stocked. It also cuts down on prep time.
This pancake recipe only takes 15 minutes to make a batch of these fluffy Bisquick pancakes from start to finish. So you can feed even the hungriest crowd on a busy morning in a flash!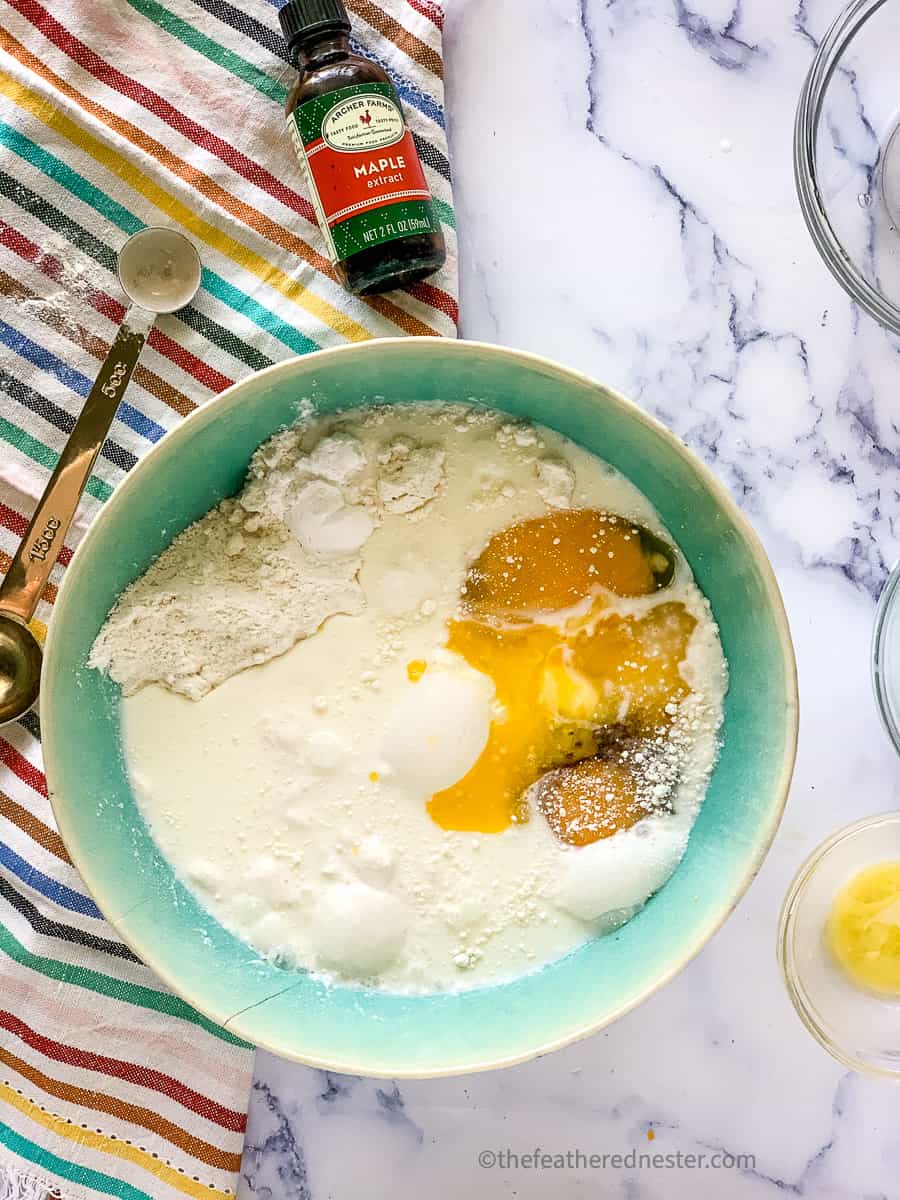 Gather all of your ingredients and have them ready. Then follow these 3 simple steps for my Bisquick ultimate pancake recipe:
First, lightly grease and preheat a griddle or get a skillet hot on the stovetop over medium-low heat.
Then, use a whisk or fork to combine all of the ingredients in a medium bowl. It's ok if there are some small lumps… For super fluffy pancakes, you want to be sure not to over-mix the batter. Once the batter starts to bubble a bit, it is ready to use.
Now use a measuring scoop to pour the batter onto the hot griddle or skillet. Let the pancakes cook for 1-2 minutes undisturbed until the edges are dry and bubbles form on the tops. Use a spatula to check the bottom for doneness, and flip when golden. Cook for another minute or two until light brown. You can flip the pancake back and forth until just right.
Serve the Bisquick ultimate pancakes warm with butter, syrup, fruit, or even cream cheese.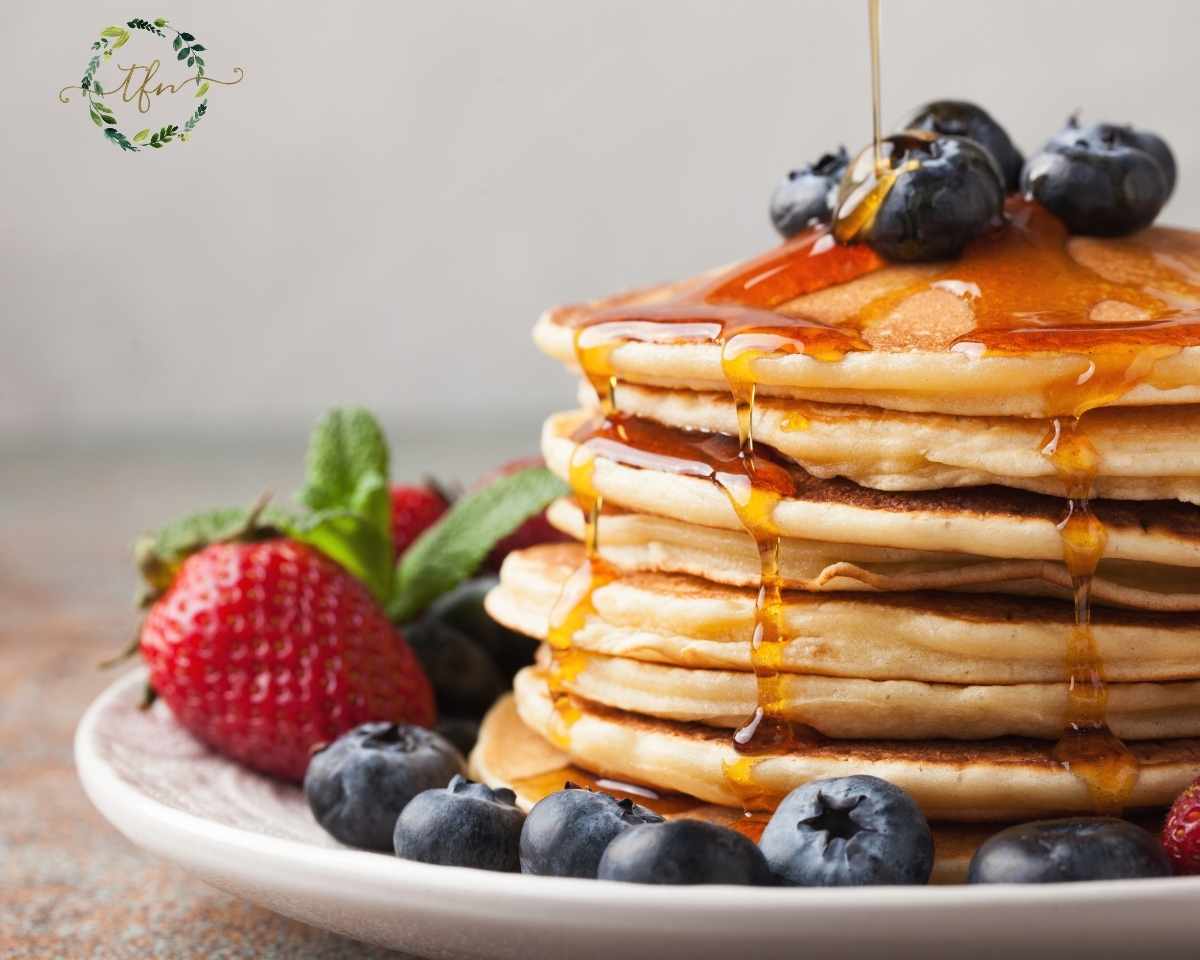 Frequently Asked Questions
Can this recipe be cut in half or doubled?
Yes, and yes. The Bisquick ultimate pancake recipe below makes 8 pancakes, but you can halve the ingredients for 4 pancakes – which is just about perfect for two people. Double the ingredients to make 16 Bisquick pancakes. This is a great idea to enjoy some now and freeze half for grabbing as quick weekday breakfasts.
How do I make this Bisquick ultimate pancake recipe dairy-free?
One of the many reasons I prefer to make my own pancakes using Bisquick is that the mix itself is dairy-free, and several members of my family are lactose-intolerant. Feel free to use lactose-free milk and your favorite plant-based butter or cooking oil to make your own dairy-free Bisquick pancakes!
How long will homemade pancakes keep well?
Cooled pancakes can be stored in an airtight container and kept in the refrigerator for 4-5 days. They're perfect for those last-minute breakfast mornings!
How do you freeze fluffy Bisquick pancakes?
Stack cooled pancakes between sheets of waxed paper. Wrap the stack in aluminum foil and freeze. To reheat, remove the foil and cover pancakes with a damp paper towel. Microwave them on 50% heat in 30-second intervals. You can also bake them at 400º for 5-7 minutes. Or, toast them in your toaster for a crisper exterior.
What toppings are best to enjoy with the ultimate Bisquick pancakes?
Classic pancake toppings are room temperature butter and slightly warmed syrup. But you can also serve them with diced fresh fruit, like bananas and strawberries. Or top them with whipped cream and chocolate chips for a sweet breakfast treat.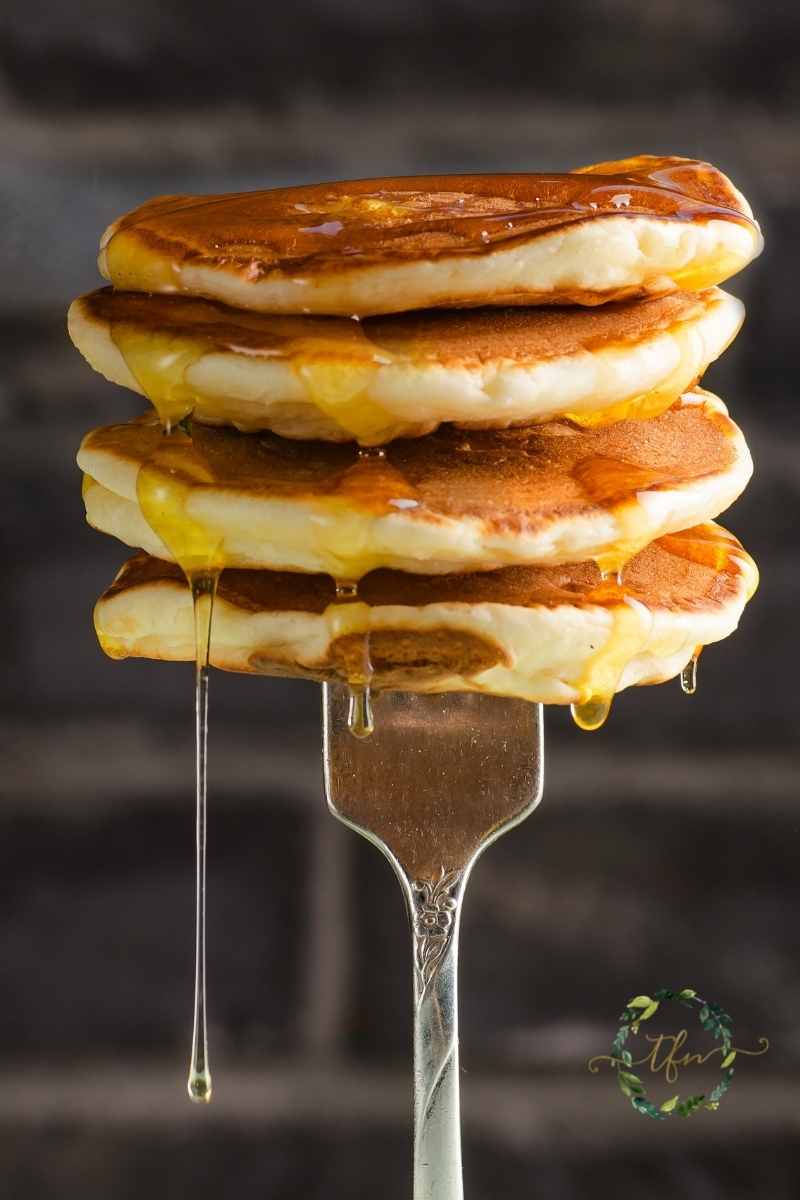 Here's the Ultimate Pancake Recipe
Bisquick Ultimate Pancakes
This ultimate Bisquick pancake recipe is easy to make using everyone's favorite baking mix. Enjoy the best, fluffiest, most melt-in-your-mouth pancakes with our foolproof steps and tips!
Equipment
electric griddle or skillet
Ingredients
2

cups

Bisquick baking mix

(see notes for DIY baking mix recipe)

3

tablespoon

sugar

2

teaspoon

baking powder

1

cup

milk

2

tablespoon

melted butter

2

large

eggs, slightly beaten
Instructions
In medium bowl, stir all ingredients with whisk or fork until just blended. There may be some small lumps. Once the pancake mixture starts to bubble, it's ready to cook.

Depending on the size of pancakes you prefer, use 1/4 to 1/3 cup of batter for each ultimate pancake. Cook about 1-2 minutes, until there are bubbles across the top and until edges are dry. Using a pancake turner, turn and cook other side until golden brown. Serve warm with butter and maple syrup.
Notes
Make your own Bisquick with my DIY baking mix recipe (linked).
Cooled pancakes can be stored in an airtight container and kept in the refrigerator for 4-5 days.
Nutrition
Serving:
1
pancake
|
Calories:
208
kcal
|
Carbohydrates:
25
g
|
Protein:
5
g
|
Fat:
10
g
|
Saturated Fat:
3
g
|
Trans Fat:
1
g
|
Cholesterol:
50
mg
|
Sodium:
553
mg
|
Potassium:
108
mg
|
Fiber:
1
g
|
Sugar:
10
g
|
Vitamin A:
243
IU
|
Vitamin C:
1
mg
|
Calcium:
155
mg
|
Iron:
1
mg
Get more Bisquick Recipes