This homemade hamburger bun recipe is a quick and easy way to make your burgers even better. They are soft and fluffy, and taste so much better than the store-bought variety.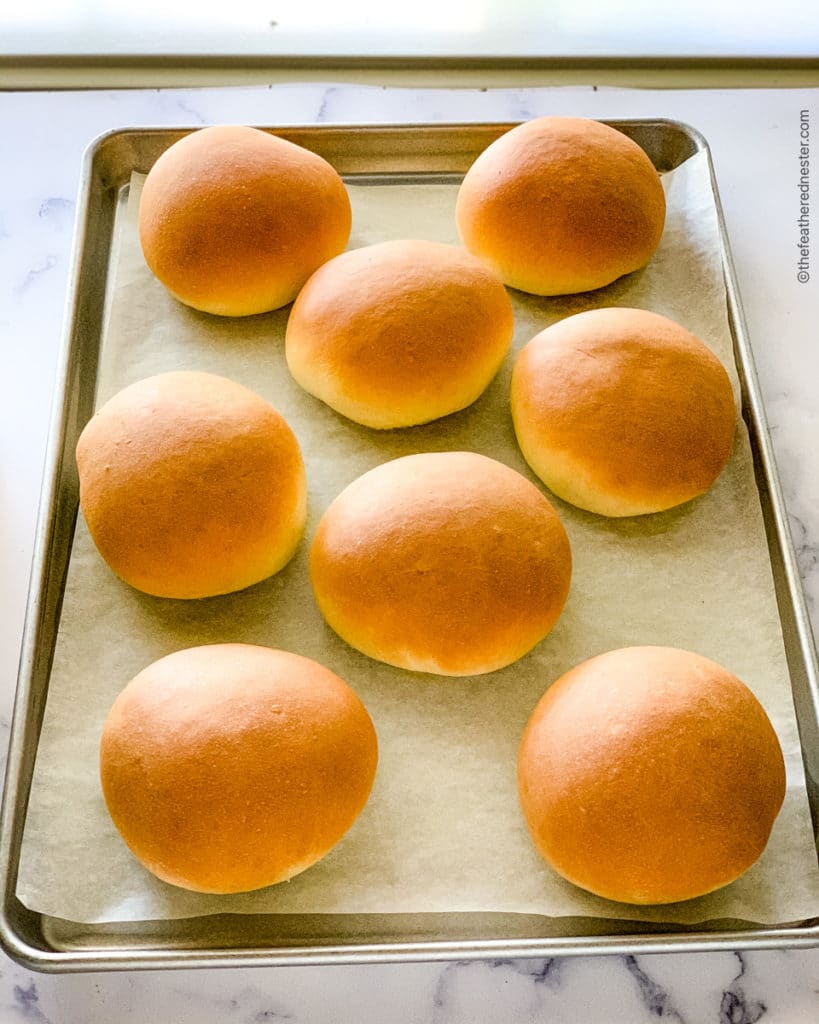 You can have the best homemade burger buns in just 30 minutes. Seriously. This quick and easy, small batch hamburger bun recipe makes perfectly soft burger buns that are way better than store bought. They're exactly what you want to hold burgers or cheeseburgers, sloppy joes, shredded beef or pulled pork sandwiches, and more.
Quick and Easy Hamburger Bun Recipe
I discovered this burger bun recipe a few years ago (from A Taste of Home) and shared it on a weekly dinner menu. Since then, I've made a few modifications to the original recipe to make it even better!
They are perfect for enjoying homemade burgers however you like, from classic beef patties and cheeseburgers to healthy grilled turkey burgers and even veggie burgers.
This family loved recipe yields 8 buns, but can be easily doubled if you're feeding a crowd. Also, the buns are baked to perfection in just 12 minutes. So if you're looking for a great recipe for burger buns, give this one a try!
What Make This The Best Buns Recipe
There are a number of reasons that these quick 30 minute burger buns are simply amazing, and are sure to be your favorite go-to hamburger rolls recipe:
The dough is very soft and elastic, which makes it ideal for kneading in a mixer with a dough hook.
Your house will smell of freshly baked bread.
Homemade burger buns can be enjoyed fresh, or frozen and saved for later.
Follow my simple steps below to make the best, softest small batch hamburger buns recipe in under an hour.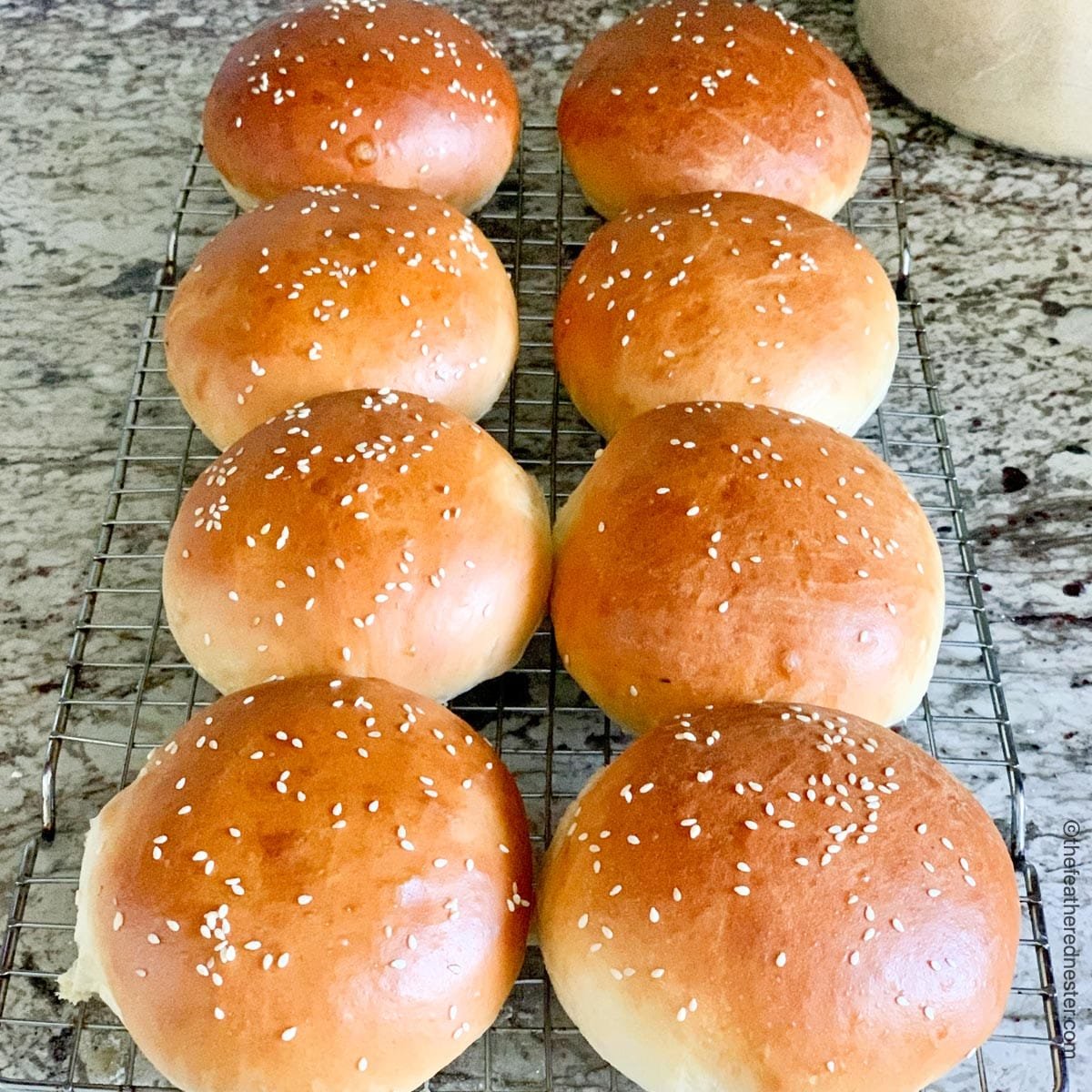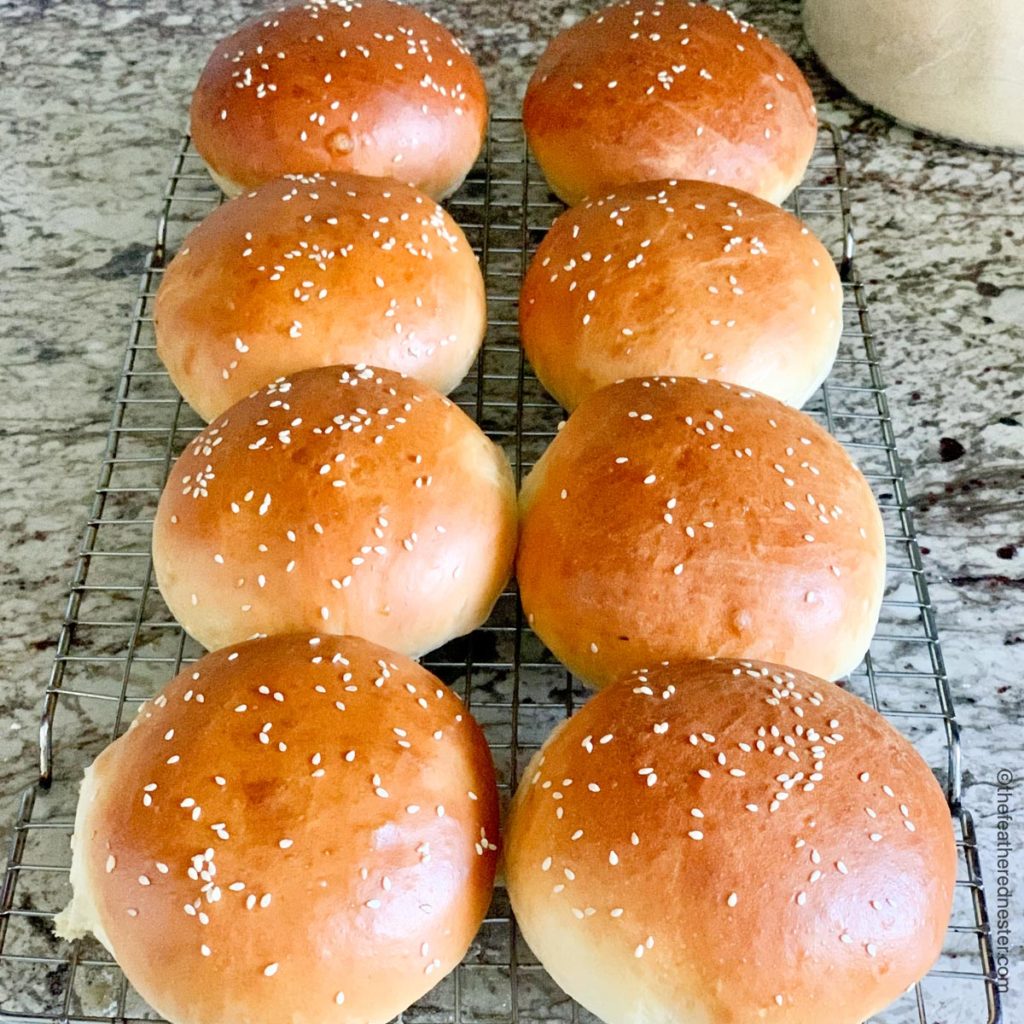 Hamburger Bun Recipe Ingredients
bread flour – or all-purpose
vegetable oil
egg
sugar
salt
Optional: sesame seeds
We recommend and use King Arthur bread flour), but you can easily substitute all-purpose flour. I find that bread flour yields a smoother bun that looks exactly like store bought buns.
Note: Don't skip the sugar! Since these buns have very little rise time, the sugar in the recipe helps provide a boost to the yeast.
Essentials for Baking Burger Buns
Recipe Tips
Making the Dough. Dissolve the yeast in warm water in a large bowl. Add oil and sugar and let it stand for 5 minutes.
Add a beaten egg, salt, and 3 cups of flour to the bowl and make a soft dough. If the dough is too runny, add more flour 1/4 cup at a time until it is stiff enough to knead.
Knead the Dough. Turn the dough onto a surface that is covered in flour. Knead the dough (by hand or using a dough hook in a stand mixer) until it is smooth and elastic, which should take about 3-5 minutes.
Shape the burger buns. Divide and the dough into 8 pieces, roll each piece into a ball. To smooth the top, pinch the bottom of the dough repeatedly until it is smooth on top.
Gently flatten the roll in your hand. Place rolls 3 inches apart on a greased or parchment paper-lined baking sheet or hamburger roll pan. Cover and let rest for 20 minutes.
Bake the buns. Bake at 425°F for 8-12 minutes or until golden brown.
Ready to Serve. After baking, remove the pans from the oven and let them cool on wire racks. Once they are cooled, cut them in half to serve.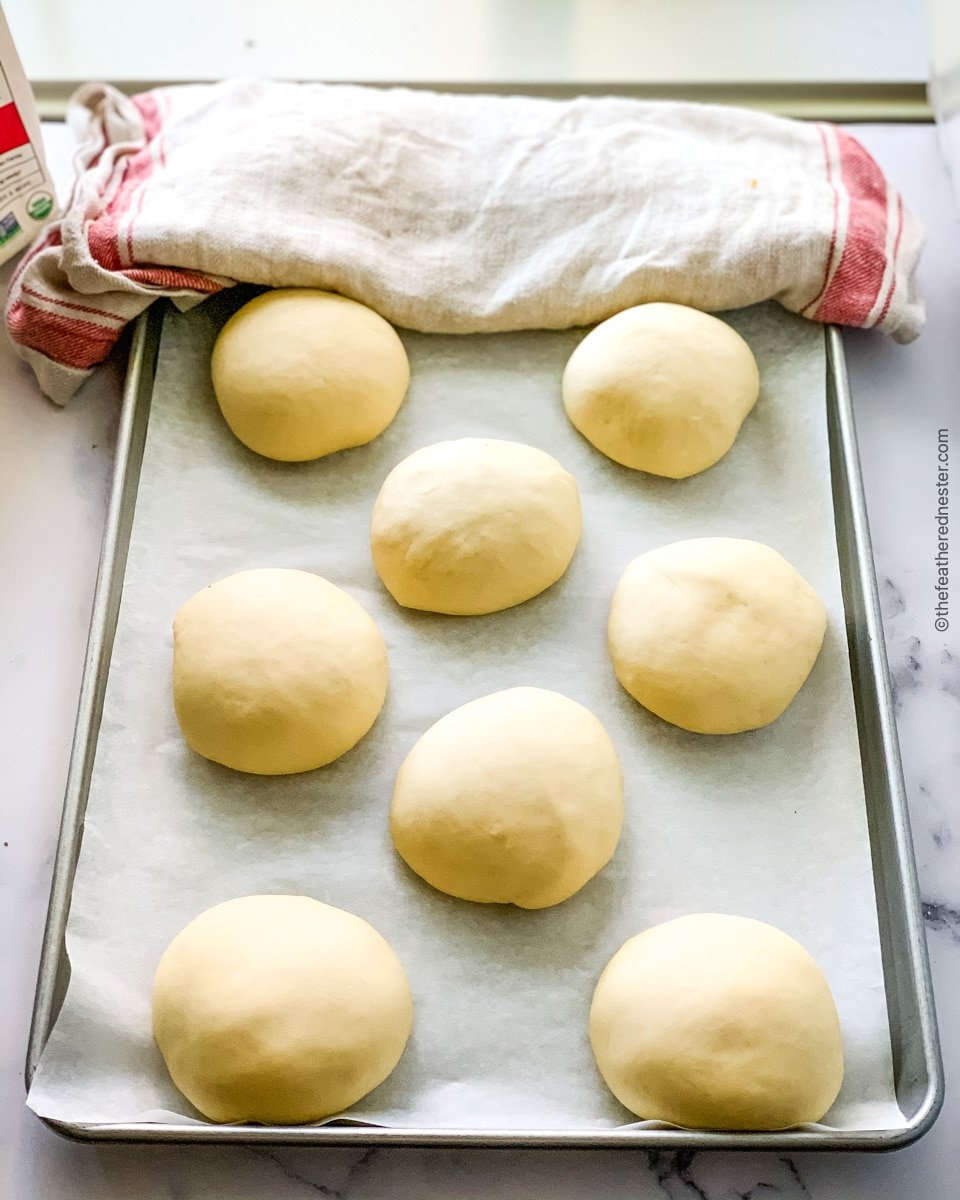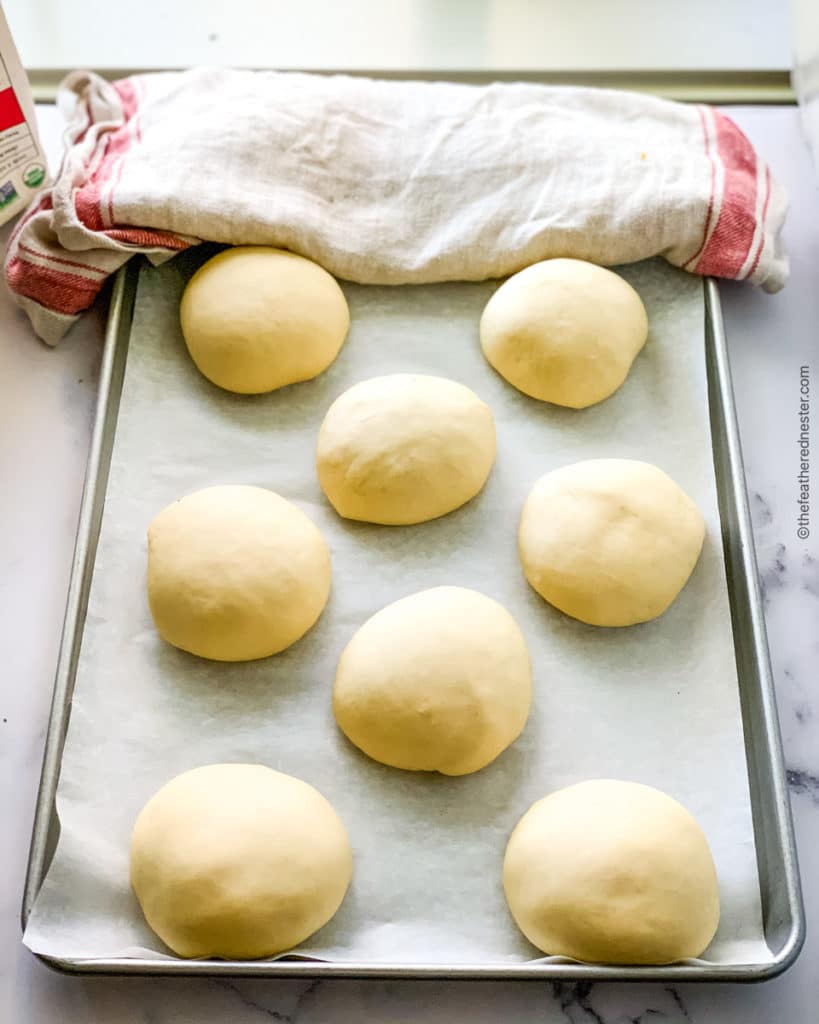 Be sure to combine the yeast with warm water – not cold or too hot.
Let the shaped bun dough rest for the full suggested 20 minutes to fully proof and get the best rise.
When the rolls come out of the oven, immediately brush the buns with some melted butter and sprinkle on sesame seeds for delicious flavor.
Recipe Variations
Add 1-2 tablespoons of dried minced onion or onion powder to the dough for onion flavor buns.
Swap out the bread flour for whole wheat flour for a healthier option.
Skip the sesame seeds and instead brush the buns with some garlic butter.
For a fun twist, use food coloring to tint the dough before shaping it into balls.
Serving Suggestions
These quick and easy homemade burger buns are perfect for serving traditional beef burgers or cheeseburgers, or your favorite veggie or turkey burgers.
They are also delicious to enjoy with sloppy joes, pulled pork or chicken, shredded chuck roast, or other saucy main dishes.
Or use them to jazz up classic sandwiches by swapping slices of bread with soft hamburger rolls.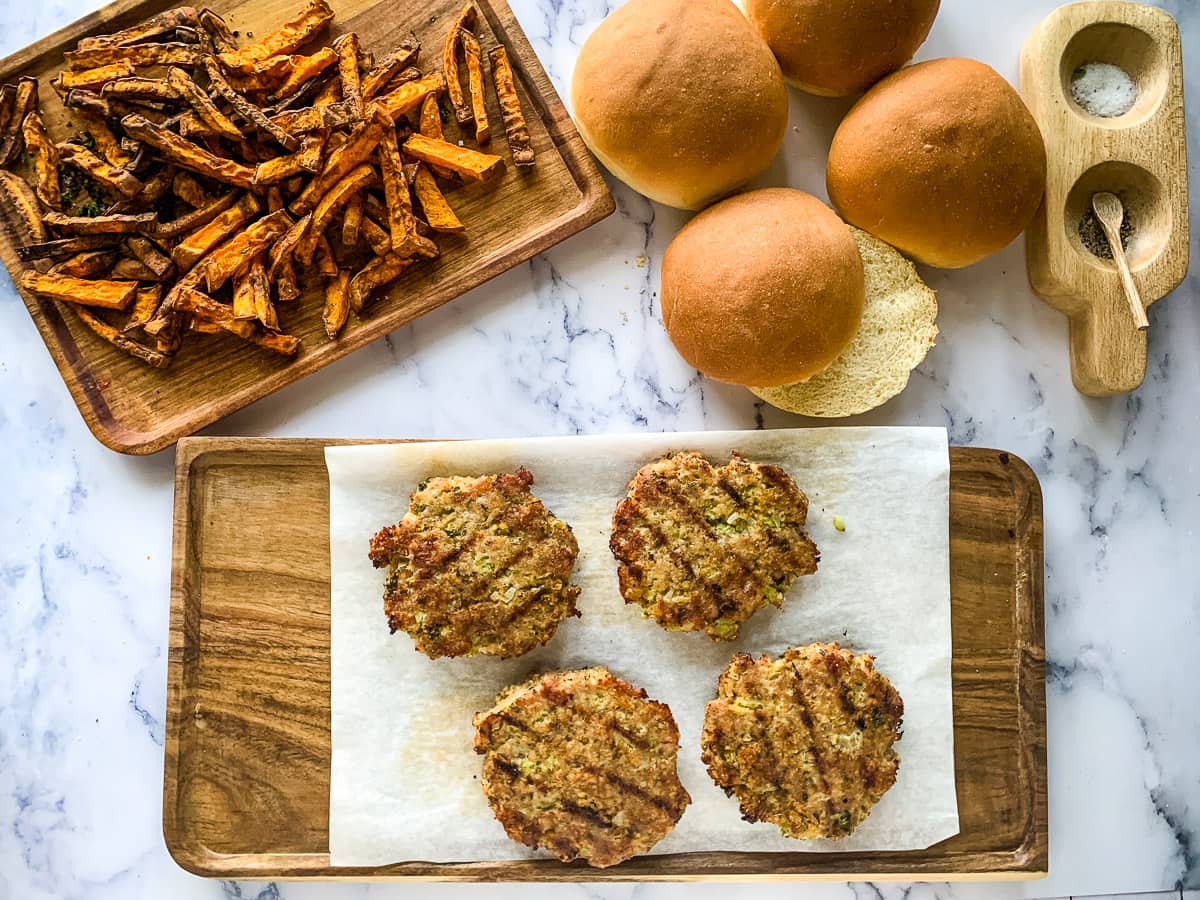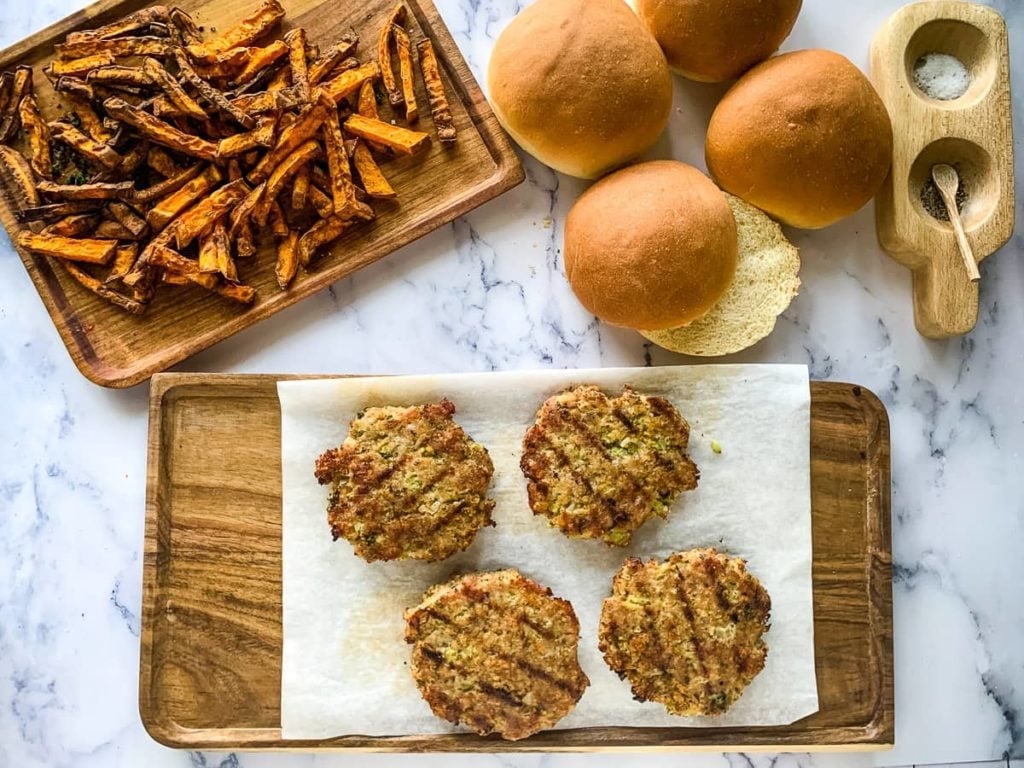 Storing Fresh Hamburger Buns
Closely cover cooled hamburger buns in a sealed zip-top bag and store them at room temperature for up to 3 days. To reheat, place buns on a baking sheet and warm them in a 350°F oven for about 5 minutes until they're soft and slightly crusty.
Note: If you plan on storing the hamburger buns for more than a day or two, it's best to freeze them.
How to Freeze
Yes, you can freeze these hamburger rolls. Place your buns in a freezer-safe bag and freeze for up to 3 months.
To reheat frozen buns, thaw overnight on the counter, then place buns on a baking sheet and warm in a 350°F oven for about 10 minutes.
Burger Bun Recipe FAQ
I don't have a stand mixer. Can I knead this by hand?
Yes you can. Watch the video in this homemade bread post to see how to properly knead dough. This dough is soft and pliable, so flour your countertop and hands well before kneading.
How will I know if the dough has been kneaded long enough?
The signs that dough has been kneaded long enough. The dough should feel smooth, like the inside of your cheek. It should be tacky but not sticky. And, you should be able to stretch the dough several inches without it tearing.
This recipe is for active dry yeast. I have instant yeast. Can I use that?
Yes, you can. Skip adding the yeast to the warm water, and add it to the flour. Go ahead and mix the dough together as in step 2 of the recipe.
How do you keep your buns soft after baking?
There are a few things you can do to keep your buns soft after baking.
First, brush them with some melted butter as soon as they come out of the oven. This will help keep them moist.
Second, don't over-bake them. They should be just golden brown, not dark brown.
Finally, store them in a zip-top bag or airtight container to prevent them from drying out.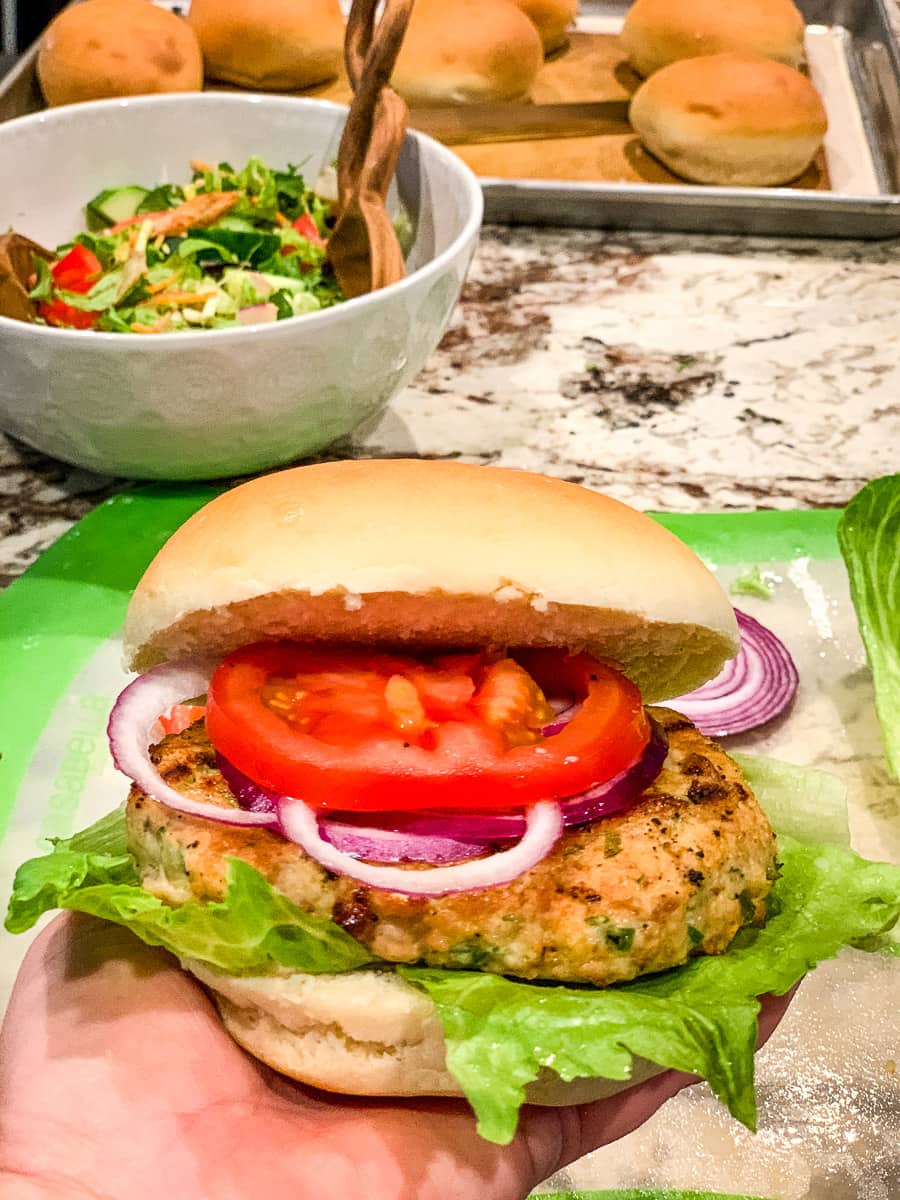 Quick and Easy Hamburger Buns
For the best flavor and freshness, make these easy hamburger buns! They taste amazing and only take 30 minutes to make.
Ingredients
2 tablespoons active dry yeast
1 cup warm water 95° to 105°F
⅓ cup vegetable oil
¼ cup sugar
1 large egg beaten
1 teaspoon salt
3 to 3-1/2 cups all-purpose flour bread flour, or a mix of both
Instructions
In a large bowl, dissolve yeast in warm water. Add oil and sugar; let stand for 5 minutes. Add beaten egg, salt, and 3 cups of flour and make a soft dough. If the dough is too runny, add the rest of the flour, 1/4 cup at a time.

Turn dough onto a floured surface; knead (by hand or using a dough hook in a stand mixer) until smooth and elastic, about 3-5 minutes. Immediately divide into 8 pieces and shape each into a ball. Place 3 in. apart on baking sheet (non-stick, greased, or cover with parchment paper).

Preheat oven to 425ºF. Cover and let rest for 20 minutes*. Bake for 8-12 minutes or until golden brown. Remove from pans to wire racks to cool. Cut in half to serve.
Notes
*You can let the hamburger bun dough rise 10 minutes, but I have found that 20 minutes is optimal for the lightest buns.
Keep homemade burger buns at room temperature in an airtight bag for up to 4-5 days. To freeze, seal in a bag and keep in the freezer for up to 3 months.
This recipe was inspired by Taste of Home
Nutrition
Serving: 1bun | Calories: 289kcal | Carbohydrates: 42g | Protein: 8g | Fat: 11g | Saturated Fat: 8g | Cholesterol: 20mg | Sodium: 303mg | Potassium: 83mg | Fiber: 2g | Sugar: 6g | Vitamin A: 30IU | Calcium: 10mg | Iron: 1mg
PIN THIS POST!