Use the slow cooker to make the best fall apart beef chuck roast with barely any effort.
This easy pull apart beef roast recipe includes only a handful of simple ingredients for a fantastic Crock Pot dump and go meal.
It's perfect for making shredded beef tacos and burritos, enchiladas, bbq sandwiches, or enjoying as-is roast beef with nearly any side. You'll definitely be adding this pulled beef to your regular weekly meal plan!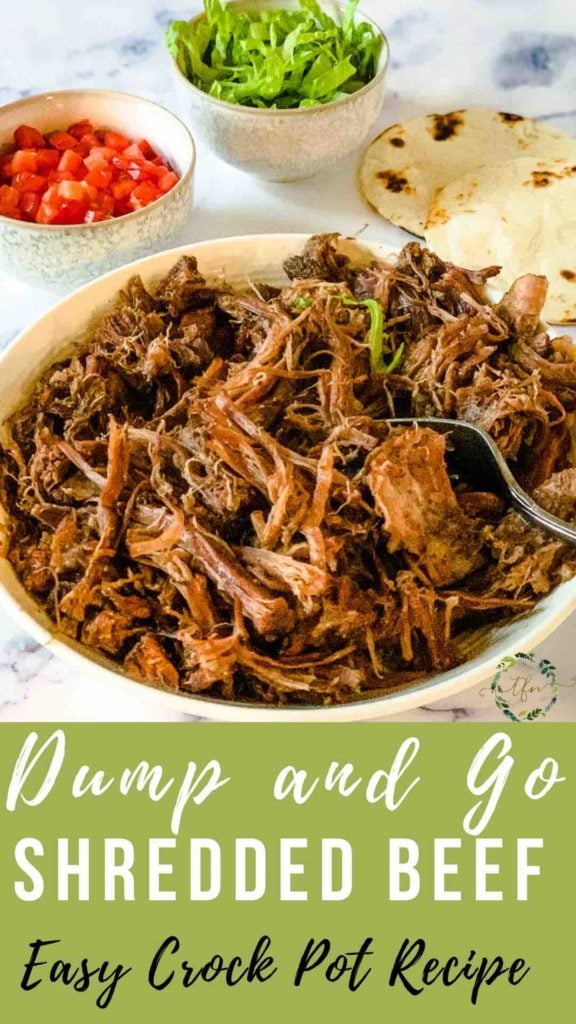 The Most Versatile slow cooker Chuck Roast Recipe
This is another favorite slow cooker dump and go recipe. I've been making this super easy Crock Pot chuck roast for years. So trust me when I say with great confidence that this one's a keeper.
Not only is it amazingly delicious and easy to make, but it has terrific versatility. Although you'll find great serving ideas below, my favorite is to use them to make leftover pot roast tacos.
TFN Tip:
This pull apart beef roast is great to feature in your weekly meal plan. Just cook one time during the weekend and you've got a great protein for meal prepping any number of lunch and dinner dishes!
And did I mention how easy it is? Prep it in under 5 minutes! You literally dump the ingredients in the slow cooker and press cook.
What Ingredients are Needed for Fall Apart Beef
This is a classic 5-ingredient recipe that is made with simple pantry staples. All you need is:
Tip: For the best beef flavor, use Better than Bouillon beef bouillon paste at double strength – 2 tsp to 1 cup of water instead of beef broth. Or use beef bouillon cubes at double strength.
You can swap all purpose seasoning in this chuck roast recipe for your favorite taco seasoning to make southwestern shredded beef tacos.
Or try Italian seasonings for enjoying over noodles or in Italian-style pulled beef sandwiches.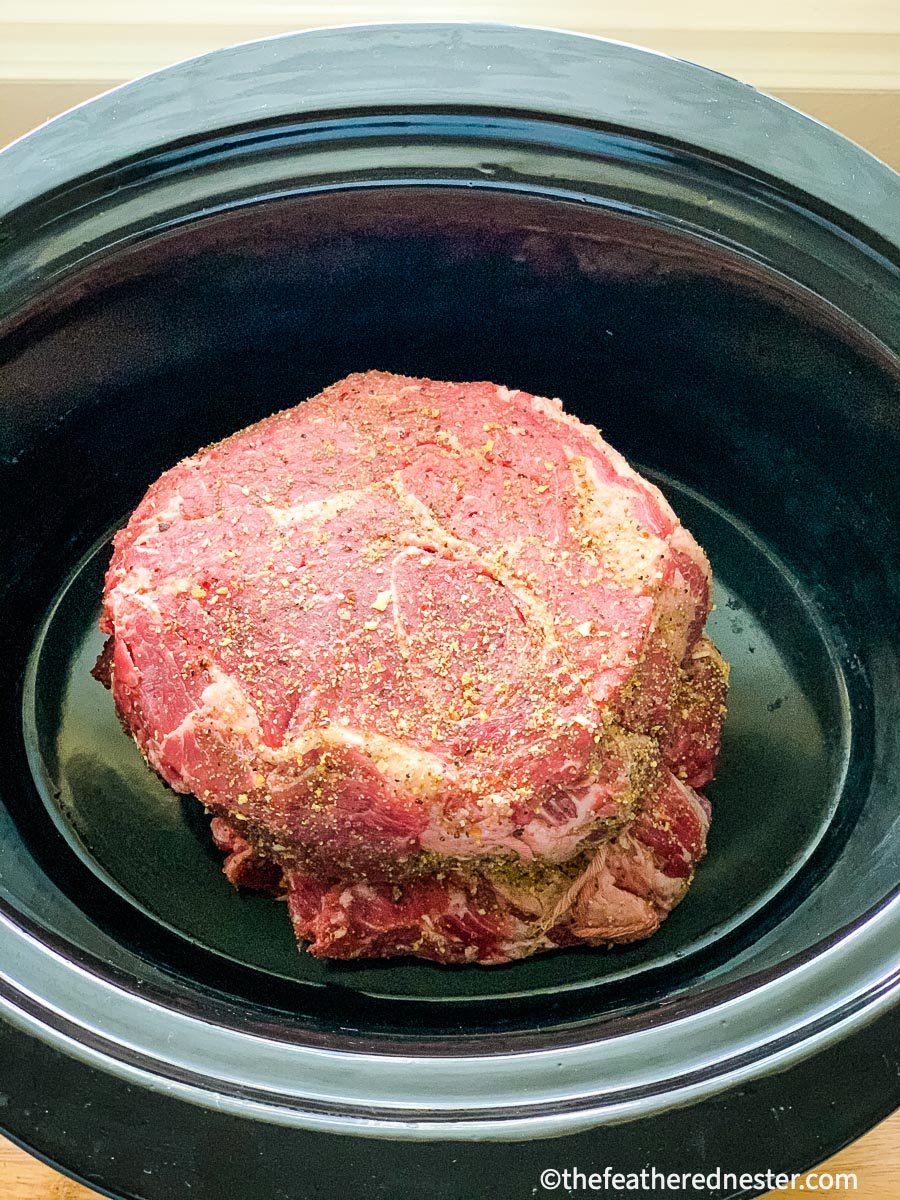 What is the best cut for pulled beef?
Chuck roast is absolutely the best cut of beef for pulled beef.
A chuck roast may be called: Blade Chuck Roast, Beef Pot Roast, Blade Chuck Pot Roast Bone In, Chuck 7-bone Pot Roast, Chuck Blade Pot Roast, Chuck pot roast, Chuck Roast Blade Cut, or Shoulder Pot Roast.
That's a lot of options to describe the same cut of beef. If you're unsure what's available at your local grocery you can always ask the store's butcher for some insight!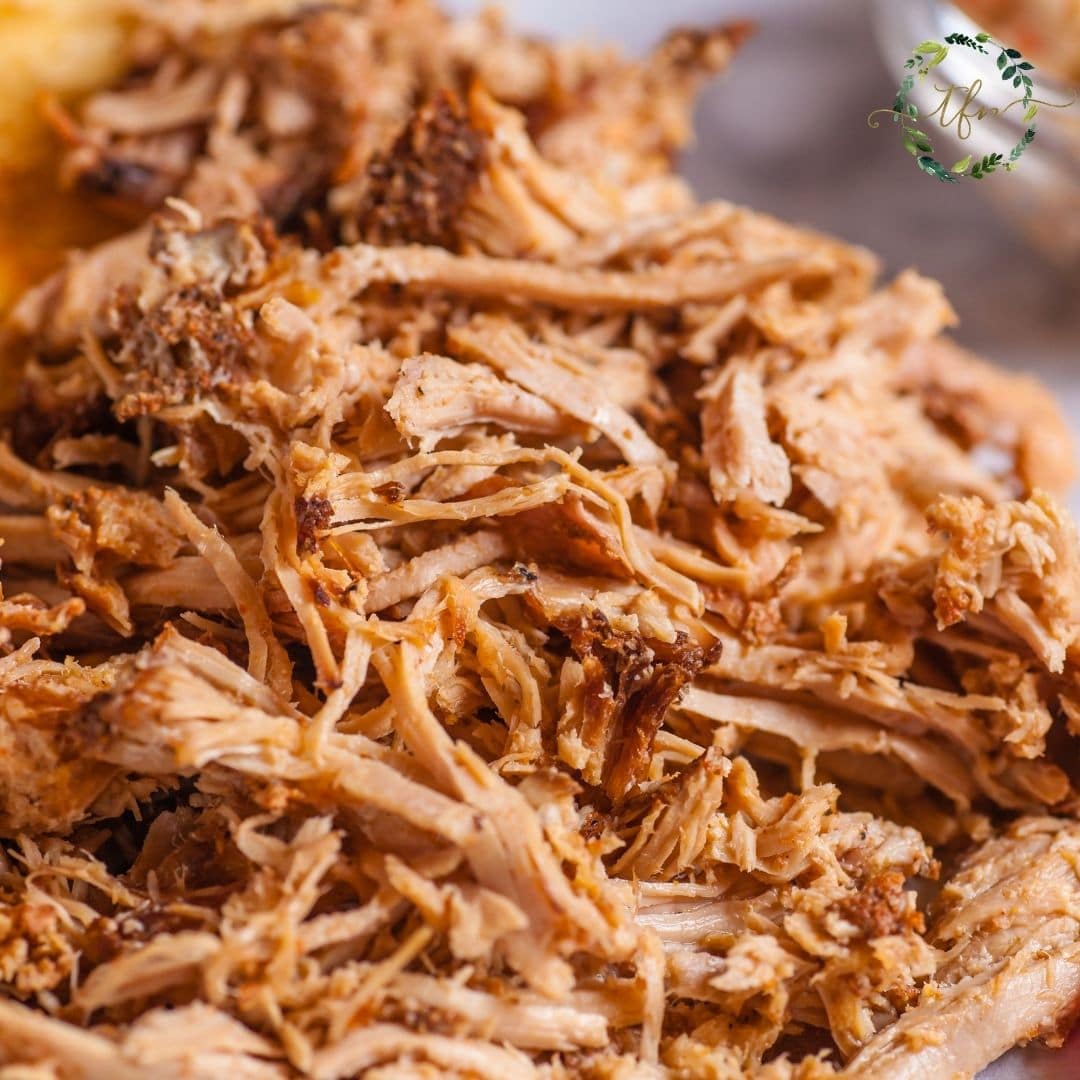 Beef brisket makes great pulled beef, too, but it can easily dry out. If you choose to use this cut it should be cooked on the low setting with plenty of fluid.
Round roast and rump roast can also be used with less predictable results. Look for well-marbled roasts and be prepared to chop the cooked meat if it doesn't easily shred or pull apart.
This handy article discusses the different cuts of beef for shredding.
How to Make Fall Apart Beef Roast in the Crock Pot
The best, meatiest, most savory fall apart roast beef is made in only 3 easy steps.
For optimum flavor, let the chuck roast rest at room temperature for an hour before cooking. Whenever you do remove it from the fridge, season it generously with the all purpose seasoning.
Make beef broth with bouillon and hot water. Then place the beef roast in the slow cooker, pour in the broth, and top with sliced onions. Cover and cook until fork-tender.
Once done, remove the chuck roast from the Crock Pot and transfer it to a plate. Shred the beef and then return to the slow cooker.
Pull apart beef right away while warm, or allow it to cool to room temperature before storing pulled chuck roast in the fridge or freezer as part of your meal planning.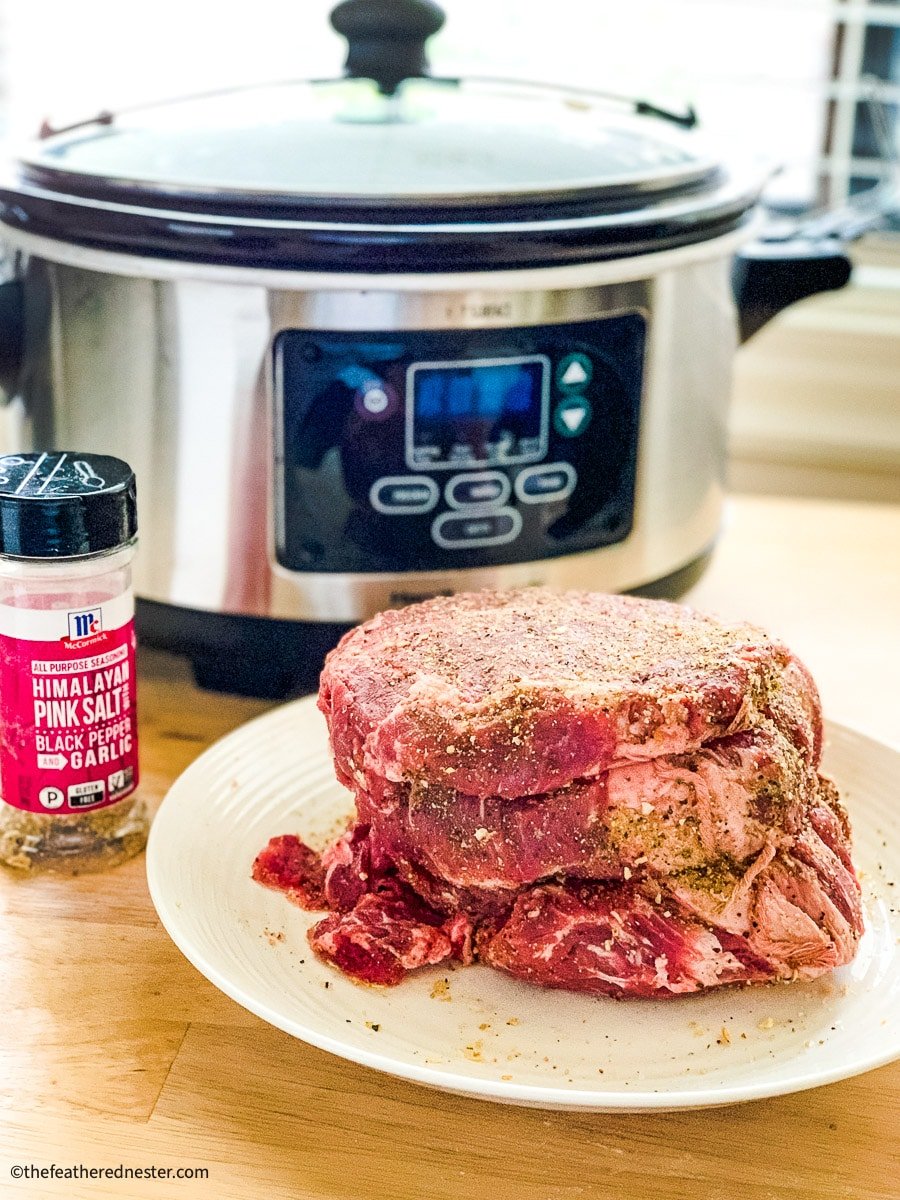 What to Make with Shredded Chuck Roast
There are SO many delicious ways to use pulled beef in your favorite dishes. Here are just a few great ideas to serve with this with tangy and savory shredded roast beef:
leftover pot roast tacos
beef & bean burritos
beefy enchiladas
shredded beef sandwiches
taco salad
beef chili
loaded nachos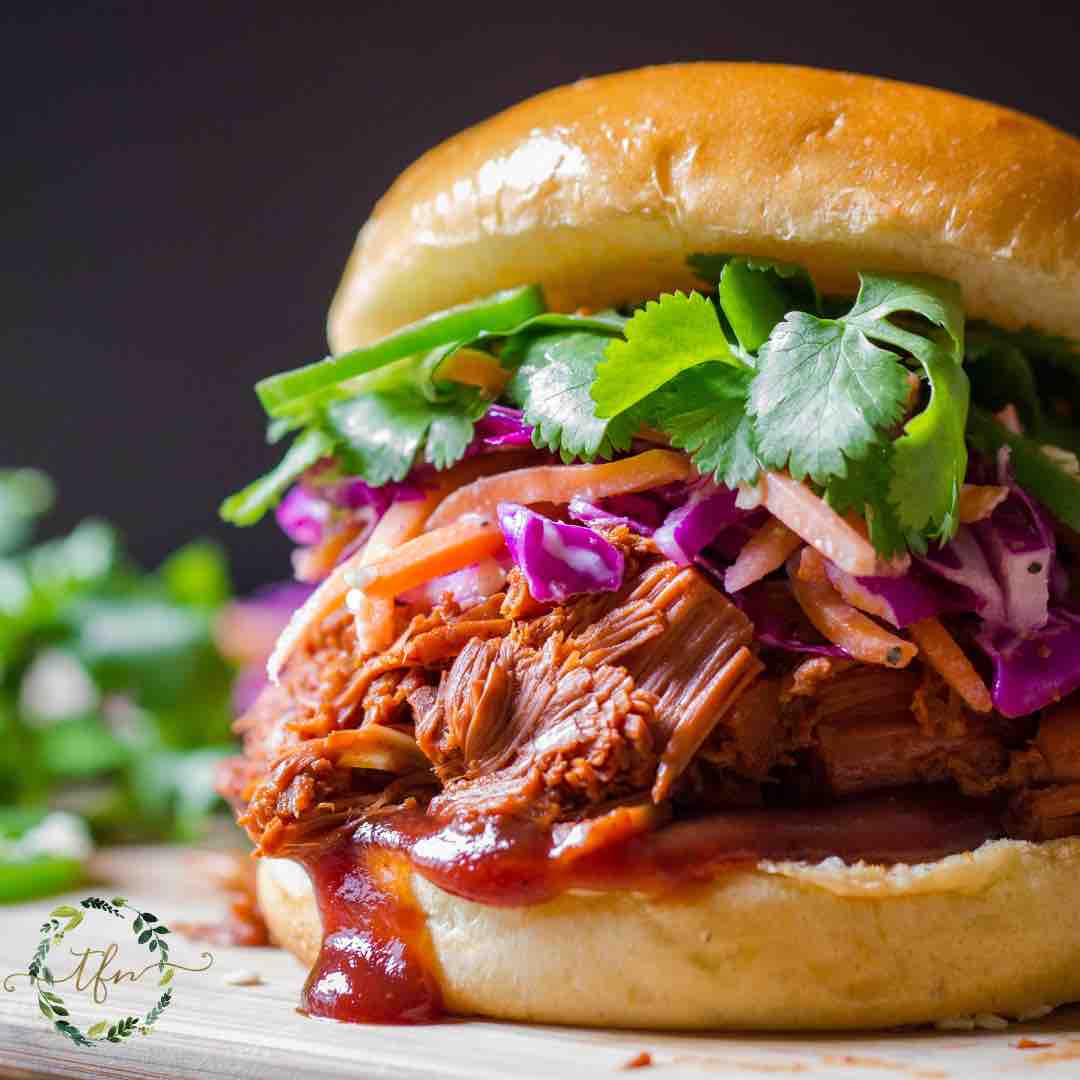 Also, try using it in place of ground beef in Chili Cheeseburger Soup or Beef Taco Casserole for a fun twist!
Check out the Full pulled beef crock pot Recipe Below!
Frequently Asked Questions
Do you recommend using a pull apart beef roast for meal planning?
Absolutely! Make this pulled beef chuck roast in the slow cooker on a relaxing Saturday or Sunday and set yourself up for easy, satisfying meals through the week.
Keep cooked shredded beef in an airtight container for up to 4 days. Use it to make healthy lettuce wrap pulled beef tacos, burrito bowls or taco salads for lunch, as part of your quick heat-and-enjoy weeknight dinner plan, or to enjoy over nachos for a no-fuss snack.
Can you freeze shredded beef?
Yes, you can freeze shredded beef. Transfer leftover pot roast to an airtight container or freezer bag and keep it in the freezer for up to 2 months. Defrost in the fridge overnight before use in your favorite dishes.
How can I tell if the beef roast is done?
The internal temperature will be over 165 degrees F (and probably closer to 185 to 195 degrees) and easy to separate. One of the things I love about my slow cooker is that it has a programable probe to insert into the roast.
Get the Slow Cooker Shredded Beef Recipe Here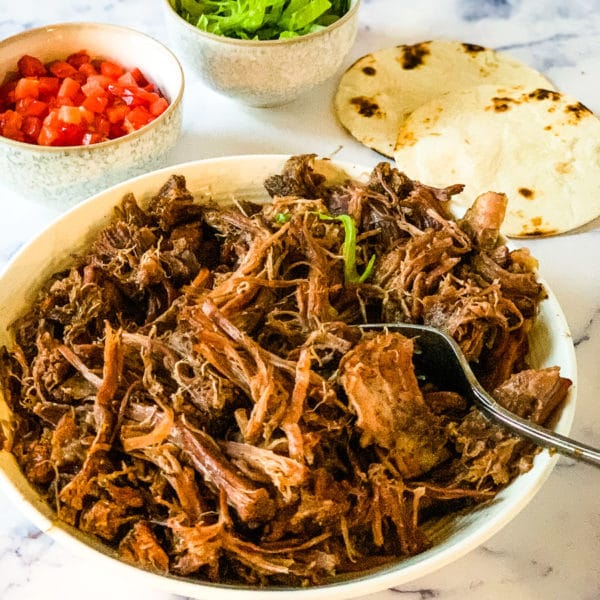 Crock Pot Pulled Beef Chuck Roast
Crock Pot pulled beef chuck roast is an easy dump and go recipe. Add the shredded beef to your meal plan for meals all week long!
Ingredients
3-4 pounds beef chuck roast (see notes for other cuts of roasts)
1½ cups hot water
3 teaspoons Better than Bouillon beef paste (can substitute bouillon and water for beef broth)
1 small onion, sliced
1 tablespoon all purpose seasoning like Montreal Steak Seasoning
Instructions
If time permits, season roast with all purpose seasoning and let rest for one one hour before placing into slow cooker.

Mix bouillon and hot water together and stir until disolved. Place roast beef into the pot of your slow cooker, add beef broth and seasoning. Cover with sliced onions. Cook roast in slow cooker for 3-4 hours on High setting or 6-8 hours on Low.

After cooking, remove roast from slow cooker and to a platter. Pull apart roast with two forks. Return to the slow cooker if not serving right away, keeping it on warm setting.
Video
Notes
Round roast and rump roast can be also be used with less predictable results. Use well-marbled roasts and be prepared to chop the cooked meat if it doesn't easily shred.
Nutrition
Serving: 4ounces | Calories: 311kcal | Carbohydrates: 1g | Protein: 33g | Fat: 20g | Saturated Fat: 9g | Cholesterol: 117mg | Sodium: 147mg | Potassium: 577mg | Fiber: 1g | Sugar: 1g | Vitamin A: 35IU | Vitamin C: 1mg | Calcium: 37mg | Iron: 4mg
PIN THIS POST!
Get more easy slow cooker recipes