This sourdough sandwich bread recipe uses King Arthur Flour for an amazing super soft sandwich bread that kids absolutely love. It includes a no-knead method that's perfect for doing an easy overnight rise and creates the softest, fluffiest sandwich bread with all the health benefits of sourdough.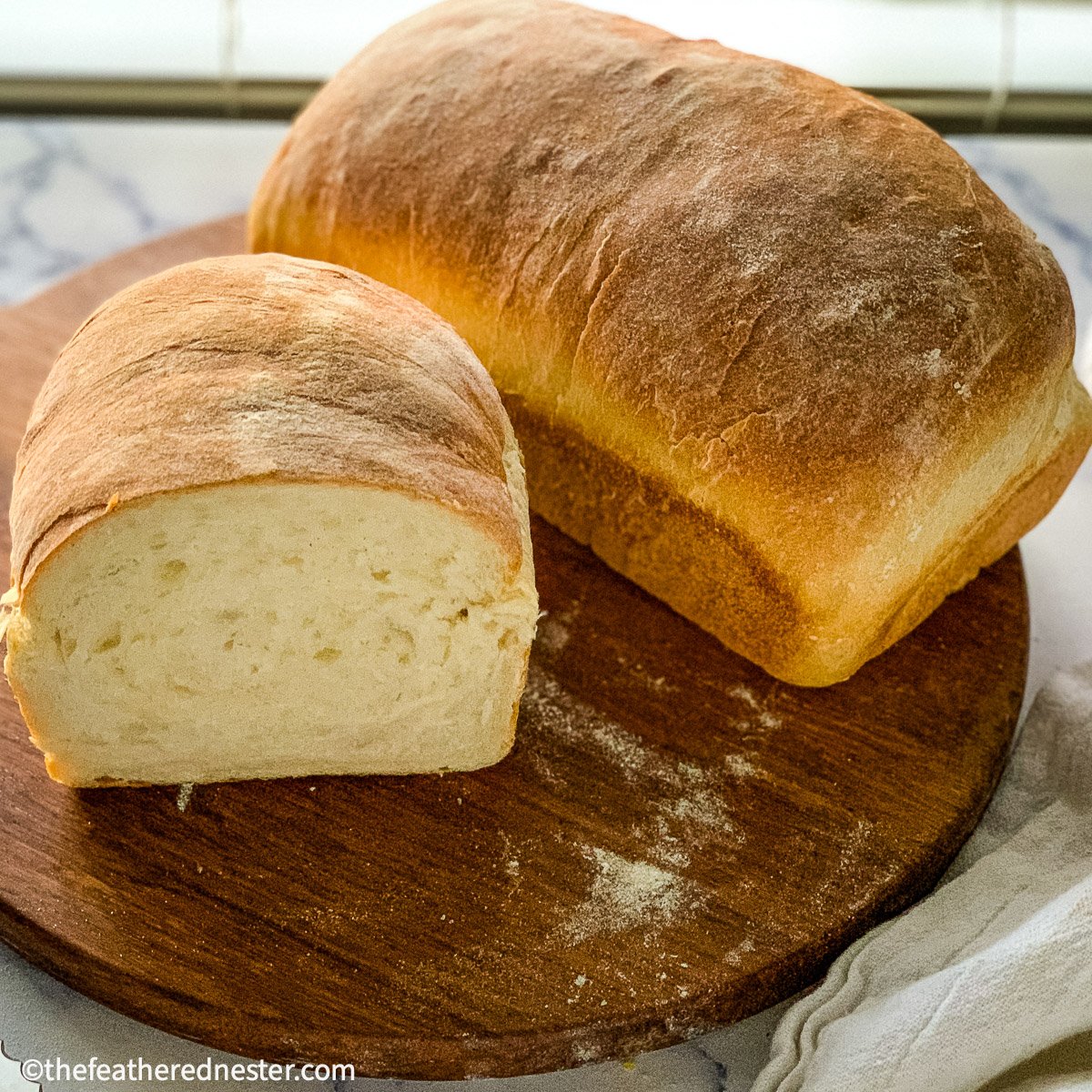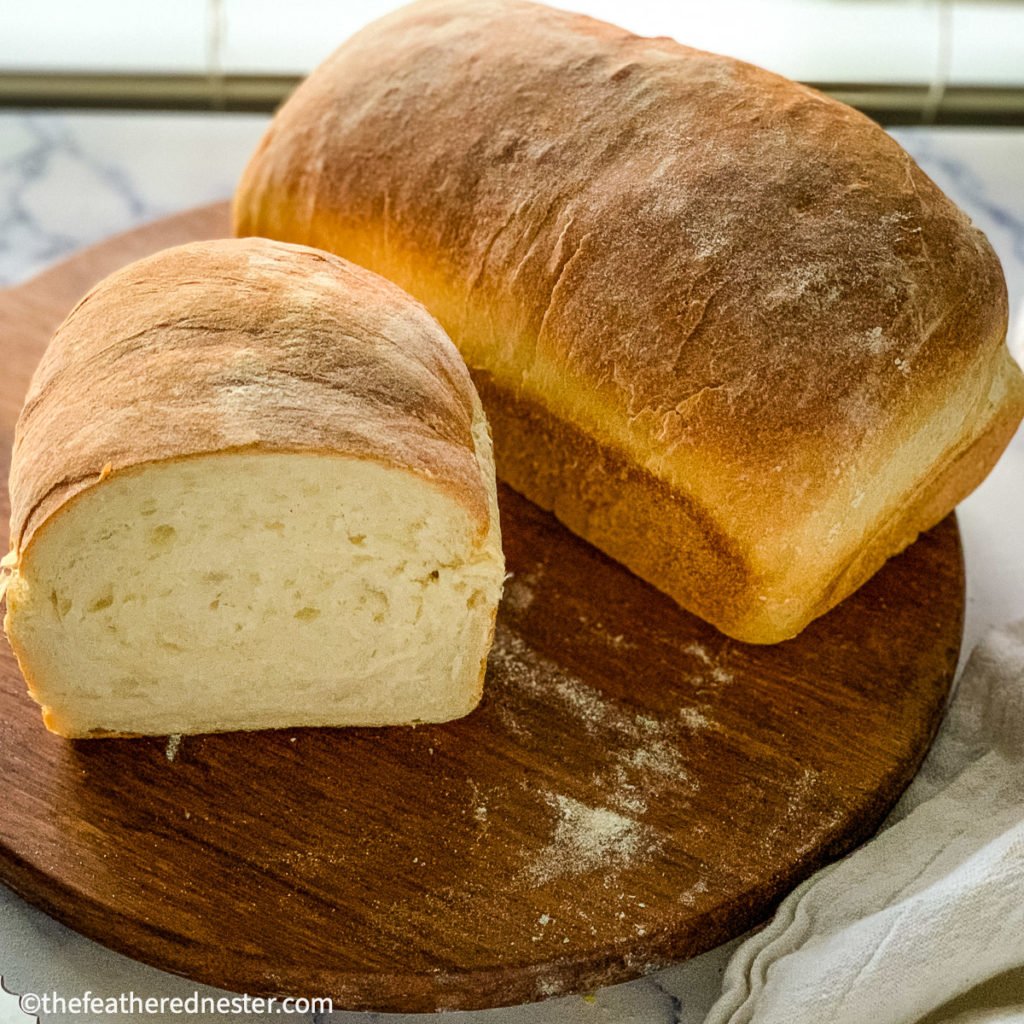 Easy Sourdough Sandwich Bread with King Arthur Flour
We love the tangy taste and fluffy interior that classic sourdough bread is best known for having. Not only is sourdough delicious, but it is also one of the easiest baked goods to make from scratch: no yeast, dairy, or eggs are needed!
Sourdough bread is vegan-friendly, there are no eggs or milk, and it's quite healthy compared to other types of bread. The starter needed to make it contains live and active cultures that help the bread naturally rise. That means that you don't need any yeast or other artificial rising agents.
Learn more about the health benefits of sourdough bread in my Overnight Artisan Sourdough Bread post.
Homemade loaves of sourdough bread typically have a crunchy, slightly chewy exterior. However, my no-knead bread recipe uses King Arthur Flour and an easy overnight rise to create a wonderfully light crust and soft bread. The result is a flavorful and tender sourdough that's perfect for slicing and enjoying as your new favorite sandwich bread.
Ingredient Notes and Substitutions
Tender sourdough with a perfectly soft crust is easy to make with just a handful of simple ingredients. There's no yeast, eggs, or milk required!
Here is everything needed for sandwich-worthy soft bread:
Sourdough starter – active and bubbly
Water – warmed to 95 to 100 degrees Fahrenheit
Bread flour – I prefer King Arthur Flour for this soft crust sourdough bread recipe
Sugar – either granulated cane sugar or your choice of sugar alternative, like coconut sugar
Extra virgin olive oil and salt
No sourdough starter? Learn how to make a fast sourdough starter in my Sourdough Starter post.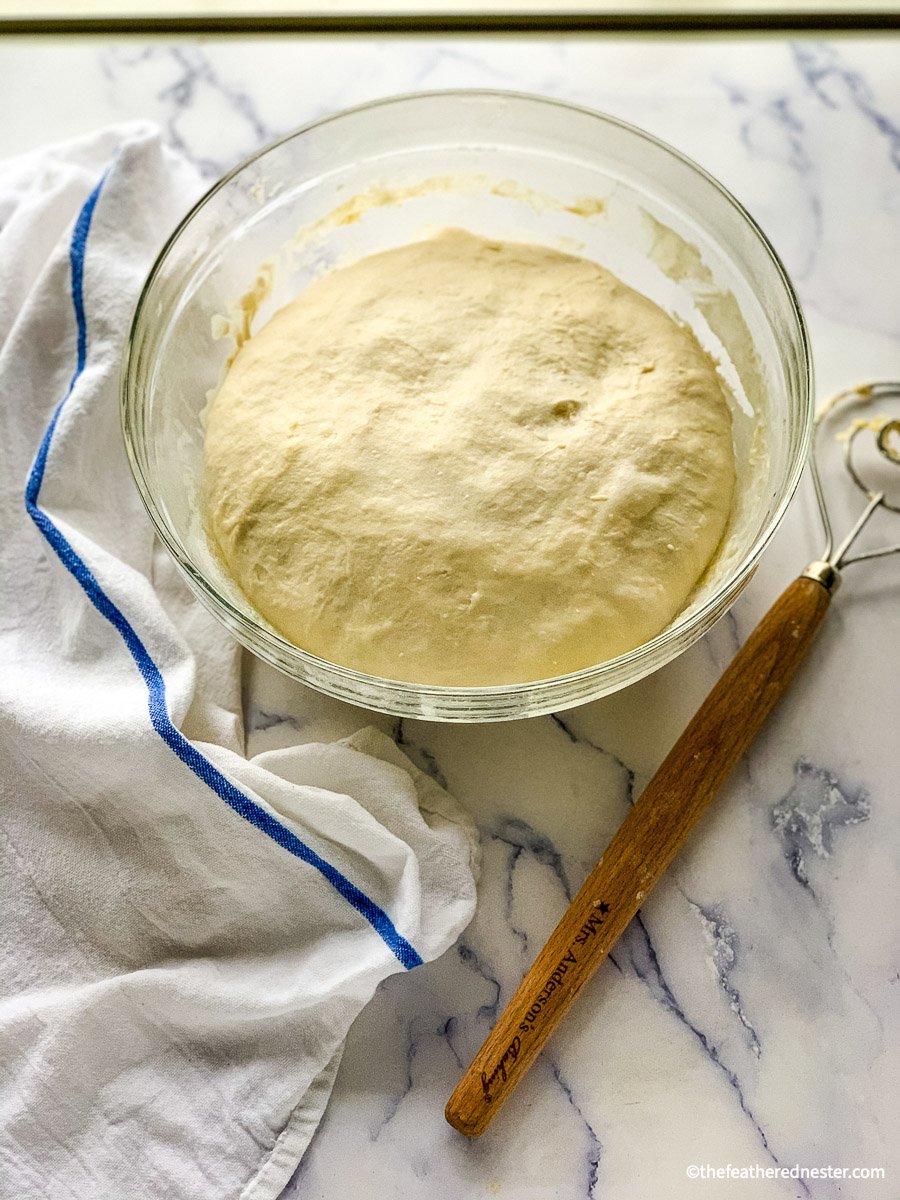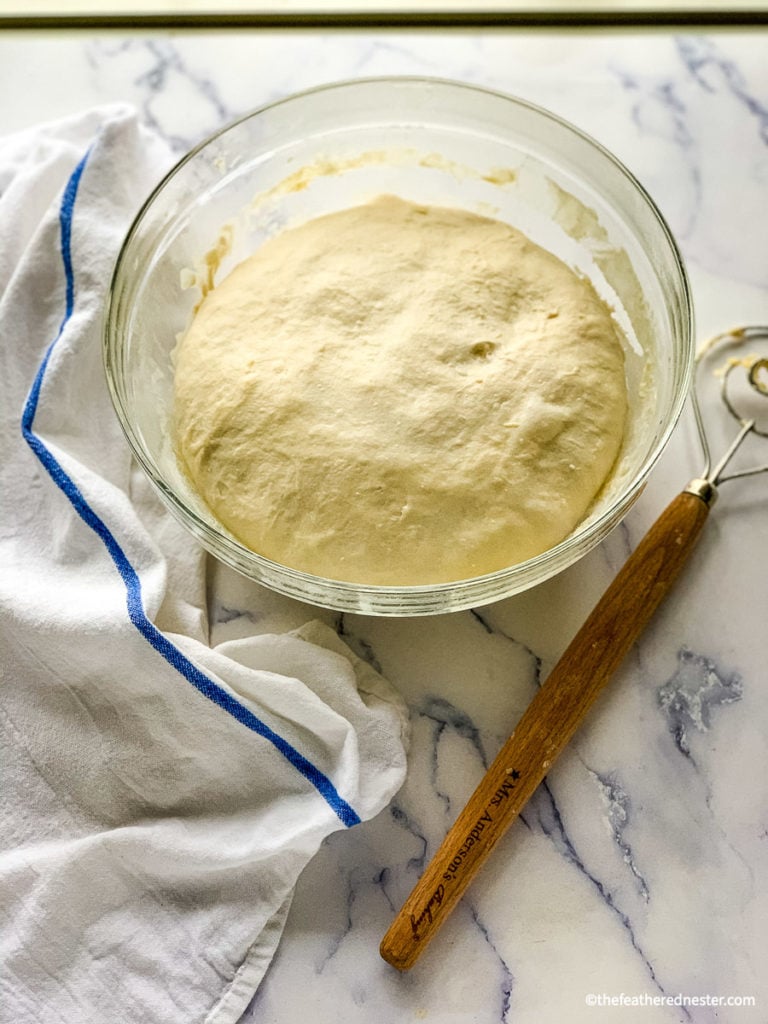 Tips for Successful Sourdough Bread Dough
This soft crust sourdough bread recipe requires just a few basic steps. Spoiler alert: the overnight rise makes a soft bread that's far better than anything you'll find at the grocery store.
Start it on a relaxing Saturday or Sunday evening, and then bake the next day. In no time, the sourdough bread will be ready to slice and stack with your favorite sandwich ingredients.
Follow these steps to make the best no-knead sourdough sandwich bread dough:
Feed your sourdough starter 12-24 hours before starting this bread recipe.
In a medium bowl, combine the sourdough starter with warm water, and then add King Arthur bread flour, sugar, oil, and salt. I like using a dough whisk for mixing.
Mix well to form a shaggy, sticky dough.
🎯 TFN Pro Tip
Flour or wet your hands and use them to finish mixing the dough. Then cover the bowl with a damp towel and allow it to rise for 30-45 minutes.
Next, carefully coax the dough from the bowl and transfer it to a clean and lightly floured surface. Stretch and fold the dough a few times before returning to the bowl. Recover with another damp towel, and now allow the sourdough to rise at room temperature overnight, approximately 8-10 hours.
In the morning, lightly flour your countertop. Remove the dough from the bowl and gently stretch it to form a rectangle. Use your fingers to dimple the dough to release the air from the dough (as shown in the photo below).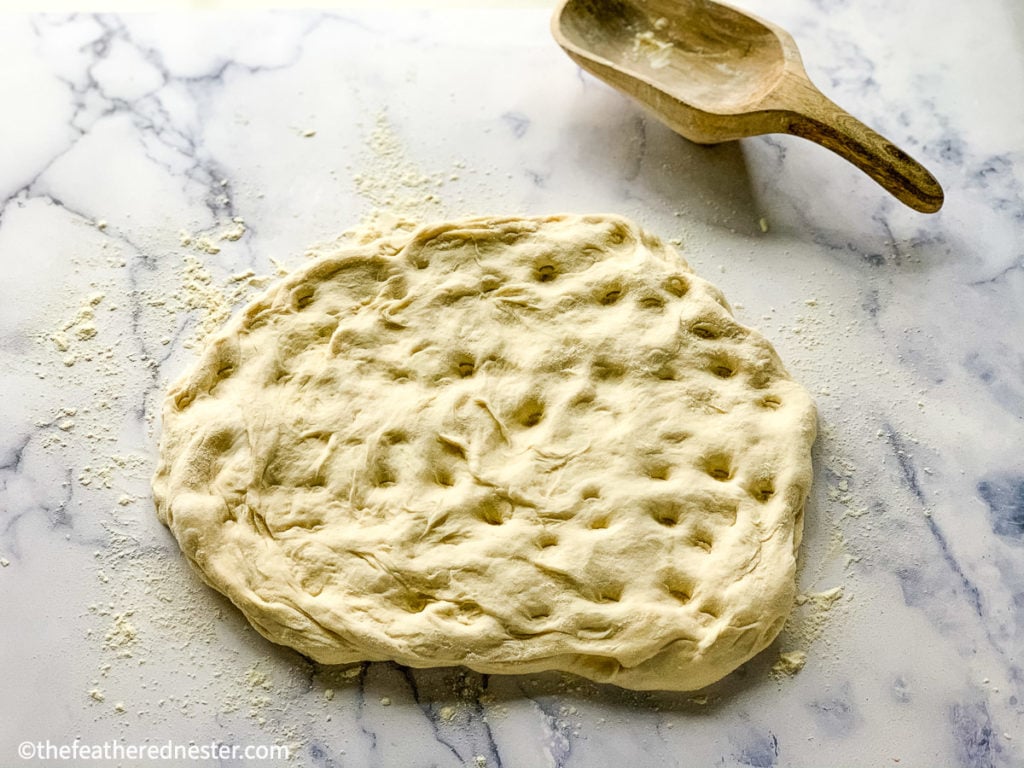 Then roll up the sourdough dough into a log shape. Cover with a damp towel and let the dough rest for about 10 minutes.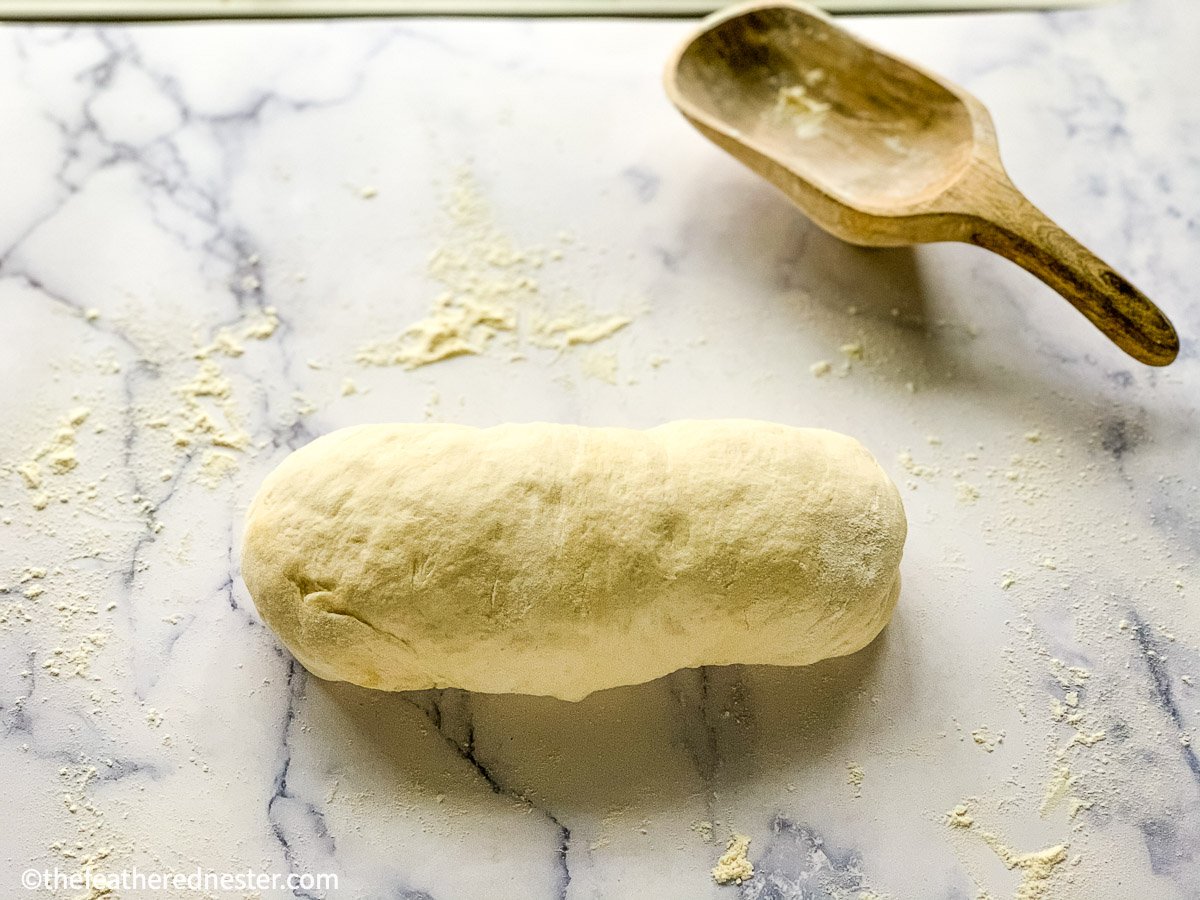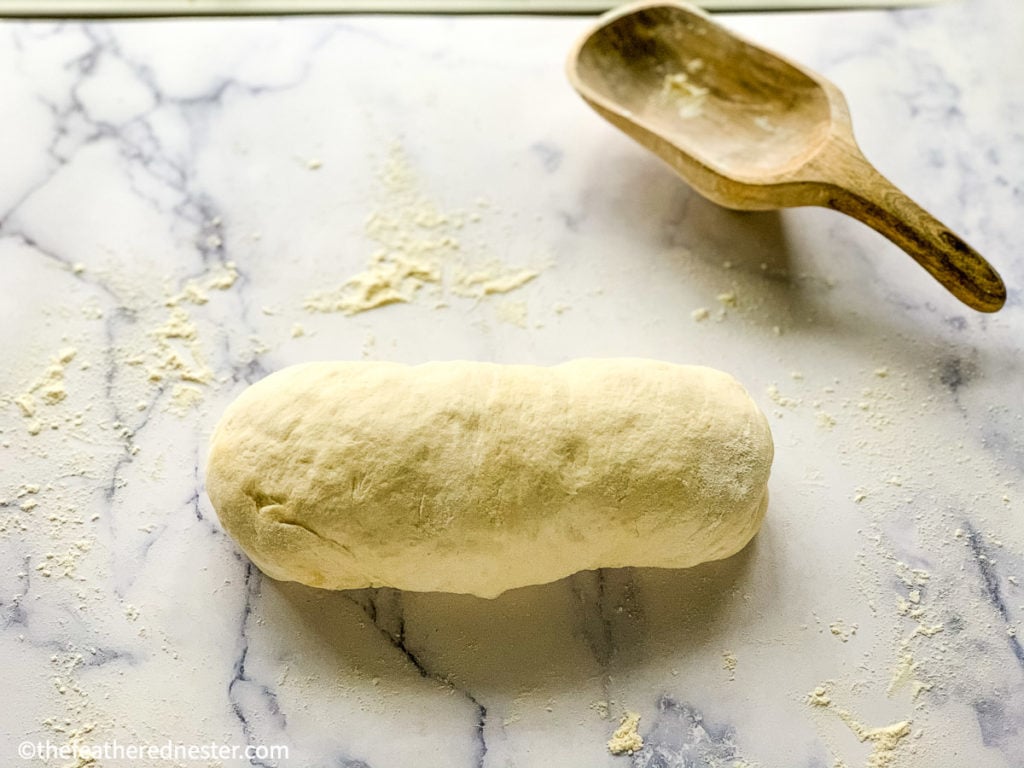 How to Bake Soft Sourdough Bread
Lightly spray a 9" x 5" loaf pan with nonstick spray. Then tighten the loaf by gently rolling and pulling the dough, and transfer to the prepared loaf pan with the seam side down. Cover with a towel and let the loaf rise for another hour or two, until it has doubled in size.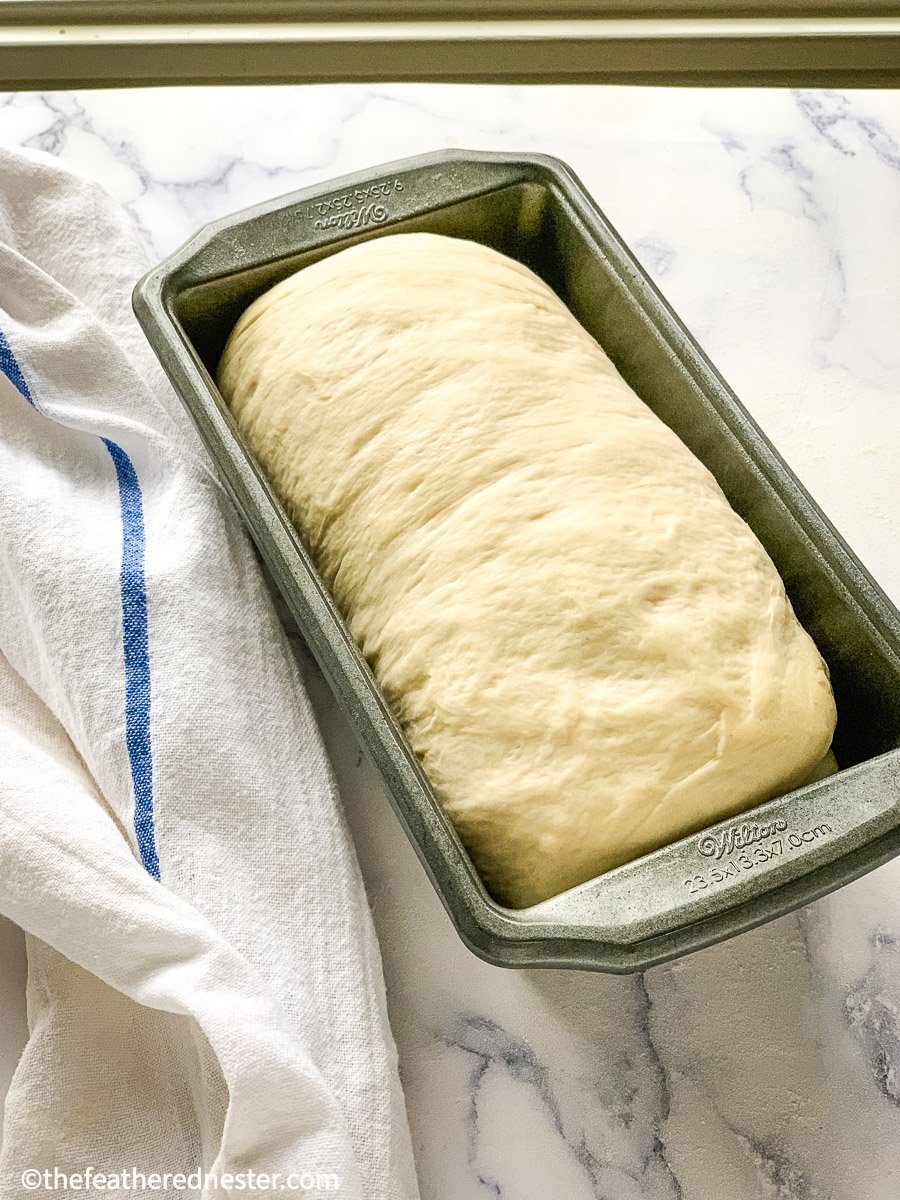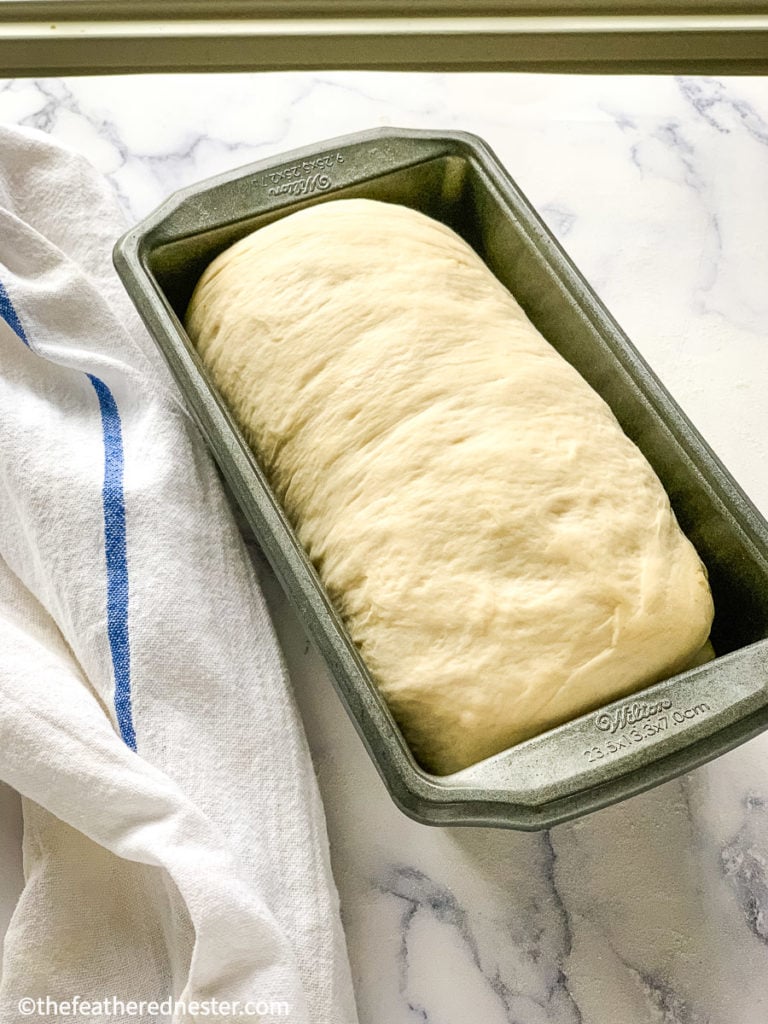 When you're ready to bake your sourdough loaf, start by preheating the oven to 375 degrees Fahrenheit. Then bake the bread for 40 minutes, until the crust is a lovely golden brown color. Remove from the oven and allow the bread to rest for 10 minutes before carefully tipping it out of the pan onto a cooling rack.
The sourdough sandwich soft bread should be completely cooled for at least one hour before it is either stored whole or sliced and enjoyed.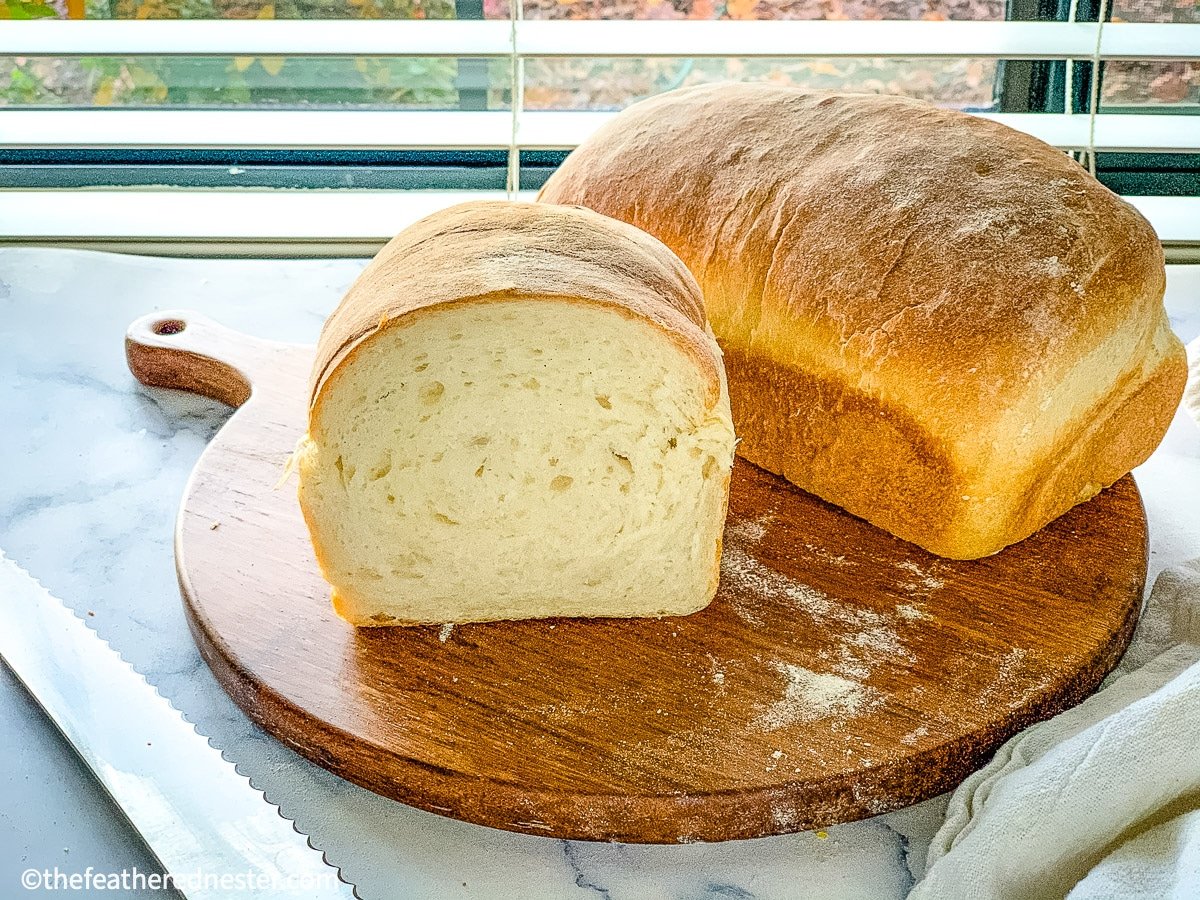 How to Store Sourdough Sandwich Bread
Homemade sourdough bread stays fresh for up to 5 days if stored in a plastic bag at room temperature.
For the softest crust, we recommend leaving it out of the fridge. However, you can seal it in an airtight plastic bag and keep it in the freezer for up to 3 months.
Allow the bread to defrost at room temperature before slicing and using. For other storing options, read our post, "How to Store Sourdough Bread".
Soft Sourdough Bread Recipe FAQ
Will this sourdough sandwich recipe work with all-purpose flour?
Sure, though you will experience a slightly smaller loaf. If you have vital wheat gluten, use 4 cups of all-purpose flour and 4 tablespoons of vital wheat gluten in place of the bread flour.
My sourdough bread did not double in size overnight.
The sourdough needs a warm area for the bulk (overnight) rise. Find a warm place (75º – 85º F) like an oven with the light on, a warm window, or above the refrigerator or dryer to set the bread for 2 hours
How will I know if my sourdough bread is done baking?
I usually go by baking time, if the top of the loaf is golden, and it if sounds hollow if I tap on it. If you are unsure, if the sourdough bread is fully baked, the internal temperature should be around 195º – 200ºF.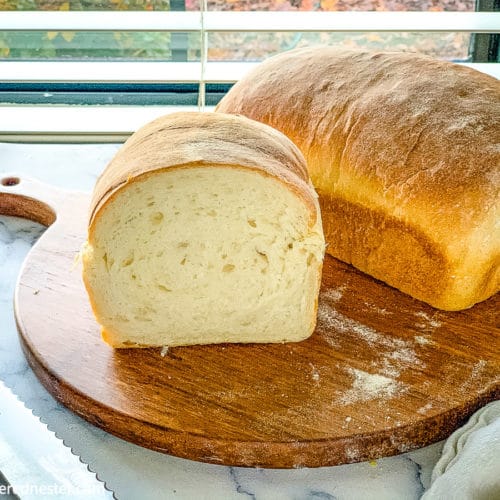 Soft Sourdough Sandwich Bread (No-Knead)
Make the BEST fluffy and soft crust sourdough sandwich bread with King Arthur Flour and our easy no-knead overnight rise recipe!
Equipment
Bread pan, 9" x 5" - See notes for a 12' x 4.5" pan
Ingredients
⅓ cup (65 grams) sourdough starter, bubbly and active (fed within 12-24 hours)
1⅓ cups (300 grams) warm water, filtered (95º to 100º F)
¼ cup (56 grams) granulated sugar
3½ -4 cups (500 grams) bread flour I recommend weighing your flour, see notes for using measuring cups
1½ tablespoons (20 grams) extra-virgin olive oil
2 teaspoons (9 grams) sea salt
Instructions
Add the starter to a large bowl. Mix in warm water and sugar, stirring until dissolved. Add bread flour, oil, and salt. Stir with a dough whisk or wooden spoon until a thick, shaggy dough forms.

Flour your hands, and finish mixing dough by hand until most of the flour has been absorbed. Don't worry if there is flour on the sides or bottom of the bowl. Cover with a clean, damp kitchen towel and let the dough rest for 30 to 45 minutes.

Coax the dough from the bowl and stretch and fold the dough by stretching 4 inches then pushing it down the middle and turning 1/4 until you make a circle. Return the dough to the bowl, cover with a damp towel, and let rise at room temperature overnight (at least 8-10 hours) until double in size. Do not refrigerate dough.

In the morning, lightly flour your counter top. Remove the dough from the bowl, gently stretching it into a rectangle, then your fingers to dimple the rough to release the air from the dough (as shown in photo). Roll up dough into a log shape. Cover and let the dough rest 10 minutes.

Spray bread pan with cooking spray. Tighten the dough log by gently pulling it towards you along the counter top for 5-8". Place it in your loaf pan, seam side down. Cover and let rise for 1-2 hours, until dough has doubled in size. Press the corner edge of the dough in 1/2" and if the indentation remains, it's ready to bake.

Preheat your oven to 375º. Bake in the center of the oven for 40 minutes. The top of the loaf should be golden in color. After 10 minutes, tilt the pan to remove the bread to cool on a cooling rack. Wait at least 1 hour before cutting (to prevent the loaf from deflating).
Notes
Measuring the flour (Updated 2/2/2023)
The recipe ingredients call for 3 1/2 to 4 cups of flour because measuring is not as reliable as using a food scale to weigh the flour.
Be sure to stir the flour, then use a spoon to add it into the measuring cup, and level it with a knife.
Start with the lower amount of flour and add up to 4 cups, only if needed.
Troubleshooting (Updated 6/26/2023)
If your bread "blows out on one side," we recommend using a long bread pan that is 12″ x 4.5″ in size. Then bake at 375ºF for 30 minutes.
Storing
Let bread cool for at least one hour before cutting.
Store bread in a bag at room temperature for up to 5 days. See our post 'How to Store Sourdough Bread' for other options.
Nutrition
Serving: 2slices | Calories: 215kcal | Carbohydrates: 40g | Protein: 6g | Fat: 3g | Saturated Fat: 1g | Sodium: 181mg | Potassium: 52mg | Fiber: 1g | Sugar: 2g | Calcium: 8mg | Iron: 1mg
PIN THIS POST!
Love Sourdough Bread? Then check out these sourdough bread recipes: