Enjoy the classic big flavors of turkey that you love, but with the convenience of cooking only the juiciest and tender part of the turkey – the tenderloin! This easy crock pot turkey tenderloin recipe is an ideal alternative to turkey breast for a small Thanksgiving gathering or family dinner any time. Simply add tenderloins in the slow cooker with an aromatic marinade, and in just a few hours you'll be ready to serve a centerpiece-worthy dish for any occasion.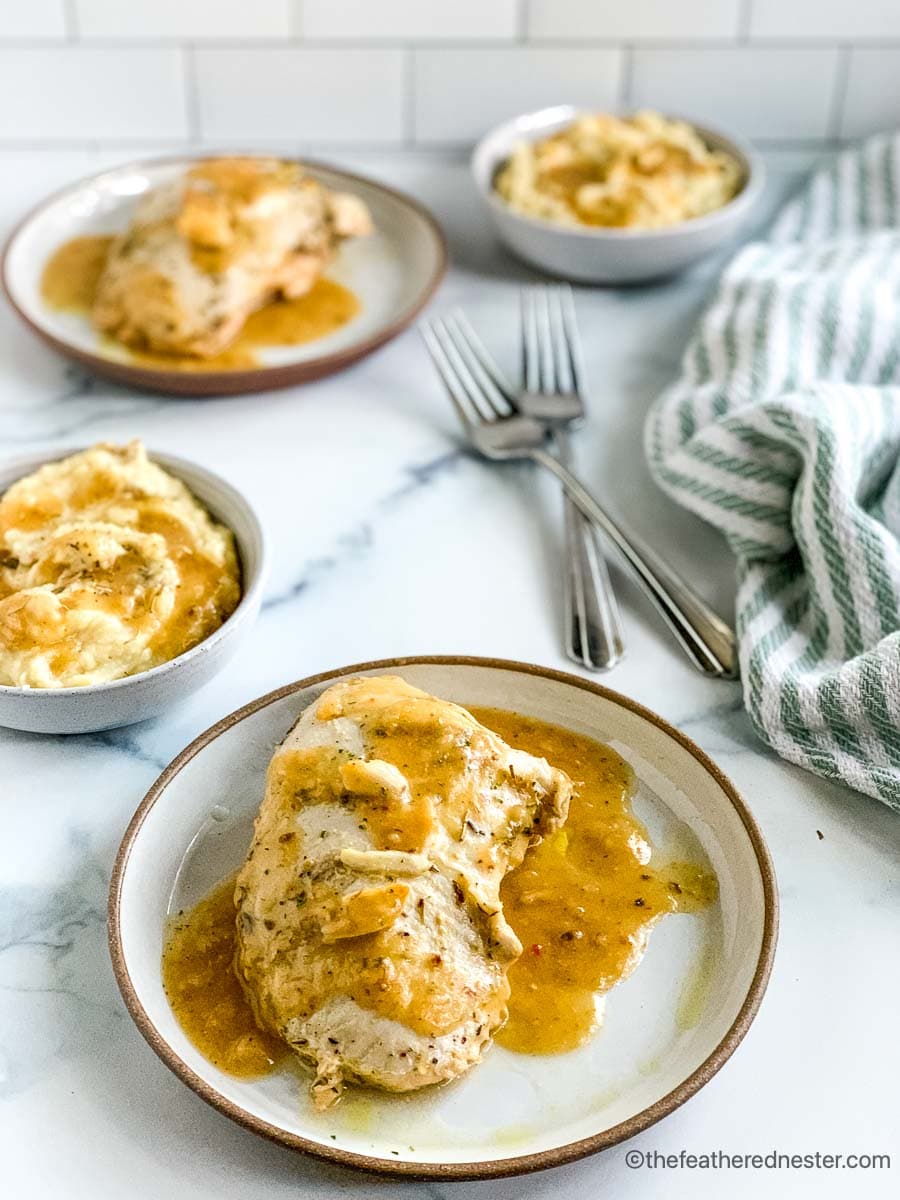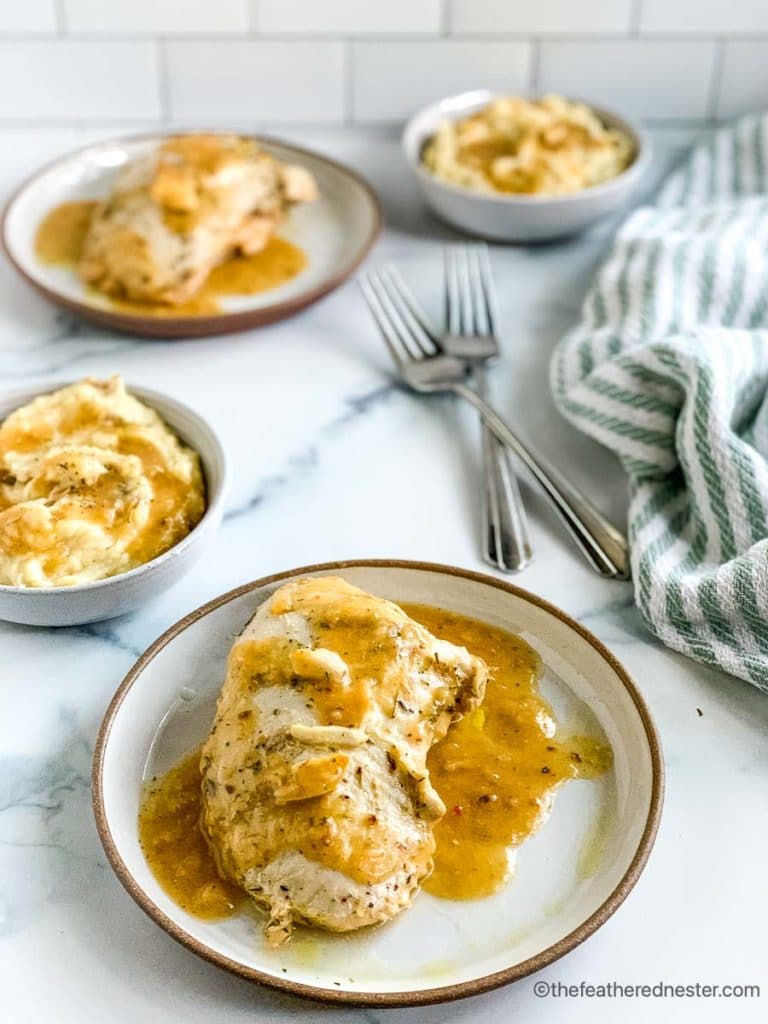 Reasons to Make Our Turkey Tenderloin Crock Pot Recipe
If you like chicken tenderloin recipes, you are absolutely going to love this turkey tenderloin recipe.
The meat is tender and juicy, with a mild flavor and great texture. And like whole turkeys and turkey breast, the tenderloin pairs well with your favorite holiday and comfort food side dishes.
Using a crock pot to slow cook the poultry really takes the tenderness up a notch. The meat becomes incredibly juicy, and the marinade will infuse each tender bite with flavor.
Plus, it's beyond simple to make turkey tenderloin in a crock pot!
Although making a crockpot turkey tenderloin (and even oven roasting turkey tenderloins) may seem like non-traditional Thanksgiving dinner ideas, they're actually perfect for smaller gatherings where a whole turkey is too big.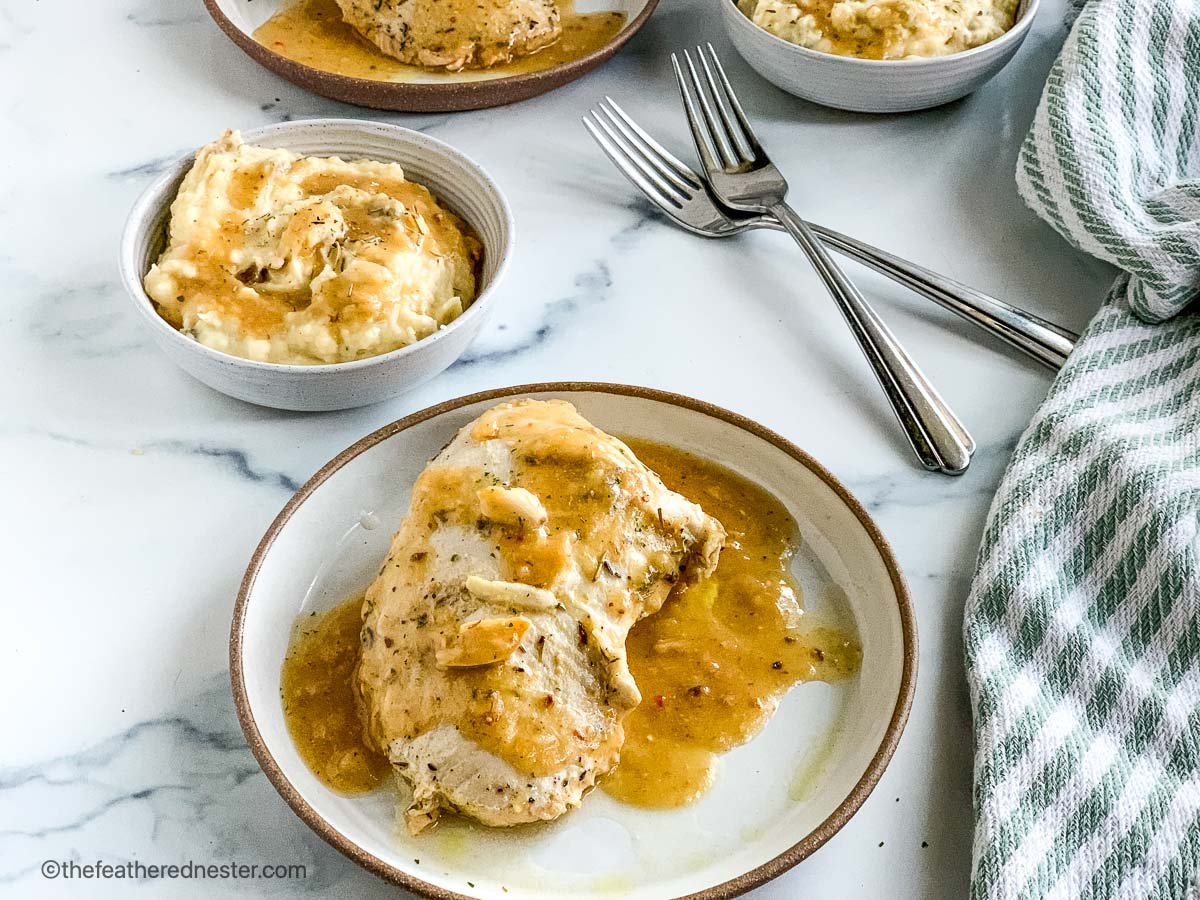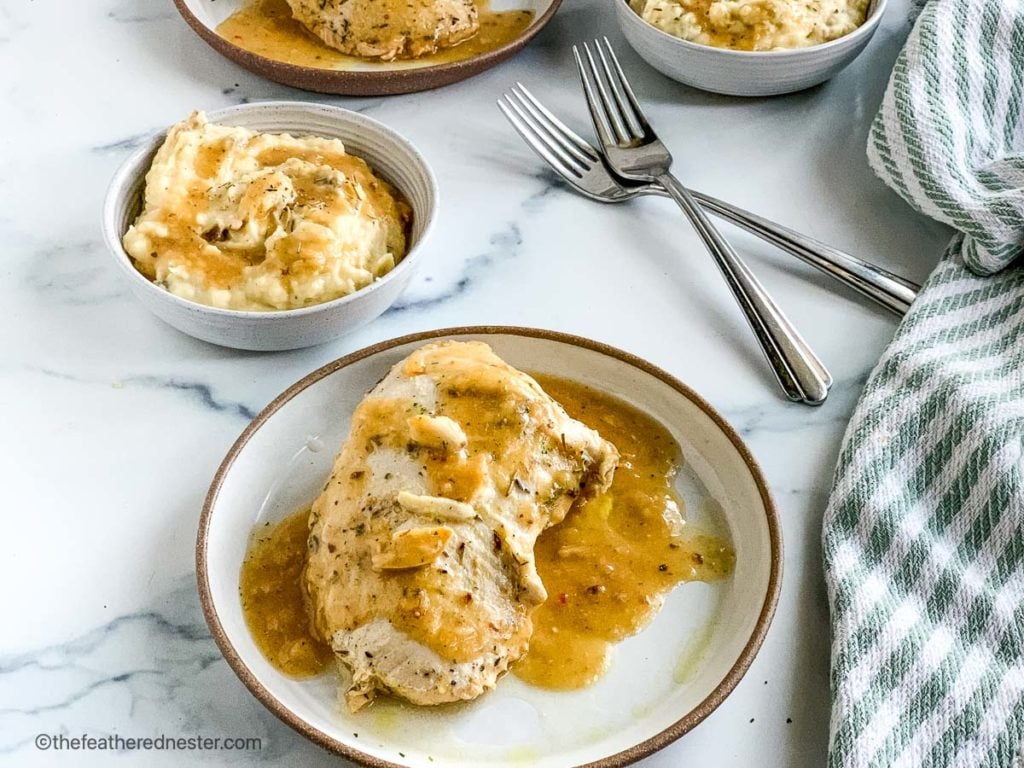 What is a Turkey Tenderloin?
The tenderloin is located between and is attached to the breasts of the bird. It's a thick, wide strip of meat from a part of the bird that doesn't get much of a workout. So it tends to be a bit softer and stay super juicy when cooked vs. the breast. However, tenderloins are still rather lean and quite healthy!
Turkey tenderloins are boneless and skinless, so they are also very easy to work with and prepare in any number of ways. I like to marinate them overnight for extra flavor. However, this is totally optional!
Either way, your turkey will turn out terrifically moist when cooked in a crockpot with just a few key ingredients. And, everyone will love this boneless skinless turkey breast tenderloin recipe.
Ingredient Notes and Substitutions
Turkey – For this turkey tenderloin recipe, you'll need two boneless and skinless tenderloins. At most stores, they come in packages of two, with a total weight of about 1.5 pounds. The Jennie-O brand is usually available all year long at Walmart stores.
Broth – We use chicken broth, but chicken stock and vegetable broth are both good substitutes.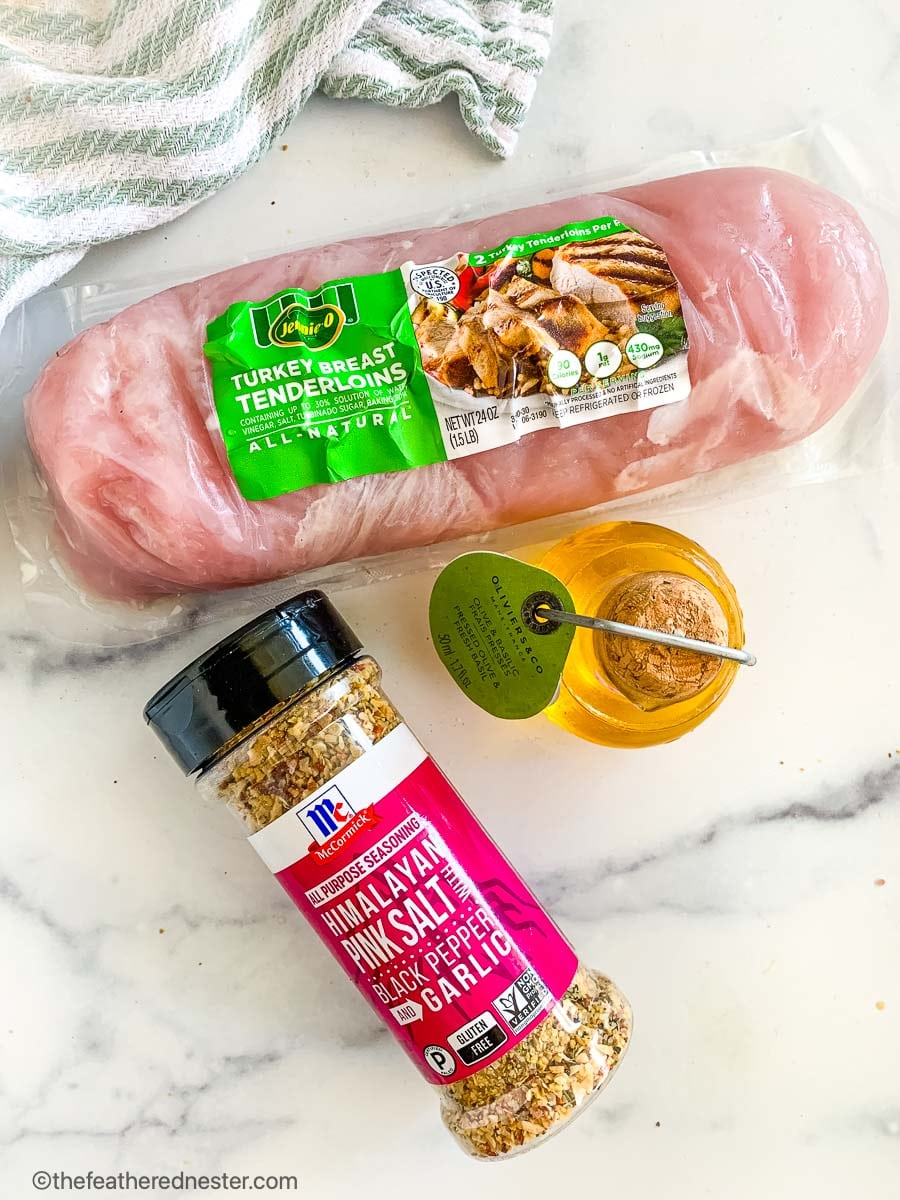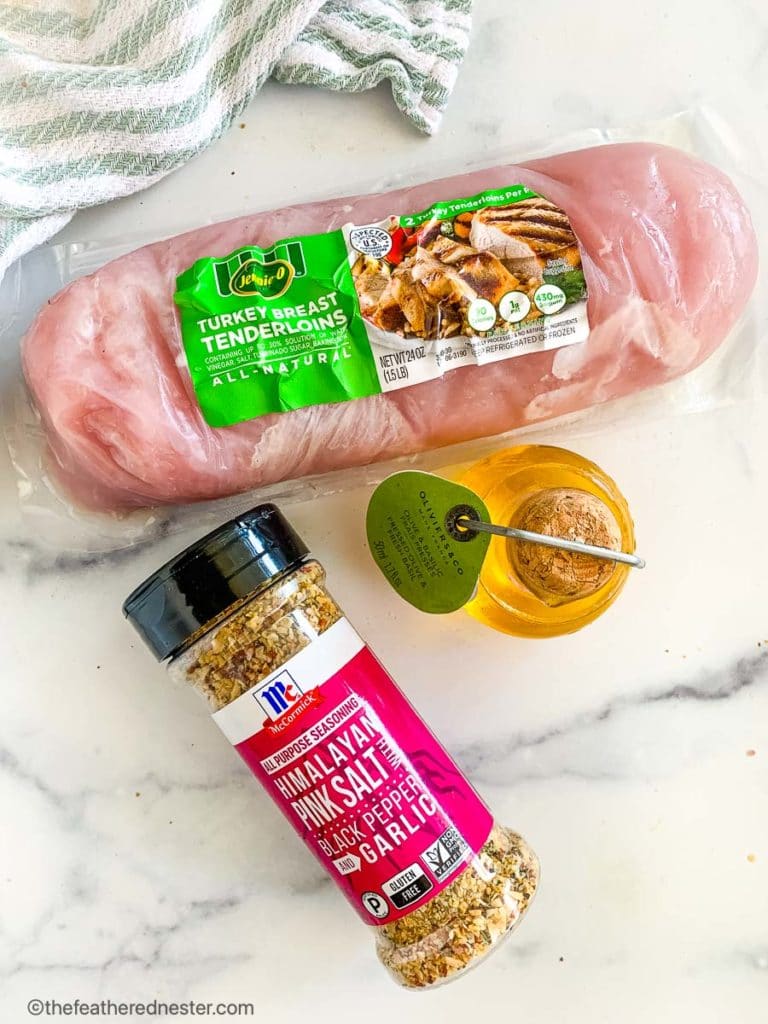 🎯 Important
We use fresh tenderloins, or thawed from frozen. According to the USDA website, it is generally considered unsafe to prepare frozen meat in a crock pot.
For the Marinade
Olive oil – Any neutral flavored oil will also work.
Apple cider vinegar – This adds a nice tangy flavor to the marinade, but if you don't have any on hand, you can use white vinegar instead.
Honey – This sweetens up the marinade. You can also use brown sugar, pure maple syrup, or agave nectar as a substitute.
Dijon mustard – This helps thicken the marinade and adds flavor. You can swap it with yellow mustard if needed.
Garlic cloves – This adds great flavor. If you'd like an easier and more convenient option, look in the produce section of the grocery store for ready-to-use minced garlic.
Herbs and spices – We used dried thyme, dried rosemary, sea salt, and pepper. However, you can use any herbs and spices you have on hand. Feel free to get creative!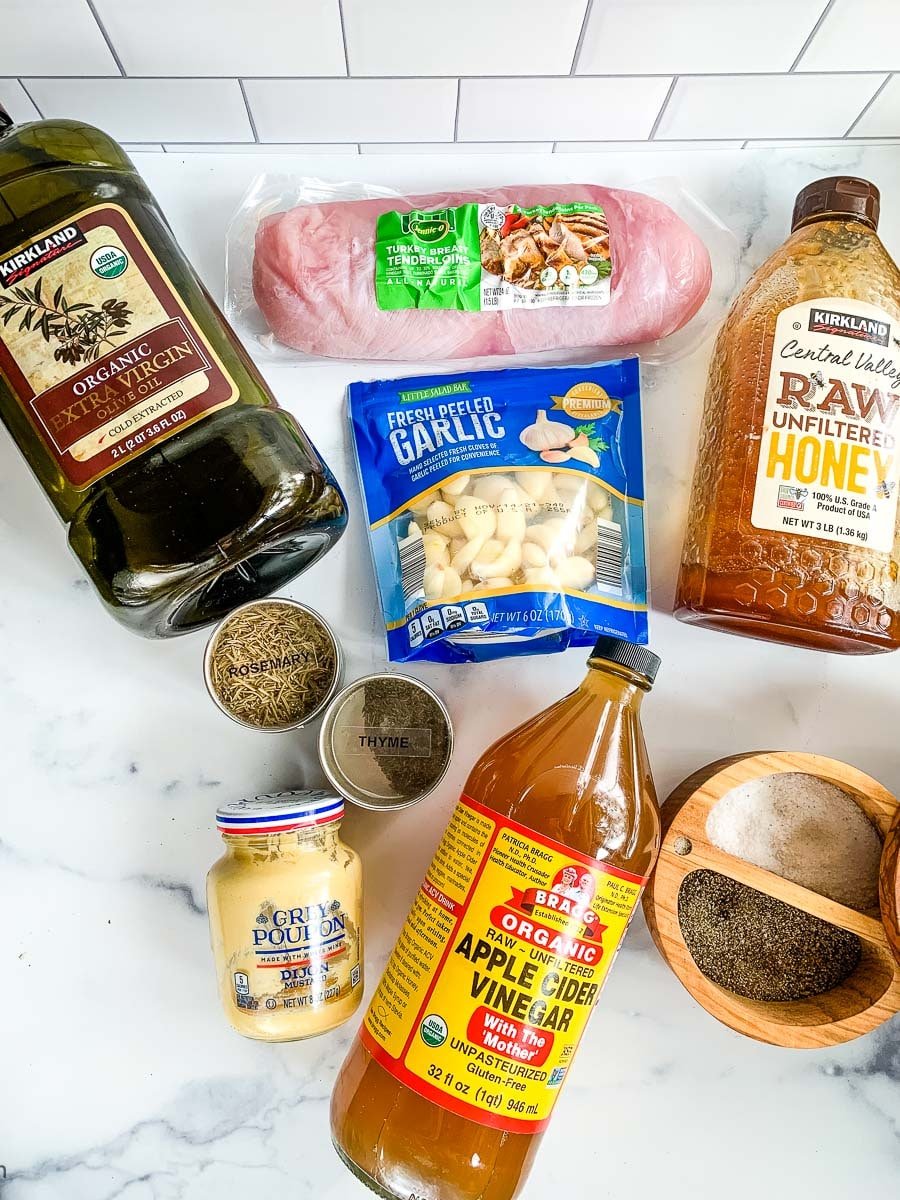 Marinating Time for Tenderloins
The turkey tenderloin only needs to marinate for an hour or so before everything is ready to be added to the slow cooker. But if you have the time we recommend that you let the tenderloins marinate for a few hours.
To do this, you want to place the turkey tenderloins in a 1 or 2-gallon size Ziploc bag, or use the crockpot insert covered with the lid.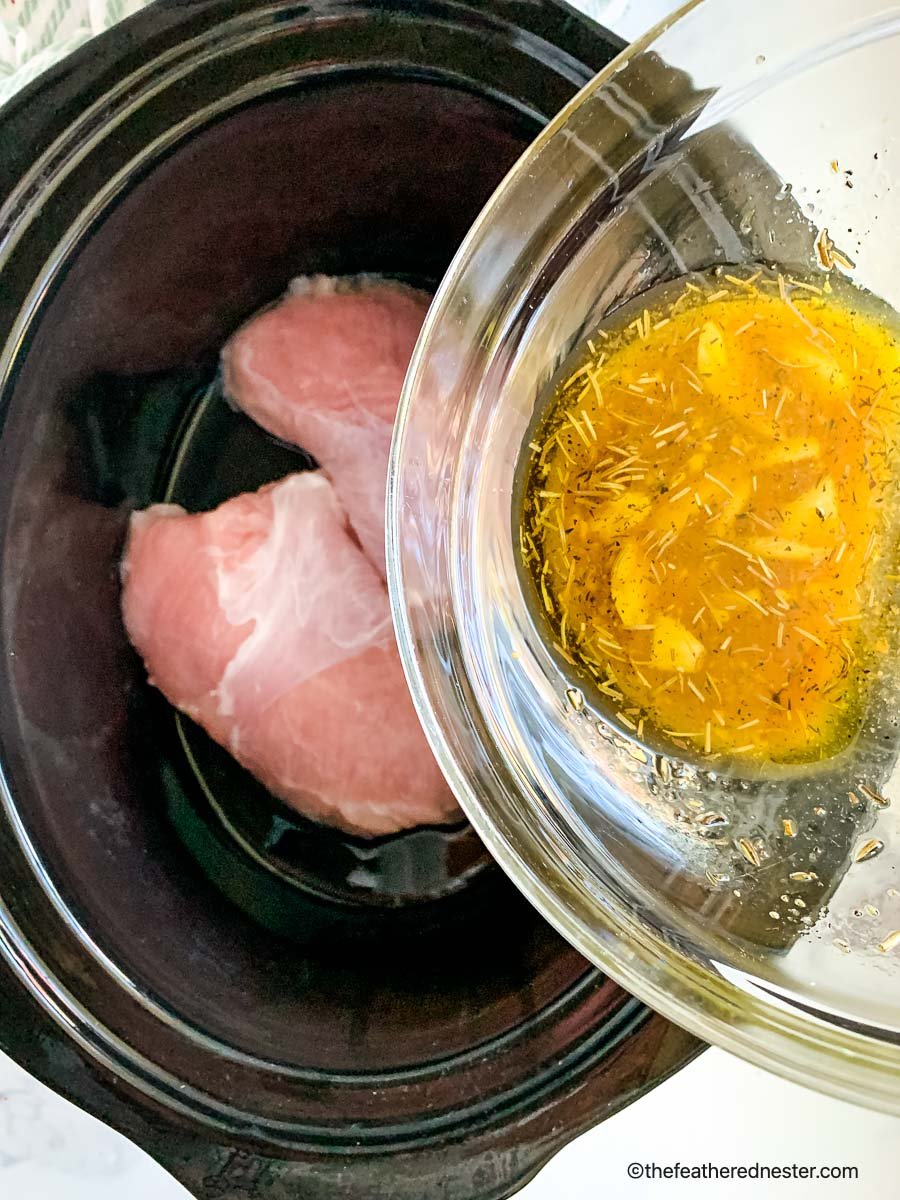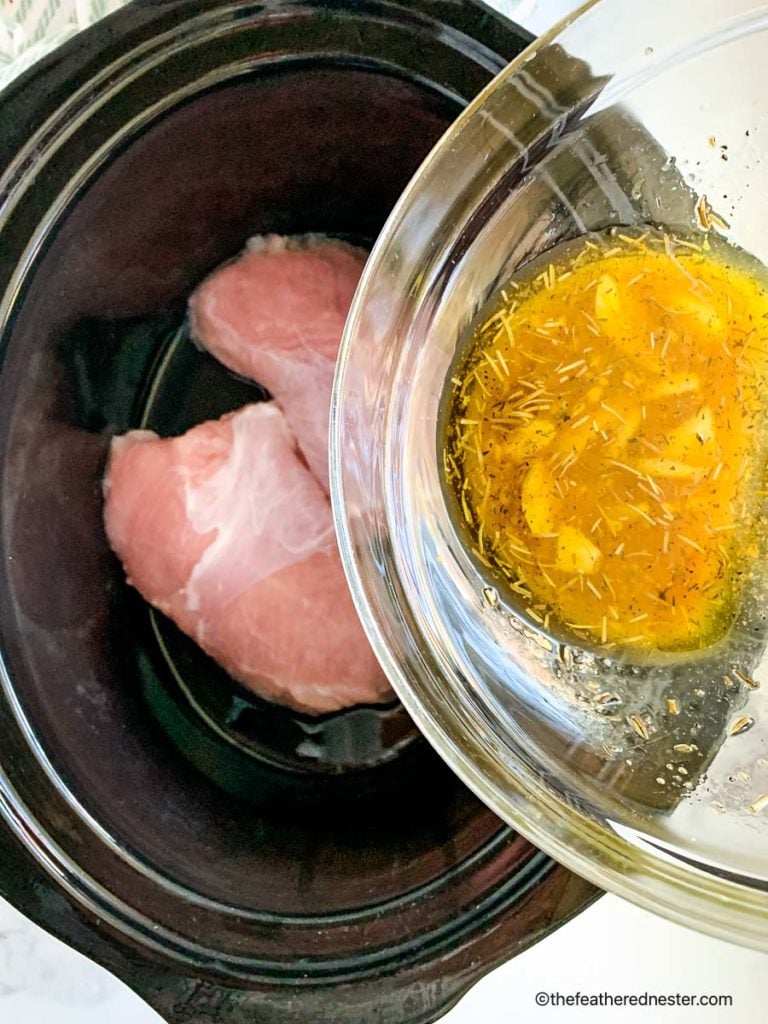 Tips for the Best Crockpot Turkey Tenderloins
Bring the poultry to room temperature before slow cooking.

After marinating, just pull the package out of the fridge and let it sit on your counter top for 30-45 minutes.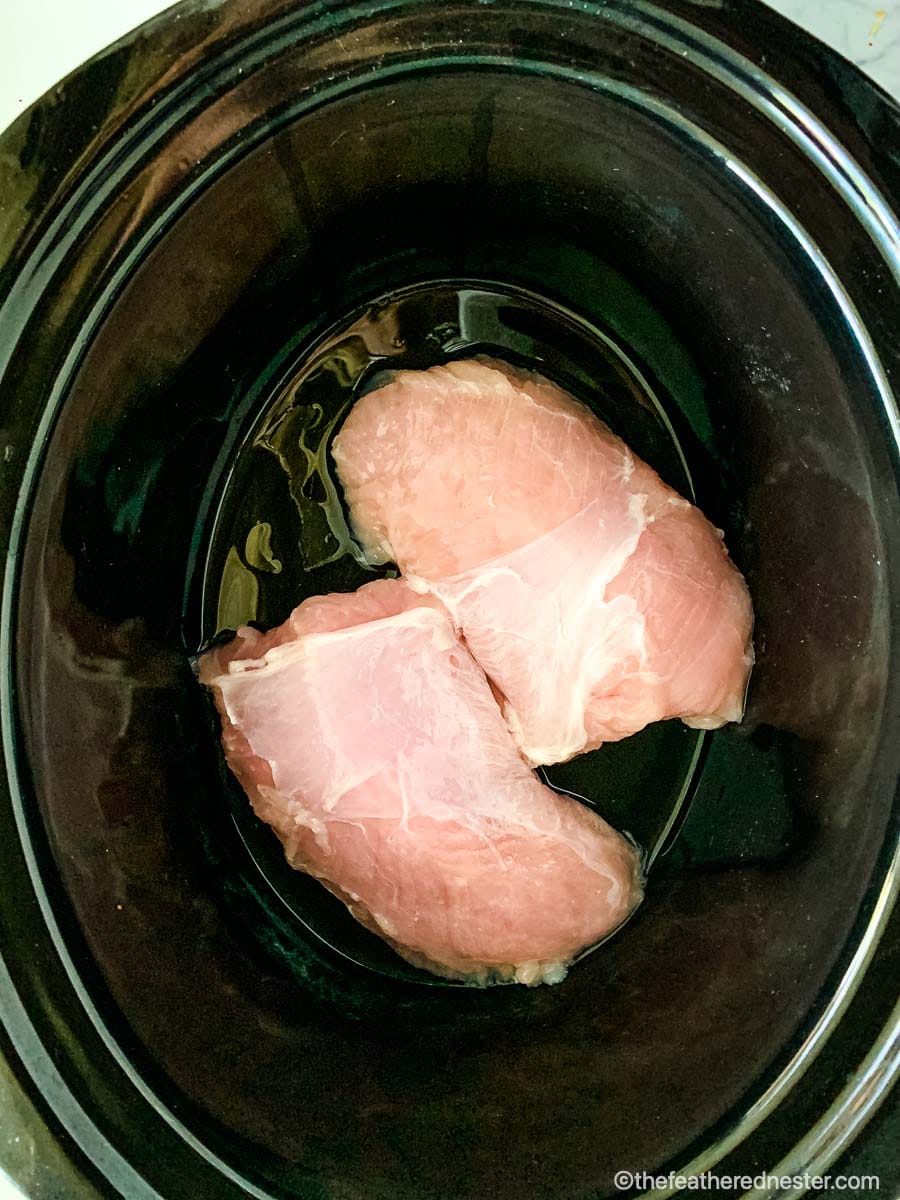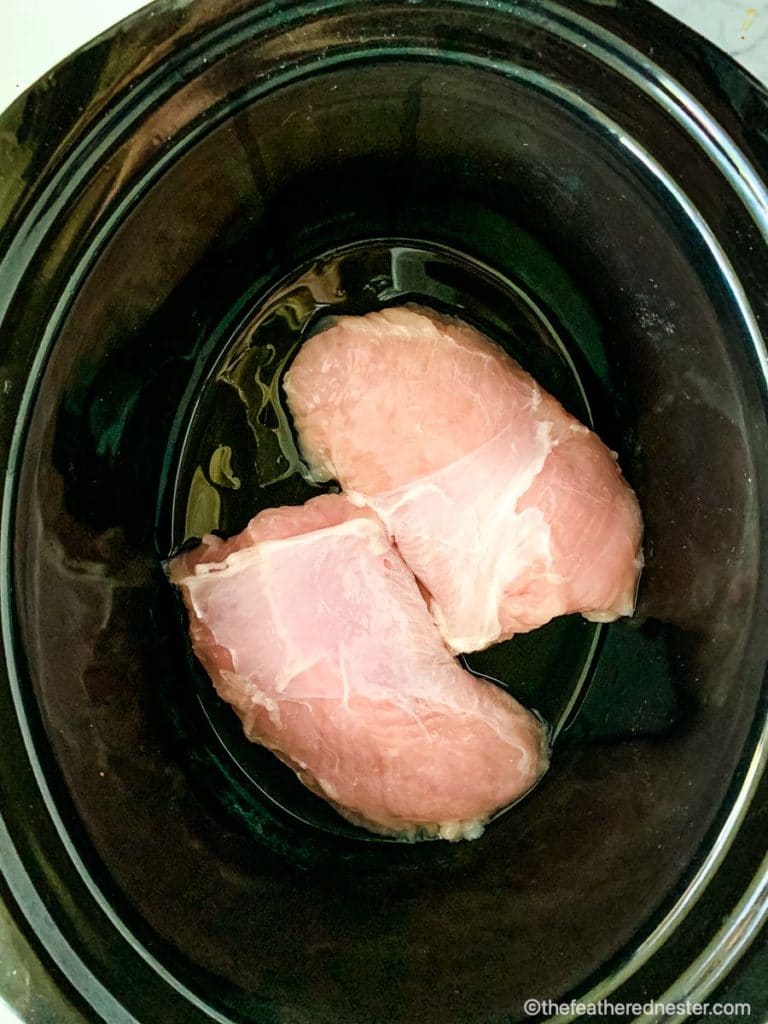 Check the internal temperature after 4 hours.

Cook the turkey breast tenderloins on low for 6-8 hours, checking the turkey tenderloin temp after 4 hours. Use an instant-read thermometer, placing the probe in the center (the thickest part of the turkey roast). The magic number for perfectly cooked poultry is 165º F.
🎯 TFN Pro Tip
After you finish cooking turkey tenderloins in the crockpot, they will need to rest for 10-15 minutes. During the resting time, the poultry will continue to cook (this is known as carryover cooking.) To prevent the poultry from over cooking, remove the turkey from the crockpot when the internal temperature is 163°F.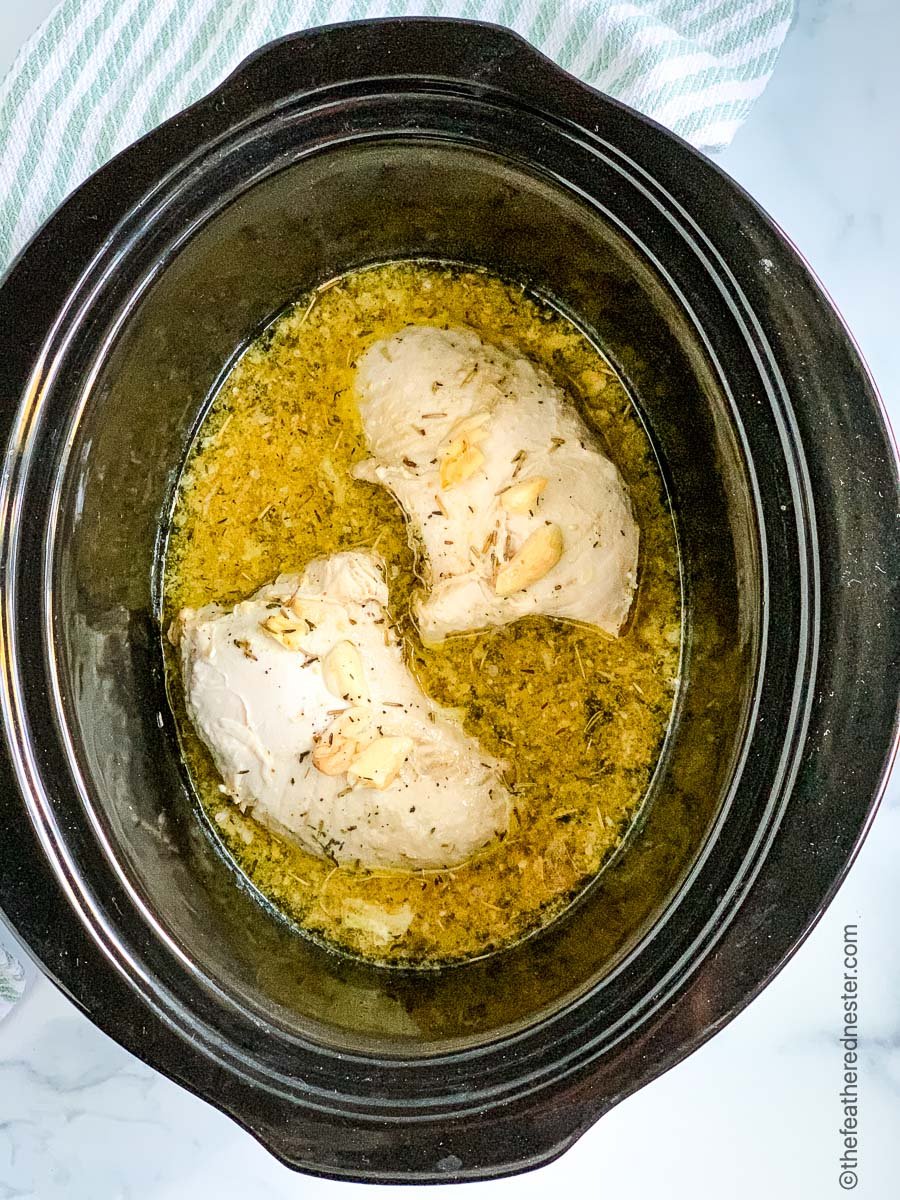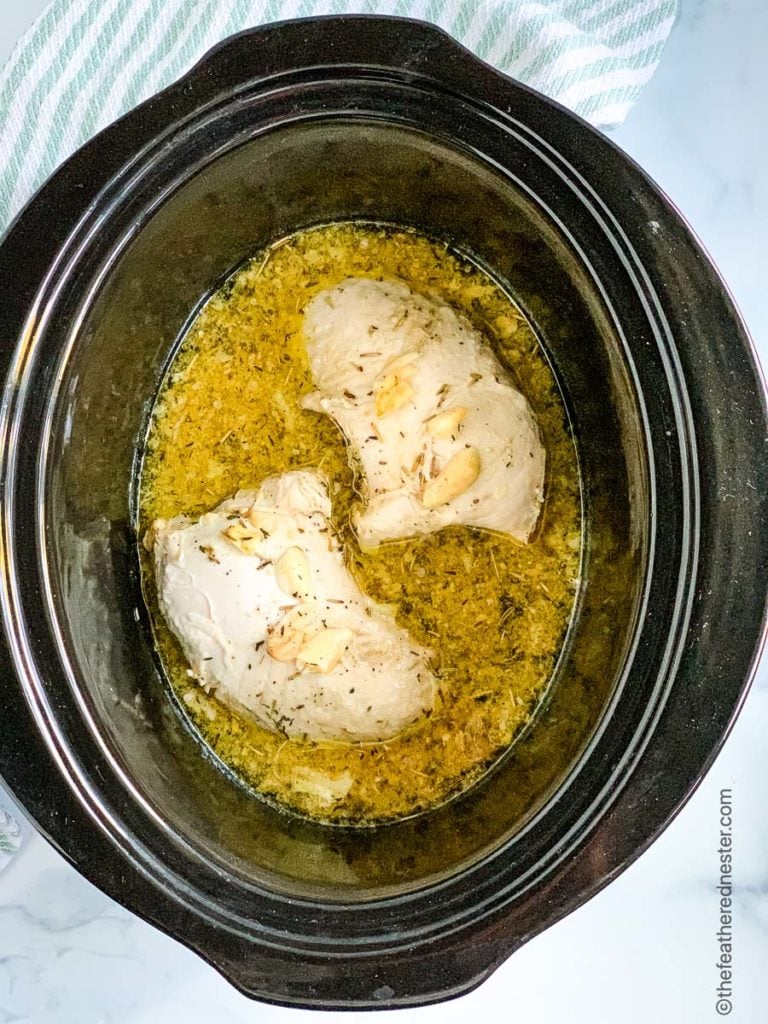 Turkey Tenderloin Recipe FAQ
Can I make this turkey recipe without marinating it?
Definitely! Just pour the marinade mixture over the top of the turkey when you add it to the slow cooker. See notes under the recipe.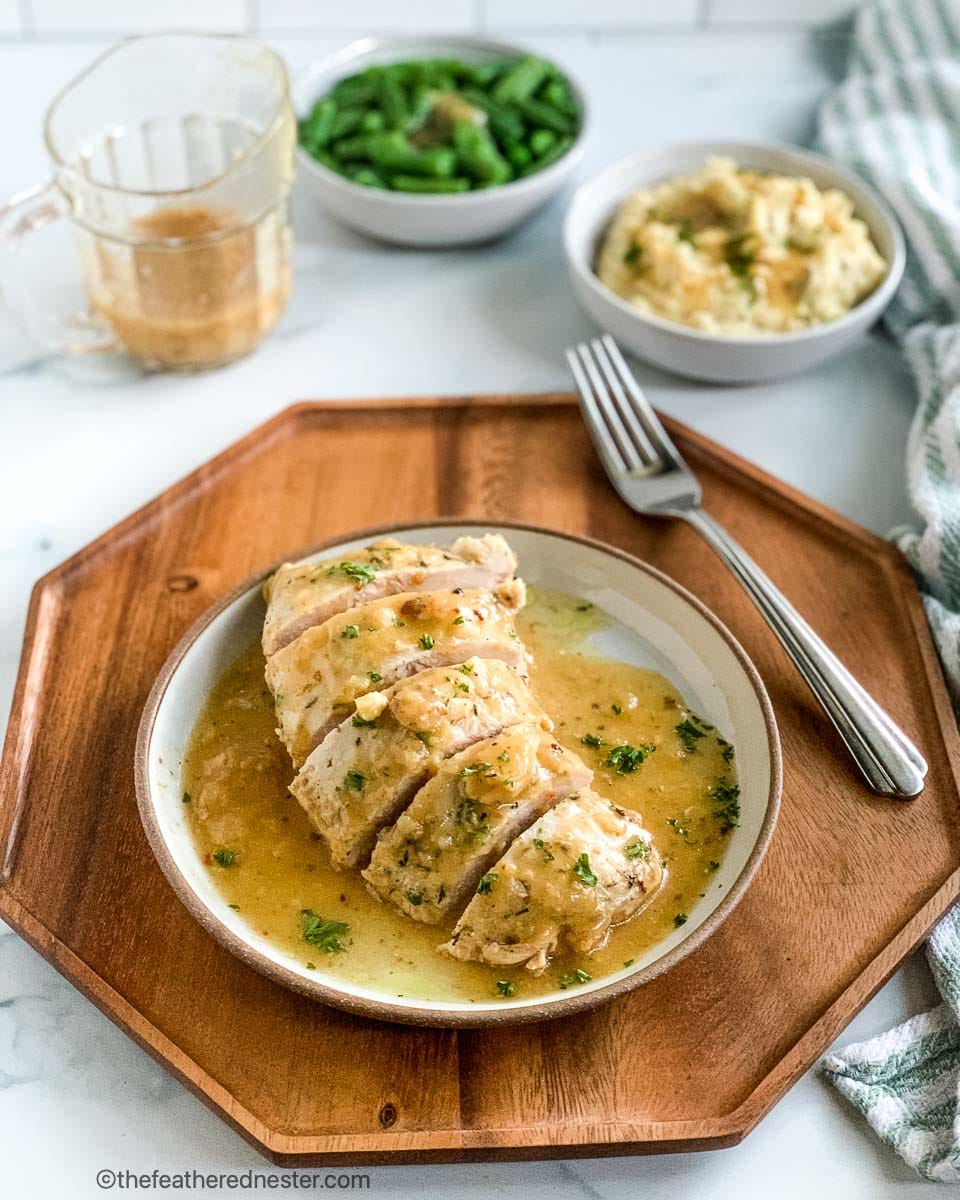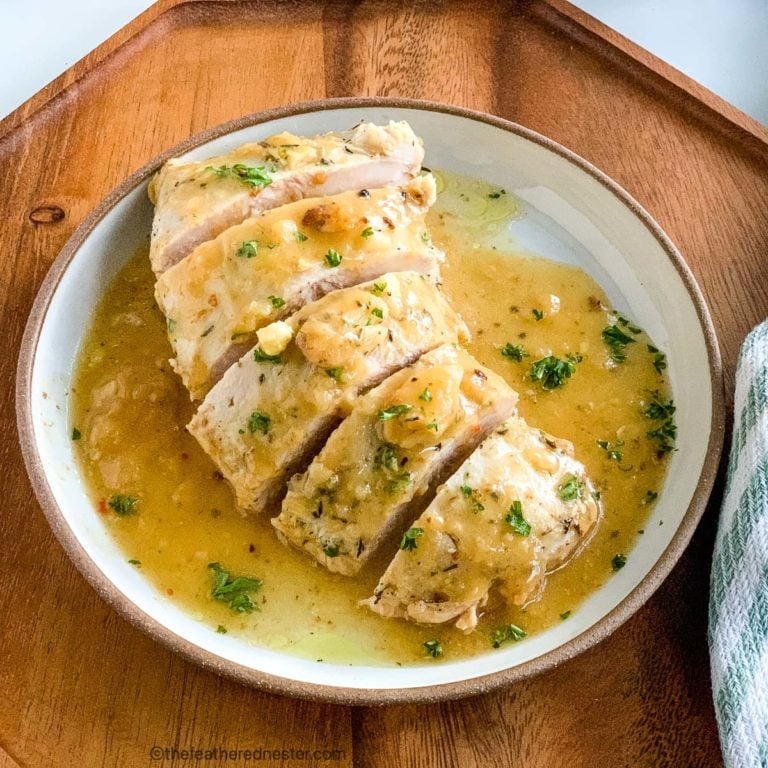 Turkey Tenderloin Crock Pot Recipe
Our turkey tenderloin crock pot recipe is perfect for a small Thanksgiving gathering, but easy enough to make any time of the year!
Ingredients
1 ½ pounds turkey tenderloin (about 2 tenderloins)
1 cup chicken broth or chicken stock, regular or low-sodium
For the Marinade
2 tablespoons olive oil
2 tablespoons apple cider vinegar
2 tablespoons honey
1 tablespoon dijon mustard
3 garlic cloves crushed
½ teaspoon dried thyme (or 6 sprigs fresh thyme)
½ teaspoon dried rosemary (or 1 sprig fresh rosemary)
1 teaspoon sea salt
¼ teaspoon pepper
Instructions
In a large bowl, whisk together the olive oil, vinegar, honey, dijon mustard, garlic, herbs, and seasonings until evenly combined.

Place the tenderloins in a gallon-sized Ziploc bag with the marinade. Close the bag and toss to coat. Cover and refrigerate for at least 1 hour, (or up to 6 hours), to allow the flavors to infuse with the poultry.

Add poultry and marinade to the slow cooker. Pour chicken broth over meat, then place the lid on your crock pot. Cook the turkey breast tenderloins on low for 6-8 hours, checking the turkey tenderloin temp after 4 hours.

Turkey tenderloins are done when a thermometer inserted into the thickest part of the meat registers 165 degrees Fahrenheit. To avoid overcooking, remove turkey when the internal temp reaches 163°F.Tent the turkey tenderloins with foil and allow them to rest for 10 minutes before slicing and serving.
Notes
If you are in a hurry, mix the marinade and pour it directly into the slow cooker pot along with the turkey tenderloin. Roasted turkey tenderloins will last up to 4 days stored in a sealed container in the refrigerator. They also are great to freeze! Once cooled transfer them to a freezer-safe zipper bag, and keep them stored for up to 3 months.
Nutrition
Serving: 4 ounces | Calories: 187kcal | Carbohydrates: 6g | Protein: 26g | Fat: 6g | Saturated Fat: 1g | Polyunsaturated Fat: 1g | Monounsaturated Fat: 3g | Cholesterol: 51mg | Sodium: 493mg | Potassium: 13mg | Fiber: 1g | Sugar: 6g | Vitamin A: 6IU | Vitamin C: 1mg | Calcium: 5mg | Iron: 1mg
PIN THIS POST!